Daily Prayer for June 21
Father! You have given them to me, and I want them to be with me where I am, so that they may see my glory, the glory you gave me; for you loved me before the world was made. John 17:24, TEV
Lord our God, we thank you that you have revealed your glory in your Son Jesus Christ. We thank you that today we can still see and feel the glorious grace which streams out from Jesus Christ in his victory over the world, the powerful help which benefits all those who find faith. Grant that a further glory may be revealed, faith dwelling in the hearts of all people, faith that can conquer all the need and suffering on earth, faith that is the power to look to you, to become inwardly quiet in you, and to hope in you at all times. Then your help will come quickly, more quickly than we can imagine. It will come on us unawares, for the Savior has said, "See, I shall come quickly." We want to hope and believe and trust till the end. Amen.

Your Daily Dig
Annemarie Arnold
God alone is the truth, without beginning or end! Only through him do we live. We belong to him, to him alone. We are allowed to belong to him, to serve him with all the strength of our heart, spirit, and body. We stand before him as children. Without him we are nothing, without him there is only darkness and despair. Oh God, may the night never overcome us again, the darkness of being separated from you! Help us to the light, to the light of your love, that we may be set on fire by your light, to be burned and consumed like a candle.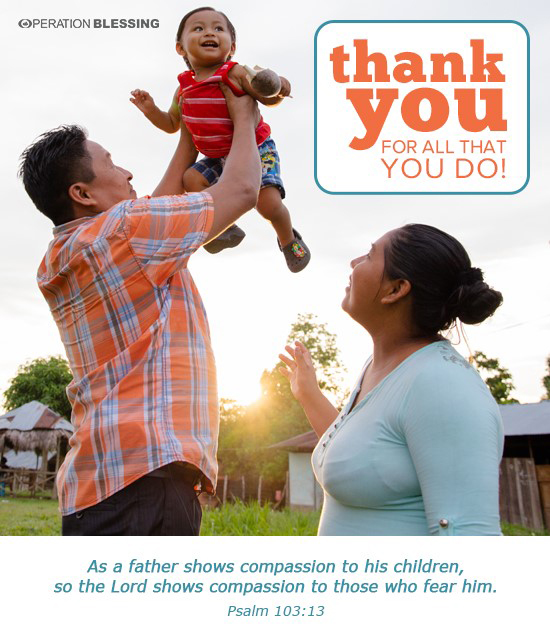 In spite of COVID-19 and the turmoil across the country and around the world, today is a day to honor the fathers, grandfathers, and father figures who have been so important in our lives.
For all the guidance, care, love and strength you've offered, thank you!
May God bless you, and Happy Father's Day!
Your Operation Blessing Team
Share today's verse
                ~~~Dion Todd
Lean On Me
He has said to me, 'My grace is sufficient for you, for my power is made perfect in weakness.' Most gladly therefore I will rather glory in my weaknesses, that the power of Christ may rest on me. Therefore I take pleasure in weaknesses, in injuries, in necessities, in persecutions, in distresses, for Christ's sake. For when I am weak, then am I strong.' 2 Corinthians 12:9 WEB
So many times in life I have had to face complex problems which I did not understand or know the answer to. It seemed that God would arrange situations where there would be no one else to turn to but Him. This was before the Internet became available, and people called me for answers, that I sometimes did not have. Of course there would always be pressure to fix the problem, and sometimes when I had exhausted all of my abilities and ran out of ideas, panic would start rising inside me.
Finally I would take a break, calm down, walk outside and pray for a few minutes. Then the answer would suddenly come, and the problem would soon be resolved. Jobs where I spent some time in prayer first, often came off without a hitch, but men hate asking for directions, and it was the times that I began growing cocky and felt like I could handle it that always got me into trouble. Paul said that when he was weak, he was actually strong.
I can see now that God was saying: 'Lean on Me.' He intentionally put me in high pressure situations with no one to turn to but Him, and He always had the answer. We never walk alone as a Christian. We are to be dependent on the Lord every step of the way. The Holy Spirit can teach us 'all' things (John 14:26).
God lives inside of us and He wants to be a part of our lives, but often we get too busy to inquire of Him though He is right there. Jesus said: 'But when they deliver you up, don't be anxious how or what you will say, for it will be given you in that hour what you will say. For it is not you who speak, but the Spirit of your Father who speaks in you' (Matthew 10:19).
This verse reveals a few things:
1) The Spirit of our Father lives inside of us.
2) 'It will be given you in that hour' is the answer that we need.
3) We should not be anxious. It actually can cause us to be spiritually deaf. We must calm ourselves and get quiet to hear that still, small, voice.
Lean on God for the answer, He has it. Include Him in your day. While you look everywhere else and exhaust all of your ideas, He is there patiently waiting for you to ask. The Holy Spirit that helped create the universe is available and can help you with this if you will only take the time to ask Him.
Prayer: Heavenly Father I lean on You! Please teach me Lord what I don't know. Help me to see the bigger picture. Walk with me and talk with me today. I want more of Your presence in my life. In the name of Jesus Christ I pray.
Bible Fun Fact: The bible is not arranged in chronological order but by categories like major prophets, minor prophets, poetry.

Unstoppable!

 'God's Spirit'

[Peter continued telling the story of Cornelius' conversion:] "The Holy Spirit told me to go with [the messengers Cornelius had sent] and not to worry that they were Gentiles. These six brothers here accompanied me, and we soon entered the home of the man who had sent for us."

— Acts 11:12 NLT
Key Thought
God had used all sorts of ways to reveal his desire for Peter to go and speak the Good News of Jesus to Cornelius and his relatives and friends. With the arrival of Cornelius' three messengers (Acts 11:11), the Holy Spirit made sure the message was clear. The Spirit said, "Go! Don't worry that they are Gentiles!" Heaven expended great effort to awaken Peter and the early church to Jesus' last words: "Go!"* Following Christ is not about trying to attract people to something but about our going to them with the message and love of Jesus. And for Jesus, our "going" is not limited to nearby; it involves going "to the ends of the earth" (Acts 1:8). We are to go as witnesses with the message of Jesus. Going is a vital part of our DNA as disciples of the Son of God who came to us, for us!
* See Matthew 28:19-20; cf. Luke 24:44-49.
Today's Prayer
Dear Father in heaven, may your Kingdom come on earth. May the world see your will being done through our actions here on earth. Inspire us and empower us to go and take the message of Jesus into all the world. Use us to bring your grace to those who have not heard and your love to those who are trapped without hope. I ask this in Jesus' name. Amen.
Related Scripture Readings
Daily Wisdom: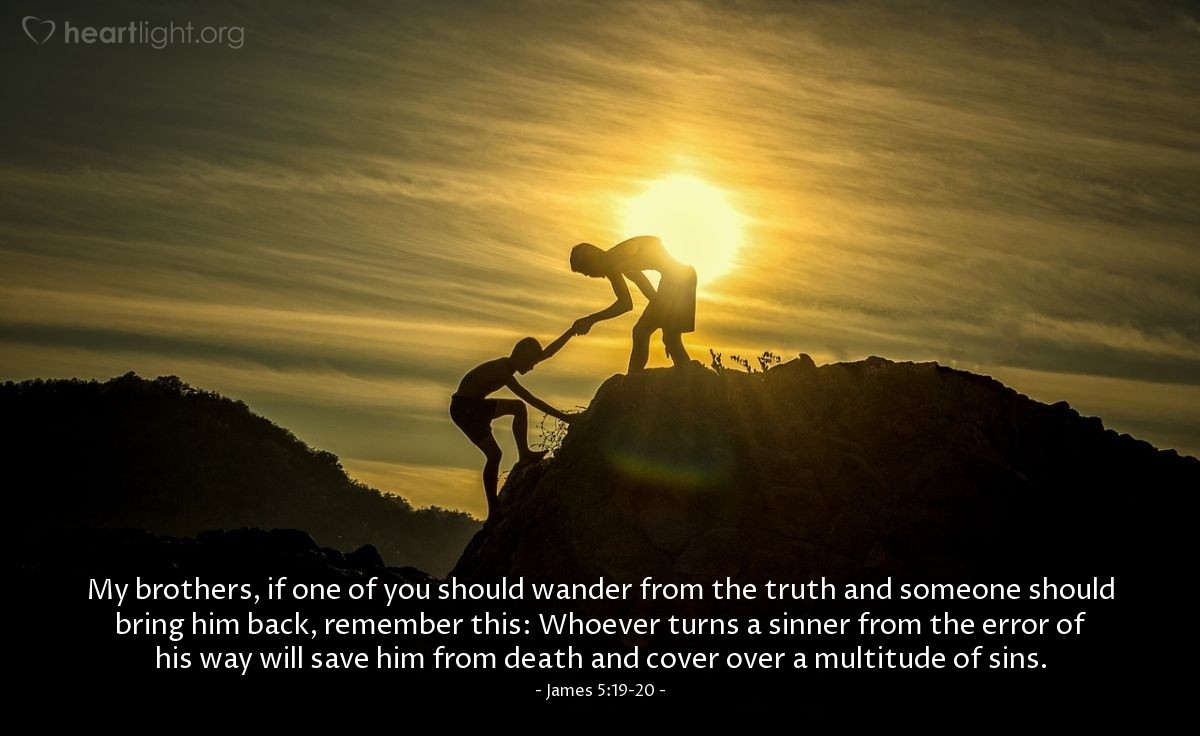 Passion for Praise: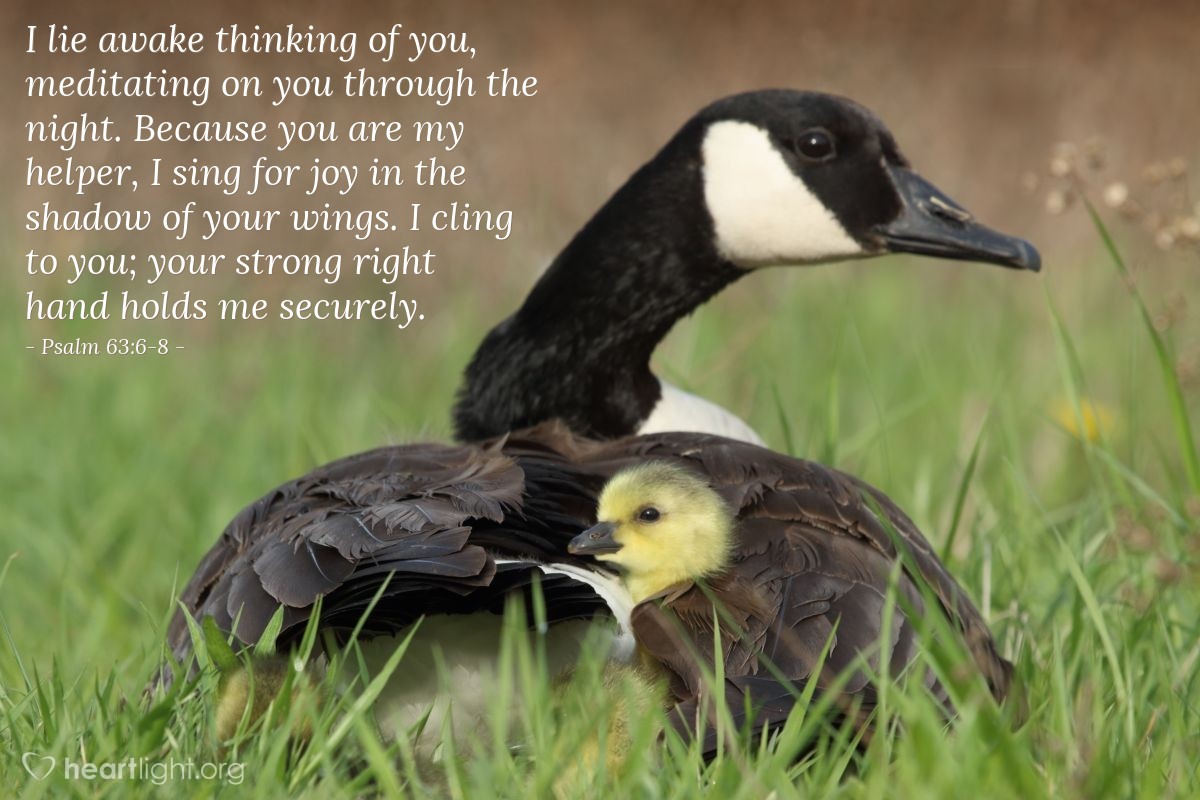 Spiritual Warfare:

 'Good Spiritual Health'

God's Power for Our Battles

Dear friend, I know that you are spiritually well. I pray that you're doing well in every other way and that you're healthy. I was very happy when some believers came and told us that you are living according to the truth.

Lord, I truly desire to be spiritually healthy—even more than I want to be physically well. Help me to be in Your Word and in prayer continually so the world doesn't suck me in to all their evil practices. I want to live in light of Your truth, Lord, and make You proud. Shine Your light through my life. Let others look at me and see You and Your deep love for them. Open their eyes to the benefits of living according to Your Holy Word. In Jesus' Name, Amen.
A Year with Jesus:

 'Servants to the Nations'
Note from Jesus
Dear Friend,
Two powerful themes from the Bible converge in this one story in today's Scripture about Philip and the Ethiopian dignitary:
After My resurrection, I poured out the Spirit at Pentecost and the good news message about Me spread throughout the Mediterranean world, and then far beyond this part of the world. My message spread out from Jerusalem just as I had promised (Luke 24:45-49; Acts 1:8). The early disciples reached three of the Mediterranean area's four major cities to serve as hubs to send My message down the major highways and seaways to the nearby regions and to the rest of the world. The four largest cities at this time were Antioch in Syria, Ephesus, Rome, and Alexandria. Acts tells the story of how the good news of the kingdom of God reached the first three. Just as My disciples took the good news to all the Mediterranean region when they left Jerusalem because of persecution (Acts 8:1-4; Acts 11:19-22), Luke hints that the "dignitary from Ethiopia" took My message with him as he returned home to Ethiopia (Africa).
The last half of the prophetic book of Isaiah has a series of prophetic songs calling My people (Israel) to be the servant of the LORD — the servant who would lead the nations to follow the great "I AM" of Israel. In your day, these prophetic songs are called the "Servant Songs" of Isaiah (Isaiah 42:1-9; Isaiah 49:1-13; Isaiah 50:4-11; Isaiah 52:13-15 with Isaiah 53:1-12). When Israel did not fulfill the call of these prophetic songs, I came as their complete fulfillment. The Ethiopian was reading from one of these songs (Isaiah 52:13-15 with Isaiah 53:1-12) when the Spirit sent Philip to share My story with him. The passage the Ethiopian was reading has been known to most of My followers over the centuries. They have recognized this song as speaking about My sacrifice on the cross for them. Philip began with this song that looked forward to Me as the suffering servant and taught him about Me and then baptized him.
I want you to recognize several important principles from the Ethiopian's conversion:
The Father has the plan to save the world. As the primary part of that plan, I came as the Savior of the world. After My sacrificial death and return to the Father, the Spirit empowered My disciples to share that message with the world. Acts tells how My story was initially told to the Mediterranean world.
Verses to Live
As the book of Acts unfolds, you read about the Holy Spirit leading My disciples to share the saving message about Me (
Acts 1:8
). They began, first, to share that message with those in Jerusalem and then those in all of Judea. In 
Acts 8
, you see the message shared in Samaria. In future readings from Acts, you will see the message go throughout the Mediterranean world. Empowered by the Holy Spirit, nothing had the power to stop that message. As Luke tells this unfolding story, the events in 
Acts 8
 are huge stepping stones in the triumph of the good news about Me. Just as those early disciples fearlessly shared My message with their world, I want you to share that same message with your world. As you do, the Holy Spirit will lead and empower you, too!
A heavenly messenger brought this short message from the Lord to Philip during his time preaching in Samaria:

Messenger of the Lord:

Leave Samaria. Go south to the Jerusalem-Gaza road.

The message was especially unusual because this road runs through the middle of uninhabited desert. But Philip got up, left the excitement of Samaria, and did as he was told to do. Along this road, Philip saw a chariot in the distance. In the chariot was a dignitary from Ethiopia (the treasurer for Queen Candace), an African man who had been castrated. He had gone north to Jerusalem to worship at the Jewish temple, and he was now heading southwest on his way home. He was seated in the chariot and was reading aloud from a scroll of the prophet Isaiah.

Philip received another prompting from the Holy Spirit:

Holy Spirit:

Go over to the chariot and climb on board.

So he started running until he was even with the chariot. Philip heard the Ethiopian reading aloud and recognized the words from the prophet Isaiah.

Philip:

Do you understand the meaning of what you're reading?

The Ethiopian:

How can I understand it unless I have a mentor?

Then he invited Philip to sit in the chariot. Here's the passage he was reading from the Hebrew Scriptures:

Like a sheep, He was led to be slaughtered.

Like a lamb about to be shorn of its wool,
He was completely silent.

He was humiliated, and He received no justice.
Who can describe His peers? Who would treat Him this way?
For they snuffed out His life.

The Ethiopian:

Here's my first question. Is the prophet describing his own situation, or is he describing someone else's calamity?

That began a conversation in which Philip used the passage to explain the good news of Jesus. Eventually the chariot passed a body of water beside the road.

The Ethiopian:

Since there is water here, is there anything that might prevent me from being ceremonially washed through baptism and identified as a disciple of Jesus?

[Philip:] 1

[If you believe in your heart that Jesus the Anointed is God's Son, then nothing can stop you.]

[The Ethiopian said that he believed.]

He commanded the charioteer to stop the horses. Then Philip and the Ethiopian official walked together into the water. There Philip baptized him… When they came out of the water, Philip was immediately caught up by the Holy Spirit and taken from the sight of the Ethiopian, who climbed back into his chariot and continued on his journey, overflowing with joy. Philip found himself at a town called Azotus (formerly the Philistine capital city of Ashdod, on the Mediterranean); and from there he traveled north again, proclaiming the good news in town after town until he came to Caesarea.
(Acts 8:26-40)

---

1The brackets indicate material not found in all manuscripts.

---
Response in Prayer
O Father, awaken us, Your people, the church that Jesus bought with His blood, to share Your message of grace and the Lord Jesus' triumph over death and sin. Empower us by the Holy Spirit to be wise, courageous, gracious, and persistent in sharing this message. We want in our day, O God, to be your servants to the nations! In Jesus' name, I pray. Amen.
Been there, done that.
The anger is everywhere.  Why?  I understand that our Protect and Serve departments need an overhaul, but it seems to be going far beyond that. Shouldn't simply being a decent human being toward another human being be the top priority?
I have been around since 1959 and have seen a ton of protests and riots: the good, the bad, and the ugly of them.  One of my most memorable was the Martin Luther King political march of 1965.
I also remember the bra-burnings going on in all different places after the Miss America protest by feminists and civil rights advocates.  I, myself, did my own bit when I was a Freshman in high school by streaking.  (FYI:  Fun but not the next day and someone got photos, and my dad was not happy.)  Right this moment, I cannot recall the reason we girls did it.  This was in 1973, which was still a time of equal rights for women (it seems like we are still fighting this battle today).  Thinking back, streaking was probably not the best way to get our message across.
Just what is the best way to get critical human messages across to the world?  In my opinion, it would be passive mass protests.  Once they become violent or angry, it gives the whole message a sour meaning.  The world initially saw the inhumane treatment of Police officers against a black man.  Now, what do they see?
More police brutality?
Not enough being done to fix the problem?
Too much being done to fix the problem?
Protests turning into riots and looting?
Loss of police protection (Yes, I have been reading articles on this very subject – sad but true they are quitting and fewer recruits now.)?
More anger and violence?
What if we pushed a bigger agenda?  OK, I may sound a bit like Gandhi here:
*You must not lose faith in humanity. Humanity is an ocean; if a few drops of the ocean are dirty, the ocean does not become dirty.
*The true democrat is he who with purely nonviolent means defends his liberty and, therefore, his country's and ultimately that of the whole of mankind.
*To call woman the weaker sex is a libel; it is man's injustice to woman. If by strength is meant brute strength, then, indeed, is woman less brute than man. If by strength is meant moral power, then woman is immeasurably man's superior. Has she not greater intuition, is she not more self-sacrificing, has she not greater powers of endurance, has she not greater courage? Without her, man could not be. If nonviolence is the law of our being, the future is with woman. Who can make a more effective appeal to the heart than woman?
I am not perfect (not even close).  I am female, old, white, and love a perfectly cooked steak.  There is no way I will ever come close to the path that Gandhi led, but I do strive to be better than I was yesterday.  I have had lots of bad stuff happen to me in my life, more than many others I know, but I still try to remain optimistic.  Somedays that is a really tough decision to keep.  Maybe it is a bit ridiculous to believe, but I think we need to take a few steps back, starting with our kids.
BRING BACK THE IMAGINATION CLASSES!
This may sound like a stupid-simple idea but hear me out.  I grew up with art, music, crafting, and if it was not taught in school, it was found in my 4-H group.  I believe that when we are encouraged to use our imagination, we understand the things around us better. I also think that it is the perfect way to express feelings.  If sad, I go to create something.  It instantly brings me a sense of self-worth and pride in accomplishing something all on my own.  If angry, go gardening.  When I am most upset, I can rip out weeds at a massive pace.  I also like to build things with wood when I am upset.  Ramming a drill through a piece of plank or hammering the snot out of a nail is a great release for me.  If happy, I SING!!  At the top of my lungs, off-key, and as much as I want.  I don't care if anyone hears it, but if they laugh along with me and my lousy singing, all the better.
I like to believe that to be creative and imaginative is to be human.  When we encourage more of those ideals, we encourage many more ways to resolve issues peacefully, I hope.
Maybe if we push more on "everything" matters, especially being humane to each other, things will change for the better without all the violence in the process.  A simple difference of opinion will NEVER make me give up on my friends.  Our differentiation is what brings us together.
You can also check me out at:  https://helbergfarmstories.com/ for fun stories from our farm.
Paraproskodian sentence for this post:
"I always take life with a grain of salt, plus a slice of lemon, and a shot of tequila"
Could Mass Marches Across America
be Preparing the Way
for a Nationwide Christ Awakening?
In the Atlantic magazine this week, a headline about the demonstrations across America read: "The town square has come roaring back." It certainly has around my home.
This past Sunday, I experienced one of the most profound moments of my life as I joined a march.
In many ways, it duplicated what hundreds of thousands of Americans have encountered the past few days in nearly 900 community-wide, overwhelmingly peaceful protest marches for racial justice and equality—held both in major cities and rural villages.
But my march experience became something more for me: Those hours of walking and cheering and praying (yes, praying) stirred in me a wholly unexpected—and yet thoroughly thrilling—hope about what the Spirit of God may be doing in the midst of these daily dramas occurring throughout our nation.
Frankly, I'm wondering if the Spirit of God may be at work across the land, maximizing the ferment in all these events for God's grander purposes of redemption.
Have you ever considered the possibility that, from coast to coast, we may be witnessing the "birth pangs" of the nationwide Christ Awakening for which countless Christians have been praying for decades?
I have.
Looking through my "King Jesus glasses," I'm beginning to wonder if this historic initiative is moving our nation in Christ's direction—and, I would argue, at Christ's direction—preparing us for a national spiritual revolution.
In other words, let's ask: Could it be that our nation is moving in Christ's direction—moving toward him during this time of turmoil—because Jesus himself is directing the outcome, using all that seems disruptive to prepare us for the solution: a nationwide Christ Awakening?
No surprise if this is so! It is just what Jesus taught us about how his reign often works. He said he unleashes it like a small amount of invisible leaven embedded in a lump of dough, causing it to swell up in readiness for the oven (Matthew 13).
Let me show you what I see going on and why I have a growing hope in God about what is coming next. I believe you'll find it well worth your time.
Let me take you inside the surprising developments that unfolded during our protest last Sunday.
Have you joined a protest march where you live anytime in the past couple of weeks? If not, come with me into mine.
On a warm Sunday afternoon, about 3000 fellow citizens of my little community (just 20 minutes from Times Square) banded together, flowing like a mighty river.
It's true that we were marching in protest. But remember the word "protest" has two meanings, one negative and one more positive: (1) to openly express objection or disapproval; OR (2) to make a solemn or earnest declaration.
Even so, in both senses, we visibly protested but without any violence, as also has been true for 95% of the demonstrations nationwide in the past two weeks. We did so about the following concerns:
AGAINST racism but FOR racial justice and equality.
AGAINST the carnage within the Black community but FOR social, economic, and psychological healing and restoration for our fellow citizens.
AGAINST violence (police and otherwise) but FOR reconciliation (among the races and the classes).
AGAINST the division and strife that is tearing our nation apart but FOR a national moral reset full of forgiveness, compassion, and love.
It was these strong themes that, at least for me, gave me a fresh "feel" for how the Bible describes the kingdom of God. We "protested" for the principles and values, priorities and passions, and emphases on human dignity, community, and flourishing that are highlighted by God's kingdom ways.
At one point, I was reminded of Jesus' response to a religious leader who correctly identified the two highest priorities for Israel: Love God and love neighbors. "You are not far from the kingdom of God," Jesus reassured him.
In the same way, I felt I could say to that multitude on Sunday afternoon: "What you are  calling out for indicates that you—and this whole march—are so much closer to what life in the kingdom of God looks like than probably most of you know." 
For example, a whole lot of the ideals found in the "Sermon on the Mount" (Matthew 5-7) were being articulated and embraced that day, even if many who marched with me were unaware of the passage.
Therefore, as I said above: Looking through my "King Jesus glasses," I'm beginning to wonder if this historic initiative is moving our nation in Christ's direction and at Christ's direction, preparing us for a nationwide Christ Awakening.
In addition, kingdom-type concerns were echoed by many of the homemade signs people carried as we walked along. Consider this sampling:
A young Black woman's sign declared: "Who I am is enough!"—suggesting the truth that human dignity has nothing to do with skin tone because each of us has been made in God's image.
A White woman's sign admitted: "I can't understand" (that is, understand the horrendous Black experience in America). Yet it went on to say, "but I can STAND" (that is, stand on behalf of all who are devastated and oppressed by the unjust world around them). This is clearly a kingdom-type calling.
One White man made his point in rhyme: "White silence is White violence." He meant that for the majority culture—the culture primarily in power—to ignore the suffering of the Black community and its many poor is inexcusable IF, in fact, we could have done something about it. Similarly, God's kingdom calls its citizens to love others the way Christ loved us by laying down his life for us to make us whole.
Or finally, take this sign: "BLACK lives matter because ALL lives matter." In other words, if God's kingdom is "pro-life" (and it is), then that means God's kingdom is equally, totally pro-BLACK life, in the womb and in the world, just as much as it is pro-MY-life. We always need to act like this toward one another.
Now I've given you more reasons why I believe this historic initiative is moving our nation in Christ's direction and at Christ's direction, preparing us for a nationwide Christ Awakening.
Today, I got an email from a friend, an internationally respected Christian leader who lives in Houston. He shared his own protest experience from last week. What he reported reinforced my hunch:
I joined about 70,000 as we marched through the downtown to Houston City Hall. Somehow it felt to me like this was a "spiritual manifestation" as many pastors and ministry leaders took the initiative and prayed in the midst of a whole lot of hurting people.
His gathering, too, was bumping up against the kingdom of God!
Could such events as his and mine, taking place from coast to coast, serve as precursors of—and be preparing the way for—a coming Christ Awakening?
Let's think about this a little more.
What was the impact of the kingdom truths that rang out to the multitude on Sunday?
Flooding the roadway, the thousands who walked the miles with me finally assembled at our Memorial Field. For ninety minutes, we listened to various leaders who solicited countless waves of applause from the crowd as one speaker after another proclaimed the moral urgencies impinging on the future of our nation.
Though the audience was diverse in race and age, most of the speakers were Black GenXer's, our future leaders. Their talks brimmed with wisdom and graciousness—not anger or resentment. Their appeals were reminiscent of the biblical fervor of a Martin Luther King.
None of them showed anything but humility and respect, even as they passionately called for justice and righteousness, for new perspectives and new policies, and for transformed relationships with law enforcement on behalf of the historically abused and beleaguered African American peoples of our land.
Once again, like the placards in the parade, appeals from the platform were full of kingdom-type values. There was almost a call for Christlikeness at times, whether each speaker had those thoughts in mind or not.
In other words, the event highlighted priorities I would expect any follower of Jesus to endorse and practice. And they were shared with a spirit of love that resembled the love of Christ, which is the heart and soul of God's kingdom.
The Black leaders also expressed their deeply felt gratitude that afternoon for the unprecedented support coming from the 80% of the audience who were White.
We were urged to work together in coming days with the local Black communities to ensure that this time the results would be different—that what former Newark mayor Sen. Cory Booker called this week a "moral moment" for our nation would ultimately become a "movement" for the realization of the American promise for all of its citizens of all races.
Without a doubt, our gathering echoed the nearness of the kingdom of God! Could hundreds of similar events, taking place all over America, actually be precursors of—and helping to prepare the way for—the coming Christ Awakening?
Furthermore, get this:
The official program at the field opened intentionally with the local Catholic priest leading the crowd (of Christians, non-Christian, Hindus, and other religions) in a spontaneous prayer asking God to "pour out your love on us and through us so that together we may work for your justice for all peoples in our nation." The gathering responded unexpectedly in one voice with a hearty AMEN!
"You are not far from the kingdom of God."
So, let me put it to YOU:
Do you think it is possible that everything we're seeing right now is moving us, directly or indirectly, in Christ's direction and doing so at Christ's direction? Could it be that all this turbulence is actually setting the stage for a nationwide Christ Awakening?
Put another way: Are we in a season similar to what the ministry of John the Baptist was all about?
The Bible says John's primary assignment with the multitudes at the Jordan River was to "prepare the way of the Lord" with them (as the Gospels call it, quoting from Isaiah 40).
John got the people to rise up in anticipation, restless for what Jesus alone could bring—even though neither John nor they knew what to expect, what shape it would take, what the Messiah himself would look like, how he would be revealed to them, or how he would take action—nor what would happen after that.
Essentially, John did all he could do: He preached to them about "kingdom values"—declaring that "the Kingdom is at hand"—in order to bring the crowds into a genuine spirit of brokenness and repentance as well as abounding hope, in readiness for the next chapter.
Finally, the next chapter did begin. It proved to be nothing short of a genuine "Christ Awakening" (as we might call it)—a spiritual revolution that spread throughout the life of the nation. The Jordon uprising spread everywhere starting the day "the Lamb of God who takes away the sin of the world" appeared at the river's edge. It was a whole-life revival—a kingdom of God breakthrough—that has been redeeming and reconstituting peoples among the nations ever since.
Now, the Church in our nation is poised for a similar impact of Christ upon our lives together and then through us upon the whole country—as people in every part of our land begin to become wholly alive to the whole vision of God's Son today.
The ramifications of this Spirit-driven movement for the kind of moral and social transformation that tens of thousands are marching for are incalculable.
It is that great hope that causes me to believe that what's happening all around us at this moment is moving us in Christ's direction and at Christ's direction, preparing us for a nationwide Christ Awakening.
But I must not end my story without telling you about one sacred moment that Sunday afternoon that really opened my eyes!
There on the open field, there came a point in the program where the crowd was asked to drop to our knees and spend eight minutes and forty-three seconds in total silence in honor of George Floyd—reflecting the agony he endured for that same amount of time while his precious life was being snuffed out of him.
Eight minutes. In silence. On our knees. The entire gathering. A scene I could hardly take in. (At the top of this blog post is the picture I took of that moment.)
The experience took on even more meaning for me as I reflected on it later that day. It represented a prophetic act—a harbinger of an extraordinary outpouring of Christ and his salvation upon our nation, which is so desperately needed.
For me, thousands of knees on the ground recalled the biblical teaching that before seeking "kingdom" values such as racial justice, equality, and reconciliation, we must undergo a change in our HEARTS as Americans—beginning with God's pe0ple in America. Our hearts must be surrendered to the King himself—Jesus.
The truth is that all of us qualify for a level of soul surgery so radical that we must come before our Redeemer in silence, admitting to him that we can never bring about this spiritual transformation on our own.
Yes, being on our knees for nearly ten minutes honored George Floyd. But it also served to portray how broken and helpless all of us are apart from some form of divine intervention within us and among us by our righteous Redeemer.
In the silence, whether most in the gathering knew it or not, we were kneeling before the Throne of Glory (where George Floyd, a Jesus follower, abides right now), dramatizing our need for a powerful, regenerating work in our innermost beings by the Lord of our salvation—for the sake of all the other George Floyds in our society and also for the healing of our nation as a whole.
Even in the midst of the current protests rising out of anger, woundedness, griefs, and fears, many Americans—believers and unbelievers alike—instinctively realize that without deeply reordered hearts, all our good resolves for moral and social renovation will fall flat no matter how many hundreds of thousands participate in countless marches.
Christians especially know, deep down, that striving for the flourishing of the Black community in America as well as for the reformation of our society from top to bottom–marks of God's kingdom—can never be sustained apart from a widespread impact of the Gospel that radically overhauls our lives and loves, our principles and priorities, by the saving power of the reigning Christ.
There is only one solution for our crisis of the spirit. There is only one answer to the ultimate questions we face about race. There's only one hope to match the energy, the vision, the appeals, and the soul-cries ascending from this daily, national uprising. It is the person and work of our victorious Lord Jesus Christ. Consider:
The revolution of our hearts, to deliver us from racism and anger and division—can spring only from the purposeful, penetrating, redemptive work of our Lord Jesus Christ.
The kingdom promises of God that fulfill the deepest longings of our hearts for ourselves and our people can be entered into only through the great Promise Keeper, our Lord Jesus Christ.
The healing reconciliation among the races—especially Black and White—and the transforming regeneration of structural changes that so many are seeking will be found only through opening wide the gates to receive the active reign of our Lord Jesus Christ among us.
The righteousness, justice, and restoration of wholeness we are so desperate for, individually and as a nation, can truly begin only with full surrender to Jesus Christ as Lord of all.
The realization of the highest ideals of the "American experiment" for ALL of our citizens—but especially for the Black community— can still be ours. But it will come solely through the revelation and inbreaking of the righteous, reconciling, reforming, reviving work of our Lord Jesus Christ—and only as we embrace it daily and apply it comprehensively.
So, as needed, let's keep on marching in our streets with our feet. But above all, let's keep on marching to the Throne by our prayers—"marching" on our knees, as it were—seeking a fuller demonstration of the glory, greatness and goodness of God's Son.
A "kairos" hour is upon us. We must be about the business of preparing the way of the Lord. We must get ready to welcome, enter into, and then spread, the coming Christ Awakening. That is the movement that offers the one true hope for America at this crossroads.
Most of all, it provides us our greatest opportunity to see Jesus highly exalted as Lord and Savior, reviving the Church and restoring the soul of our nation.
Today, Isaiah 40, which was brought to life in the ministry of John the Baptist, calls Christians everywhere to take similar actions in our generation on behalf of Christ, for the coming Christ Awakening and triumphant advances of his kingdom that lie just ahead of us.
Let these commands become your "marching orders," as well, every day among the people where you live:
Thunder in the desert!
"Prepare for God's arrival!
Make the road straight and smooth,
a highway fit for our God.
Fill in the valleys,
level off the hills,
smooth out the ruts,
clear out the rocks.
Then God's bright glory will shine
and everyone will see it.
Yes. Just as God has said."
Humor—