Daily Prayer for June 14
In fact, this is love for God: to keep his commands. And his commands are not burdensome, for everyone born of God overcomes the world. This is the victory that has overcome the world, even our faith. Who is it that overcomes the world? Only the one who believes that Jesus is the Son of God. 1 John 5:3–5, NIV
Lord our God, in the grace of Jesus Christ we pray to you that your will may be done for us and for all the world. Through Jesus Christ grant us faith that you love us, faith that we may live in your love, that we may hope in your love every day and have peace on earth, where there is so much unrest and trouble. Keep us firm and constant, remaining in your peace and in the inner quiet you give us because Jesus Christ has overcome the world. He has truly overcome, and this fills us with joy. We praise you, Almighty God, that you have sent Jesus Christ and that he has overcome the world. We praise you that he has overcome all evil, sin, and death, and that we may rejoice at all times in your presence. Amen.
Your Daily Dig
Amy Carmichael
If monotony tries me, and I cannot stand drudgery; if stupid people fret me and little ruffles set me on edge; if I make much of the trifles of life, then I know nothing of Calvary love. … If interruptions annoy me and private cares make me impatient; if I shadow the souls about me because I myself am shadowed, then I know nothing of Calvary love. … If souls can suffer alongside, and I hardly know it, because the spirit of discernment is not in me, then I know nothing of Calvary love.
5 interesting things said during Trump's 'rebuilding' roundtable at megachurch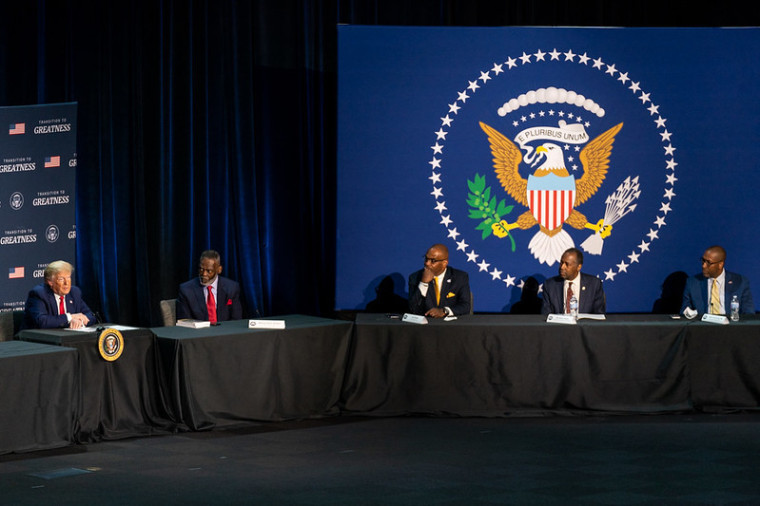 President Donald J. Trump gives remarks at a roundtable discussion on the Transition to Greatness: Restoring, Rebuilding and Renewing June 11, 2020, at Gateway Church in Dallas, Texas. | Official White House Photo/Shealah Craighead)
Pastor Robert Morris hosted on Thursday President Donald Trump and black leaders who addressed longstanding problems of race relations in America and steps to reform and rebuild the nation.
The discussion, called "Restoring, Rebuilding and Renewing," took place at Gateway Church in Dallas, where Trump reiterated his desire for "law and order" amid ongoing riots in the wake of the death of George Floyd.
Those who participated in the roundtable included Attorney General William Barr, HUD Secretary Ben Carson, former NFL player Jack Brewer, Chief Vernell Dooley and Bishop Harry Jackson, among others.
Here are five interesting things that were said during the nearly 90-minute discussion.
1. Bishop Jackson: Church needs to come together
Jackson, pastor of Hope Christian Church and an evangelical adviser to Trump, said people shouldn't expect the Trump administration to fix all the problems they're seeing today, noting that it's never worked that way.
"I'm tired of people blaming the current administration and others in our generation," Jackson said. "These problems began many years ago."
He outlined that throughout history, the Church came together to bring solutions.
"It was the Church that began the abolitionist movement. It was the Church and whites and blacks working together that started the NAACP … It was the Church that led through in the civil rights movement. So I want to offer you my support in these listening sessions, in that the Church needs to come together. I believe we can unify better than any group.
"I challenge you Christians — black, white, Asian: Let's come together, and let's provide a safety net, and then we'll work with business, and then we'll work along with the administration."
2. Brewer: We need God
Brewer, a former NFL player, said right now, "we need God."
"I want our nation to hear me: We need the fear of God," he said.
He said Trump is the "only Republican I've ever voted for" because he "stood up for the Word of God."
"We are in a spiritual warfare," Brewer continued. "We cannot fight this battle with flesh and blood. We cannot fight this battle with politics. You cannot politicize oppression."
He also argued that the root problem in America is "fatherlessness," noting that 71% of students who drop out of high school don't have a father in the house and that someone is "five times more likely to go to prison or have a run-in with the police department if they don't have a father in the house."
Those without a father in their house are also more likely to live in poverty.
"We don't have to keep looking for the problem when we see it."
He called on Americans to get out of their bubbles and go to the underserved communities and "do what Jesus told us to do."
3. Achieving the 'full American Dream for all communities'
Attorney General Barr listed four "critical elements" necessary to ensure that all American communities, including black communities, have the opportunity to achieve the American Dream.
Along with economic growth, he listed education, moral discipline and safety.
"I think Condi Rice said a few years ago it's the civil rights issue of our time," Barr said of education. "Because without a good education, they are not allowing our young people to seize their opportunities and pursue their dreams. And as the president mentioned, it's only by empowering parents and giving them the power to choose the education for their children that we're ever going to be able to obtain that."
Earlier in the roundtable, Trump said his administration is renewing its call on Congress to enact school choice.
On "moral discipline," Barr said young people "have to have the discipline to seize the opportunity, to make momentary sacrifices for later gain."
Traditionally, such discipline came from religion, he noted. "We have to stop policies that undermine religion or relegate religion out of the public square," he said.
On safety, he acknowledged that there is distrust among black communities toward law enforcement. But he argued that there has been improvement as the crime rate has been cut in half and reforms have been made.
"I don't think now is the time to be tearing down our institutions because we've been on a march for the last 50 years of reforming our institutions, and we don't need to tear them down. We have to be mature about this and when we see problems, we have to redouble our efforts to reform our institutions and make sure they're in sync with our values."
Could Mass Marches Across America
be Preparing the Way
for a Nationwide Christ Awakening?
In the Atlantic magazine this week, a headline about the demonstrations across America read: "The town square has come roaring back." It certainly has around my home.
This past Sunday, I experienced one of the most profound moments of my life as I joined a march.
In many ways, it duplicated what hundreds of thousands of Americans have encountered the past few days in nearly 900 community-wide, overwhelmingly peaceful protest marches for racial justice and equality—held both in major cities and rural villages.
But my march experience became something more for me: Those hours of walking and cheering and praying (yes, praying) stirred in me a wholly unexpected—and yet thoroughly thrilling—hope about what the Spirit of God may be doing in the midst of these daily dramas occurring throughout our nation.
Frankly, I'm wondering if the Spirit of God may be at work across the land, maximizing the ferment in all these events for God's grander purposes of redemption.
Have you ever considered the possibility that, from coast to coast, we may be witnessing the "birth pangs" of the nationwide Christ Awakening for which countless Christians have been praying for decades?
I have.
Looking through my "King Jesus glasses," I'm beginning to wonder if this historic initiative is moving our nation in Christ's direction—and, I would argue, at Christ's direction—preparing us for a national spiritual revolution.
In other words, let's ask: Could it be that our nation is moving in Christ's direction—moving toward him during this time of turmoil—because Jesus himself is directing the outcome, using all that seems disruptive to prepare us for the solution: a nationwide Christ Awakening?
No surprise if this is so! It is just what Jesus taught us about how his reign often works. He said he unleashes it like a small amount of invisible leaven embedded in a lump of dough, causing it to swell up in readiness for the oven (Matthew 13).
Let me show you what I see going on and why I have a growing hope in God about what is coming next. I believe you'll find it well worth your time.
Let me take you inside the surprising developments that unfolded during our protest last Sunday.
Have you joined a protest march where you live anytime in the past couple of weeks? If not, come with me into mine.
On a warm Sunday afternoon, about 3000 fellow citizens of my little community (just 20 minutes from Times Square) banded together, flowing like a mighty river.
It's true that we were marching in protest. But remember the word "protest" has two meanings, one negative and one more positive: (1) to openly express objection or disapproval; OR (2) to make a solemn or earnest declaration.
Even so, in both senses, we visibly protested but without any violence, as also has been true for 95% of the demonstrations nationwide in the past two weeks. We did so about the following concerns:
AGAINST racism but FOR racial justice and equality.
AGAINST the carnage within the Black community but FOR social, economic, and psychological healing and restoration for our fellow citizens.
AGAINST violence (police and otherwise) but FOR reconciliation (among the races and the classes).
AGAINST the division and strife that is tearing our nation apart but FOR a national moral reset full of forgiveness, compassion, and love.
It was these strong themes that, at least for me, gave me a fresh "feel" for how the Bible describes the kingdom of God. We "protested" for the principles and values, priorities and passions, and emphases on human dignity, community, and flourishing that are highlighted by God's kingdom ways.
At one point, I was reminded of Jesus' response to a religious leader who correctly identified the two highest priorities for Israel: Love God and love neighbors. "You are not far from the kingdom of God," Jesus reassured him.
In the same way, I felt I could say to that multitude on Sunday afternoon: "What you are  calling out for indicates that you—and this whole march—are so much closer to what life in the kingdom of God looks like than probably most of you know." 
For example, a whole lot of the ideals found in the "Sermon on the Mount" (Matthew 5-7) were being articulated and embraced that day, even if many who marched with me were unaware of the passage.
Therefore, as I said above: Looking through my "King Jesus glasses," I'm beginning to wonder if this historic initiative is moving our nation in Christ's direction and at Christ's direction, preparing us for a nationwide Christ Awakening.
In addition, kingdom-type concerns were echoed by many of the homemade signs people carried as we walked along. Consider this sampling:
A young Black woman's sign declared: "Who I am is enough!"—suggesting the truth that human dignity has nothing to do with skin tone because each of us has been made in God's image.
A White woman's sign admitted: "I can't understand" (that is, understand the horrendous Black experience in America). Yet it went on to say, "but I can STAND" (that is, stand on behalf of all who are devastated and oppressed by the unjust world around them). This is clearly a kingdom-type calling.
One White man made his point in rhyme: "White silence is White violence." He meant that for the majority culture—the culture primarily in power—to ignore the suffering of the Black community and its many poor is inexcusable IF, in fact, we could have done something about it. Similarly, God's kingdom calls its citizens to love others the way Christ loved us by laying down his life for us to make us whole.
Or finally, take this sign: "BLACK lives matter because ALL lives matter." In other words, if God's kingdom is "pro-life" (and it is), then that means God's kingdom is equally, totally pro-BLACK life, in the womb and in the world, just as much as it is pro-MY-life. We always need to act like this toward one another.
Now I've given you more reasons why I believe this historic initiative is moving our nation in Christ's direction and at Christ's direction, preparing us for a nationwide Christ Awakening.
Today, I got an email from a friend, an internationally respected Christian leader who lives in Houston. He shared his own protest experience from last week. What he reported reinforced my hunch:
I joined about 70,000 as we marched through the downtown to Houston City Hall. Somehow it felt to me like this was a "spiritual manifestation" as many pastors and ministry leaders took the initiative and prayed in the midst of a whole lot of hurting people.
His gathering, too, was bumping up against the kingdom of God!
Could such events as his and mine, taking place from coast to coast, serve as precursors of—and be preparing the way for—a coming Christ Awakening?
Let's think about this a little more.
What was the impact of the kingdom truths that rang out to the multitude on Sunday?
Flooding the roadway, the thousands who walked the miles with me finally assembled at our Memorial Field. For ninety minutes, we listened to various leaders who solicited countless waves of applause from the crowd as one speaker after another proclaimed the moral urgencies impinging on the future of our nation.
Though the audience was diverse in race and age, most of the speakers were Black GenXer's, our future leaders. Their talks brimmed with wisdom and graciousness—not anger or resentment. Their appeals were reminiscent of the biblical fervor of a Martin Luther King.
None of them showed anything but humility and respect, even as they passionately called for justice and righteousness, for new perspectives and new policies, and for transformed relationships with law enforcement on behalf of the historically abused and beleaguered African American peoples of our land.
Once again, like the placards in the parade, appeals from the platform were full of kingdom-type values. There was almost a call for Christlikeness at times, whether each speaker had those thoughts in mind or not.
In other words, the event highlighted priorities I would expect any follower of Jesus to endorse and practice. And they were shared with a spirit of love that resembled the love of Christ, which is the heart and soul of God's kingdom.
The Black leaders also expressed their deeply felt gratitude that afternoon for the unprecedented support coming from the 80% of the audience who were White.
We were urged to work together in coming days with the local Black communities to ensure that this time the results would be different—that what former Newark mayor Sen. Cory Booker called this week a "moral moment" for our nation would ultimately become a "movement" for the realization of the American promise for all of its citizens of all races.
Without a doubt, our gathering echoed the nearness of the kingdom of God! Could hundreds of similar events, taking place all over America, actually be precursors of—and helping to prepare the way for—the coming Christ Awakening?
Furthermore, get this:
The official program at the field opened intentionally with the local Catholic priest leading the crowd (of Christians, non-Christian, Hindus, and other religions) in a spontaneous prayer asking God to "pour out your love on us and through us so that together we may work for your justice for all peoples in our nation." The gathering responded unexpectedly in one voice with a hearty AMEN!
"You are not far from the kingdom of God."
So, let me put it to YOU:
Do you think it is possible that everything we're seeing right now is moving us, directly or indirectly, in Christ's direction and doing so at Christ's direction? Could it be that all this turbulence is actually setting the stage for a nationwide Christ Awakening?
Put another way: Are we in a season similar to what the ministry of John the Baptist was all about?
The Bible says John's primary assignment with the multitudes at the Jordan River was to "prepare the way of the Lord" with them (as the Gospels call it, quoting from Isaiah 40).
John got the people to rise up in anticipation, restless for what Jesus alone could bring—even though neither John nor they knew what to expect, what shape it would take, what the Messiah himself would look like, how he would be revealed to them, or how he would take action—nor what would happen after that.
Essentially, John did all he could do: He preached to them about "kingdom values"—declaring that "the Kingdom is at hand"—in order to bring the crowds into a genuine spirit of brokenness and repentance as well as abounding hope, in readiness for the next chapter.
Finally, the next chapter did begin. It proved to be nothing short of a genuine "Christ Awakening" (as we might call it)—a spiritual revolution that spread throughout the life of the nation. The Jordon uprising spread everywhere starting the day "the Lamb of God who takes away the sin of the world" appeared at the river's edge. It was a whole-life revival—a kingdom of God breakthrough—that has been redeeming and reconstituting peoples among the nations ever since.
Now, the Church in our nation is poised for a similar impact of Christ upon our lives together and then through us upon the whole country—as people in every part of our land begin to become wholly alive to the whole vision of God's Son today.
The ramifications of this Spirit-driven movement for the kind of moral and social transformation that tens of thousands are marching for are incalculable.
It is that great hope that causes me to believe that what's happening all around us at this moment is moving us in Christ's direction and at Christ's direction, preparing us for a nationwide Christ Awakening.
But I must not end my story without telling you about one sacred moment that Sunday afternoon that really opened my eyes!
There on the open field, there came a point in the program where the crowd was asked to drop to our knees and spend eight minutes and forty-three seconds in total silence in honor of George Floyd—reflecting the agony he endured for that same amount of time while his precious life was being snuffed out of him.
Eight minutes. In silence. On our knees. The entire gathering. A scene I could hardly take in. (At the top of this blog post is the picture I took of that moment.)
The experience took on even more meaning for me as I reflected on it later that day. It represented a prophetic act—a harbinger of an extraordinary outpouring of Christ and his salvation upon our nation, which is so desperately needed.
For me, thousands of knees on the ground recalled the biblical teaching that before seeking "kingdom" values such as racial justice, equality, and reconciliation, we must undergo a change in our HEARTS as Americans—beginning with God's pe0ple in America. Our hearts must be surrendered to the King himself—Jesus.
The truth is that all of us qualify for a level of soul surgery so radical that we must come before our Redeemer in silence, admitting to him that we can never bring about this spiritual transformation on our own.
Yes, being on our knees for nearly ten minutes honored George Floyd. But it also served to portray how broken and helpless all of us are apart from some form of divine intervention within us and among us by our righteous Redeemer.
In the silence, whether most in the gathering knew it or not, we were kneeling before the Throne of Glory (where George Floyd, a Jesus follower, abides right now), dramatizing our need for a powerful, regenerating work in our innermost beings by the Lord of our salvation—for the sake of all the other George Floyds in our society and also for the healing of our nation as a whole.
Even in the midst of the current protests rising out of anger, woundedness, griefs, and fears, many Americans—believers and unbelievers alike—instinctively realize that without deeply reordered hearts, all our good resolves for moral and social renovation will fall flat no matter how many hundreds of thousands participate in countless marches.
Christians especially know, deep down, that striving for the flourishing of the Black community in America as well as for the reformation of our society from top to bottom–marks of God's kingdom—can never be sustained apart from a widespread impact of the Gospel that radically overhauls our lives and loves, our principles and priorities, by the saving power of the reigning Christ.
There is only one solution for our crisis of the spirit. There is only one answer to the ultimate questions we face about race. There's only one hope to match the energy, the vision, the appeals, and the soul-cries ascending from this daily, national uprising. It is the person and work of our victorious Lord Jesus Christ. Consider:
The revolution of our hearts, to deliver us from racism and anger and division—can spring only from the purposeful, penetrating, redemptive work of our Lord Jesus Christ.
The kingdom promises of God that fulfill the deepest longings of our hearts for ourselves and our people can be entered into only through the great Promise Keeper, our Lord Jesus Christ.
The healing reconciliation among the races—especially Black and White—and the transforming regeneration of structural changes that so many are seeking will be found only through opening wide the gates to receive the active reign of our Lord Jesus Christ among us.
The righteousness, justice, and restoration of wholeness we are so desperate for, individually and as a nation, can truly begin only with full surrender to Jesus Christ as Lord of all.
The realization of the highest ideals of the "American experiment" for ALL of our citizens—but especially for the Black community— can still be ours. But it will come solely through the revelation and inbreaking of the righteous, reconciling, reforming, reviving work of our Lord Jesus Christ—and only as we embrace it daily and apply it comprehensively.
So, as needed, let's keep on marching in our streets with our feet. But above all, let's keep on marching to the Throne by our prayers—"marching" on our knees, as it were—seeking a fuller demonstration of the glory, greatness and goodness of God's Son.
A "kairos" hour is upon us. We must be about the business of preparing the way of the Lord. We must get ready to welcome, enter into, and then spread, the coming Christ Awakening. That is the movement that offers the one true hope for America at this crossroads.
Most of all, it provides us our greatest opportunity to see Jesus highly exalted as Lord and Savior, reviving the Church and restoring the soul of our nation.
Today, Isaiah 40, which was brought to life in the ministry of John the Baptist, calls Christians everywhere to take similar actions in our generation on behalf of Christ, for the coming Christ Awakening and triumphant advances of his kingdom that lie just ahead of us.
Let these commands become your "marching orders," as well, every day among the people where you live:
Thunder in the desert!
"Prepare for God's arrival!
Make the road straight and smooth,
a highway fit for our God.
Fill in the valleys,
level off the hills,
smooth out the ruts,
clear out the rocks.
Then God's bright glory will shine
and everyone will see it.
Yes. Just as God has said."
Can grace cover the worst thing you've ever done? The most terrible act committed against you? The one thing you have the most trouble forgetting? The worst deed ever committed in history? In your lifetime?
Can God's grace cover that? How complete is His forgiveness? How unconditional is His love?
How Deep is God's Grace?
By Rebecca Barlow Jordan
God's grace is so deep, you can never contain it.
So wide, you can never explain it.
So deep you can never see its beginning,
So wide, you can't see its ending.
So deep, you can't comprehend it,
So wide, you can't ever end it.
So good, you can hardly believe it,
So great, you can only receive it.
So free, you can never earn it,
So amazing, you will never return it.
Take a moment again to remember, because we never truly forget. Memories—we may replace them, but we can never erase them. What is your worst memory? Your greatest (actual) nightmare? Then place God's grace beside it.
How Deep Is God's Grace?
Deep enough to cover the deepest sin. Because of Jesus, it's wide enough to erase it from God's "memory," in that He no longer holds it to our account (Psalm 103:11-12). We are forgiven!
His grace is deep enough to cover every prison cell in every country. It's wide enough to envelop the darkest heart. It's big enough to embrace you forever. But it's a gift, and must be received (Acts 2:8-9).
How Deep Is God's Grace?
Deeper than you think.
I don't know about you, but I remember those times in my life—painful times when I wasn't proud of my actions or thoughts. Judgmental times, too. At times, I've wished I could forget. But I choose to believe His grace is not only sufficient to forgive, but that it's deep enough to heal every memory. And it's strong enough to help us grow deeper with Him.
Maybe it's time to really believe and act on that truth.
"And may you have the power to understand, as all God's people should, how wide, how long, how high, and how deep his love is" Ephesians 3:18 NLT
"May God our Father and the Lord Jesus Christ give you grace and peace" (Galatians 1:3 NLT).
NOTE: I found the inspiration for this blog several years ago through Christy Nockel's song, Healing Is in Your Hands, as we sang it in our worship service one Sunday morning. Listen carefully to the words of that song on the video. It's one of my favorite songs. God's healing grace is so powerful!
* I first published this post several years ago, but wanted to share its powerful message again.
For more help on God's grace, check out you can check out another blog I wrote. You can also find a unique picture of God's grace on this post.
My Personal Prayer for You
Lord, I truly don't understand Your amazing grace. All I know is that I've experience it repeatedly. May that be true of every reader today. Surprise them with Your grace and Your unconditional love. Let them feel Your presence and the touch of Your healing hand on the hurts of their lives. Fill them with Your joy and help them receive Your grace daily. Lord, how can we thank You enough for pursuing us and accepting us, even at our worst? Thank You for Your precious covering of love.
Day-votedly Yours,
Rebecca
It's Your Turn
What does God's grace mean to you? How has it changed your life? I love to hear from readers. You can always write me through my contact page and fill out the basic name and address info; then the email will come to me. Your name or info will never be shared with anyone without your permission.
Share This Post with Others
Prophetic Word: The Lord Says, 'I Want to Bring My Healing Touch to Black America'
In 32 years of ministry, I can't think of one time I shared a word from God in the first person on a national level. But as my wife and I were driving from Tel Aviv to Ashkelon today, I began to pray, and I started to sense that God was speaking.
He started by telling me, "People think you are sharing your political opinion (in a few Facebook posts I posted), I want you to prophesy so they can hear my heart." And then He began to speak to me about His heart.
I immediately wrote it down as soon as arrived at our destination. There are things written below that I had never even thought of until He spoke them.
New Testament prophecy is always partial (1 Cor. 13:9) and filtered through our personhood, and to be judged by others, but not to be despised. (1 Thess. 5:20-21). My words are the ones not in quotes.
I humbly submit this to the body in the fear of the Lord:
The Spirit of Lord says: "Do not process what is happening in America in a political way. If you do, you will choose a side, right or left, but I am seated in heavenly places, not on the political right or the political left, but in heaven above.
"Since, then, you have been raised with Messiah, set your hearts on things above, where Messiah is seated at the right hand of God. Set your minds on things above, not on earthly things. For you have died, and your life is hidden with Messiah in God." (Col. 3:1-3, TLV, author's emphasis).
"'For My thoughts are not your thoughts, nor are your ways My ways" (Isa. 55:8).
"You will say, 'but this' and 'but that,' but I am looking for your obedience. What does My Word say regarding the poor, hurting and broken? Does it say to choose a political side, or to reach out to them? Reaching out in My love is not a right-wing or left-wing solution, but an upward resolution that will release My grace and power.
"The key to the revival that you in the 'white church" seek is the white church invading the black community with My love, healing power and practical help—such as mentoring, tutoring—I am calling you to share your lives with them.
"I will deal with the looters and criminals through the criminal justice system, yet even they have a purpose, just as I used Assyria to judge Israel (Isa. 10:5-6). In the end, I judged Assyria for her actions.
"But I want you to look deeper and bring My healing touch to black America. There is no other answer. Hear my voice: 'There is no other answer!' Will you be My body? Will you be My hands? My heart breaks for them; does yours?
"Why did I use the symbol of the Kansas City Chiefs to prophesy a coming revival? Because chiefs are native Americans, an oppressed community. Broken and in need.
(Some asked, "How long do [Native Americans] hold a grudge? How many years have passed since slavery was legal?" The answer is simple—until there is healing.)
"If you want revival, then you will have to leave your neighborhoods and gated communities. You will need to share your riches and experience with a people not your own. Are you willing? What is your life to you? You were bought with a price (1 Cor. 6:20).
"What was the cry of the Hebrew prophets? Look at their hearts. When they entered the political arena, it was to release My Word and speak against injustice. They cried out on behalf of the broken, the orphaned, the fatherless and the widow.
"'Is not this the kind of fasting I have chosen: to loose the chains of injustice and untie the cords of the yoke, to set the oppressed free and break every yoke?'" (Isa. 58:6).
(The woman caught in adultery, the Good Samaritan, all the untouchables that Yeshua touched from beggars to lepers to prostitutes.)
"You want me to remove the agitators so you can continue in comfort. Hear me, 'I have not called you to a life of comfort, but comforting others—and in that you will find true comfort.' The agitators are My servants, sent to wake you up to the need. If you respond to the need, I will deal with the agitators and send winds of refreshing—the ones you have longed for.
"No, this is not the revival 'package' you were looking for, but it is the one I am sending. I need you to be Me to them, not to make excuses why they deserve what they are getting.
"Will you rise up? Rise up to that heavenly calling where Yeshua weeps and intercedes (Rom. 8:34) for all who are in need. Will you call them to Me, to salvation and freedom?
"Where are My leaders? Where are My activists, where are My holy agitators, anti-looters, who give and don't take, who love and don't hate? I can't do it without you (Rom. 10:14) I do not have a plan B. You are My representatives on earth until I come. Rise up people of God and do not miss this moment. Who will answer the call to love these people?
"You fight for biblical values, but I am calling you to live them out. For all your fighting what has it gotten you? You are losing ground daily. Why? Because you have the cart before the horse.
"Is the New Covenant commission to fight for biblical values in the public square? Or to preach the message of the gospel that changes lives. 'Therefore, if anyone is in Messiah, the new creation has come: The old has gone, the new is here!' (1 Cor. 5:17)
"Did Paul my servant preach biblical values to the lost?
"For I will not dare to speak of anything except what Messiah accomplished through me, to bring about the obedience of the Gentiles by word and deed, in the power of signs and wonders, in the power of the Spirit of God. So from Jerusalem and around even to Illyricum, I have fully proclaimed the Good News of Messiah. In this way I make it my aim to proclaim the Good News not where Messiah was already named, lest I build on another person's foundation" (Rom. 15:18-20).
"His message was Jesus! Preaching biblical values to unbelievers is like driving a car without oil. It will not work. (And has not worked.)
"'Religion that God our Father accepts as pure and faultless is' not preaching biblical values to the lost, but 'this: to look after orphans and widows in their distress and to keep oneself from being polluted by the world ' (James 1:27b, NIV).
"However, the oil is the power of the My Spirit. When you preach the gospel in both power and love, in word and deed, when you truly represent my heart to a broken world, then you will see fruit. And then, they will gladly embrace My values."
I felt there was more to say, but I do yet have the faith to prophesy it.
I have a friend in the U.S. He and his wife are very successful with three grown children. About 8 years ago, they took in an African American preteen. At first it was just visits for mentoring, but then after the death of her mother and then her caretaker, and being left in a completely dysfunctional environment, they adopted her. She is now about to graduate high school from a private school, and she knows Jesus. Without them, I can't even imagine where she would be today!
No, not everyone has this type of grace, but it is an example of how actions of love speak louder than words. We can't miss this moment.
Ron Cantor is the CEO of Tikkun International, a Messianic family of leaders and ministries dedicated to the restoration of Israel and the church. Ron is considered an authority on the Jewishness of the New Testament and has written several books. He also writes frequently on leadership topics and has just released Follow His Lead, his newest book. You can get a free copy of his encouraging e-book, The Coming End-Time Revival, at roncantor.com. Ron lives with his wife, Elana, in Tel Aviv, Israel.

Unstoppable!

 'Beyond Baptism to Full Fellowship'

Even as Peter was saying these things [about salvation in Jesus], the Holy Spirit fell upon all who were listening to the message. The Jewish believers who came with Peter were amazed that the gift of the Holy Spirit had been poured out on the Gentiles, too. For they heard them speaking in other tongues and praising God.

Then Peter asked, "Can anyone object to their being baptized, now that they have received the Holy Spirit just as we did?" So he gave orders for them to be baptized in the name of Jesus Christ. Afterward Cornelius asked him to stay with them for several days.

— Acts 10:44-48 NLT
Key Thought
Luke made sure we understand the implications that the baptism of Cornelius and his many friends and relatives had for Christian fellowship. Full fellowship of Jewish Christians with Cornelius and all these new brothers and sisters had begun with their baptism. Cornelius asked Peter, a Jew, to stay with him, a Roman and a Gentile, and Peter did. Boom! The wall* that divided people as Jew and Gentile fell, and a new family of God, made up of all peoples who call on the name of the Lord, could be saved and enjoy full fellowship with one another. While Christians have worked on the implications of this moment for a long time, Cornelius and his many friends and family who came to Christ demonstrated God's desire for full Christian fellowship with no dividing walls!
* See Ephesians 2:11-22, which is also in our Related Scripture Readings below.
Today's Prayer
O, God, praise your name. You are God of all. I shout, "Hallelujah!" with the angels in heaven at the dawning of a new age of salvation with Cornelius' conversion. May we, your children today, bring to full fruition your desire to have "every nation and tribe and people and language"* join in your chorus of praise for Jesus, your Son, our Savior, and the Lamb who was slain to give us life. To his glory, we pray and praise his name. Amen.
* See Revelation 7:9-17, which is also in our Related Scripture Readings below.
Related Scripture Readings
Daily Wisdom: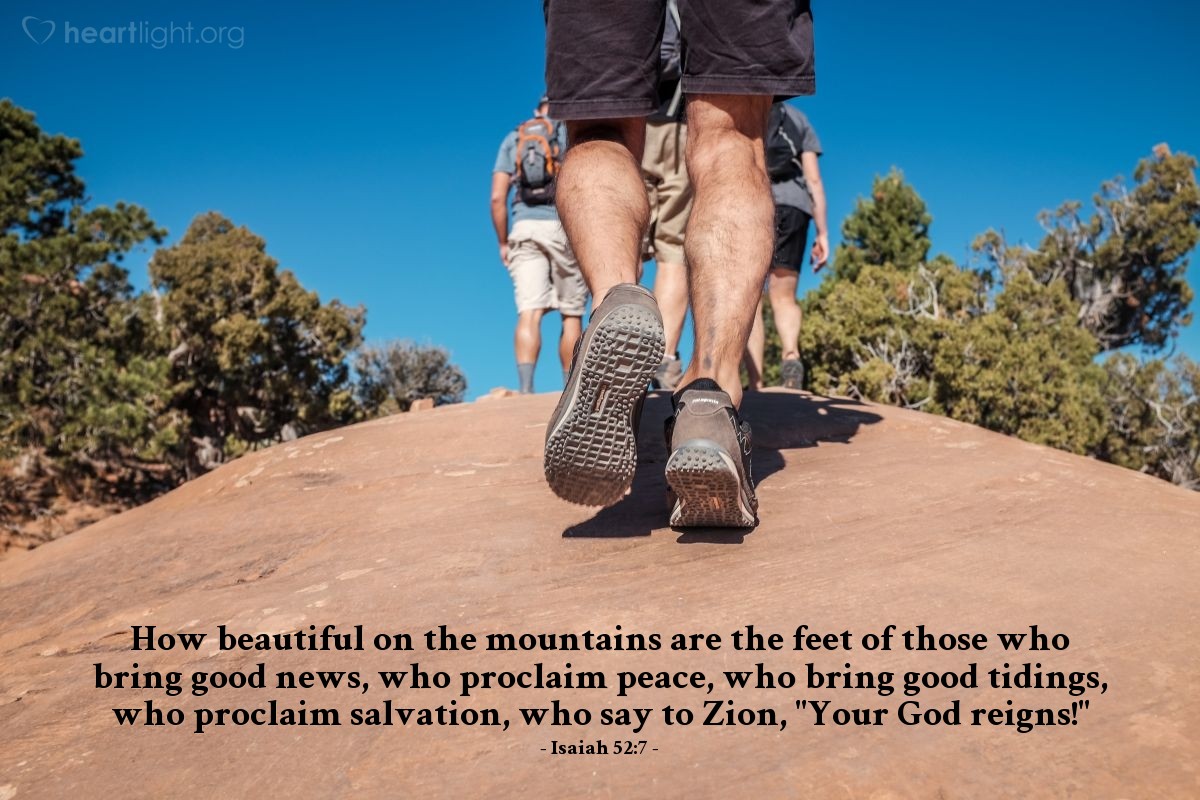 `
Passion for Praise:

 'King Forever'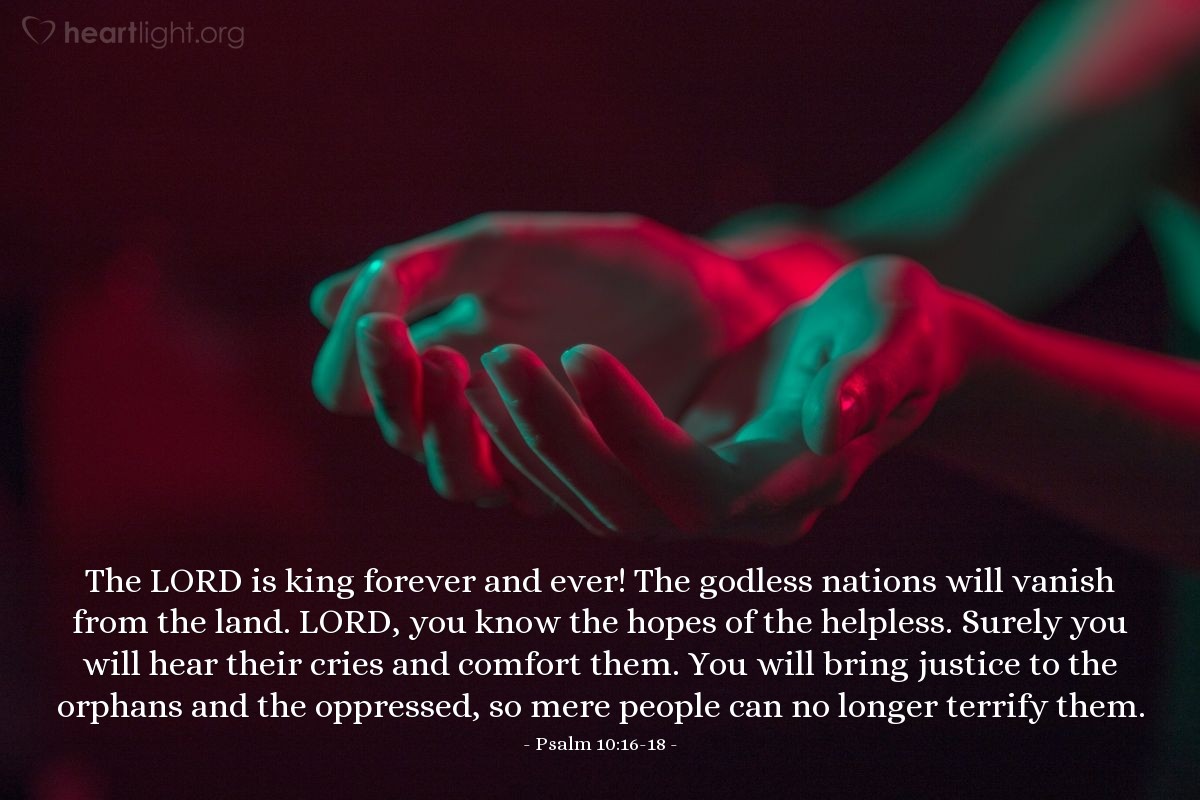 Spiritual Warfare:

 'Listen Very Carefully: Guard Your Heart'

God's Power for Our Battles

My child, pay attention to what I say. Listen carefully to my words. … Guard your heart above all else, for it determines the course of your life.

Lord, I confess that my life is too busy and my mind wanders. I usually focus on the things of this world much more than I focus on paying attention to Your commands or listening carefully to Your instructions. Forgive me. Lead me. Change me. Mold me into someone better than before. Help me to be on guard for the enemy at all times; to always be alert to the evil plans he has to lead me away from You. Help me to guard my heart above all else. My body will grow old and weak, but my heart and mind are Yours forever. Guide my heart to follow Your course. In Jesus' Name, Amen.
A Year with Jesus:

 'Undaunted!'
Note from Jesus
Dear Faithful Follower,
Yesterday, I asked you to read about the paralyzed man that I healed through Peter and John. I wanted you to see the refreshing new life that I brought not only to that man but also to all who turn to Me. Peter and John spoke about My power and presence being available because I had been raised from the dead. The Sanhedrin, the highest ranking religious body in Israel, had asked that I be put to death. In today's verses, My disciples were standing before the same religious body, but they were not intimidated or afraid. Because of My resurrection and the outpouring of the Holy Spirit, they were undaunted!
As you might expect, the healing of the paralyzed man created a big stir among the religious leaders. "So they arrested Peter, John, and the man who was healed and kept them in jail overnight" (Acts 4:3). These religious leaders had a major problem: more than 3,000 people had already become My disciples, and the number was quickly becoming more than 5,000. The religious leaders hauled Peter and John in before them. This very same group that had asked the Roman Governor Pilate to have Me put to death now threatened My apostles.
Peter and John were unafraid! They spoke powerfully to the Sanhedrin, unfazed by the threats of these religious leaders and their earthly power. Peter and John's opponents immediately recognized the problem:
Now the leaders were surprised and confused. They looked at Peter and John and realized they were typical peasants — uneducated, utterly ordinary fellows — with extraordinary confidence. The leaders recognized them as companions of Jesus…
(Acts 4:13)
In the next several chapters in the book of Acts, you will find that My disciples were threatened, beaten, imprisoned, and even martyred. They were put to death because of their faith in Me and their commitment to sharing My message with others. But they were not intimidated! They were undaunted!
As you look at their examples, I hope you will also be undaunted by those who oppose you, ridicule you, and ostracize you. Let your commitment to share My message of grace with the lost world around you propel you past your fear, and let My Spirit empower you to greater things than you can imagine.
Verses to Live
What you will read below comes from the continuing story of the religious leaders' failed attempts to keep My apostles quiet. My apostles were committed to sharing My message. They were committed to reaching the lost. They were committed to honoring Us — Father, Son, and Spirit — in spite of any threat from any human power or person.
The leaders brought the prisoners [Peter and John] back in and prohibited them from doing any more speaking or teaching in the name of Jesus. Peter and John listened quietly and then replied,

Peter and John:

You are the judges here, so we'll leave it up to you to judge whether it is right in the sight of God to obey your commands or God's. But one thing we can tell you: we cannot possibly restrain ourselves from speaking about what we have seen and heard with our own eyes and ears.
After praying and being emboldened by the Spirit, My disciples continued to share the message about My life, death, resurrection, and grace. They continued to proclaim the good news, and their number grew rapidly as My power was demonstrated through them.
Those were amazing days — with many signs and wonders being performed through the apostles among the people. The church would gather as a unified group in Solomon's Porch, enjoying great respect by the people of the city — though most people wouldn't risk publicly affiliating with them. Even so, record numbers of believers — both men and women — were added to the Lord.
(Acts 5:12-14)
After being arrested and then miraculously delivered from jail (Acts 5:19), the apostles continued to proclaim My message, undaunted by the threats, beatings, and imprisonment. When questioned by the High Priest and the ruling council they remained undaunted:
The temple police — this time, accompanied by their captain — rushed over to the temple and brought the emissaries of the Lord to the council. They were careful not to use violence, because the people were so supportive of them that the police feared being stoned by the crowd if they were too rough. Once again the men stood before the council. The high priest began the questioning.

High Priest:

Didn't we give you strict orders to stop teaching in this name? But here you are, spreading your teaching throughout Jerusalem. And you are determined to blame us for this man's death.

Peter and the Apostles:

If we have to choose between obedience to God and obedience to any human authority, then we must obey God.

The council… brought the apostles back in. They were flogged, again told not to speak in the name of Jesus, and then released. As they left the council, they weren't discouraged at all. In fact, they were filled with joy over being considered worthy to suffer disgrace for the sake of His name. And constantly, whether in public, in the temple, or in their homes, they kept teaching and proclaiming Jesus as the Anointed One, the Liberating King.
(Acts 5:40-42)
Response in Prayer
O Father, give us the courage to do Your will and the grace to share the message about Jesus by the power of the Holy Spirit. May we be as undaunted in our day as these early disciples were in their day! I pray this in Jesus' name. Amen.
               Dion Todd
Delight yourself in the LORD, and He will give you the desires of your heart. Have you ever felt that God would not want to bother with the little things in your life? Read today's word for a blessing. Today's message is from my book, "Forty Days of Faith".
So Good To Me
Delight yourself in the LORD, and he will give you the desires of your heart. Commit your way to the LORD; trust in him, and he will act. Psalms 37:4 ESV
When the man tossed the cable on the desk, I started laughing. I could hardly believe it. I have always been drawn to technical things like a moth to a bug light and I like tinkering with them. I wanted to hook a computer up to my television and needed an DVI to HDMI cable. They are common today, but in 2004 they were nearly unheard of. I searched the Internet and found one for about forty dollars, but something told me to wait so I did not buy it.
We owned a small computer business and our first client of the day was an insurance company. We walked into the office and while discussing the issues that they were having, the man reached into a desk drawer and tossed an unopened DVI to HDMI cable on the desk. He said 'I don't know why I bought this, but I certainly do not need it. Maybe you can use it for something?' I started laughing. 'God is so good to me', I thought.
Some would say that is not scriptural and HDMI is not in the Bible, but it does not matter. The scripture says that He will give you the desires of your heart. Like the blind man said, 'I don't know how it happened. I was blind, but now I see', I needed a cable and did not have one, but now I do. Delight yourself in the Lord, put Him first in your life and He will take care of you. God cares about the little things, not just the big decisions and He wants to be intimately involved in your daily life. All that I know is this: He is so good to me.
Prayer: Father, draw my heart to You like never before. Give me the grace to live a life pleasing to You and walk with me each day, in the name of Jesus.
Bible Fun Fact: There are forty-nine different foods mentioned in the bible.
Flag Day!
Pop Goes the Weasel Day celebrates the popular nursery rhyme, "Pop Goes the Weasel." The rhyme's meaning and origin are debated, and there are various American and English versions of it. It was first published in 1850, in America, as a dance song titled "Pop goes the Weasel for Fun and Frolic." It was referred to as an English dance—meaning England is probably where it originated from. It is likely that an oral form of the nursery rhyme existed there long before 1850.
The dance "Pop goes the Weasel" was popular in England in the 1850s. Done on stage and in dance-halls, it didn't have lyrics beyond the shouting out of "Pop goes the weasel." More lyrics were soon added, but they weren't solidified in Britain and took on various forms in America as well.
The most basic and common lyrics in England were as follows:
Half a pound of tuppeny rice
Half a pound of treacle
That's the way the money goes
Pop! goes the weasel

Every night when I go out
The monkey's on the table
Take a stick and knock it off
Pop! goes the weasel
A common American verse, which was first printed in 1914, is as follows:
All around the mulberry bush
The monkey chased the weasel
The monkey stopped to pull up his sock, (or The monkey stopped to scratch his nose, or The monkey fell down and oh what a sound)
Pop! goes the weasel.
One theory takes the lyrics literally, saying the song is about weasels popping their heads up—something they do naturally when they are disturbed. Weasel may also be a play on the word "whistle." Another theory says that the song is about pawning a suit, where "pop" is the word for pawn, and "weasel" for suit. There are many other theories, and it is even possible that at the height of the dance craze in the 1850s, people didn't know what it meant.
Shortly after the dance gained popularity, by at least 1856, the phrase "Pop goes the weasel" began taking on its own meaning apart from the song. It came to indicate that something had happened "just like that." By the late nineteenth century, in Britain, the rhyme started being used to play a game that was similar to musical chairs.
Humor~~~