Daily Prayer for 

October 13
And because you are sons, God has sent the Spirit of his Son into our hearts, crying, "Abba! Father!" So through God you are no longer a slave but a son, and if a son then an heir. Galatians 4:6–7, RSV
Dear Father in heaven, we come before you as your children, longing to be assured through your Spirit that we are and may remain your children. We long to live to the glory of your name under the shelter and guidance of the Lord Jesus in expectation of the great day which shall fulfill all promises made to us. Strengthen us, especially in dark and troubled days. Help us when danger threatens and when evil tries to make headway among us. Deliver us from all evil, for yours is the kingdom, the power, and the glory for ever and ever. Amen.

J. Heinrich Arnold
Who is God, and how can we find him? One answer to this question is that something of the light of God already lies deep in each of our hearts. At times, this is to be felt only in a deep longing for goodness, justice, purity, or faithfulness. But if such a longing turns to faith, we will find God. The early Christians said that if we seek God we will find him, because he is everywhere. There is no boundary that cannot be crossed, no hindrance that cannot be overcome, to find him. We cannot excuse ourselves for not finding faith. If we knock at the door, it will open.
Source: Discipleship
—Dion Todd
Lost And Found
Yahweh's angel found her by a fountain of water in the wilderness, by the fountain on the way to Shur. He said, 'Hagar, Sarai's servant, where did you come from? Where are you going?' She said, 'I am fleeing from the face of my mistress Sarai.' Genesis 16:7 WEB
Hagar wandered alone in the desert. She had always done what she was told, but now it had become too much and she had ran from the painful life that she knew. She was pregnant, having to care for herself, and far away from where she should have been in life.
Hagar means: 'A stranger; one that fears.' She was an outsider in her own house. The Angel of the Lord found her lost in the desert and told her to return and submit because God had plans for her and her unborn child.
Even when Hagar did everything wrong, God found her and took care of her. He spoke of her future, and took her mind off the pain in her past. She broke down and called the Lord 'You are the God who sees me.'
Each time I have messed up and later returned to the Lord in prayer, He spoke about the future, not about the past. If you miss the Lord, He will find you. We often worry too much and ask 'Is this what God wants me to do?' until we get paralyzed and do nothing at all. You cannot steer a car that is not moving, but once it starts moving, then you can correct its course.
When we get stalled in life, we pray and then try and make the best decision. Sometimes it ends with: 'Lord, unless you tell us no, then we are going to do this.' When you get off course, He will bring you back with a word (Isaiah 30:21).
If you feel that the Lord wants you do something but you have been held back because you may be wrong, or you have run away from it, know that He will always find you. The Lord still seeks out those who are lost.
Prayer: Heavenly Father, I thank You for Your forgiveness. Help me get back on my feet and give me the grace to stand strong for I cannot do this without You. I give you permission to pull me back up and push me forward when I stall. In the name of Jesus Christ I pray.
Bible Fun Fact: Elephants are never mentioned in the Bible. However, ivory, which comes from elephants' tusks, is mentioned 13 times.
The Backstory: Former Dallas police officer Amber Guyger was sentenced on Wednesday (Oct. 2, 2019) to serve ten years in prison for the fatal 2018 shooting of an innocent man, Botham Jean, whom she shot when she mistakenly entered his apartment believing it was her own.
But in a remarkable act of kindness, the brother of the victim, Brandt Jean, took the witness stand and spoke directly to Guyger, urging her to give her life to Christ, and finally hugged her in the courtroom before she was led off to prison. (See a video clip of this extraordinary moment here.)
I don't want to say twice or for the hundredth time … how much you've taken from us. I think you know that … I hope you go to God with all the guilt and all the bad things you may have done in the past. Each and every one of us may have done something that we're not supposed to do … I forgive you, and I know if you go to God and ask him, he will forgive you …
I love you just like anyone else … I personally want the best for you … I want the best for you because I know that's exactly what Botham would want you to do, and the best would be to give your life to Christ. I think giving your life to Christ would be the best thing that Botham would want you to do. Again, I love you as a person, and I don't wish anything bad on you.
Then he asked Judge Kemp if he could hug Guyger, a request the judge granted. He stepped off the witness stand and met Guyger in front of the judge's bench.They strongly embraced each other as Guyger broke into tears.
Moments later, the judge spoke to Guyger privately, also hugged her, and gave her words of hope. Then the judge went to her chamber behind the courtroom and handed Guyger her personal Bible that she had used for years.
The Front Story: Whether they knew it or not, everyone sitting in that courtroom last week—plus millions who saw it on the nightly newscasts—were witnessing a  "preview" of the coming day when the promise of Colossians 1:18-20 will be fulfilled to the uttermost for the entire universe:
[Christ] was supreme in the beginning and—
leading the resurrection parade—
he is supreme in the end. 
From beginning to end he's there,
towering far above everything, everyone…
Everything of God finds its proper place in him…
all the broken and dislocated pieces of the universe…
get properly fixed and fit together in vibrant harmonies,
all because of his death, his blood that poured down from the cross.
(The Message, emphasis added)
kindredKG

grace
How to Bloom with Joy in the Midst of Brokenness
"Those who plant in tears will harvest with great joy. They weep as they go plant their seed, but they sing as they return with the harvest." (Psalm 126:5-6)
My Broken Narrative
I begin my broken-story narrative on February 10, 2014–the day my son, Titus, had a seizure. What followed was a massive and swift wave that rocked our lives hard between fear, anger, mystery and defeat.
April 7, 2015, Titus was diagnosed with a rare, genetic, and fatal disease. The doctor had no treatment he could prescribe, no cure in sigh. We were going to lose our boy. And worse yet, our youngest son, Ely, was also in danger of having the disease.  We were encouraged to get him tested as well.
June 25, 2015, Ely's test came back. To the visual eye he had no signs of the disease, but then again–he was too young to show any symptoms.  The phone call while on vacation held an answer. "I'm sorry, Rebekah, but he has it too," the genetic counselor had said. He too would live this hard journey, growing older and growing robbed. As my boys grew, their skills and abilities were stripped away. And, for my oldest, eventually so was his life.
There we were left in a puddled mess of agonizing tears. The first diagnosis day left me despondent. I began to research and connect with other families with the same disease. My heart started to grasp the severity of the monster living inside Titus as I braved Google and asked questions. The second diagnosis day absolutely gutted me. This evil was to take away all my children. The days following both diagnoses, I cried at the sight of everything. I witnessed beautiful brotherly moments and tears poured down my face as I watched. My thoughts traveled to the unknown of the future and I wondered how much longer I would get to witness these boys playing together.
I witnessed seizures and outbursts, boys going blind, falling, shaking, choking, crying in pain, muscles cramping, lungs drowning. And I'd cry out and yell out, wondering how long? How long was this suffering to be endured?
Hope in the Deep-Down Dark
In the rage, fear, and desperation, I fell into a deep, dark hole. I fully expected to be alone down there. But I wasn't. Christ met me there. He met me there with a promise that came wrapped in a broken and crucified Man.
His promise held three important lifelines for me there in my state of darkness and brokenness:
1. Even in that broken place, He was there.
He came all the way to brokenness to show me how wide and how long and how deep His love is for me. And He folded all the way into brokenness to show me how trustworthy His promise of victory and redemption will always be.
2. Victory and redemption were mine to hold.
Yes, even while I was still broken, I was victorious. There is and always will be Holy Adventure to be had right here in our present moments because Jesus has overcome!
3. Joy exists in these dark places.
Joy is not a reflection of how I feel, but of my God's consistent, faithful character. I Am, He promises. He does not change. In the pit of disease and death, there is praise to be lifted up. For Jesus, has brought victory over death. Even as it all felt hopeless and pain-filled, His Joy brought me to clarity so I could see above the storm I was surrounded by.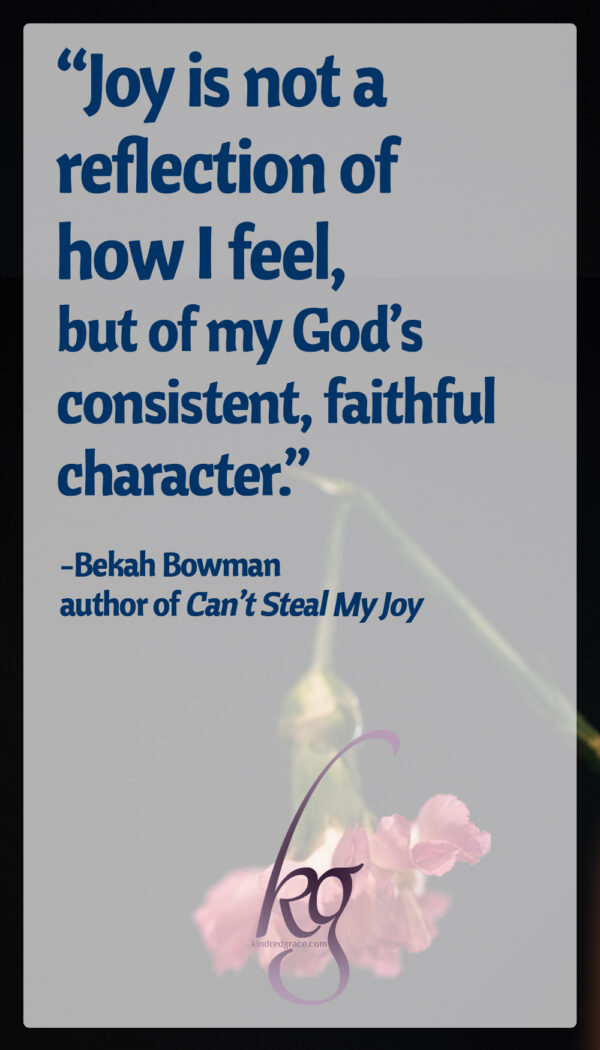 And so, I moved forward in those dark days and learned to look back. When I look back, I can see His faithfulness and trustworthiness. It is in the looking back that I can call out proof of His protection, His provision, His goodness, His presence!
And then I learned to look around, right there, in my present. For it was right there, when I open my eyes, where I discovered gifts in the mundane hamster wheel of life and in the broken, jaded edges. Goodness was before me and waiting to be beholden. Casting away the bitterness over what had been stolen and the fear of future what-ifs, gifted me the ability to be right there in my present moment, peering into what was in front of me right then.
And finally, I looked forward. Not in an anxious "what-if" kind of way, but in an expectant anticipation. Because what is held in that future day is the fullest fruition of the victory and redemption I get to claim right here, right now.
Finding My Manifesto
On a day I was overtaken by His love and in awe at the capacity of joy my heart still held onto, God sank the "Can't Steal My Joy Manifesto" deep into my soul. Right there, in the middle of sickness, death and loss, my heart sang out of His goodness, His provision, His grace, victory and JOY!
I journaled:
Want to know why I can't be plucked from the garden of joy? When that hand of hate, jealousy, anger, bitterness or selfishness tries to pull me out, my roots cling tight, dive deep, wrap around the other roots growing deep. One tries to pull my flower out, but they really have to contend with a mass of roots that have intertwined below.
This web of deep strong roots is a result of God's love. He is deep in us and when we face a storm on the surface–my leaves and petals taking a beating no flower could appear to endure–He holds tight to my roots, weaves them through the roots of other flowers. As the storm goes on, I don't wilt. I don't become uprooted. I firmly stand my ground in the soil of LIFE. And others around me too! God has weaved us together and we will stand strong, united and beautiful in the storm. We will add radiant colors in the gray skies, sweet smells as bitter rain comes down because our roots are DEEP.
It doesn't matter what happens on the surface–deep is where our roots are pulling nutrients. He is providing everything we need to stay up.
But… we do look beaten.
Save us, Lord! You see our plight and You cling tight. I might feel this unbearable storm, but You keep together the most important part of me–my soul. When I, a summer flower, bloom in the dead of frigid winter, people wonder, How?
My roots are held deep in love and warmth, surviving and thriving in unthinkable conditions. You give life that doesn't make sense. It appears impossible to live in such a way, a bloomed flower in dead winter. Only a good, redemptive God can give that kind of life. Thank you for deep roots in you, God. For clinging to me deep in my soul so I can survive. Thank you for winding my roots around such strong, wise roots of others. You have won and will continue to win in my heart. Nothing can hold you back. So please Lord, radiate strong from my being, through my broken stem and beaten leaves right to my new and beautiful bloom.
Finding Unity in Brokenness and Journeying Together
Brokenness is a unified human condition. We all know what our beaten leaves and broken stem represent. But at the end of our broken stem is a faithful, redemptive bloom. One that reflects the unchanging beauty of Christ that is in ALL of us. Perhaps, when we look at the bloom, our stems and leaves become (dare I say it?) inconsequential; not because they don't hurt anymore–oh they do! But because we can see beyond it and know that hope is always worth holding on to because redemption is coming, and in fact, is already happening here and now.
May you see your bloom. May you know deep in your soul just how much Jesus really, really loves you. Hold on. Hold on to those hope-filled roots, God's strength and victory always before you, beside you, under you, and all around you.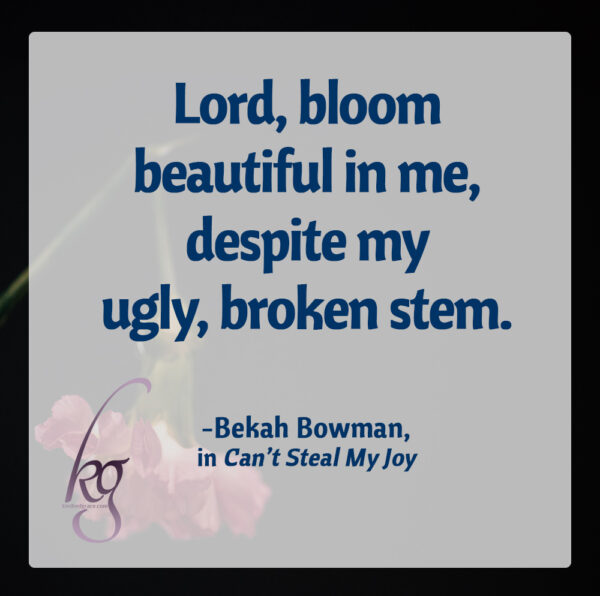 "…please, Lord, radiate strong from my being, through my broken stem and beaten leaves, right to my new and beautiful bloom. My broken stem shows my weakness, and my new bloom shows that You take brokenness and make it SO beautiful… Bloom beautiful in me, despite my ugly, broken stem."
(Can't Steal My Joy: The Journey to a Different Kind of Brave by Bekah Bowman)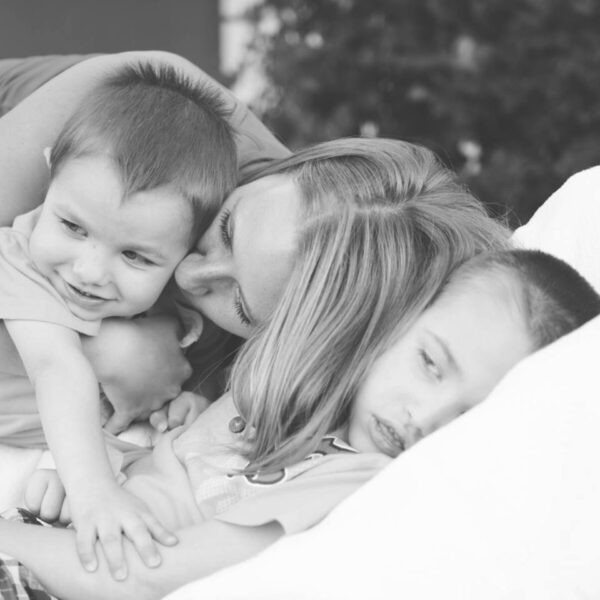 Bekah Bowman is a wife to a track coach, and mom to Titus and Ely. When she isn't writing, you might find Bekah spending time with her family, working as the Volunteer Manager for her community's local Guardian ad Litem (CASA) program, or jumping in on an indoor soccer game. She loves coffee, fresh journals, and meaningful conversation. And most of all, she loves being a small part of God's Big Story. Visit Bekah's blog, or find her on Facebook and Instagram.
Share 
today

's verse

What Jesus Did!

 'Just Like in Noah's Day'

[Jesus said,] "When the Son of Man returns, it will be like it was in Noah's day. In those days, the people enjoyed banquets and parties and weddings right up to the time Noah entered his boat and the flood came and destroyed them all."
Key Thought
Noah's message and preparation went totally unappreciated by his contemporaries. They ignored his warnings about God's impending judgment and their need to repent. They went on doing what they had always done, even as the rain started to fall. When Jesus returns in his glory, those who have lived for him will be waiting in expectation for his return and be overjoyed. However, those who have ignored his call to follow him and who have spurned his grace will be caught off guard just as much as those in Noah's day were. It's sad. It's tragic. Let's try to make a difference in as many of those lives as we can!
Today's Prayer
Father, I know Jesus will come with glory. I know that his return will catch many off guard. Please use me to help those around me to be prepared and full of joy at the return of Jesus, in whose name I pray. Amen.
Related Scripture Readings
Daily Wisdom: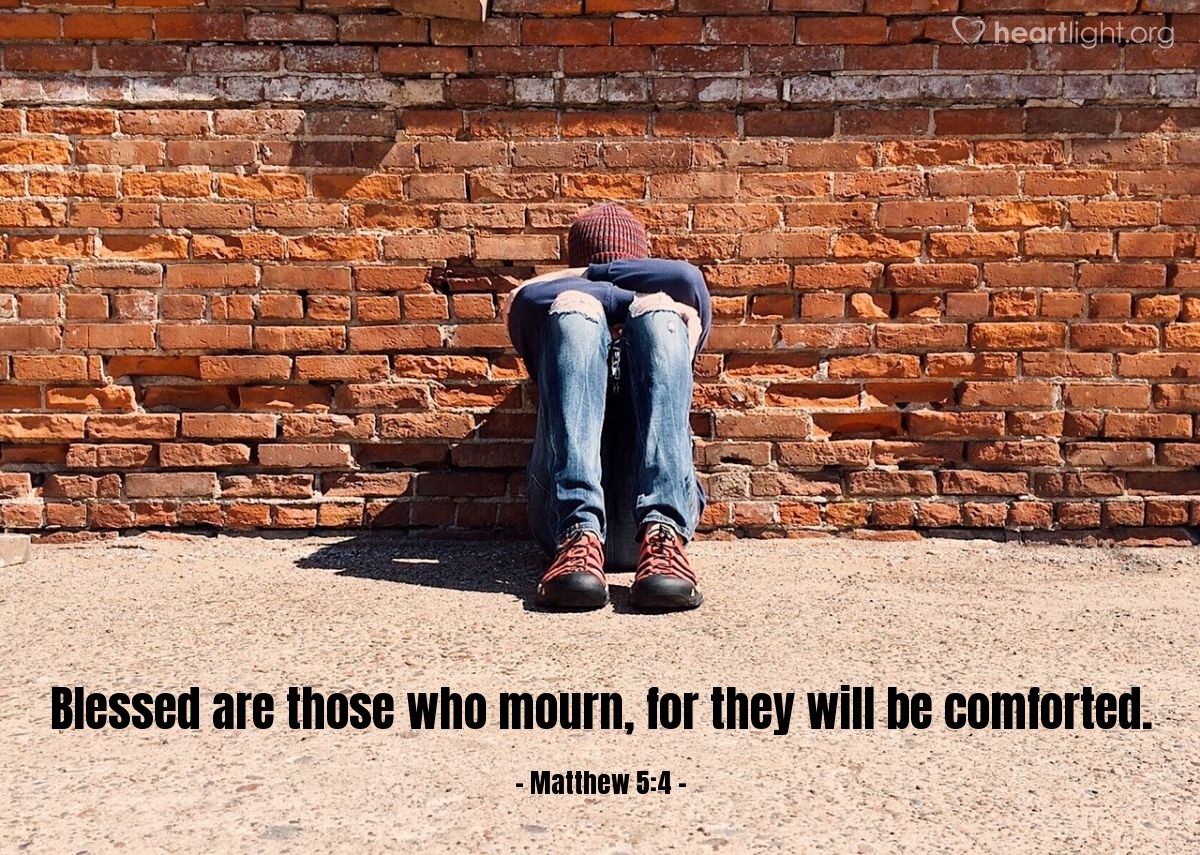 Passion for Praise:

 'Joy, Gladness, and Shouting'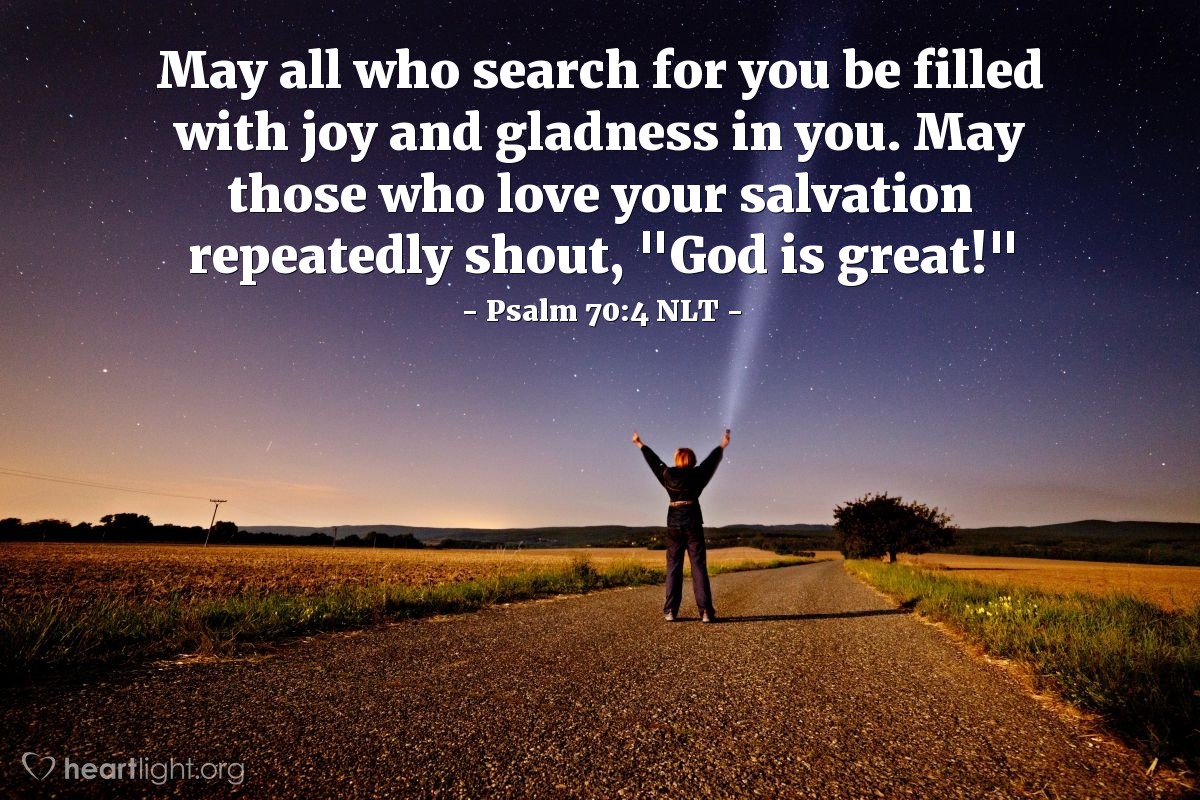 Spiritual Warfare:

 'Be Thankful, Prayerful, Vocal, and Glad in Him'

God's Power for Our Battles

Give thanks to the Lord and pray to him.Tell the nations what he has done. Sing to him; sing praises to him. Tell about all his miracles. Be glad that you are his; let those who seek the Lord be happy. Depend on the Lord and his strength; always go to him for help.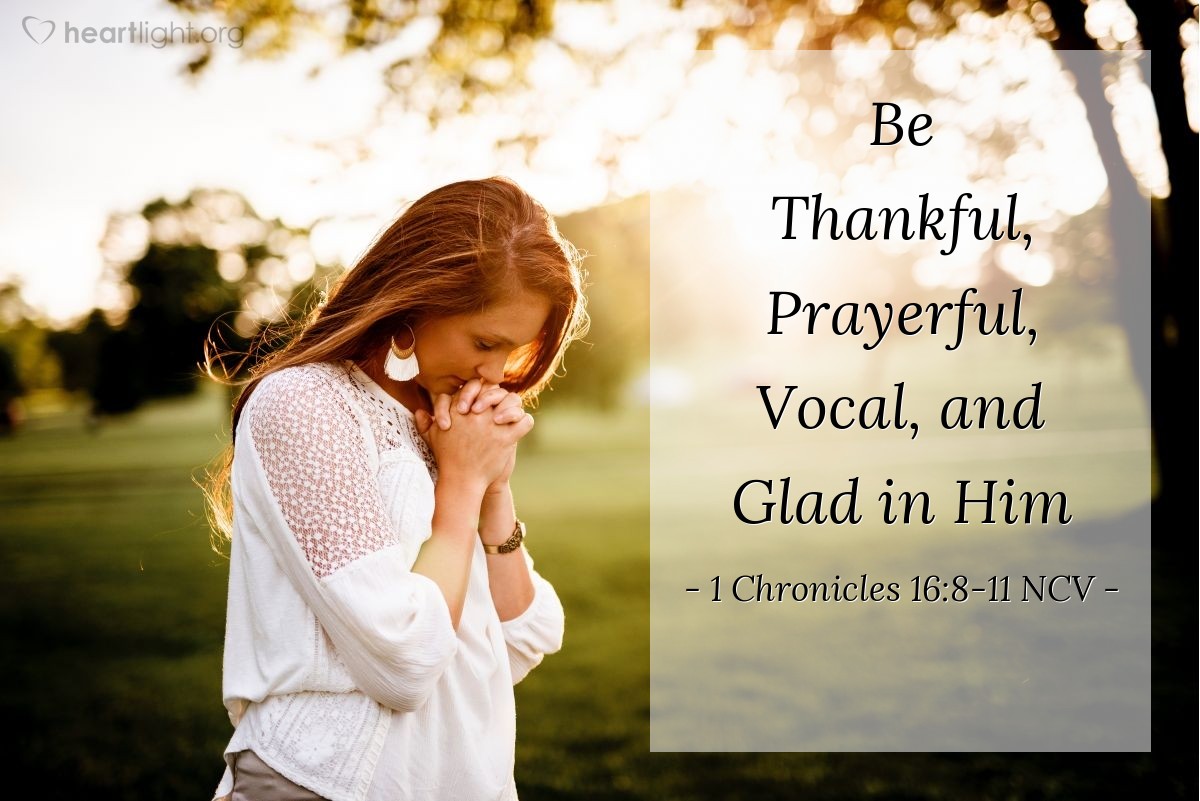 Today's Prayer
Lord, I thank You and praise Your Holy Name. I pray to You because You are the Chosen One, the One I can always depend on for strength and constant help. I sing of Your greatness and kindness and glory, Lord, and I pledge to tell others of how You have rescued me again and again. You are the God of miracles and hope, and my heart rejoices in Your love for me. In Jesus' Name, Amen.
A Year with Jesus:

 'God's Suffering Servant'
Note from Jesus
Dear Follower,
The Father's role for Me when I came to earth as the Son of God shocked many people. They expected a warrior or kingly ruler who would restore Israel to prominence and power among the nations of the world. Even my cousin and forerunner, John the Baptizer, had questions about whether I was the Messiah. So I reminded this great servant that I was doing the things that are in the description of the Messiah given by Isaiah (Isaiah 35:4-6):
John sent two of his disciples to ask the Lord, "Are You the Promised One, or shall we keep looking for someone else?"

They came to Jesus and asked their question exactly as directed by John the Baptist.

Before He answered John's messengers, Jesus cured many from various diseases, health conditions, and evil spirits. He even caused many blind people to regain their sight.

Jesus (to John's disciples):

Go and tell John what you've witnessed with your own eyes and ears: the blind are seeing again, the lame are walking again, the lepers are clean again, the deaf hear again, the dead live again, and good news is preached to the poor. Whoever is not offended by Me is blessed indeed.
I came to earth as the servant promised in Isaiah. I repeatedly tried to help people hear this truth about My identity; here are two examples of what I said about Myself:
"For the Son of Man came to seek and to liberate the lost."
(Luke 19:10)

"You know that among the nations of the world the great ones lord it over the little people and act like tyrants. But that is not the way it will be among you. Whoever would be great among you must serve and minister. Whoever wants to be great among you must be slave of all. Even the Son of Man came not to be served but to be a servant — to offer His life as a ransom for others."
(Mark 10:42-45)
In the second passage of Scripture below, My apostle Paul dealt with problems in the church in Philippi. He used My example and My role as the servant of the LORD to be the foundation of his teaching. My disciples in Philippi needed to have the same mind, the same attitude, as I displayed in honoring the Father when I accepted My role as a servant. I want you to remember My role, My willingness to honor God in that role. More than remembering, I want you to adopt this servant lifestyle as your own!
Verses to Live
As you read the following verses, ask the Holy Spirit to imprint My example on your heart. First, you will read Isaiah's words of description for the LORD's Suffering Servant. Then you will read Paul's exhortation for My disciples to have this same attitude. As Paul wrote to the Philippians from prison, he wanted them to grasp fully that they must have this one mind as they lived in relationship with each other. I want you to have this same mind as you live in relationship with other believers!
Indeed, who would ever believe it?
Who would possibly accept what we've been told?
Who has witnessed the awesome power and plan of the Eternal in action?
Out of emptiness he came, like a tender shoot from rock-hard ground.
He didn't look like anything or anyone of consequence —
he had no physical beauty to attract our attention.

So he was despised and forsaken by men,
this man of suffering, grief's patient friend.
As if he was a person to avoid, we looked the other way;
he was despised, forsaken, and we took no notice of him.

Yet it was our suffering he carried,
our pain and distress, our sick-to-the-soul-ness.
We just figured that God had rejected him,
that God was the reason he hurt so badly.

But he was hurt because of us; he suffered so.
Our wrongdoing wounded and crushed him.
He endured the breaking that made us whole.
The injuries he suffered became our healing.

We all have wandered off, like shepherdless sheep,
scattered by our aimless striving and endless pursuits;
The Eternal One laid on him, this silent sufferer,
the sins of us all.

And in the face of such oppression and suffering — silence.
Not a word of protest, not a finger raised to stop it.
Like a sheep to a shearing, like a lamb to be slaughtered,
he went — oh so quietly, oh so willingly.

Oppressed and condemned, he was taken away.
From this generation, who was there to complain?
Who was there to cry "Foul"?
He was, after all, cut off from the land of the living,
Smacked and struck, not on his account,
because of how my people (my people!)
Disregarded the lines between right and wrong.
They snuffed out his life.

And when he was dead, he was buried with the disgraced
in borrowed space (among the rich),
Even though he did no wrong by word or deed.

Yet the Eternal One planned to crush him all along,
to bring him to grief, this innocent servant of God.
When he puts his life in sin's dark place, in the pit of wrongdoing,
this servant of God will see his children and have his days prolonged.
For in His servant's hand, the Eternal's deepest desire will come to pass and flourish.

As a result of the trials and troubles that wrack his soul,
God's servant will see light and be content
Because He knows, really understands, what it's about; as God says,
"My just servant will justify countless others by taking on their punishment and bearing it away.

Because he exposed his very self —
laid bare his soul to the vicious grasping of death —
And was counted among the worst, I will count him among the best.
I will allot this one, My servant, a share in all that is of any value,

Because he took on himself the sin of many
and acted on behalf of those who broke My law."
(Isaiah 53:1-12)

In other words, adopt the mind-set of Jesus the Anointed. Live with His attitude in your hearts. Remember:

Though He was in the form of God,
He chose not to cling to equality with God;

But He poured Himself out to fill a vessel brand new;
a servant in form
and a man indeed.

The very likeness of humanity,

He humbled Himself,
obedient to death —
a merciless death on the cross!

So God raised Him up to the highest place
and gave Him the name above all.

So when His name is called,
every knee will bow,
in heaven, on earth, and below.

And every tongue will confess
"Jesus, the Anointed One, is Lord,"
to the glory of God our Father!
Response in Prayer
Lord God, thank You for Jesus as Your example of a servant. Jesus' example is both convicting and inspiring. I pledge to honor Jesus by following His example as a servant. I ask for the power of the Holy Spirit to help me as I seek to follow Jesus' example and not my own selfish desires. In Jesus' name, I pray and ask for this grace. Amen.
Illustration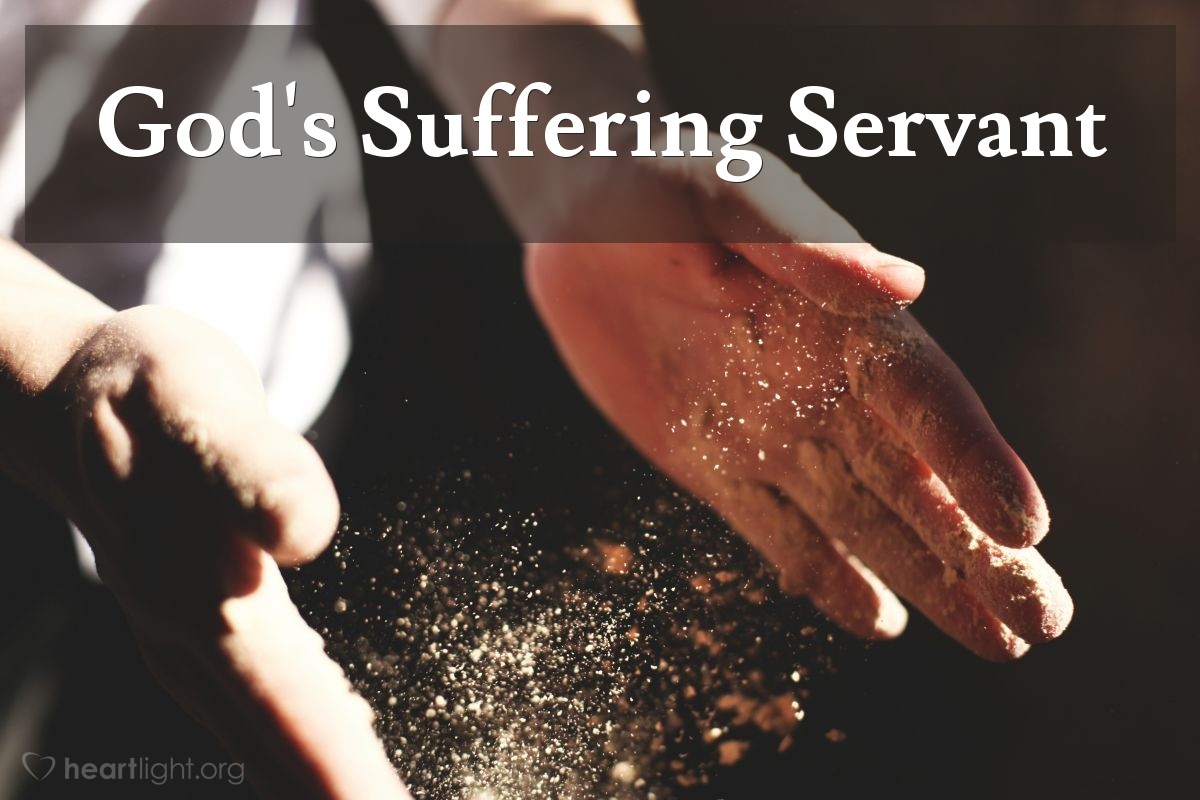 A Little Humor…