Daily Prayer for 

October 20
Let all the earth fear the Lord; let all the people of the world revere him. For he spoke, and it came to be; he commanded, and it stood firm. The Lord foils the plans of the nations; he thwarts the purposes of the peoples. Psalm 33:8–10, NIV
Lord our God, we gather together in your presence and ask you to let your light shine in our hearts to strengthen us in times of need and trouble. May we come to know that through all the storms and distress of the world, you are mighty in protecting and sheltering those who trust in you. May we realize the power of your kingdom. Even if all the kingdoms of the world rise in rebellion, you are with us. You are with those who have set their hope on your kingdom and who go on hoping that even in evil days something must happen through your great and holy rule. Amen.
It is better in prayer to have a heart without words than words without a heart. —Mahatma Gandhi
What business
 does a man have in a hospital room – in the brief moment at the end of a long life lived everywhere and with everyone else – holding a hand and loving every year of a life he knows nothing about? There have been so many rooms that when I imagine the fifth floor of Calvary Hospital each nameplate at each doorjamb rapidly morphs into the next. There is only one constant: a janitor in a green jumpsuit waxing the linoleum floor. He waxes widely, slowly, left to right then reverse, Eddie Vedder growling through his headphones.
These names, changing and changing, persist somehow within me unchanged. These faces find me. They surprise me, coming into focus without me even closing my eyes – staring out a car window into a leafless wood or at a clean slice of blueberry pie or at the Host. I have awoken at night with a name and a prayer on my lips – "pray for us now and at the hour of our death" – often wondering if, at this moment, the petition might be redundant. What joins a man to another he's known for so few hours at a time? Could it have something to do with that thoughtless-heartless monster, Cancer, pulverizing any hapless cell underskin? Alexander. Rose. Madelyn.
Intimacy is not just for familiars at home. Death, at certain of her portals, can be intensely intimate.
Are you there?I catch myself wondering of a leaking, breathing corpus laid out on a hospital bed, eyes open and vacant. Life has its way of deceiving us. Sometimes the soul feels so loosely attached to a body, like a tooth you could tie a string around and – slam! – dislodge. Other times the soul feels so securely lodged in a patient that you expect heaven itself to descend and lift them both together behind its jeweled walls, into its duskless day. In either case it is the body, I like to think, that is steeped in soul, and it is Death who deceives if one thinks we can be finally ripped asunder.
It's strange, too, to insert yourself into a relationship – of spouses, say – at its most tender and delicate apex. "Married fifty-five years," a man said to me while looking over my shoulder – the way you might catch a new dad gaze longingly upon an incubated premie – at his wife. Every day at three he prayed the rosary from an upholstered chair at her bedside. The last time I saw her was early one afternoon. She woke from sleep to find me praying a chaplet. Too weak to talk, too gracious not to smile with just the wrinkles around her eyes. Loraine.
It's not that they haunt me, these names and faces; the word is too strong and with the wrong connotations. But the names don't go away, like leaves on the scrim of a rapid are submerged by the turmoil of currents, only to reemerge in a different bend of the river at a different hour.
Pastoring souls through the valley of death is a work one carries out long after a corpse is bagged, downed through the elevator shaft, and later downed more deeply into the earth, since, as we all seem to expect, a life goes on living this day and every day. Another name appears beside the door, but the flock doesn't diminish. Each remains at the pastor's side through the shadowed valley. They have become his own. Some you meet as "Kathleen," for example. But the prayers you offer in memoriam are for an Aunt Kath.I was not prepared for the affection of families.
I was not prepared for the silent communion one has with the incommunicative. The presence of another, as silent and unresponsive as it may be, is unique, always unrepeatable and mournable. I was not prepared for the angry: the woman whose skin lagged off her bones and whose voice came like a foghorn ("No! Arrrggg!!") whenever she saw me. I am ashamed to say I never learned her name.
I was not prepared for the agony. When I saw Deborah, she was in teeth-grinding torture. Each visit I found her sidelong, her fists clenched around the bars of the hospital bed, terror being worked out in her eyes. I would give her the Eucharist. She chewed Him, I thought at first, like one taking revenge, as if she could mortally masticate the living God.
As I knelt at her side and watched her commune, I saw her eyes, wide and looking around, still working out that terror, and saw that her heart was not on vengeance. I was looking upon something I couldn't understand – like a child who walks in on adults reconciling.
I never felt very priestly at Calvary. The sacrifices were always offered by others, the sheep already in the teeth of wolves. Nor did God need me to make his visits. Marta: "Listen. I want to tell you something. I think God visited me. I woke up at night and he was there."
"How did you know he was there?"
"He was running his fingers through my hair. It's going to be OK, he said. That's just what he said. It's going to be OK."
"And do you believe him?"
She looked very serious when she replied, "Yes. I do." Then added, "I wanted to tell you because no one else would believe me. They would say it's the drugs or my sickness or that I'm getting old, losing my mind."
The first time I met Marta, she received a phone call from her sister just after I placed the Host in her mouth. She answered the phone and, in aggravated argument, managed to utter a couple expletives before swallowing. That was weeks earlier. The last time I ever saw her, she slept – cradled in the morphine drip, matted hair, thin as a rail – for the entire rosary I prayed from the armchair.
It impressed me how she received the word God spoke at her bedside. It's going to be OK wasn't negated by her imminent death. In her mind, there was no contradiction between word and event. The two were of a piece, sacramental. "He was running his fingers through my hair," she had said. The prophet Ezekiel records that the Lord "will rescue [his sheep] from all places where they have been scattered on a day of clouds and thick darkness." I wonder sometimes if that day of clouds and thick darkness might describe, not the day of scattering, but the day in which the sheep are finally rescued.
People die. That has been for me the least welcome aspect of this assignment. It's the kind of thing you foreknow, but foreknowledge is different than experiential knowledge. The former is abstracted. The latter, visceral.
Maggie lay in a persistent vegetative state. As I read to her the fourteenth chapter of John's Gospel, I found myself absorbed in her presence. The way a child absorbs himself in a brook which he looks upon from its grassy banks for the moveless movement of minnows. In the clean water, he might see them translucent and swimming still; he might see them, if he's patient, spurt upcreek like light.
There is a lot to life that we don't see, won't touch, until it touches us and pulls us into its depths. After greeting Guillermo, apparently incommunicative – a touch on the shoulder, a word spoken from my knees to his upward-staring face – I visited with his daughter and granddaughter. We all prayed together. Then, after taking Guillermo's hand to say goodbye, I was jolted by his stonemason grip and a groan which bore into me his deep gratitude.
Eberhard Arnold
In Jesus, God has opened his heart to us. He has turned his face to us. He comes to us, reveals his thoughts, and shows us who he is and what he wills. He gives us everything we need and wants to perfect the work he has begun in us. Amazingly, we feeble and insignificant beings are the object of his concern. Out of the incomprehensible love of his heart, God loves each of us quite personally. In his concern for humankind, God seeks out all people and invites them to take part in his new creation.
Source: The Prayer God Answers
Share 
today

's verse

What Jesus Did!

 'Not an Issue of Justice Now, But of Faith' —

Then the Lord said, "Learn a lesson from this unjust judge. Even he rendered a just decision in the end. So don't you think God will surely give justice to his chosen people who cry out to him day and night? Will he keep putting them off? I tell you, he will grant justice to them quickly! But when the Son of Man returns, how many will he find on the earth who have faith?"
Key Thought
One of the hardest things we face as human beings is injustice, especially when that injustice is directed toward us and is ongoing and persistent. Yet tens of thousands of believers in Jesus face injustice, hardship, brutality, and persecution each year. When believers face these hard times, it is difficult to believe that they will ever receive justice. It is especially disturbing when those in power are corrupt and are the ones treating them unfairly. However, Jesus reminds us that the issue isn't injustice we may face now but faithfulness. God will settle accounts and bring justice. The real question is whether or not we'll stick in there and not give up under fire. Hang in! Pray for the Father to hear you! Don't give up, for God will not only bring justice, but he will also bring salvation and victory.
Today's Prayer
Father, through your Holy Spirit, please inspire me to faithful endurance no matter what circumstances or evil people Satan may bring my way. In Jesus' name. Amen.
Related Scripture Readings
Daily Wisdom: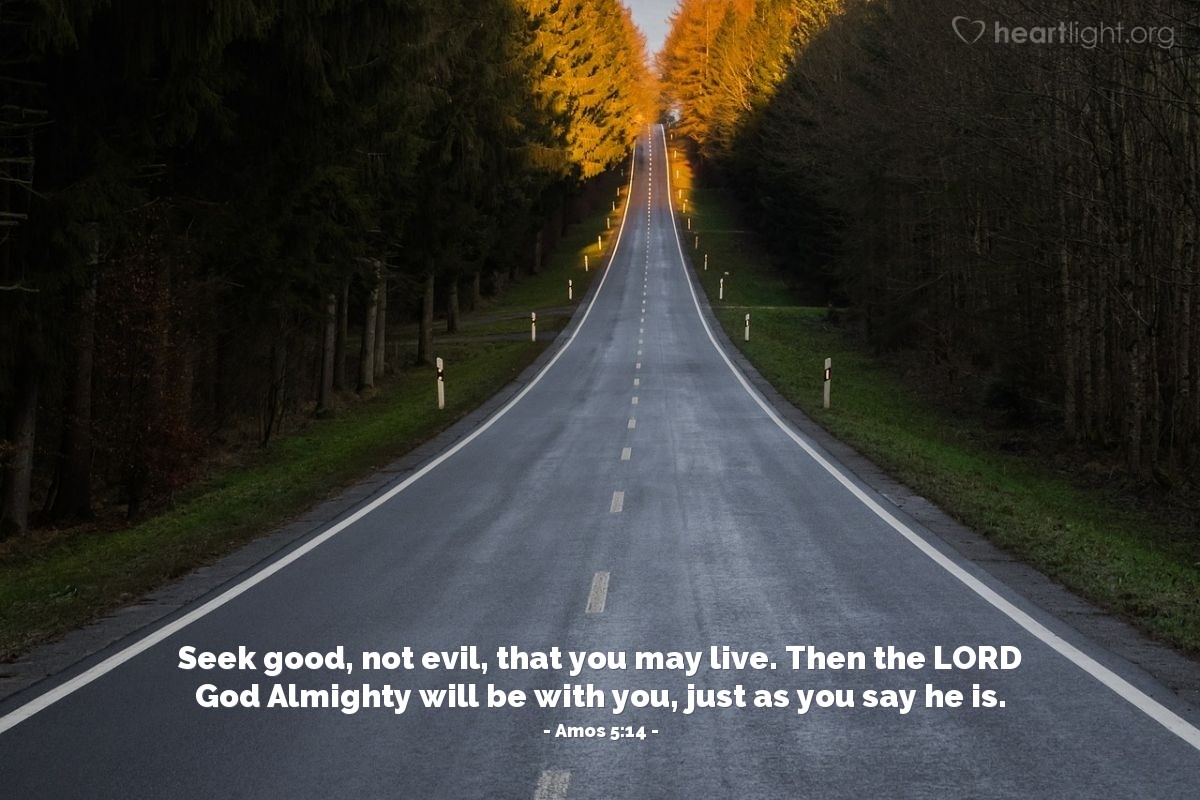 Passion for Praise:

 'In the Nick of Time'
Spiritual Warfare:

 'God Enriches Life and Brightens Your Future'

God's Power for Our Battles

You, Lord, are all I want! You are my choice, and you keep me safe. You make my life pleasant, and my future is bright. I praise you, Lord, for being my guide. Even in the darkest night, your teachings fill my mind. I will always look to you, as you stand beside me and protect me from fear.

— Psalm 16:5-8 CEV
Prayer
Lord, I chose You; I choose Jesus. Your guidance is what I need most. When life is dark and foreboding, Your commandments fill my mind and my heart and help me see a promising future. Keep me safe and I travel Your path, Lord, and guide my steps through each part of the journey. Lead on, Lord, and I will do my best to follow faithfully. In Jesus' Name, Amen.
A Year with Jesus:

 'Antidote to Uncertainty: Thankfulness'
Note from Jesus
Dear Child of Grace,
You have been blessed with grace because of the Father's love (John 3:16-18; Colossians 1:12-14). That grace was embodied by My coming to earth in human flesh, My life of service, My atoning death on the Cross, and My victorious resurrection (Colossians 1:15-23) and continues to be yours through the Holy Spirit that has been given to you (Ephesians 1:13-14). You shared in this grace through your baptism because of your faith (Colossians 2:9-15). Your future in glory is secure in Me as I reign over all things (Colossians 3:1-4; Ephesians 1:18-22). So rejoice! Be thankful! Praise your Father in heaven for His bountiful grace that has brought you to a life full of love, hope, and peace in Me!
The Colossian Christians had forgotten the importance of being thankful. So in his short letter to them, Paul began by giving thanks for them. He called on them repeatedly to be thankful. As important as prayer was to Paul, he reminded these Colossian brothers and sisters to always "be thankful when you pray." In fact, Paul wanted all of their lives to be lived "sending thanks" in My name to the Father!
So why is thankfulness so important? There are many reasons. Thankfulness reminds you that you receive all your blessings from the Father. Thankfulness reminds you of all that you have been given so you are not constantly greedy for more. For the Colossians, however, thankfulness had an added purpose. This purpose can also apply to you. False teachers slip into My people like wolves disguised as sheep. Their smooth sounding words and their claim to special knowledge can create an itch of concern in the hearts of My people who can become uncertain because they are concerned that they may have missed something important. They can be enticed by new teaching that sounds special and especially spiritual. On the other hand, thankfulness roots you in the things you have received from the Father through My death, burial, and resurrection. Thankfulness reminds you that life's most important grace, My sacrifice for you, is sufficient to bring you to My glory. As Paul warned the Galatians, anything added to the simple gospel about Me is not gospel; it is false teaching and must be opposed (Galatians 1:6-9). Paul wanted the Christian brothers and sisters to follow this important exhortation about thankfulness:
Let your roots grow down deeply in Him, and let Him build you up on a firm foundation. Be strong in the faith, just as you were taught, and always spill over with thankfulness.
(Colossians 2:7)
So, dear child of My Father, give thanks! Praise God for what you have received. Be filled to overflowing with thanksgiving because you have received grace and the assurance that life ahead of you will be glorious!
Verses to Live
The following verses are the thread of thankfulness that Paul wove into the tapestry of his letter to the Colossians. Read these verses several times. Pause after each section and ask the Holy Spirit to help you receive, incorporate, and display the principles you find in that section. Be blessed! Most of all, learn the grace of being thankful!
As always, we've been praying for you, thanking God, the Father of our Lord Jesus the Anointed, ever since we heard of your faith in Jesus the Anointed and your love for His holy ones — faith and love that emerge from the hope you have heard about in the word of truth — the gospel — the very hope that awaits you in heaven.
(Colossians 1:3-5)

Since the day we got this good news about you, we have not stopped praying for you. We ask:

Father, may they clearly know Your will and achieve the height and depth of spiritual wisdom and understanding. May their lives be a credit to You, Lord; and what's more, may they continue to delight You by doing every good work and growing in the true knowledge that comes from being close to You. Strengthen them with Your infinite power, according to Your glorious might, so that they will have everything they need to hold on and endure hardship patiently and joyfully. Thank You, Father, as You have made us eligible to receive our portion of the inheritance given to all those set apart by the light. You have rescued us from dark powers and brought us safely into the kingdom of Your Son, Whom You love and in Whom we are redeemed and forgiven of our sins [through His blood].

Now that you have welcomed the Anointed One, Jesus the Lord, into your lives, continue to journey with Him and allow Him to shape your lives. Let your roots grow down deeply in Him, and let Him build you up on a firm foundation. Be strong in the faith, just as you were taught, and always spill over with thankfulness.
(Colossians 2:6-7)

Since you are all set apart by God, made holy and dearly loved, clothe yourselves with a holy way of life: compassion, kindness, humility, gentleness, and patience. Put up with one another. Forgive. Pardon any offenses against one another, as the Lord has pardoned you, because you should act in kind. But above all these, put on love! Love is the perfect tie to bind these together. Let your hearts fall under the rule of the Anointed's peace (the peace you were called to as one body), and be thankful.

Let the word of the Anointed One richly inhabit your lives. With all wisdom teach, counsel, and instruct one another. Sing the psalms, compose hymns and songs inspired by the Spirit, and keep on singing — sing to God from hearts full and spilling over with thankfulness. Surely, no matter what you are doing (speaking, writing, or working), do it all in the name of Jesus our Master, sending thanks through Him to God our Father.
(Colossians 3:12-17)

Pray, and keep praying. Be alert and thankful when you pray. And while you are at it, add us to your prayers. Pray that God would open doors and windows and minds and eyes and hearts for the word so we can go on telling the mystery of the Anointed, for this is exactly why I am currently imprisoned. Pray that I will proclaim this message clearly and fearlessly as I should.
(Colossians 4:2-4).

---

Emphasis added by placing the words related to thankfulness in bold.

---
Response in Prayer
O Father of grace and God of glory, thank You! Thank You for the vastness of the universe. Thank You for the mysteries and beauty of this earth. Thank You most of all for grace through the gift of Your Son, Jesus. Thank You for your enduring and transforming presence through the Holy Spirit. Thank You that I will one day see you face-to-face in all of Your glory. Thank you! In Jesus' name. Amen.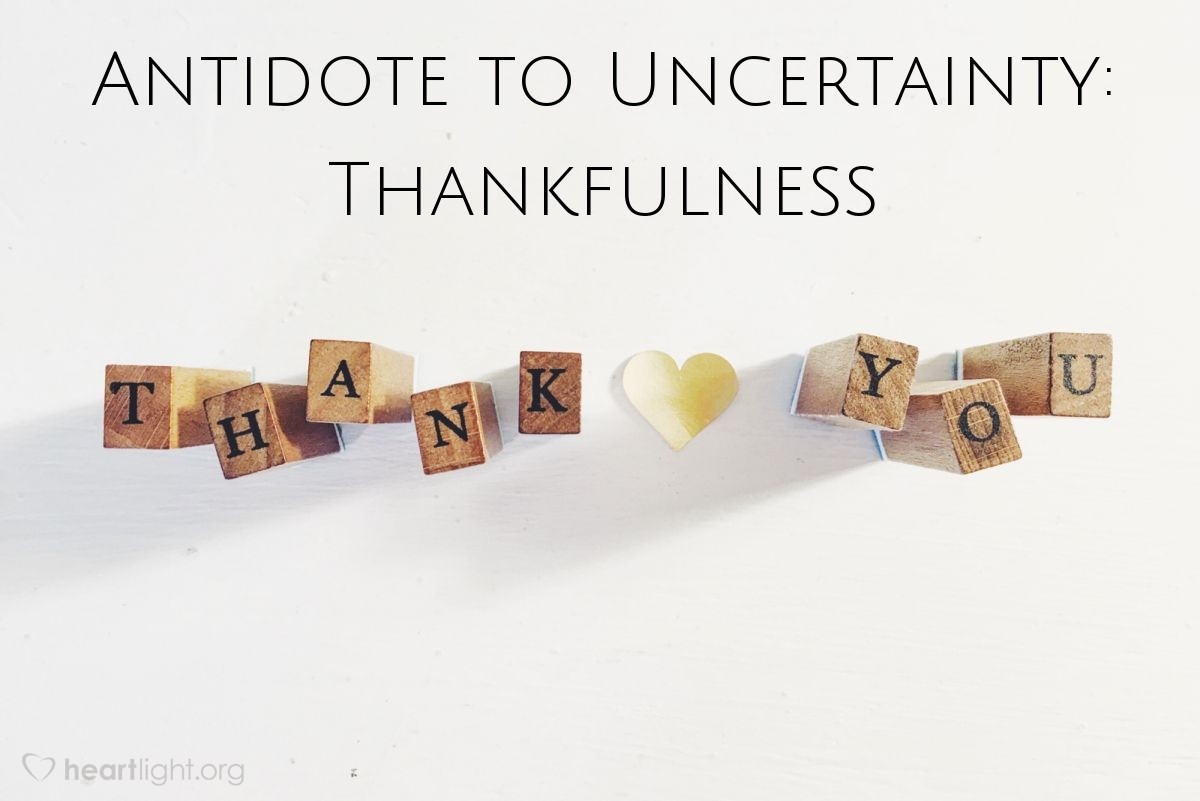 —Dion Todd
To be used by God can sometimes mean loving the unlovely. He loves the lost, and if you are standing near them, then you might just become His means to reach them. He will use your hands as His own. He will use your mouth to speak His words.If you want to learn more about how to do this, read today's message.
The Body Snatcher
I will seek that which was lost, and will bring back that which was driven away, and will bind up that which was broken, and will strengthen that which was sick; Ezekiel 34:16 WEB
As the tears flowed down my face, I knew they weren't mine. I had a rough upbringing. I could count the people that I trusted on one hand, and still have a couple of fingers left. Yet, as I laid hands on this hopelessly lost rogue, who had stolen so many things in the past, and was even now wanted by the police, I could feel such compassion welling up inside me.
It was just one hard hearted person, praying for another hard hearted person, but the Lord melted us both. These feelings were not mine. I did not even want this person in my yard, but I had been abducted by the Holy Spirit. God loved this lost soul, and He had sent him to my house to ask for prayer that day because he was in a really bad situation. For some reason he looked up to me, probably because I had invited him to church a few times.
I didn't like this person, but when he asked me to pray for him, I submitted to the Holy Spirit's guidance. The moment that I touched him, we all started weeping. It was a divine encounter and I could feel the Lord breaking through years of pain and disappointments. I could literally feel how much God loved this poor soul who was lost, alone, scared, and hurting. The arrest warrants with his name on it did not affect the love of God for him, nor push Him away. Our Heavenly Father understood him when no one else did. I could see that even though society rejected him, Jesus accepted him.
If you are lost, know that the Lord is seeking you today and that He is not mad at you. He wants you to come back to Him. God loves the lost, and He wants to bring them all into His family. What they have done in the past does not matter. He will wash them as white as snow. If you are standing near them, then you might just become His means to reach them. He will use your hands as His own. He will use your mouth to speak His words. The Holy Spirit is the Ultimate Body Snatcher.
Prayer: Heavenly Father, please lead me into divine encounters and conversations. Open the door, and I will step through it. I will be Your hands on this earth. Here I am, use me, in the name of Jesus Christ.
Bible Fun Fact: Saul was so afraid when they tried to make him king, he hid in some luggage so they couldn't find him (1 Sam 10:22).
Humor…