Daily Prayer for September 15
For my thoughts are not your thoughts, and your ways are not my ways. This is the very word of the Lord. For as the heavens are higher than the earth, so are my ways higher than your ways and my thoughts than your thoughts. Isaiah 55:8–9, NEB
Lord our God, we thank you for allowing us to come to you and to stand before your face. We thank you for helping us throughout our life on earth, for strengthening our faith in you and our trust in all you do. Bless us and give us courage. May your light shine out among the peoples so that they recognize your will. May your light shine out so that your name may be praised and we can rejoice in the new time you give us. For you will be at work and you will accomplish it. Even when we do not know what will become of our time, you know what our time needs, and you will carry out your will. You will let your name be honored. You will bring your kingdom, and you will change everything for the good. Amen.
George Fox
Be a terror to all the adversaries of God, and a dread, answering that of God in them all, spreading the truth abroad, awakening the witness, confounding the deceit, gathering up out of transgression into the life, the covenant of light and peace with God. Let all nations hear the sound by word or writing. Spare no place, spare no tongue, nor pen, but be obedient to the Lord God: go through the work, be valiant for the truth upon earth.
Source: "An Exhortation to Friends in the Ministry," in Works, Vol. 1
Share 
today

's verse
---
The Redeemer
Yahweh, your Redeemer, and he who formed you from the womb says: 'I am Yahweh, who makes all things; who alone stretches out the heavens; who spreads out the earth by myself; Isaiah 44:24 WEB
In the Bible when someone was in trouble, danger, or in need, a male relative could 'redeem' them. This relative was called a 'kinsmen redeemer' and they could step in and pay off their debt, buy back their property, and set them free.
A great example of this is in the book of Ruth. When Ruth and her mother-in-law Naomi were widows, living penniless and gleaning in the fields, a wealthy relative named Boaz stepped up and took them in. Ruth suddenly went from having nothing, to having it all. Though Ruth was a moabite, she is King David's great grandmother and in the lineage of Jesus (Ruth 4:17).
The Lord is often mentioned as a Redeemer in the Bible. The word Redeem means: to save, compensate for the defects of, vindicate. In this light, the Lord wants to:
– (Save) Rescue you and keep you safe from danger.
– Compensate for your defects and make you a better person.
– (Vindicate) Clear you of all blame.
Jesus became our Redeemer. He stepped in and laid His own life down for us. The debt that we could not pay, He paid. He has chosen the church as His own bride just as Boaz chose Ruth. So leave your past behind and let the Lord guide you from this day on. Your past, is in the past, and your future is now a bright one.
Prayer: Heavenly Father I thank You so much for redeeming me. Lord I want all that You have for me in this life, lead me. Please teach me the things that I should know and let me hear You clearly, in the name of Jesus Christ I pray.
Bible Fun Fact: David is mentioned 1139 times in the Bible, second only to Jesus.

What Jesus Did!

 'While a Long Way Off'

[Continuing the tale of the two sons, Jesus said, "So the younger son who had wasted all his money] returned home to his father. And while he was still a long way off, his father saw him coming. Filled with love and compassion, he ran to his son, embraced him, and kissed him. His son said to him, 'Father, I have sinned against both heaven and you, and I am no longer worthy of being called your son.' But his father said to the servants, 'Quick! Bring the finest robe in the house and put it on him. Get a ring for his finger and sandals for his feet. And kill the calf we have been fattening. We must celebrate with a feast, for this son of mine was dead and has now returned to life. He was lost, but now he is found.' So the party began."
Key Thought
I love the sentence, "And while he was still a long way off, his father saw him coming." The father was longing for his son to return. He was waiting for his son to return. He was ready for his son to return. Our Father in heaven is filled with love and compassion for us. He sees our hearts and runs to meet us when we turn our hearts toward home — no matter how far we may have strayed. How far is your heart from the Father? I'm not talking about how things look on the outside to others. The Father's concern is with your heart. Is it turned toward him? Is it open and honest with him about your rebellion and sin? He is not looking to punish you, but to bring you home — to bring you back to life, to have the welcome-home party begin.
Today's Prayer
Loving God and compassionate Father, thank you for knowing me and loving me. Look into my heart and examine my innermost thoughts. I am sorry for my sin. Help me recognize my sins and change my ways through your strength and guidance. Thank you for making me a welcome child in your house and drawing me close to you. In Jesus' name, I pray. Amen.
Related Scripture Readings
Daily Wisdom: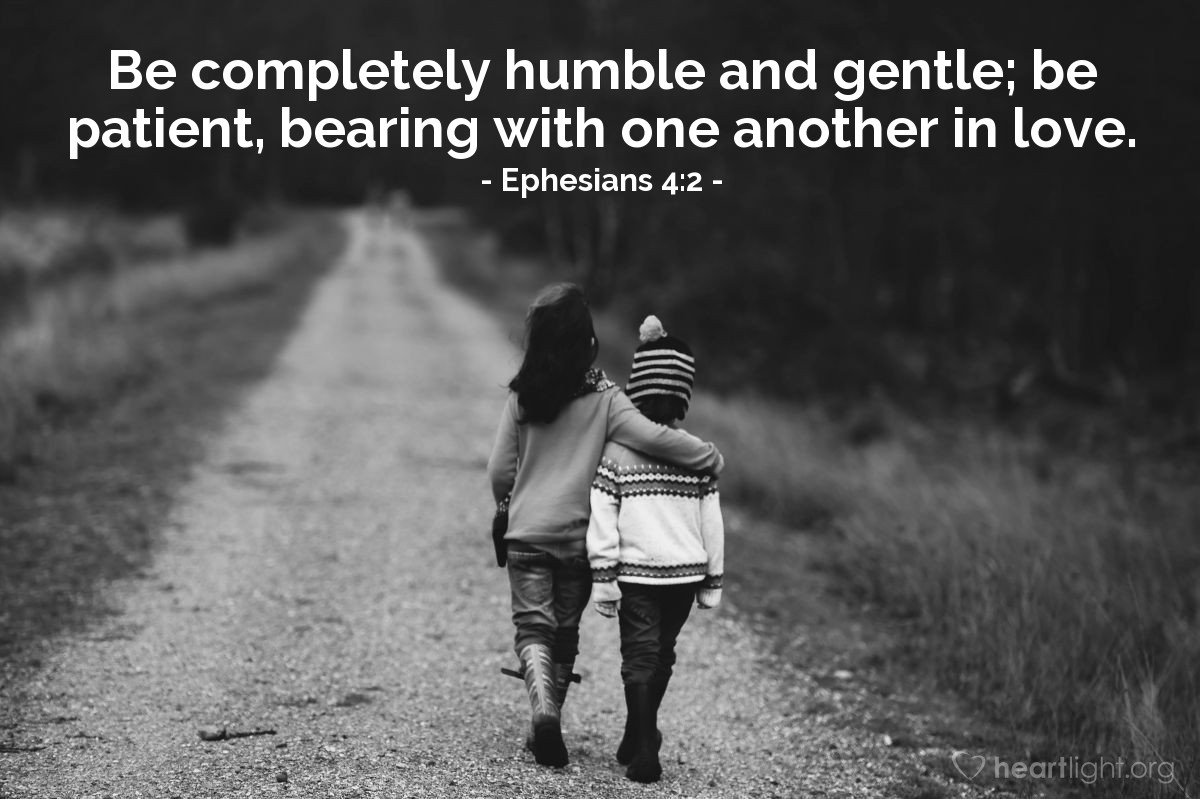 Passion for Praise:

 'Sing with Joy!'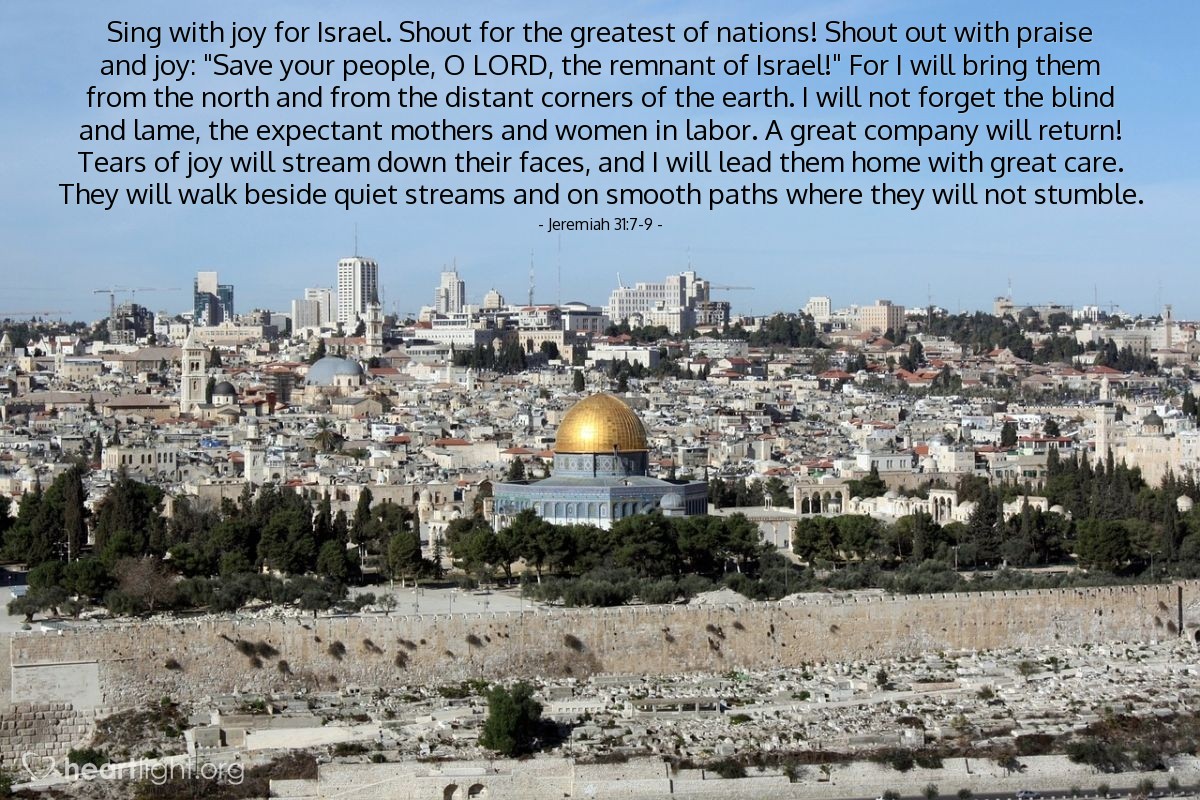 Spiritual Warfare:

 'Faith Saves and Is Rewarded'

God's Power for Our Battles

It was by faith that Noah built a large boat to save his family from the flood. He obeyed God, who warned him about things that had never happened before. By his faith Noah condemned the rest of the world, and he received the righteousness that comes by faith.
Today's Prayer
Lord, I know that Noah had a saving faith. It led him to listen and obey, honoring You through his obedience, and even causing You to count it as righteousness. I want to have that kind of saving faith. Help me to be diligent and committed in my daily walk with You. Help me to honor You, obey You, and follow the examples of Jesus. Help me to separate myself from the wicked ways of the world around me and learn to heed Your warnings. In Jesus' Name, Amen.
A Year with Jesus:

 'Miserable or Relieved?'
Note from Jesus
Dear Faithful Follower,
Today's verses are different selections from chapter 7 of Paul's letter to Christians in Rome. In previous parts of the letter, he had written about grace being made available through:
Paul wanted you to know that as a baptized believer saved by grace you are dead to sin and alive to live for God as His righteous child.
But how?
How will you live for God righteously?
How will you live up to the Father's demands to be righteous as His child?
Will you use law-keeping to try to be considered righteous? That was the easy answer for those who grew up living under the Mosaic law. So in today's verses, Paul explained that any attempt to be considered righteous by living under a law — any law, but especially the Mosaic law — is ineffective to obtain righteousness before God. While the Law was a precious gift and it points out the righteousness the Father demands, it has no power to change you and make you holy without My sacrifice.
Paul wanted to help you understand that law-keeping cannot make you righteous. The problem is not the law — it is holy and just; the problem is the deceptive power of sin that takes the law and uses it to lead you to sin. Your fleshly nature — "living in the flesh," also called "the fallen human realm, owned by sin" — "awakened [y]our lust for more" sin.
While My sacrifice saves you from sin and death, if you try to be righteous by law-keeping, you end up "absolutely miserable" and in bondage to sin once again! You do what you do not want to do — you fall back into sin again and again. Sin "owns you" and "has taken up residence in" you. The only relief is to remember that you died to sin and to the whole law-keeping way of trying to be righteous and that you can rely on the Holy Spirit to lead you to righteous living. Paul said it this way:
But now that we have died to those chains that imprisoned us, we have been released from the law to serve in a new Spirit-empowered life, not the old written code.
(The Spirit's power will be the focus in tomorrow's verses.)
The Father's grace brings you salvation and righteousness by providing the sin offering (My death on the cross) that atoned for your sin and by giving you the Holy Spirit to empower you to righteous living. Everything about your salvation is a gift, so don't try to earn your salvation or think yourself superior because you obey the law, any law. Recognize that the Father's grace is the only way you stand before Him as His righteous child!
Verses to Live
Pay attention as you read these verses. They remind you that you are dead to the whole law-keeping principle because obeying the law cannot save you. Your fleshly nature and sin's deceptive power to use the law to trip you up lead you back to the principles of sin and death. Your faith in My sacrifice for your sins and the indwelling Spirit's power to help you become the person you want to be, provide your only way to live righteously as the Father's child.
My brothers and sisters who are well versed in the law, don't you realize that a person is subject to the law only as long as he is alive? So, for example, a wife is obligated by the law to her husband until his death; if the husband dies, she is freed from the parts of the law that relate to her marriage.

…

My brothers and sisters, in the same way, you have died when it comes to the law because of your connection with the body of the Anointed One. His death — and your death with Him — frees you to belong to the One Who was raised from the dead so we can bear fruit for God. As we were living in the flesh, the law could not solve the problem of sin; it only awakened our lust for more and cultivated the fruit of death in our bodily members. But now that we have died to those chains that imprisoned us, we have been released from the law to serve in a new Spirit-empowered life, not the old written code.

So what is the story? Is the law itself sin? Absolutely not! It is the exact opposite. I would never have known what sin is if it were not for the law.

…

There was a time when I was living without the law, but the commandment came and changed everything: sin came to life, and I died. This commandment was supposed to bring life; but in my experience, it brought death. Sin took advantage of the commandment, tricked me, and exploited it in order to kill me. So hear me out: the law is holy; and its commandments are holy, right, and good.

…

This is what we know: the law comes from the spiritual realm. My problem is that I am of the fallen human realm, owned by sin, which tries to keep me in its service.

…

I know that in me, that is, in my fallen human nature, there is nothing good. I can will myself to do something good, but that does not help me carry it out. I can determine that I am going to do good, but I don't do it; instead, I end up living out the evil that I decided not to do. If I end up doing the exact thing I pledged not to do, I am no longer doing it [myself] because sin has taken up residence in me [and is causing me to do it].

…

I am absolutely miserable! Is there anyone who can free me from this body where sin and death reign so supremely? I am thankful to God for the freedom that comes through our Lord Jesus, the Anointed One! So on the one hand, I devotedly serve God's law with my mind; but on the other hand, with my flesh, I serve the principle of sin.
(Romans 7:1-2; Romans 7:4-7; Romans 7:9-12; Romans 7:14; Romans 7:18-20; Romans 7:24-25)

---

Special Note:
Today's verses end with a somewhat negative tone. The next verses, which will be included tomorrow, have a completely different and incredibly positive tone as Paul will begin his discussion of life in the Spirit and the relief for the predicament stated in these last verses.
Response in Prayer
O Father, thank You for Your grace! I am saved by Your grace. I am sustained by Your grace. I am transformed by Your grace. I have access to Your presence because of Your grace. Thank You for Your grace. Without Your grace, I know I would be without hope. In the name of Christ Jesus, I thank You. Amen.
This is a test. This is only a test. But be aware of this:
https://christnow.com/
Warning!
This is a test. This is only a test.
But be aware of this:
This test is designed to take you
CAPTIVE
to a larger vision of the greatness of God's Son.
https://christnow.com/assessment-tool/
You do not have to study for this test.
But should you, of your own free will, choose to take this test,
look out! You might experience an overwhelming desire to
surrender your life
—your every day life!—
in whole new ways
to Jesus your Saviour who is LORD of ALL!
You have been warned!
PROCEED AT YOUR OWN RISK!
Follow the link (https://christnow.com/assessment-tool/)
This Month's Featured Resources from ChristNow.com:
https://christnow.com/music-resources/
Humor…
Momma…
Aunty Acid…
The Other Coast…
And now, Maxine!!