Christoph Friedrich Blumhardt
I am the Lord your God, who brought you out of Egypt, out of the land of slavery. You shall have no other gods before me. You shall not make for yourself an image in the form of anything in heaven above or on the earth beneath or in the waters below. Exodus 20:2–4, NIV
Lord our God, we come to you, the source of all being. You have said to us, "I am your God. You shall have no other gods besides me. Honor none but me, your God." We thank you for this wonderful message. Help us to recognize you more and more, so that our hearts are full of the goodness and blessing we already have on earth, so that we hear you, the mighty One, say, "Stop, O people. Make peace. No one of you is more important than any other. Remember that I am God of all, in south and north, in west and east, on the oceans and everywhere. I am the one God, and through Jesus Christ I am now your Father." Amen.
TODAY'S DAILY DIG
Heaven is nothing we can seek through our own virtue: it cannot be earned; it is a gift of the God of love. When we are self-emptied enough to make room for this love, it is not as a result of our own moral rectitude or willpower. But it is sometimes given to us, this lovely emptiness, and then the Holy Spirit can fill it, with prayer, or music, or a poem, or a story. Or, sometimes, it goes beyond all these to the greatest gift of all, being filled with that which is beyond all symbols, with God's Presence. And then we are far more than when we are filled with self-probing, self-centeredness, or self-righteousness.
Source:A Stone for a Pillow
Now we must look about us. Near at hand
cloud like a fist has closed on all the hills
and by this meager daylight on our land
we see just this, and this, and not beyond.
The sodden trees emerge and stand revealed;
we must acknowledge each one as it is,
stripped and stark, its basic structure clear,
the last leaves fallen, summer's season dead.
And day on day the soft mist softly falls
as the long rain drives across the field
and all the while what we had seen beyond
is lost and shut as if it never were.
And we look closely at each other now,
the bleak roots, black grass, and the muddy road,
the litter that we never cleared away,
the broken flowers from a summer's day –
Oh, stark and clearly we must look within
to weigh at last our purity and sin.
Oh, lovely hills in sunlight far away,
Oh, curving valley where the river sings!
Remembering, we live this discipline,
and hope still beats about us with strong wings.
Verse of the Day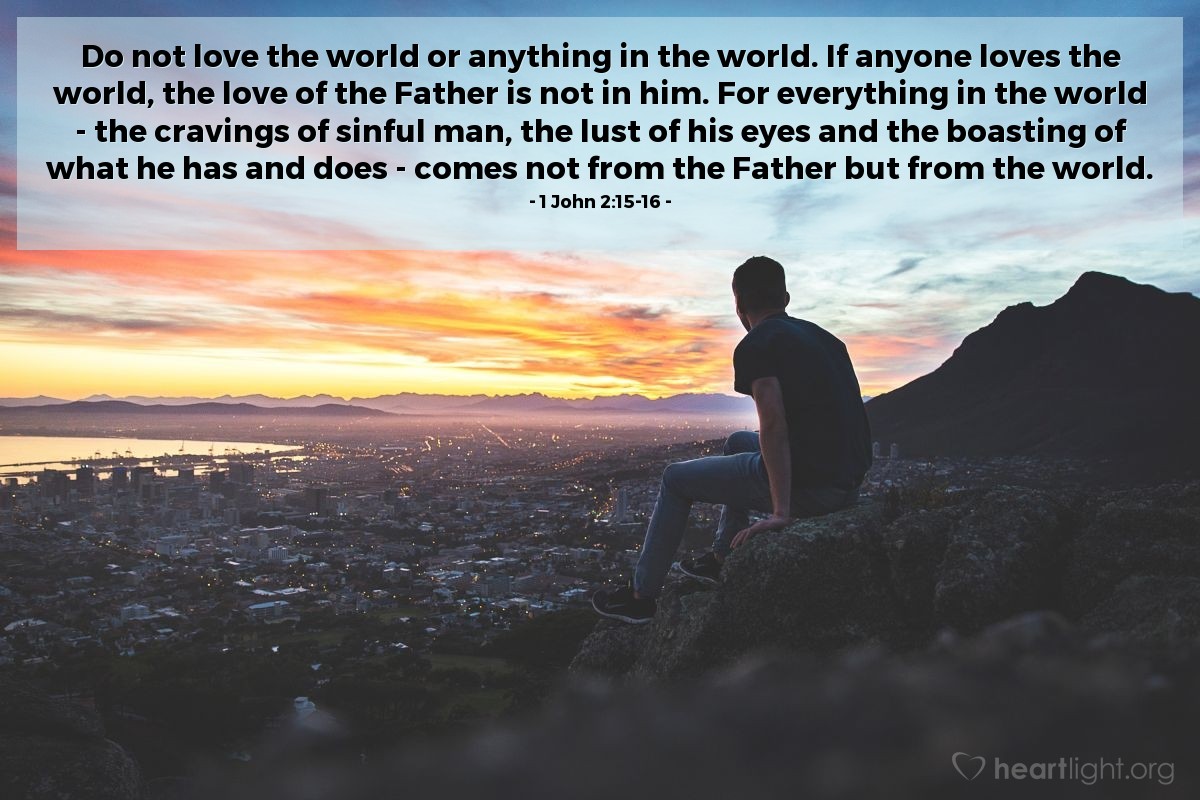 Thoughts on Today's Verse…
Love for things, especially temporary ones, can sure get us into trouble. Even worse, we can begin to think they will make us happy or fill the empty places in our hearts. But if we really sink our hopes and dreams in our Abba Father, we are attached to eternity and what we need most is always with us!
My Prayer…
Give me wisdom, Holy God, to invest in you and things that matter. I confess to you that my eyes and my heart are often distracted by the glitzy stuff that is temporary. By your Spirit, O Father, stir my heart to yearn for you. In the precious name of Jesus I pray. Amen.

Passion for Praise:

 'He Rekindles Burned-out Lives'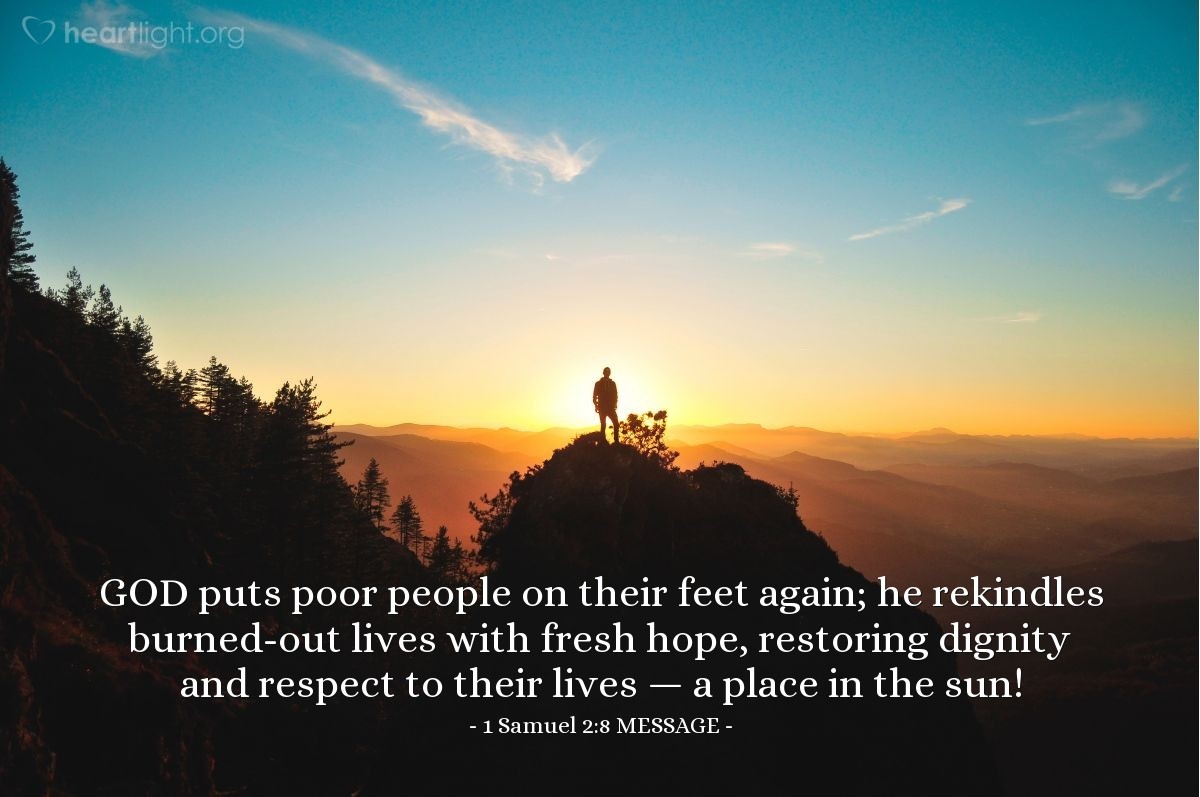 Note from Jesus
Dear Child of the Glorious and Gracious Father,
As John neared the end of his physical life, he wrote three short letters to help churches facing all sorts of challenges. He also wrote the Apocalypse, which you know as the book of Revelation. Each of these writings deals with real and problematic issues for My disciples near the end of the first century. For the next several days, you will be reading from the short letters of John. Today, your focus will be the first chapter and a little of the second chapter of 1 John.
First John is a beautiful little tapestry of pastoral concern for My followers. John emphasizes what the Father wants and doesn't want in His relationship with you as His child. The Father doesn't want just a bunch of religious adherents going through religious motions. He wants a genuine relationship with you as His child. In this relationship, you are open and transparent with your Father. You bring everything into the light with nothing hidden. When you are open about who you are and about what is going on in your life and when you demonstrate My love, then you are walking in the Father's light (1 John 1:7). My sacrifice purifies you from all sin.
This relationship in the light of My Father's glory and grace should bring you confidence in your relationship with Us. You know Us and have a relationship with Us as Father, Son, and Spirit.
There are three ways that you can assure your heart that you are in this special relationship with us:
When you believe in Me as the Father's Son, God Who came in human flesh.
When love is demonstrated in your relationships with each other.
When there is goodness found in your actions.
These three qualities allow you to rest assured that your relationship with the Father is secured and life-giving. This is how you walk in the Father's light.
The six themes emphasized by the words underlined above are woven into the tapestry of this short letter again and again. John doesn't have huge blocks of teaching about any one of these in one place. Instead, like a beautiful piece of symphonic music, he weaves these key themes into his music again and again with slight variations and connections. If you read this letter several times, the Spirit helps you pick these themes up as the soundtrack of your life.
Here are these six key themes emphasized in 1 John:
Relationship with the Father is a genuine relationship, not a shallow religiosity.
Confidence comes from your relationship with the Father because of My sacrifice, His grace, and the Spirit's assurance in your heart.
Knowledge of Me and that I AM just and faithful leads My disciples to live faithfully and act justly.
Faith that I AM the Father's Son, Jesus, Who came as God in human flesh, is the key to your overcoming the world and living for Me.
Love for each other as brothers and sisters shows that you know the Father's love and are the Father's children.
Goodness is found in your actions, thoughts, and words when you are in a genuine relationship with the Father.
Listen for these themes. Since 1 John is so short, read it several times over the next several days. Don't try to dissect each short passage, but listen to the letter as you would listen to a great piece of music. Let the interplay of the themes seep into your heart and capture your life. Each of these six themes will repeat in different connections with each other as a short musical riff and then connect you to the next theme. And like all good music, the interplay of these themes brings a freshness to your life — and in this case, it brings you the assurance and joy of eternal life that actually has already begun for you as My disciple!
Verses to Live
Today's verses begin with a paragraph about your relationship with the Father and with each other. These relationships bring you an experience of eternal life. They provide you a connection with the Father and Me. This connection is about relationships and experiences that are intimately real and that bring you into Our family. These relationships are based upon My mission as God in human flesh Who lived among real people who could see Me, hear Me, and touch Me both before and after My crucifixion and resurrection. It was this mission that the Father sent Me to accomplish and that made your relationship with the Father as His beloved child possible. You don't have to pretend that you are perfect. Just bring who you are to the Father. Be open, honest, and transparent with Him in the light of His glory and grace. When you are, My sacrifice for you purifies you, connects you to others who are saved by this same grace, and prepares you to live for Me. So be filled with hope and joy as you read these words of assurance from My beloved disciple, John.
We want to tell you about the One Who was from the beginning. We have seen Him with our own eyes, heard Him with our own ears, and touched Him with our own hands. This One is the manifestation of the life-giving Voice, and He showed us real life, eternal life. We have seen it all, and we can't keep what we witnessed quiet — we have to share it with you. We are inviting you to experience eternal life through the One Who was with the Father and came down to us. What we saw and heard we pass on to you so that you, too, will be connected with us intimately and become family. Our family is united by our connection with the Father and His Son Jesus, the Anointed One; and we write all this because retelling this story fulfills our joy.

What we are telling you now is the very message we heard from Him: God is pure light, undimmed by darkness of any kind. If we say we have an intimate connection with the Father but we continue stumbling around in darkness, then we are lying because we do not live according to truth. If we walk step by step in the light, where the Father is, then we are ultimately connected to each other through the sacrifice of Jesus His Son. His blood purifies us from all our sins. If we go around bragging, "We have no sin," then we are fooling ourselves and are strangers to the truth. But if we own up to our sins, God shows that He is faithful and just by forgiving us of our sins and purifying us from the pollution of all the bad things we have done. If we say, "We have not sinned," then we depict God as a liar and show that we have not let His word find its way into our hearts.

You are my little children, so I am writing these things to help you avoid sin. If, however, any believer does sin, we have a high-powered defense lawyer [as our advocate and comforter] — Jesus the Anointed, the righteous — arguing on our behalf before the Father. It was through His sacrificial death that our sins were atoned. But He did not stop there — He died for the sins of the whole world.
(1 John 1:1-10; 1 John 2:1-2)
Response in Prayer
Father, I bring to You who I am. I am not trying to hide anything. You know my secrets, both good and bad. You know my struggles, both those that I have overcome by Your grace and those that have caused me to stumble. You know that my heart longs to live for You, honor You, and celebrate Your goodness and grace. So I ask for Your help as I seek to live a life that reflects Your goodness and grace. I need the Holy Spirit to instill in me confidence in the eternal life I have with You. Open my eyes to the reality of this life that has already begun and will never end. Thank You for John's beautiful little letter. May its truths fill my heart with the music of Your holiness, grace, and joy. In Jesus' name, I pray. Amen.

November 11
Surrendering to goodness 
John 15
"If a man remains in me and I in him, he will bear much fruit …" (v.5)
Although, as we have seen, goodness is a fruit that is difficult to define, we come close to seeing its meaning when we think of it in terms of essential goodness — goodness in the inner parts. It is not something that is imposed but something that is exposed; it moves, not from without to within but from within to without. It is not self-achieved. Supernatural goodness is pure goodness — a goodness which unconsciously proclaims itself. Christians in whom goodness is growing will not "use" others as many use their friends — they will love them for themselves alone. They will not mentally fit people into their scheme — for they have no schemes.
I think it would be true to say that goodness is there to some degree in all Christians who are in daily touch with the Lord and are growing in Him — but in those who have known what it is to die to self, it is there in overflowing measure. They exude goodness. John Wallace, a Scotsman and the principal of the college where I received my training for the ministry, used to say: "Goodness, the 
fruit of the Spirit
, is more 'felt' than 'telt'. It is not so much actions as attitudes, not so much talking as walking."I believe myself that God never gets closer to a sinner — or, for that matter, an unsurrendered Christian — than when He calls to that person through the life of someone in whom the fruit of goodness is ripe. So in yearning for this fruit of the Spirit, remember, it comes not by straining to be good but by surrendering to goodness.
O God, I see that goodness is not some extraneous thing introduced from without; it is something that rises from within. Teach me how to stop struggling and start surrendering. In Jesus' Name. Amen.
For Further Study
1. What will cause the unbeliever to glorify God?
2. What was Paul's prayer for the Colossians?

ENDURE HARDSHIP AS DISCIPLINE
Endure hardship as discipline; God is treating you as his children. For what children are not disciplined by their father?…No discipline seems pleasant at the time, but painful. Later on, however, it produces a harvest of righteousness and peace for those who have been trained by it. Hebrews 12: 7-11
As we see in Hebrews chapter 12, once we "keep our eyes fixed on Jesus," we will be aware of how we should then live. Now he teaches us about the value of hardships and discipline that does not seem helpful but in the end produces a harvest of righteousness and peace.
Alexander was on his first research trip to Cuba for Open Doors. He asked a Cuban pastor what his needs were. He expected the response to itemize the many material needs that the churches in Cuba obviously lacked.
"The first thing we need is your prayers," he replied, "to know the Body of Christ is with us."  Then he went on to list their tremendous need for Bibles, teaching aids, Sunday School materials and printing supplies. Then he concluded with the statement that they could use anything and everything.
"If you send us just a bar of soap, we'll be grateful," he confessed. "We'll praise God for it!"
Alexander says, "I felt a big lump in my throat as I thought of all the Bibles, literature and freedoms I enjoyed. Yet even with all my blessings, my testimony was not as strong. So I struggled to articulate my feelings. 'Pastor,' I said, 'I can only begin to sense and imagine the difficulties you have encountered.'"
The pastor's eyes became misty and he softly responded, "Oh yes brother, we have been through a most difficult twenty-five years. Yet we don't fear persecution. As a matter of fact, we welcome it because it purifies us!"
Freddie Sun spent years in prison in China because of his Christian faith. Prison was literally a trial of fire for him. He worked in a factory making tee-joints from pig iron. Every day he loaded and unloaded the furnace which fired up to 2700 degrees Fahrenheit. In the midst of this hell on earth, God spoke to him. "I have put you in this high-temperature furnace. Don't worry—you won't melt. But your impurities will be removed so you can become a useful tee-joint!"
RESPONSE: Today I will receive God's discipline with the awareness that it is refining me to be more like Jesus.
PRAYER: Lord help me to accept hardship as Your discipline for my life. I look forward to the harvest of righteousness and peace.
STANDING STRONG THROUGH THE STORM (SSTS) -A daily devotional message by Paul Estabrooks
© 2010 Open Doors International. Used by permission
VETERANS DAY
Veterans Day is an official United States holiday that honors people who have served in the U.S. Armed Forces, also known as veterans. It is a federal holiday that is observed on November 11. It coincides with other holidays such as Armistice Day and Remembrance Day, which are celebrated in other parts of the world and also mark the anniversary of the end of World War I (major hostilities of World War I were formally ended at the 11th hour of the 11th day of the 11th month of 1918, when the Armistice with Germany went into effect). The United States also originally observed Armistice Day, it then evolved into the current Veterans Day holiday in 1954.
Veterans Day is not to be confused with Memorial Day. Veterans Day celebrates the service of all U.S. military veterans, while Memorial Day is a day of remembering the men and women who died while serving.
HOW TO OBSERVE
Because it is a federal holiday, some American workers and many students have Veterans Day off from work or school. When Veterans Day falls on a Saturday then either Saturday or the preceding Friday may be designated as the holiday, whereas if it falls on a Sunday it is typically observed on the following Monday. A Society for Human Resource Management poll in 2010 found that 21 percent of employers planned to observe the holiday in 2011.
Non-essential federal government offices are closed. No mail is delivered. All federal workers are paid for the holiday. Those who are required to work on the holiday sometimes receive holiday pay for that day in addition to their wages.
In his Armistice Day address to Congress, Wilson was sensitive to the psychological toll of the lean War years. "Hunger does not breed reform, it breeds madness," he remarked.  As Veterans Day and the birthday of the United States Marine Corps (November 10, 1775) are only one day apart, that branch of the Armed Forces customarily observes both occasions as a 96-hour liberty period.
Spelling of Veterans Day
While the holiday is commonly printed as Veteran's Day or Veterans' Day in calendars and advertisements (spellings that are grammatically acceptable), the United States government has declared that the attributive (no apostrophe) rather than the possessive case is the official spelling.
Thank a veteran and use #VeteransDay to post on social media.
HISTORY
U.S. President Woodrow Wilson first proclaimed Armistice Day on November 11, 1919. In proclaiming the holiday, he said, "To us in America, the reflections of Armistice Day will be filled with solemn pride in the heroism of those who died in the country's service and with gratitude for the victory, both because of the thing from which it has freed us and because of the opportunity it has given America to show her sympathy with peace and justice in the councils of the nations."
The United States Congress passed a concurrent resolution seven years later on June 4, 1926, requesting that President Calvin Coolidge issue another proclamation to observe November 11 with appropriate ceremonies. A Congressional Act (52 Stat. 351; 5 U.S. Code, Sec. 87a) approved May 13, 1938, made the 11th of November in each year a legal holiday: "a day to be dedicated to the cause of world peace and to be thereafter celebrated and known as 'Armistice Day'."
In 1945, World War II veteran Raymond Weeks from Birmingham, Alabama, had the idea to expand Armistice Day to celebrate all veterans, not just those who died in World War I. Weeks led a delegation to Gen. Dwight Eisenhower, who supported the idea of National Veterans Day. Weeks led the first national celebration in 1947 in Alabama and annually until his death in 1985. President Reagan honored Weeks at the White House with the Presidential Citizenship Medal in 1982 as the driving force for the national holiday. Elizabeth Dole, who prepared the briefing for President Reagan, determined Weeks as the "Father of Veterans Day."
U.S. Representative Ed Rees from Emporia, Kansas, presented a bill establishing the holiday through Congress. President Dwight D. Eisenhower, also from Kansas, signed the bill into law on May 26, 1954.
Congress amended this act on June 1, 1954, replacing "Armistice" with "Veterans," and it has been known as Veterans Day since.
The National Veterans Award, created in 1954, also started in Birmingham. Congressman Rees of Kansas was honored in Alabama as the first recipient of the award for his support offering legislation to make Veterans Day a federal holiday, which marked nine years of effort by Raymond Weeks. Weeks conceived the idea in 1945, petitioned Gen. Eisenhower in 1946, and led the first Veterans Day celebration in 1947 (keeping the official name Armistice Day until Veterans Day was legal in 1954).
Although originally scheduled for celebration on November 11 of every year, starting in 1971 in accordance with the Uniform Monday Holiday Act, Veterans Day was moved to the fourth Monday of October. In 1978, it was moved back to its original celebration on November 11. While the legal holiday remains on November 11, if that date happens to be on a Saturday or Sunday, then organizations that formally observe the holiday will normally be closed on the adjacent Friday or Monday, respectively.
Source: http://en.wikipedia.org/wiki/Veterans_Day