Christoph Friedrich Blumhardt
You have come to thousands upon thousands of angels in joyful assembly, to the church of the firstborn, whose names are written in heaven. You have come to God, the Judge of all, to the spirits of the righteous made perfect, to Jesus the mediator of a new covenant. Hebrews 12:22–24a, NIV
Lord our God, we thank you that you have redeemed us and that we may feel united with your holy ones, those in heaven and those on earth who are gathered around Jesus Christ, a people growing in number and strength from year to year. We thank you that we too belong to them, and we ask you to keep our hearts aware of this unity so that we may be joyful, redeemed people who find ever greater deliverance, full of praise and thanks, full of certainty and joy. Grant this to us, for we are your people, born out of your power as Savior and gathered for the sake of your kingdom. Guard your gifts and your powers within us. Continue your redemption of the whole world until joy floods through our whole being and we can praise you for the life you have already given us here on earth. Amen.
TODAY'S DAILY DIG
As followers of Jesus, we are called to be salt and light – to form communities that are attractive, winning people to Christ through our lives of love and truth. We're not called to shake a finger at non-believers or to coerce them to be like us. Paul tells us: "What have I to do with judging those outside? Is it not those who are inside that you are to judge? God will judge those outside" (1 Cor. 5:12-13). Our task is to be an embassy of the love of Christ (2 Cor. 5:20). Only when people are won to Christ will they want to live according to Christian principles.
Source: Plough Quarterly No. 2
Verse of the Day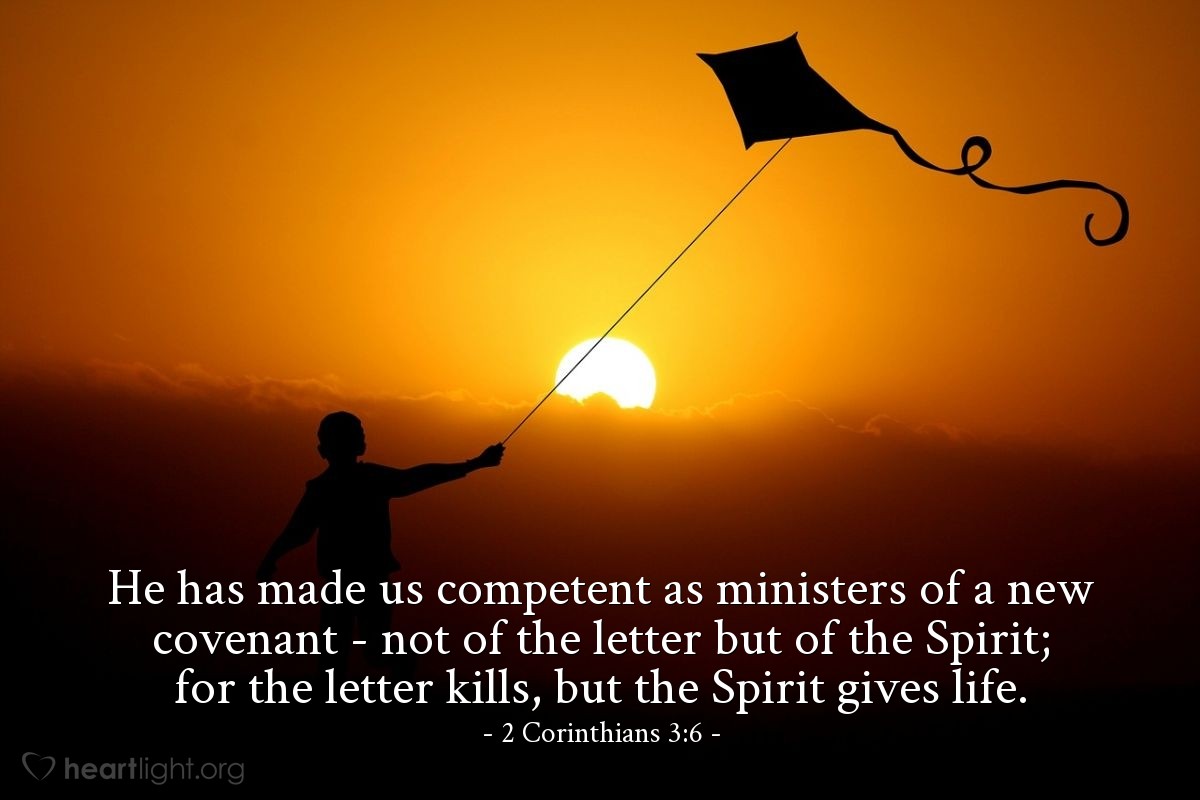 Thoughts on Today's Verse…
A new covenant — God willingly entered into a new agreement with us, his creatures, sealed it with the blood of his Son Jesus, and sent the Spirit to give us the power to live the life of this new covenant. God has made a covenant of love and grace with us. The Almighty has then turned around and made us worthy and competent to share that covenant with others. No wonder it is life giving: it brings life to us and through us!
My Prayer…
O holy and majestic God, thank you for your grace that has saved me from sin and has redeemed me from the law of sin and death. Thank you for sending the gift of your Son and the gift of your Spirit so that I can live with you in a covenant of life, grace, and love. While I confess my weaknesses, I also commit to you that I will live to honor your sacrifice, love and covenant, trusting that you will ultimately empower me to be what you are calling me to be. In Jesus' name I pray. Amen.

What Jesus Did!

 'Jesus Reveals the Father'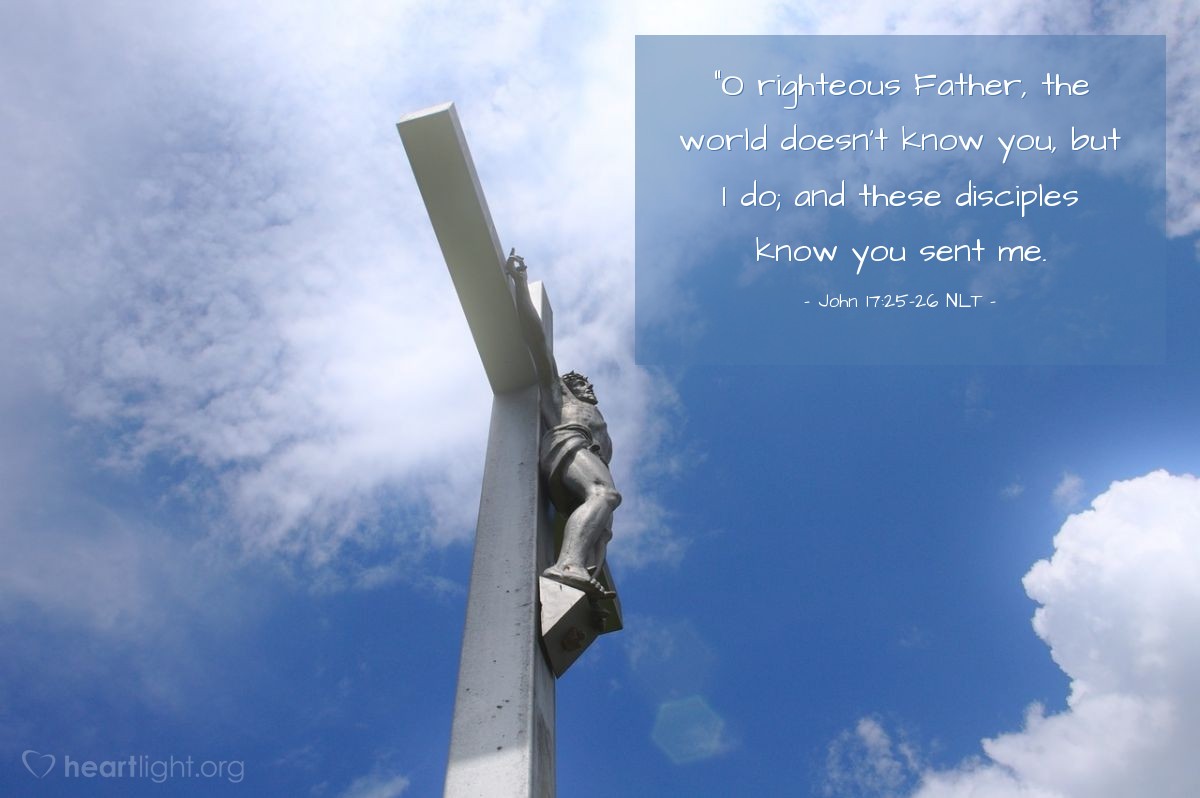 Key Thought
Jesus is the one who reveals the Father to us. If we want to know what the Father is like, all we have to do is look at Jesus. If we want to know how the Father cares for people, we can look at how Jesus ministered to them. If we want to know the Father's will for our lives, we can listen to Jesus' words and know they reveal the Father's truth. Jesus revealed the nature of the Father in his actions and his words. And, Jesus continues to reveal the Father to us. He is the one through whom the fullest revelation of the Father comes. Let's look to Jesus if we really want to know the Father.
Today's Prayer
Father God, thank you for revealing yourself to me in Jesus. I truly believe that Jesus revealed your heart, your character, your compassion, your holiness — all of your qualities. Now I ask, dear Father, that you reveal yourself to me as I seek to know you more fully through your Son's ministry here on earth. Please make yourself more fully known to me and through me. I ask this in Jesus' name. Amen.
Related Scripture Readings
with Jesus:

 'Worship in Your Daily World'
Note from Jesus
Dear Disciple,
While involving yourself in Christian assembly and gathering together with believers for encouragement, exhortation and worship are important (Hebrews 10:19-25), your worship should be much more extensive than an hour or two of the week spent with other believers. We — Father, Son, and Spirit — want your whole life to be your worship. It must be much more than just a little sliver of your time offered one or two days of the week. I commanded you to love Us "with all your heart, with all your soul, with all your mind, and with all your strength" (Mark 12:30). That means that everything you do should be done as part of your worship. Paul said it well when he wrote to Christians in Rome:
Brothers and sisters, in light of all I have shared with you about God's mercies, I urge you to offer your bodies as a living and holy sacrifice to God, a sacred offering that brings Him pleasure; this is your reasonable, essential worship.
(Romans 12:1)
As My writer of Hebrews comes to the end of his "word of exhortation" (Hebrews 13:22), he calls on his readers — and I'm calling on you — to worship in all of your daily world with head, heart, and hands.
Unfortunately, the chapter divisions in your Bibles can sometimes lead you to miss the Holy Spirit's message. With the chapter break, Hebrews chapter 12 ends with a call to worship with "awe and reverence." Some mistakenly think this is talking about being reverent when you gather for Christian assembly. Now, of course, all worship needs to be approached with "awe and reverence."However, this division between chapter 12 and chapter 13 in your Bibles may lead you to miss the main point being made by the Holy Spirit. This "awe and reverence" needs to be a part of your worship in the daily world. In fact, He tells how to worship in "awe and reverence" in the first 14 verses of chapter 13. He then returns to the thought He began at the end of chapter 12: "the praise of lips that confess His [My] name without ceasing" and doing "what is good" and sharing "what we [you] have." These are the "sacrifices" that please Us!
So what specifically is this worship in your daily world that is done with "awe and reverence"?
Here are some exhortations from this section of Hebrews:
Let your love continue toward each other.
Extend hospitality, including to strangers.
Don't forget to care for those in prison for their faith.
Value marriage and keep your marriage sexually pure and dedicated to the person to whom you are married.
Stay away from greed and the love of money; be content with what you have. Trust that We will never forsake you.
Follow your Godly leaders and live the kind of life they have lived.
Stay away from new and strange teachings.
Avoid the type of worship that values special foods.
Join Me and My work, even if it means being pushed outside the acceptance of the crowd. This principle is valid even if your holy life leads to suffering for My cause. Remember that you have a better future with Me.
This, My dear disciple, is true worship. Yes, I love it when you praise the Father and confess My name in word and song. However, don't forget to do good to all people and share what you have, who you are, and what you believe with others. This, My dear disciple, is also real worship. These are things that you can do each day to worship Us with "awe and reverence"!
Verses to Live
Writers and speakers in the first century often signaled that material went together by using a technique called inclusio. Basically, they put verbal brackets or bookends around their teaching. These bookends used similar language to show that the spoken or written words between them went together. The writer of Hebrews used this technique to frame this section on worship. He began with an emphasis on worship (Hebrews 12:28-29) and ended with this same theme (Hebrews 13:15-16). In between these two verbal brackets, he shared what this worship looked like in the everyday world of the disciples.
Focus on two things as you read this material with its bookends:
Notice how this list from 2,000 years ago is still relevant, needed, and proper in your day.
Ask yourself what other things you could add to this list about how to worship the Father in your daily world.
Therefore, let us all be thankful that we are a part of an unshakable Kingdom and offer to God worship that pleases Him and reflects the awe and reverence we have toward Him, for He is like a fierce fire that consumes everything.

Let love continue among you. Don't forget to extend your hospitality to all — even to strangers — for as you know, some have unknowingly shown kindness to heavenly messengers in this way. Remember those imprisoned for their beliefs as if you were their cellmate; and care for any who suffer harsh treatment, as you are all one body.

Hold marriage in high esteem, all of you, and keep the marriage bed pure because God will judge those who commit sexual sins.

Keep your lives free from the love of money, and be content with what you have because He has said, "I will never leave you; I will always be by your side." Because of this promise, we may boldly say,

The Lord is my help —
I won't be afraid of anything.
How can anyone harm me?

Listen to your leaders, who have spoken God's word to you. Notice the fruits of their lives and mirror their faith.

Jesus the Anointed One is always the same: yesterday, today, and forever. Do not be carried away by diverse and strange ways of believing or worshiping. It is good for the heart to be strengthened by grace, not by regulations about what you can eat (which do no good even for those who observe them). We approach an altar from which those who stand before the altar in the tent have no right to eat. In the past, the bodies of those animals whose blood was carried into the sanctuary by the high priest to take away sin were all burned outside the camp. (In the same way, Jesus suffered and bled outside the city walls of Jerusalem to sanctify the people.)

Let's then go out to Him and resolve to bear the insult and abuse that He endured. For as long as we are here, we do not live in any permanent city, but are looking for the city that is to come.

Through Jesus, then, let us keep offering to God our own sacrifice, the praise of lips that confess His name without ceasing. Let's not neglect what is good and share what we have, for these sacrifices also please God.
(Hebrews 12:28-29; Hebrews 13:1-16)
Response in Prayer
O Father, please help me tear down the wall in my mind that I use to separate my life into compartments of the secular and the sacred. Help me, dear Father, to live with all my life as sacred. Help me to recognize that all of my thoughts, emotions, and actions are part of my worship of You. I want to worship You with all of my heart, soul, mind and strength in every moment of my life. So please, dear Father, may my thoughts be worship. May my heart be full of Your praise. May the work of my hands and the path of my feet in my daily life bring You honor, glory, and praise. May my soul be filled with Your gracious compassion as well as Your passion for righteous character and sacrificial living. I ask this in the name of Jesus, Who lived a life of worship and praise in His daily world to bring Your grace to all He taught, loved, and touched. Amen.
This week's topic:
Should a Christian play video games or are they sinful?
Video games can be fun, and we do have the freedom to enjoy entertaining ourselves how we choose. The Bible never says, "Thou shalt not play video games." (Obviously, they weren't around at the time.) But certain things are laid out for us in the Bible we can apply to answer this question.
For example, if video games have become an idol, or something that is more important to you than your relationship with God, definitely stop playing (Colossians 3:5; Revelation 2:4). We should not allow anything to distract us from God. Some things may be perfectly fine, but if that thing becomes an idol to you, then it is no longer good for you.
Questions to Ask about Video Games
Does your practice of playing video games build you up or tear you down? Do they make you a stronger Christian? 1 Corinthians 10:23-24 says, "'I have the right to do anything,' you say—but not everything is beneficial. 'I have the right to do anything'—but not everything is constructive. No one should seek their own good, but the good of others."As Christians, we are free to choose what we do to entertain ourselves, but we have to look at what is best for us personally. Galatians 5:13-17 tells us that we should always choose the better thing.
Does your choice of video games obey God's will or a selfish will? Jesus told us in Luke 10:27 to "'Love the Lord your God with all your heart and with all your soul and with all your strength and with all your mind'; and, 'Love your neighbor as yourself.'" That is God's will for His children. Our human will often tends toward greed, pollution, and sin. We were saved from that wicked will, therefore we should surrender our will to God (Philippians 3:7-9).It's a process, but eventually we will learn that what God wants for us is best, and His will will gradually become our own (Psalm 143:10). Some might think that God's plan is impossible or too holy to be any fun, but God wants to give you the power to live it out and love doing it (Psalm 40:8a; Hebrews 13:21).
Does your choice of video games glorify God? 1 Corinthians 10:31 tells us to glorify and honor God in all we do. That simply means that we speak and act in a way that shows respect to our Creator, such as exhibiting good, moral character. Can you honor God while playing video games?
Can you practice self-control in your video games? The Christian life is likened to that of an athlete by the apostle Paul (1 Corinthians 9:25-27). Video games can become an addiction to certain people. Is there room for addictions in a Christian's life? Nope! Addictions are a distraction from the goal of living like Christ. We have to be like a runner training for a race and stay focused on Christ—not thinking on things like how we're going to reach the next level in a game.
Does playing video games waste your time? We can probably all agree that playing a video game for hours at a time is not a good use of time. There's nothing wrong with playing for a little while, but we can't allow any earthly pursuit to take up all our valuable time.Ephesians 5:15-17 says, "Be very careful, then, how you live—not as unwise but as wise, making the most of every opportunity, because the days are evil. Therefore do not be foolish, but understand what the Lord's will is." 1 Peter 4:2 says, "Live for the rest of the time in the flesh no longer for human passions but for the will of God." (Also see Colossians 4:5, James 4:14, and 1 Peter 1:14-22.)
Does your video game playing or game choices pass the test of Philippians 4:8? I know, this verse can get really annoying, and it is definitely misused sometimes. It says, "Finally, brothers, whatever is true, whatever is noble, whatever is right, whatever is pure, whatever is lovely, whatever is admirable—if anything is excellent or praiseworthy—think about such things." What this is saying is that our main focus should be good things that are good for us—not the sex, gore, and violence that are a part of many video games. Don't let worldly things dwell at the forefront of your mind for long.
Does playing video games show that I am different? Or does it show that we have become "lovers of pleasure rather than lovers of God" (2 Timothy 3:4)? Western culture fits that description. We love to play, and that's okay. But "in a crooked and depraved generation," we should "shine like stars in the universe" (Philippians 2:15). Non-Christians can be easily addicted to entertainment because they're trying to get as much pleasure out of life as they can. They don't have the hope for eternity after death that Christians do.If we are addicted to the same things that non-Christians are, how are we showing we are different? Our words and actions prove our faith in Christ and show that we have been changed by Him.
Paul considered knowing, loving, and obeying God to be his highest priority. "I consider everything a loss compared to the surpassing greatness of knowing Christ Jesus my Lord, for whose sake I have lost all things. I consider them rubbish, that I may gain Christ… I want to know Christ and the power of his resurrection and the fellowship of sharing in his sufferings, becoming like him in his death" (Philippians 3:7-10). What's your highest priority?
Does playing video games show your love for God?
The Bible doesn't say "no" or "yes" to video games. We have the freedom to enjoy entertainment because of Christ's sacrifice. But we do need to be discerning about what's best for us. The Holy Spirit is there to guide us, and He will convict you if you are choosing unwisely (John 16:7-9).
Talk to God about it, asking Him to help you honor Him and if you can honor Him with your pastime activities. Remember, just because something is allowed, that doesn't mean it's beneficial to you. You have given your life to God, and He wants the best for you. You can trust Him to govern your choices.
SAD That DST is Ending
[Note: When I wrote this, I got up around 10 a.m. and saw no benefit from the earlier sunrise. Now I get up at 7, so it works better for me now. But I still hate the earlier sunset!]
This weekend marks the end of daylight-saving time (DST) for the year. Though winter doesn't technically begin for another month and a half, this always feels to me like the point where things change. Every year, at the beginning of warm weather, I encourage everyone to get out in the sun and experience nature, but it's important to respect the rhythms of nature and our body in cold weather too.
So I want to talk to you about two things: SAD and DST.
Next week, I'll focus on SAD, but for now, just a few thoughts about daylight-saving time. DST is designed to correct the rigidity of the modern world's scheduling. Before the 19th century, most people simply measured their day by the sunrise and sunset. Working and eating and sleeping times adjusted naturally to the changing seasons. This fit well with the high cost and poor quality of nighttime lighting, and with the fact that in an agrarian culture, there was a lot of work to do in the summer, and not much to do in the winter.

Preparing for God's Word
Responding appropriately to God's word, whether it is being read or it is being preached, requires an important preparatory step that is often neglected. God's word is said to be "living and active" and sufficiently able to have a transforming impact on our lives (Heb.4:12; Jer.23:29; Jn.17:17). Often the difference between the times it impacts our lives and the times it doesn't, Jesus told us, is not a question of the quality of the word, but a problem with the receptivity of the heart (Lk.8:15).
Being receptive requires some prep. So before we open the Scriptures in church or at our kitchen tables, we would do well to echo the words of King David who prayed, "Search me, O God, and know my heart! Try me and know my thoughts! And see if there be any grievous way in me, and lead me in the way everlasting" (Ps.139:23-24).
That kind of prayerful prelude to any encounter with God's word can dissolve our stubbornness, soften our defenses, and eliminate any obstinate resistance we may have to being transformed by his truth. It is a simple yet vulnerable step, which will yield tremendous dividends in our lives. Therefore, let us always be careful to prepare to welcome the Lord's truth, accepting it "not as the word of men but as what it really is, the word of God, which is at work" in us (1Th.2:13).
— Pastor Mike
Well, today is my oldest and first grandchild's birthday…….her 30th, I think, but my memory is so bad anymore.  I emailed an ecard to her…a couple, in fact, along with a brief message…….I just hope she gets them.  For some reason, the message went to what I had thought was my grandson's Messenger and profile on Facebook…….but it has everyone's names associated with it……….oh well…maybe I'll post it on my own Facebook wall and hope she sees it………..
Oh well…….have a good day, my sweet Mindy Sue!