Christoph Friedrich Blumhardt
Praise the Lord, O my soul. O Lord my God, you are very great; you are clothed with splendor and majesty. He wraps himself in light as with a garment; he stretches out the heavens like a tent. Psalm 104:1–2, NIV
Lord our God, our Father in heaven, with all our hearts we want to thank you for giving us joy on earth and for sending us your radiant light from heaven. We praise you for the light you give our hearts, the light that lets us find great joy together because we become one in you, one in your Spirit, one in awaiting your promised good. Grant that we may be your children. May we always find the paths where you can go with us and give us what we cannot give ourselves. May our whole life glorify you and our every breath belong to you. Through communion with you may we remain in your safekeeping in body, soul, and spirit. For all you have done and for all you will do for us, we ask you to accept our thanks. Amen.
TODAY'S DAILY DIG
I was invited to visit a friend who was very sick. … When I came to him, he said to me, "Henri, here I am lying in this bed, and I don't even know how to think about being sick. My whole way of thinking about myself is in terms of action, in terms of doing things for people. My life is valuable because I've been able to do many things for many people. And suddenly, here I am, passive, and I can't do anything anymore." As we talked I realized that he and many others were constantly thinking, "How much can I still do?" Somehow this man had learned to think about himself as a man who was worth only what he was doing. And so when he got sick, his hope seemed to rest on the idea that he might get better and return to what he had been doing. If the spirit of this man was dependent on how much he would still be able to do, what did I have to say to him?
Source: The Weavings Reader
Verse of the Day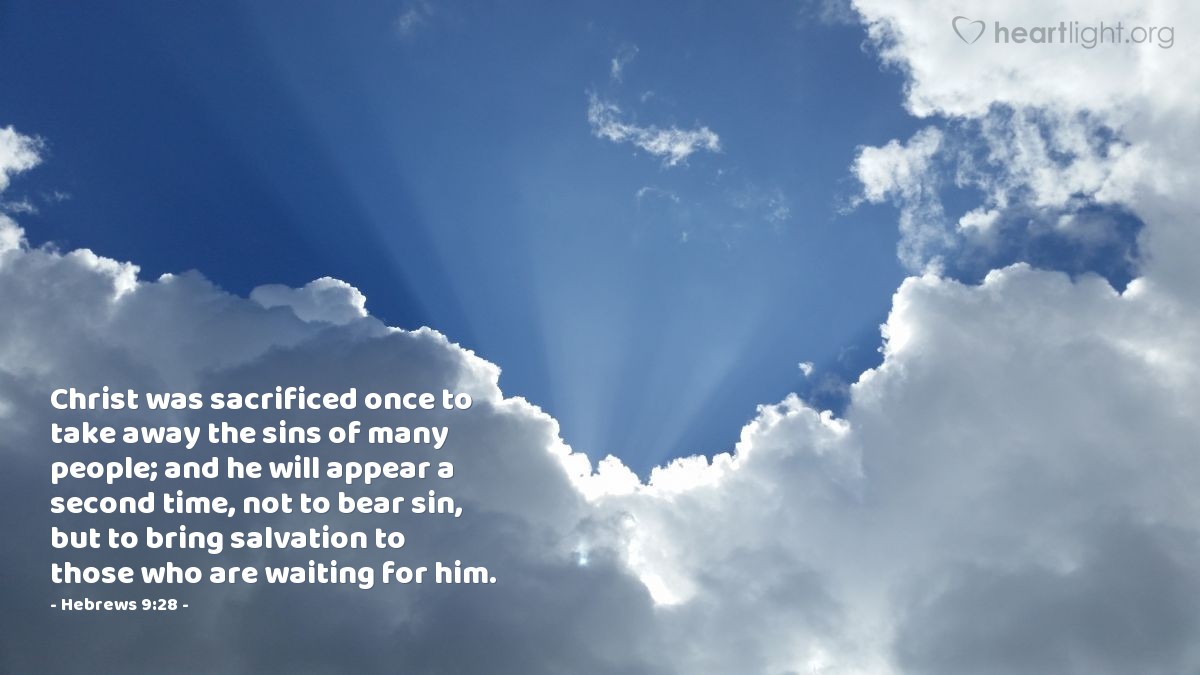 Thoughts on Today's Verse…
Who are you waiting for? Can you think of anything more exciting than to wait for Jesus to come take us home in his glory! But ours isn't a passive wait. Jesus gave us a commission to take his story to the whole world and call others to join with us in following him. So by the power of the Holy Spirit we wait in expectation as we share Jesus' good news with passion and as we live with the character and compassion of the Father.
My Prayer…
Majestic King of the Ages, may your Kingdom come in all its fullness and every knee bow to your Savior, and may you grant that it may come to pass in our generation. Through Jesus I expectantly pray. Amen.
Saints Marcellinus and Peter
Saint of the Day for 
June 2
(d. 304)
https://www.franciscanmedia.org/wp-content/uploads/2016/08/SODJun02.mp3
Saints Marcellinus and Peter's Story
Marcellinus and Peter were prominent enough in the memory of the Church to be included among the saints of the Roman Canon. Mention of their names is optional in our present Eucharistic Prayer I.
Marcellinus was a priest and Peter was an exorcist, that is, someone authorized by the Church to deal with cases of demonic possession. They were beheaded during the persecution of Emperor Diocletian. Pope Damasus wrote an epitaph apparently based on the report of their executioner, and Constantine erected a basilica over the crypt in which they were buried in Rome. Numerous legends sprang from an early account of their death.
---
Reflection
Why are these men included in our Eucharistic prayer, and given their own feast day, in spite of the fact that almost nothing is known about them? Probably because the Church respects its collective memory. They once sent an impulse of encouragement through the whole Church. They made the ultimate step of faith.
---
Another Saint of the Day for 
June 2

 is Saint Elmo.
Saint Elmo's Story
Some scholars state that Saint Erasmus of Formia is also know as Saint Elmo. Others attest to them being two separate saints. Whatever the case, Saint Elmo was an early martyr and one of the Fourteen Holy Helpers. Legend has it that Saint Elmo was martyred by being disemboweled.
St. Elmo's Fire, an electrical discharge that sometimes appears over a ship's mast during an electrical storm, became associated with Saint Elmo because he ignored a bolt of lightening that struck nearby as he was preaching. Sailors who witnessed this phenomenon at sea felt that it was a sign of Saint Elmo's protection.
---
Reflection
Besides his patronage of mariners, Saint Erasmus (or Saint Elmo) is invoked against colic in children, abdominal pain, intestinal ailments and diseases, cramps, and the pain of women in labor, as well as cattle pests.
---
Saint Elmo is the Patron Saint of:
Intestinal Problems
Sailors
Women in Labor

What Jesus Did!

 'Who Do You Say Jesus Is?'

When the crowds heard [Jesus say that living water will flow from his heart], some of them declared, "Surely this man is the Prophet we've been expecting." Others said, "He is the Messiah." Still others said, "But he can't be! Will the Messiah come from Galilee? For the Scriptures clearly state that the Messiah will be born of the royal line of David, in Bethlehem, the village where King David was born." So the crowd was divided about him. Some even wanted him arrested, but no one laid a hand on him.
Key Thought
Who do you say Jesus is? Is he prophet, king, teacher, messiah, lord, master, imposter, pretender, fake, charlatan, deceiver? So often some people make their decisions about Jesus based on improper information. They think they know about him because they have heard about him at a church or read about him in a magazine or have been told by someone else. The real issue, however, is whether or not each of us has personally gone on a quest to discover Jesus. As you read the Gospel of John this year, also try to read the other three Gospels (Matthew, Mark, and Luke). Ask God to help you know Jesus for who he really is. The most important question any of us will ever answer is this: "Who do I say Jesus is?"
Today's Prayer
O God, Almighty and Everlasting, please reveal Jesus to me so that I can know him personally and follow him passionately. I don't want to know him just by reputation or report but from personal knowledge and experience. Please reveal your Son to me and in me as I seek to know him better. It is in his name, Jesus the Christ, that I pray. Amen.
Related Scripture Readings
Daily Wisdom:

 Leviticus 19:18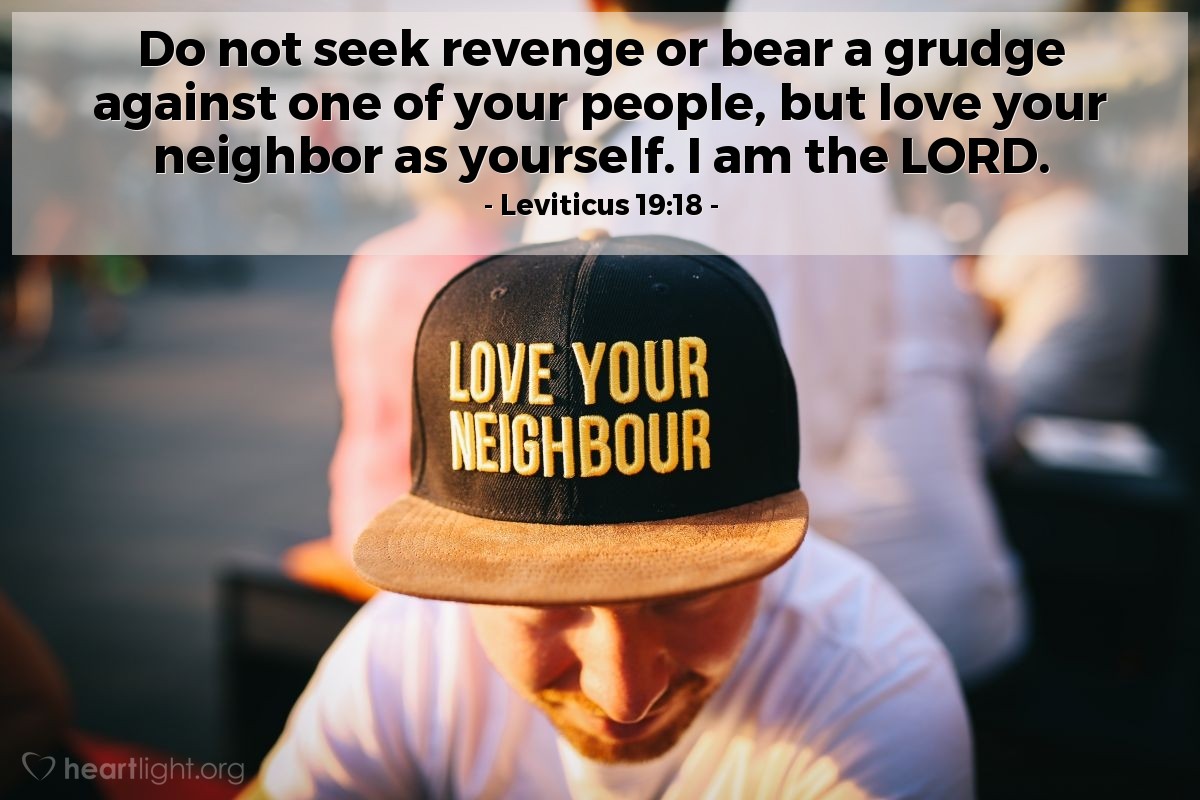 Spiritual Warfare:

 'Understanding Is A Gift from God'

God's Power for Our Battles

Moses summoned all the Israelites and said to them, "You have seen with your own eyes everything the Lord did in the land of Egypt to Pharaoh and to all his servants and to his whole country — all the great tests of strength, the miraculous signs, and the amazing wonders. But to this day the Lord has not given you minds that understand, nor eyes that see, nor ears that hear!"
Today's Prayer
Lord, now I realize the eyes that can truly see, ears that can really hear, and a mind that actually understands are all gifts from You; gifts from above. Please give me these gifts so I can take in Your glory and help others to realize Your love and power. I want to know You better and understand what You are at work doing around me. In Jesus' Name, Amen.
Illustration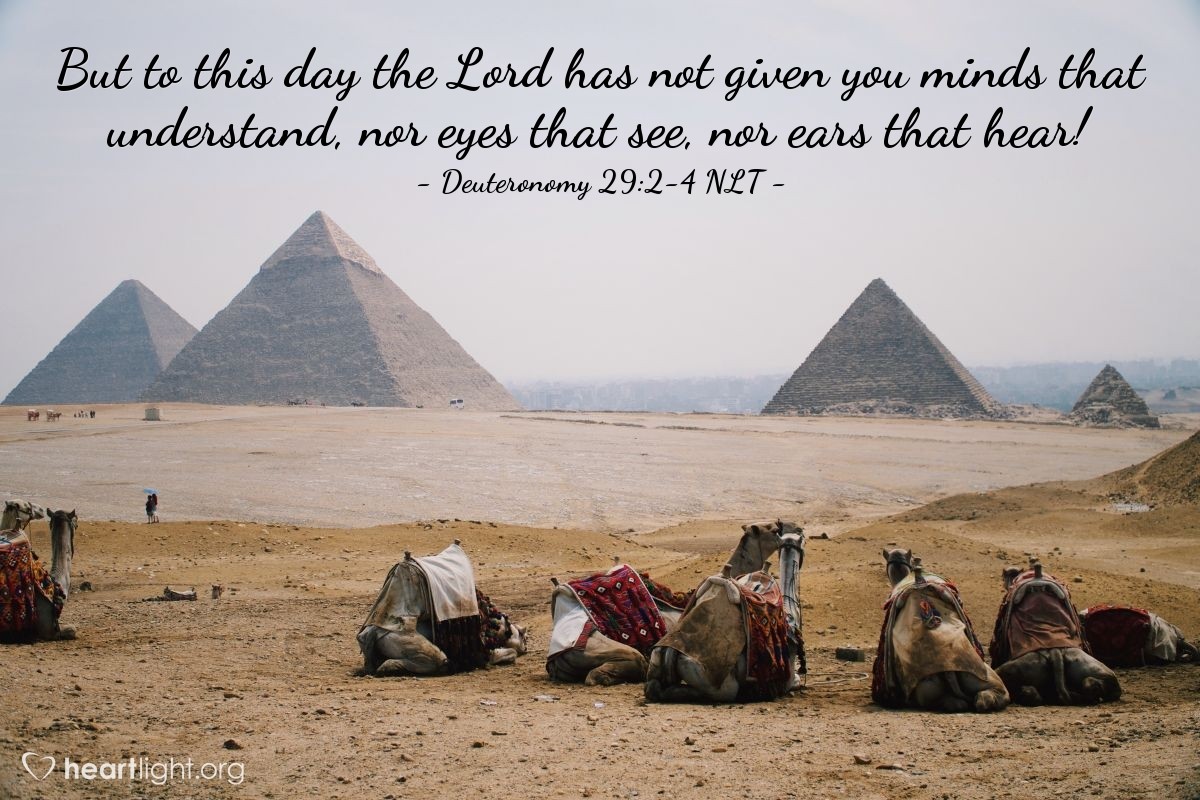 A Year with Jesus:

 'The Apostles' Teaching'
Note from Jesus
Dear Believer,
Have you ever asked yourself questions like the following:
Why is the Bible important?
Is it really necessary?
Do I have to read it?
Do I have to obey it and live by its teachings?
If so, you are not alone in having these questions. So before we go further into the New Testament story in the coming days, I wanted to give you some insights into the importance of the Scriptures. We will spend today and the next two days with this focus. Then we will rejoin the church in its earliest days in the book of Acts and journey through the rest of the New Testament. Before we do this, I AM reminding you of some of the reasons the Scriptures are important to your discipleship.
Today we join those who began following Me on the day of Pentecost. When 3,000 believed the apostles' message, repented and were baptized, I added them to My family, My church (Acts 2:40-47). So what would their new life together look like? How would all these people come together and form a real movement united around their faith in Me?
The passage you find in the verses below gives you a glimpse of that new lifestyle. Luke, who wrote both the gospel of Luke and the book of Acts, helps you see four important commitments for their life together:
"learning what the apostles taught them",
"gathering for fellowship",
"breaking bread", and
"praying".
He then explains these four commitments in more detail.
Each of these things is important as you come together with other believers as a community of disciples. However, today I want to focus on the first commitment: "learning what the apostles taught." I had promised My apostles that the Spirit of truth would remind them of the things that I had spoken to them (John 15:26-27; John 16:13-15). I gave them authority to teach, preach and cast out demons (Mark 3:13-15; Mark 6:7; Matthew 28:18-20; Galatians 2:7-9). This commission made their teaching authoritative, and something My disciples in every era need to receive as My authoritative message.
One of the reasons I will take you through the New Testament during the remainder of this year is that I want to expose you to My authoritative truth shared through My witnesses, the apostles and also other witnesses. I want you to be like those early disciples and commit yourself to "learning what the apostles taught." You won't be alone in this journey. The Holy Spirit will be at work in you as you read these words of truth to help you understand them, be convicted by them, and apply them (John 16:8; John 16:13-15). The Holy Spirit will help you understand the spiritual truths given through His inspiration (1 Corinthians 2:6-16). So commit yourself, as the early believers did, to learning the apostles' teaching given in the Scriptures!
Verses to Live
Here is Luke's glimpse of the early believers and their Christian lifestyle. All of these qualities are essential and should be a part of your spiritual community and its lifestyle. Today, however, I want you to focus on the importance of the apostles' teaching.
The community [of believers] continually committed themselves to learning what the apostles taught them, gathering for fellowship, breaking bread, and praying. Everyone felt a sense of awe because the apostles were doing many signs and wonders among them. There was an intense sense of togetherness among all who believed; they shared all their material possessions in trust. They sold any possessions and goods that did not benefit the community and used the money to help everyone in need. They were unified as they worshiped at the temple day after day. In homes, they broke bread and shared meals with glad and generous hearts. The new disciples praised God, and they enjoyed the goodwill of all the people of the city. Day after day the Lord added to their number everyone who was experiencing liberation.
(Acts 2:42-47)
Response in Prayer
Father, I thank You for Your word. I thank You for Your word given through Scripture. I thank You for Your word heard in the proclamation of the good news about Jesus. I thank You for Jesus, the living Word, Who is Your greatest message of all. Today, dear Father, I commit myself to be dedicated to listening to Jesus' voice in the Scriptures. I pray for the help of the Holy Spirit to convict me, correct me, direct me, and mold me to be transformed daily to be like Jesus, in Whose name I pray. Amen.
Illustration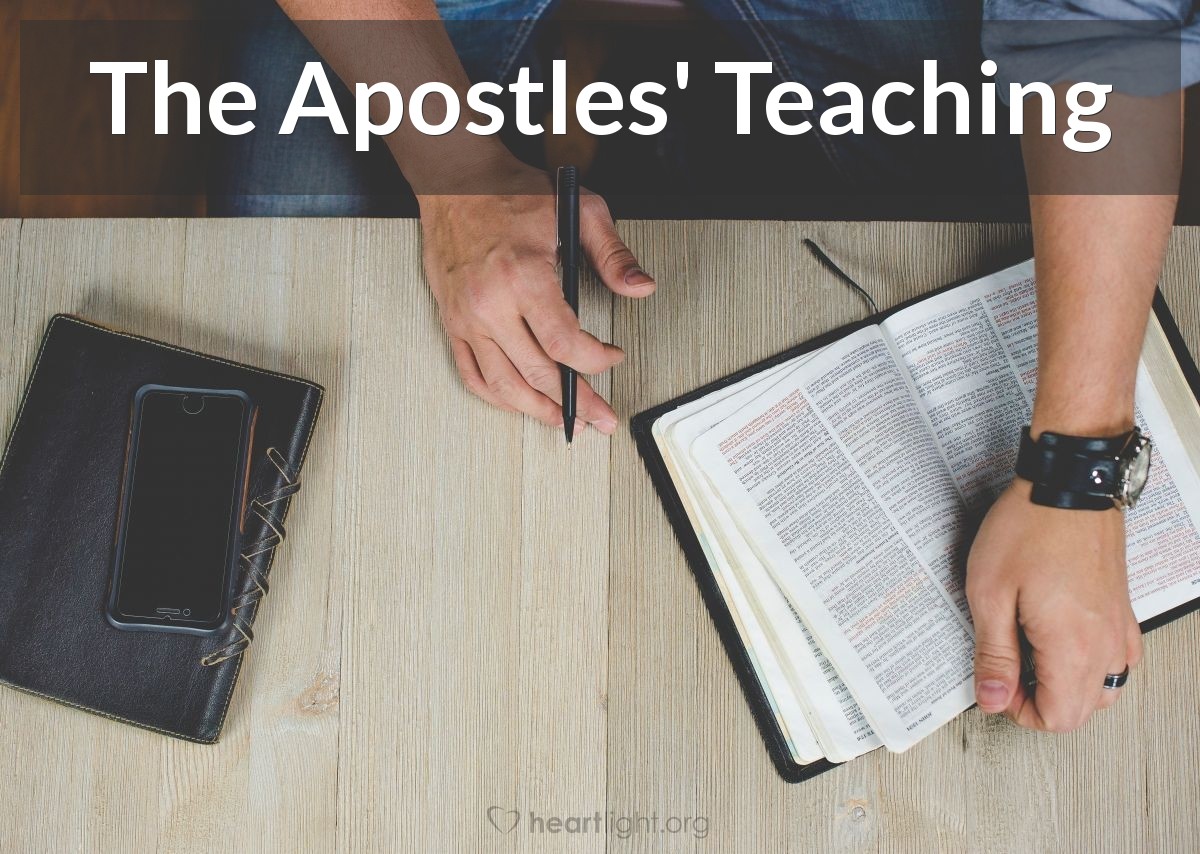 Teacher.
Matthew 19:16
If the young man in the Gospel used this title in speaking to our Lord, it is only right that we should address Him in this way. He is indeed my Teacher in that He rules and teaches me. I am glad to run His errands and to sit at His feet. I am both His servant and His disciple and count it my highest honor to serve Him in this way. He is a good teacher. If He should ask me why I call Him "good," I could answer easily.
It is true that "no one is good except God alone,"1 but then He is God, and all the goodness of Deity shines in Him. In my experience I have found Him to be good, indeed so good that all the good I have has come to me through Him. He was good to me when I was dead in sin, for He raised me by His Spirit's power; He has been good to me in all my needs, trials, struggles, and sorrows. There could never be a better Teacher, for His service is freedom, His rule is love: I wish I were one thousandth part as good a servant. When He teaches me, He is unspeakably good, His doctrine is divine, His manner is gracious, His spirit is gentleness itself.
There is no error in His instruction: Pure is the golden truth that He presents, and all His teachings lead to goodness, sanctifying as well as edifying the disciple. Angels know that He is good and delight to worship at His footstool. The ancient saints proved Him to be a good Teacher, and each of them rejoiced to sing, "I am Your servant, O Lord!"
My own humble testimony must certainly be to the same effect. I will declare this before my friends and neighbors, for possibly they may be led by my testimony to seek my Lord Jesus as their Teacher. O I long that they might do so! They would never regret the decision. If they would submit to His easy yoke, they would find themselves in such royal service that they would never want to leave. The school of grace rejoices to have such a Teacher!
Prayer – God's Blessings for the Rest of the Year
Blessings
Heavenly Father, I give you all thanks and praise for having brought me through me the year so far. For the rest of the year, continue to pour out your blessings upon me in even greater measure. Bless my home, my work, my business, my family, dear Lord.
I lean on your promises. You will make me the head and not the tail, I will be above and not beneath. Even as others face recession and financial crises, Lord, I remain confident that you are my provider, you will never let your child go without.
Jeremiah 29:11 For I know the plans I have for you," declares the Lord, "plans to prosper you and not to harm you, plans to give you hope and a future."
Opportunities
Open new doors, new opportunities for me, Lord. Open my eyes that I may use these opportunities to bring glory to your name. May I always remain humble and willing to serve and bless others.
Lord, you know the plans you have for me and I know that they are plans to prosper and not harm me. I trust in you Lord with all my heart. I will not depend on my own understanding but rather on your mighty word.
Proverbs 3:5-6 Trust in the Lord with all your heart, and do not lean on your own understanding. In all your ways acknowledge him, and he will make straight your paths.
Healing/Health
OGod, you are my healer and my deliverer. You bring me peace and well-being. Bless me with health oh Lord.
The Word says "by the stripes of Jesus, you are healed." You bore our sufferings and illnesses and nailed them on the cross. And so I declare healing and well-being upon my family.
Protect your children and keep us safe in your arms. Guide our footsteps daily and lead us away from danger. In Jesus mighty name we pray, Amen!!!
2 Timothy 1:7 For God gave us a spirit not of fear but of power and love and self-control.
Psalm 34:17-18 The righteous cry, and the Lord hears, and delivers them out of all their troubles. The Lord is nigh unto them that are of a broken heart; and saves such as be of a contrite spirit.
NATIONAL ROCKY ROAD DAY
June 2nd is a day made for chocolate, marshmallows, and nuts. It's National Rocky Road Day!  In the United States, the most popular way to eat Rocky Road is in ice cream.
Although there are many variations, traditionally, Rocky Road ice cream was composed of chocolate ice cream, nuts, and marshmallows.  Today, there are variations with vanilla ice cream, cholate chips, and almonds.
People have been enjoying this delicious combination for many years. There are varying accounts of the origin of this ice cream, as there often are when a popular item invention comes along. Sometime during the late 1920s, William Dreyer used inspiration from his partner Joseph Edy's chocolate candy to make rocky road ice cream. Dryer did something he was probably told a hundred times not to do. He used his wife's sewing scissors to chop up marshmallows and walnuts and added them to chocolate ice cream. Of course, it tasted good, so he was probably forgiven for using her good sewing shears for anything but fabric!
Another who laid claim to the creation of rocky road ice cream was George Farren. He had simply blended a candy bar into chocolate ice cream creating the creamy dessert.
Soon after, the stock market crashed, and the ice cream was given the name Rocky Road to bring smiles to faces during the Great Depression.
HOW TO OBSERVE
Enjoy a bowl of Rocky Road Ice Cream, some Rocky Road candy, bars, cake or other Rocky Road dessert! Use #RockyRoadDay to post on social media.
HISTORY
Within our research, we were unable to find the origin of National Rocky Road Day.
NATIONAL ROTISSERIE CHICKEN DAY
National Rotisserie Chicken Day is observed annually on June 2nd.
Rotisserie chicken is cooked whole on a rotisserie or spit that turns continuously over heat source roasts it slowly. This type of cooking sears the skin to seal in the flavor, resulting in a tender and juicy chicken. Rotisserie chicken is often injected with a blend of seasonings to give increase the flavor. The popularity of rotisserie chicken continues to grow as the health benefits of it become more widely known. Leftovers can be used in many ways, including salads, sandwiches and casseroles.
HOW TO OBSERVE
Share photos of your friends and family on social media enjoying National Rotisserie Chicken Day and include #RotisserieChickenDay.
HISTORY
National Rotisserie Day was submitted by Boston Market Restaurants in April 2015.  The Registrar of National Day Calendar declared June 2nd as National Rotisserie Chicken Day in May 2015.