Christoph Friedrich Blumhardt
As for you, see that what you have heard from the beginning remains in you. If it does, you also will remain in the Son and in the Father. And this is what he promised us – eternal life. 1 John 2:24–25, NIV
Lord our God, we want to find our joy in you and in all your promises to us. For you have promised that in the midst of all the pain and sorrow, you are preparing what pleases you and serves your honor in every heart. May we experience in our lives the fulfillment of many of your promises, so that again and again we can go forward joyfully, rising above difficult times and situations. Have mercy on us and protect us in your strength. Amen.
TODAY'S DAILY DIG
Peace and war start within one's own home. If we really want peace for the world, let us start by loving one another within our families. Sometimes it is hard for us to smile at one another. It is often difficult for the husband to smile at his wife or for the wife to smile at her husband. In order for love to be genuine, it has to be above all, a love for our neighbor. We must love those who are nearest to us, in our own family. From there, love spreads toward whoever may need us. It is easy to love those who live far away. It is not always easy to love those who live right next to us. It is easier to offer a dish of rice to meet the hunger of a needy person than to comfort the loneliness and the anguish of someone in our own home who does not feel loved.
Visitation of the Blessed Virgin Mary
Saint of the Day for 
May 31
https://www.franciscanmedia.org/wp-content/uploads/2016/08/SODMay31.mp3
The Story of the Visitation of the Blessed Virgin Mary
This is a fairly late feast, going back only to the 13th or 14th century. It was established widely throughout the Church to pray for unity. The present date of celebration was set in 1969, in order to follow the Annunciation of the Lord and precede the Nativity of Saint John the Baptist.
Like most feasts of Mary, it is closely connected with Jesus and his saving work. The more visible actors in the visitation drama (see Luke 1:39-45) are Mary and Elizabeth. However, Jesus and John the Baptist steal the scene in a hidden way. Jesus makes John leap with joy—the joy of messianic salvation. Elizabeth, in turn, is filled with the Holy Spirit and addresses words of praise to Mary—words that echo down through the ages.
It is helpful to recall that we do not have a journalist's account of this meeting. Rather Luke, speaking for the Church, gives a prayerful poet's rendition of the scene. Elizabeth's praise of Mary as "the mother of my Lord" can be viewed as the earliest Church's devotion to Mary. As with all authentic devotion to Mary, Elizabeth's (the Church's) words first praise God for what God has done to Mary. Only secondly does she praise Mary for trusting God's words.
Then comes the Magnificat (Luke 1:46-55). Here, Mary herself—like the Church—traces all her greatness to God.
---
Reflection
One of the invocations in Mary's litany is "Ark of the Covenant." Like the Ark of the Covenant of old, Mary brings God's presence into the lives of other people. As David danced before the Ark, John the Baptist leaps for joy. As the Ark helped to unite the 12 tribes of Israel by being placed in David's capital, so Mary has the power to unite all Christians in her son. At times, devotion to Mary may have occasioned some divisiveness, but we can hope that authentic devotion will lead all to Christ and therefore, to one another.
Get to know Mary!
"I am the Lord's servant. May it be to me as you have said" (Luke 1:38).
She may be the most famous woman who ever lived, and yet there is surprisingly little in the New Testament about her. Mary is featured only in a few Gospel scenes and the first chapter of Acts. Yet her total faith in God is something we can emulate.
Enjoy these features devoted to Our Lady.
Presentation of the Blessed Virgin Mary
The Story of the Presentation of the Blessed Virgin Mary
Mary's presentation was celebrated in Jerusalem in the sixth century. A church was built there in honor of this mystery. The Eastern Church was more interested in the feast, but it does appear in the West in the 11th century. Although the feast at times disappeared from the calendar, in the 16th century it became a feast of the universal Church.
As with Mary's birth, we read of Mary's presentation in the temple only in apocryphal literature. In what is recognized as an unhistorical account, the Protoevangelium of James tells us that Anna and Joachim offered Mary to God in the Temple when she was 3 years old. This was to carry out a promise made to God when Anna was still childless.
Though it cannot be proven historically, Mary's presentation has an important theological purpose. It continues the impact of the feasts of the Immaculate Conception and of the birth of Mary. It emphasizes that the holiness conferred on Mary from the beginning of her life on earth continued through her early childhood and beyond.
---
Reflection
It is sometimes difficult for modern Westerners to appreciate a feast like this. The Eastern Church, however, was quite open to this feast and even somewhat insistent about celebrating it. Even though the feast has no basis in history, it stresses an important truth about Mary: From the beginning of her life, she was dedicated to God. She herself became a greater temple than any made by hands. God came to dwell in her in a marvelous manner and sanctified her for her unique role in God's saving work. At the same time, the magnificence of Mary enriches her children. They–we–too are temples of God and sanctified in order that we might enjoy and share in God's saving work.

What Jesus Did!

 'Limited Time'

When the Pharisees heard that the crowds were whispering [that Jesus must be the Messiah], they and the leading priests sent Temple guards to arrest Jesus. But Jesus told them, "I will be with you only a little longer. Then I will return to the one who sent me. You will search for me but not find me. And you cannot go where I am going." The Jewish leaders were puzzled by this statement. "Where is he planning to go?" they asked. "Is he thinking of leaving the country and going to the Jews in other lands? Maybe he will even teach the Greeks! What does he mean when he says, 'You will search for me but not find me,' and 'You cannot go where I am going'?"
Key Thought
So often we find ways to put off doing the right thing or make excuses for not responding to God in the proper way. I don't know how many times I've seen a husband or wife get serious about his or her marital commitment too late to make a difference. Opportunities to live for Jesus vibrantly and passionately can pass us by each day while our hearts grow callused. One day, there will be no more opportunities. Our hearts may grow hard, our bodies may grow too weak, our circumstances may degrade, or our influence may be lost. 
"I will be with you only a little longer,"
 Jesus told the Temple guards in today's verses and also reminded his disciples another time (
John 13:33
). Many missed the joy of Jesus' life because they found reasons to put off responding or found excuses to reject him. Let's not be guilty of wasting a limited-time offer — limited not because Jesus will withdraw the offer but because we each have only a limited lifespan. Instead, let's respond to Jesus with passion today before our hearts grow cold or our time runs out.
Today's Prayer
LORD and Father, give me a sense of spiritual urgency about the decisions I make each day. Give me a clear sense of what is at stake in what I choose, reject, or put off. Give me the wisdom to see through all the distractions that can clutter my view and mislead my heart. Give me a holy passion to do what you want me to do. I don't want to waste a day of my life as your servant. In Jesus' name. Amen.
Related Scripture Readings
Daily Wisdom:

 Psalm 34:10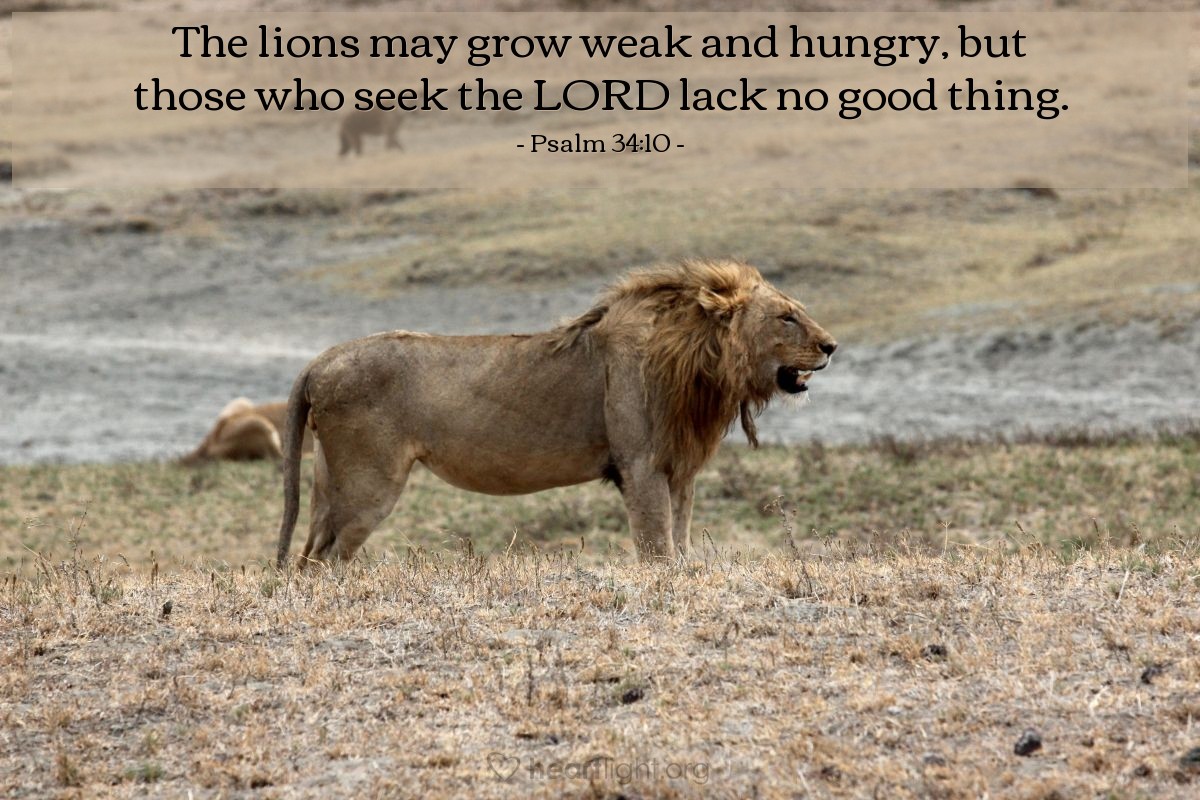 Spiritual Warfare:

 'Don't Focus on Wealth — It Will Disappear'

God's Power for Our Battles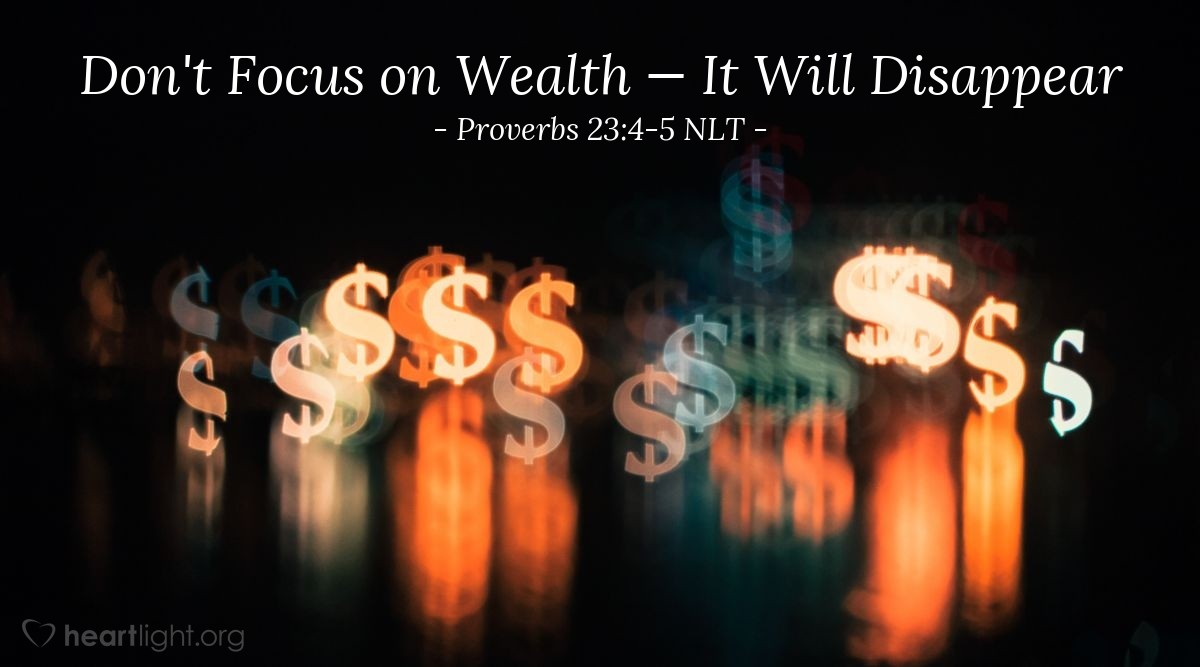 Today's Prayer
Lord, grant me contentment. Help me to be at peace and satisfied with what I have and what You plan for me to have. Forgive me for running up debt, buying all the latest gadgets, chasing all the newest fads, and working to satisfy desires focused on things that I don't need. Remind me that the things of this world will never last. Earthly stuff will break, wear out, rust, or be left behind when I die. Help me to know when to quit — when the stuff with which You've blessed is enough. Give me a fresh focus on what's truly important. I commit to trust You to provide for all my needs while I accomplish Your purpose for my life. In Jesus' Name, Amen.
A Year with Jesus:

 'The Stubbornness of Unbelief'
Note from Jesus
Dear Follower,
I challenge you to consider two questions about the verses you find below:
Why do you think that Mark included this story about the unbelief of the folks from My "hometown" and among My "own people" and in My "own household"?
Who are My hometown folks and family today?
If you are My disciple, you are part of My family. Mark included the episode below from My ministry to speak to My family and warn them (and warn you) of a great danger — the "stubbornness of their unbelief." This warning is about a specific kind of "stubbornness" and "unbelief."
Over the centuries of church history, My disciples have often thought they knew what they could expect from Me. Many times they ended up under-expecting. They came up with theologies that limited My power and presence. They quit believing that I could or would do great things through them. In the process, they limited what I could do for them, with them, and through them because of the "stubbornness of their unbelief." Mark included this episode from My life to speak to this kind of loss of expectation, this "stubbornness" of "unbelief" in the people in his day. The gospel of Mark in your Bibles warns you about this same "unbelief."
In a few days, we will begin an extended look into the book of Acts. Then, we will go through the rest of the New Testament story together. In the book of Acts, you will read about My disciples and what the Holy Spirit did for them, with them, and through them. You may be tempted to believe that the kinds of things you see in the book of Acts could never happen in your time. I want you to be aware that any lack of expectation still limits the power I can release into your life and the lives of those you love just as My relatives lack of expectation did in My hometown.
The power of My gospel to reach lost people in every place in every age is still present through the work of My Holy Spirit. Unfortunately, the "stubbornness" of "unbelief" I confronted in My hometown also happens in your day. This lack of expectation contributes to My repeated frustration with My family — My modern-day "hometown" and My "own people" and "household." This "stubbornness" of "unbelief" prevents Me from doing any "great works" for them, among them, and through them.
Please believe! Please expect more! Please read your Bibles to see that We — Father, Son, and Spirit — long to do in your day the things We've done before. Don't let it be said in your day that I AM limited "by the stubbornness of their unbelief."
Verses to Live
In the following verses, Mark reported things that happened in My hometown of Nazareth. Notice that the people there were astonished at My teaching. They also knew about My miraculous powers. However, they couldn't see past their own familiarity with Me, My family, and what they thought they knew about Me. They refused to accept My teaching and My miracles. Their lack of faith prevented them from experiencing all that I wanted to bring to them and do among them
Don't let your past experiences place limits on what you think I can do for you, in you, and through you. Remember this about Us — Father, Son, and Spirit: We "can do so many awe-inspiring things, immeasurable things, things greater than [you] ever could ask or imagine through the power at work in" you (Ephesians 3:20).
Jesus went back into His own hometown where He had grown up, and His disciples followed Him there. When the Sabbath came, He went into the synagogue in Nazareth and began to teach as He had done elsewhere, and many of those who heard Him were astonished.

Those in the Synagogue:

Where did He gain this wisdom? And what are all these stories we've been hearing about the signs and healings He's performed? Where did He get that kind of power? Isn't this Jesus, the little boy we used to see in Joseph's carpenter shop? Didn't He grow up to be a carpenter just like His father? Isn't He the son of Mary over there and the brother of James, Joses, Judas, Simon, and their sisters? Who does He think He is?

And when they had thought about it that way, they became indignant and closed themselves to His message.

Jesus (seeing this):

A prophet can find honor anywhere except in his hometown, among his own people, and in his own household.

He could not do any of His great works among them except with a few of the sick, whom He healed by laying His hands upon them. He was amazed by the stubbornness of their unbelief.
(Mark 6:1-6)
Response in Prayer
Today, O God, I pray as Habakkuk did many years ago:
Lord, I have heard of your fame;
I stand in awe of your deeds, Lord.
Repeat them in our day,
in our time make them known.
In the name of Jesus, I pray. Amen.
---
Prayer from Habakkuk 3:2 NIV.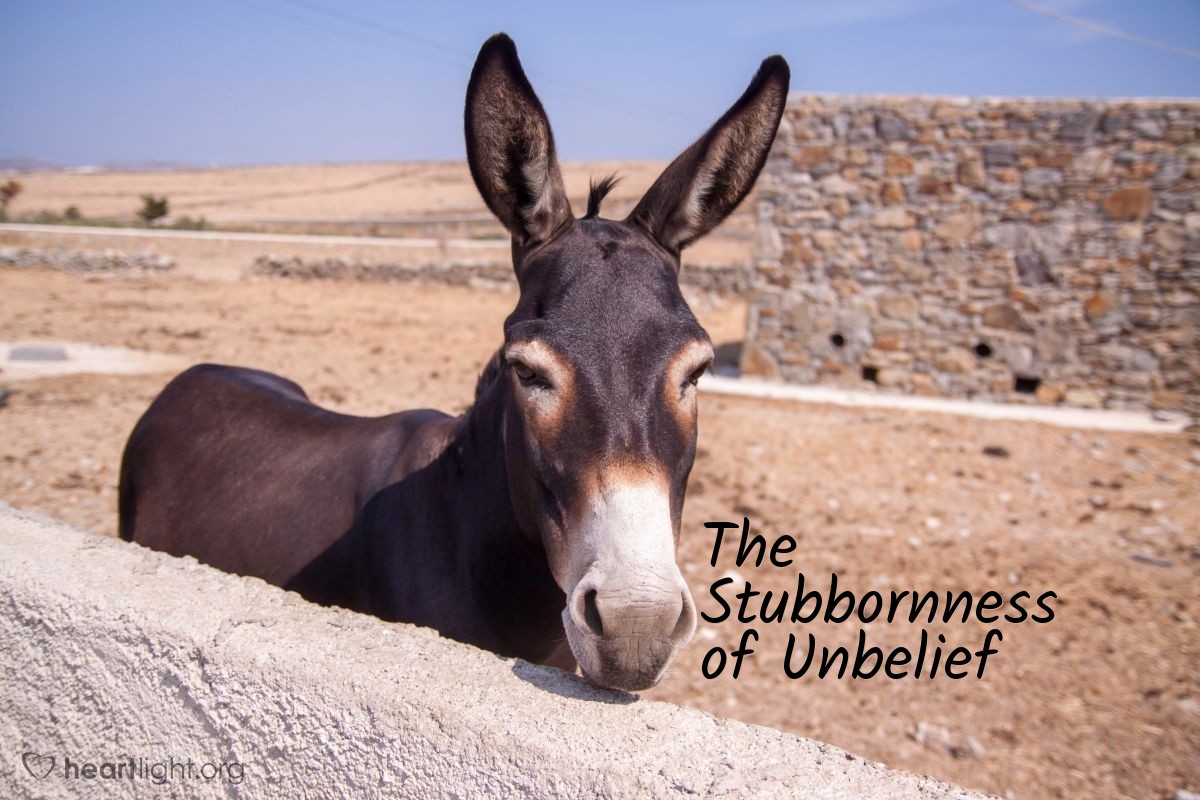 . . . Who heals all your diseases.
Psalms 103:3
Humbling as this statement is, yet the fact is certain that we are all more or less suffering under the disease of sin. What a comfort to know that we have a great Physician who is both able and willing to heal us! Let us think of Him for a moment tonight.
His cures are very speedy—there is life for a look at Him; His cures areradical—He strikes at the center of the disease; and so His cures are sure and certain. He never fails, and the disease never returns. There is no relapse where Christ heals, no fear that His patients should be merely patched up for a season. He makes new men of them: He also gives them a new heart and puts a right spirit within them.
He is well skilled in all diseases. Physicians generally have somespecialty. Although they may know a little about almost all our pains and ills, there is usually one disease that they have studied more than others; but Jesus Christ is thoroughly acquainted with the whole of human nature. He is as much at home with one sinner as with another, and He never yet met an unusual case that was difficult for Him. He has had extraordinary complications of strange diseases to deal with, but He has known exactly with one glance of His eye how to treat the patient. He is the only universal doctor; and the medicine He gives is the only true panacea, healing in every instance.
Whatever our spiritual malady may be, we should apply at once to this Divine Physician. There is no brokenness of heart that Jesus cannot bind up. "The blood of Jesus his Son cleanses us from all sin."1 We have only to think of the myriads who have been delivered from all sorts of diseases through the power and virtue of His touch, and we will joyfully put ourselves in His hands. We trust Him, and sin dies; we love Him, and grace lives; we wait for Him, and grace is strengthened; we see Him as he is, and grace is perfected forever.
The Cost of Broken Covenants
TGIF Today God Is First Volume 1 by Os Hillman
May 31, 2018
"During the reign of David, there was a famine for three successive years; so David sought the face of the Lord." – 2 Samuel 21:1a
There was a famine in the land, and David equated that famine to the blessing or lack of blessing from God. He sought God to know why there was a famine. The Lord did not take long to answer: "It is on account of Saul and his blood-stained house; it is because he put the Gibeonites to death" (2 Sam. 21:1b). Many years earlier, when Joshua entered the Promised Land, the Israelites were tricked by the Gibeonites into believing they were travelers when they were actually enemies of Israel. The Gibeonites tricked Israel into making a peace treaty with them. It was one of the first major mistakes Israel made after entering the Promised Land. As a result of the peace treaty, the Gibeonites were kept as slaves to Israel. This was never God's intention for Israel. He had wanted Israel to destroy all their enemies, but they made an error in judgment that required that they honor a covenant with the Gibeonites.
Saul made a decision to disregard this covenant with the Gibeonites and sought to annihilate them. David sensed there was something preventing God's blessing on Israel. As a nation they had violated a covenant made before God. Now they were reaping the consequences.
There are two things we can learn from this story. First, when we make a covenant, God expects us to fulfill it. God is a covenant maker. He made one with Abraham, Isaac, and Jacob. He made one with each of us through Jesus Christ. The Scriptures are numerous regarding the importance of honoring our commitments.
Second, God is a very longsuffering God. He gave Israel many years of grace before He exercised judgment for their sin. However, there always comes a day when God must uphold His standard of righteousness.
Are you failing to walk in God's blessing due to some failed commitment? Calamities can befall us for many reasons; sin can be one of them. In the case of Israel, David had to make things right with the Gibeonites. When he did this, God removed the famine, and Israel again was prosperous. When you feel you lack God's blessing on your life, ask the Lord if there are any past – generation sins that you may need to repent of. He may be waiting on us before He can release His blessing on our lives.
Verse of the Day
The Lord himself will come down from heaven, with a loud command, with the voice of the archangel and with the trumpet call of God, and the dead in Christ will rise first. After that, we who are still alive and are left will be caught up together with them in the clouds to meet the Lord in the air. And so we will be with the Lord forever.
Thoughts on Today's Verse…
What do you have that is forever? Most of everything we have falls apart, breaks, or runs down in a short time. But we have three things that last forever: God, our Christian friends, and our praise of God. These are eternal.
My Prayer…
God, I look forward to the day of your next great surprise. I join the angels in standing on tiptoe as I look to the clouds to see my Lord and your Son return in glory and receive the welcome and honor he deserves. I praise you for that day now, even though I only see it by faith. Until I see you on that day, please know my heart's desire is to serve you, even when my weakness gets in my way of showing it as fully as I should. I offer you my sincerest thanks and praise in Jesus' name. Amen.
Today's Verse Illustrated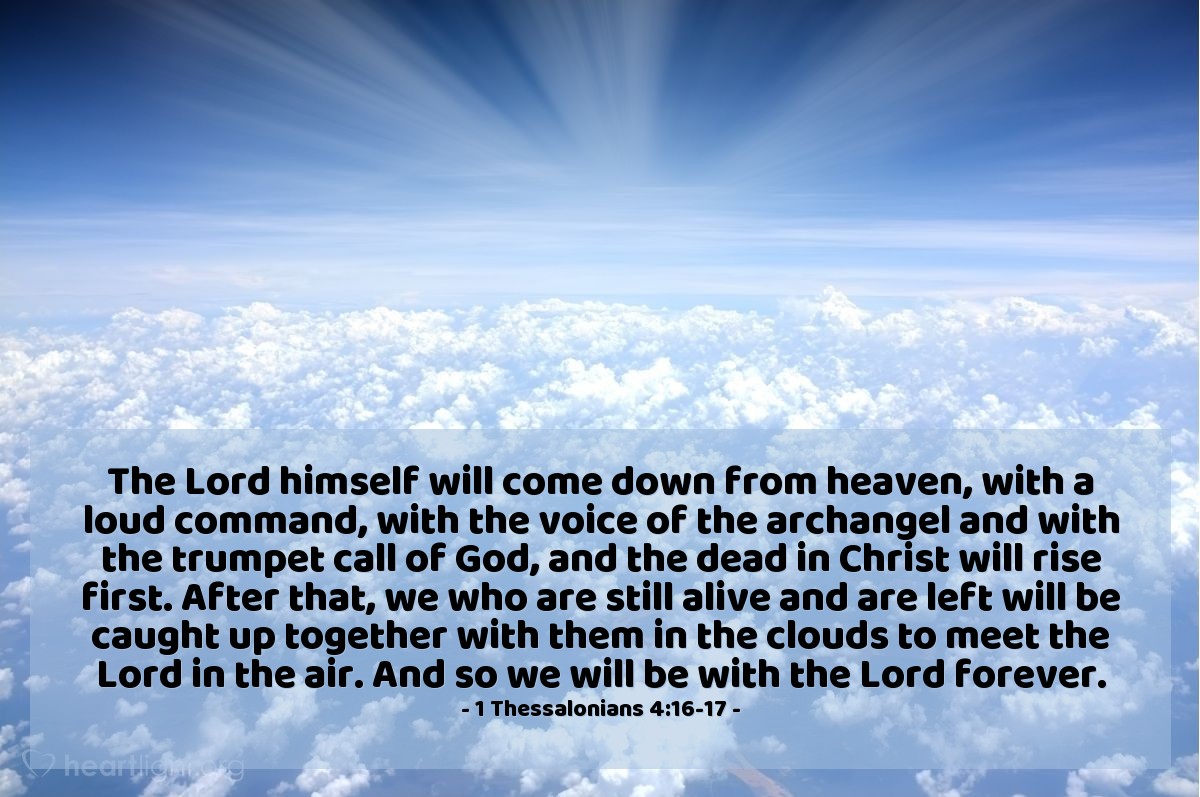 NATIONAL SMILE DAY
On May 31, National Smile Day encourages everyone to wear their best smile!
The first recorded smile on record took place on 126 B.C. Okay, we made that up. But did you smile? Joking aside, we generate a smile when funny things happen or find pleasure in the things we do. Someone we love or enjoy spending time with may be the cause of a grin or beaming look of joy.
Smiles are powerful! They not only create engagement between two people but the more a person smiles, the healthier their brain can be. Smiling has a direct link to our brain and can help to reduce stress.
There is so much a smile can do. Just one smile can brighten someone's day. It can also improve your day. Smiles are infectious. A healthy smile can develop confidence and generate a new outlook on the world.
HOW TO OBSERVE
Share your smile and how a smile improves your day.  Use #NationalSmileDay to share on social media.
HISTORY
Dr. Tim Stirneman and Jim Wojdyla from Compassionate Dentalcare founded National Smile Day share with the world what the power of a healthy smile can do.  Confidence, health, and quality of life are just for the person smiling.
Wisdom and Humor…..