Sunday Morning Prayer
Oh Heavenly and Gracious Father in Heaven, Hallowed be Thy Name. Thank You for this beautiful and glorious Sunday morning You have created for us today.
For this day, we praise and honor Your name. This is the day that you have made, we will rejoice and be glad for all that You have in store for us. Yahweh-Jireh, the Lord will provide, you are the God of More than enough, You are the God of abundance. Through You, Your servant David said: "my cup runs over."
Psalm 23:5 You prepare a table before me in the presence of my enemies. You have anointed my head with oil. My cup runs over.
Psalm 118:24 This is the day that the Lord has made; let us rejoice and be glad in it.
Sunday Morning Gratitude
We give You thanks that our needs are supplied and are grateful for all You provide. Today we glory in Your presence great Father. We wonder and gaze upon the great works Your hands have made. Your splendor surrounds us every day.
Thank you for sending Your Precious Son to die for our sins. You raised Him from the dead as You have raised us and called us to be Your own, bringing us into Your marvelous light.
Numbers 6:24-25  The Lord bless you and keep you; the Lord make his face to shine upon you and be gracious to you.
Psalm 28:7 The Lord is my strength and my shield; in him my heart trusts.
We serve a God of Abundance!
You are all mighty and worthy and we are so very honored that we serve a God of abundance. And out of Your abundance, we ask that You bless us.
Multiply our every work so that our cup will run over. Let the springs of living water flow through us so that we may be a blessing to others. In Jesus' mighty name we pray, Amen!
Psalm 103:1 "Bless the Lord, O my soul, and all that is within me, bless his holy name!"
Proverbs 3:5 "Trust in the Lord with all your heart, and do not lean on your own understanding"
Christoph Friedrich Blumhardt
He came and preached peace to you who were far away and peace to those who were near. For through him we both have access to the Father by one Spirit. Ephesians 2:17–18, NIV
Dear Father in heaven, we thank you for all your goodness and for the peace you give us. Unite us as your people, we pray. Unite us as one people with all your children who have ever lived, as one people with all who want to serve you. The more faithfully and joyfully we are your people, the more blessing you can give. Let the material world come under your hand. Guide your children on earth. Lead us in such a way that others may be helped. When we suffer, grant us strength and understanding of your will. Protect us today and every day. Amen.
TODAY'S DAILY DIG
Christ says:
I know you through and through – I know everything about you. The very hairs of your head I have numbered. Nothing in your life is unimportant to me, I have followed you through the years, and I have always loved you – even in your wanderings. I know every one of your problems. I know your need and your worries. And yes, I know all your sins. But I tell you again that I love you – not for what you have or haven't done – I love you for you, for the beauty and dignity my Father gave you by creating you in his own image.
Source: The Living Spirit
Verse of the Day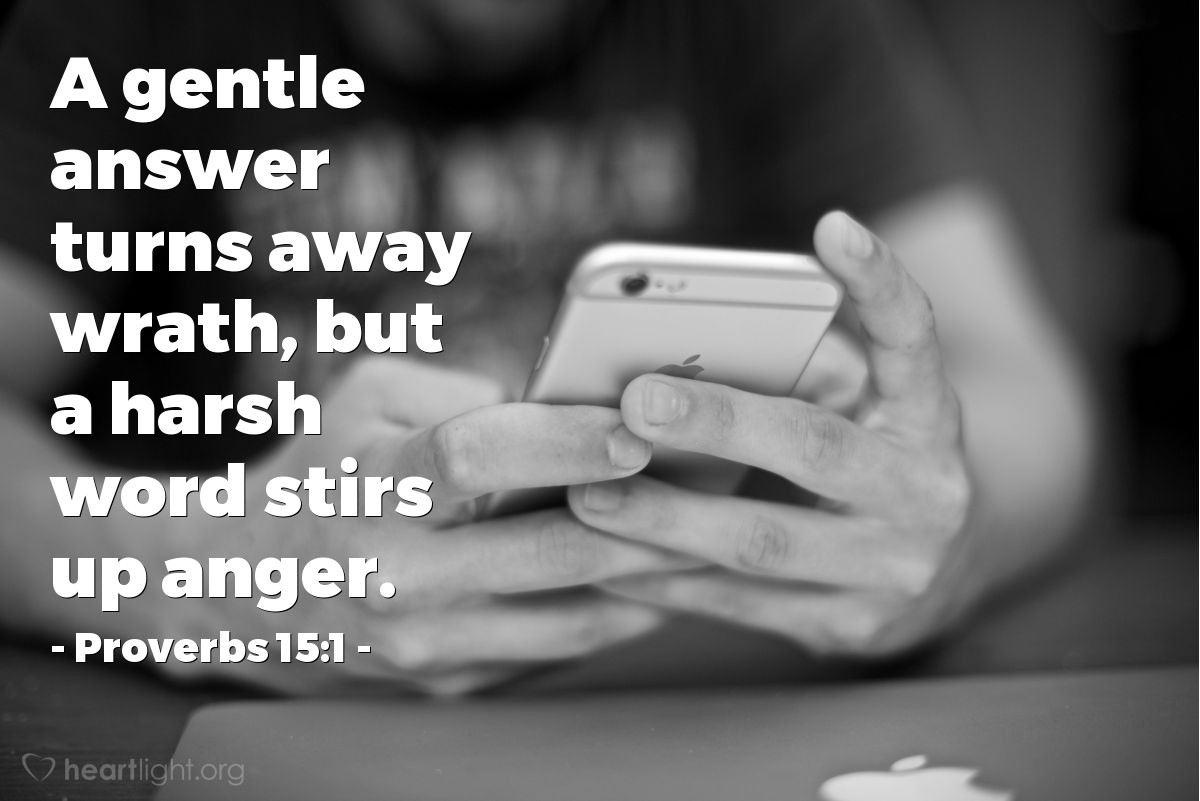 Thoughts on Today's Verse…
Why is it so hard to endure an unjust or unfair criticism? Why do we always have to defend ourselves no matter how ridiculous the charge? Often the problems we have with others simply escalate because we do not choose to forgive and let them go on in the Lord!
My Prayer…
Precious and Holy God, help me more carefully guard my speech from things you despise, especially gossip, slander, and innuendo. Thank you. In Jesus name and by Jesus' grace I pray. Amen.
Saint Charles Lwanga and Companions
Saint of the Day for 
June 3
(d. between 
November 15, 1885

 – 

January 27, 1887

)

https://www.franciscanmedia.org/wp-content/uploads/2016/08/SODJun03.mp3
Saint Charles Lwanga and Companions' Story
One of 22 Ugandan martyrs, Charles Lwanga is the patron of youth and Catholic action in most of tropical Africa. He protected his fellow pages, aged 13 to 30, from the homosexual demands of the Bagandan ruler, Mwanga, and encouraged and instructed them in the Catholic faith during their imprisonment for refusing the ruler's demands.
Charles first learned of Christ's teachings from two retainers in the court of Chief Mawulugungu. While a catechumen, he entered the royal household as assistant to Joseph Mukaso, head of the court pages.
On the night of Mukaso's martyrdom for encouraging the African youths to resist Mwanga, Charles requested and received baptism. Imprisoned with his friends, Charles's courage and belief in God inspired them to remain chaste and faithful.
For his own unwillingness to submit to the immoral acts and his efforts to safeguard the faith of his friends, Charles was burned to death at Namugongo on June 3, 1886, by Mwanga's order.
When Pope Paul VI canonized these 22 martyrs on October 18, 1964, he also made reference to the Anglican pages martyred for the same reason.
---
Reflection
Like Charles Lwanga, we are all teachers and witnesses to Christian living by the examples of our own lives. We are all called upon to spread the word of God, whether by word or deed. By remaining courageous and unshakable in our faith during times of great moral and physical temptation, we live as Christ lived.

What Jesus Did!

 'Never Heard Anyone Speak Like This'

When the Temple guards returned without having arrested Jesus, the leading priests and Pharisees demanded, "Why didn't you bring him in?" "We have never heard anyone speak like this!" the guards responded.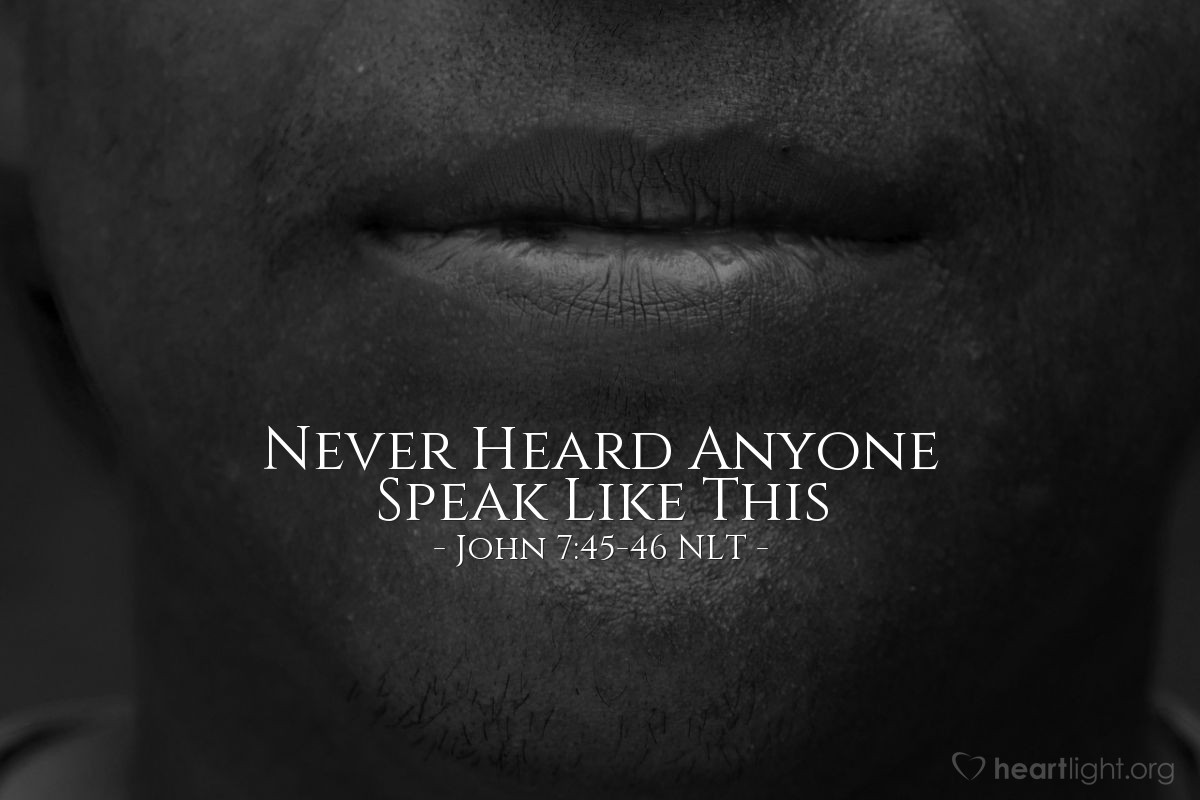 Key Thought
I love to listen to the accents of people from different parts of the world as they speak. In a world with so many words — spoken, written, plastered on signs, blasted over radio waves, printed in newspapers and magazines, sent through cyberspace — it is nice to hear something different. Then, every-once-in-a-great-while, someone comes along and speaks something in a fresh way; the words and accent are not just new, but the message is also refreshing and startling. Jesus spoke with startling freshness. His message was not just new, but also powerful. It had behind it the breath of heaven and the ring of truth that resonated in people's souls. It had the power to change hearts, alter circumstances, and force out darkness. While we live thousands of years later, if we will listen for his voice as we read his story, we too can be touched and transformed. We too can say, "We have never heard anyone speak like this!"
Today's Prayer
God of truth and grace, thank you for speaking to us in Jesus. I thank you for the message you spoke when you sent him to our world. I thank you for the very words he spoke while he was here. Make those words come alive in my heart as I read them. Transform me and refresh me through their power as I pledge my best to honor those words with my obedience. In Jesus' name. Amen.
Related Scripture Readings
Daily Wisdom:

 Matthew 18:8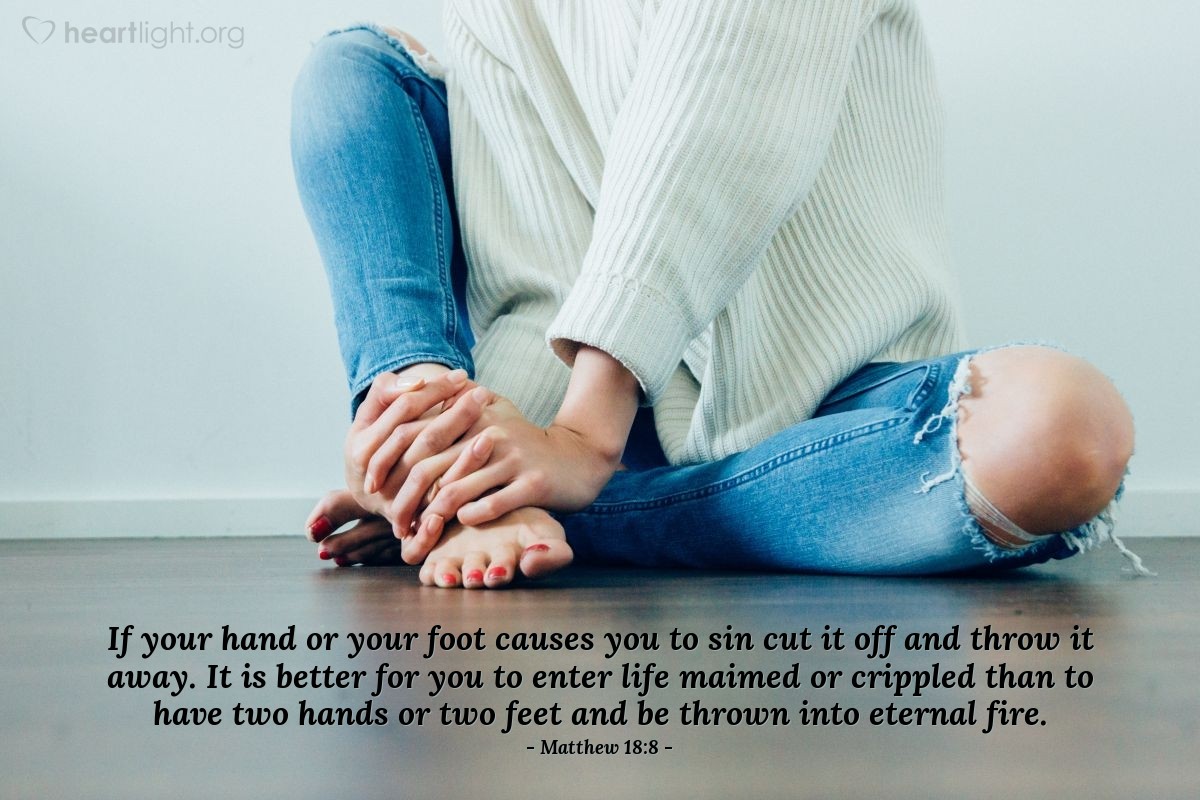 Spiritual Warfare:

 'Not Fear, But Power, Love, and Self-discipline'

God's Power for Our Battles

This is why I remind you to fan into flames the spiritual gift God gave you when I laid my hands on you. For God has not given us a spirit of fear and timidity, but of power, love, and self-discipline.
Today's Prayer
Lord, I confess all my fears. I know that You are constantly giving me abilities and opportunities to share Jesus, but I've been too afraid to speak up. I've feared rejection, and I've feared that I wouldn't have answers to questions. Forgive me. Fill me with Your Spirit, Lord, and give me power, love, and the self-discipline I need to fulfill my potential. Help me recognize my abilities and Your opportunities, Lord, and grant me the courage to take advantage of these. In Jesus' Name, Amen.
A Year with Jesus:

 'God-breathed Scripture'
Note from Jesus
Dear Beloved,
One of the great blessings that you have received from Us — Father, Son, and Spirit — is the Bible, the "holy Scriptures." Many people have died over the centuries because of their commitment to translate, protect, and preserve these Scriptures so that you could have them in your own language.
We want you to appreciate the incredible blessings of having Our message to you written in human words. We used human partners to pass on Our message to you. The Spirit gave them Our message to convey the truth. To help you understand the message of these Scriptures, we have given you two great gifts.
First, I came to you incarnate — God's greatest message and ultimate Word to you (John 1:1-18 NIV;Hebrews 1:1-3). My witnesses, whose words you read in your New Testament, emphasize that everything you know about the Scriptures needs to be filtered through Who I AM, what I taught, and how I lived God's truth:
…the holy Scriptures, which enable you to be wise and lead to salvation through faith in Jesus the Anointed. (2 Timothy 3:15)
…in these last days, it 

[God's message]

 has come to us through His Son… (Hebrews 1:2)
No one has ever seen God, but the one and only Son, Who is himself God and is in closest relationship with the Father, has made him known. (John 1:18 NIV)
In Jesus we hear a resounding "yes" to all of God's many promises. (2 Corinthians 1:20)
Listen again: if anyone preaches to you a gospel other than what you have accepted, may he find himself cursed! (Galatians 1:9)
"Here you are scouring through the Scriptures, hoping that you will find eternal life among a pile of scrolls. What you don't seem to understand is that the Scriptures point to Me 

[Jesus]

." (John 5:39)
"I 

[Jesus]

 AM the way and the truth and the life. No one comes to the Father except through me." (John 14:6 NIV)
Second, We breathed Our message into inspired and authoritative human partners to write words of truth for you to understand, apply, and live. Before the New Testament was written and the various parts were put into an authoritative collection, the term "holy Scriptures" referred to what many of you call the Old Testament — the books of Moses, the Prophets, and the Writings. These writings were authoritative because they came from Us:
But notice first that no prophecy found in Scripture is a matter of the prophet's own interpretation. Prophecy has never been a product of human initiative, but it comes when men and women are moved to speak on behalf of God by the Holy Spirit.
(2 Peter 1:20-21)
Verses to Live
During the first century of the church, the writings of the apostles were also being recognized as the 
"holy Scriptures"
(
2 Peter 3:15-16 NIV
). So as you read the two passages below, remember two additional truths. First, the message of these New Testament witnesses should be regarded as Scripture. It carries the authority of the Holy Spirit speaking through them. Second, these words come to you through the partnership of the Divine — the Father's will, My example, and the Holy Spirit's action — and those who are human — those We used to transmit that message and to be a great example of that message. Please, take the Scriptures seriously. Use them to help you grow as My disciple. Offer yourself to the study of the Scriptures so that you can become someone trained to do My work and live My will in your world.
Take also the helmet of salvation and the sword of the Spirit, which is the word of God.
(Ephesians 6:17)

So surely you ought to stick to what you know is certain. All you have learned comes from people you know and trust because since childhood you have known the holy Scriptures, which enable you to be wise and lead to salvation through faith in Jesus the Anointed. All of Scripture is God-breathed; in its inspired voice, we hear useful teaching, rebuke, correction, instruction, and training for a life that is right so that God's people may be up to the task ahead and have all they need to accomplish every good work.
(2 Timothy 3:14-17)
Response in Prayer
Father, words cannot describe how blessed we are to have received Your message in human words. It is indeed a blessing to know Jesus, the living Word, as our great example and teacher to help us know how to live Your truth. Thank You as well for the Holy Spirit, Who inspired and breathed out Your message through human partners. Thank You! I commit to use Your Word and your inspired Scriptures to change my life as you transform me to be like Jesus, in Whose name I pray. Amen.
Illustration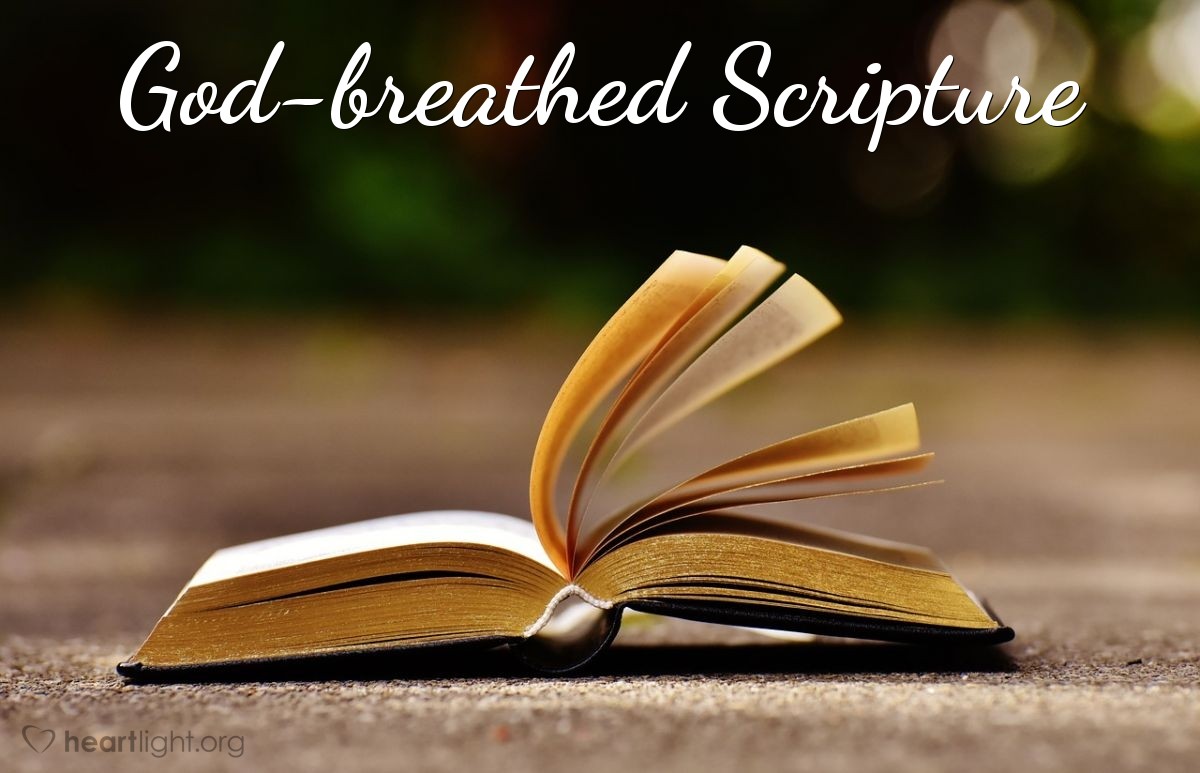 NATIONAL CANCER SURVIVOR'S DAY
Observed annually on the first Sunday in June, National Cancer Survivor's Day has been set aside to "demonstrate that life after a cancer diagnosis can be a reality."
Each year on National Cancer Survivor's Day, events and celebrations are held and hosted around the United States by local communities, hospitals and support groups honoring cancer survivors.  Events may include parades, carnivals, art exhibits, contests and testimonies. President George W. Bush and the National Cancer Institute director each included a commencement at the 2008 celebration.
More information on National Cancer Survivor's Day can be found on their official website.
HOW TO OBSERVE
Use #CancerSurvivorsDay to post on social media.
HISTORY
National Cancer Survivor's Day was first announced by Merril Hastings during the second national conference meeting of the National Coalition for Cancer Survivor-ship in Albuquerque, New Mexico on November 20, 1987.  Hastings then filed the name as an International Class 042 Service and also registered it with the United States Patent and Trademark Office in the name of Pulse Publications.  The first National Cancer Survivor's Day was held on June 5, 1988.
AMEN and God Bless!!!!