Christoph Friedrich Blumhardt
The grace of the Lord Jesus Christ and the love of God and the fellowship of the Holy Spirit be with you all. 2 Corinthians 13:14, RSV
Lord our God, our Father in heaven, we thank you for letting us receive so much that is good in all circumstances on earth. We thank you that we can have joy in life in spite of our shortcomings, mistakes, and worries. You bless us with heavenly gifts, so that rejoicing, we can walk on earth as if in heaven. Keep the gifts of your Spirit alive in us. Keep alive in us everything that Jesus Christ was, everything he is, and everything he will be on earth for all people. Amen.
Try our Daily Dig: caffeine for the conscience.
TODAY'S DAILY DIG
Just as it is dangerous for a child to have a knife in his hands, or a madman a sword, even so is property and wealth harmful to people – in fact, much more harmful. For the madman leaves his madness and becomes quiet when he stabs himself with his sword, but the selfish and greedy person receives thousands of wounds daily. Desire for money and wealth brings countless ills. Therefore we must drive this desire from our hearts.
Jesus Himself says in John 14:16, "I am the way, the truth and the life. No one comes to the Father except through Him." From this we know that Jesus is the only way to salvation. He is not simple a way, as in one of many; He is the way, as in the one and only. There is not one person that can come to God the Father except through Jesus. There are believers that think that they can find their way to God through achievement, knowledge, reputation or personal holiness but God tells us that the only way is by being saved, which is deliverance or redemption from sin and its consequences. Scripture also tells us, "For it is by Grace you have been saved, through faith – and this is not from yourselves, it is a gift from God," (Ephesians 2:8). Salvation is a God's gift of grace that we receive through Jesus Christ. Here are six reasons Jesus is the only way to salvation.
Jesus Was Chosen By God to Be the Savior
Jesus is the only way to salvation for several reasons. One is that He was chosen by God to be the Savior. The Bible tells us, "As you come to Him, a living stone rejected by men but in the sight of God chosen and precious…" (1 Peter 2:4). Jesus is the only One to have come down from heaven and returned there (John 3:13). He is the only person to have lived a perfect human life (Hebrews 4:15). He is the only sacrifice for sin (1 John 2:2; Hebrews 10:26). He alone fulfilled the Law of the Prophets (Matthew 5:17). He is the only man to have conquered death forever. He is the only Mediator between God and man (1 Timothy 2:5). He is the only man whom God has "exalted…to the highest place" (Philippians 2:9). From this, we know that Jesus is the access point to God.
Jesus Knew From the Beginning Who He Was Called to Be
One reason we know Jesus is the way of salvation is because this is what Jesus claimed about Himself. He declared that He is the way, the truth and the life, that no one comes to the Father except through Him (John 14:6). He knew He was the unique Son of God, sent by His Father into the world to save us from our sins. The only thing that separates us from god and keeps us out of heaven is our own sin. This is one of the reasons why our greatest need is to have our sins forgiven and cleansed, for only then can we be reconciled to God and go to be with Him throughout eternity. No matter how good we are, we can never erase our own sins. Only God can do this and that's exactly what He did by sending Jesus Christ into the world for us.
The Apostles' Preaching Focused on the Death and Resurrection of Jesus
The apostle Peter, speaking to the Sanhedrin, clearly proclaimed Jesus as the only way to heaven: "Salvation is found in no one else, for there is no other name under heaven given to mankind by which we must be saved" (Acts 4:12). Paul, speaking to the synagogue in Antioch, singled out Jesus as the Savior: "I want you to know that through Jesus the forgiveness of sins is proclaimed to you. Through Him everyone who believes is set free from every sin" (Acts 13:38-39). John, writing to the church, specifies the name of Jesus as the basis of our forgiveness: "I am writing to you, dear children, because your sins have been forgiven on account of His name" (1 John 2:12). No one but Jesus can forgive sin.
Jesus Taught Repentance
One of the first steps to take against sin is to repent. The importance of repentance is hard to overstate. After all, Jesus' first public exhortation was "Repent!" (Mark 1:15). If repentance was this high on Jesus' list, we probably should pay attention to it. Repentance requires honesty. The Bible tells us, "How happy is the man the LORD does not charge with sin, and in whose spirit is no deceit!" (Psalm 32:2). No one comes to God with true repentance in their heart unless they've first acknowledged their need for forgiveness and reconciliation with Him. Only those who have ceased trying to cover up their sin with self-righteousness and deceit can experience the deep and lasting change that comes only through repentance. It's importance that you acknowledge the danger of sin and the damage of guilt. We must honestly assess the consequences of our sin, which means assessing both personal consequences and impact it has had – and will continue to have on others.
Jesus Breaks the Barrier Between Sin and God
As Christians, we are to avoid sin but this can be quite a task because we are sinful beings. As much as we don't want to, we still sin in our daily lives because of the sinful nature that was injected into us through the fall. Because God is holy, He cannot tolerate sin, and our sin separates us from him, becoming a barrier to our fellowship with Him and even causing us to lose the joy of our salvation. Isiah 59:2 says, "Your iniquities have become a separation between you and your God, and your sins have hidden his face from you so that He does not hear." The seriousness of sin should make us realize we cannot tolerate it or give sin any ground in our lives. But there is hope. We have the power to shake sin from our lives when we turn to Jesus. When we do this, we are removing the barriers that sin has created that have taken us away from God.
Jesus Defeated Sin
We know from Scripture that we can escape the chains of sin through Jesus. Backsliding refers to going backwards spiritually and morally. When a believer backslides, he falls back in some way into a less desirable condition; his lapse may be a relatively minor one and unintentional. He may simply fall back through neglect by not praying, reading the Bible, and keeping his focus on living for God. On the other hand, a believer may backslide by deliberately choosing to indulge in this life's sinful pleasures. This type of backsliding can carry disastrous consequences. It can bring dishonor to the One who laid down His life for us. But there is good news for us when we backslide. God doesn't condemn him. God's loving concern for backsliders is steadfast and sure. A big step you take to escape the tangles of sin is turning to Jesus, the only One who has defeated sin and death out of His deep love for us.
********In order to understand salvation, it's imperative that you understand the death and resurrection of Christ which points to our salvation. To be saved is to accept the plan of salvation that Jesus offers us. The Son of God was made human, and during His earthly life, he lived a perfect life, and died not because He wanted to but because we needed salvation. He was made to die for us. Amazingly, God raised Him from the dead into new life, and promises to resurrect us when Jesus comes again. The salvation we need is Jesus, and can only be accessed through Him.
Saint Augustine of Canterbury
Saint of the Day for 
May 27
(? – 
May 26, 605

)

https://www.franciscanmedia.org/wp-content/uploads/2016/08/SODMay27.mp3
Saint Augustine of Canterbury's Story
In the year 596, some 40 monks set out from Rome to evangelize the Anglo-Saxons in England. Leading the group was Augustine, the prior of their monastery. Hardly had he and his men reached Gaul when they heard stories of the ferocity of the Anglo-Saxons and of the treacherous waters of the English Channel. Augustine returned to Rome and to Gregory the Great—the pope who had sent them—only to be assured by him that their fears were groundless.
Augustine set out again. This time the group crossed the English Channel and landed in the territory of Kent, ruled by King Ethelbert, a pagan married to a Christian, Bertha. Ethelbert received them kindly, set up a residence for them in Canterbury and within the year, on Pentecost Sunday 597, was himself baptized. After being consecrated a bishop in France, Augustine returned to Canterbury, where he founded his see. He constructed a church and monastery near where the present cathedral, begun in 1070, now stands. As the faith spread, additional sees were established at London and Rochester.
Work was sometimes slow and Augustine did not always meet with success. Attempts to reconcile the Anglo-Saxon Christians with the original Briton Christians—who had been driven into western England by Anglo-Saxon invaders—ended in dismal failure. Augustine failed to convince the Britons to give up certain Celtic customs at variance with Rome and to forget their bitterness, helping him evangelize their Anglo-Saxon conquerors.
Laboring patiently, Augustine wisely heeded the missionary principles—quite enlightened for the times—suggested by Pope Gregory: purify rather than destroy pagan temples and customs; let pagan rites and festivals be transformed into Christian feasts; retain local customs as far as possible. The limited success Augustine achieved in England before his death in 605, a short eight years after his arrival, would eventually bear fruit long after in the conversion of England. Augustine of Canterbury can truly be called the "Apostle of England."
---
Reflection
Augustine of Canterbury comes across today as a very human saint, one who could suffer like many of us from a failure of nerve. For example, his first venture to England ended in a big U-turn back to Rome. He made mistakes and met failure in his peacemaking attempts with the Briton Christians. He often wrote to Rome for decisions on matters he could have decided on his own had he been more self-assured. He even received mild warnings against pride from Pope Gregory, who cautioned him to "fear lest, amidst the wonders that are done, the weak mind be puffed up by self-esteem." Augustine's perseverance amidst obstacles and only partial success teaches today's apostles and pioneers to struggle on despite frustrations and be satisfied with gradual advances.
---
Saint Augustine of Canterbury is the Patron Saint of:
England
---
Blessed Gerard of Lunel's Story
Gerard, born into a noble family in southern France, showed an early inclination to piety—so much so that he received the habit of the Third Order of Saint Francis at the age of five. When he was 18, Gerard and his brother, Effrenaud, hid themselves in a cave on the banks of a river and began two years of living as hermits. Both brothers then decided to go on a pilgrimage, in part to discourage the many visitors to the hermitage who had heard of their reputation for holiness. Making their way to Rome on foot, they spent two years there, visiting its many famous churches and shrines.
They intended to continue to Jerusalem, but Gerard collapsed on the way. While his brother went to seek help, he left Gerard in a simple cottage near Montesanto, Italy, but Gerard died before his brother's return.
Many miracles are said to have taken place at Gerard's tomb, making it a favorite place of pilgrimage. People who were afflicted with headaches or subject to epilepsy experienced special relief through his intercession. The city of Montesanto has long venerated Blessed Gerard as its principal patron. He is sometimes known as Gery, Gerius or Roger of Lunel.
---
Reflection
Gerard didn't have much success in reaching his goals, including his hope to visit the holy places in Jerusalem where Jesus walked. However disappointed he may have been by all these setbacks, Gerard nonetheless managed to walk in Jesus's footsteps throughout his life.

What Jesus Did!

 'Trying to Kill Jesus'

[Jesus said,] "Moses gave you the law, but none of you obeys it! In fact, you are trying to kill me." The crowd replied, "You're demon possessed! Who's trying to kill you?" Jesus replied, "I did one miracle on the Sabbath, and you were amazed. But you work on the Sabbath, too, when you obey Moses' law of circumcision. (Actually, this tradition of circumcision began with the patriarchs, long before the law of Moses.) For if the correct time for circumcising your son falls on the Sabbath, you go ahead and do it so as not to break the law of Moses. So why should you be angry with me for healing a man on the Sabbath? Look beneath the surface so you can judge correctly."
Key Thought
Jesus looks through the duplicity of his accusers and sees the bare, naked ugliness of their warped religion. He knew they were after him, not because they supported the truth, but because they twisted the truth to fit their own prejudicial and traditional conclusions. The heart of the law Moses passed on to them from God was not their plumb line; instead, they made Moses fit their understanding. In the process, the heart of God got lost in all the distorted religious practice. Isn't it interesting that we can so clearly see this problem in them and miss it in ourselves?! Isn't it convicting that we can see this problem happening to other groups or to other people, but miss it when it is happening in our own hearts? Our own traditions, behaviors, and practices can literally blind us to God's truth. So before we get ready to pass judgment on others, let's take time and humbly ask our God for wisdom and clarity as we seek his will.
Today's Prayer
Father, I come to you acknowledging that my insight is shallow and my wisdom is very limited. I do want to stand for your truth. I don't want to see your will watered down by fuzzy, conviction-less discipleship. At the same time, Father, I don't want to find everyone else's faults while justifying my own. Please give me wisdom so that I can live my life for you truthfully with integrity, compassion, and honor. In Jesus' name, I pray. Amen.
Related Scripture Readings
Daily Wisdom:

 Proverbs 29:11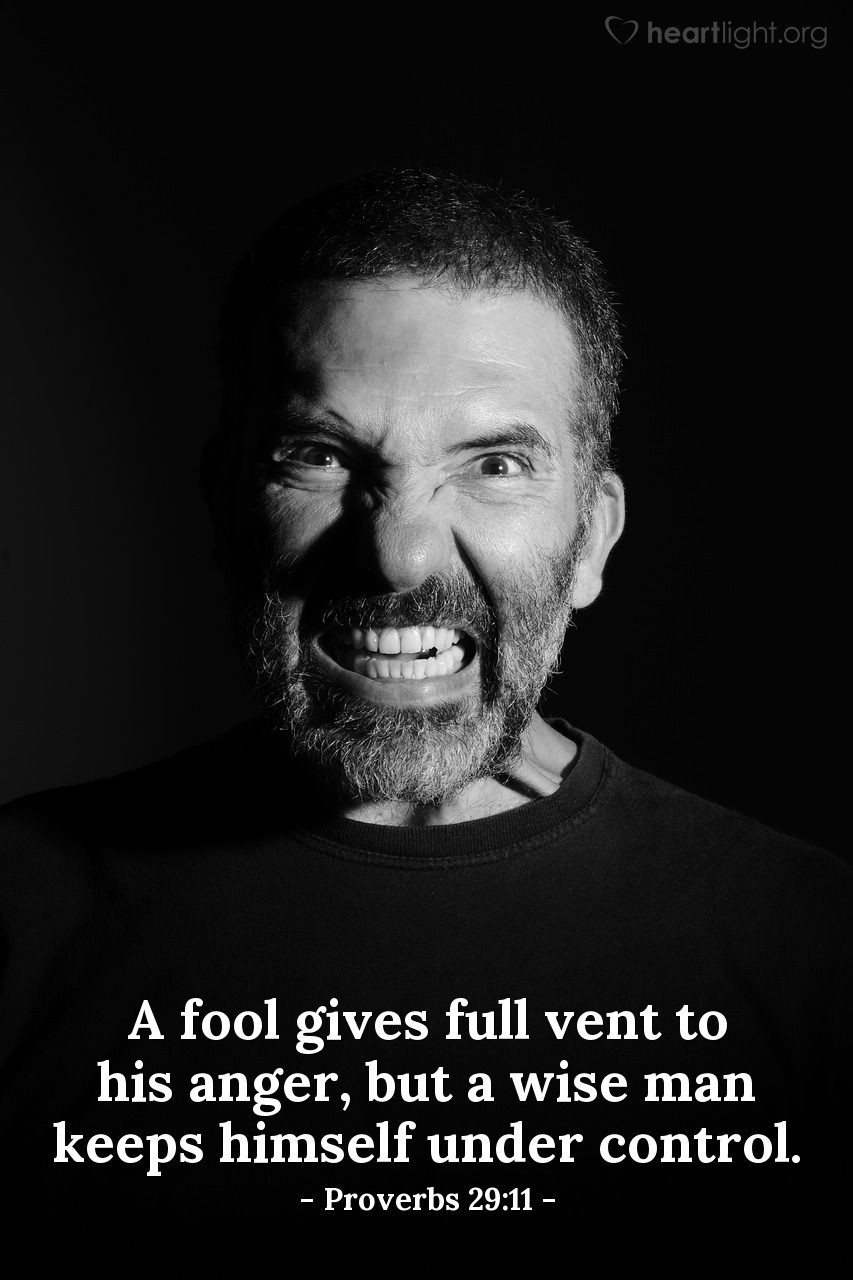 Spiritual Warfare:

 'Strength for Daily Life from Jesus'

God's Power for Our Battles

I know how to live in poverty or prosperity. No matter what the situation, I've learned the secret of how to live when I'm full or when I'm hungry, when I have too much or when I have too little. I can do everything through Christ who strengthens me.
Today's Prayer
Lord, I confess I can't do life on my own without You. And I admit that is what I've tried to do at times in my life. When I have plenty, Lord, I forget to pray or give You any credit — acting like I've done it on my own. And, when I'm in need, I've run to You with a list of what I expect You to do — kind of like You are my great Santa Clause in the sky. Forgive me for my self-centeredness. I now know that I can live in any circumstance You put me in — just not on my own. I can only accomplish this mastery of life's situations through the strength of Jesus and my relationship with Him. In Jesus' Name, Amen.
Praying with Paul:

 'Open Statement of Truth'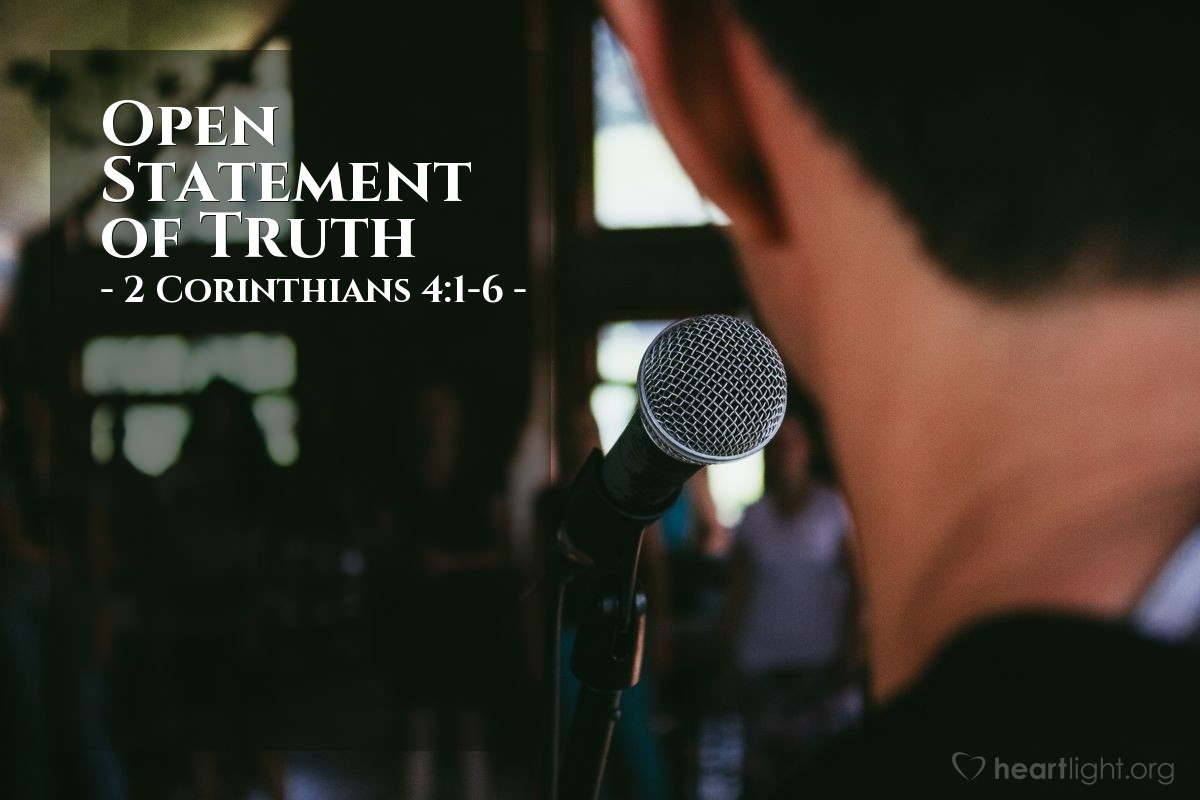 Dear Father, powerful sustainer,
You have called me to minister your mercy to the world, so let me never lose heart or give up! May I renounce disgraceful, underhanded ways in all forms and refuse to practice cunning or to tamper with your word.
Let me state truth plainly and thereby commend myself to every one's conscience in your sight. Even if the message of Good News is veiled to some, it is veiled only to those who are perishing! Open the eyes of those whom the god of this world has blinded. May they see the light of the Good News, the glory of Christ, your very likeness.
May I not put forth myself, but Jesus Christ, for I am your servant, your slave, for Jesus' sake! For you have said, "Let light shine out of darkness." I invite you to shine out of my heart so that others will see the light of your glory, the face of Jesus Christ, in my life.
In the name of Jesus I pray. Amen.
The Greatest Test
TGIF Today God Is First Volume 1 by Os Hillman
May 27, 2018
"I know, my God, that You test the heart and are pleased with integrity." – 1 Chronicles 29:17a
God tests His children to know what is in their hearts. God's desire for each of His children is to walk in relationship with Him, to uphold His righteousness and integrity. It is a high calling that we will fail to achieve without complete dependence on Him.
The greatest tests come not in great adversities, but in great prosperity. For it is in prosperity that we begin to lose the sensitivity to sin in our lives. Adversity motivates us to righteousness out of a desire to see our adversity changed. Prosperity fails to provide this motivation for obedience. We fall into a satisfaction and confidence in life that is based on our prosperity rather than on God.
Hezekiah was a great godly king. He was a faithful, God-honoring king most of his life, but toward the end he became proud. God wanted to find out if he would still honor Him and recognize His blessings in his life. He failed the test when God sent an envoy to his palace to inquire about a miracle that God performed on behalf of Hezekiah. The test was designed to find out if Hezekiah would publicly acknowledge the miracle performed on his behalf.
But when envoys were sent by the rulers of Babylon to ask him about the miraculous sign that had occurred in the land, God left him to test him and to know everything that was in his heart (2 Chronicle 32:31).
Hezekiah's failure resulted in his children failing to carry on as rulers of Israel, and the nation would eventually be taken over by Babylon.
The lesson of Hezekiah is clear. If we are to remain faithful to our Lord, we must remain steadfast in our obedience to Him. Prosperity can be our greatest test. Ask the Lord to give you the grace to be a faithful follower during times of prosperity.
Verse of the Day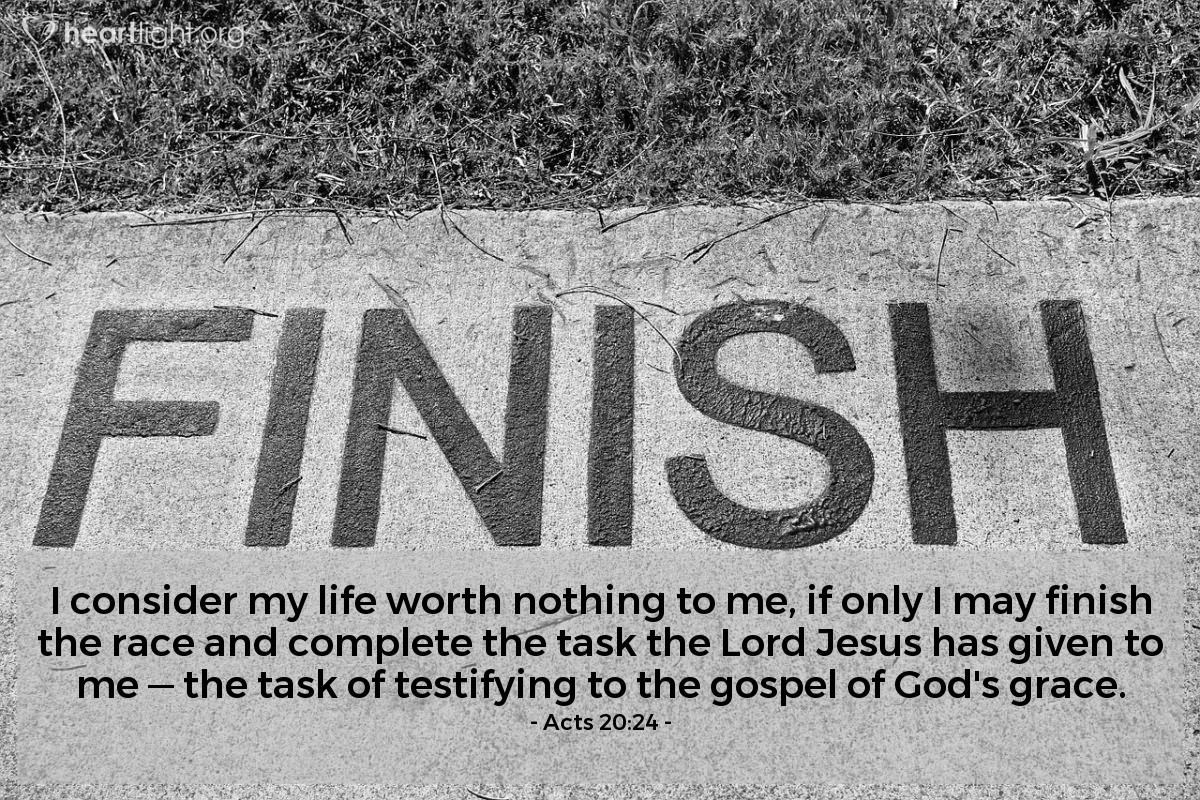 Thoughts on Today's Verse…
How important is grace? Paul said that telling about that grace was more important to him than his life! In fact, that was his life after his conversion to Jesus!
My Prayer…
Almighty God, Holy Father, thank you for your lavish grace demonstrated and fully expressed in sending Jesus to die for me. As your child, and in thanks to your sacrificial gift, I pledge to you my life, my love, and my all. Through Jesus. Amen.
NATIONAL GRAPE POPSICLE DAY
May 27 calls for warm weather and sunshine so we can recognize National Grape Popsicle Day.
In San Francisco, California, in 1905, 11-yr-old Frank Epperson was outside on his porch, mixing water with a white powdered flavoring to make soda.  Upon going inside, he left it there on the porch with the stirring stick still in it.  That night the temperature reached a record low and the following morning, Frank discovered the drink had frozen to the stick.
Years later, in 1922, Epperson introduced his treat at a fireman's ball where it was a huge success. Then in 1923, he made and sold his frozen treat-on-a-stick at an amusement park in Alameda, California.  Epperson applied for a patent in 1924 for his frozen confectionery, which he called "Epsicle" ice pop.  He then renamed it "Popsicle".
Popsicles are one of summertime's favorite treats for kids of all ages. National Grape Popsicle Day honors one of the most popular flavors!
HOW TO OBSERVE
Use #GrapePopsicleDay to post on social media.
HISTORY
Our research was unable to find the origin or the creator of National Grape Popsicle Day.