Christoph Friedrich Blumhardt
Blessed are the poor in spirit, for theirs is the kingdom of heaven. Matthew 5:3, NIV
Dear Father in heaven, we thank you for wanting to give us happiness and for holding our earthly life firmly in your hands. May we have the confidence that we are in your hands. Grant us the light of faith. Let this light of faith guide us in material things and help us to wait in patience until the doors open for us to pass through according to your pleasure. So bless us all. Bless our life. May we grow joyful and free of heart through all that Jesus Christ gives. On the foundation he establishes for us may your divine working, your fatherly love, lift and support us throughout our lives. Amen.
TODAY'S DAILY DIG
I could never myself believe in God, if it were not for the cross. The only God I believe in is the one Nietzsche ridiculed as "God on the Cross." In the real world of pain, how could one worship a God who was immune to it? I have entered many Buddhist temples and stood respectfully before the statue of Buddha, his legs crossed, arms folded, eyes closed, the ghost of a smile playing round his mouth, a remote look on his face, detached from the agonies of the world. But each time after a while I have had to turn away. And in imagination I have turned instead to that lonely, twisted, tortured figure on the cross, nails through hands and feet, back lacerated, limbs wrenched, brow bleeding from thorn-pricks, mouth dry and intolerably thirsty, plunged in God-forsaken darkness. That is the God for me! He laid aside his immunity to pain. He entered our world of flesh and blood, tears and death. He suffered for us.
Saint Philip Neri
Saint of the Day for 
May 26
(

July 21, 1515

 – 

May 26, 1595

)
https://www.franciscanmedia.org/wp-content/uploads/2016/08/SODMay26.mp3
Saint Philip Neri's Story
Philip Neri was a sign of contradiction, combining popularity with piety against the background of a corrupt Rome and a disinterested clergy: the whole post-Renaissance malaise.
At an early age, Philip abandoned the chance to become a businessman, moved to Rome from Florence, and devoted his life and individuality to God. After three years of philosophy and theology studies, he gave up any thought of ordination. The next 13 years were spent in a vocation unusual at the time—that of a layperson actively engaged in prayer and the apostolate.
As the Council of Trent (1545-63) was reforming the Church on a doctrinal level, Philip's appealing personality was winning him friends from all levels of society, from beggars to cardinals. He rapidly gathered around himself a group of laypersons won over by his audacious spirituality. Initially, they met as an informal prayer and discussion group, and also served poor people in Rome.
At the urging of his confessor, Philip was ordained a priest and soon became an outstanding confessor himself, gifted with the knack of piercing the pretenses and illusions of others, though always in a charitable manner and often with a joke. He arranged talks, discussions, and prayers for his penitents in a room above the church. He sometimes led "excursions" to other churches, often with music and a picnic on the way.
Some of Philip's followers became priests and lived together in community. This was the beginning of the Oratory, the religious institute he founded. A feature of their life was a daily afternoon service of four informal talks, with vernacular hymns and prayers. Giovanni Palestrina was one of Philip's followers, and composed music for the services. The Oratory was finally approved after suffering through a period of accusations of being an assembly of heretics, where laypersons preached and sang vernacular hymns!
Philip's advice was sought by many of the prominent figures of his day. He is one of the influential figures of the Counter-Reformation, mainly for converting to personal holiness many of the influential people within the Church itself. His characteristic virtues were humility and gaiety.
After spending a day hearing confessions and receiving visitors, Philip Neri suffered a hemorrhage and died on the feast of Corpus Christi in 1595. He was beatified in 1615 and canonized in 1622. Three centuries later, Cardinal John Henry Newmanfounded the first English-speaking house of the Oratory in London.
---
Reflection
Many people wrongly feel that such an attractive and jocular personality as Philip's cannot be combined with an intense spirituality. Philip's life melts our rigid, narrow views of piety. His approach to sanctity was truly catholic, all-embracing, and accompanied by a good laugh. Philip always wanted his followers to become not less but more human through their striving for holiness.

What Jesus Did!

 'The Heart of God's Messenger'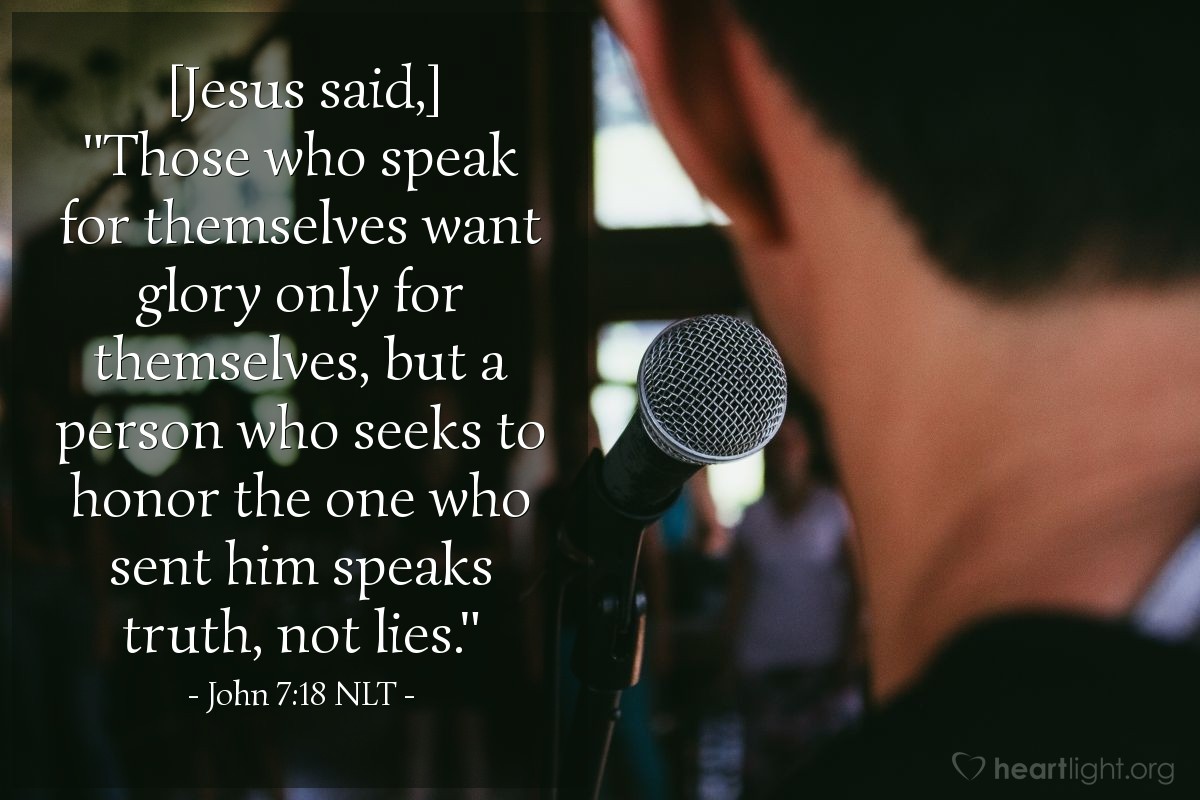 Key Thought
What's your motive for pursuing Jesus? Why would you want to share your faith with a friend? Why would you speak to someone else about your Christian values? Jesus reminds us that the motivation of God's messenger is to honor the Father. So let's ask ourselves if what we say, teach, explain, expound, or suggest brings honor to God, or only to ourselves.
Today's Prayer
Father, may the words of my mouth and the meditations of heart and the motives for my speech be pleasing to you and bring you glory. In Jesus' name, I pray. Amen.
Related Scripture Readings
Daily Wisdom:

 Proverbs 28:26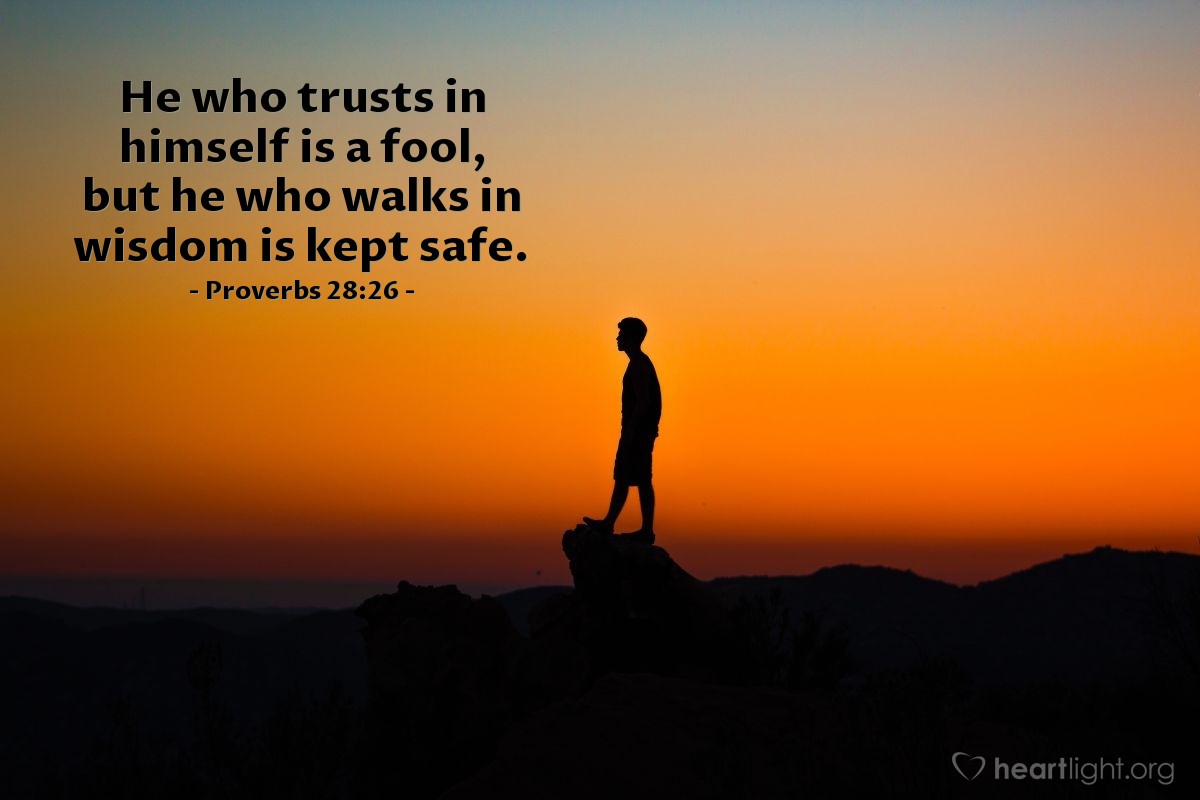 Spiritual Warfare:

 'The Lord Is Our Only Brag!'

God's Power for Our Battles
Today's Prayer
Lord, help me to brag often and loud about Jesus Christ and all You have done for me through Him. Thank You! Salvation comes through Him. Thank You for the acceptance into Your Kingdom that only comes through Christ alone. Thank You for the wisdom I can receive through Christ. Lord, give me more. Thank You for the holiness that comes from being In Christ Jesus. I want Your righteous character to take over my heart and fill my life. I want to overflow with Your holiness. I want to share Your love to those around me because Your Spirit fills me. Dear Lord, I will continue to brag only about You and what You have done! In Jesus' Name, Amen.
Illustration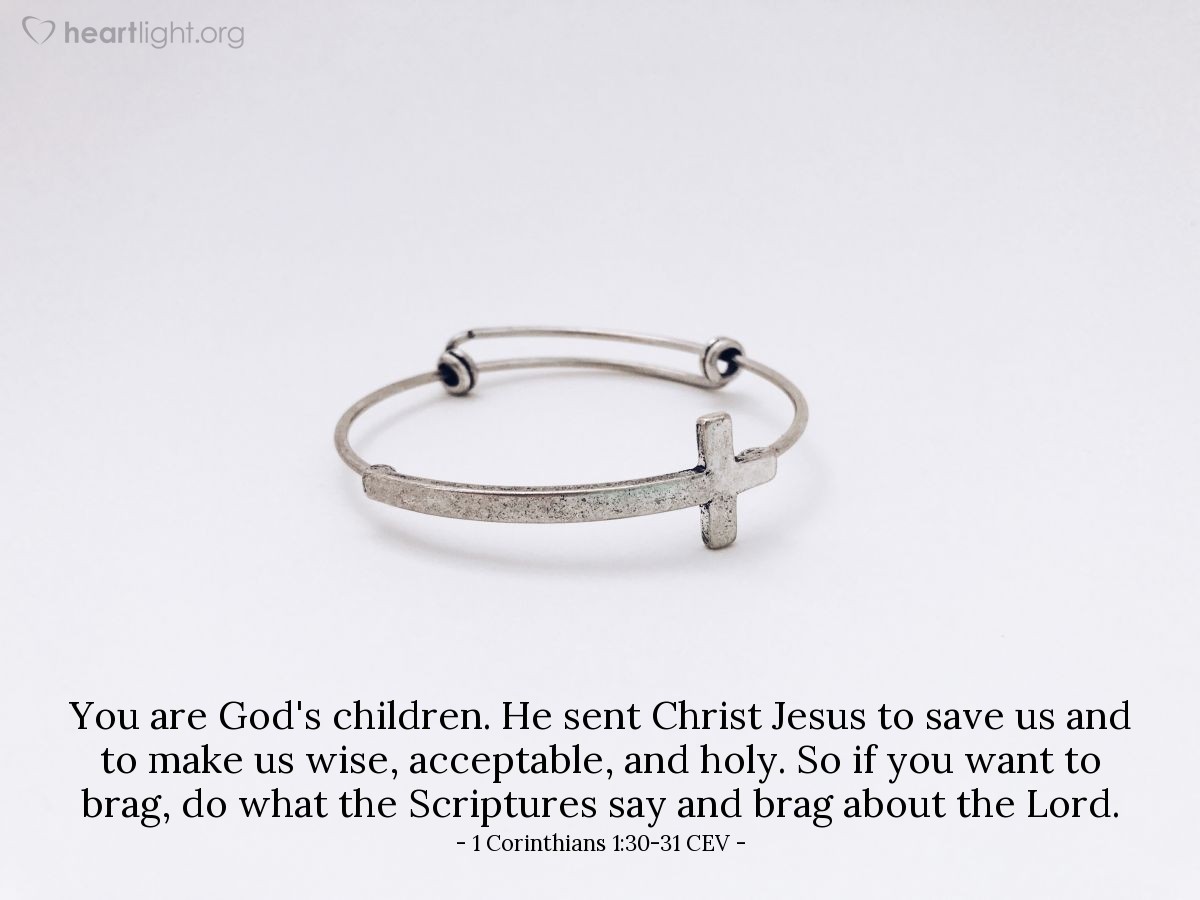 A Year with Jesus:

 'The Power of the Resurrection in You'
Note from Jesus
Dear Beloved,
I want you to notice especially the words highlighted in bold in the verses below. The apostle Paul is praying for the Ephesian Christians and other believers in Asia Minor. They live in a place fascinated with spiritual power. Their world is filled with superstition. So Paul prays for them to understand the great power at work in them. Paul knew this power. You will see this power at work in the coming weeks as we journey through the book of Acts. I want you to notice:
[T]he immeasurable greatness of his [the Father's] power toward us who believe, according to the working of his great might that he worked in Christ when he raised him from the dead.
Paul wanted these early believers to realize that the power behind My resurrection and behind the marvelous things that happened on the first Pentecost after My resurrection is at work in My people; I want you to realize this power is also at work in you.
Paul emphasized that this power comes from the work and presence of the Holy Spirit in My people (Ephesians 3:14-21; Ephesians 5:15-21; Ephesians 6:17-18). I poured out the Holy Spirit on the disciples on that Pentecost (Acts 2:1-4; Acts 2:32-39). I also poured out the Spirit on you when you were saved (Titus 3:3-7). I blessed you with power, more power than you could ever imagine. The power that raised My lifeless body from the dead is now at work in you (Ephesians 1:17-21). I long for you to believe this. I yearn for you to experience this power. The power of the resurrection is at work in you.
So when you face trying times and when you feel as if you cannot endure any more trials, remember Who is at work within you. The Holy Spirit, Who raised Me from the dead, is at work in you. Remember when you have great opportunities, you are not alone in your efforts. The Holy Spirit is at work in you. When you face big decisions, you don't need to make those decisions by yourself. The Holy Spirit is there with you and within you. When you worship with each other, and when you give your testimony to those who are lost, you are more than just you. The power of the Holy Spirit is there with you and within you to fill and empower and guide you. The Holy Spirit is not some figment of your imagination. The following verses were Paul's prayer for the Ephesians. Just as Paul prayed for the Ephesians, the Spirit's presence is My promise to you!
Verses to Live
Paul begins the book of Ephesians with a burst of prayerful praise and thanksgiving (
Ephesians 1:3-14
). He flows right into the following prayer for the believers in Asia Minor. In this prayer, Paul prays for them to realize the awesome power at work within all of My disciples:
In him [Jesus] you also, when you heard the word of truth, the gospel of your salvation, and believed in him, were sealed with the promised Holy Spirit, Who is the guarantee of our inheritance until we acquire possession of it, to the praise of his glory.

For this reason, because I have heard of your faith in the Lord Jesus and your love toward all the saints, I do not cease to give thanks for you, remembering you in my prayers, that the God of our Lord Jesus Christ, the Father of glory, may give you the Spirit of wisdom and of revelation in the knowledge of him, having the eyes of your hearts enlightened, that you may know what is the hope to which he has called you, what are the riches of his glorious inheritance in the saints, and what is the immeasurable greatness of his power toward us who believe, according to the working of his great might that he worked in Christ when he raised him from the dead and seated him at his right hand in the heavenly places, far above all rule and authority and power and dominion, and above every name that is named, not only in this age but also in the one to come. And he put all things under his feet and gave him as head over all things to the church, which is his body, the fullness of him Who fills all in all.
(Ephesians 1:13-23 ESV)
Response in Prayer
O Father, thank You for the amazing power at work in my life and the lives of Your people. I pray that I can know and experience this power and presence that come from the Holy Spirit living in me and filling me. Please, dear Father, use the Spirit's presence in me to conform me to Jesus, to empower me to holy living, and to use me to bless others and bring You glory. In Jesus' name, I pray. Amen.
Illustration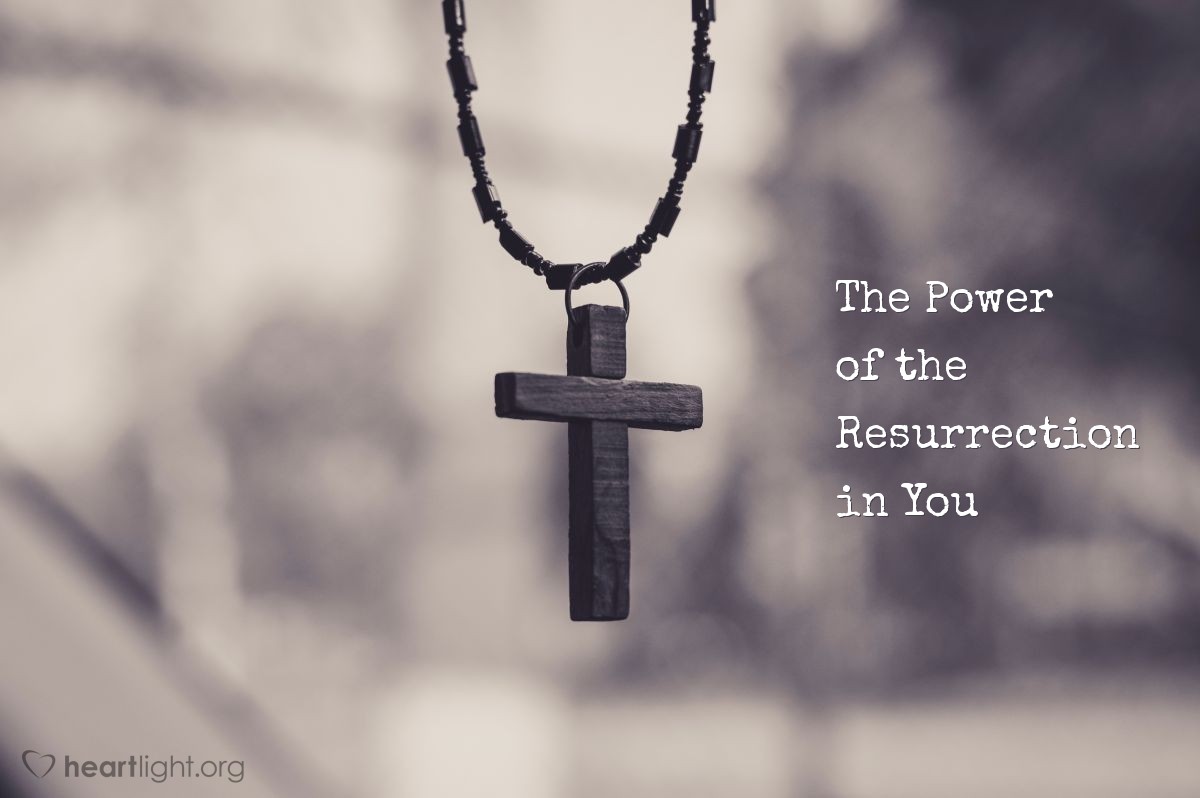 Continue in the faith.
Acts 14:22
Perseverance is the badge of true saints. The Christian life is not only abeginning in the ways of God, but also means continuing in those ways as long as life lasts. It is with a Christian as it was with the great Napoleon: He said, "Conquest has made me what I am, and conquest must maintain me." So under God, dear believer in the Lord, conquest has made you what you are, and conquest must sustain you. Your motto must be, "Aim higher." The only true conqueror who shall be crowned in the end is he who continues until war's trumpet is blown no more.
Perseverance is, therefore, the target of all our spiritual enemies.
The world does not object to your being a Christian for a time, if she can tempt you to quit your pilgrimage and settle down to trade with her in Vanity Fair.
The flesh will seek to ensnare you and to prevent your pressing on to glory. "Being a pilgrim is weary work and makes me wonder: Am I always to be mortified? Am I never to be indulged? Can I not have at least a holiday from this constant warfare?"
Satan will make many a fierce attack on your perseverance; it will be the target for all his arrows. He will strive to hinder you in service: He will insinuate that you are doing no good and that you need to rest. He will endeavor to make you weary of suffering; he will whisper, "Curse God, and die." Or he will attack your steadfastness: "What is the good of being so zealous? Be quiet like the rest; sleep as others do, and let your lamp go out like the foolish virgins." Or he will assail your doctrinal sentiments: "Why do you hold to these doctrinal creeds? Sensible men are getting more liberal; they are removing the old landmarks: Fall in with the times."
So, Christian, wear your shield close to your armor and cry earnestly to God, that by His Spirit you may endure to the end.
Verse of the Day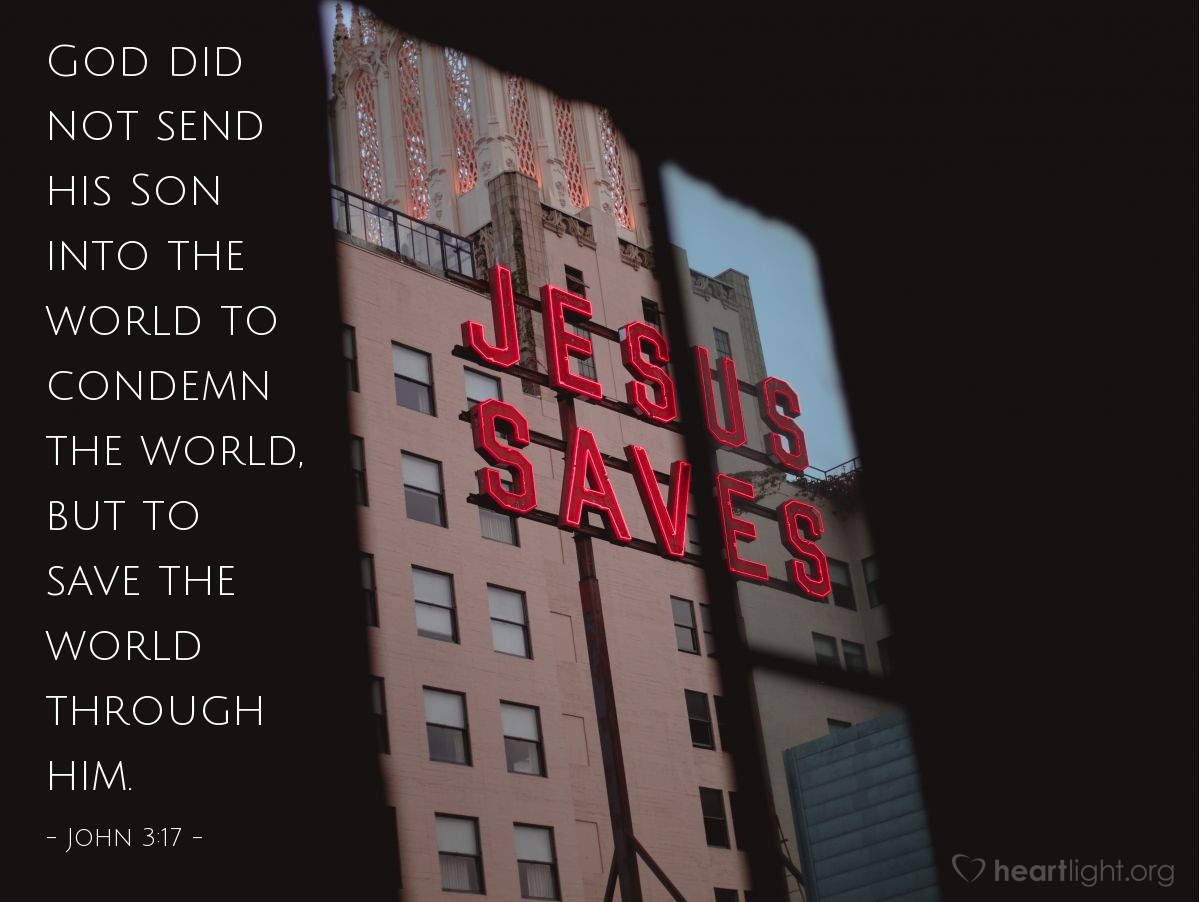 Thoughts on Today's Verse…
How do you view God? Is he someone looking for a way to condemn you? Is he an out of touch old man who doesn't really know what it's like in our modern world? Is he too holy to soil himself with the concerns of mere mortals and has left it up to us to work everything out for ourselves? No. NO. NO! God chose to enter our world and experience it from the side of mortality. God chose to enter our world, not to condemn us, or it, but to redeem it and each of us. Jesus is the great reminder that God longs to save us, not condemn us. Thank God for God! Thank God for Jesus who was and is God with us.
My Prayer…
Holy and Heavenly God, thank you that you live with those of us who are contrite and repentant and who long for your presence. You know we are only mortal, but you love us. You know that we are flawed, but you redeemed us. You know that we are not perfect, but sent Jesus as the perfect sacrifice to save us. Thank you. Through my Savior I offer my sincerest gratitude and praise. Amen.
NATIONAL BLUEBERRY CHEESECAKE DAY
A food holiday for cheesecake lovers, National Blueberry Cheesecake Day is observed on May 26th.
Cheesecake is a sweet dessert that is a mixture of fresh soft cheese, cream cheese or cottage cheese, eggs and sugar on a crust made from crushed graham crackers, crushed cookies, pastry or sponge cake. Cheesecakes can be prepared baked or unbaked and are often served topped with fruit, chocolate or whipped cream.  There are many varieties of cheesecake. However, this day honors the blueberry cheesecake.
HOW TO OBSERVE
Enjoy a blueberry cheesecake at your favorite restaurant.  If you're handy in the kitchen, try one of these recipes:
The Best Blueberry Cheesecake
Blueberry Cheesecake
No-Bake Blueberry Cheesecake with Graham Cracker Crust
Blueberry Cheesecake
Blueberry  Cheesecake Cookies
Blueberry Cheesecake Bars
Blueberry Cheesecake Cupcakes
Post photos of your celebration on social media using #BlueberryCheesecakeDay.
HISTORY
Within our research, we were unable to find the creator of National Blueberry Cheesecake Day.
……It's a Wolf's World!
God bless y'all!!!!