Remembering the Fallen
On this Memorial Day, we remember those who serve faithfully, and those who made the ultimate sacrifice to preserve what they believed. God bless them all, and give us the strength and courage to stand as tall as they did.
A Prayer for Deployed Soldiers
Heavenly Father,
inspire those who are overseas for the cause of peace.
Send your Son, Jesus Christ, as the Prince of Peace.
Bless the men and women of our military
who respond to the needs of peacekeeping.
Keep them safe from harm.
Let them be models of discipline and courage,
and bring them home safely to their loved ones.
We ask this in your name.
Amen.
—from God and Country: Reflections for Catholics in the Military
Christoph Friedrich Blumhardt
You are all children of the light and children of the day. We do not belong to the night or to the darkness. So then, let us not be like others, who are asleep, but let us be awake and sober. 1 Thessalonians 5:5–6, NIV
Dear Father in heaven, we thank you that we may be your children. We thank you that through your Spirit our hearts may know that we are your children. Even when everything around us becomes difficult and we are hemmed in by darkness, we remain your children. Even when we often do not see how we are to go on and everything seems to be taken from us, we remain your children. Even when sin and death surround us and accuse us of being in the wrong, we still remain your children. As your children we entrust ourselves to your hands. In our whole life, in all our work and activity, we dwell in what has come from you, and we rejoice in Christ our Savior. Amen.
TODAY'S DAILY DIG
Faith is what you have in the absence of knowledge…and that absence doesn't bother me because I have got, over the years, a sense of the immense sweep of creation, of the evolutionary process in everything, of how incomprehensible God must necessarily be to be the God of heaven and earth. You can't fit the Almighty into your intellectual categories. If you want your faith, you have to work for it. It is a gift, but for very few is it a gift given without any demand for time devoted to its cultivation.…Even in the life of a Christian, faith rises and falls like the tides of an invisible sea. It's there, even when he can't see it or feel it, if he wants it to be there.
Prayer – Praying In Troublesome Times
Adonai, Almighty, Everlasting Father, in these troublesome times, where the waters are rough and the storm waters swell, I will not fear, for You hold my world in the palm of Your hands. I praise You, Lord, in the midst of the darkness, for You are worthy, Oh so worthy, You are amazing, mighty and powerful.
Psalm 27:5 For he will hide me in his shelter in the day of trouble; he will conceal me under the cover of his tent; he will lift me high upon a rock. 
Psalm 118:8 It is better to take refuge in the LORD than to trust in man. 
Trusting The Lord to bring me through
I trust Your Holy presence to guide and correct me in all that I do. Whatever trouble comes my way, I would be fully equipped with Your armor to emerge from the battle, victorious.
You are in control and whatever the outcome, I know You designed it to work together for my good.
Father, please bring me out of this situation, I need You Lord, right now.
 Psalm 46:1 God is our refuge and strength, a very present help in trouble.

Proverbs  3:5-6 Trust in the LORD with all your heart, and do not lean on your own understanding. In all your ways acknowledge him, and he will make straight your paths. 
Quiet my soul, Lord
When trouble arises, Oh God, draw near and quiet my soul. Allow me to react with peace and love toward my fellowmen.
Guide my thoughts, my actions and my words to reflect You. Bring forth tranquility, when anger and rage rushes in.
I humbly ask that You rid me of anything that breaks Your heart, along with the troubles that may follow. In Jesus' mighty name I pray, Amen!
Psalm 37:5 Commit your way to the LORD; trust in him, and he will act.
John 14:1 Let not your hearts be troubled. Believe in God; believe also in me. 
Monday Morning Prayer and Bible Verses
As we commence this new work week, let us kick it off with a talk with our Heavenly Father. Let us spend some time in prayer, devotion and praise. The past week is behind us, and new beginnings are ahead..
Psalm 90:14 Satisfy us in the morning with your steadfast love, that we may rejoice and be glad all our days.

Psalm 5:3 O Lord, in the morning you hear my voice; in the morning I prepare a sacrifice for you and watch.
Father, I request that Your Holy Presence draws near to me. Wrap me in Your loving arms and never let me go. Cover me under the precious blood of the lamb. Cleanse me of anything that is displeasing to You. Renew my mind, my body and my soul, as I worship You and You alone.
Psalm 19:14 Let the words of my mouth and the meditation of my heart be acceptable in your sight, O Lord, my rock and my redeemer.
Proverbs 8:17 I love those who love me, and those who seek me diligently find me.
You may also be interested in these articles:
When the storms arise, bestow Your tranquility and peace upon me so that I may not be moved. Work from within me, Lord to bring a revival into my Life. When I feel broken Lord, transform my spirit so I can emerge whole again. And, as I pray Lord, use me daily as Your vessel.
Walk beside me as I endure the challenges of today. Give me the strength I need to challenge the week ahead. Send Your angels to guard over me as You lead me into my divine purpose. In Jesus' mighty name I pray, Amen!
Isaiah 26:9 My soul yearns for you in the night; my spirit within me earnestly seeks you. For when your judgments are in the earth, the inhabitants of the world learn righteousness.
Psalm 104:30 When you send forth your Spirit, they are created, and you renew the face of the ground.
The Hidden Danger Of Success
What is the greatest danger for the Christian? Is it failure or success? The answer might surprise you.
The Greatest Risk
Believe it or not, the greatest risk for falling or stumbling for the Christian is not during a trial or tribulation, but when they've just achieved something great. It's our tendency to believe that it's from our own effort and not from God's sovereign hand, but this robs God of glory. We fail to see that everything that happens in our life is the result of a loving and sovereign God. We must realize that not even a sparrow falls to the ground that He is not aware of and does not allow (Matt 10:29). A great example was King Uzziah. When he began to reign in Judah, "he did what was right in the eyes of the LORD, according to all that his father Amaziah had done. He set himself to seek God in the days of Zechariah, who instructed him in the fear of God, and as long as he sought the LORD, God made him prosper" (2 Chron 26:4-5), but this was not from His own hand, but "God helped him against the Philistines and against the Arabians who lived in Gurbaal and against the Meunites" (2 Chron 26:7). King Uzziah prospered so much that "The Ammonites paid tribute to Uzziah, and his fame spread even to the border of Egypt, for he became very strong" (2nd Chron 26:8). The problem was, success went to his head, and "when he was strong, he grew proud, to his destruction. For he was unfaithful to the LORD his God and entered the temple of the LORD to burn incense on the altar of incense" (2 Chron 26:16). Uzziah was a king, not a priest. He had no right to burn incense in the temple, but he thought he was an exception because of his strength, wealth, and success, but that led to his downfall.
Victory from Defeat
When I was a Little League baseball coach, we were like the Bad News Bears. We could not win a game at all. The teams used to rub it in our face but we learned more during our defeats than we could have ever learned from winning so we came up with a plan. We decided to practice a little longer and harder. We worked on the basic skills more, we examined the fundamentals more, and we also learned how to be good sports in losing. It's easy to be a good sport when you are winning but the true test is how to be one when you lose…time and again. In short, we learned how to accept defeat even though it was difficult, but here's what happened. We began to practice more than the other teams, we studied the game more intently and we started to improve as a team and individually. Ironically, the teams that were beating us lightened up in their practice times. They didn't practice as often or as hard as we did, and as a consequence, we slowly began to be more competitive. Near the end of the season, we started winning games. No, we didn't win the league but we started gaining the benefits from our practices that our defeats compelled us to take. The result was that we turned our season around. If we had been winning at first, we may have never learned some valuable lessons. We learned how to lose graciously and how to work harder and improve. We learned more from our defeats than we ever would have from our victories.
Defeat from Victory
During the zenith of David's success as king, he had victory after victory but, his heart became full of pride. Then Satan incited David to take a census and count his troops. It was a little like a rich man counting his money. Even though Joab tried to warn, David's pride blinded him, and it can blind us too. Pride has a way of doing that. Of course, that angered God. David saw the great numbers of troops as being the real power of his kingdom. That meant he had failed to give credit to God for Israel's great power. When we begin to take credit for blessings, we are robbing God of His due glory. As a result, Israel paid dearly with the death of seventy thousand men (2 Sam 24:15-17).
Israel's Amnesia
Now, what about ancient Israel's history? It seems that they followed the same pattern of success, pride, idolatry, and then, a fall. They prospered, forgot God, fell into idolatry, were sent into captivity, then humbled themselves, and God delivered them…again! Even though God had warned them numerous times, they refused to learn the lesson found in Deuteronomy 8:10-20: "When you have eaten and are satisfied, praise the Lord your God for the good land he has given you. Be careful that you do not forget the Lord your God, failing to observe his commands, his laws and his decrees that I am giving you this day. Otherwise, when you eat and are satisfied, when you build fine houses and settle down, and when your herds and flocks grow large and your silver and gold increase and all you have is multiplied, then your heart will become proud and you will forget the Lord your God, who brought you out of Egypt, out of the land of slavery. He led you through the vast and dreadful wilderness, that thirsty and waterless land, with its venomous snakes and scorpions. He brought you water out of hard rock. He gave you manna to eat in the wilderness, something your ancestors had never known, to humble and test you so that in the end it might go well with you. You may say to yourself, 'My power and the strength of my hands have produced this wealth for me.'"
Lessons from Israel
Instead of saying, "How could Israel be like that," I say, "How am I like that," so there are several important things that God mentions that we should take to heart in Deuteronomy 8. When things are going well, we better not forget the Lord. When our goods increase and our wealth (or success) is multiplied, don't let our hearts become proud. When we are delivered out of our own trials and tribulations, let us remember that it is God Who delivered us. When things go well we are tempted to think, "My power and the strength of my hands have done this," but that's the thin-ice of presumptuousness. Success makes us look in the mirror…struggles make us look to God. Isaiah writes, He is "the LORD" and "I will not give my glory to another nor my praise to graven images." Sometimes that "graven image"(42:8) is our success.
Conclusion
When we are filled with pride we are just like Satan. When we are lifted up, we are exalting ourselves, but when we are boasting, we are headed for a fall. If we remain humble and give credit to God for our successes, God will continue to bless us, but if we act like it's our doing, God will resist us every step of the way (James 4:6). If you have failed to repent, confess your sins, and trust in Christ, you have the wrath of God abiding on you right now (John 3:36b). Humble yourself today and know that God will give you grace. He wants us to prosper in all things (Rom 10:17), but He also wants us to acknowledge where that prosperity comes from. The moon has a dark side. As a matter of fact, it's all dark. Without the sun shining on it, it would remain dark. The moon cannot support life. It is dead, decayed, and pock-marked by asteroids and meteorites. The moon is a waste land, but when the sun shines on it, it is beautiful. It reflects the sunlight and gives light to our nights. Likewise, I am dark, dead, and decaying and have no source of light except the Son of God Who shined His light on me. Only then was I able to reflect that light to a dark, sinful world. Even a tiny match can light up a large, dark cave, however, just as the moon has no right to boast, neither can I boast in my own good works (light). I must give glory to the Son of God Who illuminates the darkness and is the light of men (John 1). God will not resist me if I give the credit and glory to Whom it is due, and it's "Not to us, O LORD, not to us, but to your name give glory, for the sake of your steadfast love and your faithfulness" (Psalm 115:1)!
Article by Jack Wellman
Jack Wellman is Pastor of the Mulvane Brethren Church in Mulvane Kansas. Jack is a writer at Christian Quotes and also the Senior Writer at What Christians Want To Know whose mission is to equip, encourage, and energize Christians and to address questions about the believer's daily walk with God and the Bible. You can follow Jack on Google Plus or check out his book Teaching Children the Gospel available on Amazon.
Venerable Pierre Toussaint
Saint of the Day for May 28
(June 27, 1766 – June 30, 1853)
Venerable Pierre Toussaint's Story
Born in modern-day Haiti and brought to New York City as a slave, Pierre died a free man, a renowned hairdresser, and one of New York City's most well-known Catholics.
Plantation owner Pierre Bérard made Toussaint a house slave and allowed his grandmother to teach her grandson how to read and write. In his early 20s, Pierre, his younger sister, his aunt, and two other house slaves accompanied their master's son to New York City because of political unrest at home. Apprenticed to a local hairdresser, Pierre learned the trade quickly and eventually worked very successfully in the homes of rich women in New York City.
When his master died, Pierre was determined to support himself, his master's widow, and the other house slaves. He was freed shortly before the widow's death in 1807.
Four years later, he married Marie Rose Juliette, whose freedom he had purchased. They later adopted Euphémie, his orphaned niece. Both preceded Pierre in death. He attended daily Mass at St. Peter's Church on Barclay Street, the same parish that Saint Elizabeth Ann Seton had attended.
Pierre donated to various charities, generously assisting blacks and whites in need. He and his wife opened their home to orphans and educated them. The couple also nursed abandoned people who were suffering from yellow fever. Urged to retire and enjoy the wealth he had accumulated, Pierre responded, "I have enough for myself, but if I stop working I have not enough for others."
Pierre originally was buried outside St. Patrick's Old Cathedral, where he was once refused entrance because of his race. His sanctity and the popular devotion to him caused his body to be moved to the present location of St. Patrick's Cathedral on Fifth Avenue.
Pierre Toussaint was declared Venerable in 1996.
---
Reflection
Pierre was internally free long before he was legally free. Refusing to become bitter, he daily chose to cooperate with God's grace, eventually becoming a compelling sign of God's wildly generous love.

What Jesus Did!

 'Sometimes We Just Scratch the Surface'

Some of the people who lived in Jerusalem started to ask each other, "Isn't [Jesus] the man they are trying to kill? But here he is, speaking in public, and they say nothing to him. Could our leaders possibly believe that he is the Messiah? But how could he be? For we know where this man comes from. When the Messiah comes, he will simply appear; no one will know where he comes from."
Key Thought
Jesus is from God. That is one of the primary declarations of the Gospel of John. However, many folks missed this truth about Jesus. There were many reasons — some people thought he violated the Sabbath, some thought he spent too much time with sinners, some preferred the acceptance of their peers, and some thought they knew where he came from but hadn't dug deep enough to know the truth. John lets us, his readers, in on the truth. Jesus came from God. He spoke the words of God. He did the work of God. He completed the mission God gave him to do. So have you come to terms with this true Jesus? Or is Jesus a religious figure you try to tame and manipulate for your own desires? Ask God to help you know Jesus more fully and honor him more completely with your life.
Today's Prayer
Almighty God and heavenly Father, please help open the hearts of several of my friends who have rejected Jesus as Lord. Use me to help them open their hearts to the truth about Jesus. Empower me and bless my influence as I seek to serve them in Jesus' name. Make my attempts to reach the lost a blessing to your Kingdom and effective with my friends. In Jesus' name, I pray. Amen
Related Scripture Readings
Daily Wisdom:

 Proverbs 28:18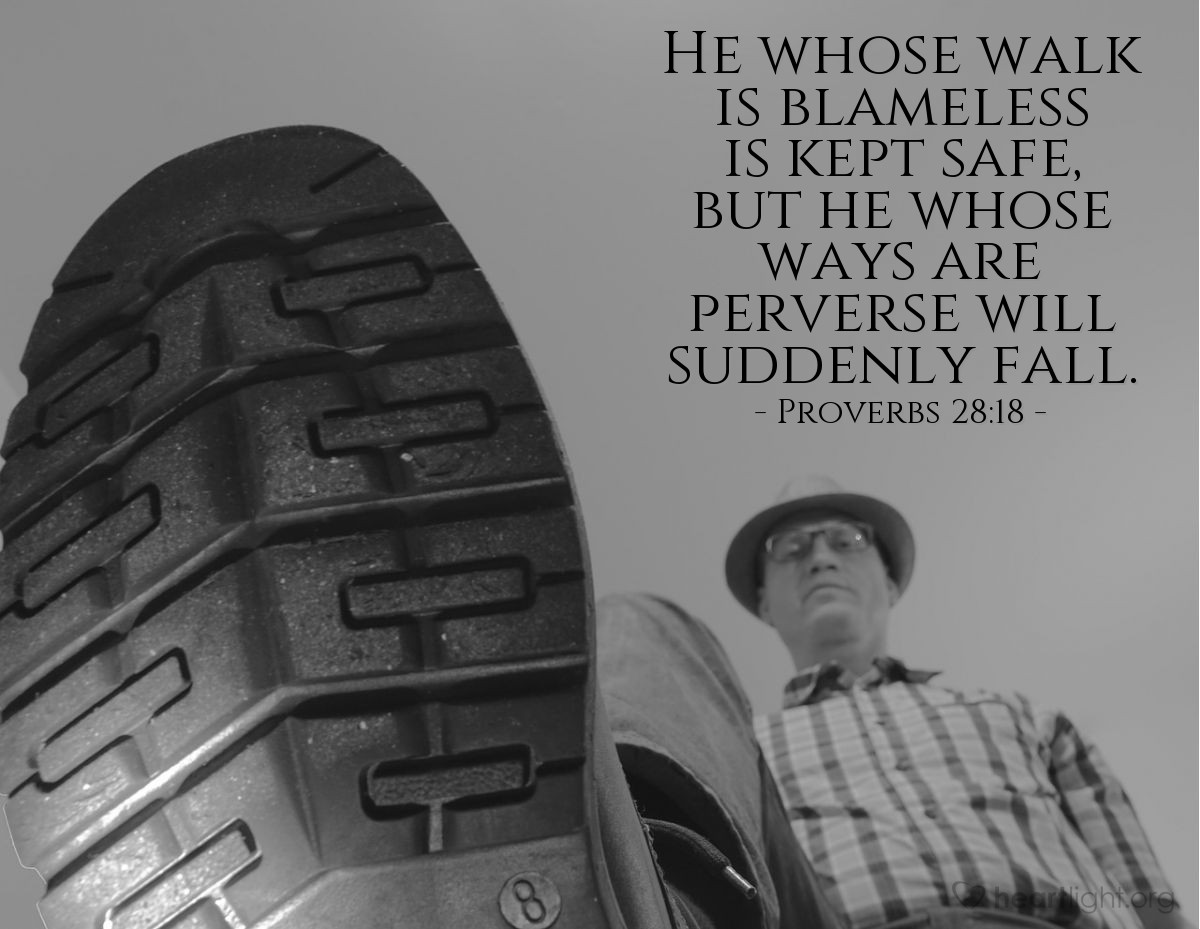 Spiritual Warfare:

 'Pursuit of the Abundant Life'

God's Power for Our Battles

And God is able to bless you abundantly, so that in all things at all times, having all that you need, you will abound in every good work. As it is written: "They have freely scattered their gifts to the poor; their righteousness endures forever."
Today's Prayer
Lord, I confess in the past that I have sought after an abundant life to use for my wants and my pleasures. I now realize that such a pursuit is little more than pure selfishness. Going forward from today, Lord, I want to be rich in good works. I want to make a difference in the world around me. I want to help people. I want to become known as a source of encouragement. And now, I know that this new way of life will be my focus. As I live this way, I know that You will give me all the things I need to accomplish this new way of living. Thank You. In Jesus' Name, I pray. Amen.
A Year with Jesus:

 'Filled with the Holy Spirit'
Note from Jesus
Dear Child of Glory,
The world is filled with many beautiful and precious people. Unfortunately, so many of them miss their greatest opportunities. Many miss these great opportunities because they do not have their lives tuned to the Holy Spirit. We — Father, Son, and Spirit — want you to "Make the most of every living and breathing moment because these are evil times." So much of the world is held in the grip of the evil one. Under the premise of "fun" and "freedom," the evil one gains hold of people little by little. He snuffs out the life that We intended for them; he addicts them to what is fleeting and cannot provide meaningful fulfillment. As Paul wrote in Ephesians:
As for you, don't you remember how you used to just exist? Corpses, dead in life, buried by transgressions, wandering the course of this perverse world. You were the offspring of the prince of the power of air — oh, how he owned you, just as he still controls those living in disobedience.
(Ephesians 2:1-2)
However, when you are filled with the Spirit, you experience the delight of the Father. You live the life that reflects and shares My grace. In the verses below, Paul ties five spiritual blessings to being filled with the Spirit. These activities are the result of the Spirit's presence. They are also the way you can release the power of the Holy Spirit into your lives. (See the verses below and Ephesians 5:15-21 in the NIV as an alternative translation.).
Notice these traits — these five blessings and activities — that both fill you with the Spirit and are also a result of being filled with the Spirit:
"Speak to each other in soulful words of pious songs, hymns, and spiritual songs."
"Sing."
"Make music with your hearts attuned to God."
"Give thanks to God the Father every day through the name of our Lord Jesus", i.e., through My name.
"Submit humbly to one another out of respect for the Anointed", i.e., out of respect for Me, your Lord and Christ.
The Holy Spirit gives you the power to enjoy life as you were intended to live it. The "law of the Spirit of life" means that you are not under condemnation, but the Spirit "breathes into you and liberates you from the law of sin and death"(Romans 8:1-4). This same Spirit works to transform you, day-by-day, to be more and more like Me (2 Corinthians 3:17-18). These are exactly the opposite effects of living under the false freedom of the world.
You were filled with My spirit from the moment you were born from above (John 3:3-7; Titus 3:3-7). And you can seek to be filled ever more completely with the Spirit (Luke 11:13; Acts 4:29-31). The Spirit will guide you as your dance of life keeps in step with Me (Galatians 5:18; Galatians 5:25-26). The Spirit helps you put to death the vestiges of the flesh. The Spirit empowers you to get out of the evil one's life-sapping grip on your life. The Spirit enables you to live fully as the Father's beloved child and My co-heir of all the blessings of the Father's grace (Romans 8:13-17).
Verses to Live
The following words are from the apostle Paul. They were written to people living in a place fascinated with spiritual power. They are a great reminder of the Spirit's importance to you. As you read these verses, intentionally submit your heart to Me. Ask for the presence and power of the Holy Spirit to fill you and transform you.
So be careful how you live; be mindful of your steps. Don't run around like idiots as the rest of the world does. Instead, walk as the wise! Make the most of every living and breathing moment because these are evil times. So understand and be confident in God's will, and don't live thoughtlessly. Don't drink wine excessively. The drunken path is a reckless path. It leads nowhere. Instead, let God fill you with the Holy Spirit. When you are filled with the Spirit, you are empowered to speak to each other in the soulful words of pious songs, hymns, and spiritual songs; to sing and make music with your hearts attuned to God; and to give thanks to God the Father every day through the name of our Lord Jesus the Anointed for all He has done.

And the Spirit makes it possible to submit humbly to one another out of respect for the Anointed.
(Ephesians 5:15-21)
Response in Prayer
Abba Father, I thank You for not only adopting me as Your child but also for filling me with the Spirit. I thank You that I live in the Spirit to experience Your true freedom of grace. As I am led by Your Spirit and filled with Your Spirit, bring Your righteous character and gracious compassion to life in Me. Transform me to be like Jesus as I wait for my full adoption as Your child and as a full heir with Jesus to all that You intend for Your children of grace. In Jesus' name, I pray. Amen.
Illustration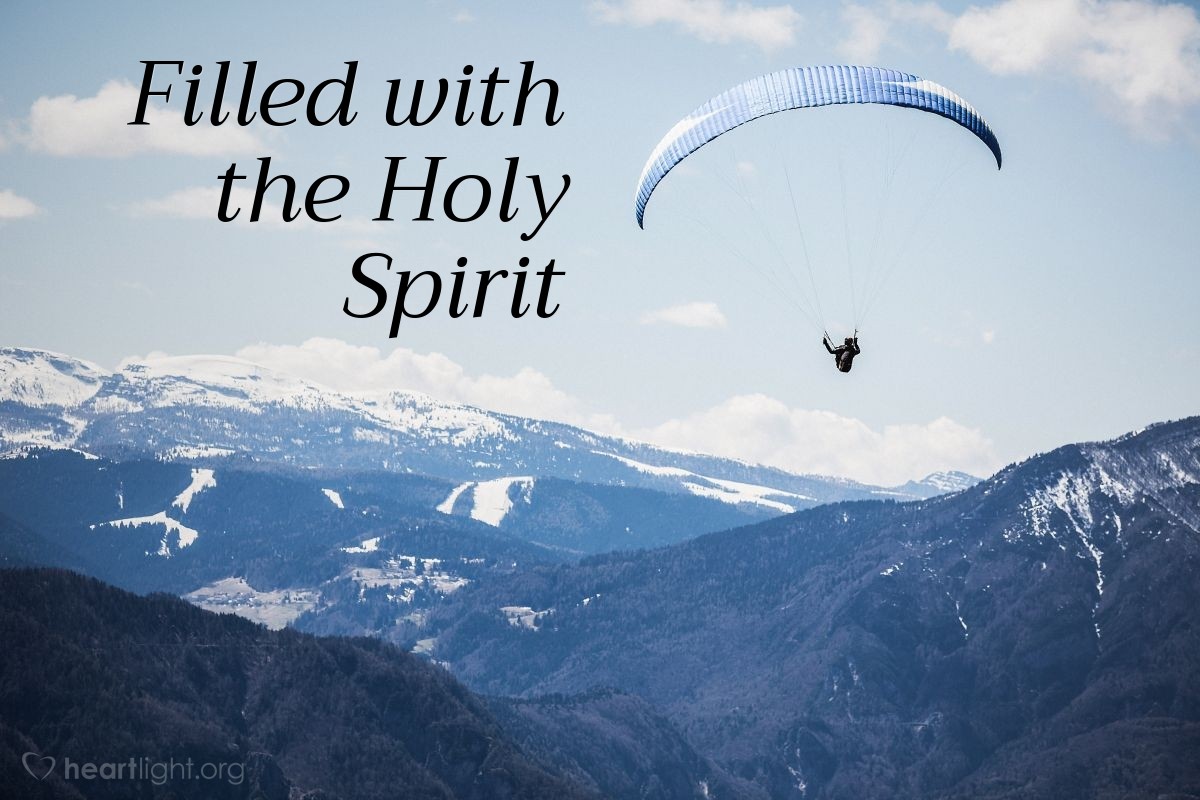 This I call to mind, and therefore I have hope.
Lamentations 3:21
Memory is frequently the slave of despondency. Despairing minds remember every dark prediction in the past and expand upon every gloomy feature in the present; in this way memory, clothed in sackcloth, presents to the mind a cup of bitter-tasting herbs.
There is, however, no necessity for this. Wisdom can readily transform memory into an angel of comfort. That same recollection that on the one hand brings so many gloomy omens may be trained instead to provide a wealth of hopeful signs. She need not wear a crown of iron; she may encircle her brow with a tiara of gold, all spangled with stars.
Such was Jeremiah's experience: in the previous verse memory had brought him to deep humiliation of soul: "My soul continually remembers it and is bowed down within me"; but now this same memory restored him to life and comfort. "But this I call to mind, and therefore I have hope." Like a two-edged sword, his memory first killed his pride with one edge and then slew his despair with the other.
As a general principle, if we would exercise our memories more wisely, we might, in our very darkest distress, strike a match that would instantaneously kindle the lamp of comfort. There is no need for God to create a new thing upon the earth in order to restore believers' joy; if they would prayerfully rake the ashes of the past, they would find light for the present; and if they would turn to the book of truth and the throne of grace, their candle would soon shine as before.
Let us then remember the loving-kindness of the Lord and rehearse His deeds of grace. Let us open the volume of recollection, which is so richly illuminated with memories of His mercy, and we will soon be happy. Thus memory may be, as Coleridge calls it, "the bosom-spring of joy," and when the Divine Comforter bends it to His service, it is then the greatest earthly comfort we can know.
"Why me, Lord?" Have you ever asked God that question? "Why not pick somebody else for this? Why am I always the one going through the fire?"
In the good times we say, "Lord, I love You." We quote, "Oh, in the volume of the book it is written of me I delight to do Your will, O Lord." Then we add, "Father take me, mold me, use me. Take my life and let it be consecrated to Thee."
We say all this until God asks us to do something or go through something that is very uncomfortable—something we have never done or experienced before.
Then, we start singing a different tune. "I've never passed this way before, Lord. It's dark, and I'm not sure where I'm going. I can't see the light at the end of the tunnel. You're making me step into the unknown.
"Yes, I know you're holding my hand. Yes, I know You are more concerned about me than the many sparrows You carefully watch over. I know you have numbered the very hairs on my head. I know You will never leave me or forsake me, but Lord—I don't know about this thing!"
"This thing doesn't make any sense. This thing goes beyond my ability to understand. Why are you doing this, Lord? I'm going to trust you in it, but I don't understand it. I can't do this by myself. Carry me, Lord. Let me know You are with me in it."
We have all experienced those times when our world falls apart. Nothing is working out as it should. We receive awesome prophetic words about future ministry, husbands, families, wealth—and get so excited! But just when everything seems to be going well, the bottom falls out. Our entire world is shaken.
We are lied about in ministry. Our husband has an affair with our best friend. A member of our family is diagnosed with a terminal disease. We realize we are trapped in a bad relationship we can't dissolve. We lose our job and are facing eviction. Or, we become so sick ourselves that we want to die.
Have you ever been tempted in those times to ask, "Why me, Lord?"
I am sure Joseph must have been tempted this way. He knew His destiny was to rule—but he found himself at the bottom of a pit, discarded by his own brothers. Later, just when it appeared he was beginning to walk in purpose, he was consigned to prison—for rightly fleeing from his master's wife when she tried to seduce him!
Do you think Joseph might have asked, "Why me, Lord?" and "Where are You in all this?"
Ah, but God had a higher purpose for Joseph. He was preparing him to save two nations.
We tend to see our circumstances through our natural eyes. We live in time and space, so we live in today. But God lives and sees in eternity. He sees the end from the beginning. He knows the outcome already. And He knows the plans He has for us—plans for good and not evil, to give us an expected end (see Jer. 29:11).
Those who stood at the foot of the cross on Calvary and watched Jesus die lived in agony for a time. Perhaps they asked, "Why, Lord?" Then they heard Him cry out, "My God, My God, why have You forsaken Me?" Though Jesus prophesied His own resurrection, they did not understand and could not anticipate the eventual glorious outcome of this terrible scene.
Ah, but we know that God had a greater purpose for Jesus: to save the lost and reproduce Himself in a new creation called "the sons of God" who would be joint heirs with Him in God's kingdom.
The Lord has allowed me to go through some intense spiritual warfare that caused me to ask, "Why?" I encountered situations that I had never had to face before. I felt lost and abandoned as I walked this unknown territory.
But God had not abandoned me. I discovered that there were areas of my life not yet yielded to His lordship. I had to totally abandon myself once again to His plan and purpose. In the process He did a deep work within me, and when I asked Him, "Why, Lord?" His response was simply, "For the greater purpose."
Perhaps you are going through something you don't understand. You are bombarded on every side with doubts, fears, and uncertainties. Know that you can trust God in and through your circumstances. Know that He has a plan for you, and the end result is good.
Even more important, know that there is a higher purpose you can't see yet—one that may include your being the means of salvation for someone else. Just as Joseph was used to save two nations, and Jesus to bring salvation to the world, so the Lord will use you for His greater purpose.
You may not be able to see the light at the end of the tunnel, but you know the one who is holding that light! Are you willing to trust Him to lead you through? He will turn your trial around for your good—and answer your "Why, Lord?" by pointing to the fulfillment of His plans.
Prayer Power for the Week of May 20, 2018
This week, surrender yourself anew to the Lord and yield yourself to be used for His higher purpose. Thank Him that His plans for you are good and will bear much fruit for His kingdom. Pray for fellow Christians that are being persecuted for their faith. Continue to ask the Lord to send more laborers into His harvest fields and ask Him to show you what you can do to extend His kingdom. Continue to pray for our nation and its leaders, Israel and our allies, those serving in the military and first responders. Read Jeremiahs 29:11, Romans 8:28.
Let us all pause for a few minutes today to remember those who bravely fought and died serving their country in the armed forces. Have a blessed Memorial Day.
Abraham, Isaac, and Jacob
TGIF Today God Is First Volume 1 by Os Hillman
May 28, 2018
"Then Joseph said to his brothers, 'I am about to die. But God will surely come to your aid and take you up out of this land to the land He promised on oath to Abraham, Isaac and Jacob.'" – Genesis 50:24
I was boarding the airplane in Frankfurt, Germany, when a mentor of mine asked me this question, "Would you consider why God referred to Himself as the 'God of Abraham, Isaac and Jacob'? Why didn't He simply say, 'the God of Jacob'?" What a strange question, I thought to myself.
For the next hour I racked my brain trying to discover the meaning to this question. I had never read it in a commentary, and the Scriptures do not really say why this is so. It became a good exercise with the Holy Spirit that led to some interesting observations – one from my mentor, one from my own insight.
First, could it be that the Lord has given us a "type of trinity" in Abraham, Isaac, and Jacob? Abraham was considered a father figure to the nation of Israel. Isaac was the son who had to be sacrificed on the altar. Jacob was the man who had to learn to walk according to the Holy Spirit instead of his flesh. Each of these patriarchs had a particular relationship with God to fulfill.
My friend asked about an hour into the flight, "So, what did you discover?"
I told him of my observation.
"Hmm…that is interesting. I believe that what we also see in the patriarchs are examples of three distinct types of personalities. If the Lord had cited only one of the patriarchs, we would tend to seek to model that leader. However, the Lord has given us three distinct personalities in whom He performed His work. Abraham was the pioneer who ventured out into unknown territory and was considered righteous for his faith. Isaac was faithful to follow in his inheritance with few ups and downs in his life. He had the fewest calamities among the three. He was called simply to be faithful to what had been already given. Jacob had extreme conflict in his life. He suffered more pit experiences than either of his predecessors. He had much conflict in relationships that became the source of his inheritance. Each of us can identify with one of these men in how God has related to them."
God works in each person's life uniquely, and He has provided examples of lives for us to identify with from the Scriptures. Who do you identify with most in your Christian pilgrimage? Discover this for yourself. You will find encouragement as you seek to learn from someone who has gone before you.
Verse of the Day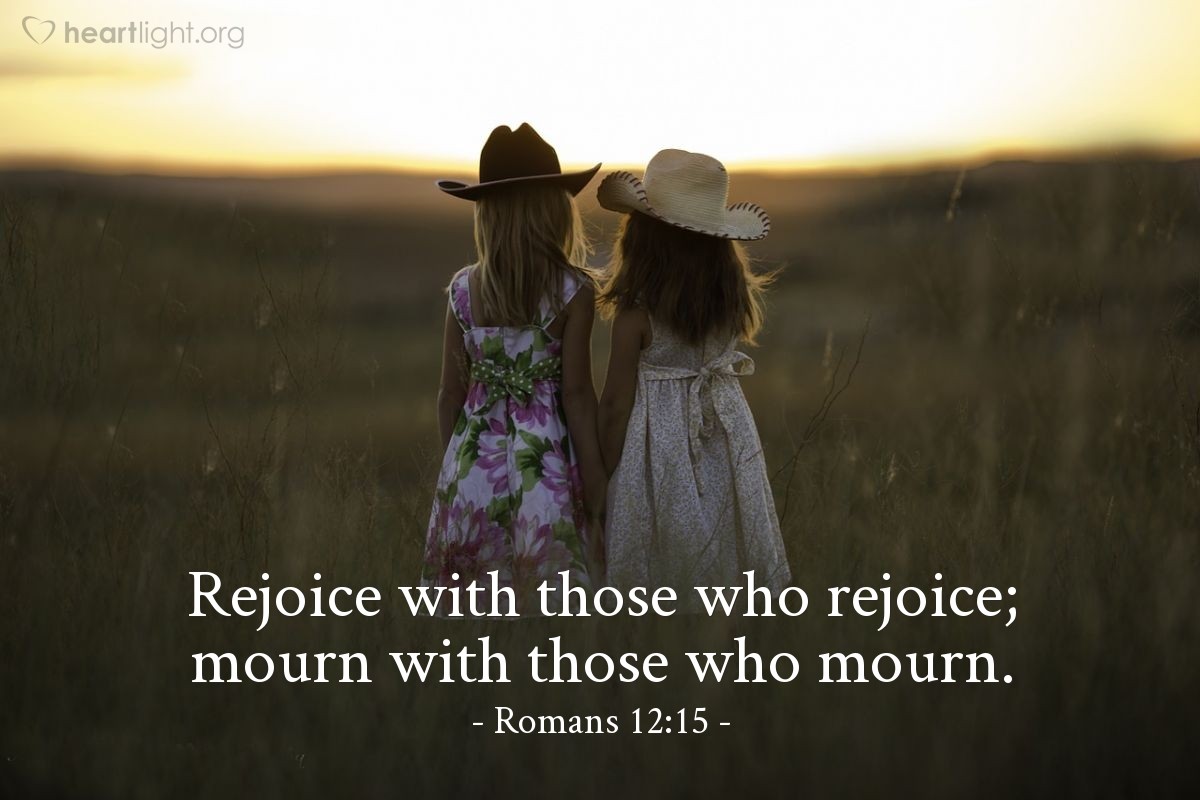 Thoughts on Today's Verse…
We are not alone. God has given us each other to live our lives for him and get us back home to him. Along the way, we want to share each others burdens, soar on each others joys, and love each others hurts. There is no such thing as a solo Christian.
My Prayer…
Loving Father, lead me to the people today who need their burdens lifted and their joys shared. Let me be your presence in the world of your children today. This I ask in Jesus name. Amen.
NATIONAL HAMBURGER DAY
National Hamburger Day is observed each year on May 28.  This day celebrates a summer-time grilling favorite and National Hamburger Day is part of National Hamburger Month.
Hamburger.  Seasoned ground beef, grilled and placed between two slices of bread or a bun. Top with sauteed onions, peppers, pickles, sliced onions, or cheese. Add condiments such as ketchup, mustard or mayo. Any one of these combinations would create a modern American version a hamburger.
It is most likely that the hamburger sandwich first appeared in the 19th or early 20th centuries, but there is much controversy over its origin. Over the years, the hamburger has become a culinary icon in the United States.
The world's largest hamburger was prepared on September 2, 2012, in Carlton, Minnesota by Black Bear Casino Resort and weighed in at 2,014 pounds.
HOW TO OBSERVE
Use #NationalHamburgerDay to post on social media.
HISTORY
Our research was unable to locate the origin of National Hamburger Day. For Some Fun Hamburger Trivia See: http://www.foodreference.com/html/fhamburgers.html
MEMORIAL DAY
Memorial Day, a United States Federal holiday, is observed each year on the last Monday in May.   This day is in honor and remembrance of all men and woman who have died while serving in the United States Armed Forces.
Memorial Day is also a day to remember all loved ones that have passed away.
Traditionally on Memorial Day, the flag of the United States of America is raised briskly to the top of the staff then solemnly lowered to the half-staff position where it remains until noon. At noon, it is then raised to full-staff for the remainder of the day.
When the flag is at half-staff, the position is in remembrance of the more than one million men and women who gave their lives for their country.  Raising the flag at noon signifies the nation lives, that the country is resolved not to let their sacrifice be in vain but to rise up in their honor and continue to fight for liberty and justice for all.
Memorial Day is known to mark the beginning of summer.
HOW TO OBSERVE
Use #MemorialDay to post on social media.
HISTORY
Honoring the men and women who have died while serving in the military, Memorial Day has been kept in various forms in the United States since the end of the Civil War. General John Logan called for a nationwide day of remembrance on May 5, 1968. On May 30 Decoration Day was first observed.
General James Garfield spoke at Arlington National Cemetery. Generals Grant, Howard, Logan, Pane, Wool, and Hancock attended the ceremony, and volunteers decorated the graves of 20,000 Union and Confederate soldiers.
Across the country, humble tributes occurred on that first Decoration Day. Just outside Fort Stevens near Washington, D.C. there was a small cemetery where 40 soldiers were buried, one of whom belonged to a widow from Northern Vermont. He was one of three sons she lost to the war. On Decoration Day, she went to the cemetery carrying 40 wreaths for 40 graves.
Someone placed a laurel wreath upon the head of a Lincoln statue at City Hall, Washington D.C.
In Cincinnati, Hamilton and Dayton Railroads transported passengers to the Spring Grove Cemetery.  Flags were displayed at half-mast along the routes.  Floral wreaths were placed on the soldiers graves and speeches made.  Many of the first Decoration Days recognized only the Union soldiers, though some included the Confederate soldiers as well.  Over time, the day grew to include all those soldiers lost during the conflict.
Decoration Day gradually became known as Memorial Day and now honors all U.S. military personnel who have died during a military conflict. Memorial Day continued to be observed on May 30 until Congress passed the Uniform Monday Holiday Act of 1968. Since 1971, Memorial Day has been observed the last Monday of May.
NATIONAL BRISKET DAY
National Brisket Day is observed annually on May 28.  As one of the nine primal cuts of beef, brisket comes from the breast or lower chest of beef or veal.
Brisket is a tough and relatively inexpensive cut of meat. While it requires some patience to cook brisket to tenderness, the reward is well worth the effort. Select a well-marbled cut of meat.  The fat will keep the brisket moist and add flavor to the final product. Season it well and give it a dark sear.  This will seal in the juices.  Cook it slow, cook it long.
It can be cooked in the oven or over indirect heat over charcoal or wood.  Many times oak, pecan, hickory or mesquite is added to the other hardwoods to enhance the flavor.  Brisket will be fork tender when it is fully cooked and is then served with or without a sauce.
HOW TO OBSERVE
Enjoy this Bangin' Smokey Beef Brisket recipe.
Use #NationalBrisketDay to post on social media.
HISTORY
Within our research, we were unable to find the origin of National Brisket Day.