Christoph Friedrich Blumhardt
I love you, Lord, my strength. The Lord is my rock, my fortress and my deliverer; my God is my rock, in whom I take refuge, my shield and the horn of my salvation, my stronghold. Psalm 18:1-2, NIV
Lord our God, we thank you that we have often felt you close to us. We thank you that you are near us and that you strengthen the weak. Remember us and give each one the help he needs to be true to his calling. Remember all humankind and grant that we may go forward in spirit and in truth. Give new light to the peoples who are still in great darkness. Let your kingdom and your reign be revealed and your name at last be honored by all. Amen.
TODAY'S DAILY DIG
There is often more wisdom to be found at the edges of life than in its middle. Life-threatening illness may shuffle our values like a deck of cards. Sometimes a card that has been on the bottom of the deck for most of our lives turns out to be the top card, the thing that really matters. Having watched people sort their cards and play their hands in the presence of death for many years, I would say that rarely is the top card perfection, or possessions, or even pride. Most often the top card is love.
A Prayer to Revive Christian Virtues
By Carrie Lowrance
"In everything set them an example by doing what is good." Titus 2:7
We are called to be an example in our society, to guide others in the way of the Lord, although the virtue of society has gone out the window. We are meant to live by example in everything we do.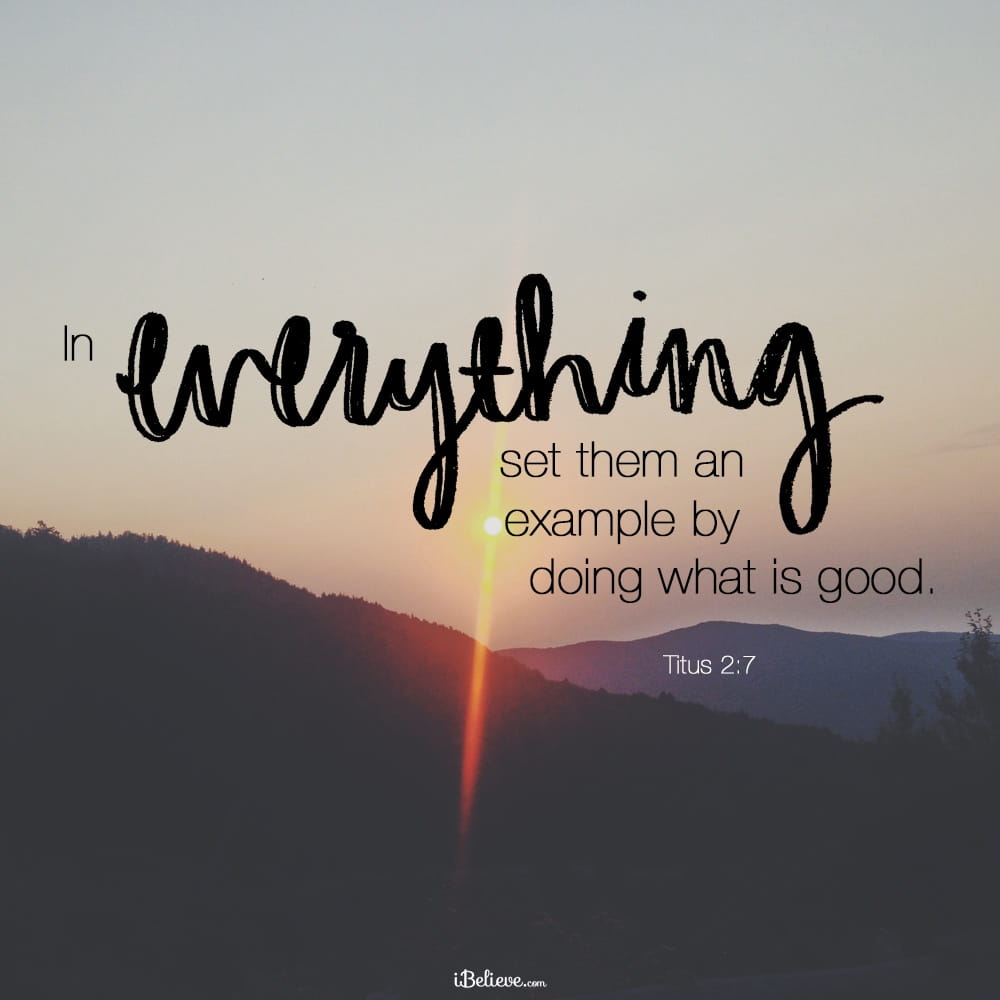 Christ like character includes being honest, loving everyone (even those who are hard to love), being kind and having self-control, to name a few. Here are 3 Christian virtues we need to revive if we are to thrive and lead by example.
1. Faith – It is hard to keep the faith in difficult situations. It is hard not to lean on your own thoughts and feelings at times. But we always must remember that the Lord knows what is best and will help us avoid any snares on the path we are on. We must always put our faith in Him when it comes to the path He puts us on.
Proverbs 3:5-6 says, Trust in the Lord with all your heart and do not lean on your own understanding. In all your ways acknowledge Him and he will make straight your paths. 
2. Hope- It is hard to find hope in the times we live, there is always something terrible going on somewhere. We need to restore our hope through prayer that even the smallest things will get better and to constantly read and trust in His Word too.
Romans 12:12 says, Be joyful in hope, be patient in affliction, faithful in prayer.
3. Love – We all have different opinions on things and different views, but we have to love each other regardless. This includes people from all walks of life, no matter what their skin color is or what situation they are in. People desperately need to see the love of Christ shining through us.
1 Corinthians 13:13 says, And now these three remain; faith, hope and love. But the greatest of these is love.
Are you struggling in one or more of these virtues? That's why I'm so glad we serve such a loving and merciful God. If this is you, please use these words to call out for help.
Dear Lord,
I long to honor you in everything I say and do. I long to treat those around me as You would. Yet, sometimes I struggle in some areas and I need Your help. I long to be a good example for those around me and sometimes I fail. Lord, I ask that  You will help me in all these areas so that I can grow and become the role model in You that You want me to be. The role model in You that I want to be. Please guide my mind and emotions from here on out. In Your name I pray. Amen.

6 Ways the Bible Tells Us What Church Should Look Like
Donald Miller ruffled quite a few feathers when he recently wrote on his blog that he doesn't regularly attend church.
While I disagree with much of what he said, I won't parse through every point. Others have already done that. But Miller said one thing that bothered me very much. Actually he said two things, but they were part of the same point. His point was that the Bible does not give us specific instructions as to what church should look like, which therefore means that no one can really claim to attend a "biblical" church.
The reason this statement bothered me so much is that it is so blatantly false. To claim that the Bible doesn't tell us what church should look like is to ignore many, many very clear scriptures. To claim that the Bible doesn't tell us what church should look like also allows a person to substitute his own preferences for the clear teaching of scripture, which Don Miller seems to do at numerous points in his blog post.
So what does the Bible have to say about church?
1. A biblical church involves at least two people gathering together in the name of Jesus. "For where two or three are gathered in my name, there am I among them" (Matthew 18:20). Working with a client on a team building exercise, while valuable, is not church. Church consists of believers coming together, in the same physical space, in the name of Jesus Christ. To gather together in the name of Jesus means gathering together to publicly worship Jesus, serve Jesus, and help others love Jesus. If you're not gathering together with other believers in the name of Jesus, don't call yourself a church.
2. A biblical church celebrates the Lord's supper together. 1 Corinthians 11:23–26 says, "For I received from the Lord what I also delivered to you, that the Lord Jesus on the night when he was betrayed took bread, and when he had given thanks, he broke it, and said, 'This is my body which is for you. Do this in remembrance of me.' In the same way also he took the cup, after supper, saying, 'This cup is the new covenant in my blood. Do this, as often as you drink it, in remembrance of me.' For as often as you eat this bread and drink the cup, you proclaim the Lord's death until he comes."
Jesus commanded his followers to regularly come together to remember and celebrate his death. This is a command, not an optional add-on for the Christian life. This isn't about preference or opinion or "connecting with God" (a phrase Miller likes to use). The Lord's supper is a communal event in which the church publicly proclaims the death of Christ. While not expressly forbidden, there isn't a single place in scripture where a person celebrates the Lord's supper by themselves. A biblical church celebrates the Lord's supper. If you're not celebrating the Lord's supper with other believers, don't call yourself a church.
3. A biblical church is led by qualified elders. In Titus 1:5–9, Paul said to Titus: "This is why I left you in Crete, so that you might put what remained into order, and appoint elders in every town as I directed you—if anyone is above reproach, the husband of one wife, and his children are believers and not open to the charge of debauchery or insubordination. For an overseer, as God's steward, must be above reproach. He must not be arrogant or quick-tempered or a drunkard or violent or greedy for gain, but hospitable, a lover of good, self-controlled, upright, holy, and disciplined. He must hold firm to the trustworthy word as taught, so that he may be able to give instruction in sound doctrine and also to rebuke those who contradict it."
Paul insisted that the churches he founded be led by qualified elders. This was so important to Paul that he left Titus behind in Crete for the express purpose of finding and appointing qualified elders for each church. In our post-modern, democratic society, the idea of eldership isn't especially popular, but it is especially biblical. If you're not being led by qualified elders, don't call yourself a church.
4. A biblical church worships in song together. Ephesians 5:18–21 says, "And do not get drunk with wine, for that is debauchery, but be filled with the Spirit, addressing one another in psalms and hymns and spiritual songs, singing and making melody to the Lord with your heart, giving thanks always and for everything to God the Father in the name of our Lord Jesus Christ, submitting to one another out of reverence for Christ."
Notice that this passage has both a vertical and a horizontal dimension to it. We are to be filled with the Spirit, making melody in our hearts to the Lord. We are also to address one anotherwith our psalms, hymns, and spiritual songs. Singing isn't just about you connecting to God or experiencing a particular emotional response. When the church gathers to sing we are also proclaiming truth to one another. Honestly, God isn't primarily concerned with whether or not we like singing or emote when we worship. He is concerned that we proclaim his goodness and glory to Him and to one another through song. If you're not singing to the Lord and to one another, don't call yourself a church.
5. A biblical church maintains corporate holiness through church discipline. Matthew 18:17says, "If he refuses to listen to them, tell it to the church. And if he refuses to listen even to the church, let him be to you as a Gentile and a tax collector." The church really is a place of spiritual protection. Jesus expects his followers to help one another pursue holiness. If a Christian begins to engage in serious sin, Jesus expects the members of his Christian community to lovingly rebuke him. If the person refuses to repent of his sin, the entire church is expected to get involved.
This process presupposes that a Christian will be vitally connected to other Christians. The reality is, the process of discipline can't happen apart from a local church. If you're not maintaining holiness through church discipline, don't call yourself a church.
6. A biblical church is a place where Christians can use their spiritual gifts to bless one another. 1 Corinthians 14:26 says, "What then, brothers? When you come together, each one has a hymn, a lesson, a revelation, a tongue, or an interpretation. Let all things be done for building up."
In writing this verse, Paul was clearly assuming that the Corinthians would be gathering together on a regular basis in the name of Jesus for the purpose of worshiping together. When they gathered together, they were to use their spiritual gifts to build one another up. It is impossible to build other Christians up if you're not regularly gathering together with other Christians in the context of corporate worship. If you're not using your spiritual gifts to build other Christians up, don't call yourself a church.
Contrary to what Donald Miller says, attending church is not about tribalism, or learning styles, or opinion, or preference. Attending church is a matter of obedience.
And there really is such a thing as a biblical church.
---
Stephen Altrogge serves as a pastor at Sovereign Grace Church. Find out more at The Blazing Center.
Saint Theophilus of Corte
Saint of the Day for 
May 19
(
October 30, 1676

 – 

June 17, 1740

)

https://www.franciscanmedia.org/wp-content/uploads/2016/08/SODMay19.mp3
Saint Theophilus of Corte's Story
If we expect saints to do marvelous things continually and to leave us many memorable quotes, we are bound to be disappointed with Saint Theophilus. The mystery of God's grace in a person's life, however, has a beauty all its own.
Theophilus was born in Corsica of rich and noble parents. As a young man, he entered the Franciscans and soon showed his love for solitude and prayer. After admirably completing his studies, he was ordained and assigned to a retreat house near Subiaco. Inspired by the austere life of the Franciscans there, he founded other such houses in Corsica and Tuscany. Over the years, he became famous for his preaching as well as his missionary efforts.
Though he was always somewhat sickly, Theophilus generously served the needs of God's people in the confessional, in the sickroom, and at the graveside. Worn out by his labors, he died on June 17, 1740. He was canonized in 1930.
---
Reflection
There is a certain dynamism in all the saints that prompts them to find ever more selfless ways of responding to God's grace. As time went on, Theophilus gave more and more single-hearted service to God and to God's sons and daughters. Honoring the saints will make no sense unless we are thus drawn to live as generously as they did. Their holiness can never substitute for our own.
---
Another Saint of the Day for 
May 19

 is Saint Dunstan.
Saint Dunstan's Story
Saint Dunstan was born in Glastonbury, England into a noble family. He was educated by the Irish monks and sent to the court of King Athelstan at a young age. He eventually became a Benedictine monk and a priest being ordained by his uncle, Saint Alphege, the bishop of Winchester.
Saint Dunstan's quiet life as a monk didn't last very long as he was called by King Edmund to be abbot of Glastonbury Abbey. There he developed the abbey into a center of learning. At the death of King Edmund, Dunstan entered the service of King Edred and proceeded to reform all of the monasteries in Edred's realm. When Edwy succeeded his uncle King Edred, Saint Dunstan called him out on his immoral life, and Edwy banished him from the realm. Edwy, in turn, was ousted by a rebellion and was replaced by his brother Edgar who appointed Saint Dunstan as Bishop of Worcester and London, and then as Archbishop pf Canterbury. Saint Dunstan was made a legate by Pope John XII and, with the help of Saint Ethelwold and Saint Oswald, continued the reform of both the Church and the state.
Saint Dunstan's political influenced soon diminished and he retired to Canterbury to teach at the Canterbury school.
Saint Dunstan was a noted musician who both played the harp and composed several hymns. His most notable composition as the Kyrie Rex splendens. He was also a metal worker, and he illuminated manuscripts.
---
Reflection
Ecclesiastical and civil positions of power and the life of a monk often have little in common, but sometimes a person is called to serve in situations that don't always respect one's chosen lifestyle. The call to serve can involve great sacrifice. But the Lord rewards generosity and and willing heart.
---
Saint Dunstan is the Patron Saint of:
Bell Ringers
Blacksmiths

A Call to Godly Living
The apostle Paul lived in an age when sensuality, the pursuit of pleasure, and rebellion against the Lord were prevalent. In response, he wrote letters urging Christians not to follow in the ways of the world. Like those early believers, we are to pursue godliness by…
Presenting our bodies to God. Our total being–mind, will, emotions, personality, and physical body–are to be turned over to our heavenly Father (James 4:7a). Submitting ourselves to the Lord requires a definite decision to give Him control and a daily commitment to remain under His authority. By surrendering to Him, we will position ourselves for godly living.
Becoming living sacrifices. The Christian life is built around the concept of sacrifice. Jesus left the perfection of heaven to dwell among a sinful people so He might reconcile us to God. He offered up His life to make payment for our sins (1 John 3:16) and brought us into His family. As believers, we are to follow His example. Paul called it a living sacrifice, because it is ongoing–one that is repeated daily.
Life is full of options. Many decisions involve a choice between following God's way or our own. Maturing Christians will increasingly sacrifice their own desires and embrace His will.
A life of godliness is characterized by a heart and mind bent toward the things of God. Although we will live imperfectly, our focus is to be on obeying His will and pleasing Him. Let's commit to becoming more like Jesus, the One who willingly gave Himself to God as a sacrifice for us.
For more biblical teaching and resources from Dr. Charles Stanley, please visit www.intouch.org.
Used with permission from In Touch Ministries, Inc. (c) 2018 All Rights Reserved.

The Beauty of Pain
News about him spread all over Syria, and people brought to him all who were ill with various diseases, those suffering severe pain, the demon-possessed, those having seizures, and paralyzed, and he healed them. –Matthew 4:24
Pain is something most of us try to avoid, at all costs. It's the reason some of us are trapped in addictions and hate the thought of each new day. But pain is also one of the best things that God allows in our lives. Pain is a great motivator. It lets you know that there is something that you need to pay attention to. It lets you know when doing things your way no longer works. It's a tool that when used to your benefit will redirect your life.
But in that redirection, you have a choice. You can chose to cover the pain to treat the symptom and never treat the cause. Or you can do a little work, find the cause, and deal with it once and for all.
You might continue in life with the pain, like a pointed stick poking at your spirit, but never doing anything about it. But that pain is telling you to back up, take an inventory of your actions and attitudes, to make amends with someone, to seek help from someone who's been there before or has experience you don't have. It's also telling you that God is in charge, and you're not.
So, accept pain as your friend. Make the choice to deal with the root issue, and not just the resulting pain. When the issue is dealt with, the pain will subside. Pain is part of your healing, but if you deal with it wisely, it will lead to a road of freedom and a pathway of lasting joy.
"Pain is short and joy is eternal." -J. C. F. Von Schiller (1759-1805)

From Grace for the Moment®: Morning and Evening Edition by Max Lucado
Captured Thoughts
We capture every thought and make it give up and obey Christ. – 2 Corinthians 10:5
Capturing thoughts is serious business. It was for Jesus. Remember the thoughts that came his way courtesy of the mouth of Peter? Jesus had just prophesied his death, burial, and resurrection, but Peter couldn't bear the thought of it. "Peter took Jesus aside and told him not to talk like that. . . . Jesus said to Peter, 'Go away from me, Satan! You are not helping me! You don't care about the things of God, but only about the things people think are important'" (Matthew 16:22-23).
See the decisiveness of Jesus? A trashy thought comes his way. He is tempted to entertain it. A cross-less life would be nice. But what does he do? He stands at the gangplank of the dock and says, "Get away from me." As if to say, "You are not allowed to enter my mind." What if you did that? What if you took every thought captive?
– From A LOVE WORTH GIVING

What Jesus Did!

 'Plotting His Death'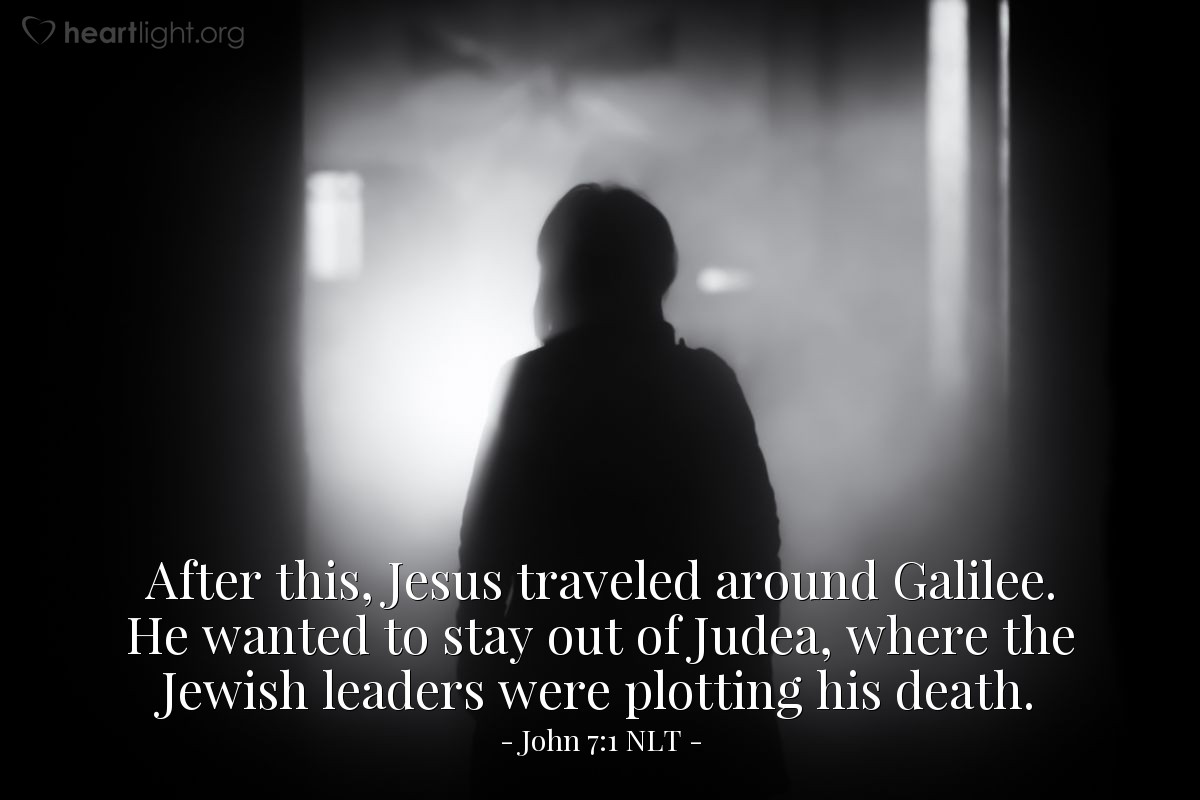 Key Thought
Jesus stays away from Judea … at least for now … until the time is God's time. Jesus will not be hurried or rushed by the agenda of others. He follows God's timetable, not ours or his family's or anyone else's. He concentrated his work on teaching people who needed God's grace and the places that were ready to receive his message. He was wise and prudent even under pressure, and he didn't allow the threats to curtail his service. What a powerful message for us today, especially for those of us who sometimes find ourselves in horrible and challenging circumstances.
Today's Prayer
Give me strength, O God, and a pure heart for my journey to you. Don't let me be deterred by those who would seek to dilute my faith or derail my sense of mission. At the same time, dear Father, please help me honor the people around me with respect. Give me the wisdom to know how to honor those I should honor while remaining true to you. In Jesus' name, I pray. Amen.
Related Scripture Readings
Daily Wisdom:

 Proverbs 15:17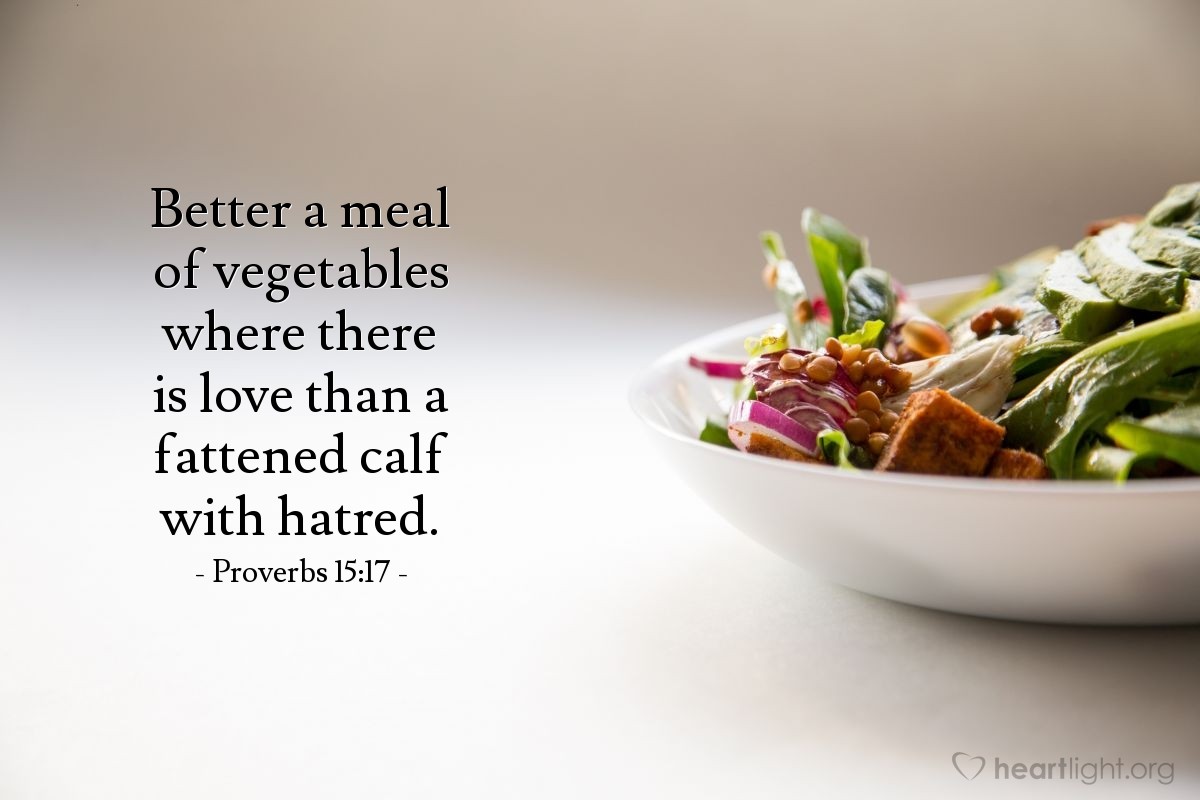 Spiritual Warfare:

 'God Knows All About Me!'

God's Power for Our Battles

Lord, you have examined me and know all about me. You know when I sit down and when I get up. You know my thoughts before I think them. You know where I go and where I lie down. You know everything I do.
Today's Prayer
Lord, many people — even Christians — seem to think You are far away and care little about the intricate details of daily life and everyday struggles. Remind me that this is not true. You know my worries and fears, my daily pains and problems, and even the number of hairs on my head. Thank You for caring. Thank You for being involved, and for listening to my many prayers and concerns. Nothing is beyond You, Lord, and I praise You for being the God who cares. In Jesus' Name, Amen.

And he asked that he might die.
1 Kings 19:4
It was a remarkable thing that the man who was never to die, for whom God had ordained an infinitely better lot, the man who would be carried to heaven in a chariot of fire and be translated and not see death, should thus pray, "Take away my life, for I am no better than my fathers." We have here a memorable proof that God does not always answer prayer in kind, though He always does in effect. He gave Elijah something better than what he asked for, and thus really heard and answered him. It was strange that the lion-hearted Elijah should be so depressed by Jezebel's threat as to ask to die, and yet it was so kind on the part of our heavenly Father not to take His desponding servant at his word.
There is a limit to the doctrine of the prayer of faith. We are not to expect that God will give us everything we choose to ask for. We know that we sometimes ask and do not receive because we ask wrongly. If we ask for that which is not promised—if we run counter to the spirit that the Lord would have us cultivate—if we ask contrary to His will or to the decrees of His providence—if we ask merely for selfish gratification and without a concern for His glory, we must not expect that we will receive. But when we ask in faith, without doubting, if we do not receive the precise thing for which we asked, we shall receive an equivalent, and more than an equivalent, for it. As one remarks, "If the Lord does not pay in silver, He will in gold; and if He does not pay in gold, He will in diamonds." If He does not give you precisely what you ask for, He will give you that which is tantamount to it, and that which you will be happy to receive in its place.
So, dear reader, be much in prayer, and make this evening a time of earnest intercession, but be careful what you ask for!
ARMED FORCES DAY
Armed Forces Day is a day to pay tribute to the men and women who serve the United States Armed Forces.  Armed Forces Day, which is celebrated on the third Saturday in May, is part of Armed Forces Week.
HOW TO OBSERVE
Use #ArmedForcesDay to post on social media.
HISTORY
It was with the idea for citizens to come together and thank our military members for their patriotic service in support of our country that President Harry S. Truman led the effort to establish this single holiday. The one-day celebration then stemmed from the unification of the Armed Forces under the Department of Defense.  It was on August 31, 1949, that Secretary of Defense Louis Johnson announced the creation of an Armed Forces Day to replace separate Army, Navy, Marine Corps, U.S. Coast Guard and Air Force Days.
Parades, open houses, receptions and air shows were held to celebrate the first  Armed  Forces  Day held on May 20, 1950.
1962 – President John F. Kennedy established Armed Forces Day as an official holiday.
The United States longest running city-sponsored Armed Forces Day Parade is held in Bremerton, Washington.
2012 – Bremerton celebrated the 64th year of the Armed Forces Day Parade.
For more information and an Armed Forces Day Poster see:  http://www.defense.gov/afd/
Well, this week my honey-bun, Duane, will be gone trucking again….my prayers go with him!  He's team-driving with his brother, Gary…….I hope my ears don't burn too much!!  His family is in my thoughts daily and I know that they no longer like or trust me…….whatever I did, well, I guess they can't forgive…….and the treatment my son received, well, I find impossible to forget!  
And also, still no word from my daughter…….I guess she ran out of forgiveness and kindness, too!
Yes, I am feeling alone lately…….stress plagues me constantly…..is this causing my chest pains and attacks?  Please, Lord, give me strength!!!