Christoph Friedrich Blumhardt
Such prayer is right, and approved by God our Saviour, whose will it is that all men should find salvation and come to know the truth. 1 Timothy 2:3-4, NEB
Lord our God, give us your Spirit, we pray, that we may learn to understand what we are and what tasks you have set for us. We thank you for all the light you give us. Grant that we and many others may come closer to knowledge of the truth and be at peace about all that belongs in your hands, our Father in heaven. Keep us now and forevermore in your almighty hand. May we know your goodness and the blessing it brings. For through your goodness we can endure even the hardest days and be victorious in the battle of life. Amen.
TODAY'S DAILY DIG
Christ's future is not one single point in an absolute remoteness for which we are to wait – a mere coming event. This is hardly thinkable, for we would probably all go to sleep over it. Christ's future is now, or it is not at all. It must become an experience of every individual believer and for every congregation. God's deed through Jesus Christ must be your experience, today and tomorrow and every day.
Source: Action in Waiting
Verse of the Day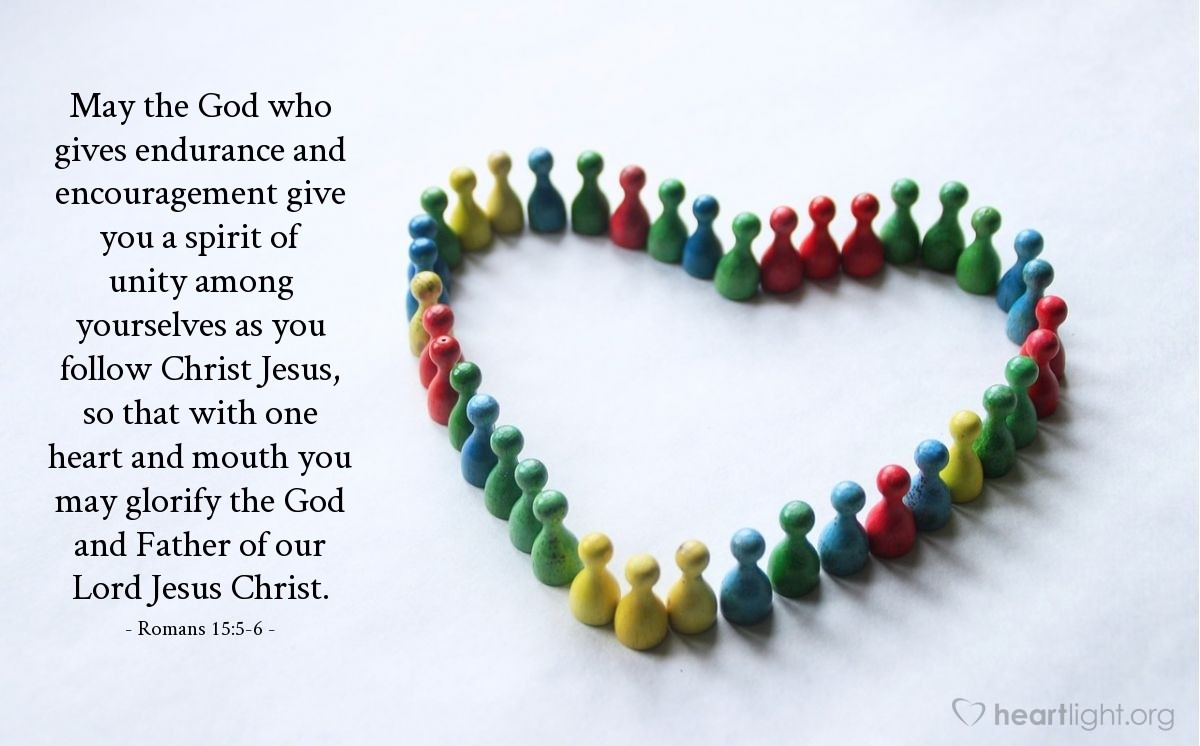 Thoughts on Today's Verse…
Unity comes from God's Spirit as we follow Jesus. But, unity has a purpose much deeper than our getting along with each other. Jesus prayed we would be one so that the world would know that God sent Jesus into the world as his Son (John 17). We want to be united so that our praise can bring glory to God. Unity is far more than a goal. Unity is a process through which the world learns of Jesus. At the same time, we glorify the Father who sent Jesus to save us. Leading others to Jesus and glorifying God are what living for Jesus is all about! Let's make unity our passion!
My Prayer…
Great and Almighty God, Eternal Strength for all who call on your name, I apologize and ask your forgiveness for everything I've done and every word I've spoken that have hurt others in your family and brought a wound to the unity of your Church. Please bless my efforts as I seek less of my will, seek to live for your glory, and seek to encourage others. In the name of Jesus I pray. Amen.
Pentecost is a special day of worship. The feast marks the end of the Easter season for Christians and commemorates the outpouring of the Holy Spirit on the early followers of Jesus. The Church of God, which began on Pentecost which we read about in Acts 2 is given the mission of preaching the Good News of the Kingdom of God. This was a part of God's much bigger plan, the return of Jesus Christ. On Pentecost Sunday, Christians around the world will celebrate this holy day, with symbols of flames, a dove and wind marked throughout churches.
If you're on church this Sunday, you'll likely read a passage from John's Gospel, which tells of a visit of the Risen Christ to the disciples huddled in fear. "'Peace be with you,' Jesus says. 'As the Father sent me, so I am sending you.' After saying this, Jesus breathed on them and added, 'Receive the Holy Spirit.'" (John 20:19-23). Pentecost celebrates the reality that we are God-breathed beings. Though this holy day is not recognized by all Christians, the Pentecost was a monumental turning point in Christian history, considered by many to be the birthday of the church. Pentecost is a great time to witness for your church. Here are five things you should know about Pentecost and why we celebrate it:
Pentecost Comes 10 Days After the Ascension of Christ
Before Jesus was crucified, He told the disciples that the Holy Spirit would come after Him. Jesus said: "And I will ask the Father, and he will give you another Counselor to be with you forever – the Spirit of truth. The world cannot accept him, because it neither sees him nor knows him. But you know him, for he lives with you and will be in you. I will not leave you as orphans; I will come to you" (John 14:16-18). Just as Jesus said, 40 days after the resurrection (10 days after He ascended into heaven), the promise was fulfilled when Peter and the early Church were in Jerusalem for Pentecost.
It Occurs 50 Days After Easter
The English word "Pentecost" is translated from the Greek work pentekostos which means "fifty". This comes from the ancient Christian expression "pentekoste hemera" which means "fiftieth day". In fact, Christians borrowed the phrase from Greek-speaking Jews who used the phrase to refer to a Jewish Holiday known as the Festival of the Weeks. Leviticus 23:16 instructs people to count seven weeks (50 days) from the end of Passover to the beginning of the next holiday. Jews celebrate Pentecost 50 days after the end of Passover. Christians observe the day 50 days after Easter.
The Pentecost Is Recorded In Acts 2:1-13
Pentecost is recorded in the New Testament in the Book of Acts. The account begins with the Holy Spirit descending on a group of followers who, upon receiving it, begin to speak in tongues. The Bible tells us "And when the day of Pentecost was fully come, they were all with one accord in one place. And suddenly there came a sound from heaven as of a rushing mighty wind, and it filled all the houses where they were sitting. And there appeared unto them cloven tongues of fire, and it sat upon each of them. And they were all filled with the Holy Spirit and began to speak in other tongues, and the spirit gave them utterance" (Acts 2:1-4).
Pentecost is the Birthday of the Church
Many Christians recognize Pentecost as the birth, or the birthday of the church as it commemorates the establishment of the church as a result of the Apostles' teachings on the gospel and the baptism of thousands of followers. Pentecost is when the Apostles went out among the people and began spreading Jesus' message, thus establishing the beginning of the church. With the decent of the Holy Spirit, a New Covenant is inaugurated. It is one of the most ancient feasts in the Church, mentioned in the Acts of the Apostles (20:16) and Paul's First Letter to the Corinthians. Pentecost can be a powerful celebration and a reminder that the Holy Spirit came with power to empower our witness to the Risen Christ. It is the perfect time to remind believers in your church that our Heavenly Father will empower our witness.
Some People Thought the Followers Were Drunk
The languages spoken by the early Christians were heard by thousands of Jewish pilgrims who were in Jerusalem to celebrate Shavuot, and those languages were intelligible. Those who were there spoke of the miraculous messages connected with God's mighty works. While those who heard the messages in their own languages were amazed, others thought the Christians were just drunk, particularly because it was a feast day for the Jews.
Ultimately, Pentecost is the Church's celebration of the Gift of the Holy Spirit. God's Holy Spirit empowers us with the love of God, the motivation to obey Him and a sound mind to discern the truth (2 Timothy 1:7; John 15:26; John 16:13).As Christians, we experience new life through Jesus Christ because we see the Spirit so fully manifested in Him. When we celebrate Pentecost, we are acknowledging that only the Holy Spirit can empower our witness. There is incredible hope and power in this. Without the power of the Holy Spirit, there is no hope that will be enabled to live out the Gospel and Christ's mission.
A Prayer for Repentance
By Dr. Charles Stanley
If we confess our sins, he is faithful and just and will forgive us our sins and purify us from all unrighteousness. – 1 John 1:9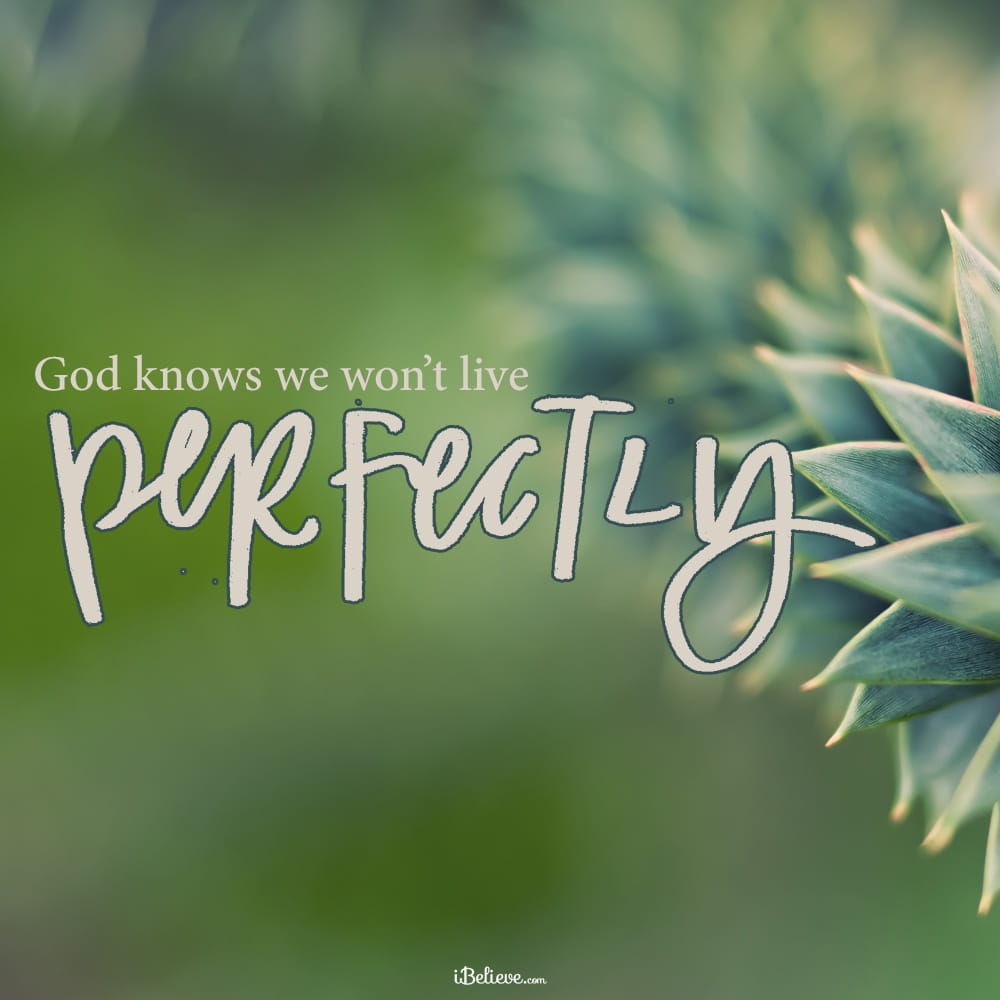 Because we desire to be more like Jesus, we make resolutions, ask Him to help us, and try to behave differently. Yet despite our best efforts to do things God's way, we slide back into old habits. Frustrated, we may ask Him, "Why can't I change?" The reason is, overcoming sinful attitudes and behaviors starts with genuine repentance, which has three aspects.
3 Steps of True Repentance
Conviction. The Holy Spirit will reveal the areas in which we've sinned and convict us of wrongdoing. Through Scripture, the Spirit shows us God's standard and what needs to change. Repentance begins with understanding where we have gone astray.
Contrition. The next step–grieving over our iniquity–is followed by confession to the Lord. Genuine sorrow arises from the knowledge that we've sinned against Him. In contrast, human unhappiness often comes from being caught misbehaving. Other times we are miserable because of where our choices led us, or feel shame that people know about our sin. True contrition is followed by humble confession.
A Prayer for Repentance
Dear Lord, thank you for your forgiveness. Thank you for not abandoning us to our mistakes, but for reaching out instead to bring us home. Help convict me of sin and help me accept your mercy without shame. Thank you for the love you have poured out for me and all of your children. Help me live out of that love today. In Jesus' Name, Amen.
Saint Bernardine of Siena
Saint of the Day for 
May 20
(

September 8, 1380

 – 
May 20, 1444

)

https://www.franciscanmedia.org/wp-content/uploads/2016/08/SODMay20.mp3
Saint Bernardine of Siena's Story
Most of the saints suffer great personal opposition, even persecution. Bernardine, by contrast, seems more like a human dynamo who simply took on the needs of the world.
He was the greatest preacher of his time, journeying across Italy, calming strife-torn cities, attacking the paganism he found rampant, attracting crowds of 30,000, following St. Francis of Assisi's admonition to preach about "vice and virtue, punishment and glory."
Compared with Saint Paul by the pope, Bernardine had a keen intuition of the needs of the time, along with solid holiness and boundless energy and joy. He accomplished all this despite having a very weak and hoarse voice, miraculously improved later because of his devotion to Mary.
When he was 20, the plague was at its height in his hometown of Siena. Sometimes as many as 20 people died in one day at the hospital. Bernardine offered to run the hospital and, with the help of other young men, nursed patients there for four months. He escaped the plague, but was so exhausted that a fever confined him for several months. He spent another year caring for a beloved aunt whose parents had died when he was a child, and at her death began to fast and pray to know God's will for him.
At 22, he entered the Franciscan Order and was ordained two years later. For almost a dozen years he lived in solitude and prayer, but his gifts ultimately caused him to be sent to preach. He always traveled on foot, sometimes speaking for hours in one place, then doing the same in another town.
Especially known for his devotion to the Holy Name of Jesus, Bernardine devised a symbol—IHS, the first three letters of the name of Jesus in Greek—in Gothic letters on a blazing sun. This was to displace the superstitious symbols of the day, as well as the insignia of factions: for example, Guelphs and Ghibellines. The devotion spread, and the symbol began to appear in churches, homes and public buildings. Opposition arose from those who thought it a dangerous innovation. Three attempts were made to have the pope take action against him, but Bernardine's holiness, orthodoxy, and intelligence were evidence of his faithfulness.
General of the Friars of the Strict Observance, a branch of the Franciscan Order, Bernardine strongly emphasized scholarship and further study of theology and canon law. When he started there were 300 friars in the community; when he died there were 4,000. He returned to preaching the last two years of his life, dying while traveling.
---
Reflection
Another dynamic saint once said, "…I will not be a burden, for I want not what is yours, but you…. I will most gladly spend and be utterly spent for your sakes" (2 Corinthians 12:14). There is danger that we see only the whirlwind of activity in the Bernardines of faith—taking care of the sick, preaching, studying, administering, always driving—and forget the source of their energy. We should not say that Bernardine could have been a great contemplative if he had had the chance. He had the chance, every day, and he took it.
---
Saint Bernardine of Siena is the Patron Saint of:
Advertising
Gambling
Italy
Public relations

Spirit Gusher
Pastor Mark Jeske
It's not as though the Son of God made his first appearance on earth when he was born in Bethlehem. The Old Testament tells us of various appearances of the "angel of the Lord" who spoke and acted like the second person of the Trinity. And it's not as though the Holy Spirit had to wait until Pentecost to make his grand entrance. The Old Testament is full of references to the "Spirit of the Lord."
But here's what changed 50 days (in Greek pentekostos means "50th") after Easter: Jesus more than compensated his apostles for his absence by not only sending but outpouring a gusher of the Spirit upon the believers. Jesus told his nervous disciples a few hours before his arrest: "I will ask the Father, and he will give you another Counselor to be with you forever–the Spirit of truth. The world cannot accept him, because it neither sees him nor knows him. But you know him, for he lives with you and will be in you" (John 14:16,17).
You may think that on Sundays you go to church. What a concept that in fact you are the church! Yes! Seriously! The Holy Spirit, the third person of the Trinity, actually lives within you, creating and nourishing the faith you need through the Word, changing your life to be more Christ-like, maturing your understanding, and tuning you up to be all that he has created you to be.

The Deserts of Life
Therefore I am now going to allure her; I will lead her into the desert and speak tenderly to her. – 
Hosea 2:14
The Old Testament book of Hosea is a beautiful story of the depths of God's love for His people. The short version is this: Hosea was directed by God to marry a prostitute named Gomer. Even though Hosea knew before hand that she would be unfaithful, he won her back with unconditional love.
It was a picture of the nation Israel, who time and time again prostituted itself in disobedience to God. But each time, God would love her and bring her back into the fold. But more importantly to us today, it's a picture of each of us. We run from God. We sell ourselves for the pleasures of the flesh. We prostitute ourselves spiritually. Yet God still loves us and takes us back each and every time.  It's amazing, but it's true . . . God is a God of second chances.
The above passage in Hosea refers to leading her into the desert to speak tenderly to her there. Boy did that jump out at me! When I have an experience that leads me into the desert, it's a feeling of desolation and desertion. I start to believe that Jesus isn't there, that he just left the building. But the reality of it is that God put me there at that exact place and time so I can hear from him. Sometimes God wants us all to Himself, with no distractions, so he can talk to us . . . speak tenderly to us.
In order to listen to someone speaking tenderly to you, you have to be quiet . . . you have to be still. If it takes leading you to the desert, God will do that. When he does, listen!
"Gentlemen, listen to me slowly." – Samuel Goldwyn (1882-1974)

From Forever in Love
Labor
Love isn't all hugs and laughter. Love that's deep and solid also involves hard work and sweat. Spend time working with your beloved. When it's tough, do it tough. When it's easy, do it easy. Then take the time to stand back and enjoy the fruits of your labor together.
Two are better than one, because they have a good reward for their labor. –Ecclesiastes 4:9

What Jesus Did!

 'They Just Don't Get It!'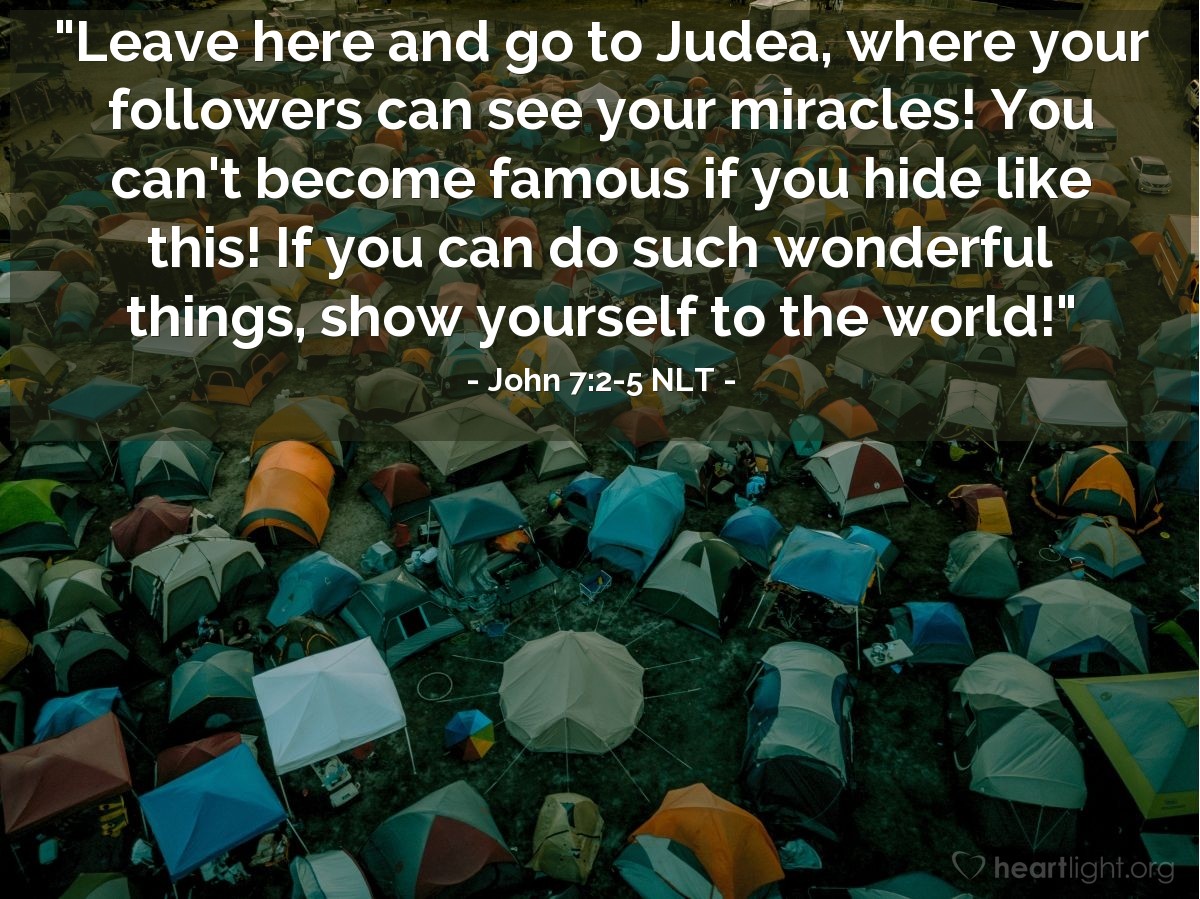 Key Thought
Imagine how hard it must have been for Jesus. His family just didn't get it. The Lord's physical half brothers and sisters didn't understand and didn't believe until after his resurrection. Jesus didn't do miracles to "show out" for his disciples but to give them a sign to look beyond what they were seeing and understand that he had come from God. Jesus wasn't trying to be a public figure, but instead, he resisted the crowd's desires to make him king. The things that would ultimately draw people to him would be the cross and the resurrection. His signs, the very miraculous things his brothers tried to goad him to perform, brought a stronger faith to some, only more questions to others, and a determined rejection of him to even others. Jesus wouldn't be bullied, teased, or ridiculed into anything. He would follow God's timing and do things God's way.
Today's Prayer
Holy and faithful Father, please give me more patience to wait for the right moment to do what you want me to do and the courage to do it with passion and faith. Give me the strength to resist any negative peer influences upon me. Forgive me, loving Father, for the times I have gone with the crowd so I would be accepted and have not stuck to your plan no matter the cost. In Jesus' name, I pray. Amen.
Related Scripture Readings
Daily Wisdom:

 Proverbs 3:34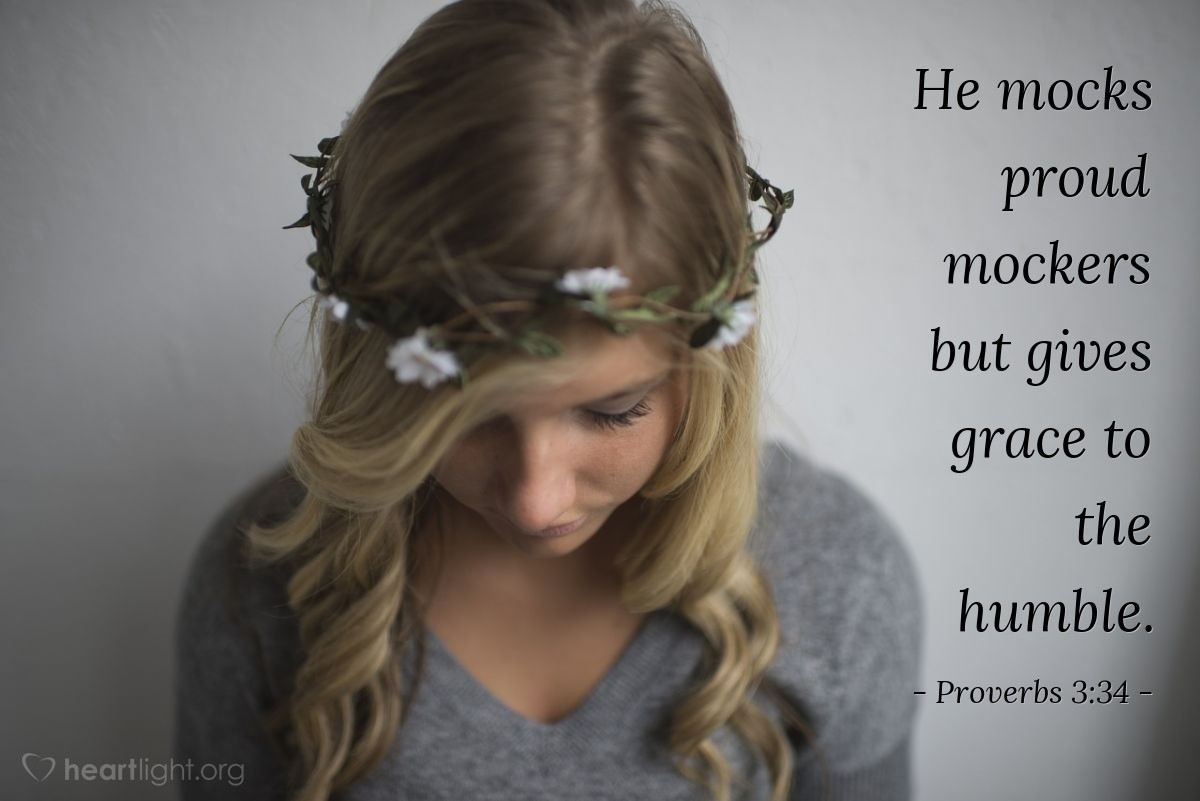 Spiritual Warfare:

 'Harassed by Satan?'

God's Power for Our Battles

Because of the surpassing greatness and extraordinary nature of the revelations [which I received from God], for this reason, to keep me from thinking of myself as important, a thorn in the flesh was given to me, a messenger of Satan, to torment and harass me — to keep me from exalting myself!
Today's Prayer
Lord, I know You can use anything — seen or unseen — to put me in my place or lead me to a deeper understanding of Your sovereignty. Forgive me for limiting Your work in the past by making assumptions that may not be true. I thought my faith made me immune to demonic attack, but if You allowed this — even ordained it — in Paul's life then there's nothing to prevent You using it in mine. I submit to Your plan, Lord, so please use whatever is necessary to humble me before You and cause me to be faithful and develop me into a useful servant for your work in the world. In Jesus' name, Amen.
Illustration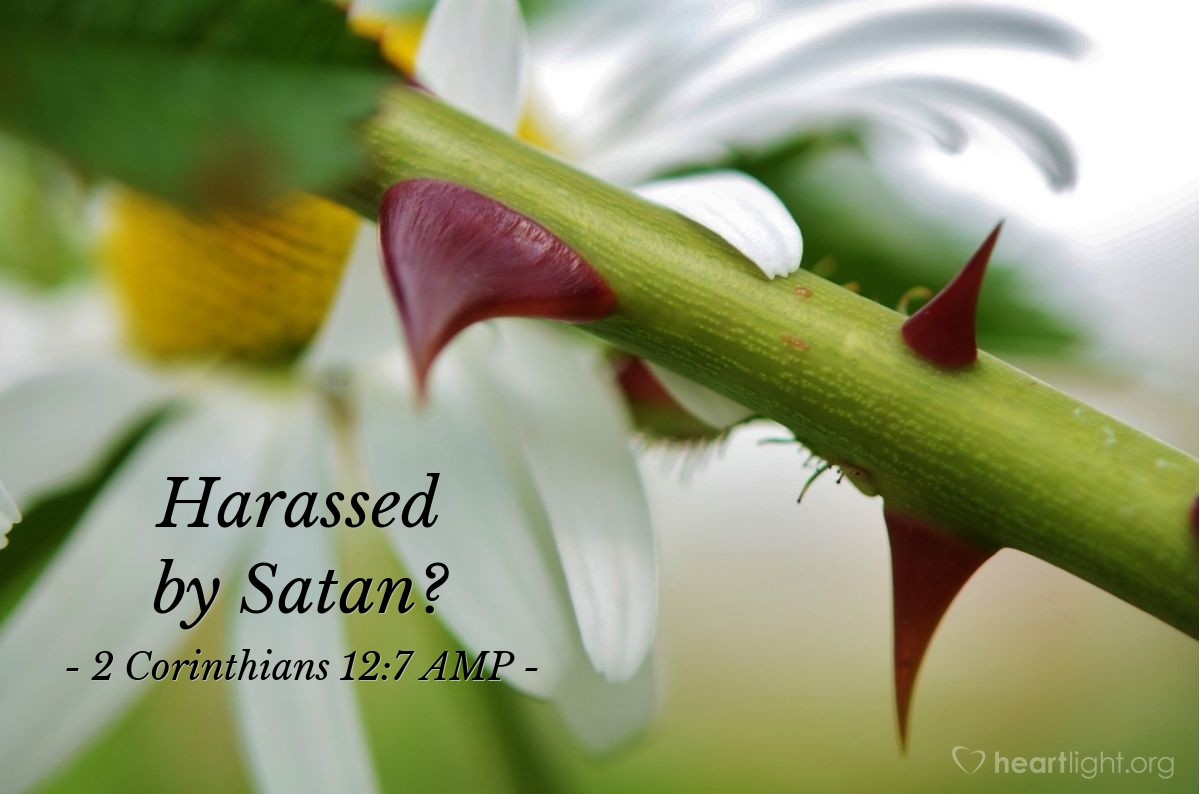 I led them with cords of kindness, with the bands of love.
Hosea 11:4
Our heavenly Father often leads us with the cords of love; but how slow we are to run toward Him! How reluctantly we respond to His gentle impulses! He leads us to exercise a more simple faith in Him; but we have not yet learned to trust like Abraham. We do not leave our worldly cares with God, but, like Martha, we burden ourselves with much serving. Our meager faith brings leanness to our souls; we do not open our mouths wide, though God has promised to fill them.
Does He not this evening lead us to trust Him? Can we not hear Him say, "Come, My child, and trust Me. The curtain is opened; enter into My presence, and come boldly to the throne of My grace. I am worthy of your complete confidence; cast your cares on Me. Shake yourself from the dust of your cares, and put on the garments of joy." But, sadly though called with tones of love to the blessed exercise of this comforting grace, we will not come.
At another time He leads us to closer communion with Himself. We have been sitting on the doorstep of God's house, and He invites us into the banqueting hall to eat with Him, but we decline the honor. There are secret rooms not yet opened to us, which Jesus invites us to enter, but we hold back.
Shame on our cold hearts! We are but poor lovers of our sweet Lord Jesus, not fit to be His servants, much less to be His brides, and yet He has exalted us to be bone of His bone and flesh of His flesh, married to Him by a glorious marriage-covenant.
Herein is love! But it is a love that takes no denial. If we do not obey the gentle leadings of His love, He will send affliction to drive us into closer intimacy with Himself. He is determined to bring us close to Him. What foolish children we are to refuse those bands of love, and in doing so to bring upon ourselves painful discipline, which He exercises for our good!
Pentecost
As recorded in Acts of the Apostles, chapter 2, the Apostles proclaimed the Gospel for the first time on Pentecost. When all was said and done, 3,000 people had been added to the Church. That must have been some proclamation!
What accounts for its power? The crowds who gathered to hear the Apostles weren't "wowed" by healings or miracles or impressed by soaring rhetoric. Rather, what captured their imagination was the total lack of inhibition displayed by the Apostles; so much so that the crowds commented that perhaps these followers of Jesus had been drinking too much wine. And in truth, the Apostles were preaching while intoxicated—not with "spirits," but with the Holy Spirit. The crowds saw a group of men who should have been terrified to set foot in public taking to the streets filled with uninhibited joy and enthusiasm for Jesus Christ. It was this dramatic and observable transformation in the behavior of a small group of former fishermen and tax collectors that caught the attention of thousands and led them to "sign on" that very day.
Easter Action
A fundamental element of Pentecost is astonishment. Our God is a God of astonishment; this we know. No one expected anything more from the disciples: after Jesus' death they were a small, insignificant group of defeated orphans of their Master. There occurred instead an unexpected event that astounded: the people were astonished because each of them heard the disciples speaking in their own tongues, telling of the great works of God (cf. Acts 2:6–7, 11). The Church born at Pentecost is an astounding community because, with the force of her arrival from God, a new message is proclaimed—the resurrection of Christ—with a new language, the universal one of love. A new proclamation: Christ lives, he is risen. A new language: the language of love. The disciples are adorned with power from above and speak with courage. Only minutes before, they all were cowardly, but now they speak with courage and candor, with the freedom of the Holy Spirit.
Thus the Church is called into being forever, capable of astounding while proclaiming to all that Jesus Christ has conquered death, that God's arms are always open, that his patience is always there awaiting us in order to heal us, to forgive us. The risen Jesus bestowed his Spirit on the Church for this very mission.
Take note: if the Church is alive, she must always surprise. It is incumbent upon the living Church to astound. A Church that is unable to astound is a Church that is weak, sick, dying, and that needs admission to the intensive care unit as soon as possible!
—Excerpted from Walking with Jesus by Pope Francis
Reflect on the Gospel for Pentecost with the Sunday Connection.
God speaks to us in many ways, including through the Sunday Scripture readings. The Sunday Connection provides useful background and activities to better understand the upcoming Sunday's Scripture readings, helping you to connect the Scripture to daily life in a meaningful way.
Gospel Reading
John 20:19-23
Jesus appears to his disciples and gives them the gift of the Holy Spirit.
---
Family Connection
Pentecost is sometimes called the birthday of the Church. The Gospel for Pentecost reminds us that the Church begins with the command to forgive. Within the family, the domestic church, we learn how to forgive and how to accept forgiveness. The gift of the Holy Spirit enables us to do both. Today is a fitting time to share a family celebration of reconciliation.As you gather together as a family, sit quietly for a few minutes, inviting everyone to reflect upon their need to forgive and to receive forgiveness. If there is a situation or issue within the family that needs attention, spend some time reflecting on how your family might address it. Read together today's Gospel, John 20:19-23. Talk together about how Jesus gave us the gift of the Holy Spirit to help us in the work of forgiveness and to bring us peace. Pray together today's psalm or the Prayer to the Holy Spirit, asking that the Holy Spirit help your family. Share with one another the Sign of Peace.
Background on the Gospel Reading
The season of Easter concludes with today's celebration, the feast of Pentecost. On Pentecost we celebrate the descent of the Holy Spirit upon the apostles gathered in the upper room in Jerusalem; this event marks the beginning of the Church. The story of Pentecost is found in the Acts of the Apostles, today's first reading. The account in today's Gospel, John 20:19-23, also recounts how Jesus gave the gift of the Holy Spirit to his disciples. Yet the event in John's Gospel takes place on Easter Sunday. There is no need to try to reconcile these two accounts. It is to we know that after his death, Jesus fulfilled his promise to send to his disciples a helper, an Advocate, who would enable them to be his witnesses throughout the world.
In the context of the feast of Pentecost, John 20:19-23 reminds us about the integral connection between the gifts of peace and forgiveness and the action of the Holy Spirit. Jesus greets his disciples with the gift of peace. Jesus then commissions his disciples to continue the work that he has begun: "As the Father has sent me, so I send you." He breathes the Holy Spirit upon the disciples and sends them to continue his work of reconciliation through the forgiveness of sins. Jesus' act of breathing the Holy Spirit upon the apostles mirrors God's act of breathing life into Adam. In fact, both the Greek and Hebrew words for "spirit" can also be translated as "breath." This Gospel reminds us that the Church is called to be a reconciling presence in the world. The reconciling presence of Christ is celebrated in the Church's sacramental life. In the Sacrament of Baptism, we are cleansed of sin and become a new creation in Christ. In the Sacrament of Penance, the Church celebrates the mercy of God through the forgiveness of sins. This reconciling presence is also to be a way of life for Christians. In situations of conflict, we are to be agents of peace and harmony among people.
Becoming a Mighty Man
TGIF Today God Is First Volume 1 by Os Hillman
May 20, 2018
"All those who were in distress or in debt or discontented gathered around him, and he became their leader. About four hundred men were with him." – 1 Samuel 22:2
Have you ever felt that you could accomplish a whole lot more if you had more talented people around you? Perhaps you are in an office and think that some of your fellow workers don't quite measure up. Imagine what David must have thought in the years following his anointing by the prophet Samuel as the next king of Israel. He spent the next many years running from King Saul. Now God was beginning to bring men to support David. But what kind of men? The down-and-out. God gave David not the elite or the sophisticated; He gave him those who were in debt and discontented with life. David turned those men into the best fighting men of their day. In fact, David never lost a battle during his entire reign as king of Israel-quite a feat for a bunch of no-name, lowlifes! Some of those men became an elite group known as David's Mighty Men. These were the elite of the elite, the Navy Seals, the Few Good Men, the Green Berets. Whatever you call them, they were exceptional warriors.
Jesus took a few men who weren't exactly the cream of the crop either. He built His life into these men, which resulted in 12 men who turned the world upside down. Are you one of God's mighty men or women? Are you investing your life to build other mighty men or women? David and Jesus set the example of what can be done when we invest in others. God does extraordinary things through men who have an extraordinary God. Ask God to use your life to be a mighty man or woman for a cause greater than yourself. He delights in such prayers.
NATIONAL RESCUE DOG DAY
On May 20, National Rescue Dog Day recognizes all the benefits of allowing a four-legged canine to adopt you into their immeasurably lovable life.
According to the ASPCA, approximately 3.3 million dogs enter shelters every year. When these abandoned and abused animals find their way to a shelter, each one needs a forever home and their potential is limitless. They're rescue dogs.
No matter their size, color, or breed, dogs will find a way to nuzzle, fetch, or beg their way into your heart. You'll find it hard not to scratch one behind the ear.
Rescue dogs often overcome extreme obstacles and yet provide comfort, security, and friendship as family pets. But, rescue dogs are capable of much more. With training, they contribute to the independence of people with disabilities as service animals and give comfort to the elderly. In these circumstances, they become our eyes, ears, or legs as well as our best friend.
Rescue dogs provide a variety of therapeutic benefits. Children, teens, and adults with autism may benefit from services provided by trained rescue dogs. As emotional support companions, rescue dogs help to relieve anxiety, depression, and PTSD among the military or those who suffer from mental illness.
They make excellent teachers, too. Rescue dogs show children about caring and kindness. Rescue dogs can even be trained to rescue us from dangerous situations or help to investigate the cause of a fire.
When it comes to four-legged friends, they improve the human condition by leaps and bounds, barks, and yips. It's hard to imagine a more helpful, worthy companion. Give them a treat!
HOW TO OBSERVE
Get involved in the lives of rescue dogs. There are a variety of ways to share the puppy love.
Volunteer at your local shelter. Taking dogs for walks, grooming and giving them plenty of affection improves their socialization.
Shelters always need donations. Financial donations are always welcome. Most shelters have a list of constant needs, such as blankets, bleach, toys, treats, and leashes.
If there is room in your life for a rescue dog, consider adoption and giving one a forever home.
Consider fostering. Many dogs abandoned to shelters require some medical care or rehabilitation in a home setting before an adoption can take place.
Remember to spay and neuter your pets. Overpopulation is the number one reason shelters exist.
Is there a rescue dog in your life? Share your rescue dog stories and use #NationalRescueDogDay on social media.
HISTORY
Tails That Teach founded National Rescue Dog Day on May 20 to honor the inspiring ways rescue dogs become apart of the human family and increase awareness about the number of dogs in shelters. Given a chance, they would fill their forever homes with unconditional love and unabandoned joy with every belly rub.
Lisa Wiehebrink, author and founder of Tails That Teach, wrote Love Me Gently; A Kid's Guide for Man's Best Friend, inspired by Cooper, her rescue dog from a Los Angeles shelter.
The Registrar at National Day Calendar proclaimed National Rescue Dog Day to be observed annually beginning in 2018.
NATIONAL BE A MILLIONAIRE DAY
National Be a Millionaire Day is observed each year on May 20.  Very few of us haven't imagined what it would be like to be a millionaire. If you happen to be one of the few, National Be a Millionaire Day is for you.  And for those of use who like to imagine spending millions.
National Be a Millionaire Day is also a day to start taking steps to turn dreams into reality by making plans for your future. Following is a few helpful suggestions to get you started:
Start a savings account.  If you have an existing savings account, review it to make sure you are earning the maximum interest available.  Increase the deposits into your savings account.
Review your financial portfolio with a trusted expert.
Review your investments – Look at ways of improving your investments.
Add to your 401K – If you do not have one, start one.
Pay off your credit card.
Review your spending habits.  Find ways to "spend less and save more."
A million dollars today may not be what it used to be, however, having one million dollars in your bank account is still a major financial success.
HOW TO OBSERVE
Use #BeAMillionaireDay to post on social media.
HISTORY
Within our research, we were unable to find the creator and origin of National Be a Millionaire Day.