Christoph Friedrich Blumhardt
Let us, then, hold firmly to the faith we profess. For we have a great High Priest who has gone into the very presence of God – Jesus, the Son of God. Our High Priest is not one who cannot feel sympathy for our weaknesses. On the contrary, we have a High Priest who was tempted in every way that we are, but did not sin. Hebrews 4:14-15, TEV
Dear Father in heaven, we look to Jesus Christ, who is at your right hand, through whom you have promised help for the whole world. Unite us with him so that we may receive authority to help all people according to your will. May your name be kept holy among us, for your children have every reason to rejoice in the Savior you have given them. We thank you for everything you have shown to those who believe in you. We pray to you, hasten the time when your day shall come with glory, the day when you will give the glory to Jesus Christ, when he will reign and triumph over all evil and bring the peace you have always wanted to give the world. We wait and long for this. Amen.
TODAY'S DAILY DIG
We must guard against the false notion that God is a purely transcendental power, removed from matter and the stuff of this earth. The coming community of life will be a kingdom of work on this earth. Work will be the binding factor in the cells of human community. The only work people can do with their whole soul, work full of spirit and pulsing life, comes from love. And there is no love that does not get to work.
Verse of the Day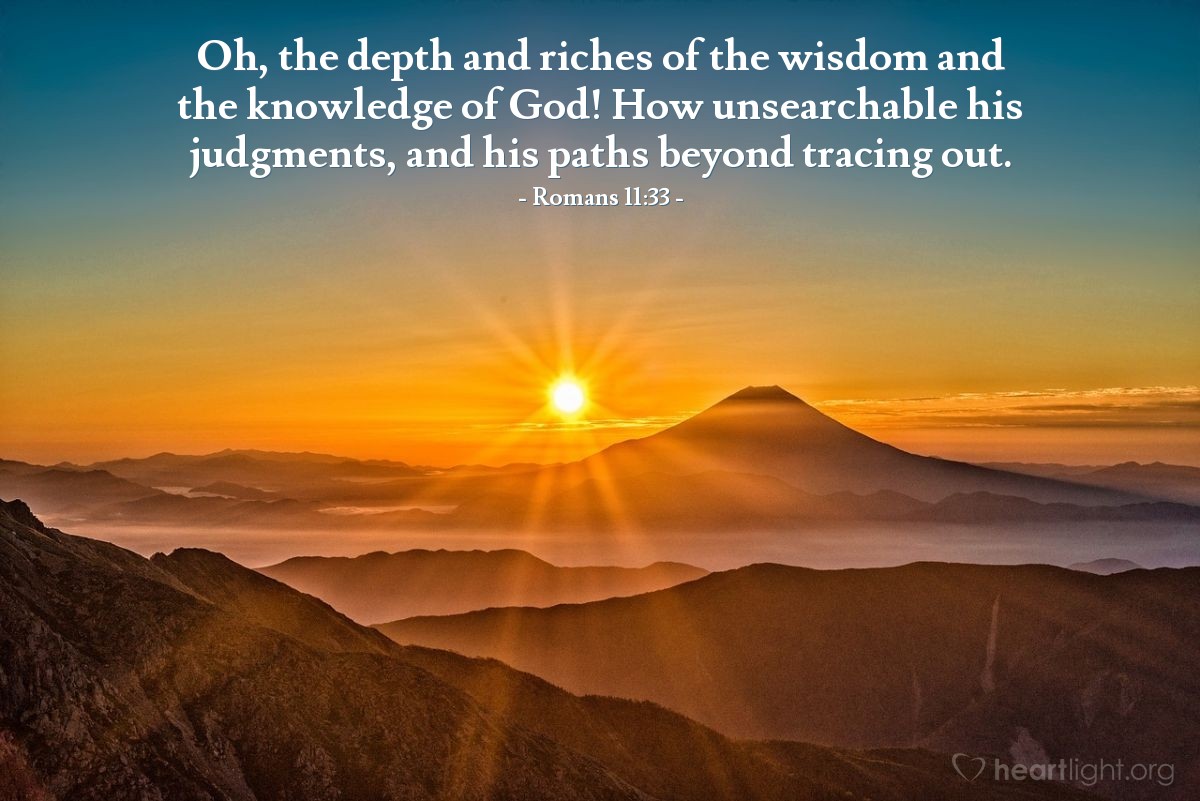 Thoughts on Today's Verse…
God's plan to save us is incredible. His blueprints for the creation of our universe are beyond our imagining. He is so rich in wisdom and knowledge. What else can we do but go to him and ask him to open our minds to his work and his will in our lives.
My Prayer…
Precious and Almighty Father, thank you for reawakening me each spring to the power of your sustaining presence in the world, but even more in my life. Bless me today as I seek to put you first in all I do. In Jesus name I pray. Amen.
A Prayer for A Servant's Heart
By Pastor Jack Graham
"Therefore, I urge you, brothers and sisters, in view of God's mercy, to offer your bodies as a living sacrifice, holy and pleasing to God—this is your true and proper worship." –Romans 12:1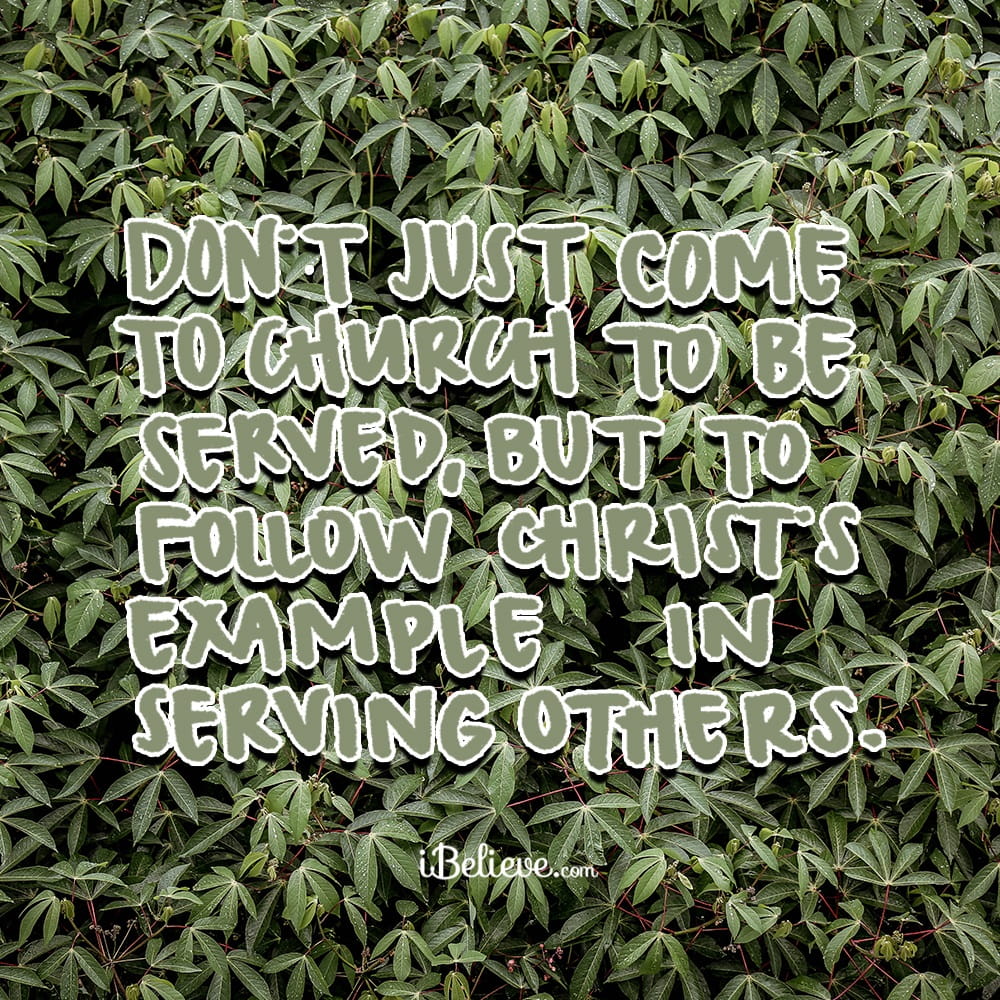 A little boy went with his daddy to church one day. On their way into the service, the two stopped to admire a memorial plaque the church had just installed for all of the members who had died in the armed forces.
The boy asked his father, "Daddy, what are all those names on the wall?"
"Well, son, those are all the people who died in the service," the dad responded.
The boy took a look at the sanctuary doors and got a very frightened look on his face. "Daddy, did they die in the first service or the second service?"
What does "service" mean? We often use that word to describe our Sunday morning gatherings. But I think you'd agree with me that too many people come to church not to give service, but to be served. They want the music their way. They want the pastor to say everything just right. And they want to leave with a warm fuzzy feeling inside.
Our Father is seeking true worshippers… those who will be willing even to give their own lives in His service. And the genuine, committed believer in Christ will see him or herself in just that way. Don't come to church to be served. Follow Jesus' example of serving others!
Heavenly Father, help us to be better than we are now. Teach us to be more like you, and less like the world around us. Help us to put aside our selfish desires and vain ambition. Teach us to be true servants in both word and deed. Give us a servant's heart, just like Jesus.
In Jesus' Name, Amen.

Can a Person Be "Overly Righteous"?
by Bob McCabe
Be not overly righteous, and do not make yourself too wise. Why should you destroy yourself? (Ecclesiastes 7:16)
Can "be not overly righteous" really be saying what it seems to be saying? Does God actually want us to tone down our righteousness? In order to correctly determine the meaning of this clause, it must first be placed in its immediate context. The context of v. 16 is found in the paragraph of Ecclesiastes 7:15-18, which reads:
(15) In my vain life I have seen everything. There is a righteous man who perishes in his righteousness, and there is a wicked man who prolongs his life in his evildoing. (16) Be not overly righteous, and do not make yourself too wise. Why should you destroy [better translated as "astonish"] yourself? (17) Be not overly wicked, neither be a fool. Why should you die before your time? (18) It is good that you should take hold of this, and from that withhold not your hand, for the one who fears God shall come out from both of them.
There are a number of different interpretations of the expression "be not overly righteous" in v. 16. We will examine three of these. The first interpretation can be called the golden mean view. When v. 16 is taken in connection with the command to avoid being excessively wicked in v. 17 ("be not overly wicked"), a number of commentators have concluded that this is a call to moderation, a golden mean between virtue and vice. As such, the author of Ecclesiastes, Solomon, is encouraging his audience to avoid living an excessively righteous or sinful life. The problem with this understanding is that it misses the point of the argument in the immediate context. It should be noted in v. 15 that Solomon had difficulty in understanding how God works out divine retribution. Solomon had seen a righteous man die while living a righteous life and an ungodly man live a long and prosperous life. This was an apparent inconsistency to what an Israelite living under the Mosaic Covenant expected. The advice to live a life of moderation does not fit the discussion of v. 15, nor any other portion of the Bible.
A second interpretation is the self-righteous interpretation. Some commentators understand the term righteous as a reference to self-righteousness. Therefore, when the writer says "be not overly righteous," he means "don't be self-righteous." A problem for this view is found when we compare the Hebrew adjective saddiq, translated as "righteous" in v. 16 with its use in v. 15, also translated as "righteous," as well as its corresponding noun seder, translated as "righteousness." Let's translate v. 15 with the idea of self-righteousness in it. "In my vain life I have seen everything. There is a self-righteous man who perishes in his self-righteousness and there is a wicked man who prolongs his life in his evildoing." The problem is that whatever righteousness is, it is the antithesis of wickedness. Therefore, the only type of righteousness that v. 15 can be referring to is a genuine righteousness. The self-righteous view does not fit the context.
A third and preferred interpretation is the genuine righteousness view. This view understands the term righteousness to be a genuine righteousness, as this Hebrew term is always used in the Old Testament. The righteousness described in this verse is the same kind of righteousness as found in v. 15. The righteousness in v. 16 is excessive ("overly righteous") only in the sense that an Old Testament believer might simplistically expect God to honor his righteousness with immediate blessing. In v. 15 Solomon describes a situation where a genuinely righteous person receives what the wicked should get, and the wicked person receives what the righteous person should get. The point of v. 16 could be interpreted like this: "Do not be simplistically righteous with the expectation of immediate reward, neither be naively wise, why cause yourself to be astonished that God did not honor your righteous living with immediate blessing?" How does this fit in with vv. 17–18? When one sees the wicked prospering, he may lose heart and turn to an excessively sinful lifestyle. This should not be followed because God may immediately judge this sinner (v. 17). According to v. 18 the believer should avoid both extremes. In light of other portions of this book (Ecclesiastes 3:17; Ecclesiastes 8:12-13; Ecclesiastes 11:9; Ecclesiastes 12:14), Solomon would argue that we should live righteously because God will bring every deed into judgment (Ecclesiastes 12:14); this is when the Lord will certainly reward His people.
Saint Paschal Baylon
Saint of the Day for 
May 17
(
May 24, 1540

 – 

May 15, 1592

)

https://www.franciscanmedia.org/wp-content/uploads/2016/08/SODMay17.mp3
Saint Paschal Baylon's story
In Paschal's lifetime the Spanish empire in the New World was at the height of its power, though France and England were soon to reduce its influence. The 16th century has been called the Golden Age of the Church in Spain, for it gave birth to Ignatius of Loyola, Francis Xavier, Teresa of Avila, John of the Cross, Peter of Alcantara, Francis Solano, and Salvator of Horta.
Paschal's Spanish parents were poor and pious. Between the ages of seven and 24 he worked as a shepherd and began a life of mortification. He was able to pray on the job and was especially attentive to the church bell, which rang at the Elevation during Mass. Paschal had a very honest streak in him. He once offered to pay owners of crops for any damage his animals caused!
In 1564, Paschal joined the Friars Minor and gave himself wholeheartedly to a life of penance. Though he was urged to study for the priesthood, he chose to be a brother. At various times he served as porter, cook, gardener, and official beggar.
Paschal was careful to observe the vow of poverty. He would never waste any food or anything given for the use of the friars. When he was porter and took care of the poor coming to the door, he developed a reputation for great generosity. The friars sometimes tried to moderate his liberality!
Paschal spent his spare moments praying before the Blessed Sacrament. In time, many people sought his wise counsel. People flocked to his tomb immediately after his burial; miracles were reported promptly. Paschal was canonized in 1690 and was named patron of eucharistic congresses and societies in 1897.
---
Reflection
Prayer before the Blessed Sacrament occupied much of Saint Francis' energy. Most of his letters were to promote devotion to the Eucharist. Paschal shared that concern. An hour in prayer before our Lord in the Eucharist could teach all of us a great deal. Some holy and busy Catholics today find that their work is enriched by those minutes regularly spent in prayer and meditation.
---
Saint Paschal Baylon is the Patron Saint of:
Eucharistic Congresses and Societies
Shepherds

How You Can Live Free from Fear
For the Spirit God gave us does not make us timid, but gives us power, love and self-discipline. – 2 Timothy 1:7
At one point during World War II, General George Patton met with a high-ranking allied official in Sicily. The man praised Patton for his courage and bravery. But Patton told him, "Sir, I am not a brave man… I have never been within the sound of gunshot or in sight of battle in my whole life that I wasn't so scared that I had sweat in the palms of my hands."
Years later in his autobiography, General Patton revealed the secret to his bravery. He wrote, "I have learned early in my life never to take counsel of my fears."
It's astonishing just how much fear influences our daily decisions. Think about it. How many decisions do you make daily based on a negative event in the future that may or may not come to pass? And then, how many of those fears actually materialize?
So how can we diagnose fear when we see it? By looking at its source. Fear comes from either a lack of trust in God's power, or a belief that He doesn't have your best interest at heart. When you fall into one of those mindsets, you're operating in fear, not trust.
As believers, we can overcome our fears in any situation by asking the simple question, "What would I do here if I fully trusted God's power and goodness?" When we answer that and take action on it, we'll be well on our way to operating free from fear!
Prayer Challenge
Pray that God would expose areas of your life where you're operating in fear, rather than trust in Him.
Questions for Thought
As you think about today's devotional, what areas of your life come to mind where you've been operating in fear rather than trust?
How might your daily decisions look differently if you fully trusted God's power and goodness?

Hope in God
And for this we labor and strive, that we have put our hope in the living God, who is the savior of all men, and especially of those who believe. – 1 Timothy 4:10
The one thing I need more than anything is hope; we all want something to hope for and someone we can trust. God alone is able to perfectly fulfill both needs. You'll never regret placing your hope and confidence in Him.
Jeremiah 17:5-8
 tells us how enemies threatened the nation of Judah, and many turned to Egypt and other human powers for deliverance. But the Lord said, "Cursed are those who put their trust in mere humans and turn their hearts away from the Lord. They are like stunted shrubs in the desert, with no hope for the future. But blessed are those who trust in the Lord and have made the Lord their hope and confidence. They are like trees planted along a riverbank, with roots that reach deep into the water. Such trees are not bothered by heat or worried by long months of drought. Their leaves stay green and they go right on producing delicious fruit."
Placing your hope in programs, the government, your job, or the economy (anything but God) is like expecting a tree to flourish in the barren desert. Your thirst continues because these things or people are unable to satisfy your deepest needs. But placing your hope in the Lord changes everything. Jesus said, "The water I give them takes away thirst altogether. It becomes a perpetual spring within them, giving them eternal life." 
(John 4:14
) Where is your hope? Is it in things, which will come and go, or is your hope in the living God?
"I still believe in Hope – mostly because there's no such place as Fingers Crossed, Arkansas." – Molly Ivins (1944-2007)

From Go for the Green by Jeff Hopper
Depth in Friendship
A man who has friends must himself be friendly, but there is a friend who sticks closer than a brother. – Proverbs 18:24
It is difficult to exaggerate the relationship between a professional player and his or her caddie. A strong player-caddie relationship can make a significant difference in the player's career— and the caddie's too!
Solomon, too, knew that synergistic teamwork was a thing to be prized.
Sometimes, he suggested, the team can be too big. When we gather companions as though they are commodities, we are often left to take the bad with the good. Not all those we call friends are wise. If their influence is destructive, sometimes we are forced to end the friendship.
But there is another level of friendship. This is the friend who can be trusted in any circumstance— a friend who sticks closer than a brother. Such deep friends encourage one another, pray with and for one another, hold one another accountable, and never leave when the going gets tough. Seek such a friend. Be such a friend.
7 Powerful daily prayers for God's divine protection and covering
I Thank You
To the true and living God, Father, Son and Holy Spirit, in union forever, I bless you! I thank you for the cross, where your Son, Jesus Christ has disarmed principalities and power, once and forever!
He crashed down his foot so hard, that he not only crushed the head of the serpent, but bruised his heel with the excessive force.
I thank you Lord, that by the cross of Jesus Christ, I have been made free from all curses, witchcraft and demonic power. Jesus Christ became the curse, for me, so that I cannot be cursed! And so I give this day to you Lord, In Jesus name I pray, Amen.
Luke 10:19 Behold, I give unto you power to tread on serpents and scorpions, and over all the power of the enemy. And nothing shall by any means hurt you.
2. Praise and thanks for the authority given to us
Father, I thank you for the great authority and protection you have given your children in the person of Jesus Christ. Even as I go out into the world, your promise remains true to me. Nothing shall, by any means, hurt me.
All authority in heaven and earth has been given to you, Lord Jesus, leaving none for the devil and his angels.  Thank you, that by faith in the work you have done, I am protected and secure, everywhere I go! Amen!
 1 John 5:18 We know that whosoever is born of God does not sin. But he who is begotten of God keeps himself. And the wicked one does not touch him.
3. You are all I need!
My Lord, you are all I need! I adore you and love you with all my heart. I confess to you the sins in my heart of fear, pride, and control. I let go of these fears and the areas of my life and others lives of where I'm trying to be in control, knowingly and unknowingly.
I lay it on your blessed alter giving over these things to you. I totally trust you Jesus, because I know you always do what is best for me! Thank you for your cross. No words can describe what you did for me in deleting my sin! Speechless! Love you Jesus, my rock!!
-Pamela K
4. Prayer for Courage and Confidence
5. Dear Heavenly Father.
Thank you once again, God! You never cease to amaze me! Please continue to give me the strength to endure the hard battle ahead. Thanks for another blessed day. Protect and guide me. In Jesus name I pray, Amen!
-Kimberley
6. Thanks for the divine protection given to us
Heavenly Father, you have blessed us, your children who walk in faith, with your divine protection.  We choose to focus on your great love for us. Our focus is on your protection of our families, our loved ones, and ourselves. There is no place for fear of the enemy.
In accordance with your word, we declare that the wicked one cannot touch us. We are immune to his devices and tactics.
We declare that we can walk boldly through this life. Our eyes are fixed on Jesus, the author and finisher of our faith. There is no fear of the enemy or his devices.
Thank you Lord, that we are now seated with you, in Heavenly places, far above all the powers of darkness, and the evil workings of the enemy. In Jesus' namewe pray, Amen!
7. Time to Pray
I got up early one morning
And rushed right into the day;
I had so much to accomplish
That I didn't have time to pray.
Problems just tumbled about me,
And heavier came each task;
'Why doesn't God help me?' I wondered.
He answered, 'You didn't ask.'
I wanted to see joy and beauty
But the day toiled on gray and bleak
I wondered why God didn't show me
He said, 'But you didn't seek',
I tried to come into God's presence;
I used all my keys in the lock.
God gently and lovingly chided,
'My child, you didn't knock.'
I woke up early this morning,
And paused before entering the day;
I had so much to accomplish
That I had to take time to pray."
-Author Unknown
Prayers that Move Mountains: Power Prayers that Bring Answers from Heaven
Activate the ultimate power source! Filled with prayers of repentance, confession, obedience, submission, praise, and worship, Prayers That Move Mountains is your reference handbook of prayers that God answers every time.
 Ephesians 1:19 -21 And what is the immeasurable greatness of his power toward us who believe, according to the mighty working of his strength. He exercised this power in Christ by raising him from the dead. He seated him at his right hand in the heavens, far above every ruler and authority, power and dominion, and every title given, not only in this age but also in the one to come. 

What Jesus Did!

 'Are You Leaving, Too?'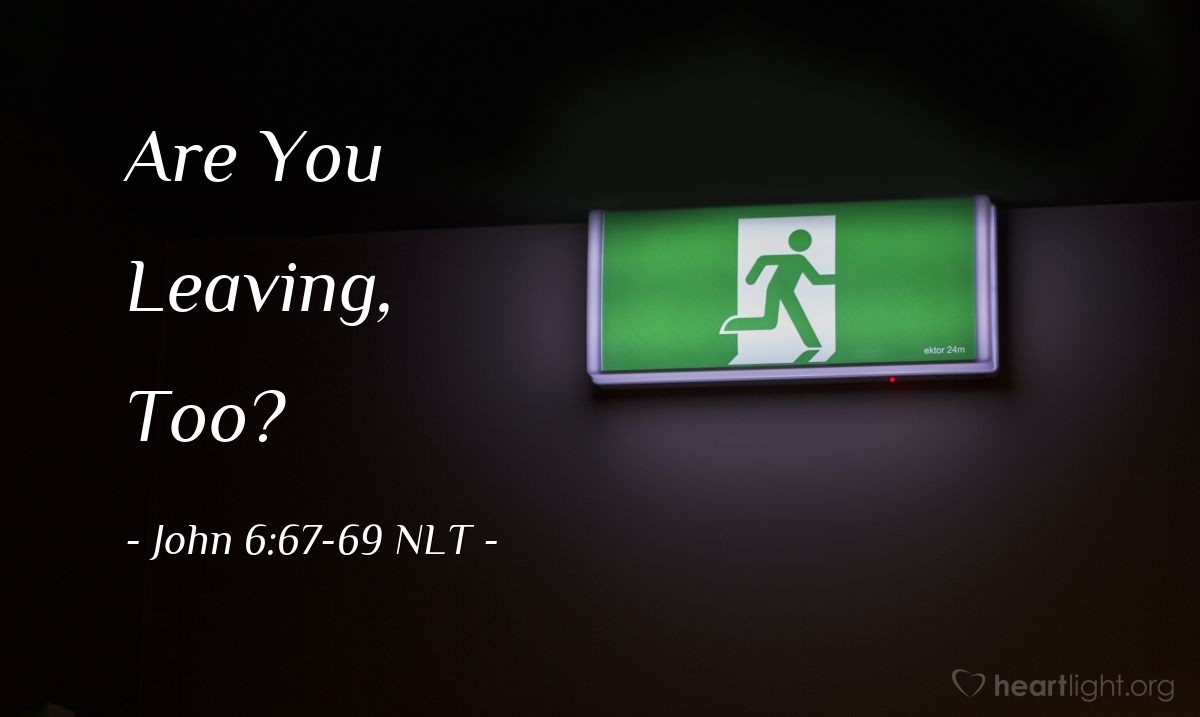 Then Jesus turned to the Twelve and asked, "Are you also going to leave?" Simon Peter replied, "Lord, to whom would we go? You have the words that give eternal life. We believe, and we know you are the Holy One of God."
Key Thought
We come to many crucial decision points in our lives. None is more important than this one. What do you do with Jesus? He has been pressing us to decide about him for several days. Most of the world will turn away from him. Even though God's grace has prepared the way, the path is too narrow and the demands too difficult for most people. Most don't want to have to give up control. Most want a messiah whom they can tame and manipulate and make into their servant. Jesus would be our King — -not just prince or prophet, not just rabbi or ruler, but King. So will we turn away? Will we leave? No, for he is King. Only he has the words of life.
Today's Prayer
Father God, please sweep out of my heart any competing loyalty that would disrupt my wholehearted devotion to Jesus. I want to follow him fully. Please help me find life in his words. In his name. Amen.
Related Scripture Readings
Daily Wisdom:

 Proverbs 14:13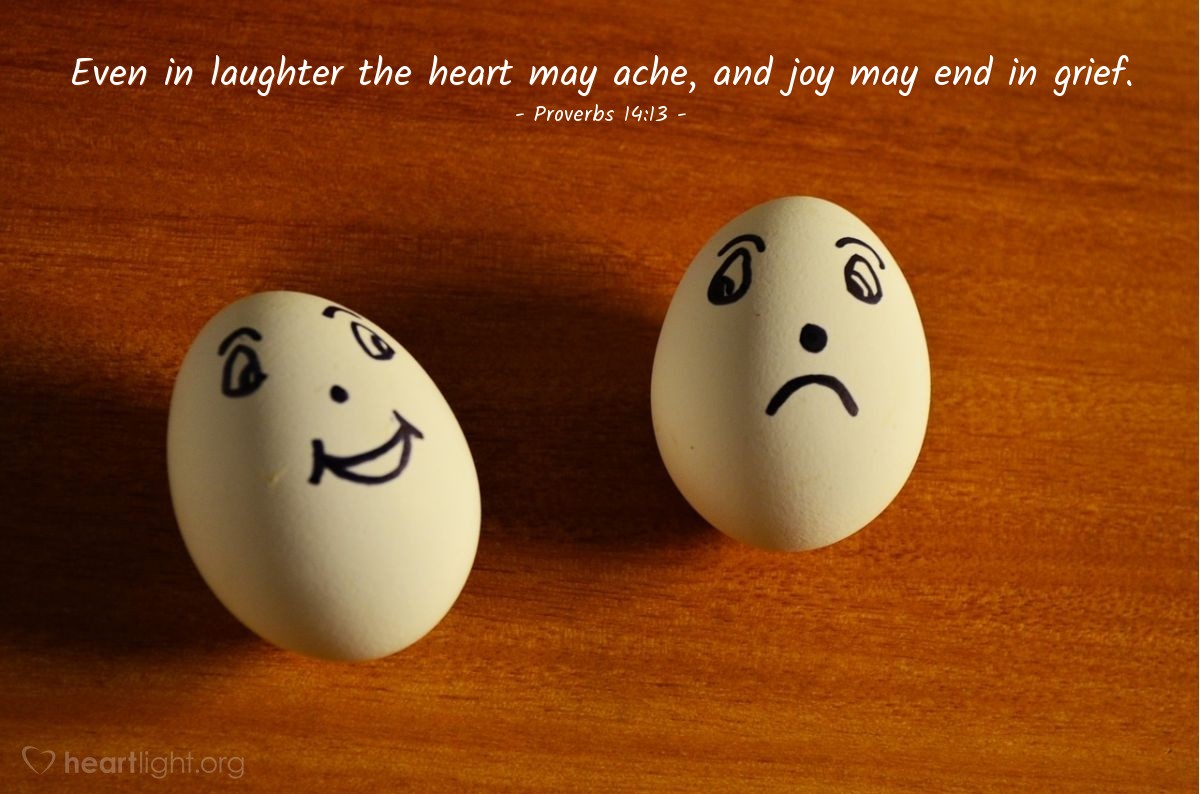 Spiritual Warfare:

 'God's Faithfulness & Unfailing Love'

God's Power for Our Battles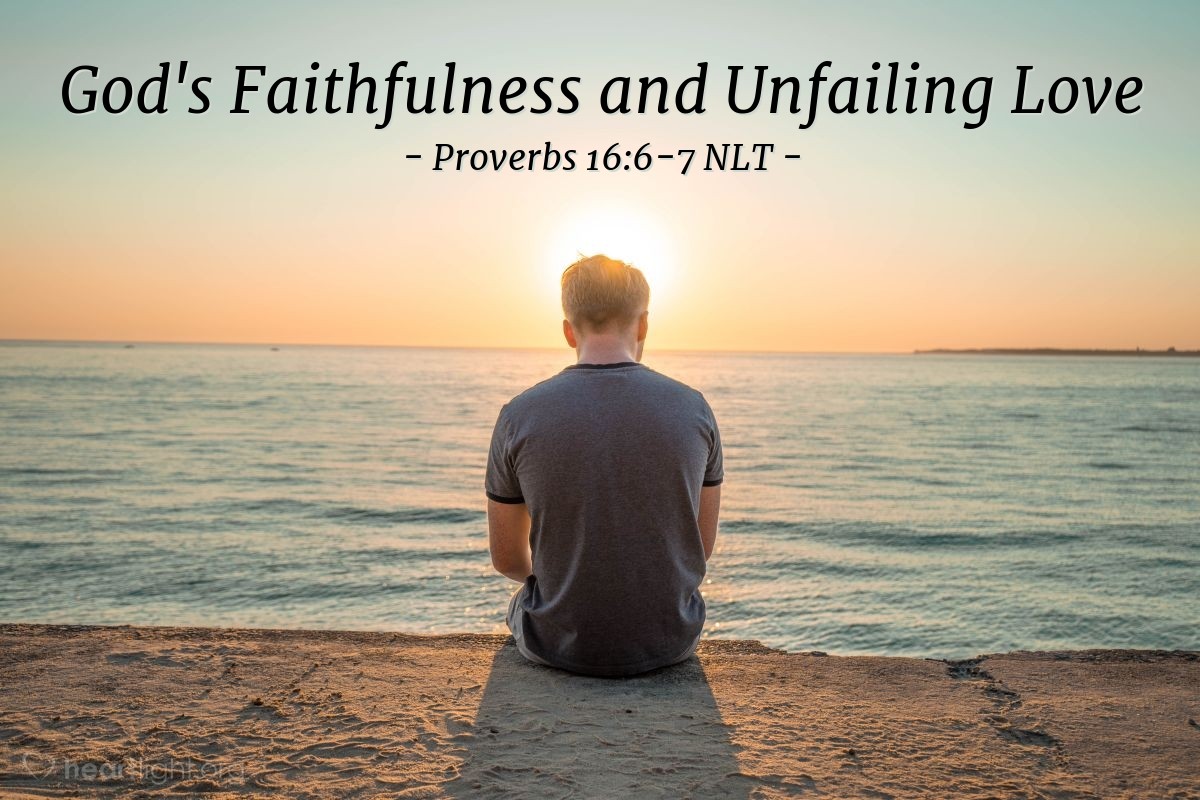 Today's Prayer
Lord, You have been so loving and generous to me. Help me to show that same love to others. I want to be faithful to You, but I fail and sin in so many ways. Thank You for the forgiveness that comes through your unfailing love and faithfulness given to me through Jesus. Help me to be more faithful and loving, so I can avoid the evil all around me in this present world. Deliver me from my enemies, and cause them to look on me in peace. Open their eyes to Your loving-kindness through my actions. In Jesus' Name, Amen.

DETERMINED: MISTAKES ALONG THE WAY
Living Free Every Day*
A ministry of LivingFree.org
Thursday, May 17, 2018
Today's Scripture
"But if we confess our sins to him, he is faithful and just to forgive us our sins and to cleanse us from all wickedness." 1 John 1:9 NLT
Thoughts for Today
In Numbers 20:6-1, we read about Moses' determination once again overriding God's command. He struck a rock instead of following God's instructions to command the rock to pour out water.
This disobedience brought consequences. God did not allow him to enter the Promised Land. "But the Lord said to Moses and Aaron, 'Because you did not trust me enough to demonstrate my holiness to the people of Israel, you will not lead them into the land I am giving them!'" (Numbers 20:6-12 NLT).
But despite his mistakes, Moses did not give up nor did God give up on him. He was a great leader and followed God faithfully until they reached the Promised Land.
Consider this …
We all let our determination to have things our way interfere with obeying God at times. But it's important to remember that God doesn't give up on us – and neither should we. Today's scripture reminds us what to do. If we confess, he will forgive and cleanse. And then we need to follow Moses' example – to move on.
Don't allow your failures to destroy your hope, your motivation to become and do all God has planned for you. Turn your selfish determination into a determination to grow in your relationship with God . . . and with others.
Prayer
Father, I know sometimes I am stubborn about having things my own way. Help me to be determined when it's a stand you want me to take. And help me be flexible when I should. When I make mistakes along the way, remind me if I confess, you will forgive. In Jesus' name.
Being a Person Under Authority
TGIF Today God Is First Volume 1 by Os Hillman
May 17, 2018
…"I tell you the truth, I have not found anyone in Israel with such great faith." – Matthew 8:10
The centurion came to Jesus and told Him of his servant who was paralyzed and in terrible suffering. He came to Jesus because he believed He could heal him. He told Jesus of the matter, and Jesus was willing to come with the centurion. But the centurion would not have it. He knew that Jesus, being under the authority of Heaven itself, did not have to see the servant to help him. The centurion understood authority. He understood that he himself had certain rights that his position granted him to have power over situations and people. He also was a man under authority. The centurion understood Jesus' position and what power that position held in Heaven – the power to heal his servant if He chose to exercise that authority.
When Jesus saw that the centurion understood this principle of authority and that He did not have to visit the servant to heal him, He acknowledged the centurion's faith. Jesus knew it took great faith to understand authority and whether He had the authority to do what was being asked.
God has placed a system of authority in our world that requires faith to operate under its boundaries: fathers over sons and daughters, employers over employees, government leaders over the people, church leaders over church members. These are authority structures God has placed in our lives to protect and guide us to His will. Some confuse position with worthiness or qualifications of that position. It is the position that God works through. The fact that an authority may not be a Christian may have no bearing on whether God can work through him as your authority. It is only when that authority counsels against a biblical mandate that we should not follow that person's guidance. The heart of the king is in the hand of God.
Today, we find few who understand this system of authority God has ordained. It requires great faith to operate in this realm. Yet Jesus said that when we understand this, we demonstrate the kind of faith that He rarely sees. Be a person of rare faith. See the authorities placed in your life as those God is using to protect you.
NATIONAL GRADUATION TASSEL DAY
Across the country, May 17 marks the annual parade of academic achievement. National Graduation Tassel Day celebrates the accomplishments of every graduate!
Auditoriums and stadiums will fill with proud family and friends excited to witness the commencement ceremonies of high schools, colleges, and universities. Tassels dangle from the mortarboards in the colors of their esteemed institutions. Gowns have been crisply pressed.
Graduates, as your day arrives, square your shoulders, eyes steady on the future, pause to consider all your challenges to realize this moment. When your name is called, diploma in hand, move your tassel from right to left.
HOW TO OBSERVE
Congratulations to everyone moving their tassel from right to left! Post a photo of your graduates with their tassels using #GraduationTasselDay.
Share your photo with Tassel Depot:
Facebook.com/tassel.depot
Instagram.com/TasselDepot
twitter.com/TasselDepot
HISTORY
Tassel Depot founded National Graduation Tassel Day on May 17 to celebrate the keepsake that marks one of the milestone achievements of our lives.
The Registrar at National Day Calendar proclaimed National Graduation Tassel Day to be observed annually in 2018.
About Tassel Depot
The company that produces "Tassels without Hassles®" was established in 1864 for as Hofmann & Leavy, Inc. The Tassel Depot has been owed and operated by the Leavy family for more than three generations, and their products can be found all over the world.