Christoph Friedrich Blumhardt
My dear children, I write this to you so that you will not sin. But if anybody does sin, we have one who speaks to the Father in our defense – Jesus Christ, the Righteous One. He is the atoning sacrifice for our sins, and not only for ours but also for the sins of the whole world. 1 John 2:1–2, NIV
Lord God, we thank you that you have given us atonement, an atonement that delivers us from all evil, from all that is temporal and perishable, and that allows us even now to live in eternity. Grant that many people become aware of the greatness and freeing power of the redemption you have offered us. May a people be born to you, serving you with light in their hearts as they look to the future coming of Jesus Christ. Be with us, strengthen us, and protect us from all the deception on earth. For we want to be your children and nothing else; with our whole hearts we want to look always to you. Amen.
Verse of the Day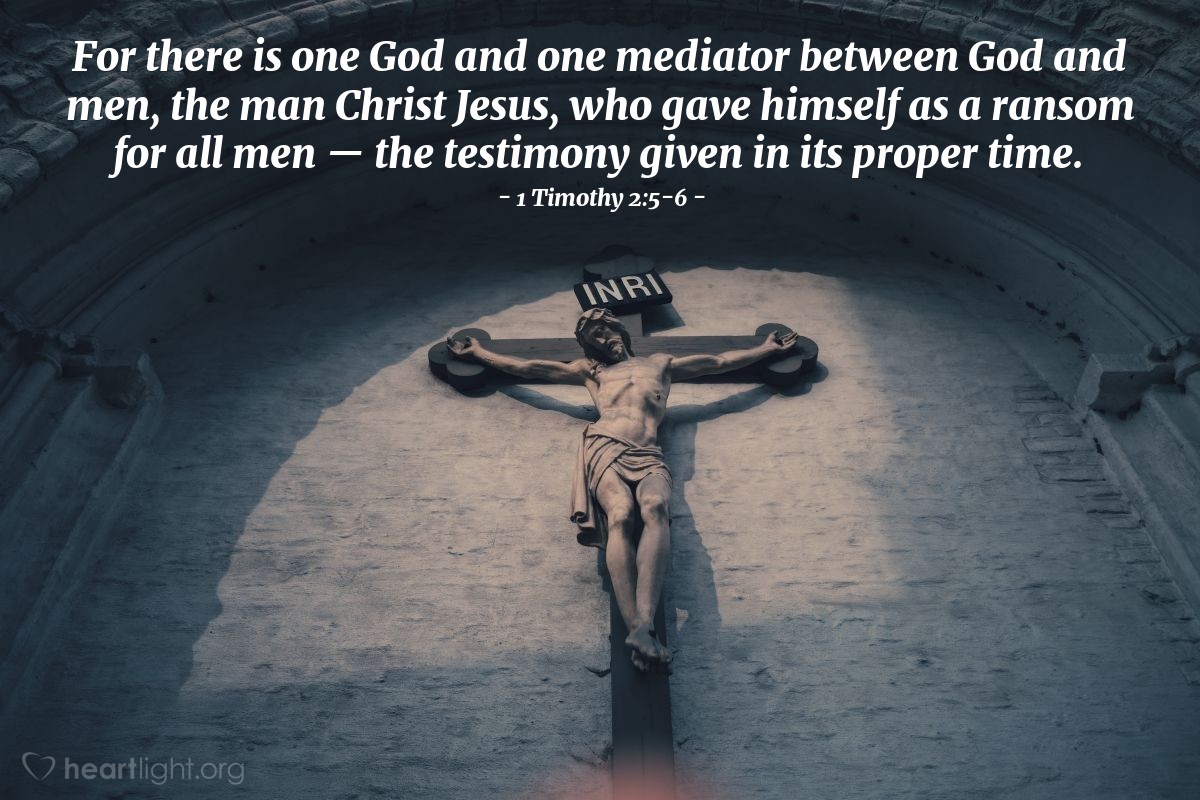 Thoughts on Today's Verse…
We do not need to have another human, no matter how mighty, pious, or special, to intercede for us before God. As his children, we can go freely, knowing that God himself has provided the perfect mediator between himself and us. That mediator, alone, is head of the Church and Chief Priest before God on our behalf. His name is Christ Jesus, and he is our Lord, Savior and brother.
My Prayer…
O God, you are my God, and I praise you for making access to you so freely available. I know that if left to my own power, I would have no strength or righteousness with which to approach you. Yet in your grace, you not only provided a ransom for my sin, but you also provided a mediator for my approach to you. Jesus, I thank you as well, for paying the price and staying at the Father's side to intercede and speak for me! Thank you, Jesus, for making this prayer known to the Father as I pray in your name. Amen.
March 28
Wednesday of Holy Week
Accepting the Offer
Throughout this Lenten journey, I have maintained that God wants all human beings to be "holy souls," and thus "friends of God, and prophets." I hope that you have experienced God's desire for your friendship and your corresponding desire to be God's friend. I am convinced that the only way to the fulfillment of God's dream for our world is for more and more human beings to accept God's offer of friendship and to begin to live out the consequences. God wants friendship with you and with me and with all our brothers and sisters in the world. That's what our Lenten journey is all about. So let's take the offer, shall we?

Loving God, I accept your offer of friendship.
Holy Week Action
► Read Maureen McCann Waldron's reflection inspired by today's message.
Lenten Meditation 7: Accepting the Offer
Throughout this Lenten journey, I have maintained that God wants all human beings to be "holy souls," and thus "friends of God, and prophets." I hope that you have experienced God's desire for your friendship and your corresponding desire to be God's friend. I am convinced that the only way to the fulfillment of God's dream for our world is for more and more human beings to accept God's offer of friendship and to begin to live out the consequences. God wants friendship with you and with me and with all our brothers and sisters in the world. That's what our Lenten journey is all about. So let's take the offer, shall we?

Loving God, I accept your offer of friendship.
—William A. Barry, SJ, in Lenten Meditations:
Growing in Friendship with God
Once I was contemplating the Prodigal Son. I was the father, waiting out on the road every day, searching the horizon for my son to return. One day I again scanned the familiar skyline and hills in front of me, and then I saw the speck moving far down the road—my son returning home. All of my love for him rushed into my heart, and I was overwhelmed with the realization that nothing he had done could possibly matter, if only I could hold him in my arms again and tell him how much I love him. I ran down the road toward him as fast as I could, panting and yelling with joy. My son was home!
It was that extraordinary experience of prayer that brought home to me how much God wants a loving friendship with me—with each of us. I often had the same sort of experience with my own children. These two young people that I adored with all of my heart often ignored me, disobeyed me, and went their own ways. Yet, I could feel how nothing they did could dim my deep and lifelong love for them. I might be frustrated or angry with them as they stormed from a room or slammed a door, but my children could not escape my love.
On this Lenten journey, we have been invited first to imagine and then accept that God wants a friendship with us. I think we have such a difficult time picturing God as wanting to be in a friendship with us because our imaginations can't do better than to picture God loving the way we love. We give God our own limited, human version of love.
In our heads we might allow ourselves to think that God loves us endlessly, but in our hearts, we whisper that we are really not worthy of that love. We know too well our own flaws and shortcomings, and we are certain that if God really knew us, God would be disappointed. But the dizzying fact is that we have a God who reaches out to us, who wantsour friendship. "You did not choose me, but I chose you," Jesus assures us (John 15:16).
Accepting this friendship with God means putting aside our fears and asking God to help us start. You chose me, Lord, and I accept. Help me start up the road and come into your long-waiting embrace.
Pray with Tim Muldoon and The Ignatian Workout for Lent: An Online Retreat.
During this Holy Week, our Ignatian Workout for Lent invites us to reflect on trial and suffering. Listen to Tim Muldoon's reflection below. If you'd like, share some of your own reflections in the comments.
Prayer
What does a meditative reading of the story of the trial stir up in you? What trials have you faced, or are you facing? Can you find a place in your heart where you are willing to trust God the way Jesus did?
Action
In the coming days, set aside time to undertake the stations of the cross. Give yourself time to consider how meditating on Christ's way of the cross sheds light on the specific struggles you are facing.
Jesus Before Pilate.1a As soon as morning came,b the chief priests with the elders and the scribes, that is, the whole Sanhedrin, held a council.* They bound Jesus, led him away, and handed him over to Pilate.2Pilate questioned him, "Are you the king of the Jews?"* He said to him in reply, "You say so."3The chief priests accused him of many things.4Again Pilate questioned him, "Have you no answer? See how many things they accuse you of."5Jesus gave him no further answer, so that Pilate was amazed.
The Sentence of Death.*6Now on the occasion of the feast he used to release to them one prisoner whom they requested.c7A man called Barabbas* was then in prison along with the rebels who had committed murder in a rebellion.8The crowd came forward and began to ask him to do for them as he was accustomed.9Pilate answered, "Do you want me to release to you the king of the Jews?"10For he knew that it was out of envy that the chief priests had handed him over.11But the chief priests stirred up the crowd to have him release Barabbas for them instead.12Pilate again said to them in reply, "Then what [do you want] me to do with [the man you call] the king of the Jews?"13* They shouted again, "Crucify him."14Pilate said to them, "Why? What evil has he done?" They only shouted the louder, "Crucify him."15* So Pilate, wishing to satisfy the crowd, released Barabbas to them and, after he had Jesus scourged, handed him over to be crucified.
Mockery by the Soldiers.16* d The soldiers led him away inside the palace, that is, the praetorium, and assembled the whole cohort.17They clothed him in purple and, weaving a crown of thorns, placed it on him.18They began to salute him with, "Hail, King of the Jews!"19and kept striking his head with a reed and spitting upon him. They knelt before him in homage.20And when they had mocked him, they stripped him of the purple cloak, dressed him in his own clothes, and led him out to crucify him.
The Way of the Cross.21They pressed into service a passer-by, Simon, a Cyrenian,* who was coming in from the country, the father of Alexander and Rufus, to carry his cross.e
The Crucifixion.22f They brought him to the place of Golgotha (which is translated Place of the Skull).23They gave him wine drugged with myrrh, but he did not take it.24* g Then they crucified him and divided his garments by casting lots for them to see what each should take.25It was nine o'clock in the morning* when they crucified him.26* The inscription of the charge against him read, "The King of the Jews."27With him they crucified two revolutionaries, one on his right and one on his left.h[28]*29* Those passing by reviled him, shaking their heads and saying,i "Aha! You who would destroy the temple and rebuild it in three days,30save yourself by coming down from the cross."31Likewise the chief priests, with the scribes, mocked him among themselves and said, "He saved others; he cannot save himself.32Let the Messiah, the King of Israel, come down now from the cross that we may see and believe." Those who were crucified with him also kept abusing him.j
The Death of Jesus.33At noon darkness came over the whole land until three in the afternoon.34And at three o'clock Jesus cried out in a loud voice, "Eloi, Eloi, lema sabachthani?"* which is translated, "My God, my God, why have you forsaken me?"k35* Some of the bystanders who heard it said, "Look, he is calling Elijah."36One of them ran, soaked a sponge with wine, put it on a reed, and gave it to him to drink, saying, "Wait, let us see if Elijah comes to take him down."37Jesus gave a loud cry and breathed his last.38* The veil of the sanctuary was torn in two from top to bottom.39* l When the centurion who stood facing him saw how he breathed his last he said, "Truly this man was the Son of God!"40* There were also women looking on from a distance.m Among them were Mary Magdalene, Mary the mother of the younger James and of Joses, and Salome.41These women had followed him when he was in Galilee and ministered to him. There were also many other women who had come up with him to Jerusalem.
The Burial of Jesus.42n When it was already evening, since it was the day of preparation, the day before the sabbath,43Joseph of Arimathea,* a distinguished member of the council, who was himself awaiting the kingdom of God, came and courageously went to Pilate and asked for the body of Jesus.44Pilate was amazed that he was already dead. He summoned the centurion and asked him if Jesus had already died.45And when he learned of it from the centurion, he gave the body to Joseph.46Having bought a linen cloth, he took him down, wrapped him in the linen cloth and laid him in a tomb that had been hewn out of the rock. Then he rolled a stone against the entrance to the tomb.47Mary Magdalene and Mary the mother of Joses watched where he was laid.
* [15:1] Held a council: the verb here, poieō, can mean either "convene a council" or "take counsel." This reading is preferred to a variant "reached a decision" (cf. Mk 3:6), which Mk 14:64 describes as having happened at the night trial; see note on Mt 27:1–2. Handed him over to Pilate: lacking authority to execute their sentence of condemnation (Mk 14:64), the Sanhedrin had recourse to Pilate to have Jesus tried and put to death (Mk 15:15); cf. Jn 18:31.
* [15:2] The king of the Jews: in the accounts of the evangelists a certain irony surrounds the use of this title as an accusation against Jesus (see note on Mk 15:26). While Pilate uses this term (Mk 15:2, 9, 12), he is aware of the evil motivation of the chief priests who handed Jesus over for trial and condemnation (Mk 15:10; Lk 23:14–16, 20; Mt 27:18, 24; Jn 18:38; 19:4, 6, 12).
* [15:6–15] See note on Mt 27:15–26.
* [15:7] Barabbas: see note on Mt 27:16–17.
* [15:13] Crucify him: see note on Mt 27:22.
* [15:15] See note on Mt 27:26.
* [15:16] Praetorium: see note on Mt 27:27.
* [15:21] They pressed into service…Simon, a Cyrenian: a condemned person was constrained to bear his own instrument of torture, at least the crossbeam. The precise naming of Simon and his sons is probably due to their being known among early Christian believers to whom Mark addressed his gospel. See also notes on Mt 27:32; Lk 23:26–32.
* [15:24] See notes on Mt 27:35 and Jn 19:23–25a.
* [15:25] It was nine o'clock in the morning: literally, "the third hour," thus between 9 a.m. and 12 noon. Cf. Mk 15:33, 34, 42 for Mark's chronological sequence, which may reflect liturgical or catechetical considerations rather than the precise historical sequence of events; contrast the different chronologies in the other gospels, especially Jn 19:14.
* [15:26] The inscription…the King of the Jews: the political reason for the death penalty falsely charged by the enemies of Jesus. See further the notes on Mt 27:37 and Jn 19:19.
* [15:28] This verse, "And the scripture was fulfilled that says, 'And he was counted among the wicked,'" is omitted in the earliest and best manuscripts. It contains a citation from Is 53:12 and was probably introduced from Lk 22:37.
Wednesday of Holy Week
The Lord GOD has given me
a well-trained tongue,
That I might know how to speak to the weary
a word that will rouse them.
Morning after morning
he opens my ear that I may hear;
And I have not rebelled,
have not turned back.
I gave my back to those who beat me,
my cheeks to those who plucked my beard;
My face I did not shield
from buffets and spitting.
The Lord GOD is my help,
therefore I am not disgraced;
I have set my face like flint,
knowing that I shall not be put to shame.
He is near who upholds my right;
if anyone wishes to oppose me,
let us appear together.
Who disputes my right?
Let him confront me.
See, the Lord GOD is my help;
who will prove me wrong?
R. (14c) 
Lord, in your great love, answer me.
For your sake I bear insult,
and shame covers my face.
I have become an outcast to my brothers,
a stranger to my mother's sons,
because zeal for your house consumes me,
and the insults of those who blaspheme you fall upon me.
R.
 Lord, in your great love, answer me.
Insult has broken my heart, and I am weak,
I looked for sympathy, but there was none;
for consolers, not one could I find.
Rather they put gall in my food,
and in my thirst they gave me vinegar to drink.
R. 
Lord, in your great love, answer me.
I will praise the name of God in song,
and I will glorify him with 
thanksgiving
:
"See, you lowly ones, and be glad;
you who seek God, may your hearts revive!
For the LORD hears the poor,
and his own who are in bonds he spurns not."
R. 
Lord, in your great love, answer me.
Verse Before the Gospel
Hail to you, our King;
you alone are compassionate with our errors.
Or
Hail to you, our King, obedient to the Father;
you were led to your crucifixion like a gentle lamb to the slaughter.
One of the Twelve, who was called Judas Iscariot,
went to the chief priests and said,
"What are you willing to give me
if I hand him over to you?"
They paid him thirty pieces of silver,
and from that time on he looked for an opportunity to hand him over.
On the first day of the Feast of Unleavened Bread,
the disciples approached Jesus and said,
"Where do you want us to prepare
for you to eat the Passover?"
He said,
"Go into the city to a certain man and tell him,
'The teacher says, "My appointed time draws near;
in your house I shall celebrate the Passover with my disciples."'"
The disciples then did as Jesus had ordered,
and prepared the Passover.
When it was evening,
he reclined at table with the Twelve.
And while they were eating, he said,
"Amen, I say to you, one of you will betray me."
Deeply distressed at this,
they began to say to him one after another,
"Surely it is not I, Lord?"
He said in reply,
"He who has dipped his hand into the dish with me
is the one who will betray me.
The Son of Man indeed goes, as it is written of him,
but woe to that man by whom the Son of Man is betrayed.
It would be better for that man if he had never been born."
Then Judas, his betrayer, said in reply,
"Surely it is not I, Rabbi?"
He answered, "You have said so."
– – –
Lectionary for Mass for Use in the Dioceses of the United States, second typical edition, Copyright © 2001, 1998, 1997, 1986, 1970 Confraternity of Christian Doctrine; Psalm refrain © 1968, 1981, 1997, International Committee on English in the Liturgy, Inc. All rights reserved. Neither this work nor any part of it may be reproduced, distributed, performed or displayed in any medium, including electronic or digital, without permission in writing from the copyright owner.
Hear me, O islands,
listen, O distant peoples.
The LORD called me from birth,
from my mother's womb he gave me my name.
He made of me a sharp-edged sword
and concealed me in the shadow of his arm.
He made me a polished arrow,
in his quiver he hid me.
You are my servant, he said to me,
Israel, through whom I show my glory.
Though I thought I had toiled in vain,
and for nothing, uselessly, spent my strength,
Yet my reward is with the LORD,
my recompense is with my God.
For now the LORD has spoken
who formed me as his servant from the womb,
That Jacob may be brought back to him
and Israel gathered to him;
And I am made glorious in the sight of the LORD,
and my God is now my strength!
It is too little, he says, for you to be my servant,
to raise up the tribes of Jacob,
and restore the survivors of Israel;
I will make you a light to the nations,
that my salvation may reach to the ends of the earth.
R. (see 15ab)
 I will sing of your salvation.
In you, O LORD, I take refuge;
let me never be put to shame.
In your justice rescue me, and deliver me;
incline your ear to me, and save me.
R. 
I will sing of your salvation.
Be my rock of refuge,
a stronghold to give me safety,
for you are my rock and my fortress.
O my God, rescue me from the hand of the wicked.
R.
 I will sing of your salvation.
For you are my hope, O Lord;
my trust, O God, from my youth.
On you I depend from birth;
from my mother's womb you are my strength.
R. 
I will sing of your salvation.
My mouth shall declare your justice,
day by day your salvation.
O God, you have taught me from my youth,
and till the present I proclaim your wondrous deeds.
R. 
I will sing of your salvation.
Verse Before the Gospel
Hail to you, our King, obedient to the Father;
you were led to your crucifixion like a gentle lamb to the slaughter.
Reclining at table with his disciples, Jesus was deeply troubled and testified,
"Amen, amen, I say to you, one of you will betray me."
The disciples looked at one another, at a loss as to whom he meant.
One of his disciples, the one whom Jesus loved,
was reclining at Jesus' side.
So Simon Peter nodded to him to find out whom he meant.
He leaned back against Jesus' chest and said to him,
"Master, who is it?"
Jesus answered,
"It is the one to whom I hand the morsel after I have dipped it."
So he dipped the morsel and took it and handed it to Judas,
son of Simon the Iscariot.
After Judas took the morsel, Satan entered him.
So Jesus said to him, "What you are going to do, do quickly."
Now none of those reclining at table realized why he said this to him.
Some thought that since Judas kept the money bag, Jesus had told him,
"Buy what we need for the feast,"
or to give something to the poor.
So Judas took the morsel and left at once. And it was night.
When he had left, Jesus said,
"Now is the Son of Man glorified, and God is glorified in him.
If God is glorified in him, God will also glorify him in himself,
and he will glorify him at once.
My children, I will be with you only a little while longer.
You will look for me, and as I told the Jews,
'Where I go you cannot come,' so now I say it to you."
Simon Peter said to him, "Master, where are you going?"
Jesus answered him,
"Where I am going, you cannot follow me now,
though you will follow later."
Peter said to him,
"Master, why can I not follow you now?
I will lay down my life for you."
Jesus answered, "Will you lay down your life for me?
Amen, amen, I say to you, the cock will not crow
before you deny me three times."
– – –
Lectionary for Mass for Use in the Dioceses of the United States, second typical edition, Copyright © 2001, 1998, 1997, 1986, 1970 Confraternity of Christian Doctrine; Psalm refrain © 1968, 1981, 1997, International Committee on English in the Liturgy, Inc. All rights reserved. Neither this work nor any part of it may be reproduced, distributed, performed or displayed in any medium, including electronic or digital, without permission in writing from the copyright owner.

What Jesus Did!

 'God Makes Himself Available in Jesus'

Afterward Jesus returned to Jerusalem for one of the Jewish holy days. Inside the city, near the Sheep Gate, was the pool of Bethesda, with five covered porches. Crowds of sick people — blind, lame, or paralyzed — lay on the porches.
Key Thought
One of John's recurring themes is that Jesus comes to Jerusalem during important feasts to make God's love and grace available to the people. Like he so often does, Jesus puts himself in a place that makes him accessible to everyday people. This group of people in today's verses had serious health problems and had come to a place that legend had made a place of healing. John, however, will remind us once again that Jesus catches up all the legend, tradition, and meaning of his Jewish heritage and makes it all come alive in himself. He is the great healer — not legend, not tradition, and not the feasts. This healer makes God available to common everyday folks.
Today's Prayer
Thank you, Father, for walking among everyday folks like me. Thank you for revealing your glory in Jesus. I believe he is my Savior, Messiah, Redeemer, Healer, Teacher, Lord, and friend. I believe you sent him so that I could better understand your heart. Conform my life to his example and his will. I pray this in his name, Jesus my Lord. Amen.
Related Scripture Readings
God's Holy Fire:

 'Blessed When Insulted'

If you are insulted because of the name of Christ, you are blessed, for the Spirit of glory and of God rests on you.
Key Thought
What an incredible phrase: 
"the Spirit of glory and of God rests on you."
 Jesus reminded us that we are blessed when people insult and persecute us because we have a great reward in heaven (
Matthew 5:11-12
). In today's verse, Peter plugs into this theme. In doing so, he also reminds us of an immediate reality as we await our reward in heaven. No matter what others say about us 
or do to us
, God claims us and lives in us through the Holy Spirit, the Spirit of glory! Rather than being 
ashamed
 for our suffering, we need to 
remain
 faithful because we know that we are 
claimed
 by the almighty God!
Today's Prayer
Father, may I never be ashamed of my faith in Jesus. Through the power of your glorious Holy Spirit, empower me to remain faithful through every circumstance and trial of life. I know you claim me as your child and that your Spirit lives in me and rests on me as I live to your glory. In Jesus' name, I pray. Amen.
Illustration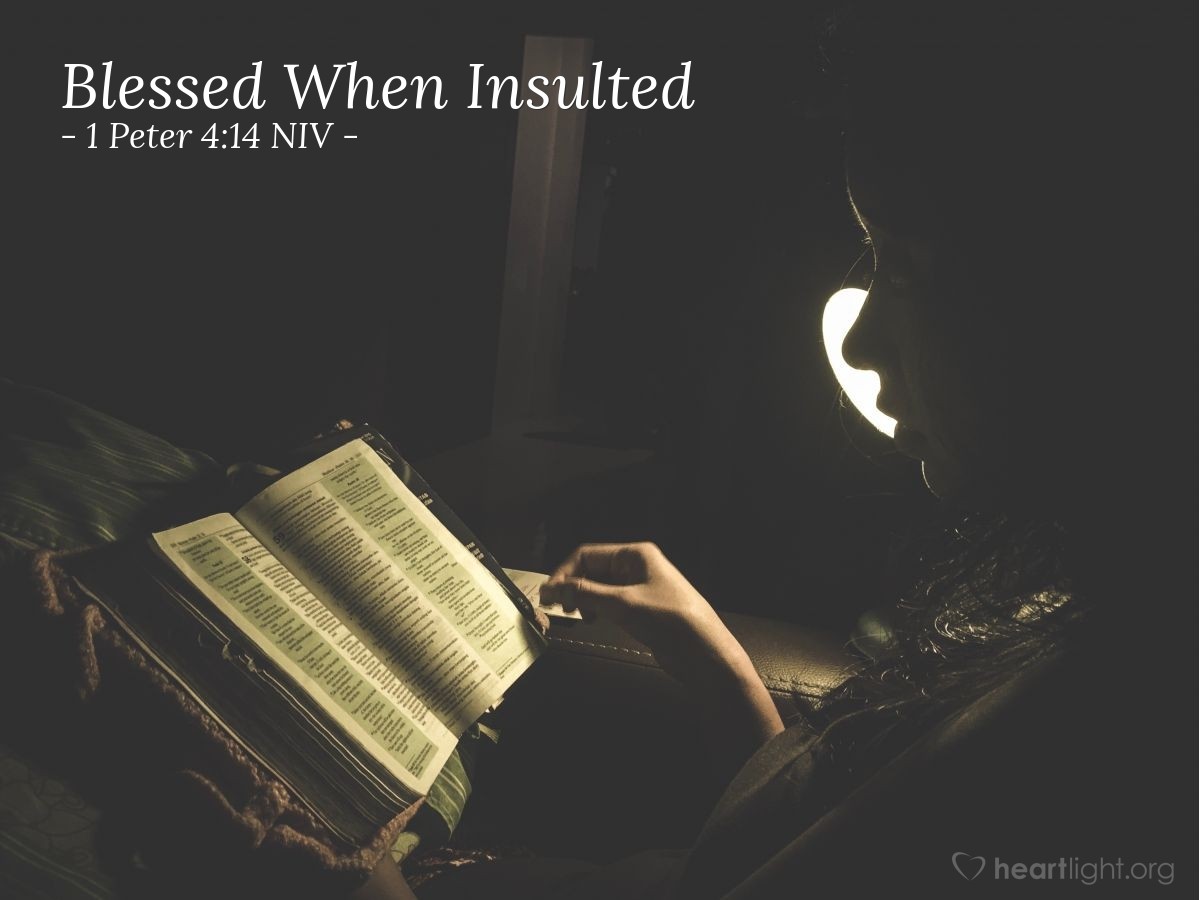 Passion for Praise:

 'God is Not a Man'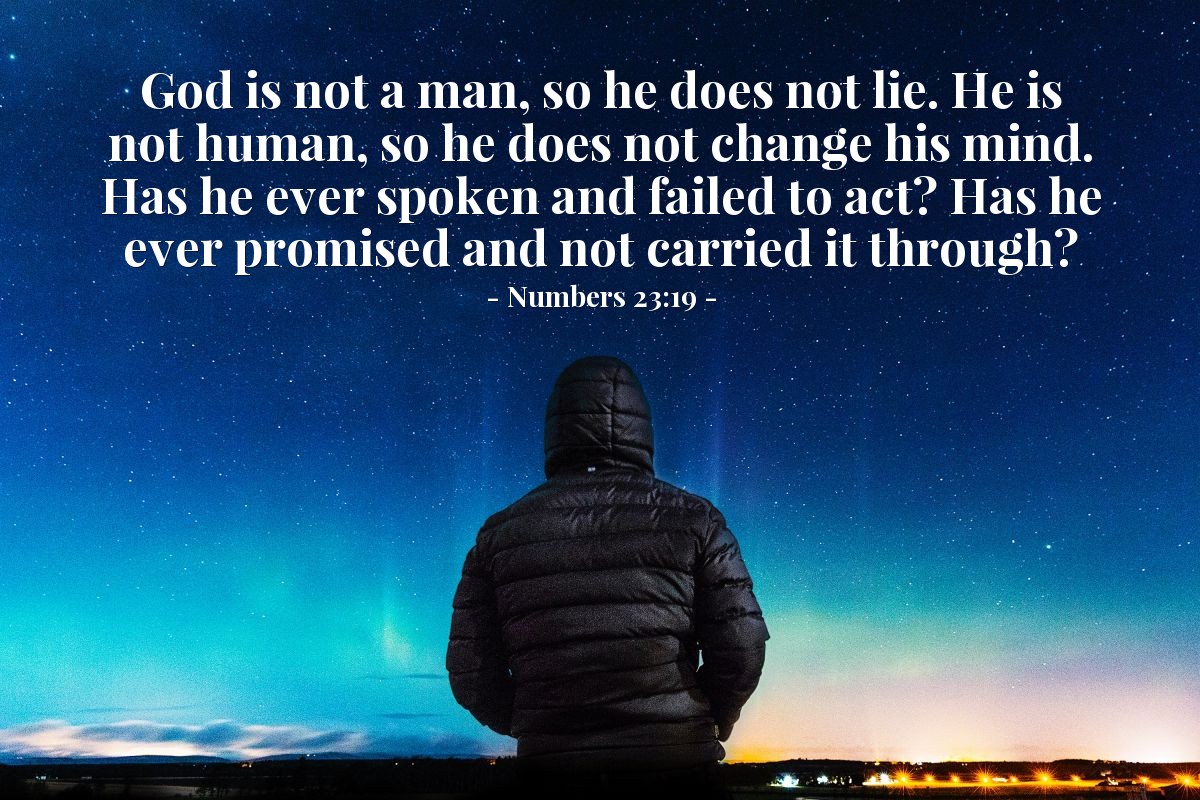 What Does It Mean Jesus Will Come As A Thief In The Night?
Jesus said that His appearance would be like that of a thief in the night, so what does this mean?
Noah's Day
Jesus referred to Noah's day when He was speaking about what it would be like just before His second coming, but why? Jesus explains, "For as were the days of Noah, so will be the coming of the Son of Man" (Matt 24:37), and in the day of Jesus' appearance, it will be just "as in those days before the flood they were eating and drinking, marrying and giving in marriage, until the day when Noah entered the ark" (Matt 24:38). No one was expecting a flood when none had ever occurred before, so the people continued to ignore Noah's warning about the coming flood of God's judgment on an evil world, so what was the problem? The Bible is clear, saying "The LORD saw that the wickedness of man was great in the earth, and that every intention of the thoughts of his heart was only evil continually" (Gen 6:5), and similar to today, "the earth was corrupt in God's sight, and the earth was filled with violence. And God saw the earth, and behold, it was corrupt, for all flesh had corrupted their way on the earth" (Gen 6:11-12). I believe part of the reason God sent His judgment was because the people were beyond hope of repenting. They had heard Noah's message of grace for decades, some say over a hundred years, but they kept doing business as usual, "eating and drinking, marrying and giving in marriage," which means it was all about pleasing the flesh. Eat, drink, marry, get a new spouse, and marry again, so all they spent their time on was imagining new ways to sin. All their thoughts were consumed about self-gratification, so that brought about all types of corruption and violence to the earth. Is it any different today?
Jesus' Prophecy
There was no shortage of tyrannical powers in Jesus' day. During the days of Jesus' earthly ministry, the iron fist of Rome ruled the world, at least in the Mediterranean and Middle-East areas. When Jesus was speaking of the end times, when there would be wars and rumors of wars, there were already wars going on, although not to the extent that there would be in the days preceding Jesus' return, but also, "many will fall away and betray one another and hate one another. And many false prophets will arise and lead many astray. And because lawlessness will be increased, the love of many will grow cold" (Matt 24:10-12). I believe we can now say the love of many has grown cold. Jesus warned time and again that He will come when no one is expecting Him, and so someday (soon?) there "will appear in heaven the sign of the Son of Man, and then all the tribes of the earth will mourn, and they will see the Son of Man coming on the clouds of heaven with power and great glory. And he will send out his angels with a loud trumpet call, and they will gather his elect from the four winds, from one end of heaven to the other" (Matt 24:30-31), but why do those on the earth mourn when they see Jesus? The Apostle John writes something very similar in the Book of Revelation where he says that Jesus will be "coming with the clouds, and every eye will see him, even those who pierced him, and all tribes of the earth will wail on account of him. Even so. Amen" (Rev 1:7). So why is there wailing and mourning when Jesus returns? Because they have rejected their only hope of being saved by rejecting Jesus Christ as the Savior (Acts 4:12). They cannot stand on their own merits any more than I can.
Like Lightning
One thing Jesus said when referring to His second coming was that "The days are coming when you will desire to see one of the days of the Son of Man, and you will not see it" (Luke 17:22). I believe those days are here, at least in the sense that I desire to see the Son of Man, or Jesus Christ, come, but I might not see before I did, so the older I get, the more I desire to see Him. Some believe that the temple in Israel must be rebuilt and the sacrifices must begin again before Jesus returns, however Jesus said His return will be "as the lightning flashes and lights up the sky from one side to the other, so will the Son of Man be in his day" (Luke 17:24). Jesus is not waiting for things to happen. He will come at the appointed time, so "concerning that day and hour no one knows, not even the angels of heaven, nor the Son, but the Father only" (Matt 24:36). All we know for sure is we "must be ready, for the Son of Man is coming at an hour you do not expect" (Matt 24:44).
As the lightning flashes and lights up the sky from one side to the other, so will the Son of Man be in his day.
Last Days
The Apostle Paul, writing as if the church at Thessalonica already knew, said "For you yourselves are fully aware that the day of the Lord will come like a thief in the night" (1 Thess 5:2). It doesn't matter if people say, "There is peace and security," [because] sudden destruction will come upon them as labor pains come upon a pregnant woman, and they will not escape" (1 Thess 5:3). He was telling them these things because they knew better than "for that day to surprise you like a thief" (1 Thess 5:4), and yet it will many, no doubt, otherwise we wouldn't hear these warnings from Jesus, Paul, and Peter. We shouldn't be surprised "that scoffers will come in the last days with scoffing, following their own sinful desires" (2 Pet 3:3). That prophecy is being fulfilled this very day by many who read and reject this! The Apostle Peter says we must "understand this, that in the last days there will come times of difficulty. For people will be lovers of self, lovers of money, proud, arrogant, abusive, disobedient to their parents, ungrateful, unholy, heartless, unappeasable, slanderous, without self-control, brutal, not loving good" (2 Tim 3:1-3). Have you seen the latest movies or the most recent video games? Enough said.
Conclusion
For all who have rejected Jesus Christ, that night will come upon them as swift as lightning, and will overtake them in their sins, therefore, I beg you to consider placing your trust in Christ. He can come at any moment, and if you hear He can't come back yet, tell them, "Jesus said He will come at a time when no one expects Him." God is God and Jesus will come when God determines He will come, and He is not waiting on a human timetable of events which are all laid out for Him to follow. He is not waiting for this to happen or that…He comes when He comes. The point is, He is coming when no one expects Him, many Christians included, but His coming will also surprise all who have spurned Him, and it is they who shall mourn, so when is He coming? I don't know, but I do know He is coming. I just don't know when. You don't either.
Article by Jack Wellman
Jack Wellman is Pastor of the Mulvane Brethren Church in Mulvane Kansas. Jack is a writer at Christian Quotes and also the Senior Writer at What Christians Want To Know whose mission is to equip, encourage, and energize Christians and to address questions about the believer's daily walk with God and the Bible. You can follow Jack on Google Plus or check out his book Teaching Children the Gospel available on Amazon.
God created the human body, and it is a marvelous creation. It was created to be strong and healthy at all times. Then why does it so oftentimes get sick? From the time that Adam and Eve willing sinned against God, the World and everything within it fell. And it's at this time of the original sin that corruption came into the world and into the physical body as well.
And because of the fall, God designed a plan of redemption that would purchase back all that had been corrupted and lost, including divine healing for us. Whether it be spiritual, mental or emotional, or physical healing—Jesus paid the price, once and for all. And nowhere in Scripture will we find that He removed from His blood covenant His healing power for us today. Nor will we find an amendment to what was done at the whipping post to heal all that will believe in it.
But [in fact] He has borne our griefs,
And He has carried our sorrows and pains;
Yet we [ignorantly] assumed that He was stricken,
Struck down by God and degraded and humiliated [by Him].
But He was wounded for our transgressions,
He was crushed for our wickedness [our sin, our injustice, our wrongdoing];
The punishment [required] for our well-being fell on Him,
And by His stripes (wounds) we are healed (Isa. 53:4-5, AMP).
To propose that supernatural healing is not for today is blasphemous against the blood of Jesus shed at the whipping post to purchase all healing for us. To suggest that God put sickness and disease upon your body for any reason whatsoever goes against the Word of God that declares "By His stripes we are healed". And to say that He put this illness upon your body for a good reason is a works mentality and you lack a true understanding of grace. To declare that God chose not to heal you or your loved one is to call God a liar. It not only declares war against all that Jesus did for us at the whipping post, but it implies that God and His Word are not to be trusted when He ensures us that "God is not a man, that He should lie." (See Num. 23:19a). And that "Jesus Christ is the same yesterday, and today, and forever" (See Heb. 13:8).
Why then does your healing take time to manifest? Or why does it not manifest at all? According to Jesus' words, "Your faith makes you whole" (see Luke 17:19). Faith in what? Faith in the redemptive blood of Jesus to heal.
"Daughter, your faith has made you well. Go in peace, and be healed of your affliction" (Mark 5:34).
"Then He said to him, 'Rise, go your way. Your faith has made you well'" (Luke 17:19).
Instead of blaming God for not completing His promise to heal, it's time to take a good hard look in the mirror of God's Word and speak the truth so that you and others can be free from the bondage of sickness and disease.
Be honest with yourself and with others: Your faith is not, or was not, strong enough to trust God for your healing. And then move forward, without condemnation, and develop your faith to believe for your healing. Remember, it is your faith that heals and makes you whole. 
Becky Dvorak is a prophetic healing evangelist and the author of DARE to Believe, Greater Than Magic and  The Healing Creed. Visit her at authorbeckydvorak.com.
Godtube
A Prayer for Praise
By Debbie McDaniel
"From the rising of the sun, to the place where it sets, the name of the Lord is the be praised." – Psalm 113:3
We have so much to praise God for, there's great power in giving honor to Him. And many of you live that truth out, every single day of your lives. The Bible is filled with examples of praise when we see His power released – life-changing miracles, dramatic stories of the enemy being halted or defeated, hearts being changed and drawn closer to Him.
Yet reality is that way too often, daily struggles or constant life demands can crowd out our praise to God.  We might check the worship box at church and somehow think we're good for the week.  And all the while, with souls distant and cold, we sing words, we listen to music, then we go home.
Sometimes it really is a sacrifice to offer praise.  We may not feel like it.  We're struggling.  We're weary.  Or maybe, we feel like He let us down. We think God seems distant, like he's far away, or doesn't really care about what's troubling us. Painful life blows and losses might have recently sent us spiraling.
We have a choice every day in this life.  To live absorbed in worry and stress, on the fast track of busy, focused only on what surrounds us, tuned into the roar of the world.
God desires our whole heart.  He waits for us to return.  He longs for us to know the power of His presence over our lives.  He desires to bless us more than we could imagine. His Spirit urges us onward, calling us closer.
May He help us to look up…open our mouths…and sing.
Dear God,
We praise you today with our hearts and songs, we praise you for your faithfulness, we praise you for your great power and love. We confess our need for you, our lives don't go so well when we just spin around on our own. We struggle and worry, get weary and worn. Yet you never leave us. Thank you for your presence. Thank you for your care over us, thank you that you breathe renewal right into our souls. We ask for your spirit to fill us, to draw us close to yourself, and to work your purposes through us, as we set our eyes on you.
In Jesus' Name,
Amen.
The Tomb Was Empty
Mary Southerland
Today's Truth
He is not here; He has risen! (Luke 24:6, NIV).
Friend to Friend
The boys and girls in Mrs. Stephens' fourth grade Sunday school class entered the room and quickly found their seats. The girls were dressed in frills and lace and chatting excitedly about the candy-filled baskets they had received that morning. The boys pulled at the unfamiliar ties around their necks and quickly discarded the sports coats they had obviously been forced to wear. The room was filled with excitement – for good reason. It was Easter Sunday.
Mrs. Stephens wanted to help her students understand that there is so much more to the Easter holiday than new clothes, chocolate bunnies, and egg hunts. Easter is more than family gatherings and tables filled with luscious food. Easter is about life. Easter celebrates the certainty of Jesus' death on the cross, the fact that He was buried, and that He came out of a burial tomb to conquer death so that we can live now and eternally.
Mrs. Stephens came up with a plan. After sharing the Bible story of Jesus' resurrection, she gave each one of her students an empty plastic egg and said, "We are going to take a walk outside, and I want each one of you to find one sign of life and put it in your plastic egg."
As the children filed out of the room, Mrs. Stephens noticed Danny, a little boy with Down syndrome who had been coming to her class for some time. His bright smile and sunny disposition had immediately won her heart. In fact, when it came to Danny, she often thought he had taught her so much more about the unconditional love of God and the joy of simply being a child of God than she could ever teach him. When she heard the other children make fun of him, it broke her heart. She always corrected the children and tried to help them see just how special Danny was, but Danny seemed oblivious to their hurtful words, and thought of each child as his "buddy."
The children soon returned from their walk, depositing their eggs on the teacher's desk as they made their way to their seats. Inside one student's egg was a lady bug. In another was an ant. Others had collected flowers, twigs, blades of grass and leaves to fill their eggs. But one egg had nothing in it. Everyone knew whose egg it was. Mrs. Stephens silenced the giggles with a look of warning. When she asked Danny why he had not put anything inside his egg to show signs of life, his face broke into a huge grin as he responded, "Because the tomb was empty."
Danny got it. He truly understood the profound truth of Easter. The empty tomb is the ultimate sign of life and a miracle like none other.
Today's Text and Thought of Encouragement:
"And I, when I am lifted up from the earth on the cross, will draw and attract all to Myself."
James 12: 32
Amplified Bible
EXPLORATION
"What The Cross Tells Me About My Father"
"God proved His love on the cross.  When Christ hung, and bled, and died it was God saying to the world – I love you."
Billy Graham
What have I seen in my own life that shows me how much my heavenly Father loves me?
"Nothing binds me to my Lord like a strong belief in His changeless love."
C. H. Spurgeon
INSPIRATION
"The cross is God's centerpiece on the table of time."
Paul Guttke
            I am one of those very blessed girls who had a kind, compassionate and Godly earthly father who served as a role model in helping me better understand the characteristics of my heavenly Father.
As with most kids though, my relationship with my dad was not always problem free.  Especially in my teens and early twenties.  My view of my dad was tainted by my own immaturity and lack of knowledge.  I saw many of his decisions as harsh and arbitrary. I felt he was demanding and that his desire in life was to keep me from "having fun."  Some of the boundaries he set up to protect me were seen as hindrances to impede me.
However, as the years passed, and my relationship with my father grew, much to my surprise, the very qualities in my dad that I once criticized, eventually became the elements of my father's character which I admired most.
Time spent getting to know my dad, gave me a completely different perspective on the person he was.
This is why I want to spend some time today looking at what the cross and the events that surrounded the death and resurrection of the Son of God, Jesus Christ, tell us about our heavenly Father.
There are two critical reasons why it is so important we have a correct view of our Father.  First, my view of my heavenly Father is key in helping me form a correct perception of myself and God's other children.  Let me explain this thought in very practical terms.  Children growing up in homes where fathers are mean and unkind, find it is more difficult to understand qualities like gentleness and kindness.  In fact, psychologists tell us that what we are surrounded by in our early years can end up having such an affect on us we may even become like the person we detested.  If I perceive my heavenly Father to be mean and demanding, cruel and arbitrary – it is possible the God I believe in may end up being the God I reflect.
Second, and this is a question I've asked myself on more than one occasion, if I believe God to be demanding, critical and harsh – why in the world would I want to spend eternity with a person who contains these distasteful qualities.
Today, there are four specific truths that the cross tells us about our Father:
This day and everyday, with gratitude, let us lift our voices in rejoicing that the cross is God's evidence of the essence of who He is – truthful, trustworthy, merciful and loving. This is a God I not only want to get to know better every day of my life, but my Father, who I want to spend eternity with.
"O God, my heart is fixed, steadfast…for Your mercy and loving-kindness are great and high as the heavens!  Your truth and faithfulness reach to the skies."
Psalm 108: 1, 4
"O Love that will not let me go,
I rest my weary soul in Thee,
I give Thee back the life I owe,
That in thine ocean depths its flow
May richer, fuller be."
George Matteson
AFFIRMATION
Several years ago, I read a poem written by Nancy Thomas, an American Quaker missionary who served with her husband and their family among the Aymara Indians in Bolivia.  Her words deeply moved me and I pray they will do the same for you, too.  The words of this poem express, so dramatically, the nature of a Father who would do everything possible to restore His relationship with each one of His children.
Hard God
"Candles and rose light
through cathedral glass
poorly define Him.
No gentle picker of pale
violets in grass.
No wandering shepherd
breathing wisdom and hymns
in shaded vale.
Let it pass.
I serve a hard God.
Liken Him to a raging fire.
Remember Him
forcing Pharaoh higher
to cliff's edge,
then to churning sea;
see him swallowing Korah
in an extemporaneous tomb;
recall His intended pyre
to be built
from His erring
but chosen sons,
quenched only by Moses' plea.
I serve a hard God.
He walks a stern path
through the earth.
His voice roars
in thunder,
giving birth
to terror;
oceans leap
in His wake
waves are hurled
mountains quake –
desolations are His footprints
in the world.
He is hard
and His way was stone,
touch and free
from gentility
like nails
driven through bone
and splintered to a tree.
He thunders and kills
from below, in, above;
He consumes all dross.
He is stern
like love
and hard
like a cross."
Nancy Thomas
20th Century
"Love so amazing, so divine, demands my soul, my life, my all."
Isaac Watts
Your friend,
Dorothy Valcárcel, Author
When A Woman Meets Jesus
Begger or Prince
Yet to all who received Him, to those who believed in His name, he gave the right to become children of God. – John 1:12
Are you a beggar or a prince?  Some religious people will tell you that you're despicable and worthless.  Others will say that you're the pinnacle of creation or the center of the universe.
I think the words of C. S. Lewis from his great work The Chronicles of Narnia communicates the division between beggar and prince well. The voice of the lion, Aslan, is a respresentation of Jesus Christ says in the book Prince Caspian, "You come from the Lord Adam and the Lady Eve. And that is both honour enough to erect the head of the poorest beggar, and shame enough to bow the shoulders of the greatest emperor on earth. Be content."
Friend, you were made in the image of God. That image, however, has been tragically marred and gracefully corrected. It was marred when Adam and Eve sinned in the Garden of Eden. It was grace¬fully corrected when Christ bore our sins on the cross . . . when he gave His life to pay the price for our sin.
Erect your head in honor of being a child of God. At the same time, bow in fear and respect to the King of Kings.
"You are a child of God. Your playing small does not serve the world. There is nothing enlightened about shrinking so that other people won't feel insecure about you. We were born to manifest the glory of God that is within us." – Nelson Rockefeller (1908-1979)
From Hope for Each Day by Billy Graham
Forgiveness and Fellowship
"I will forgive their iniquity, and their sin I will remember no more." –Jeremiah 31:34
There is no possibility of true happiness until we have established friendship and fellowship with God. And there is no possibility of establishing this fellowship apart from the cross of His Son, Jesus Christ.
God says, "I will forgive you, but I will forgive only at the foot of the cross." He says, "I will fellowship with you, but I will fellowship with you only at the cross." Why is this? Because only through Christ's death on the cross can we be forgiven and reconciled to God. This is why we must come to the cross, repenting of our sins and trusting Christ alone to save us. Human pride gets in the way: we don't want to admit that we are sinners or that we are too weak to save ourselves. Only when we leave our pride at the cross can our hearts be open to God's redeeming grace.
When we come to Christ, God imparts His righteousness to us. It is as if an accounting entry had been made in the books of Heaven, declaring us righteous for Christ's sake. The Divine Bookkeeper cancels our debt!
Order your own copy of Hope for Each Day by Billy Graham
As a pleasing aroma I will accept you.
Ezekiel 20:41
The merits of our great Redeemer are as a pleasing aroma to the Most High. Whether we speak of the active or passive righteousness of Christ, there is an equal fragrance. There was a pleasing aroma in His active life by which He honored the law of God and made every precept to glitter like a precious jewel in the pure setting of His own person.
Such, too, was His passive obedience, when He endured with unmurmuring submission hunger and thirst, cold and nakedness, and at the end sweat as it were great drops of blood in Gethsemane. He gave His back to the smiters and His cheeks to them that plucked out the hair and was fastened to the cruel wood, that He might suffer the wrath of God in our behalf. These two things are sweet before the Most High; and for the sake of His doing and His dying, His substitutionary sufferings and His vicarious obedience, the Lord our God accepts us.
What a preciousness there must be in Him to overcome our lack of preciousness! What a pleasing aroma to put away our nasty odor! What a cleansing power in His blood to take away sin such as ours! And what glory in His righteousness to make such unacceptable creatures to be accepted in the Beloved!
Consider, believer, how sure and unchanging is our acceptance, since it is in Him! Take care that you never doubt your acceptance in Jesus. You cannot be accepted without Christ; but when you have received His merit, you cannot be unaccepted. Despite all your doubts and fears and sins, Jehovah's gracious eye never looks upon you in anger; though He sees sin in you, in yourself, yet when He looks at you through Christ, He sees no sin. You are always accepted in Christ, are always blessed and dear to the Father's heart. Therefore lift up a song, and as you see the smoking incense of the Savior's merit coming up this evening before the sapphire throne, let the incense of your praise go up also.
Today's Scripture
"And because we are his children, God has sent the Spirit of his Son into our hearts, prompting us to call out, 'Abba, Father.'" Galatians 4:6
Thoughts for Today
When we receive Christ as our savior, we are adopted by God! He becomes our Father, and we become his sons and daughters.
As our Father, he will guide us, teach us, protect us, provide for us, discipline us, comfort us, help us, forgive us, defend us, strengthen us–and through it all, love us unconditionally.
Twice in the New Testament, Jesus referred to God as Abba. In Galatians, Paul used the term. Abba is an Aramaic word for father, indicating a special intimacy rather like when we use the word daddy. God is our loving Father, our Daddy.
Consider this …
Psalm 37:23-24 says that when we stumble, we won't fall down because God will be holding our hand. What a picture! Just envision a father–a daddy–walking along with his young child. The child trips, but the father is gripping the youngster's hand and holds him up, keeping him from falling to the ground.
Our heavenly Daddy does this for us as we are willing to put our hand in his, following his guidance and trusting him. When we stumble, make a wrong move, he is right there to protect us and help us–to keep us from falling all the way to the ground and to guide us back to where we belong.
Prayer
Lord, I thank you that you are my loving, caring Daddy. Thank you for holding my hand wherever I go and for giving me the strength and guidance to keep going when I am faced with stumbling blocks or wrong turns. Thank you for caring. In Jesus' name …
Why is Jesus called The Christ?
What was it about Jesus being "The Christ" that was so earth shaking that it could save everyone who believed it? How did that simple knowledge turn the world "upside down" in the first century? And why is it so vitally important that we understand 

today

 what it truly means that Jesus is "The Christ," the Son of the living God?

In this book, Leroy Surface takes you through the prophecies spoken through the prophets of old and shows how God plainly revealed what "The Christ" would do when he came. Such was the importance of this message that God sent the angel Gabriel to personally tell Daniel when "The Christ" would appear and what his mission would be. You will see why this understanding shook the world in the days of the apostles and why it will do the same today if it is once again understood and unashamedly proclaimed to every nation. Visit cochurch.org
Resolving the Ownership Issue
TGIF Today God Is First Volume 1 by Os Hillman
March 28, 2018
"The earth is the Lord's, and everything in it, the world, and all who live in it; for He founded it upon the seas and established it upon the waters." – Psalm 24:1-2
As Christian workplace believers, God calls us to view Him as the owner of everything. We are to be stewards of all that He entrusts to us. This is one of the hardest of all commandments to follow for the Christian workplace believer because, if we work hard at business, we receive all the benefits of that work. It appears as though all that we have achieved was through our hand. Yet God says that it is by His hand that we are able to make wealth (see Deut. 8). He is the source of that ability. As soon as we become owners and not managers, we fall into trouble with God.
Joseph understood that he was a steward of all the resources of Egypt. God promoted him to affect an entire region of the world. Joseph had more power, prestige, and wealth than any 30-year-old who ever lived before him. The temptation for him in this newfound role in life must have been great. Many a man has not been able to handle material success. Many of God's choicest servants began well in their calling and service to God only to fail at the end. Consider Hezekiah, the great king who achieved many great things but failed to acknowledge God's blessing at the end of his reign. His reign was cut short due to pride. Gideon's fate was similar. Success can lead to pride if we are not careful.
"Not every man can carry a full cup. Sudden elevation frequently leads to pride and a fall. The most exacting test of all to survive is prosperity" [Oswald Chambers].
Ask the Lord today if you are living as a steward or an owner. Put whatever skills and resources you possess on His altar. Then you can expect God to do great things through you.
Peace in Your Place
It's not easy for sheep to lie down.
Several verses in the Bible remind us that the Lord is a good shepherd and He will lead us to a place of peace.
"He makes me lie down in green pastures" (Ps. 23:1b).
Among other things, sheep must feel secure to lie down. Lambs are vulnerable to many predators because of their shape and weight.
"'I will feed them in a good pasture, and their grazing ground will be on the mountain heights of Israel. There they will lie down on good grazing ground and feed in rich pasture on the mountains of Israel. I will feed My flock and I will lead them to rest,' declares the Lord God" (Ezek. 34:14-15).
These verses shed light on the Lord's shepherding style. In contrast to the self-serving rulers of Israel, He promises to lead the flock to graze in better pastures and on the grassy mountains of Israel. The Lord's care is described from the receiver's perspective: They will lie down in the good pasture and graze in greener meadows.
It is clear in verse 15 that the leader "caused" His followers to eat well and to rest.
God loves us and leads us through the power of the Holy Spirit. The metaphor of a good shepherd is at once comforting and challenging.
It is challenging because sheep must submit to leadership. Sheep prefer to wander in search of greener pastures. Sheep love their independence until a wolf eyes the flock buffet.
It's the rod and staff of the shepherd that rescues wayward lambs. The rod launches toward the wolf. The staff yanks the sheep into a place of peace.
"As I have moved among men and women from all strata of society as both a lay pastor and as a scientist, I have become increasingly aware of one thing," wrote Phillip Keller in A Shepherd Looks at the 23rd Psalm. "It is the boss—the manager—the Master in people's lives who makes the difference in their destiny."
The love of a leader creates an environment of peace.
Stay blessed!!!