Christoph Friedrich Blumhardt
The Spirit of the Sovereign Lord is on me, because the Lord has anointed me to proclaim good news to the poor. He has sent me to bind up the brokenhearted, to proclaim freedom for the captives and release from darkness for the prisoners, to proclaim the year of the Lord's favor and the day of vengeance of our God, to comfort all who mourn. Isaiah 61:1–2, NIV
Lord our God, light of humankind in Jesus Christ, full of joy and trust we ask that we may have access to your almighty power, your power against all darkness, sin, death, and bondage. May we feel close to your almighty power. Hear our weeping, for we are and remain your children, to whom you have promised redemption and deliverance. Together we hold fast to this promise and stand before you saying, "We are your children in Jesus Christ the Savior, whom you have sent to us." Hear your children. Bless us each one, and bless us as one people, allowed to serve you in the misery of our world. Amen.
TODAY'S DAILY DIG
Obviously, while I love all, I must, like Christ, have a special love for the poor. At the last judgement, we shall all be judged by the treatment we have given to Christ, to Christ in the person of those who are hungry or thirsty, who are dirty, wounded, and oppressed.
The Measure of a Life Well Lived
Just over a year ago, I sat by my father's bed for ten days and nights, watching him die. We connected through touch as I held his weakening hand, swabbed out his mouth, and did all I could to ease his last passage. I stroked his forearms, still so familiar, and recalled everything I'd known about him and done with him, this man who had always been there.
"But what is the measure of a life well lived?" The question, as persistent as it was answerless, kept interrupting – interrogating – the memories that flowed through my mind. After he died I reentered normal life, returning home to the Bruderhof, the Christian community to which I belong, just in time to attend the funeral of an old friend. This loss was quickly followed by two more funerals, for two other old friends. And it seemed, as I remembered their characters and listened to the stories of their lives, that these three women were giving me one last gift, extending an answer to the question that had dogged my vigil at my father's side.
It seemed that these three women were giving me one last gift, extending an answer to the question that had dogged my vigil at my father's side.
As a boomer growing up in the relative comfort and prosperity of the fifties, I used to assume that every college-educated, middle-class woman of my parents' generation aspired to becoming the perfect housewife, patterning herself on Donna Reed or the fictitious Betty Crocker. When I came to the Bruderhof, however, I discovered dozens of women from the "Greatest Generation" who had traded upwardly-mobile comforts and Sunday Christianity for a life of poverty and discipleship. These three friends were among them.
Dotti died first, but she was always first – the first to speak, to laugh, to get up and dance (when her legs still worked). A Detroit native, Dotti talked loud, laughed loud, and, well, dressed loud. You could easily pick her out in a crowd by the clownishly bright clothes she wore to keep the ever-lurking depression at bay. She thrived on excitement, hated routine, and felt it her duty to get those around her to live with the same wholehearted purpose.
Perhaps I was drawn to Dotti because she reminded me of my mother. They were the same age, had attended the same art school (missing one another by a year), and were equally high-maintenance. But in Dotti I found an extra depth, a different perspective, a person who'd seen and experienced the same things that had turned my mother into a jaded cynic, but who'd found a way through the darkness to discover joy.
When Dotti said something, you listened. Her sharply worded observations may have sounded off-the-cuff but they came from deep within, a place of wisdom honed by suffering and repentance.
In her twenties, a self-consciously sophisticated art student, Dotti found her life upended in one short weekend in 1952 when she reluctantly attended the Annual Conference of the Women's International League for Peace and Freedom. In her words:
When I left home on Thursday, I was what I had been brought up to be – a middle class, college-educated young lady. When I returned home on Sunday evening, I was a totally different person. My whole attitude toward war, toward minorities, toward poor people, toward unions, toward everything was completely changed. The focus of my life after that was to work for world peace, for justice, and for reconciliation between people.
It was her Christian faith that gave context to her new commitment. Dotti and her husband Bill (they married in 1953) were churchgoers. Like the other members of the progressive, integrated Methodist church they attended in Detroit, they focused their faith on social justice and racial reconciliation. In the summer of 1962, intrigued by reports about a pacifist Christian community whose members share all things in common, they decided to go see for themselves. And once again, in the course of a few days, the direction of Dotti's life changed.
Three things they experienced on that first visit to the Bruderhof drew them: the members' obvious joy despite their impoverished circumstances, the fact that people were able to disagree and yet still come to unity, and the outreaching love that Dotti felt from the gathered community. This love was evident in the community celebrations, but it shone through as well as members honestly and openly confronted each other.
In the car on the way back to Detroit Bill announced, "I'm going back." Dotti later recalled:
Bill did not say, "We are going back," or, "Are we going back?" or, "What do you think?" He said, "I am going back." He was called. That is something I have hung on to. No matter what happens in life, Bill was called to this life by God. I felt the same call, which was more than fortunate: it was God-given. Otherwise, it could have split our family. I had become discouraged, disillusioned, and our marriage was in danger of breaking up. That one weekend turned everything around and gave me a real joy in life.
Ellen died twice. And I am certain that was the key to her joy. But I'm getting ahead of myself.
Ellen died twice. And I am certain that was the key to her joy.
Ellen would tell you she started out as a "nice Jewish girl from Brooklyn." She was on a search, but for a cause, not – like many of her post-war peers – for the perfect man. Fueled by vague dissatisfaction with the status quo, with a desire for society to be "turned upside down" and for a "solution" to racial injustice, impulsive Ellen set out alone for Europe in 1953 at twenty. One of eleven passengers on a freighter, she spent the five-day voyage holed up in her cabin reading Tolstoy's War and Peace.
During that trip, bored with touring London, Ellen decided to "swing by" a Christian community in Shropshire that she'd heard about from a friend in Manhattan. Swinging by entailed multiple train transfers and a fifteen-mile bicycle ride, since the Wheathill Bruderhof was located in the hills near the Welsh border. But when Ellen arrived, she met far more than she had expected:
On the way down the driveway I had what I can only call a Damascus Road experience. I looked out over the valley towards Birmingham and had this overwhelming sensation that I was on holy ground, that this place I was standing on had been here from the beginning and would be here forever, into all eternity. This was a call from God. I was Jewish, an atheist, and it was as if God put his hand on my shoulder and said, "You belong here; you have come home." I fell in love with Wheathill from that moment. I never forgot feeling, "This is it. This is home. This is more than home. This is the solution."
I wanted to sell everything I had and buy the whole field for joy.
And so she stayed. At Wheathill, living conditions were bleak – penetrating cold, very little food or warm clothes, no indoor plumbing. Yet Ellen responded with her whole heart when she heard that call. Years later she would write to a grandson: "When I first came to Wheathill I remember going down the driveway and looking out over the view and thinking, 'There must be a God after all.' I always remember the joy that filled me like I had never experienced before. I wanted to sell everything I had and buy the whole field for joy. About finding faith: I think faith finds you."
Doris was the third to die that spring. Doris, who had grown up as a Quaker in the Finger Lakes region of upstate New York, was Dotti's complete opposite, and was none too similar to Ellen either. Where the other two women seemed to blurt out their feelings without editing, Doris rarely voiced her thoughts. Getting to know her took time and patience. Small talk got you nowhere. Remaining fully present during what felt like long, full silences was a must.
Although Doris was quiet, she was never self-absorbed. Her greatest pleasures were making crafts from natural materials she'd collected, or sitting outdoors and observing or drawing. Whatever she made, she gave away. Hers was an interior life of reflection and concern for those who didn't "have it all together." Doris was someone you could trust, an oasis of calm and solidity. And so I was surprised to learn, after she passed away, of her own long struggle with feelings of inadequacy and unworthiness.
Doris had experienced something like communal life growing up – her parents taught in a boarding school, where her father was farm manager. She went on to study botany at Cornell. After graduating, she married Bud, who like her had had a taste of intentional community in the Civilian Public Service camp in which he had spent much of World War II as a conscientious objector. After the war, the couple explored a range of communitarian experiments. Then a friend shared with them a letter from a fellow Quaker explaining why he had become a member of the Bruderhof:
We have for so many years sought for an answer to the causes of the terrible wars, the inequality and injustice among men that now it is a great joy to throw ourselves completely into this positive effort to demonstrate the possibility of a brotherly way of life.
Bud and Doris went to visit the community a few months later, and soon decided to stay.
Each of these women chose early to live for an ideal, and each gladly gave up her personal freedom and the conventional ingredients of the good life to live a life of meaning and purpose when they joined the community. But not one of them, after making this commitment, "lived happily ever after." It doesn't work that way.
"It is a terrible thing to fall into the hands of the living God." – Dorothy Day
Each of them endured physical, mental, or emotional suffering that put their faith, and their commitment, to the test. That is where each of them found an all-powerful love that sustained them and gave them a purpose to endure their darkest hours. Each, in her own way and words, would have told you she encountered this love in the person of Jesus. "It is a terrible thing to fall into the hands of the living God," Dorothy Day, the founder of the Catholic Worker movement, once wrote. "It is not anything that we can take except with the utmost seriousness and yet it is of course the greatest joy in the world."
In 1967, just five years after Dotti and her family had come to the Bruderhof, her husband Bill abruptly left. The reasons were complicated – decades later, Bill would simply say that he'd had a "heartless mind and a lot of stubborn pride." He'd fully intended to take his wife and children with him, but Dotti refused to go. Instead, she stayed true to the conviction that they'd been called to follow God in community. Over the next five years she single-handedly raised their six children (ranging in age from three months to fifteen when he left), never knowing if Bill would return.
It was like a miracle when he finally did. Still, it was painful to make room in the family for the prodigal father. Dotti, who had managed years of single parenting, now had to reaccept a husband who doubted his faith and himself, and depended on her support. It took years for Bill to get back on solid ground spiritually and emotionally, and more years for his children to once again respect and love their father. That it was even possible says volumes about Dotti's profound faith and her willingness to forgive.
Although her personality was strong, Dotti's health was fragile. Since young adulthood, she'd borne up under countless infirmities resulting in numerous hospitalizations. The arthritis Dotti had been diagnosed with in her teens finally slowed her down in her sixties. Two painful knee replacements were immediately followed by a freak accident in a parking lot, when a car ran over Dotti's foot, crushing her ankle. Reconstructive surgery with lots of hardware followed. After some healing, the metal screws and plates were surgically removed. Dotti proudly displayed them in an empty peanut butter jar on a window sill in her living room. Following the accident, Dotti never really recovered the ability to walk any distance and often had to submit to being pushed in a wheelchair, or to using her preferred mode of mobility – her camo-painted scooter.
Decades of unrelenting pain have a way of making one intolerant of small talk or social niceties. Never one to engage in trivialities, Dotti became downright intense and would deliver shocking one-liners to those who she felt needed a jolt to inwardly wake up. One young father got a lesson in parenting when Dotti brought him up short by yelling, "Say it like you mean it when you call your children in from play. Otherwise they'll know you don't expect them to obey!"
Like Dorothy Day, whom she admired, Dotti's social radicalism was combined with a solidly orthodox faith. She had a "take no prisoners" approach to what she knew was true, and yet she retained an irrepressible love for all people and a desire for every one of them to find God. Her last job in the community was self-appointed. She loved to work over the stiff English translations of German sermons to make them interesting and understandable by "high school boys" – her favorite audience.
Dotti could smell a fake a mile away. She would have nothing to do with an empty, pious, or hypocritical religion. For Dotti, there was only one thing worse than politics and politicians – religious hypocrites. Her obvious love of Jesus and of the community confirmed my own decision to give myself to the same calling: to commit to a life holding all things in common, a life in full Christian community.
Ellen made a farewell visit to her parents in Brooklyn to tell them she was now a Christian – and that her new faith was calling her to move to what in their eyes was a highly dubious commune off in England. ("What did we do wrong?" her father asked.) Then she returned to Wheathill, where after two years she married Ulrich Keiderling, a German craftsman. Together they had seven children. Then came 1977, a year that the family would always remember as a crucible of suffering and redemption. In February, three-year-old Mark John, the youngest and the apple of his parents' eye, was diagnosed with a rare, aggressive brain cancer. His parents and six older siblings spent the next three months caring for Mark John, preparing him for his inevitable death. They spared no effort to comfort him as he wasted away, became blind, and finally died in his parents' arms, fully trusting in Jesus to take him to heaven.
Then came 1977, a year that the family would always remember as a crucible of suffering and redemption.
Just five months later, Ellen, now forty-five, went into labor with their eighth child. During delivery, Ellen was unconscious with no palpable pulse or blood pressure, taking both herself and her unborn daughter to the edge of death. During those hours, she experienced being irresistibly drawn toward the beauty of heaven. She always remembered smelling lilies and roses just before she was brought back to consciousness.
When Ellen awoke, though, she remembered little else. She did not recognize her own children, had no memory of Mark John's suffering and death, and did not know she had a new daughter. As she slowly regained her memory, she was forced to experience again the pain of losing Mark John and the dawning realization that she now needed to care for another child who would not survive. Marie Johanna looked perfect, but was deemed "brain dead and incompatible with life." Throughout the two months she lived, she never opened her eyes and only cried twice. Ellen wrote:
Marie Johanna's delicate, tender little body was with us, but her soul, right from the beginning, was stretched out between heaven and earth. We always thought of her as a messenger who would one day have to go back where she came from.
On Christmas Eve her children gathered around Ellen as she held Marie Johanna. One of her daughters held a candle next to the baby's face. Marie Johanna looked especially beautiful, Ellen remembered later. Then, for the first time, she opened her eyes. They were wide open and focused. She was looking into the corner of the room. At that moment, Ellen said:
I felt our baby's soul leaving her. Her little soul rose from her body and passed in front of my face like a gentle, sweet breath. I was as certain of it as a blind person is sure when someone or something passes right by him. I felt wings brushing by my face – they were not soft, but stiff and strong, like the tips of birds' wings, but large – and with it a fragrance. This is hard to put into words, but I felt this spiritual presence as surely as if it had been a physical presence. I stood transfixed for a moment, unable to move my head to look down at my baby. And when I did, what I saw only confirmed what I knew: her face was waxen, and she was no longer breathing.
Ellen had endured the most difficult experience a mother ever has to suffer – the death of a child. And she had been through it twice in less than a year. She later described that year as a time when "God had to shake us until our teeth rattled." But she and Ulrich let that unprecedented suffering soften and change them, and it guided the rest of their lives together. The change didn't happen overnight. Their children remember what felt like a long, dark time: days that turned into weeks when Ellen would retreat to her darkened bedroom to grieve and was not to be disturbed, years when Ulrich was away from the family working through his pain and finding his way back though his own inner wilderness.
"Where your treasure is," we are told, "There your heart will be also" (Matt. 6:21). Her children had gone ahead of her to the kingdom of heaven, and, as Ellen offered her pain to God, she found that she was able to cry out with great fervor for this kingdom to come. After 1977, Ellen refused novocaine at the dentist, celebrated being outside in cold weather, and embraced other discomforts in solidarity with her little boy who had gone through such pain. She emerged from that season of suffering as almost a new person.
The old originality was still there, now unleashed and deepened, setting her free to say and do whatever her heart said was true and right. Ulrich was back at her side, constant in his quiet love, cheering her on, occasionally reining in her excesses, and wordlessly giving her permission to speak from that place of pain and joy they'd gone through together.
That's the Ellen I met twenty years later. There was nothing grim about her. Like Elizabeth Bennet in Jane Austen's Pride and Prejudice, she dearly loved to laugh – at the absurdities of daily life, at a story by James Thurber, often at herself. She was exuberant in her love for individual people, for humanity, and for the church community that had carried her through those dark years. As Ellen once expressed:
That's why each one of us is here, because we feel that here we can most closely and nearly live for that kingdom and give our lives for it, because we long for God's kingdom to come to the world. And we have this wonderful and precious task: that we can live for it and witness to it in every aspect of our lives, in every relationship – between husband and wife and between parents and children and brothers and sisters.
Doris knew pain of a different kind. Her suffering was like a long slow burn, kept below the surface where no one could see it. The love of her husband, Bud, a warm, outgoing, and energetic man, reassured her through the constant thoughts of self-doubt and self-accusation that sought to paralyze her spirit. In a low moment some years after joining the community, Doris questioned her motivations for doing so in the first place. She worried that her decision had been based on her own principles, not on a loving response to a call. "I felt I was holding the lantern," she would later say, "but the lantern had no flame in it. Jesus was an ideal, but he was not my personal friend." Living on an ideal can work for a while – it sustained Bud and Doris for ten active years in the community – but then they felt the need to retreat with their family to rediscover Jesus himself.
Doris's suffering was like a long slow burn, kept below the surface where no one could see it.
During those years away from the community, Doris's feelings of inadequacy fueled her struggle to find a personal faith. She didn't want to just go through the motions of a committed life, but wanted her commitment to be real. She worried about inauthenticity; at times, her desire to live a genuine faith made it impossible for her to read the Bible to herself or her children without feeling hypocritical. She later wrote:
Repentance was a mystery to me – something I knew I should have – but what was it?
I had to face guilt and shame and hardly knew how, until one evening, listening to [Handel's] Messiah, I heard the words "The kingdom of this world is become the kingdom of our God." I suddenly was aware of the meaning of these words for me personally. After this, slowly courage came and humility, and reconciliation began to take place. Repentance crept in quietly, without being named or recognized.
This was a beginning, the finding of a key, but for years still I struggled to find something that Bud had found. He could sit and read the Bible or other inner books, and be warmed and refreshed by it as though he were sitting by a warm fire.
Bud and Doris returned to the community in 1976, and spent ten golden years as youth counselors. Toward the end of that decade, Doris had a presentiment that she might not have many more years with Bud. A few months later, in June of 1986, she had to face her greatest fear when Bud was diagnosed with cancer. He died in December.
Doris spent the next thirty years as a widow. Whenever she felt lonely, she would sit at her desk and think of someone who might also be lonely and write them a letter. She wrote thousands of letters over those three decades, at least one a day and often more on the weekends. She corresponded with several inmates, many of whom wrote to the family after she died expressing their thankfulness for her faithful correspondence. Here's how Doris saw her ministry of writing in her later years:
There are many ways of thinking of writing a letter. You can just sit down and start writing until you feel that you are done – or you can think about what gives Life meaning at the moment. It's a little bit like being born again for a third time!
Because I'd met them separately and in their later years, it never occurred to me that these three women had much in common. Then they died one after the other, one month apart. And so, once a month for three months, I sat at each one's funeral and listened to their stories. That's when I saw the shape of what they shared beyond their membership in the same community. I realized each of them had discovered the value in something that so many of us work so hard to avoid – suffering.
What did all that suffering do for them? It wounded them. And living with their wounds made them both vulnerable and compassionate, and yet also bluntly honest. All that pain revealed to them that they were not in control of their lives, and never had been. It refined them like a blowtorch burns the dross off molten silver in a crucible, purifying the metal until it shines, indicating it is ready to be poured into a mold. Their crucible of suffering purified their intentions, leaving them with no option but to act and speak from their hearts. They each emerged from it with a depth of joy and freedom that drew me to them.
What did all that suffering do for them? It wounded them.
In her later years, one of Ellen's favorite things to do was to host an evening of poetry. She asked everyone to bring a poem or piece of inspiring prose to read aloud at the gathering. Before the reading started, Ellen made sure we were all comfortable – that is, that we had enough wine. And as the evening went on she kept the refills coming. Those gatherings held such good memories that her children hosted a beautiful poetry and prose evening – with wine, of course – the night before her funeral. As I sat there listening to her favorite poems being read, and her favorite sweet-sad songs being played by her grandson on his violin, I realized, "This is one measure of a life well lived." The most remarkable thing about Ellen's life was Ellen herself, but her radiance was not the result of her own efforts or achievements or decisions. It was Jesus, his suffering and resurrection, shining through her like light through stained glass.
Doris was granted her own kind of radiance. At an early age she had set her face toward the good and ruthlessly opposed any hint of selfishness in her own heart. For decades, her suffering, her dark night of the soul, was that she didn't always have the assurance that she was in God's presence; she craved it, perceiving what seemed like his absence in the face of evil.
The reality of God was so important to her that she did not want to fake a relationship she felt she had never experienced. She didn't doubt, but she longed for inner reassurance from God. Why is it that God sometimes hides his face from those who most faithfully follow and long for him? Doris's aridity reminds me of that of Mother Teresa, another woman who experienced years of following what she knew was true without the interior affirmation of his close presence. Like the saint from Calcutta, Doris suffered under this perceived absence – yet continued in faith, undeterred and outwardly calm.
With Dotti, of course, life was never calm for long. She faced her wounds by speaking out, breaking the mold of what nice elderly women did and did not do, say, or wear. There's no denying she did it to get attention, but that attention was not for herself; with her bright colors she was like a flag, alerting people to the God in whom she was rooted. He was far more true and real than anything else she'd experienced in this world.
Dotti was like a flag, alerting people to the God in whom she was rooted.
Dotti's health declined throughout the ten months after Bill died. She'd stopped eating numerous times only to restart, and was completely wheelchair bound. Yet two weeks before she died she made one final splash when she was wheeled into a community celebration. Her favorite Louis Armstrong song was playing: "What a Wonderful World." Dotti somehow got out of her chair, and started to dance. It began as a shuffle but then her crippled feet caught the music and moved into the old-time box step. She grinned from ear to ear as one young man after another took her hands and followed her lead. After a full ten minutes of dancing, she was helped back into her wheelchair, exhausted but triumphant – as if certain that her life had been well lived.
---
All images courtesy of the families of Ellen Keiderling, Doris Mercer, and Dotti Button. Used with permission.
Verse of the Day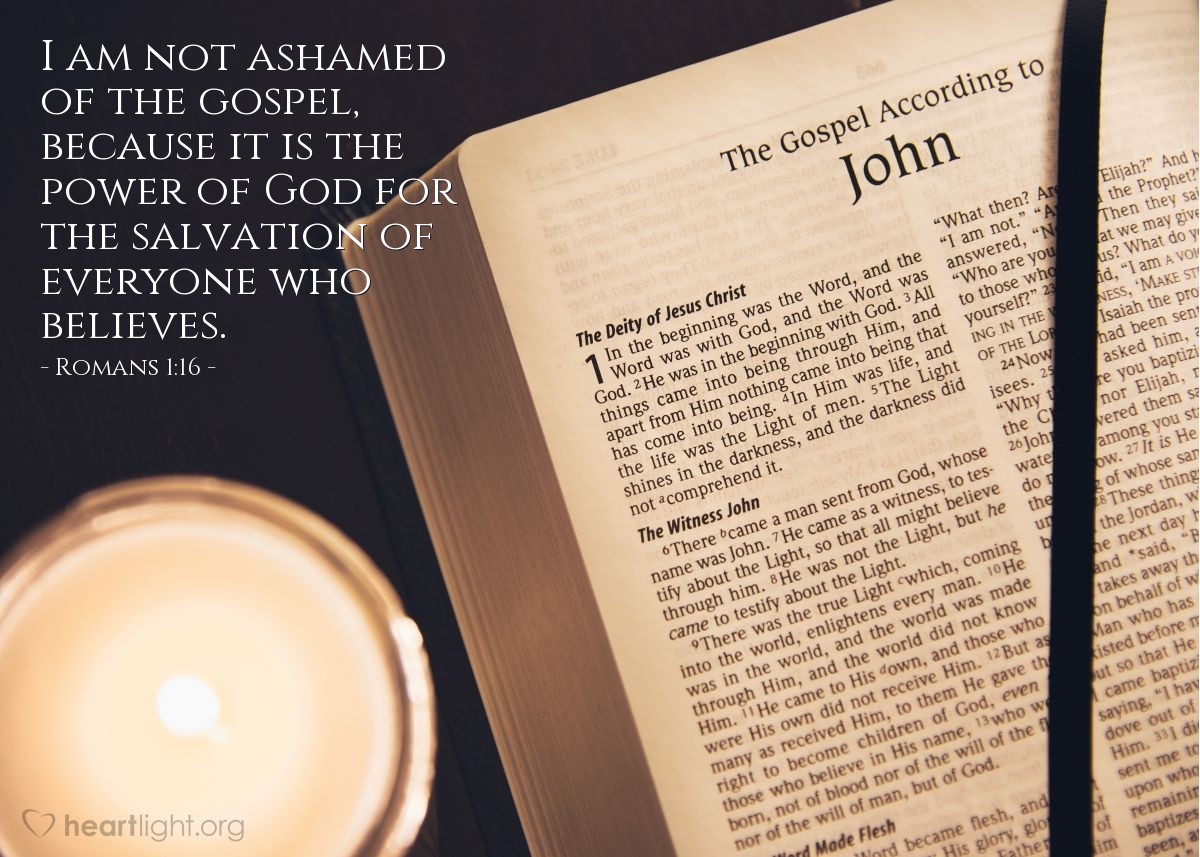 Thoughts on Today's Verse…
For the rich and poor, young and old, weak and strong, thin and heavy, there is still just one message and one name and one story that makes the eternal difference. That one message, story, and name are announced in the gospel — God's good news to the world in Jesus Christ. God's good news of life in the story of Jesus Christ is The Story and The Message and The Hope for all.
My Prayer…
Great Redeemer, make me more bold to proclaim the Gospel today. Give me eyes to see those who are waiting to be told. Fill me up with your Spirit so that I will not be ashamed but will gladly proclaim the story of Jesus. Fill my life with the optimistic hope of Jesus' glorious and victorious return so that I might share it with passion and others will know of your grace. In the name of Jesus I pray. Amen.
Saint of the Day for 
July 17
(
March 10, 1549

 – 

July 14, 1610

)

https://www.franciscanmedia.org/wp-content/uploads/2016/08/SODJul17.mp3
Saint Francis Solano's Story
Francis came from a leading family in Andalusia, Spain. Perhaps it was his popularity as a student that enabled Francis in his teens to stop two duelists. He entered the Friars Minor in 1570, and after ordination enthusiastically sacrificed himself for others. His care for the sick during an epidemic drew so much admiration that he became embarrassed and asked to be sent to the African missions. Instead he was sent to South America in 1589.
While working in what is now Argentina, Bolivia, and Paraguay, Francis quickly learned the local languages and was well received by the indigenous peoples. His visits to the sick often included playing a song on his violin.
Around 1601, he was called to Lima, Peru, where he tried to recall the Spanish colonists to their baptismal integrity. Francis also worked to defend the indigenous peoples from oppression. He died in Lima in 1610 and was canonized in 1726. His Liturgical Feast Day is July 14.
---
Reflection
Francis Solano knew from experience that the lives of Christians sometimes greatly hinder the spread of the gospel of Jesus Christ. Francis lived an exemplary life himself, and urged his fellow Spaniards to make their lives worthy of their baptisms.

What Jesus Did!

 'Knowing and Known'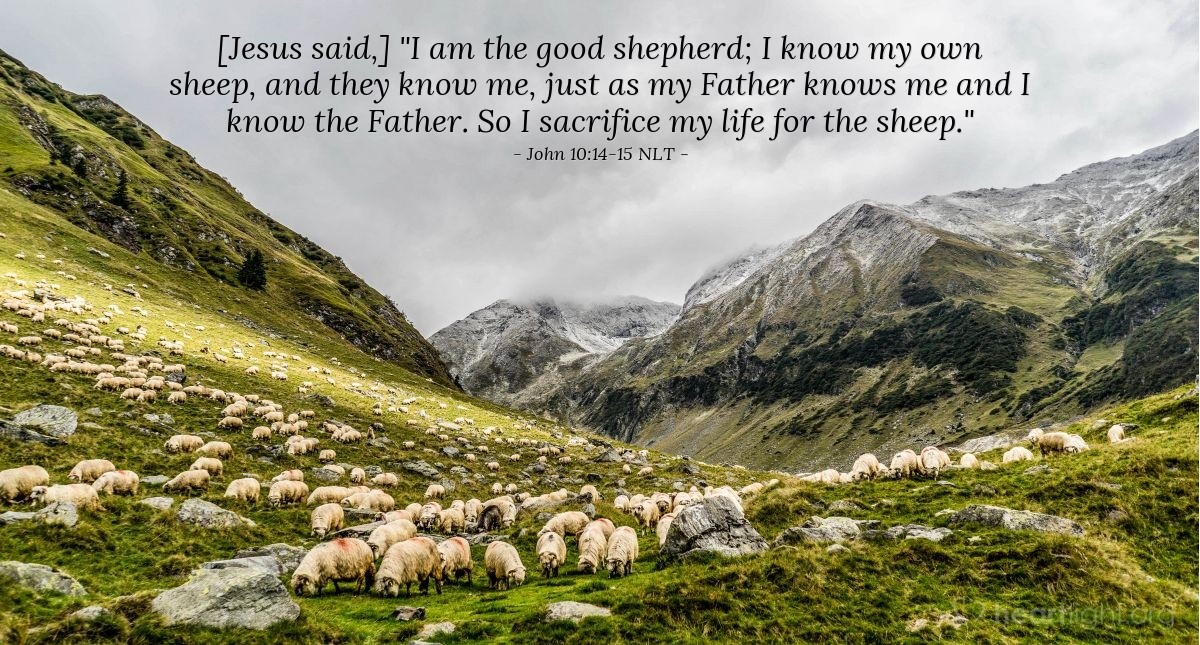 Key Thought
Jesus knows us. He knows our hearts. He knows our fears. He knows our temptations. He knows us inside and out. Any attempts to pretend would be in vain. We do not have to be afraid in his presence. We know he wants what is best for us. He demonstrated it by allowing himself to be born into our world and placed in a feed trough in a stable at Bethlehem. He made it clear by allowing himself to be arrested, mistreated, falsely tried, and then crucified on the cross at Golgotha.
Today's Prayer
Father, because of your love and because of Jesus, who is interceding for me now, I pour out to you my deepest concerns: … I know you will hear my cries and minister to my needs. I do not mean to be selfish today, O God, but I do want to be honest in your presence knowing that I can come to you sincerely and receive your grace. Thank you for your immeasurable love, understanding, and assurance which were given to me at such a high price. In Jesus' name, I pray. Amen.
Related Scripture Readings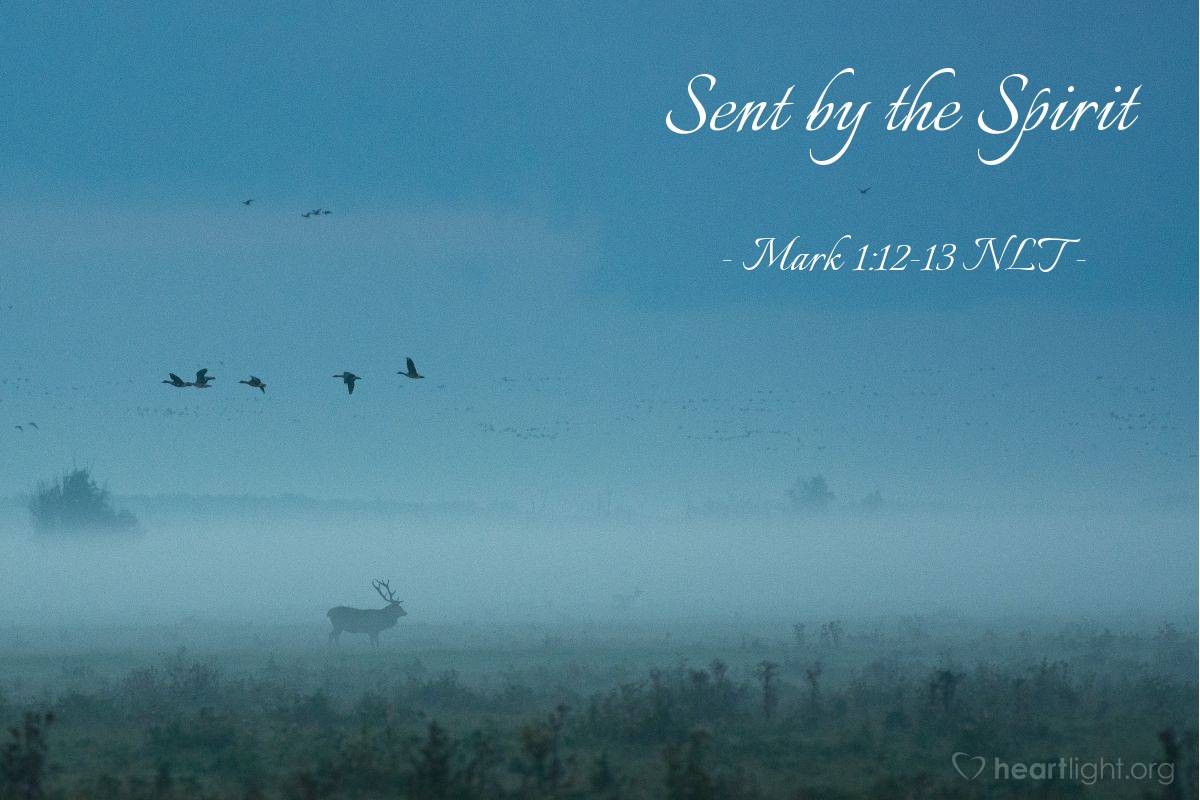 The Spirit then compelled Jesus to go into the wilderness, where he was tempted by Satan for forty days. He was out among the wild animals, and angels took care of him.
Key Thought
Jesus' time in the wilderness was not an accident. It was not an afterthought. Jesus was compelled to go into this time in the wilderness. He had no place to hide in this wild and rugged place. In this wilderness, a harsh place we call the desert, God's Son had to depend upon God for his survival. In the desert, God's Son had no apparent companion to help him in his fight against evil and temptation. Isn't this how we sometimes feel? Do we wonder how and why the Holy Spirit led us into a decision or situation when there is 
trouble and trial
? Yet as we follow the Spirit's lead, we find that we are not alone and we realize that God's special grace, the presence of the Spirit and the angels, is there to sustain us in ways we could never imagine or design.
Today's Prayer
Father, help me to see the leading of your Spirit and to receive the ministry of your angels as I face my times of trial, temptation, and trouble. Lead me to a better place and use my life to bring glory to you! In Jesus' name, I pray. Amen.
Let not one of them escape.
1 Kings 18:40
When the prophet Elijah had received the answer to his prayer, and the fire from heaven had consumed the sacrifice in the presence of all the people, he called upon the assembled Israelites to take the priests of Baal and sternly cried, "Let not one of them escape." He took them all down to the brook Kishon and slew them there. So must it be with our sins—they are all doomed; not one must be preserved.
Our darling sin must die. Do not spare it because it cries. Strike though it be as dear as a beloved son. Strike, for God struck at sin when it was laid upon His own Son. With stern unflinching purpose you must condemn to death that sin that was once the idol of your heart. Do you ask how you are to accomplish this? Jesus will be your power. You have grace to overcome sin, given you in the covenant of grace; you have strength to win the victory in the crusade against inward lusts because Christ Jesus has promised to be with you even unto the end.
If you would triumph over darkness, set yourself in the presence of the Sun of Righteousness. There is no place so well adapted for the discovery of sin and recovery from its power and guilt as the immediate presence of God. Job never knew how to get rid of sin half as well as he did when his eye of faith rested upon God, and then he abhorred himself and repented in dust and ashes.
The fine gold of the Christian is often becoming dim. We need the sacred fire to consume the dross. Let us fly to our God. He is a consuming fire; He will not consume our spirit, but our sins. Let the goodness of God excite us to a sacred jealousy and to a holy revenge against those iniquities that are hateful in His sight. Go forth to battle in His strength and utterly destroy the accursed crew: "Let not one of them escape."
"Call Me Your Father"
But you received the Spirit of sonship. And by him we cry, "Abba, Father." The Spirit himself testifies with our spirit that we are God's children. Now if we are children, then we are heirs—heirs of God and co-heirs with Christ. —Romans 8:15-17
If we are serious about glorifying God, because it makes a difference, we can also glorify Him by perceiving Him as Father. The words that Paul uses point to this: "to the glory of God the Father" (Phil. 2:11).
Jesus called God "the Father." This is because they were of the same essence: there was therefore no alienation between Father and Son. However, He also told us to call Him Father. How can this be?
We can call God Father because Jesus' blood atoned for our sins. The blood that Jesus shed on the cross satisfied God's justice, and the consequence is that, because we are joint-heirs with Christ, we too can call Him Father.
Let me remind you of the most dazzling thought in the world: God loves you as much as He loves Jesus. Indeed, Jesus actually said it: "[You] have loved them even as you have loved me" (John 17:23). Now I do not have the vocabulary to convey how much God loves His Son. I only know that God spoke from heaven again and again saying, "This is my Son whom I love; with Him I am well pleased."
As a parent, I want my son and my daughter to know that they need never doubt my total and absolute love. Yet just as human parents want their children to know that they love them, so the Father in heaven wants you to know how much He loves you.
That is the kind of God we have. He does not tell us to stand in the cleft of a rock as He passes by; He just says, "Call Me your Father." By the merit of the blood of Jesus, all who love Him come before the God of the shekinah glory, the God and Father of our Lord Jesus Christ, the Father of glory, and He says, "This is what I am. Love Me for being what I am, because I love you as you are."
Excerpted from Meekness and Majesty (Christian Focus Publications Ltd., 1992, 2000).
Making the Lord Our Banner
TGIF Today God Is First Volume 1 by Os Hillman
July 17, 2018
"Moses built an altar and called it The Lord is my Banner." Exodus 17:15
The Amalekites came and attacked the Israelites at Rephidim. God instructed Moses to stand on top of the hill with the staff of God in his hand. Moses' staff represented something that God said He would use to bring glory to Himself. The staff represented what Moses had done for most of his life – shepherding. It was his vocation. When God first called Moses at the burning bush, He told him to pick up the staff; He would perform miracles through it.
God wants to perform miracles through each of our vocations. At Rephidim, God defeated the Amalekites only when Moses held his staff to Heaven. It was a symbol of dependence and acknowledgment that Heaven was the source of the Israelites' power. When he dropped his hand, the power was removed and they began to lose the battle. Each day we are challenged to reach toward Heaven and allow God to be the source of victory in the workplace or be defeated. God calls us to let His banner reign over the workplace so that others may know the source of our victory. "Then the Lord said to Moses, 'Write this on a scroll as something to be remembered and make sure that Joshua hears it, because I will completely blot out the memory of Amalek from under heaven' " (Ex. 17:14). The Lord wants those behind us and around us to know that He is the source of our power and success. With each victory is a testimony that is to be shared with our children and our associates.
Is the Lord your banner today? Reach toward Heaven today and let His banner wave over your work so that He might receive glory from your life.
Defining Your Self-Worth
TGIF Today God Is First Volume 2 by Os Hillman
July 17, 2018
"I praise you because I am fearfully and wonderfully made; your works are wonderful, I know that full well" (Psalm 139:14).
What measurements do you use to define your self-worth? Do you define it based on your financial assets? Is it based on what you have achieved professionally? Perhaps you define your value based on the number of children you have.
There are many things we can use to define our self-worth. However, the scriptures tell us there is only one measure for our self-worth. Each of us has self-worth because we are made in the image of God. And because we are made in the image of God, we are valuable. Whenever you and I place a value in ourselves that is based on some other performance criteria, we have moved beyond God's view of our worth as human beings. You are never more valuable to God than you were the day you were born.
Many of us have sought to determine our self-worth based on the amount of money we have. This is a dangerous trap. Paul warns us against seeking to build wealth in order to gain greater value. Paul came to understand that the greatest riches could not compare with knowing Christ. In fact, he considered all other material things to be mere rubbish in comparison: "I consider everything a loss compared to the surpassing greatness of knowing Christ Jesus my Lord" (Philippians 3:7-8).
Basing our self-worth on how much money we have or our achievements is an easy trap. We are bombarded with messages that say we are defined by what we drive, where we live, how many toys we own, and the size of our investment account. The media message is designed to create dissatisfaction and lust for what we don't have.
Paul said the purpose for his existence was……"to know Christ, and the power of his resurrection and the fellowship of sharing in his sufferings, becoming like him in his death" (Philippians 3:10).
In what terms do you define yourself? Is it based on knowing Christ alone?
The Consequences Of Obedience And Disobedience
There are consequences for every action, both good and bad, just as there are consequences to obeying or not obeying God's law.
Blessings and Curses
It could not be clearer that obedience blessings us while disobedience brings curses or negative consequences. There are only twelve verses in Deuteronomy that outline the blessings that come from obedience (28:3-14), but there are sixty-five verses where curses are the result of disobedience (27:15-26; 28:16-68). [1] Although God has determined to save Israel because of His covenant with Abraham, there is still responsibility or consequences for the nation's actions. The society in which we live operates in much the same way. When someone breaks the law and they are caught, they have to pay some form of penalty. Years ago, I was forced to ride to work with my cousin until my car wax fixed, but he got road rage every morning on the way to work, and every afternoon, on the way home. He passed cars, sometimes briefly crossing the double-yellow lines…and only to save a few minutes. At best, he might get home about 2 or 3 minutes earlier, but I'd rather be late and arrive safely than to put my life at risk for a few minutes of time. Occasionally, he'd pay for his driving by getting tickets, and not only did these tickets cost money, they drove up his insurance rates. Now he pays a lot more for insurance than he used too. His disobedience of the law brought about bad consequences, even though he was free to obey or disobey. In the same way, Israel knows what God expects and they are obligated to obey or pay the consequences for their disobedience. The same thing applies to individuals, and corporately, with nations.
Nearer to God
An interesting thing happened when Israel obeyed the Law. God's presence or His nearness was felt and seen, however since we know God is holy, He cannot dwell where sin is present, so if there is no repentance, He is not going to be near to any person or any nation as much as He would be if they lived in obedience to His law. Just as God is no respecter of persons, neither is He a respecter of any nation. We know that God did not choose Israel because of their greatness or moral superiority. He says, "It was not because you were more in number than any other people that the LORD set his love on you and chose you, for you were the fewest of all peoples, but it is because the LORD loves you and is keeping the oath that he swore to your fathers, that the LORD has brought you out with a mighty hand and redeemed you from the house of slavery, from the hand of Pharaoh king of Egypt" (Deut 7:7-8), but He does expect us to have regard for the poor, like widows or orphans (James 1:27).
God's Law
Some say that God's law is reflective of His character. They reveal Who He is and what He is like. That's why the law was so important to Israel's existence. The Book of Deuteronomy is clear that the exhortations to obey the law (4:1-4) come with stipulations tied to the Sinaitic Covenant (4:44-28-68), which is reaffirmed by Moses. This covenant says that both blessings and curses are dependent upon obedience or disobedience (27:1-28:68), and many of these civil laws are being upheld in nations today. These laws deal with societal order, from respecting property lines (19:14), to not bearing false witness in judicial matters (19:16-19), to matters of sexual immorality in regards to the conduct of men and women, both married and unmarried (22:13-30), and even laws intended to keep the courts free of frivolous lawsuits or cases (22:1-12). These laws are intended to make Israel holy and to be an example to other nations, which is why God says that they should "purge the evil from among" them (13:5; 17:7; 19:19, etc.). If Israel had obeyed, they would have been the supreme example to other nations.
Obedience and Prosperity
Our local, state, and federal officials expect the local citizens to abide by the law, and to meet certain expectations and obligations, like paying taxes, and if Israel had obeyed, God promised to exalt them too in"praise, fame and honor high above all the nations he has made," for the purpose of exhibiting them to all the nations that practice evil, for they are to "be a people holy to the Lord" (Deut 26:19). Shortly after America gained her independence, many of the laws that were written came straight out of the Bible. There were laws concerning property boundaries, giving false testimony in a court of law, stipulations for involuntary manslaughter, and representation of the poor. During his inauguration as president, John Adams wrote "And may that Being who is supreme over all, the Patron of Order, the Fountain of Justice, and the Protector in all ages of the world of virtuous liberty, continue His blessing upon this nation and its Government and give it all possible success and duration consistent with the ends of His providence." [2] Adams tied in blessings for the nation to that of upholding justice and virtuous liberty (obedience), and any possible success was directly tied to God's presence "with (or by means of) the ends of His providence." These national blessings were to be upon the nation and its government because they were mutually inclusive. This made America a Christian beacon to other nations of the world, at least for a couple of centuries.
Conclusion
Obedience brings blessings and disobedience brings curses, so it's close to Sir Isaac Newton's law, "For every action, there is an equal and opposite reaction." Breaking God's law, just as breaking mankind's law, brings consequences that are anything but good. We are all free to choose to do what is right, even when you're in the minority, but as you know, what is popular is not always right, and what is right is not always popular. Choose to do what is right, whether it's popular or not. Disobey, and there is no guarantee of any blessing from God…only consequences that are anything but good.
1 Desmond T. Alexander. From Paradise to the Promised Land (Grand Rapids, MI: Baker Publish, 2012), 306.
2. John Adams. Inaugural Address, Philadelphia, March 4, 1797, The Avalon Project, Yale Law School, Lillian Goldman Law Library.
Article by Jack Wellman
Jack Wellman is Pastor of the Mulvane Brethren Church in Mulvane Kansas. Jack is a writer at Christian Quotes and also the Senior Writer at What Christians Want To Know whose mission is to equip, encourage, and energize Christians and to address questions about the believer's daily walk with God and the Bible. You can follow Jack on Google Plus or check out his book Teaching Children the Gospel available on Amazon.
July 17
1955
Disneyland opens
Disneyland, Walt Disney's metropolis of nostalgia, fantasy, and futurism, opens on July 17, 1955. The $17 million theme park was built on 160 acres of former orange groves in Anaheim, California, and soon brought in staggering profits. Today, Disneyland hosts more than 14 million visitors a year, who spend close to $3 billion.
Walt Disney, born in Chicago in 1901, worked as a commercial artist before setting up a small studio in Los Angeles to produce animated cartoons. In 1928, his short film Steamboat Willy, starring the character "Mickey Mouse," was a national sensation. It was the first animated film to use sound, and Disney provided the voice for Mickey. From there on, Disney cartoons were in heavy demand, but the company struggled financially because of Disney's insistence on ever-improving artistic and technical quality. His first feature-length cartoon, Snow White and the Seven Dwarfs (1938), took three years to complete and was a great commercial success.
Snow White was followed by other feature-length classics for children, such as Pinocchio (1940), Dumbo (1941), and Bambi (1942). Fantasia (1940), which coordinated animated segments with famous classical music pieces, was an artistic and technical achievement. In Song of the South (1946), Disney combined live actors with animated figures, and beginning with Treasure Islandin 1950 the company added live-action movies to its repertoire. Disney was also one of the first movie studios to produce film directly for television, and its Zorro and Davy Crockett series were very popular with children.
In the early 1950s, Walt Disney began designing a huge amusement park to be built near Los Angeles. He intended Disneyland to have educational as well as amusement value and to entertain adults and their children. Land was bought in the farming community of Anaheim, about 25 miles southeast of Los Angeles, and construction began in 1954. In the summer of 1955, special invitations were sent out for the opening of Disneyland on July 17. Unfortunately, the pass was counterfeited and thousands of uninvited people were admitted into Disneyland on opening day. The park was not ready for the public: food and drink ran out, a women's high-heel shoe got stuck in the wet asphalt of Main Street USA, and the Mark Twain Steamboat nearly capsized from too many passengers.
Disneyland soon recovered, however, and attractions such as the Castle, Mr. Toad's Wild Ride, Snow White's Adventures, Space Station X-1, Jungle Cruise, and Stage Coach drew countless children and their parents. Special events and the continual building of new state-of-the-art attractions encouraged them to visit again. In 1965, work began on an even bigger Disney theme park and resort near Orlando, Florida. Walt Disney died in 1966, and Walt Disney World was opened in his honor on October 1, 1971. Epcot Center, Disney-MGM Studios, and Animal Kingdom were later added to Walt Disney World, and it remains Florida's premier tourist attraction. In 1983, Disneyland Tokyo opened in Japan, and in 1992 Disneyland Paris–or "EuroDisney"–opened to a mixed reaction in Marne-la-Vallee. The newest Disneyland, in Hong Kong, opened its doors in September 2005.
NATIONAL TATTOO DAY
National Tattoo Day on July 17 might just be the date to get that ink you've been contemplating.
Evidence of humans marking their bodies with permanent designs have existed for thousands of years. Egyptian and ice mummies reveal several forms of religious and status symbols.
The word "tattoo" is derived from the Polynesian language for tatau which means "to tap or to mark." Around the world, cultures surrounding tattooing vary and some have changed very little over time. In the United States, sailors brought tattooing to coastal shores from their island exploits.
Getting inked continues to be a growing trend as technology and acceptance increases.  Age, gender, and religion are less common barriers than they used to be. The reasons for going under the needle range from intensely personal symbols to recording a significant event. There are those who get a tattoo on a whim.  Some people confess it's an addiction.
HOW TO OBSERVE
You have the design. National Tattoo Day is the time.  Use #NationalTattoDay to share on social media.
HISTORY
Within our research, National Tattoo Day has been observed since 2016. The founder and source of the day have not been identified.