Christoph Friedrich Blumhardt
"Because he loves me," says the Lord, "I will rescue him; I will protect him, for he acknowledges my name. He will call on me, and I will answer him; I will be with him in trouble, I will deliver him and honor him. With long life I will satisfy him and show him my salvation." Psalm 91:14-16, NIV
Lord our God, dear Father in heaven, we turn our hearts to you, for you know all our need. We turn to you, for you are ready with your help when we are at our wit's end. You have paths we can follow joyfully because we have a Lord who rules and who reigns over us to make us glad. May we praise your name at all times. May your help be always before our eyes so that we can be your true children, to the glory of your name on earth. Amen.
Reading for the Holy Week
The Lord turned and looked straight at Peter…and Peter went outside and wept bitterly. Luke 22:61–62
Every person at some time in his life has fallen. Many have fallen many times; few, few times. And who of us can fail to shudder at the tale of Peter's guilt?
We are well aware of how the plot thickens round him. When we read the story for ourselves we feel an almost unconscious sympathy with Peter, as if his story has happened in our own lives. And we know, as we follow the dreary stages of his fall, these same well-worn steps have been traced ever since then by every human foot. Anyone who possesses an inner history can surely understand how Peter could have slept in the garden, when he should have watched and prayed. Who of us would dare to look down upon the faithlessness that made him follow Christ far off, instead of keeping at his Master's side? For we know too well what it means to get out of step with Christ. Wouldn't we, like the worldly company who warmed themselves by the fire and to our shame, be quick to question Peter?
Those of us who know the heart's deceit would surely find it difficult to judge this man – this man who had lived so long in the inner circle of fellowship with Christ, whose eyes were used to seeing miracles, who witnessed the glory of the transfiguration; this man whose ears were yet full of the most solemn words the world had ever heard, whose heart was warm still with Communion-table thoughts. We understand how he could have turned his back upon his Lord, and, almost ere the sacramental wine was dry upon his lips, curse him to his face. Such things, alas, are not strange to those of us who know the appalling tragedy of sin.
But there is something in Peter's life that is much greater than his sin. It is his repentance. We all too easily relate to Peter in his sin, but few of us grasp the wonder of his repentance. Sinful Peter is one man, and repentant Peter is another; and many of us who kept his company along these worn steps to sin have left him to trace the tear-washed path of repentance alone. But the real lesson in Peter's life is one of repentance. His fall is a lesson in sin that requires no teacher, but his repentance is a great lesson in salvation. And it is this great lesson that contains the only true spiritual meaning to those who have personally made Peter's discovery – that they have betrayed our God.
What then can we learn from Peter's turning around? First, it was not Peter who turned. It was the Lord who turned and looked at Peter. When the cock crew, that might have kept Peter from falling further. But he was just in the very act of sin. And when a person is in the thick of his sin his last thought is to throw down his arms and repent. So Peter never thought of turning, but the Lord turned. And when Peter would rather have looked anywhere else than at the Lord, the Lord looked at Peter. This scarce-noticed fact is the only sermon needed to anyone who sins – that the Lord turns first.
For this reason it is important to distinguish between two kinds of sorrow for sin. The one has to do with feeling sorry over some wrong or sin we have committed. This feeling seems to provide a sort of guarantee that we are not disposed to do the same wrong again, and that our better self is still alive enough to enter its protest against the sin our lower self has done. And we count this feeling of reproach, which treads so closely on the act, as a sort of compensation or atonement for the wrong.
In this kind of sorrow, however, there is no real repentance, no true sorrow for sin. It is merely wounded self-love. It is a sorrow over weakness, over the fact that when we were put to the test we found to our chagrin that we had failed. But this chagrin is what we are apt to mistake for repentance. This is nothing but wounded pride – sorrow that we did not do better, that we were not so good as we and others thought. It is just as if Peter turned and looked upon Peter. And when Peter turns and looks upon Peter, he sees what a poor, weak creature Peter is. And if God had not looked upon Peter he might have wept well-nigh as bitterly, not because he had sinned against his God, but because he, the great apostle, had done a weak thing – he was weak as other men.
All this amounts to little more than vexation and annoyance with ourselves, that, after all our good resolutions and attempts at reformation, we have broken down again. This kind of sorrow bears no lasting fruit, and is certainly far removed from the publican's prayer of repentance in the temple. "Lord be merciful to me, a sinner!" Stricken before his God, this publican had little thought of the self-respect he had lost. He certainly felt it no indignity to take the culprit's place.
All this is to say that there is a vast difference between divine and human sorrow. True contrition occurs when God turns and looks upon us. Human sorrow is us turning and looking upon ourselves. True, there is nothing wrong in turning and looking at oneself – only there is a danger. We can miss the most authentic experience of life in the imitation. For genuine repentance consists of feeling deeply our human helplessness, of knowing how God comes to us when we are completely broken.
In the end, it is God looking into the sinner's face that matters. Knowing first hand the difference between human and divine sorrow is of utmost importance. It is the distinction Luke brings out in the prodigal son's life, between coming to himself and coming to his father. "He came to himself," and then "he came to his father." So we are always coming to ourselves. We are always finding out, like the prodigal, the miserable bargains we have made. But this is not the crucial thing. Only when we come to our Father in response to his waiting look can we be freed and forgiven.
Peter turned around, but note well that it was the result of a mere glance. The Lord did not thunder and lightning at Peter to make him hear his voice. A look, and that was all. But it rent Peter's heart as lightning could not, and melted into his soul. God did not drive the chariot of his omnipotence up to Peter and command him to repent. God did not threaten. He did not even speak to him. That one look laid a spell upon his soul.
We misunderstand God altogether if we think he deals coarsely with our souls. If we consider what has really influenced our lives, we will find that it lies in a few silent voices that have preached to us, the winds which have passed across our soul so gently that we scarce could tell when they were come or gone. Even in the midst of the battle, when coarser weapons fail, let us not forget the lesson of Elijah:
A great and powerful wind tore the mountains apart and shattered the rocks before the Lord, but the Lord was not in the wind. After the wind there was an earthquake, but the Lord was not in the earthquake. After the earthquake came a fire, but the Lord was not in the fire. And after the fire came a gentle whisper (1 Kings 19:11–12).
he speaks so loudly that all the voices of the world seem dumb. And yet when God speaks he speaks so softly that no one hears the whisper but yourself. Today, perhaps, the Lord is turning and looking at you. Right where you are, your spirit is far away just now, dealing with some sin, some unbearable weight; and God is teaching you the lesson himself – the bitterest, yet the sweetest lesson of your life, in heartfelt repentance. Stay right where you are. Don't return into the hustle and bustle of life until the Lord has also turned and looked on you again, as he looked at the thief upon the cross, and until you have beheld the "glory of the love of God in the face of Jesus."

'They Do Not Have the Spirit!'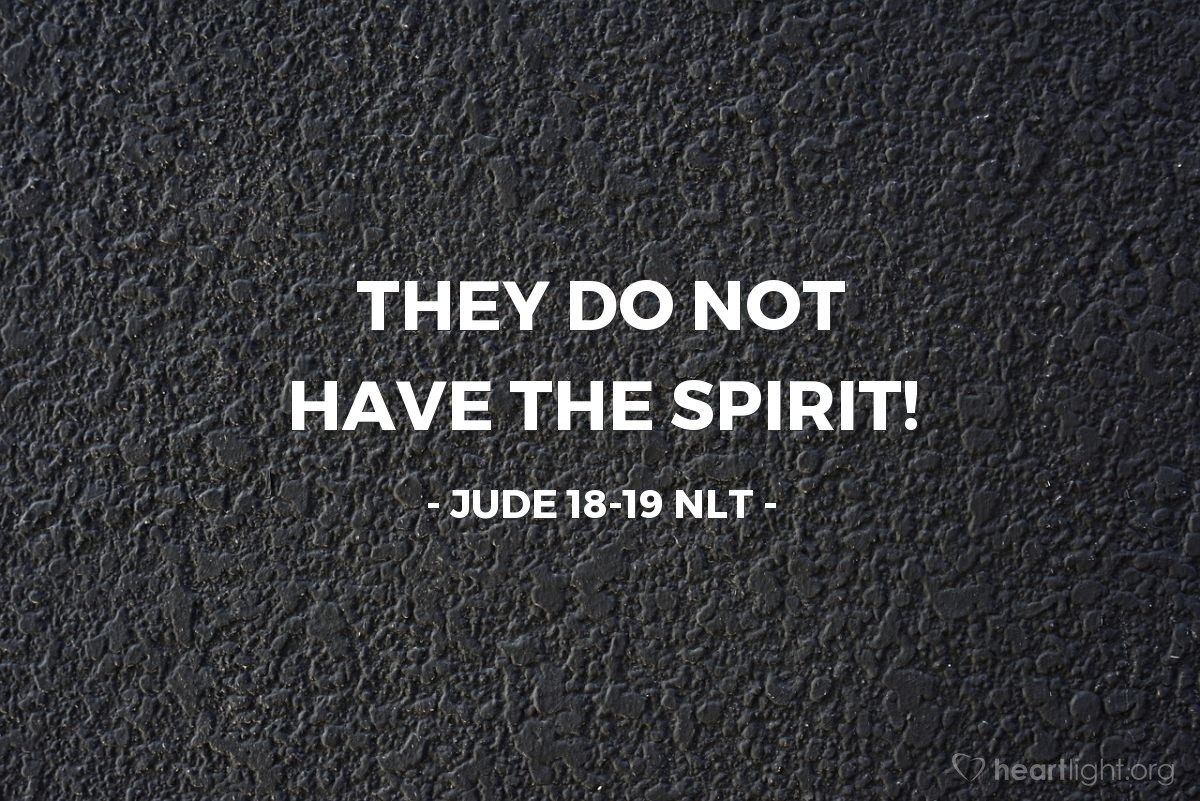 Key Thought
Having the Holy Spirit dwelling within us is the litmus test of whether we belong to Christ or not (
Romans 8:9
; 
Act 19:1-7
). Without the Spirit of God within us — enabling us to overcome our sinful nature (
Romans 8:12-13
), transforming us to be like Christ (
2 Corinthians 3:18
), and producing the fruit of the Spirit in us (
Galatians 5:22-23
) — we live by our 
"natural instincts."
 This way of life is 
also
 called living by the flesh or living by our sinful nature (
Romans 8:5-8
) and is full of corruption, division, and hostility toward God, toward goodness, and toward God's people. Avoiding these things is why conversion to Christ and receiving the gift of the Holy Spirit are so important. Living by our 
"natural instincts"
 means living in rebellion to God (
Ephesians 2:1-3
). No one can live for Christ without the Spirit of God. The Spirit empowers us with 
supernatural instincts
 from God to live for Christ!
Today's Prayer
Glorious and gracious God, thank you for sending your Son to die for my sins and then sending your Spirit to live within me to help me live to honor you. In Jesus' name, I offer you my thanks, my praise, and my heart. Amen.

Passion for Praise:

 'You Have Seen My Troubles'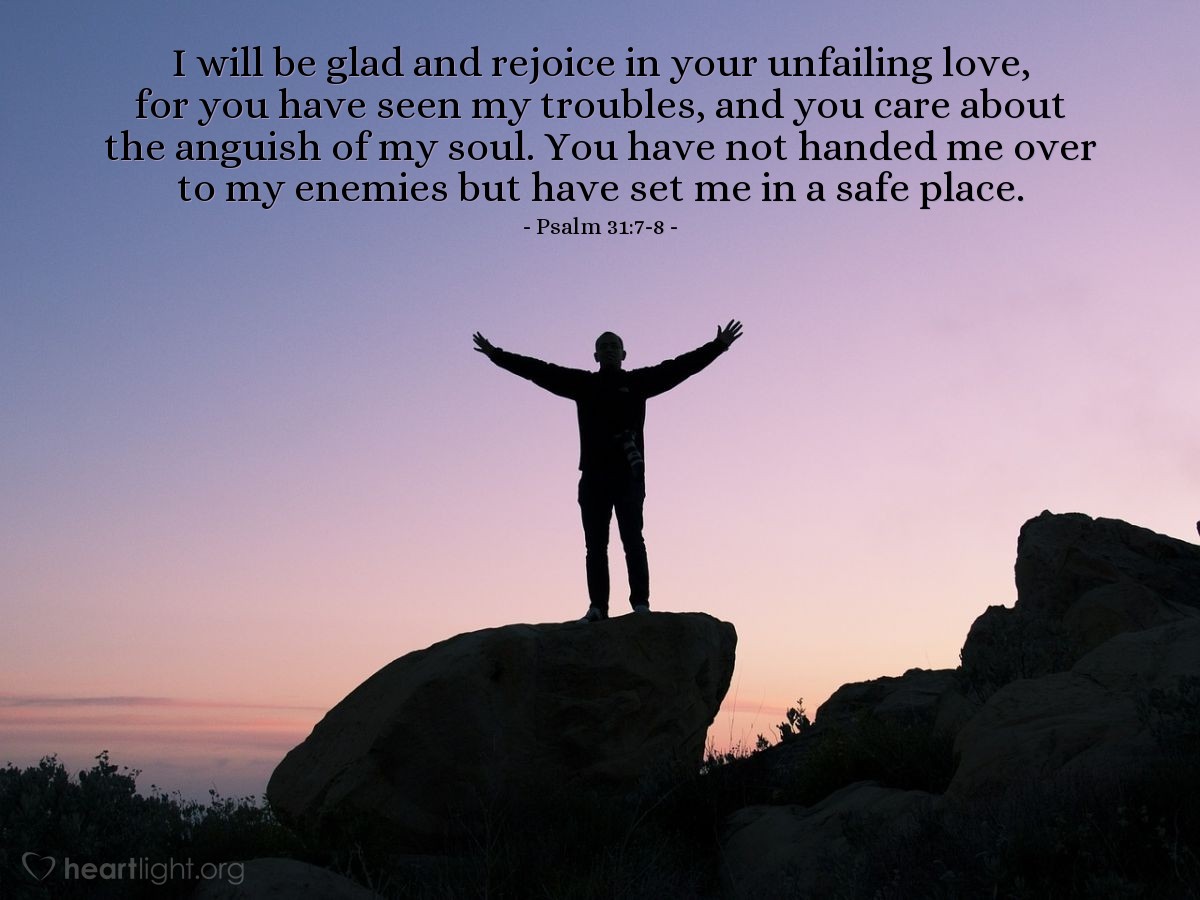 What Jesus Did!

 'Would You Like to Get Well?'

One of the men lying [by the pool of Bethesda] had been sick for thirty-eight years. When Jesus saw him and knew he had been ill for a long time, he asked him, "Would you like to get well?" "I can't, sir," the sick man said, "for I have no one to put me into the pool when the water bubbles up. Someone else always gets there ahead of me."

— John 5:5-7 NLT
Key Thought
"Would you like to get well?" Sometimes our biggest disease isn't what appears in our bodies. Instead, this disease hides in our hearts. "Would you like to get well?" That's a much harder question to answer than meets the eye — when applied to my spiritual wellbeing. I might have to change. I might have to give up my excuses. I might have to adapt to a different lifestyle. I might have to give up blaming others for my problems. I might have to take some responsibility for my own condition. Jesus asked the question because, in this case, the man had a real disease. As the man shows by the end of the story, he wasn't ready to take responsibility for anything. What about us? Do we really want to get well, both spiritually and physically? Really? Then come to Christ and be ready for the Holy Spirit to begin changing you!
Today's Prayer
Father, I do want to be made well. I want to be saved and conformed to you through and through — body, soul, mind, and spirit. I offer myself up to you to be changed so that I can be whole. I offer myself to be transformed to be more like Jesus, in whose name I pray. Amen.
Related Scripture Readings
March 29
Holy Thursday
God Is the Love That Forgives
The question of what it means to be a friend of God ultimately draws us toward the topic of forgiveness. If we live truly as friends of God, we are called to forgive those who have offended us. And given what we have experienced, we know that the future of our world depends on a critical mass of people learning to let go of hate and embrace forgiveness. To be human is to become part and parcel of human magnanimity and compassion as well as human betrayal, violence, and sin. Perhaps Paul was referring to this aspect of what it means for God to become human when he said, "For our sake he [God] made him [Jesus] to be sin who knew no sin, so that in him we might become the righteousness of God" (2 Corinthians 5:21). In other words, for Jesus, forgiveness was the way of life.
Jesus, I fervently pray to walk in the way of forgiveness.
Holy Week Action
► Reflect on the Gospel of Holy Thursday with Arts & Faith: Lent.
Tintoretto's dramatic interpretation of Christ washing the feet of the disciples invites us into a grand hall, with sumptuous architecture and splendid vistas. Tintoretto takes us out of the historical context of first-century Jerusalem to show the timelessness of the event. Playing further with time, his grand scene places side by side the past, present, and future. Careful attention to these juxtaposed scenes calls us to navigate the visual narrative in a U-shape, from right to left.
In the top right, obscured in semi-darkness is the recent past: the scene of the Last Supper meal. In the foreground is the present—the moment of foot washing. Tintoretto replicates the dinner table to underscore a connection with the meal, traces of which still linger as seen in the bread and the carafe. The artist also collapses the time between the foot-washing of Peter, bottom right, with the effect this must have produced in the rest of the disciples. They are invited to participate in the ritual as well, and in this scene, this is occurring all at once.
The disciples and their varied responses to the foot washing are the visual focus of the scene. The two helping to undress one another's feet show urgency. The figure on the bottom left steadily undoing the straps of his sandals shows steady obedience, as does the disciple behind Jesus removing his stocking. The figure prayerfully seated against a column in the back is an example of discernment. Those still seated at the table signify observation and dialogue, and finally, the figure furthest away and most concealed in shadows shows suspicion and resistance. He is likely Judas.
At the top left of the scene, we see a vista over a courtyard pool flanked by classical architecture, which leads the perspective far beyond through an arch. Moving from foreground to background into the vista, the imagery gives us a shorthand of the events to come after the Last Supper. The urgency of the disciples foreshadows their hastiness in the garden as Jesus is arrested. Judas, lingering in the shadows, invites us into the darkest hours of Jesus' Passion that will follow. The pool with the boat is death, reminiscent of the ancient mythology of afterlife, specifically of crossing over the river Styx from death to eternity. The stillness is more evocative of Holy Saturday than of Good Friday. The arch and the obelisk are both signs of conquest and triumph in classical architecture, and here these give us a promise of eternal hope and the victory that will come on Easter Sunday. This painting, therefore, is an excellent invitation to the whole Easter Triduum.
Read The Living Presence of the Heart of God, a Holy Thursday reflection by Gary Smith, SJ.
Tonight, at the Holy Thursday liturgy, many of the poor were present, having their feet gently washed and dried by others in imitation of Jesus. When I saw it all in front of me—the poor, the washing basins, the awkwardness of the washers, the faces of the silent and reverent congregation—I realized once again what the sanctity of service is and that the truth of the heart of Christ is found in the washing of feet. When I have washed feet, I have realized that it is only from below that I can really see what is above.
A long time ago I read a reflection by Luigi Santucci in his book Meeting Jesus about the bowl that Christ used in washing the feet of his disciples. I remember thinking, like him, that if I had to choose some relic of the Passion, I wouldn't pick up a scourge or a spear, but that round bowl of dirty water. And I would want to go around the world with that receptacle under my arm, looking only at people's feet; and for each one I'd tie a towel around me, bend down, and never raise my eyes higher than their ankles, so as not to distinguish friends from enemies. I'd wash the feet of atheists, drug addicts, arms dealers, murderers, pimps, abusers of all kinds—and all in silence, until they understood.
Before retiring for the night, the sights and sounds of the liturgy still ringing through me, I heard on the radio an interview with a Memphis pastor who had been with Martin Luther King Jr. at the motel where the civil rights leader was assassinated. Over the years this same pastor had reflected on the meaning of it all and was led to believe that he was called to be a witness to Dr. King's life and death.
That is partly how I feel about my life. I am a witness to a movement in me that I can't understand or articulate. As impossible as it is for me to understand my call to service, there will be people who do get it and who can point to me and say, "There it is, there is faith in operation, there is a believer, there is the holy operating in another human being. It is the guy with the bowl of dirty water in his hands." They will recognize what they know to be the living presence of the heart of God. I am a witness to that heart, and this may, in the end, be my only contribution, homely and undramatic as it is. I am like the spectacular yet fleeting blooming of an Arizona cactus plant: for just a few days, the world is full of a new and astonishing color.
There are times on the streets when I wonder what…I am doing. And there are moments, usually humdrum and unspectacular, during which I realize that I am to bloom for just a few days so that I might give glory in my work to another kind of beauty that works in and through me. I rebel against this kind of divine interference in my life, especially when it conflicts with my other great loves. But Jeremiah makes it clear that no one chooses to fall into the hands of the living God.
You have seduced me, Yahweh, and I have let myself be seduced;
you have overpowered me: you were the stronger. . . .
I used to say, "I will not think about him,
I will not speak in his name any more."
Then there seemed to be a fire burning in my heart,
imprisoned in my bones.
The effort to restrain it wearied me,
I could not bear it.
                                      Jeremiah 20:7, 9
No one in the service of the poor, who is honest, pats himself or herself on the back. If he or she does, it is not for long. I realize that God brought me into this world, blessed with skills and talents. The only thing that makes sense to me is to use them in the service of the poor. It is at their feet that I find myself.
Read Stay Here with Me by Rebecca Ruiz.
There is a beautiful Taizé hymn inspired by Jesus' words in the Garden of Gethsemane, with the lyrics: "Stay with me, remain here with me; watch and pray." This song lends itself to the Ignatian practice of unwrapping Scripture passages by imagining oneself within the passage. For instance:
I imagine myself having left the Passover table with the rest of the disciples. I am confused and overwhelmed by everything that has just happened. Jesus says he will be leaving us. He took the bread and wine and said it is his Body and Blood, "the blood of the covenant, which is to be poured out for many for the forgiveness of sins." What does all of this mean? And what kind of a Master washes his followers' feet? It's always the other way around. He said, "Love each other as I have loved you." What kind of love is this?
These thoughts swirl around in my head as we all walk together. We make our way to a garden called Gethsemane, at the foot of the Mount of Olives. Jesus is so upset. He asks us to stay with him, to stay awake and pray. We sit down under some olive trees as he goes just a little further up, a stone's throw away. He falls on his face on the ground and says, "My Father, if it is possible, let this cup pass me by. Nevertheless, let it be as you, not I, would have it." He is shaking because he so agitated. I have never seen him so upset. He wipes his brow. It is a hot evening, but it almost looks like he is sweating blood. Seeing Jesus like this pains me to the heart. I want to go to him and comfort him, but he has asked us to keep watch, so I just close my eyes and pray. The night air is heavy, and I feel myself drifting off to sleep.
As I reflect on my experience in prayer, it strikes me that Jesus asks his disciples to accompany him that evening to Gethsemane. We see in Scripture that Jesus would often go off to pray alone. Yet, on this night, this night of his most profound suffering, he wants the company of his friends.
This is striking because he is about to die for these friends—and, indeed, for all of humanity. From a human perspective, it is unusual for someone who is about to be condemned to death for a crime he didn't commit to ask the person who actually committed the crime to come and be with him. The human instinct would more likely be to push that person away and not to want to see that person at all.
Jesus, though, while fully human, is also God. And our God is a God of relationship. He came to redeem us and he loves us, personally, throughout the process of redemption. He doesn't push us away—ever—even when our human sense of justice would deem it justifiable. At Gethsemane, Jesus demonstrated that with God's justice, love is the overriding factor. His love remains at all times, even when we don't expect it and when we know that we don't deserve it. And God requests us to remain near; God desires our presence.
This evening, we enter into the Paschal Triduum, the summit of the liturgical year. We will be walking together through the events of Christ's final days on earth. As you recall these events, place yourself in the Scripture passages each day. Observe how your experience of the passage affects you and what feelings arise within as you watch the scene unfold.
If you were at Gethsemane with Jesus that night, and he asked you to stay there with him, would you?
Think of Jesus walking with the Cross, looking at you, requesting your presence.
Think of Jesus on the Cross, requesting you near him.
Stay here with me, remain here with me.
Feel that Love, looking at you. Tenderly.
How will you respond?
Holy Thursday – Chrism Mass
The Spirit of the Lord GOD is upon me,
because the LORD has anointed me;
He has sent me to bring glad tidings to the lowly,
to heal the brokenhearted,
To proclaim liberty to the captives
and release to the prisoners,
To announce a year of favor from the LORD
and a day of vindication by our God,
to comfort all who mourn;
To place on those who mourn in Zion
a diadem instead of ashes,
To give them oil of gladness in place of mourning,
a glorious mantle instead of a listless spirit.
You yourselves shall be named priests of the LORD,
ministers of our God shall you be called.
I will give them their recompense faithfully,
a lasting covenant I will make with them.
Their descendants shall be renowned among the nations,
and their offspring among the peoples;
All who see them shall acknowledge them
as a race the LORD has blessed.
R. (2) 
For ever I will sing the goodness of the Lord.
"I have found David, my servant;
with my holy oil I have anointed him.
That my hand may always be with him;
and that my arm may make him strong."
R.
 For ever I will sing the goodness of the Lord.
"My faithfulness and my mercy shall be with him;
and through my name shall his horn be exalted.
He shall say of me, 'You are my father,
my God, the Rock, my savior!'"
R. 
For ever I will sing the goodness of the Lord.
[Grace to you and peace] from Jesus Christ, who is the faithful witness,
the firstborn of the dead and ruler of the kings of the earth.
To him who loves us and has freed us from our sins by his Blood,
who has made us into a Kingdom, priests for his God and Father,
to him be glory and power forever and ever. Amen.
Behold, he is coming amid the clouds,
and every eye will see him,
even those who pierced him.
All the peoples of the earth will lament him.
Yes. Amen.
"I am the Alpha and the Omega," says the Lord God,
"the one who is and who was and who is to come, the Almighty."
The Spirit of the LORD is upon me;
for he has sent me to bring glad tidings to the poor.
Jesus came to Nazareth, where he had grown up,
and went according to his custom
into the synagogue on the sabbath day.
He stood up to read and was handed a scroll of the prophet Isaiah.
He unrolled the scroll and found the passage where it was written:

The Spirit of the Lord is upon me,
because he has anointed me
to bring glad tidings to the poor.
He has sent me to proclaim liberty to captives
and recovery of sight to the blind,
to let the oppressed go free,
and to proclaim a year acceptable to the Lord.
Rolling up the scroll, he handed it back to the attendant and sat down,
and the eyes of all in the synagogue looked intently at him.
He said to them,
"Today this Scripture passage is fulfilled in your hearing."
– – –
Lectionary for Mass for Use in the Dioceses of the United States, second typical edition, Copyright © 2001, 1998, 1997, 1986, 1970 Confraternity of Christian Doctrine; Psalm refrain © 1968, 1981, 1997, International Committee on English in the Liturgy, Inc. All rights reserved. Neither this work nor any part of it may be reproduced, distributed, performed or displayed in any medium, including electronic or digital, without permission in writing from the copyright owner.
The LORD said to Moses and Aaron in the land of Egypt,
"This month shall stand at the head of your calendar;
you shall reckon it the first month of the year.
Tell the whole community of Israel:
On the tenth of this month every one of your families
must procure for itself a lamb, one apiece for each household.
If a family is too small for a whole lamb,
it shall join the nearest household in procuring one
and shall share in the lamb
in proportion to the number of persons who partake of it.
The lamb must be a year-old male and without blemish.
You may take it from either the sheep or the goats.
You shall keep it until the fourteenth day of this month,
and then, with the whole assembly of Israel present,
it shall be slaughtered during the evening twilight.
They shall take some of its blood
and apply it to the two doorposts and the lintel
of every house in which they partake of the lamb.
That same night they shall eat its roasted flesh
with unleavened bread and bitter herbs.
"This is how you are to eat it:
with your loins girt, sandals on your feet and your staff in hand,
you shall eat like those who are in flight.
It is the Passover of the LORD.
For on this same night I will go through Egypt,
striking down every firstborn of the land, both man and beast,
and executing judgment on all the gods of Egypt—I, the LORD!
But the blood will mark the houses where you are.
Seeing the blood, I will pass over you;
thus, when I strike the land of Egypt,
no destructive blow will come upon you.
"This day shall be a memorial feast for you,
which all your generations shall celebrate
with pilgrimage to the LORD, as a perpetual institution."
R.. (cf. 1 Cor 10:16) 
Our blessing-cup is a communion with the Blood of Christ.
How shall I make a return to the LORD
for all the good he has done for me?
The cup of salvation I will take up,
and I will call upon the name of the LORD.
R.. 
Our blessing-cup is a communion with the Blood of Christ.
Precious in the eyes of the LORD
is the death of his faithful ones.
I am your servant, the son of your handmaid;
you have loosed my bonds.
R.. 
Our blessing-cup is a communion with the Blood of Christ.
To you will I offer sacrifice of 
thanksgiving
,
and I will call upon the name of the LORD.
My vows to the LORD I will pay
in the presence of all his people.
R.. 
Our blessing-cup is a communion with the Blood of Christ.
Brothers and sisters:
I received from the Lord what I also handed on to you,
that the Lord Jesus, on the night he was handed over,
took bread, and, after he had given thanks,
broke it and said, "This is my body that is for you.
Do this in remembrance of me."
In the same way also the cup, after supper, saying,
"This cup is the new covenant in my blood.
Do this, as often as you drink it, in remembrance of me."
For as often as you eat this bread and drink the cup,
you proclaim the death of the Lord until he comes.
Verse Before the Gospel Jn 13:34
I give you a new commandment, says the Lord:
love one another as I have loved you.
Before the feast of Passover, Jesus knew that his hour had come
to pass from this world to the Father.
He loved his own in the world and he loved them to the end.
The devil had already induced Judas, son of Simon the Iscariot, to hand him over.
So, during supper,
fully aware that the Father had put everything into his power
and that he had come from God and was returning to God,
he rose from supper and took off his outer garments.
He took a towel and tied it around his waist.
Then he poured water into a basin
and began to wash the disciples' feet
and dry them with the towel around his waist.
He came to Simon Peter, who said to him,
"Master, are you going to wash my feet?"
Jesus answered and said to him,
"What I am doing, you do not understand now,
but you will understand later."
Peter said to him, "You will never wash my feet."
Jesus answered him,
"Unless I wash you, you will have no inheritance with me."
Simon Peter said to him,
"Master, then not only my feet, but my hands and head as well."
Jesus said to him,
"Whoever has bathed has no need except to have his feet washed,
for he is clean all over;
so you are clean, but not all."
For he knew who would betray him;
for this reason, he said, "Not all of you are clean."
So when he had washed their feet
and put his garments back on and reclined at table again,
he said to them, "Do you realize what I have done for you?
You call me 'teacher' and 'master,' and rightly so, for indeed I am.
If I, therefore, the master and teacher, have washed your feet,
you ought to wash one another's feet.
I have given you a model to follow,
so that as I have done for you, you should also do."
– – –
Lectionary for Mass for Use in the Dioceses of the United States, second typical edition, Copyright © 2001, 1998, 1997, 1986, 1970 Confraternity of Christian Doctrine; Psalm refrain © 1968, 1981, 1997, International Committee on English in the Liturgy, Inc. All rights reserved. Neither this work nor any part of it may be reproduced, distributed, performed or displayed in any medium, including electronic or digital, without permission in writing from the copyright owner.
The Lord GOD has given me
a well-trained tongue,
That I might know how to speak to the weary
a word that will rouse them.
Morning after morning
he opens my ear that I may hear;
And I have not rebelled,
have not turned back.
I gave my back to those who beat me,
my cheeks to those who plucked my beard;
My face I did not shield
from buffets and spitting.
The Lord GOD is my help,
therefore I am not disgraced;
I have set my face like flint,
knowing that I shall not be put to shame.
He is near who upholds my right;
if anyone wishes to oppose me,
let us appear together.
Who disputes my right?
Let him confront me.
See, the Lord GOD is my help;
who will prove me wrong?
R. (14c) 
Lord, in your great love, answer me.
For your sake I bear insult,
and shame covers my face.
I have become an outcast to my brothers,
a stranger to my mother's sons,
because zeal for your house consumes me,
and the insults of those who blaspheme you fall upon me.
R.
 Lord, in your great love, answer me.
Insult has broken my heart, and I am weak,
I looked for sympathy, but there was none;
for consolers, not one could I find.
Rather they put gall in my food,
and in my thirst they gave me vinegar to drink.
R. 
Lord, in your great love, answer me.
I will praise the name of God in song,
and I will glorify him with 
thanksgiving
:
"See, you lowly ones, and be glad;
you who seek God, may your hearts revive!
For the LORD hears the poor,
and his own who are in bonds he spurns not."
R. 
Lord, in your great love, answer me.
Verse Before the Gospel
Hail to you, our King;
you alone are compassionate with our errors.
Or
Hail to you, our King, obedient to the Father;
you were led to your crucifixion like a gentle lamb to the slaughter.
One of the Twelve, who was called Judas Iscariot,
went to the chief priests and said,
"What are you willing to give me
if I hand him over to you?"
They paid him thirty pieces of silver,
and from that time on he looked for an opportunity to hand him over.
On the first day of the Feast of Unleavened Bread,
the disciples approached Jesus and said,
"Where do you want us to prepare
for you to eat the Passover?"
He said,
"Go into the city to a certain man and tell him,
'The teacher says, "My appointed time draws near;
in your house I shall celebrate the Passover with my disciples."'"
The disciples then did as Jesus had ordered,
and prepared the Passover.
When it was evening,
he reclined at table with the Twelve.
And while they were eating, he said,
"Amen, I say to you, one of you will betray me."
Deeply distressed at this,
they began to say to him one after another,
"Surely it is not I, Lord?"
He said in reply,
"He who has dipped his hand into the dish with me
is the one who will betray me.
The Son of Man indeed goes, as it is written of him,
but woe to that man by whom the Son of Man is betrayed.
It would be better for that man if he had never been born."
Then Judas, his betrayer, said in reply,
"Surely it is not I, Rabbi?"
He answered, "You have said so."
– – –
Lectionary for Mass for Use in the Dioceses of the United States, second typical edition, Copyright © 2001, 1998, 1997, 1986, 1970 Confraternity of Christian Doctrine; Psalm refrain © 1968, 1981, 1997, International Committee on English in the Liturgy, Inc. All rights reserved. Neither this work nor any part of it may be reproduced, distributed, performed or displayed in any medium, including electronic or digital, without permission in writing from the copyright owner.
By Publisher on Mar 28, 2018 05:13 pm
A Prayer for Strength to Endure
By Adrian Rogers
Blessed is the one who perseveres under trial because, having stood the test, that person will receive the crown of life that the Lord has promised to those who love him. –James 1:12
Jesus is our example. He is a champion who, when He ran His race, received a crown of joy. When an athlete runs, he runs to win a trophy. In our verse today, what is "the joy that is set before Him"? It's winning the race. He "endured the cross, despising the shame, and is set down at the right hand of the throne of God."
That crown gave Him the ability to endure. If you keep the crown in mind, you can bear the cross. But you cannot have the crown if you despise the cross. We are crucified with the Lord Jesus Christ.
I have a few trophies that I won back in high school on a championship football team: a gold football, a letterman's sweater and a silver cup. Do you know what happened to all those trophies? Someone broke into the house and got the gold football. The moths had a camp meeting in the sweater. It's gone. There are no more letters on that letter sweater. What happened to the silver cup, I haven't the foggiest.
Friend, athletes run "to obtain a corruptible crown; but we for an incorruptible" (1 Corinthians 9:25). Running the race, Jesus had the joy that was set before Him and He endured the cross. He despised the shame. There is a prize to possess.
If you are struggling today to endure, here is a prayer to help you remember the crown of joy ahead of you:
Lord, I am weary and don't know when this "race" will end in my life. I feel like I've been running forever, trying to outrun this trial. Help me to stop trying to outrun my pain but rather run with endurance the race you have set before me. I know that because of you I am ultimately a victor over the trials in my life. I know that nothing in this world can separate me from your steadfast love. Please give me a measure of your love today; give me the strength to endure this trial. Thank you for your love for me that never ends! And thank you for the crown of joy that awaits me forever in your Kingdom!
In Jesus' Name, Amen!
Stinky Feet – Easter Devotional – March 29
Stinky Feet
by Laura MacCorkle
A new command I give you: Love one another. As I have loved you, so you must love one another. By this all men will know that you are my disciples, if you love one another.
John 13:34-35, NIV
Do you celebrate Maundy Thursday?
The word maundy means "a new commandment" and is derived from the Latin word Mandatum in translating Jesus' commandment in John 13:34-35.
Before He said that, Jesus had demonstrated His love that same evening during the Last Supper, as He humbled Himself and washed His disciples' feet (John 13:4-5). This act perfectly illustrated His new command.
So he got up from the meal, took off his outer clothing, and wrapped a towel around his waist. After that, he poured water into a basin and began to wash his disciples' feet, drying them with the towel that was wrapped around him.
After reading this, I can only imagine what washing someone else's stinky feet must be like.
Think about where your feet have been, especially if you live in a back-to-nature, shoe-optional locale. This starts getting very up close and personal. And, depending on the individual and their hygiene habits or lack thereof, perhaps not too pleasant. Washing another's feet is not a glamorous act of service at all. But neither is anything related to the role of a servant, since it represents a position of humility and a mindset of putting others first.
In this day and age, I know there are certain churches that do have foot-washing services on Maundy Thursday to commemorate Christ's actions and his command. I have not participated in one like this, but I am sure it is a great object lesson to help all ages understand how to love one another.
Taking this a step further, The Bible Knowledge Commentary has this to say about foot-washing:
"Foot-washing was needed in Palestine. The streets were dusty and people wore sandals without socks or stockings. It was a mark of honor for a host to provide a servant to wash a guest's feet; it was a breach of hospitality not to provide for it. …[Jesus] had done a humble service for [the disciples]. Meeting others' needs self-sacrificially is what they ought to do too. This passage emphasizes inner humility, not a physical rite. Not to follow the example of Jesus is to exalt oneself above Him and to live in pride. No servant is greater than his master (cf John 12;26)."
So when we humble ourselves and serve the Lord as He served us, it is He who lifts us up. When we love Christ, He changes our hearts and motivates us to love others. And if showing this love means washing some stinky feet, then so be it.
I will give you a new heart and put a new spirit in you; I will remove from you your heart of stone and give you a heart of flesh. And I will put my Spirit in you and move you to follow my decrees and keep my laws (Ezekiel 36:26-27).
Intersecting Faith & Life: Who is God impressing upon your heart today? Is he calling you to show love to this person? Determine your course of action that will show a humble heart: make a phone call, send a note, lend a hand, speak a kind word or wash some feet! And then follow through as you love one another!
Further Reading
Luke 10:27, The Message
How's Your Love Life?
5 Who Tried to Stop Easter… and Failed
Have you ever thought about how many people tried to stop Jesus' life, death and resurrection, whether for good or bad? Some wanted Jesus dead, and they thought His words were blasphemous. Others looked out for their own interest and rule, but there were some who wanted to protect Jesus—and they were distraught at His death. But God is sovereign over all, and He knew the path that His Son must follow in order to save mankind once and for all.
Here are 5 who tried to stop Jesus' life, death, or resurrection and failed according to God's plan:
1. King Herod: The Paranoid Manipulator
King Herod and many of the people he governed did not want to welcome a new King. Herod feared for his throne, and his people feared his vengeance. Once Herod learned information about the Messiah from the Magi, he asked them to return with a location so that he too could worship the King.
But being warned in a dream, the Magi traveled home a different way. Then Herod in his anger and paranoia decided to take matters into his own hands and tried to kill every Hebrew baby boy that fit the age range of the Messiah.
"When Herod realized that he has been outwitted by the Magi, he was furious, and he gave orders to kill all the boys in Bethlehem and its vicinity who were two years old and under, in accordance with the time he had learned from the Magi." –Matthew 2:16
But God sent an angel to warn Joseph in a dream, and he took Mary and Jesus to safety in Egypt. Herod failed to stop the Messiah, and God's sovereign plan for His Son continued.
2. Satan: The Evil Deceiver
Satan tried to stop God's plan by tempting Jesus with empty promises and bribes that he could not fulfill. Jesus, both fully divine and fully human, experienced temptation as a man the same way that we do, but He did not yield or sin.
"Again, the devil took him to a very high mountain and showed him all the kingdoms of the world and their splendor. 'All this I will give you,' he said, 'if you will bow down and worship me.' Jesus said to him, 'Away from me, Satan! For it is written: 'Worship the Lord your God, and serve him only. Then the devil left him…" –Matthew 4:8-11
Can you imagine the fury Satan felt when Jesus remained strong in His choice to choose us—even to death? Though the Bible does not tell us, I think it is plausible to think that Satan was there at the crucifixion. We know he entered Judas Iscariot; Luke 22:3 says, "Then Satan, entered Judas, called Iscariot, one of the Twelve. And Judas went to the chief priests and the officers of the temple guard and discussed with them how he might betray Jesus."
If he couldn't stop God's ultimate plan, he surely wanted to cause as much pain and havoc as he could while the Messiah suffered on earth. Satan failed, and not only did he lose the battle…he lost the war. God's plan prevailed unhindered as prophesied.
3. The Sanhedrin/Chief Priests: Wickedly Insecure Men
The Sanhedrin was the supreme council of the Jewish people in the time of Christ and earlier. You can find out more information about the Sanhedrin at BibleStudyTools.com. Matthew 26:59 tells us,
"The chief priests and the whole Sanhedrin were looking for false evidence against Jesus so that they could put him to death."
They really didn't like Jesus…and their desire was to trap Him into what they considered blasphemy. They already had it set in their minds that they would find a way to execute Him.
"Early in the morning, all the chief priests and the elders of the people made their plans how to have Jesus executed. So they bound him, led him away and handed him over to Pilate the governor." –Matthew 27:1
And they didn't stop there…
"But the chief priests and the elders persuaded the crowd to ask for Barabbas and to have Jesus executed." –Matthew 27:20
They wanted Jesus dead, and they succeeded as God had planned. But they failed in thinking that they were in control; they had no power when it came to Jesus' life, death, or resurrection…the power and plan was God's alone. They could not stop the resurrection, nor could they stop the news of it. The tomb was found empty; death could not hold Him. He is risen indeed.
4. Simon Peter: The Brave Defender
Peter tried to stop Jesus from being taken by the Roman guards. He succeeded in cutting off the ear of the high priest's servant before Jesus stopped him. John 18:10-11 says,
"Then Simon Peter, who had a sword, drew it and struck the high priest's servant, cutting off his right ear (The servant's name was Malchus.) Jesus commanded Peter, 'Put your sword away! Shall I not drink the cup the Father has given me?"
"Do you think I cannot call on my Father, and he will at once put at my disposal more than twelve legions of angels? But how then would the Scriptures be fulfilled that say it must happen in this way?" –Matthew 26:53-54
Can you imagine how hard it must have been for the disciples to accept that Jesus must die to fulfill His plan as Messiah—and that there was nothing they could do to help or stop it? They did not fully understand yet why Jesus must die, and they doubted before they saw Him again. Peter failed to protect the Messiah and save Him from the cross, but later he understood that it wasn't Jesus who needed saving. Oh what grace God bestows on us.
5. Pontius Pilate: The Reluctant Judge
Even Pilate's wife tried to dissuade him from crucifying Jesus: "When Pilate was sitting on the judge's seat, his wife sent him this message: 'Don't have anything to do with that innocent man, for I have suffered a great deal today in a dream because of him.'" –Matthew 27:19
Crosswalk.com Contributor Dr. Pritchard shares,
"All four gospels make it clear that Pilate knew Jesus was innocent of any crime. If you put the gospel accounts together, it appears that Pilate tried four times to avoid sentencing Jesus to death:"
He told the Jews to try the case themselves: 
"Pilate said, 'Take him yourselves and judge him by your own law.'" –John 18:31
He sent the case to Herod: 
"…When he learned that Jesus was under Herod's jurisdiction, he sent him to Herod, who was also in Jerusalem at that time." –Luke 23:6
He tried to placate the Jews by scourging Jesus instead of crucifying him:
"Then Pilate took Jesus and had him flogged. …Once more Pilate came out and said to the Jews gathered there, 'Look, I am bringing him out to you to let you know that I find no basis for a charge against him.'" –John 19:1,4
He tried to make a deal but the people chose Barabbas instead:
"Do you want me to release to you the king of the Jews? Asked Pilate, knowing it was out of self-interest that the chief priests had handed Jesus over to him. But the chief priests stirred up the crowd to have Pilate release Barabbas instead." –Mark 15:9-11
"What shall I do, then, with Jesus who is called the Messiah?' Pilate asked. They all answered, 'Crucify him!' When Pilate saw that he was getting nowhere, but that instead an uproar was starting, he took water and washed his hands in front of the crowd. 'I am innocent of this man's blood,' he said. 'It is your responsibility!'" –Matthew 27:22-24
Pilate did not understand Jesus completely, but he knew that He was innocent. Rather than standing up for Jesus at great personal cost, he faltered to blackmail from high-ranking Jewish officials and mob mentality letting the people choose Jesus' fate as God had planned.
"Pilate's crime in many ways was worse than the sin of the chief priests. They thought Jesus was guilty and wanted him dead; Pilate knew he was innocent and sent him to die anyway. He stalled and hesitated and tried to pass the buck. He wouldn't decide so the mob decided for him," writes Dr. Pritchard.
As believers, we can be thankful that God did not let any man or spirit stop His plan to send His Son to die on a cross and rise from the dead. God's plan for salvation could not be stopped, and because He paid the only price that could be paid there is hope for all who believe.
Let God Do His Job
Philippians 2:8-11 shows us how humility precedes honor,
And being found in appearance as a man, He humbled Himself and became obedient to the point of death, even the death of the cross.  Therefore God also has highly exalted Him and given Him the name which is above every name, that at the name of Jesus every knee should bow, of those in heaven, and of those on earth, and of those under the earth, and that every tongue should confess that Jesus Christ is Lord, to the glory of God the Father. 
If God's good pleasure and His plan are to be worked out in our lives, we must walk in humility.  It is a prerequisite for us to pass the test of humility.  As we see here, because Jesus humbled Himself, God highly exalted Him.  And at that point, no demon in hell could do a thing to prevent it.
When God promotes you, no person, no demon, no ungodly system can hold you back.  God's exalting power is irresistible.  It is undeniable, and it is undefeatable.
But a humble heart must come first.  It has been said that no man stands taller than when he is on his knees before God.  Let us humble ourselves and be obedient to God in every area of our lives.  If we will lower ourselves, God will lift us.  God's job is to exalt us, and our job is to humble ourselves.  If we try to do God's job for Him, He will have to do our job for us.
God Is In Control
And they were calling to one another: "Holy, holy, holy is the Lord Almighty; the whole earth is full of his glory." – Isaiah 6:3
Did you know there is now a modern day version of the Golden Rule? It says that "He who has the gold sets the rules".
Who sets the rules for you? Your supervisor? The company president? The government? Whoever sets the rules has great power. Sometimes we feel like that particular person has too much power and control over our lives. We long to be that person who has the gold and sets the rules.
On the highest level, God is the one who sets the rules and has the greatest power over us. We make choices in life, but He is the ultimate boss. Through the prophet Isaiah, God told us to "maintain justice and do what is right, for my salvation is close at hand and my righteousness will soon be revealed. Blessed is the man who keeps his hand from doing any evil."
It's good to know that God is kind and just. In our daily decisions, we need to follow God's rules that are found in the Bible. Hopefully, you follow those rules in grateful response to Christ and what He's done for you, not in an effort to earn your way into heaven.
Sometimes when people around us are flaunting their power, it's easy to forget who is ultimately in control. I challenge you today to obey God's rules for your life. Turn your situation over to God. He is in control.
"There are two kinds of people: those who say to God, 'Thy will be done,' and those to whom God says, 'All right, then, have it your way.'" -C. S. Lewis (1898-1963)
From Good Morning, Lord by Sheila Walsh
Today I will choose to believe that you are faithful and that you use hard times to make me more like Jesus.
If God loves me, why did my child die? . . . If God hears my prayers, why am I still single? . . . If God is in control, why is life so hard? . . . You may be able to add your own hard question to this list. Whatever that question is, the answer remains the same and it's a choice of faith—"Life is tough, but God is faithful."
And God's faithfulness doesn't guarantee an easy journey through life. In fact, he promises exactly the opposite: he promises that in this life we will have trials and tribulations, hardship and pain  (John 16:33). Yet he who is sovereign and wise and loving and good also promises that the tough times aren't wasted. According to Romans 8:28–29—and I'm on a personal cam­paign to always refer to those two verses together!—even the most difficult, most painful times of life are used by God for our good, and that good is to be more like Christ . . . more trusting of our heavenly Father, walking more closely with him, being more free from sin's grip, able to love others more wholeheartedly, finding ourselves more sensitive to the Spirit's guidance and instruction, being more joyful whatever life's circumstances. And I'm sure you can add to the list. Life is tough, but God is faithful!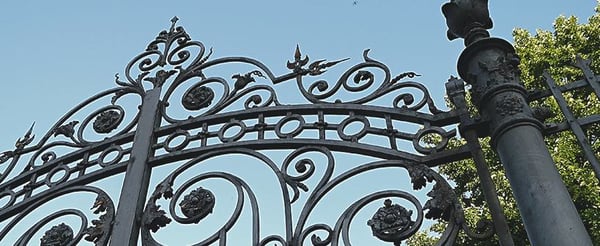 I called him, but he gave no answer.
Song of Songs 5:6
Prayer sometimes lingers, like a petitioner at the gate, until the King comes with the blessings that she seeks. The Lord, when He has given great faith, has been known to test it by long delays. He has allowed His servants' voices to echo in their ears as if the heavens were brass. They have knocked at the golden gate, but it has remained immovable, as though it were rusted upon its hinges. Like Jeremiah, they have cried, "You have wrapped yourself with a cloud so that no prayer can pass through."1
In this manner true saints have continued to wait patiently without a reply, not because their prayers were not strong, nor because they were unaccepted, but because it so pleased Him who is a Sovereign and who gives according to His own pleasure. If it pleases Him to test our patience, shall He not do as He wishes with His children? Beggars must not be choosers either as to time, place, or form.
But we must be careful not to take delays in prayer for denials. God's postdated checks will be punctually honored; we must not allow Satan to shake our confidence in the God of truth by pointing to our unanswered prayers. Unanswered petitions are not unheard. God keeps a file for our prayers–they are not blown away by the wind; they are treasured in the King's archives. This is a registry in the court of heaven in which every prayer is recorded.
Struggling believer, your Lord has as it were a tear-bottle in which the costly drops of your sacred grief are put away, and a book in which your holy groanings are numbered. By-and-by your case shall prevail. Can you not be content to wait a little? Will the Lord's time not be better than yours? By-and-by He will comfortably appear, to your soul's joy, and will cause you to put away the sackcloth and ashes of long waiting and put on the scarlet and fine linen of full fruition.
Today's Scripture
"But the Lord watches over those who fear him, those who rely on his unfailing love." – Psalm 33:18 NLT
Thoughts for Today
Have you experienced a relationship that brought about hurt and bitterness? Have you been hurt when someone ended a relationship with you? Have you ever been in a relationship with someone who disappointed you?
Whether it is your relationship with a parent or other family member … or with a friend … or with your children … or with a spouse or significant other–negative or broken relationships hurt. But you can have a relationship with Someone who will never hurt you, never leave you, never disappoint you. You can have that kind of relationship with God the Father through his Son, Jesus.
Consider this …
Sometimes you might feel as though God has failed you in some way. But if you will continue to trust him and to rely on his unfailing love, you will find that if you walk in obedience to him, all things really will work out for your good. And even though there may be times when you feel as though he has left you, you'll learn that he never does.
God is your Father. Psalm 37 teaches that he directs your steps and delights in every detail of your life. Almighty God, the One who created the heavens and the earth and all that is, delights in every detail of your life!
A relationship with God is the only perfect relationship. He is love. He is truth. And he is your Daddy.
Prayer
Father, thank you for your assurance that I can always rely on your unfailing love. Forgive me for the times I have felt as though you let me down. Sooner or later I always realize that you had been with me and working everything out for my good all along. Teach me to trust you more. In Jesus' name …
Understanding Our Own Calling
TGIF Today God Is First Volume 1 by Os Hillman
March 29, 2018
…"If I want him to remain alive until I return, what is that to you? You must follow Me." – John 21:22
Jesus was talking to Peter after he had just had a very important encounter with Him-one of the last meetings the two would have. This was the third time Jesus had shown Himself to the disciples after His resurrection. It is the famous dialogue between Jesus and Peter in which Jesus asked Peter three times if he loved Him. Jesus followed by commanding, "Feed My sheep." Jesus went on to foretell of Peter's future death. As they were walking together, John was with Peter and Jesus. Peter asked Jesus about John and whether he would die also. Jesus reacted sharply to Peter's comment, telling him not to worry about what John's role or purpose was in life. All Peter had to do was worry about fulfilling his own purpose.
As workplace believers we tend to measure our success on whether we have achieved a certain position or stature in life. Even as Christians the temptation to believe that someone is blessed if they have achieved prominence is always confronting us. In His discussion with Peter, Jesus was getting at the very heart of the matter of a person's calling. Peter was worried about whether his friend John was going to get the same lot in life as he was. Jesus told him it should not be his concern. He was to concern himself only with one thing: his own calling before God.
Are you tempted to compare yourself with where others are in their life? Are you dissatisfied with where God has you right now? Be of good cheer-"[be] confident of this, that He who began a good work in you will carry it on to completion until the day of Christ Jesus" (Phil. 1:6).
Verse of the Day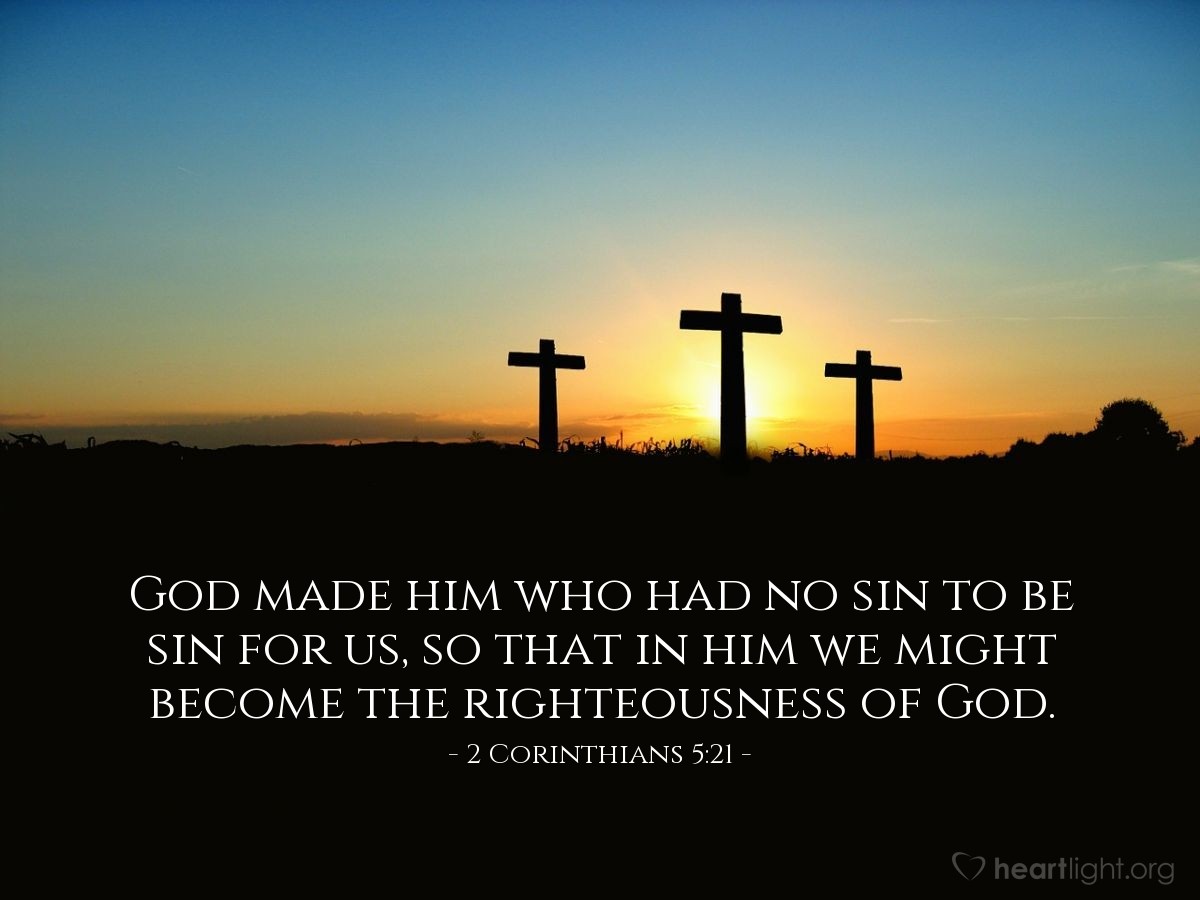 Thoughts on Today's Verse…
Righteousness! That's what we are. We are not righteous. No, it is much bigger than that. We are God's righteousness. We are the testimony of how holy, just and gracious he truly is because, in Jesus, we are his righteousness!
My Prayer…
Thank You, Almighty God, for making me righteous in the blood of your son's death. May people see in me, a reflection of your holiness, justice, and mercy as I try to share with them your grace. Through Jesus, your sacrifice for my sins I pray. Amen.
Stay blessed!!!