3rd Sunday in Advent
December 17, 2017
Readings:
First Reading: Isaiah 61:1-2A, 10-11
Responsorial Luke 1:46-48, 49-50, 53-54
Second Reading: 1 Thessalonians 5:16-24
Gospel: John 1:6-8, 19-28
In the tradition of the Catholic Liturgical Calendar, the Third Sunday of Advent is called Gaudete Sunday. Gaudete is the Latin word for "rejoice." Closing in on the end of the season of Advent–a period of penance, self-reflection, and renewed commitment to a Gospel way of life–we pause to anticipate the fullness of our spiritual rebirth that is made possible by the coming of Christ at Christmas. Symbolically, this anticipation is expressed by the rose color of the third candle in the Advent Wreath and the vestments–a shift to a brighter hue of violet on the color spectrum.
Yet, as we move from the sacred space of liturgy and prayer to the "real world" of daily life, we are bombarded with loss, pain, violence, and discord that seem to contradict any reason to "rejoice." For those who have lost loved ones, the anticipation of the holidays only amplifies the dissonance. Others are tempted to give in to "compassion fatigue" as end of the year appeals from religious and charitable groups fill the mailbox–with the guarantee that one's donation is "fully tax deductible." Indeed, there seems to be little to rejoice about in all of this! So–how do we "feel joy and great delight" amid all of this?
"Rejoice" is a rare term in today's vocabulary. Webster's tells us that "joy" is the emotion evoked by well-being, success, or good fortune, or by the prospect of possessing what one desires." But just what is it that we desire? To answer this question we need to reflect on two other queries: Who am I? Why do I do what I am doing? Our readings for today can assist us in responding.
The First Reading begins: "The spirit of the Lord…". (It is important to realize it is this text that Jesus claimed as outlining his mission in the world cf. Lk. 4: 16-20). What is that spirit, and is that a spirit that defines you and me in any way? Isaiah gives us an image of God who empowers, saves, and inspires hope. In the prophet's telling, it is God who enfolds us in justice. We are never alone, and each of us is a person-in-relationship with God, other people, the earth, and of selves.
It is that same spirit that animated the Thessalonian Christians to live with a sense of gratitude and integrity while awaiting Christ's return. Just as our ancestors in faith sustained their deepest desires, joys, and hopes while anticipating Jesus' final advent, we need to open ourselves to prayer and the spirit's guidance, healing, and empowerment. In this way the deep desire of every human heart for self-discovery and self-actualization is answered in Jesus Christ. John the Baptist exemplifies the kind of integrity that frees us to know who we are and whose we are. When asked by the priests and Levites, "Who are you?" he spoke plainly, "I am not the Christ." But when he was pressed further, he did claim to be "the voice." John seemed to know he was called by a just, merciful, and loving God to play a role in the unfolding of salvation in Jesus Christ.
Through our baptism, Christians are called to claim as our own–as did Jesus–the words of Isaiah. Indeed, "The spirit of the Lord God" has been given to us. We have been anointed and sent to "bring glad tidings to the poor, to heal the brokenhearted, to proclaim liberty to the captives, and release to the prisoners, to announce a year of favor from the Lord and a day of vindication by our God. This sentiment was echoed centuries later in the opening lines of the Pastoral Constitution on the Church in the Modern World, Gaudium et spes (Joy and Hope) § 1: "The joys and the hopes, the griefs and the anxieties of the men of this age, especially those who are poor or in any way afflicted, these are the joys and hopes, the griefs and anxieties of the followers of Christ. Indeed, nothing genuinely human fails to raise an echo in their hearts." One would be hard-pressed to find words more tender and more inviting than these. Each of us has their "bit role" in the unfolding of salvation in the world. Therein, we can find the deep joy that comes with finding our identity and purpose. In light of all of this, as we anticipate Christmas, we can rejoice with Mary the Mother of Jesus–one who clearly knew both the joys and the sorrows of life:
My soul proclaims the greatness of the Lord;
my spirit rejoices in God my Savior,
for he has looked upon his lowly servant.
From this day all generations will call me blessed.
The Almighty has done great things for me,
and holy is his Name.
He has mercy on those who fear him
in every generation.
He has filled the hungry with good things,
and the rich he has sent away empty.
He has come to the help of his servant Israel
for he has remembered his promise of mercy . . . [Lk 1:46-48, 49-50, 53-54]
Advent Wreath Prayer Week 3 – Joy
Heavenly Father,
This third week of Advent, let us remember that the good news of Jesus' birth has the power to bring us great joy this Christmas season. Our joy isn't dependent on what is going on in our life, in our world, or the people that we are with. It doesn't depend on the gifts we give or the gifts we find under the tree. No earthly thing can ever give us complete joy. Our joy comes from you. That joy that flooded the hearts of the shepherds, the angels, the wise men, the hosts of heaven, and Mary and Joseph is the joy that still has the power to overwhelm our hearts with rejoicing.
Those who gathered around the new baby were blessed because they believed that you had fulfilled your promises. Mary and Joseph believed and were able to feel the joy of holding baby Jesus in their arms. The shepherds and wise men believed the angles and the signs and experienced the great gladness of worshipping their Messiah.
Those who knew him and recognized him were overjoyed at the coming of Jesus. They saw the prophesies fulfilled and their fear was replaced with happiness as they gazed on the face of the one who would be their Savior. They trusted in your promises and their hearts were filled with gladness as they watched your loving-kindness manifested in the face of a tiny baby in a lowly manger.
Father, you offer that same joy to us now if we know you and recognize Jesus as our Savior and Lord. You gave us a reason to celebrate when you gave us the unspeakable gift of Jesus Christ. You came to dwell among us. You went to Calvary's cross for us. You overcame death and rose from the dead for us. You forgive our sin and give us eternal life when we believe in you.
Our joy doesn't come from our jobs, our family, our relationships, our finances, or our success. Our joy doesn't come from what we have on earth or who we are with. Our joy is a gift. It is the gift that you gave us that first Christmas in Jesus Christ. Our joy is encompassed in our Savior, King Jesus. Flood our heart with joy this Advent season as we reflect on the good news of Jesus' birth. In Jesus' precious name we pray. Amen
Scriptures to Read: Luke 1:14, Luke 2:10-11, Isaiah 7:14, Isaiah 11:1, Galatians 4:4, Luke 1:45, Romans 15:13, 2 Corinthians 9:15, Psalms 107:1
Sunday, 
December 15


Third Sunday of Advent

In these days of Advent, we experience the already and the not yet. We are in the wilderness, yet the life-giving grace of God is always and already there. Reflect with an Arts & Faith …
Geertgen tot Sint Jans, "Saint John the Baptist in the Wilderness," 15th century
In Geertgen tot Sint Jans' Saint John the Baptist in the Wilderness, we meet the prophet in the wilderness. A lamb keeps him company as John sits on a jutting rock by a creek, heavily cloaked, deep in thought. Although known for his fiery passion, here we see a different side of St. John: introspective, prayerful, meditative. The scene brings to mind Christ's own time in the wilderness, a time of prayer, trial, and temptation right after he meets St. John at the Jordan. Could it be that John was preparing the way for the Lord's own trial in the wilderness?
Just as St. John might invite Christ into the wilderness, he also prepares the way for us to venture into our own wilderness. In the wilderness of our lives, we thirst for God's grace the most. In our daily dry existence, any quick quench tempts us, even as we know that our thirst runs deeper. In the wilderness, St. John prepares the way by prayer; his struggle there is not against the corrupt king, but against the desire of his will. Before he preaches repentance and calls for justice, he prays and ponders his utter reliance on God. And even in the midst of this spiritual struggle, he finds that God's grace already holds him; he is seated by a life-giving stream, and the lamb curls up close by, both symbols to demonstrate God's presence.
In these days of Advent, we experience the already and the not yet. We are in the wilderness, yet the life-giving grace of God is always and already there. At the same time, we still await the fullness of glory, the ultimate quenching of our thirst. May our own lives of prayer prepare the way of the Lord within us as we await his coming.
Read Who Are You? by Lisa Kelly.
When the priests and Levites questioned John the Baptist in the wilderness, they asked him "Who are you?" John responded by testifying "I am the voice of one crying out in the wilderness, 'Make straight the way of the Lord.'" (John 1:19–23)
As we labor in these weeks of Advent, we have the opportunity to face that same question and give our own testimony. Who are you? What is your voice, your life, crying out in the wilderness to proclaim?This is the desert experience when all our trappings of ego and image are dropped.
Each of us has our own calling, our own message of love to be expressed with our lives. Who are you? What is your voice crying out in the wilderness to proclaim?John captured his answer in 18 words. Can you capture yours in Facebook post? In a blog comment? In a tweet? In a Christmas card? In a moment of prayer?
Before this message of love can be fully realized at Christmas, we must be able to articulate it at least for ourselves. Who are you? What is your voice crying out in the wilderness to proclaim?
Read A Habit of Hope by Joan Wester Anderson.
Have you ever noticed that the holidays bring out the worst in our worrying? Several years ago I went through a dark period of illness and distress. As soon as one difficulty passed, another took its place. By the beginning of Advent I had fallen into a fretful habit of "What if-ing." "What if the new medication doesn't work?" "What if I have to cancel that work project?" "What if I still feel like this on Christmas—how will I get the dinner done, the house cleaned? . . ."
"Look," my husband said one day, "I know it's hard to have hope sometimes. But living in the future steals today. Can't you decide not to start sentences with 'What if'?"
As an Advent offering, maybe I could.
"The Lord is good to those who hope in him, to those who are searching for his love" (Lamentations 3:25). As days passed and I practiced tossing What-if's out of my head whenever they intruded, I was surprised at how often I wasted perfectly good hours by worrying about something that hadn't happened yet—and might never. I realized that when my own store of hope was used up, there always seemed to be someone around (maybe an earth angel?) who could show me the rainbow hidden from my view. Although I endured miserable moments and it took discipline not to return to the old pattern, eventually I stopped focusing on the fearful future and decided to enjoy just this one hour. (The right medication helped, too.)
Today I look back upon that period with astonishment, for not one of my worries ever came to pass. A waste of energy, yes, but also a lesson. As St. Paul reminds us, "Hoping for what we cannot see means awaiting it with patient endurance" (Romans 8:25). Each Advent, as I wait for the Child who brought us the hope that never fades, I give thanks.
    —Dion Todd
This Place Stinks
Then the king was exceedingly glad, and commanded that Daniel be taken up out of the den. So Daniel was taken up out of the den, and no kind of harm was found on him, because he had trusted in his God. Daniel 6:22 ESV
Daniel had spent a long night in a den of lions and the stench of rotted meat and lion poo had to be pretty pungent. He had done nothing wrong and was just trying to serve God as best as he could in a foreign land. When the sun came up the next day, the king set Daniel free and fed his enemies to the hungry lions. Daniel then prospered greatly.
Once I had a personal revival where I was zealously serving God and I fasted and prayed daily for Him to remove anything holding me back from Him. Well that didn't take long and within weeks, my great paying job as a foreman was gone. After unemployment ran out, I had to take the worst job that I ever had as a laborer in a brass polishing plant for one third of the pay. Every day I went home as black as smut.
I served faithfully there, though at first it required serious humbling on my part. I started out sweeping the floor. In time I was the manager. There was a mini-revival that broke out in the plant and several people got saved. Then, ever so gently, the Lord closed that down and placed me in my own business, using some of the skills that He had been teaching me along the way.
You will not always be in a place that stinks. If you humble yourself and serve faithfully where God has placed you, He will raise you up. You are not forgotten or unseen. In fact your attitude in the stinky place is being watched closely by a great cloud of witnesses. Keep the best attitude that you can and keep thanking God for He has not forgotten about you.
Prayer: Father, I know that you have not forgotten about me! I know that you see where I am. Please give me the grace to get through this day and work your perfect will in my life, in the name of Jesus.
Bible Fun Fact: John The Baptist was a cousin of Jesus (Lk 1:36).
Daily Prayer for December 15
A voice cries: "In the wilderness prepare the way of the Lord, make straight in the desert a highway for our God. Every valley shall be lifted up, and every mountain and hill be made low; the uneven ground shall become level, and the rough places a plain." Isaiah 40:3–4, RSV

Lord our God, open our ears and our hearts so that we hear you speaking and can follow the voice that cries out to us. May we be a people who prepare the way for you. Grant each of us strength to give up everything at the right moment and to realize, "The way to my heart should be leveled too. It should be straight and level all around me and in the whole world." The light is now shining for us in Jesus Christ, and through him we want to find strength and help, to the glory of your name. Through hearing his voice we will find help. Help will be very near to us, and the mighty hand of the Lord Jesus will be over us in every need. For this he came. We can believe in his help, and we long for it. Hear the inmost longing of each one of us, and make us part of your people so that we may keep hope in our hearts and serve you on earth. Praise to your name, O Father in heaven, that you have put us on earth and that we can draw strength from the One who fights and is victorious, Jesus Christ. Amen.
Edith Stein
The Savior has preceded us on the way of poverty. All the goods in heaven and on earth belonged to him. They presented no danger to him; he could use them and yet keep his heart completely free of them. But he knew that it is scarcely possible for people to have possessions without succumbing to them and being enslaved by them. Therefore, he gave up everything and showed more by his example than by his counsel that only one who possesses nothing possesses everything. His birth in a stable, his flight to Egypt, already indicated that the Son of Man was to have no place to lay his head. Whoever follows him must know that we have no lasting dwelling here.
Source: Edith Stein: Essential Writings

What Jesus Did!

 'Not Guilty'

Then the entire council took Jesus to Pilate, the Roman governor. They began to state their case: "This man has been leading our people astray by telling them not to pay their taxes to the Roman government and by claiming he is the Messiah, a king." So Pilate asked him, "Are you the king of the Jews?" Jesus replied, "You have said it." Pilate turned to the leading priests and to the crowd and said, "I find nothing wrong with this man!"
Key Thought
The charges that the enemies of Jesus present are all lies. Pilate sees through these lies and goes to the crucial question: Is Jesus King of the Jews? Jesus acknowledges that he is. Pilate pronounces him not guilty. In fact, in the Gospel of Luke and in his companion volume, the book of Acts, Roman officials are repeatedly looking on Jesus and his disciples with favor. Unfortunately, however, political expediency often wins out over truth — as it does later with Pilate (
Luke 23:23-24
). Finding nothing wrong with Jesus, even recognizing him as an important teacher or a righteous leader, is not enough. Do we believe he is the Son of God, our Savior and Lord? Are we willing to base our lives on his death, burial, and resurrection by confessing him and sharing with him in his saving work through baptism? Do we believe that he can transform us totally by pouring his Holy Spirit into our hearts and working his will in our lives? Jesus must be far more than a good guy and a great teacher. He must be our Lord! If he is not, then we will simply relegate him to some convenient place in our lives rather than letting him totally transform us.
Today's Prayer
Holy and righteous Father, please do your work in my life. I believe that Jesus, your Son, is the Messiah, my Savior, and my Lord. I fully trust that he lived on earth as a human like me and that he gave up his life on the cross, that he was buried, and that you raised him from the dead. Please conform me to his character through the Holy Spirit, who is at work in me. In Jesus' name. Amen.
Related Scripture Readings
Daily Wisdom: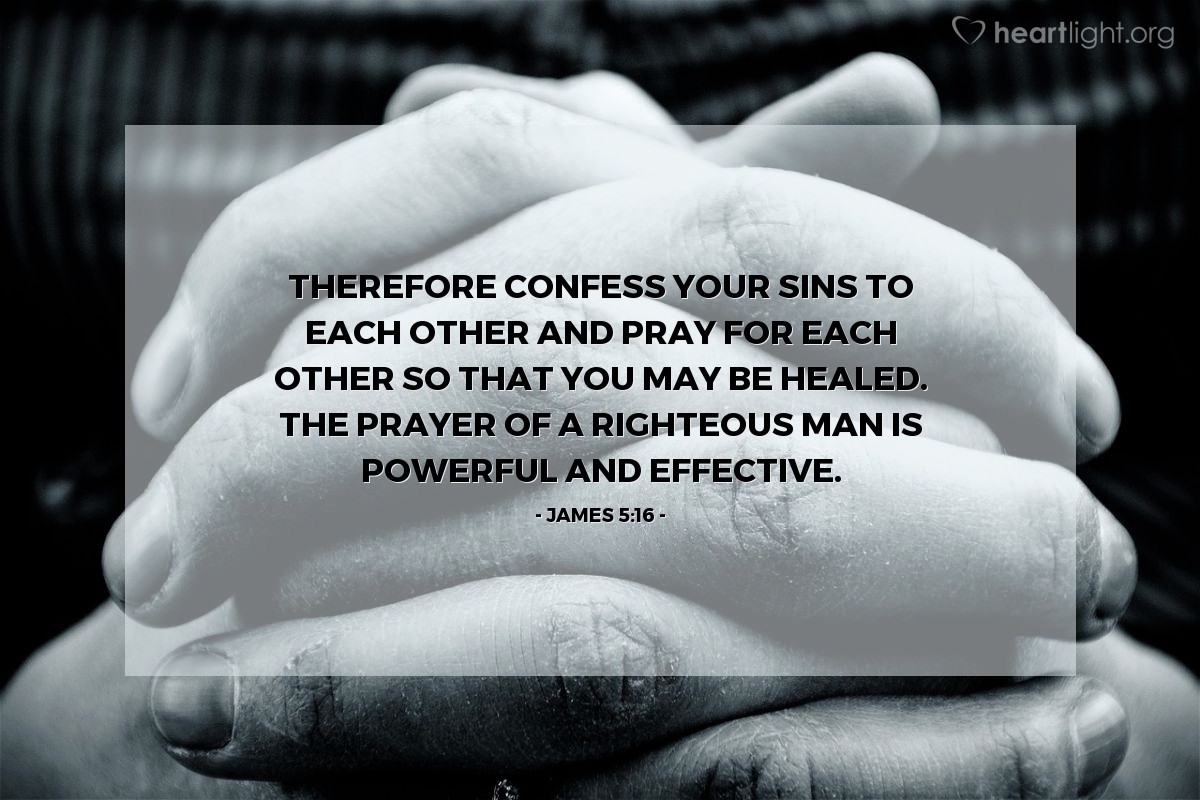 Passion for Praise:

 'God's Strong Name!'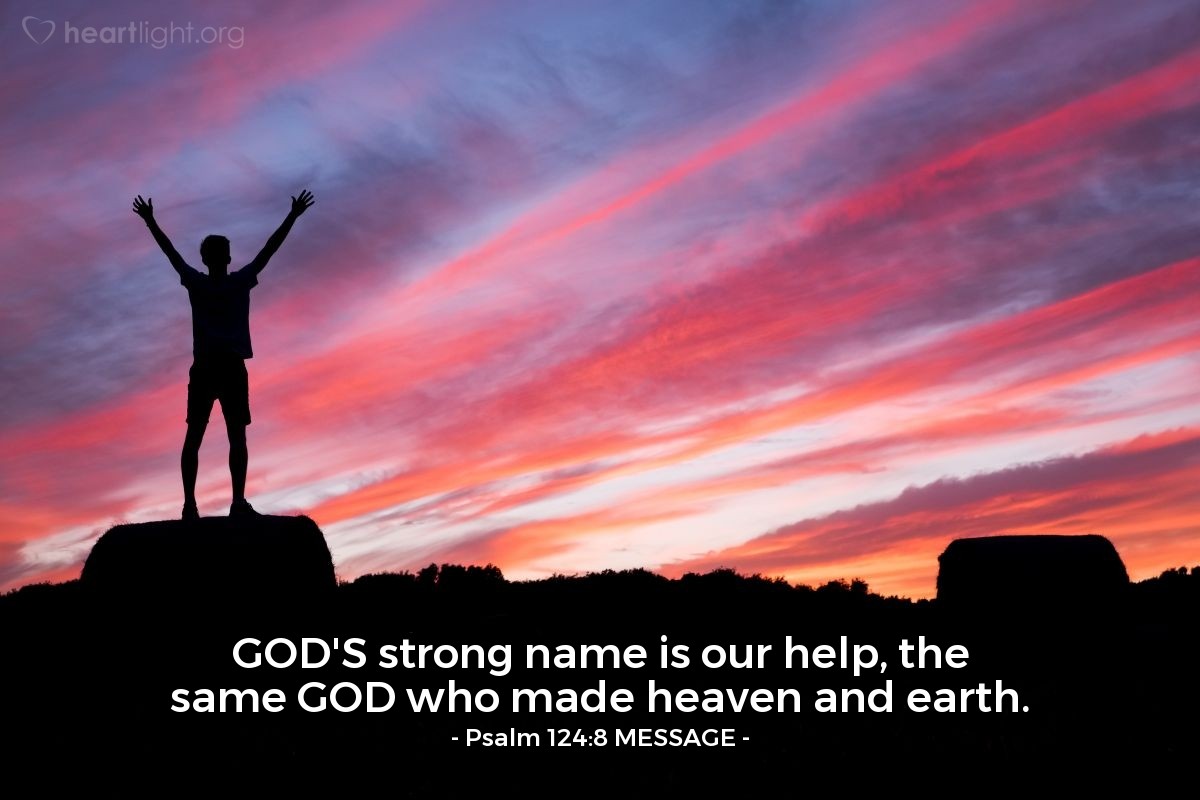 Spiritual Warfare:

 'May My Words and Thoughts Honor You O God'

God's Power for Our Battles

Keep me from sinning. Do not let anyone gain control over me. Then I will be blameless, and I will be free from any great offense. May the words from my mouth and the thoughts from my heart be acceptable to you, O Lord, my rock and my defender.
Today's Prayer
Lord, please don't let the enticements of this world or my earthly desires cause me to lose my focus or control. I truly want to be pure in Your sight. Help me to speak with truth, grace, and love and think and focus on things that are acceptable in Your sight. You are the One I look to for a defense, Lord, and if You refuse to be my defender, then I am hopeless. Deliver me from hopelessness and despair and anything that offends You. In Jesus' Name, Amen.
A Year with Jesus:

 'So Who Will Share the Good News?'
Note from Jesus
Dear Friend of God,
Today, I AM asking you to do something important. I know you are busy with all your Christmas plans, but there is one important gift I'd like you to give to someone. I want you to share the good news story of My birth with that person. The person could be a man or woman, adult or child, old or young, rich or poor, but no matter who that person is, all people need to be reminded that I came to earth from heaven for them.
Please share that story with a couple of people who are special to you.
Verses to Live
An angel first told the story of God's good news of My coming to Joseph and Mary. While it was unbelievable good news, it was also news that would change their world, and yours, forever:
[I]n Nazareth, a city in the rural province of Galilee, the heavenly messenger Gabriel made another appearance. This time the messenger was sent by God to meet with a virgin named Mary, who was engaged to a man named Joseph, a descendant of King David himself. The messenger entered her home.

Messenger:

Greetings! You are favored, and the Lord is with you! Among all women on the earth, you have been blessed.

The heavenly messenger's words baffled Mary, and she wondered what type of greeting this was.

Messenger:

Mary, don't be afraid. You have found favor with God. Listen, you are going to become pregnant. You will have a son, and you must name Him "Savior," or Jesus. Jesus will become the greatest among men. He will be known as the Son of the Highest God. God will give Him the throne of His ancestor David, and He will reign over the covenant family of Jacob forever.

Mary was engaged to marry Joseph, son of David. They hadn't married. And yet, some time well before their wedding date, Mary learned that she was pregnant by the Holy Spirit. Joseph, because he was kind and upstanding and honorable, wanted to spare Mary shame. He did not wish to cause her more embarrassment than necessary.

Now when Joseph had decided to act on his instincts, a messenger of the Lord came to him in a dream.

Messenger of the Lord:

Joseph, son of David, do not be afraid to wed Mary and bring her into your home and family as your wife. She did not sneak off and sleep with someone else — rather, she conceived the baby she now carries through the miraculous wonderworking of the Holy Spirit. She will have a son, and you will name Him Jesus, which means "the Lord saves," because this Jesus is the person Who will save all of His people from sin.
Angels (heavenly messengers) also announced the good news to a group of shepherds out in the fields tending their flocks. It was such good news for them that they had to go to see if it was really true and then tell others about this good news they had seen!
Nearby, in the fields outside of Bethlehem, a group of shepherds were guarding their flocks from predators in the darkness of night. Suddenly a messenger of the Lord stood in front of them, and the darkness was replaced by a glorious light — the shining light of God's glory. They were terrified!

Messenger:

Don't be afraid! Listen! I bring good news, news of great joy, news that will affect all people everywhere. Today, in the city of David, a Liberator has been born for you! He is the promised Anointed One, the Supreme Authority! You will know you have found Him when you see a baby, wrapped in a blanket, lying in a feeding trough.

At that moment, the first heavenly messenger was joined by thousands of other messengers — a vast heavenly choir. They praised God.

Heavenly Choir:

To the highest heights of the universe, glory to God!
And on earth, peace among all people who bring pleasure to God!

As soon as the heavenly messengers disappeared into heaven, the shepherds were buzzing with conversation.

Shepherds:

Let's rush down to Bethlehem right now! Let's see what's happening! Let's experience what the Lord has told us about!
The Father even used a star to announce the good news of My birth to foreigners, wise men from the East, who came to worship Me because of this good news.
The wise men left Herod's chambers and went on their way. The star they had first seen in the East reappeared — a miracle that, of course, overjoyed and enraptured the wise men. The star led them to the house where Jesus lay; and as soon as the wise men arrived, they saw Him with His mother Mary, and they bowed down and worshiped Him. They unpacked their satchels and gave Jesus gifts of gold, frankincense, and myrrh.
(Matthew 2:9-11)

This is the beginning of the good news of Jesus, the Anointed One, the Liberating King, the Son of God.

Isaiah the prophet told us what would happen before He came:

Watch, I will send My messenger in front of You
to prepare Your way and make it clear and straight.
You'll hear him, a voice crying in the wilderness,
"Prepare the way of the Eternal One,
a straight way in the wandering desert, a highway for our God."

That messenger was John the Baptist, who appeared in the desert near the Jordan River preaching that people should be ritually cleansed through baptism with water as a sign of both their changed hearts and God's forgiveness of their sins.
(Mark 1:1-4)
If angels, stars, and shepherds can find a way to sing, shine, and share the good news of My birth, won't you?
Response in Prayer
O Father in heaven and the One True and Living God, open my eyes to see the people You have placed around me who need to hear the good news of Jesus' birth in the middle of their busy Christmas season. In the name of my Savior, I pray. Amen.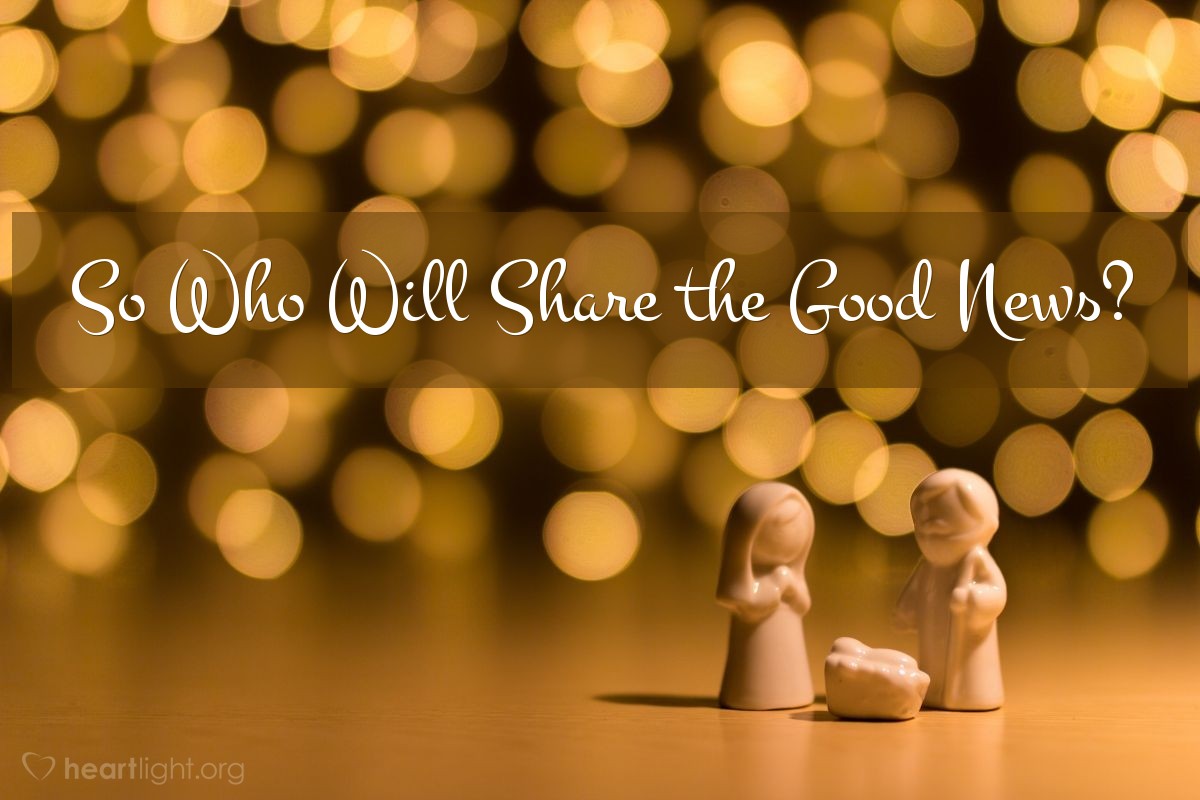 Cindy Jacobs Prophesies: 'Prepare to Have Restitution'
I want to give you a word of encouragement today. I asked the Lord how He wanted to encourage us and help us today, and the Lord said to me: "Restitution." (I said, "Oh my goodness!")
And this is what the Lord is saying: "Many of you have had losses that have hurt you. You have had losses in your family, you've had losses in finances, you've had losses in what you thought you would do."
I see a robbing spirit that has been very busy to rob you of time, to harass you, to cause things to break down, to cause you to have a loss in your business and loss in your life. And I bind that robbing spirit in the name of Jesus. I want us to call out for restitution. Father, I pray for restitution in the name of Jesus.
But the Lord says to you: "Prepare to possess. Prepare to have restitution."
Prepare for God to reach back into your generations. Maybe your parents didn't end well; maybe your grandparents didn't. Maybe you're a foster child; maybe you're a child of a family that was emotionally stunted, or you're adopted. But the Lord says, "I can restore your emotions. I'm going to give you restitution in ways you can't imagine—financial restitution, inheritances, but also personal restitution where My peace just floods your soul, where My joy comes into you."
Get ready. God is getting ready to release restitution for you.
Cindy Jacobs is an author, speaker and teacher with a heart for discipling nations in the areas of prayer and prophetic gifts. She and Mike—her husband—co-founded Generals International in 1985. Cindy helps people walk in the ministry of prophetic intercession, equipping them to pray effectively for their families, cities and nations.
Prophetic Word: 2020 is the Year of V-I-C-T-O-R-Y
You will receive many words over the next several weeks as 2020 begins to close in on us. One word that I feel the Lord saying is: "This is the Year of (spell it) V-I-C-T-O-R-Y!" All the things that you have been believing for are about to manifest.
For the Lord says, "My time is now. I am ready to act. I speak over you:
—No more hold-ups!
—No more cancellations!
—No more setbacks!
—No more delays!
—No more distractions!
I want My children to realize at this moment that it is a now season, because now faith will be needed in this hour! 'Now faith' requires that you walk in expectant faith at every moment of every day.
Do not doubt My Word and promises any longer. In this new decade, beginning in 2020, you will experience V-I-C-T-O-R-Y! Yes, victory on every level."
Here is an acronym of this word that the Holy Spirit has given me for you today:
V: Validation
"There are no ifs, ands or buts about it anymore," says the Lord. "You belong to Me. Your enemy (the accuser of the brethren) wants you to doubt everything that I have said to you and everything I have done in your life.
"I would say that, in this time, I'm going to bring to light all My promises and shine right in the face of your enemies. Even he will see My goodness in the land where you are living!
"As a matter of fact, I am putting My seal upon you. No foe can withstand My validation. All of hell will have to recognize My power, authority and rank with which I have validated you! You will walk in a supernatural unction never realized before. Even you will not believe what I am doing through and in you, before your very eyes," says the Lord of Hosts!
I: Increase Is Coming
The Lord says:
"It's not just regular, everyday, run-of-the-mill increase, but extraordinary increase! It's the kind of increase that Isaac received—the kind that made his neighbors envy him.
"In My Word [Gen. 26:12], I recorded where 'Isaac sowed in that land and reaped in the same year a hundredfold; the Lord blessed him.' He became a very rich man and his wealth continued to grow. He had so many flocks, herds and servants that even the Philistines envied him.
"Are you ready for that kind of increase on your life? Are you ready for the kind of increase where you are almost ashamed to tell what I have done that particular day because it's so much? You are going to increase so much that the world will shake their head and say, 'How can it be?' And when they do, your answer will be, 'It is by the strong hand of the Lord that this work has been wrought!'"
C: Catapulting
The Lord says:
"This is a very rare word that is not used so much in this day that you live in, but I am bringing it back. To get the full meaning of My Word over you, examine the definition from the world's perspective."
"To catapult" means:
—To launch.
—A slingshot.
—To bring suddenly into prominence.
—To jump or to spring.
—To throw violently.
This word is even used as a device that launches aircraft from a warship.
The Lord says:
"This is the season in which your head will spin with what I am about to catapult you into. Your head will spin with where I am about to catapult you to. My servant Amos describes it perfectly, saying:
"'Yes indeed, it won't be long now.' God's decree [is]: "Things are going to happen so fast your head will swim, one thing right on the heels of the other. You won't be able to keep up. Everything will be happening at once and everywhere you look, blessings!"' (Amos 9:13-15, MSG).
"So, get ready to mount up with wings as the eagles. Get ready to soar as I catapult you through every open door before the return of your great God and Savior, Me!"
T: Taking Territory
"This has always been on My mind. Ever since the beginning of time, in the garden with Adam and Eve, My first commandment was, 'Be fruitful and multiply, and replenish the earth and subdue it' [Gen. 1:28].
"Territory has always been—and always will be—on the mind of your foe, Satan. He has been a thief, murderer, liar and destroyer ever since I discovered iniquity that was found in him.
"However, this brand-new decade will bring about a determination and grit inside of you. You will have the determination and grit to no longer stand on the outside of your dream and purpose, looking in. Instead, in this year of 2020 and beyond, you will seize territory with every step you take."
The Lord, your fighter, says:
"Every step is strategic in this season. As I told My servant Moses, and later told Joshua as well, 'The Lord will drive out all the nations ahead of you, though they are much greater and stronger than you. You will take over their land. Every place upon which you set your foot will be yours. I will give you every place upon which you set your foot, as I promised Moses.'"
The Lord says, "This territory will bring you into new places and new opportunities. I will give you the key of David. I will open doors that no man can shut and shut doors that no man can open.
"Do you see it? Can't you envision my plan for you?
—You will take territory.
—You will take the territory of your house.
—You will take the territory of your family, marriage and children.
—You will take the territory of starting your own business and going into entrepreneurship for the kingdom.
—You will take your health back in the name of the Lord.
—Your mind is lining up with the living Word of God.
—You are stepping out to take land, properties and opportunities only dreamed of before."
O: Opportunity
"Opportunity is the key word that is exploding in this season of your life, and on My calendar of events. My people have been held up and held back, and now is the time to believe for all that I have promised.
"2020 will see opportunities and doors that you can only imagine and dream about. I am the God of 'exceeding abundantly above all you can ask or imagine.' It is the time to prove Me and ask Me for anything!
"When you call Me, I will answer even before you call.
"While you are still speaking, I will hear you! You have been wondering, 'When will my time come? How can I get ahead with the calling on my life?' Yet I know the plans I have for you," says the Lord, "plans to prosper you and give you a hope and a future.
"There is not only coming a door of opportunity, but multiple doors of opportunities. Promotion, possibilities, favor, promise, advancement and success are all around you. Look for them; and when you see them, seize them!"
R: Restoration
"Restoration is a part of My covenant with you, My child. My promise is that 'I will compensate you for the years the locusts have eaten—the larval locust, the hopper locust, and the fledging locust' [Joel 2:25]. My promise covenant is that 'You will eat abundantly and be satisfied, and you will praise the name of the Lord your God, who has worked wonders for you; and My people will never again be shamed' [v. 26].
"Get ready to see an overflow of things that will come back to you that you thought were lost."
For the Lord of restoration says, "I am not just putting you back to your original place. I am placing you in a position where your enemy will regret that he ever stole from you because of the bounty of the harvest that is coming!"
Y: Yearning
"I desire for all My children to yearn for and desire My presence. It is My presence that will carry you, giving you My peace and love, in this culture of yearning for everything but Me.
"The intensity of My overpowering tenderness that is prevalent during this time will carry you to a place in which My overshadowing hunger will consume you. The yearning that will overwhelm you at this time will bring a strong desire for the enjoyment and pleasure that are found in My presence.
"I am giving you a great and strong desire to be with Me in this season.
"My presence is the only thing that will bring you both true meaning and a craving for Me. I have promised, 'Draw near to God, and He will draw near to you' [James 4:8]. I am ready to show you My miracles, signs and wonders that are getting ready to explode on this Earth. My dunamis power is getting ready to go off in your very spirit-being, lighting up this dark world for My glory!
"V-I-C-T-O-R-Y is promised, and is therefore sure and absolute!
"Victory in this new decade will look like and be bigger, greater and more attainable than any other season of your life. This is My promise! This is My guarantee! This is your destiny! Take it! Believe it! Expect it!"
Wow! I receive that word from the Lord; don't you?
Judy Jacobs is internationally known for her declarative worship and powerful message of the gospel. She has ministered personally in over 50 countries, and has also ministered through several TV networks such as TBN, Inspiration Network and Daystar. She has also been honored to minister and be involved with T.D. Jakes and The Potter's House, and many crusades. Pastor Judy serves as the co-pastor of Dwelling Place Church International. She is also the director of the International Institute of Mentoring and has published five books and eight solo albums. She is married to Pastor Jamie Tuttle, and together they have two daughters.
Humor…