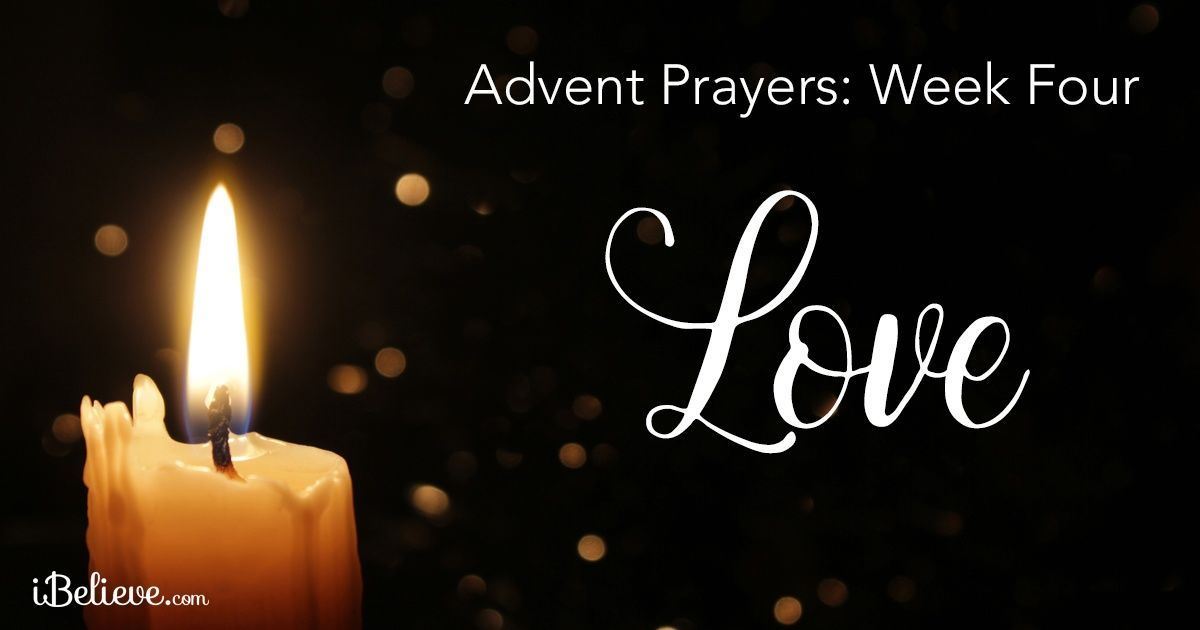 Heavenly Father, The whole meaning of Christmas can be explained in one little four letter word…LOVE. You sent your gift of pure love to us that first Christmas. Love descended from heaven to be born of a virgin. Love lay in the scratchy hay of a manger in a meager barn in Bethlehem. All of your love, God, was robed in the delicate skin of a baby and wrapped in swaddling clothes. This final week of Advent, help us to reflect on the magnitude of love that was made manifest in Jesus.
You are King and King and Lord of Lords, Messiah and Ruler of All, yet you came not as a lion but as a lamb. You came as an innocent baby whose purpose was walk this earth in complete love, and then to sacrificially give his life as an atonement for the sins of His children. Emmanuel. God with us. Love in the form of a man.
There is no greater gift then this, that a man should lay down his life for his friends. You willing gave the gift of your life because of your love. Your righteous blood covered our sin. You redeem and restore us when we confess you as Lord and Savior of our life. In that moment you give us the gift of your love for all eternity. We receive grace upon grace and mercy upon mercy in that moment.
The greatest gift of all came that first Christmas. It wasn't wrapped in a beautiful package and set under a decorated tree. The greatest gift came wrapped in the flesh of baby Jesus and laid in the rough wood of a manger. Our perfect gift would later be rewrapped in the scars of our sin and nailed to the rugged wood of a cross on Calvary, all because of love.
Father, this final week of Advent, fill our hearts and minds with the significance of that truth. Thank you, Lord, for loving us enough to send Jesus. In Jesus' precious name we pray. Amen
Scriptures to Read: Luke 2:11, Isaiah 7:14, John 1:14, John 3:16, John 1:16, Philippians 2:8-10, Titus 3:4-7, Luke 23:33-34, Luke 24:46-49
Sunday, 
December 22


Fourth Sunday of Advent

The light of Christ will shine to dispel the darkness—where in your life do you yearn for it most? Reflect with an Arts & Faith video for this Fourth Sunday of Advent.
Anton Raphael Mengs, "The Dream of Saint Joseph," 1773
In these last days of Advent, daylight is short, the weather is cold, and we are weary of the stress and hustle and bustle of preparing for the holidays. In The Dream of Saint Joseph by Anton Raphael Mengs (1773), we meet the sleeping Joseph, who dozes off at his workbench. He is worn out, like we might be these days. His sleep is heavy with the burden of heartbreak and hard decisions, his dreams haunted by the fading hope of a life and family that might not be. His cloak and dark garments weigh on his shoulders as if to symbolize his burden.
Into his dark and heavy sleep enters the light of an angel. The angel illuminates the scene with a lightness to her whole being—an image to balance Joseph's burden. She is light, she is hope, she is assurance, she is direction, and she is purpose. Her finger points boldly into the darkest corner of the scene as if to say: This, your deepest and darkest fear and worry, is where the Good News of Jesus Christ will meet you. Do not be afraid.
For Joseph, his greatest burden will become his greatest blessing. His dream is a consolation to us all in these darkest days of the year, whether we experience the darkness externally or internally. The light of Christ will shine to dispel the darkness—where in your life do you yearn for it most?
Read Repentance and Renewal.
During Advent we honor the descendants of the House of David, a royal line of nobles and cads who point the way to the Messiah. King David himself is a fascinating mix of courage and cowardice. He slew the giant warrior Goliath with a single slingshot when he was still a boy, but as king he succumbs to venal desires with deadly consequences. His later sorrow and repentance are well documented in the Book of Psalms.
Poor David—he was doing so well for a while, uniting Israel and making it mighty—but then he lets power go to his head. He sees the beautiful Bathsheba and decides he wants her for his own, even though he knows she is the wife of Uriah, one of his most dedicated soldiers.
When he learns that Bathsheba is pregnant with his child, David tries to get Uriah to sleep with Bathsheba so that Uriah will think the baby to come is his. But Uriah, who is preparing for battle, refuses to be with his wife. David decides his only recourse is to have Uriah killed during the battle by one of his henchmen. It is a sordid tale in which the cover-up is worse than the crime.
Why, when he could have had any young maiden he wanted, did David choose someone who was off limits? How could he betray someone who served him so loyally? Perhaps 19th-century historian and moralist Lord Acton offers the best explanation: "Power tends to corrupt, and absolute power corrupts absolutely."
In a time when we moderns are sickened by waste and greed on Wall Street, David's arrogance seems all too familiar. No matter how much some of us have, we want more—and worse yet, we think we deserve more. How does one get off this treadmill of selfishness and one-upmanship?
Psalm 36 outlines David's problem: Sinners close their eyes to God and "live with the delusion their guilt will not be known and hated." But in reality, sinners live in misery: "My frame aches because of my sin" is the lament in Psalm 38. The solution offered—one that John the Baptist and Jesus affirm centuries later—is to repent and turn one's heart and mind to God. The descriptions of David's anguish and guilt are reassuring. Guilt is a sign that one still has a conscience— a connection with God that, though frayed, is not completely severed. Advent is a good time for each of us to examine our own consciences and ask ourselves, What gnaws at me? Which of my actions do I know to be dishonest, hurtful, or demeaning to others? What can I do to restore my relationship with God and others?
For more soul-searching questions and faith-filled answers, read the Book of Psalms.
Read Little Boys and the Advent Wreath by Gretchen Crowder.
Each year since my oldest was born, I've had great intentions to do an Advent wreath with the boys. I even bought a wreath and all the candles when my oldest was four, but Christmas came and went without lighting the candles. So this past year, I was determined. I set out the wreath in the middle of the dinner table and looked up a prayer on my phone to pray with my family on the First Sunday of Advent.
"This is an Advent wreath," I explained to the boys. "There are five candles in my wreath—four to represent the weeks of Advent and the white one to represent the birth of our Lord." Immediately, my sons reached for the candles. Then each demanded that he should be the one to light the candle all by himself. When I refused to have them play with fire, I lit the first candle and read the prayer aloud. Out of the corner of my eye, I saw one small hand after another reach for the fire "to see if it was hot." Needless to say, the prayer had a lot of pauses throughout, but we pushed through. As the boys began to eat their supper, I wondered if they were still too young.
The next day as I prepared their dinner, they waited for me, babbling about random things at the table. The wreath and the candles were safely out of their reach on a side table. I sat their food in front of them and issued all the usual warnings about not throwing food or placing their food in their water cups. (It is a thing they do; I don't know why.) I reminded them that if they ate all their food, they would get a treat. Then, as I went back to the counter to grab napkins, I heard my oldest ask, "But, Mom, what about the wreath? We haven't lit the candle yet." Well, who could say no to that? So I pulled out the wreath and all its candles and placed it back in the middle of the table. This time, I told my oldest son he could hold the lighter with me to light the candle. I also reminded them that we don't touch fire. They seemed to understand. This time I got through the whole prayer without interruption. Of course, once it was done, I had a barrage of questions as they asked about each stage in the making of a candle and then burst into laughter over what might happen if the wax melted the candle and started the table on fire. But we made it through the prayer.
Sometimes if the first time doing something new with my children fails, I feel like I should just not do it again. It can often be overwhelming to imagine teaching my children about the faith. How do I tell them the story of Mary and Joseph and make it sound cooler than the Elf on the Shelf? How do I help them understand how we prepare our hearts for Jesus' arrival? It can be daunting.
However, as they taught me this last Advent and Christmas season, I put way too much pressure on myself. The boys thought the candles were the coolest thing ever. And amidst the discussions of how a wick gets into a candle and why it is able to light on fire and not burn the table, they also stated, "We are doing this to prepare for baby Jesus." I planted seeds even without realizing it, by letting them be little boys and ask questions and be curious.
We did not pray with the wreath every day, but we definitely hit every week and lit the white candle to celebrate Jesus's birth. And all of it was by their insistence that we not forget the prayer.
Perhaps how I teach my sons about faith will be super messy and take a really long time, but in the end, I think they are understanding more than I can even realize.
Daily Prayer for December 22
Rejoice in the Lord always. I will say it again: Rejoice! Let your gentleness be evident to all. The Lord is near. Do not be anxious about anything, but in every situation, by prayer and petition, with thanksgiving, present your requests to God. And the peace of God, which transcends all understanding, will guard your hearts and your minds in Christ Jesus. Philippians 4:4–7, NIV
Dear Father in heaven, let your joy be always in us, your children. Let your joy bring light and peace to our lives, no matter what happens around us. May we serve you in joy, aware of your peace at all times, so that something of this peace may go out from us to grieving hearts and to regions of the world that are in darkness. Father in heaven, how many unhappy people look up without knowing where to find help! But you will come to them. We beseech you, come to those who mourn, and let them find joy and trust for their redemption in Jesus Christ. Amen.
Georg Johannes Gick
The Miracle
When all the winds were mild,
Mary came to me apart
and laid the Holy Child
here inside my heart.
My heart was made the manger,
and my body was the stall.
And now no man is stranger:
my life goes out to all,
To bring to each of them
this Child of heaven's light,
to let them enter in, like flames
of candles to the holy night.
Source: The Shepherd's Pipe
     —Dion Todd
A Giant Problem
Then said David to the Philistine, You come to me with a sword, and with a spear, and with a javelin: but I come to you in the name of Yahweh of hosts, the God of the armies of Israel, whom you have defied. This day will Yahweh deliver you into my hand; and I will strike you, and take your head from off you;' 1 Samuel 17:44 WEB
David walked out onto the battlefield alone, while the army of Israel cowered in fear behind him. Not one of them would face this giant of a man called Goliath, though he taunted the Israelite army twice a day for forty days (v.16). No one except a seventeen year old boy named David, who had been spending time alone with God in the field tending sheep. When David heard Goliath's words he said, 'Who is this uncircumcised Philistine, that he should defy the armies of the living God?' (v.26) and then David went out to fight him.
Being that King Saul was head and shoulders taller than any of the people (1 Samuel 10:23), and the anointed king of Israel, he would have been the expected choice to battle Goliath. Saul would have probably won, but he didn't go, so instead we read about David. It had to a be a seriously one-sided looking fight to see a 17-year-old boy with a sling, walking out to fight a 9-foot tall giant of a man whose coat of armor alone weighed 126 pounds.
When David stepped out to meet him, Goliath began to hurl insults and curses at him. David declared, even prophesied, that God would deliver Goliath into his hand and that today he would cut off his head. Then David proceeded to do just what he said he would. David demonstrated faith in action and he later wrote: 'I have put my trust in God. I will not be afraid. What can man do to me?' (Psalms 56:11).
When the Lord gives you an opportunity, step out in faith. Say, 'The Lord is my helper. I will not fear. What can man do to me?' (Hebrews 13:6). Don't look at your own abilities for He will give you more as they are needed. This is the path of promotion and you can do this. God is the One that has your back, but fear often guards the door that you have to go through. You only have to put one foot in front of the other one, take it one day at a time, and keep a positive attitude about it. Stay the course. Keep the fire burning. Trust God and don't give up.
Prayer: Heavenly Father I thank You for all that You have done for me. Please help me stand as a strong pillar for You. Teach me, tweak me, deliver me, lead me away from temptation and help me to overcome any obstacle in my path. In the name of Jesus Christ I pray.
Bible Fun Fact: Jacob was buried with Leah and not Rachel when he died (Gen 49:31).
kindredkg

grace
Not What I Was Hoping For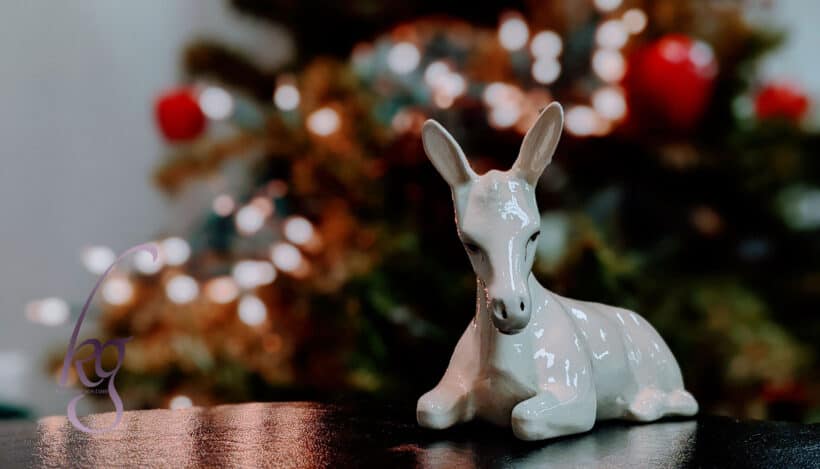 It was almost Christmas, I was five years old, and my class at school was preparing for the Nativity play. Our teacher, Mrs. Davies, allocated the parts while we waited with anticipation, all the girls hoping to be chosen to play Mary, or at least one of the angels.
When my name was called, it was to play the part of the donkey. While Katie Hill would get to wear the lovely long, blue dress and put Baby Jesus in the manger, and the other girls would get to wear pretty white dresses with wings and tinsel halos, I would be wearing brown corduroy pants and a brown ribbed turtleneck, with long donkey ears attached to my head. The disappointment and humiliation were overwhelming, and I hid my face in my arms, put my head on my desk and sobbed.
Mrs. Davies did her best to console me, explaining that the donkey was a very important part of the Christmas story. Without the donkey, how would Mary have made it all the way to Bethlehem? But that was no comfort: being the donkey was not the role I'd been hoping for.
I feel very much the same about being single. Yes, an unmarried woman can play an important role in other people's families. She can be a practical support to her married friends, giving couples much valued time alone together as she gives up her own time to care for their children. Even if she's not called to a specific ministry or mission, she is a valuable member of the Body of Christ, the Church.
It's not that I can't see any purpose in the life of a single woman, but it's not the role I'd been hoping for and very often the disappointment can be overwhelming.
It can feel humiliating to be passed over for the roles of wife and mother and instead be given the less glamorous, but painfully visible, role of spinster aunt (biological or otherwise). It's a role I would never have chosen for myself and that very few, if any, other women would choose. A role that's often the butt of jokes, caricatures and unflattering stereotypes and that comes with challenges that are frequently misunderstood or unacknowledged. Hope disappointed truly does make the heart sick and it can be painful to watch or support from the sidelines as others flourish under the "tree of life" of desires fulfilled (Proverbs 13:12).
Mrs. Davies didn't know how strongly I would feel about being given the role of the donkey when I longed to be an angel, but God knows exactly how I feel about being single.
This is the role He has given me and I am called to be faithful in it.
In her book, Did I Kiss Marriage Goodbye: Trusting God with A Hope Deferred, Carolyn McCulley wrote that we can tend to despise the "one talent" of singleness. As she has said elsewhere, we can be tempted to say, "I'm just going to put it in the ground over here because I never wanted it anyway." But ultimately I want to hear those words from my Savior, "Well done, good and faithful servant" (Matthew 25:14-30).
The challenge I face as a single woman is this: Despite my disappointment, will I put aside my preferences and my feelings about the role and be faithful in it? Will I sink under the weight of crushed hopes and the frustration of not being able to be the godly wife and mother I longed to be for God's glory? Or will I remember that this is not my home, but I am a stranger and pilgrim here?
Will I follow the world's pattern and make self-fulfillment my goal and my god, or will I follow the example of Jesus, who "emptied Himself, taking the form of abond-servant,andbeing made in the likeness of men . . . He humbled Himself by becomingobedient to the point of death, evendeathon a cross"? (Philippians 2:6-8) Whatever I endure is nothing compared to the suffering of my Savior. While I'm unlikely to be called to obey to the point of death, in this unwanted role in life I am called to humble myself, to empty myself, to remember that I am God's bondservant, and to obey. This is an opportunity to say, even when it hurts, "Not my will but Thine be done" (Matthew 26:39).
There may be no one who really understands the depth of disappointment I feel, but Jesus knows.
He sees what it costs me to watch others receive the roles I've longed for and to choose to rejoice with those who rejoice. He sees as I pour my energy into another's family, when my own life remains empty. It does not escape His notice when I join others in giving thanks for answers to prayer and blessings they have received, while my own prayers remain unanswered and I grieve over blessings denied. And He sees when I do these things out of love for Him and for His glory. Jesus knows what it's like to be misunderstood, despised and rejected. He knows how it feels to be faced with a task that feels unbearable.
Unlike the disappointment of a five-year-old missing out on a role in the Nativity play, the disappointment of prolonged and, now in my forties, possibly permanent, singleness is not over within a couple of weeks.
The choice to be faithful and to keep my eyes on things above is a daily battle, and it's wearying. It requires endurance.
The writer to the Hebrews exhorts us to "run with endurance the race that is set before us" (Hebrews 12:1). I may not like the particular race that's been set before me, but this is the race I've been called to run. So will I be faithful, will I endure, and will I run to win?
This unwanted role is certainly not what I was hoping for, and in many ways it's harder than I feared it might be, but it pushes me to trust when I cannot see, to remember that I'm not home yet and to keep an eternal perspective on life. It causes me to let go of earthly hopes and to store up treasure in heaven "where no thief comes near nor moth destroys" (Matthew 6:19-21). It's an opportunity to become more like Jesus, to follow His example, and to know, in a very small way, the fellowship of His sufferings.

What Jesus Did!

 'Remember Me!'

One of the criminals hanging beside [Jesus] scoffed, "So you're the Messiah, are you? Prove it by saving yourself — and us, too, while you're at it!" But the other criminal protested, "Don't you fear God even when you have been sentenced to die? We deserve to die for our crimes, but this man hasn't done anything wrong." Then he said, "Jesus, remember me when you come into your Kingdom." And Jesus replied, "I assure you, today you will be with me in paradise."
Key Thought
As Jesus and his disciples had shared in the Last Supper, Jesus had told his disciples to remember him (
Luke 22:19
). So for thousands of years, Christians throughout the world take the bread and fruit of the vine during the Lord's Supper and remember Jesus' life, death, and resurrection. Ironically, even while one of the thieves was dying on a cross near Jesus, he confessed Jesus' innocence and then asked Jesus to 
"remember me."
 So in the horror of his own crucifixion, Jesus offered this dying man a special moment of grace. Jesus reassured the dying criminal that he would share paradise with Jesus. Jesus would remember him! Jesus is faithful, and he will not forget this man's request. Jesus will also remember our confessions of faith, our deeds of kindness done in his name, and our faithfulness to the Father. "Remember me!" we cry out to the Lord; thankfully, we already know his response!
Today's Prayer
Father, never ever let me outlive my faith in Jesus and my hope that is stirred every time I remember what he has done for me. In Jesus' name. Amen.
Related Scripture Readings
Daily Wisdom: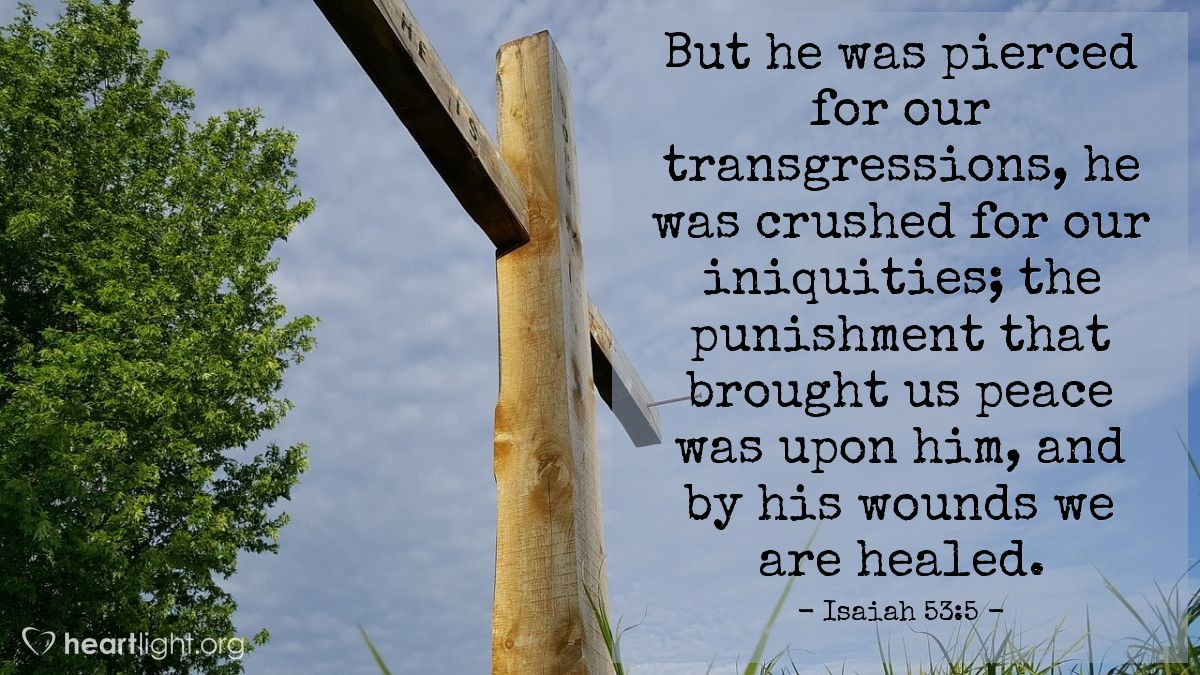 Passion for Praise:

 'My Soul Praises the Lord'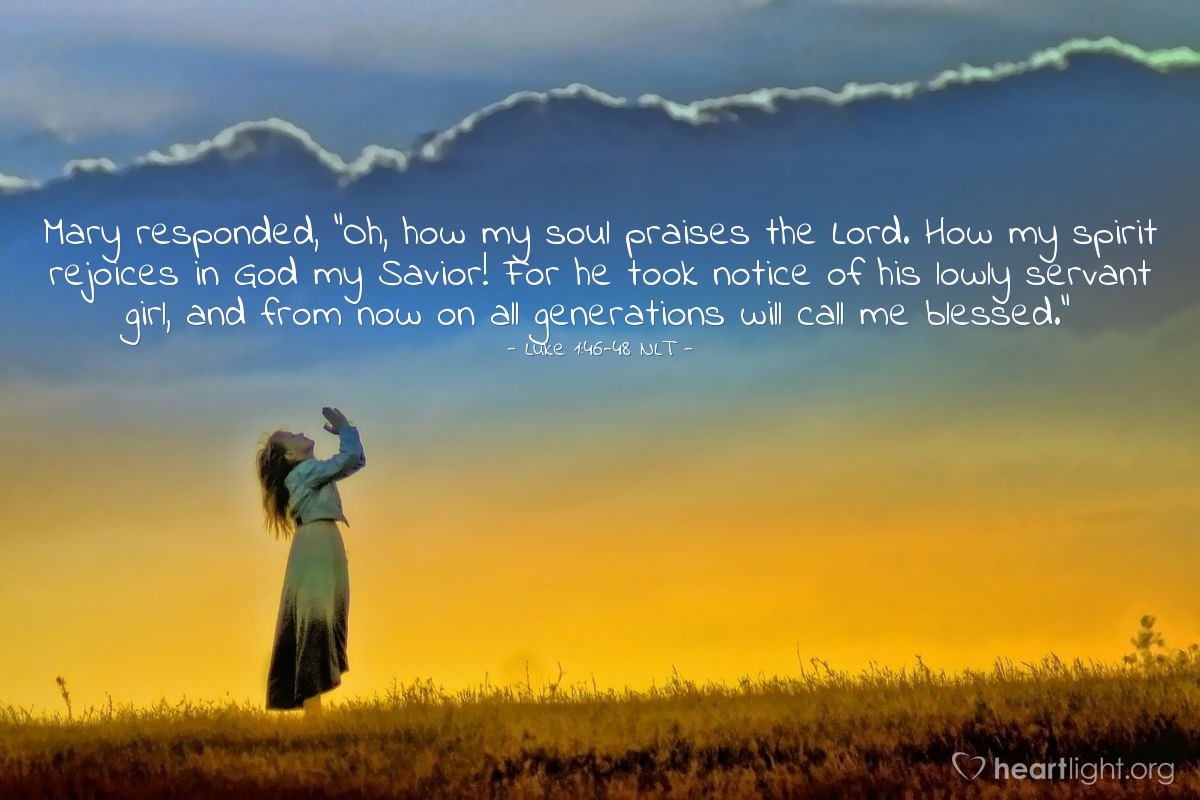 Spiritual Warfare:

 'Work as if You Are Serving the Lord Christ'

God's Power for Our Battles

In all the work you are doing, work the best you can. Work as if you were doing it for the Lord, not for people. Remember that you will receive your reward from the Lord, which he promised to his people. You are serving the Lord Christ.

Lord, over and over, Your word tells me to do my best, give it all I've got, and remember that I'm an ambassador of Your kingdom. Forgive me for being lazy and for justifying my lack of focus on others. Remind me that every project and every job is an opportunity to bring the aroma of Christ into the lives of the people around me. Help me to make You proud, to honor Your name, and to point others to You and to the cross. In Jesus' Name, Amen.
I Want God-Sized Visions And Miracles Now!
No, A God-Sized Vision Doesn't Need To Be Big And Scary
Many Christians focus on what God has done in the past. He parted the Red Sea, stopped the sun for Joshua, and fed thousands of people with just a little boy's small lunch. Yes, God has performed many amazing miracles throughout history, and it's important that we give Him praise and glory! But at the same time, we also have to look forward to what God is doing today. If He did it in the past He will do it even today, in a more magnificent way.
In this verse, Paul says that "in the ages to come" God would do things that far supersede anything He's ever done before. I believe that the "ages to come" that he's talking about, is this day and time we're living in right now, amidst all the chaos of these uncertain days. God wants to outdo Himself in our generation! Hallelujah!
Today, on the brink of a new year, I share with you, God is a God of increase. Where you are today is not where you are supposed to stay. He has greater levels of His favour and blessing in store for you. I dare you to dream big! I dare you to keep a God-sized vision in front of you! I dare you to take hold of every blessing that the Lord has in store for you now and in the year to come!
"But God, who is rich in mercy, because of His great love with which He loved us…raised us up together, and made us sit together in the heavenly places in Christ Jesus, that in the ages to come He might show the exceeding riches of His grace in His kindness toward us in Christ Jesus."

(Ephesians 2:4–7, NKJV)
Pray With Me
Yahweh, thank You for Your faithfulness in the past. Father, I open my heart and mind to You, so that I can see the greatness You have in store for me today, and what You want to do in my life in this coming year. Give me God-sized visions and testimonies. God, please use me for Your glory. I thank You in advance for Your favour, in Christ's Name! Amen.
A God-Sized Vision Quotes
"Presbyterian missionary William Blair remembered. The prayer sounded to me like the falling of many waters, an ocean of prayer beating against God's throne. It was not many, but one, born of one Spirit, lifted to one Father above. Just as on the day of Pentecost, they were all together in one place, of one accord praying, "and suddenly there came from heaven the sound as of the rushing of a mighty wind, and it filled all the house where they were sitting." God is not always in the whirlwind, neither does he always speak in a still small voice. He came to us in Pyongyang that night with the sound of weeping. As the prayer continued, a spirit of heaviness and sorrow for sin came down upon the audience. Over on one side, someone began to weep, and in a moment the whole audience was weeping.21"
? Collin Hansen, A God-Sized Vision: Revival Stories that Stretch and Stir
"Few of us are tempted today to dream too big. Rather, our vision shrinks to the size of our limited experience. Yet all things are possible for those who believe in the God who created the heavens and the earth. In our disbelief, we can ask God for inspiration to believe. Then he may give us a vision of divine size."
? Collin Hansen, A God-Sized Vision: Revival Stories that Stretch and Stir
"The effects following this movement are wholly good — the church raised up to a higher spiritual level, almost entire absence of fanaticism because of previous careful instruction in the Bible; not one case of insanity, but many thousands clothed in their right mind; scores of men called to the holy ministry; greater congregations, searching the Word, as many as two thousand meeting in one place for the study of the Bible; many thousands learning to read, and making inquiries; multitudes of them pressing upon the tired missionary and native pastors praying, "Give us to eat." I beseech you do not listen to any word suggestions of doubt as to the vitality and reality of this. Drunkards, gamblers, thieves, adulterers, murderers, self-righteous Confucianists and dead Buddhists, and thousands of devil-worshipers have been made new men in Christ, the old things gone forever.29"
? Collin Hansen, A God-Sized Vision: Revival Stories that Stretch and Stir1
"The Post confirmed 100,000 conversions in Wales and said police found no crime to investigate amid "an almost complete realization of the Golden Rule in all affairs of daily life."
? Collin Hansen, A God-Sized Vision: Revival Stories that Stretch and Stir
"By June the revival began to wane. But Roberts's vision had been realized. An estimated 100,000 confessed Christ. The Congregationalists added 26,500 members. Another 24,000 Welsh joined the Calvinist Methodist Church. About 4,000 opted for the Wesleyan Church. The remainder were split between the Anglicans and several Baptist groups.13 The effect on Welsh society was undeniable. Output from the coal mines famously slowed because the horses wouldn't move. Miners converted in the revival no longer kicked or swore at the horses, so the horses didn't know what to do.14 Judges closed their courtrooms with nothing to judge. Christians wielded the revival as apologetic against the growing number of skeptics who derided religion. Stead argued: The most thoroughgoing materialist who resolutely and forever rejects as inconceivable the existence of the soul in man, and to whom "the universe is but the infinite empty eye-socket of a dead God," could not fail to be impressed by the pathetic sincerity of these men; nor, if he were just, could he refuse to recognize that out of their faith in the creed which he has rejected they have drawn, and are drawing, a motive power that makes for righteousness, and not only for righteousness, but for the joy of living, that he would be powerless to give them.15"
? Collin Hansen, A God-Sized Vision: Revival Stories that Stretch and Stir
l"Between 1906 and 1907, the Presbyterian churches grew from 54,987 members to 73,844. The Methodists grew from 18,107 in 1906 to 39,613 in 1907.24 Extending this range to a five-year period, Korean churches altogether added 80,000 converts, more than the total number of Christian converts during eighty years of missionary activity in neighboring China."
? Collin Hansen, A God-Sized Vision: Revival Stories that Stretch and Stir
"I arrived back to find Revival in over twenty villages with the same accompaniments as we had on the station, conviction and confession of sin under great emotional stress, followed by great joy and zeal to win others," Brazier wrote on December 12, 1936. "It was a common practice for the whole congregation to spend the whole night in the village church, chiefly in prayer and praise. A feature of this conviction was that it came as a result of prayer and not as a result of preaching. These 'revived' people are a joy to question for Baptism. Whereas it is often hard work to draw anything spontaneous from the average candidate, these are just full of what the Lord has done for them."
Morning, December 22—-Charles Spurgeon
I will strengthen thee. Isaiah (41:10)
God has a strong reserve with which to discharge this engagement; for he is able to do all things. Believer, till thou canst drain dry the ocean of omnipotence, till thou canst break into pieces the towering mountains of almighty strength, thou never needest to fear. Think not that the strength of man shall ever be able to overcome the power of God. Whilst the earth's huge pillars stand, thou hast enough reason to abide firm in thy faith. The same God who directs the earth in its orbit, who feeds the burning furnace of the sun, and trims the lamps of heaven, has promised to supply thee with daily strength. While he is able to uphold the universe, dream not that he will prove unable to fulfil his own promises. Remember what he did in the days of old, in the former generations. Remember how he spake and it was done; how he commanded, and it stood fast. Shall he that created the world grow weary? He hangeth the world upon nothing; shall he who doth this be unable to support his children? Shall he be unfaithful to his word for want of power? Who is it that restrains the tempest? Doth not he ride upon the wings of the wind, and make the clouds his chariots, and hold the ocean in the hollow of his hand? How can he fail thee? When he has put such a faithful promise as this on record, wilt thou for a moment indulge the thought that he has outpromised himself, and gone beyond his power to fulfil? Ah, no! Thou canst doubt no longer.O thou who art my God and my strength, I can believe that this promise shall be fulfilled, for the boundless reservoir of thy grace can never be exhausted, and the overflowing storehouse of thy strength can never be emptied by thy friends or rifled by thine enemies.
"Now let the feeble all be strong,
And make Jehovah's arm their song."

Read 2 John 1
Highlights:
The commandment of love; warning against deceivers; rebuke Diotrephes; judgment of false teachers.
Beloved, when I gave all diligence to write unto you of the common salvation, it was needful for me to write unto you, and exhort you that ye should earnestly contend for the faith which was once delivered unto the saints (Jude 1:3).
Jude is the only book in all of God's Word which is entirely devoted to the apostasy that will gradually draw Christians away from our Lord before His return. It should be the desire of every believer to faithfully follow Jude's exhortation to actively contend for (firmly defend) the faith which was once delivered unto the saints; the Message of salvation. There are so many things that would contend to draw us away from the faith. We must be steadfast in our stand for God. As these opposing spiritual forces come against believers, we must look to God for our help and preservation. So shall they fear the name of the LORD from the west, and His glory from the rising of the sun. When the enemy shall come in like a flood, the Spirit of the LORD shall lift up a standard against him (Is. 59:19).
Humor…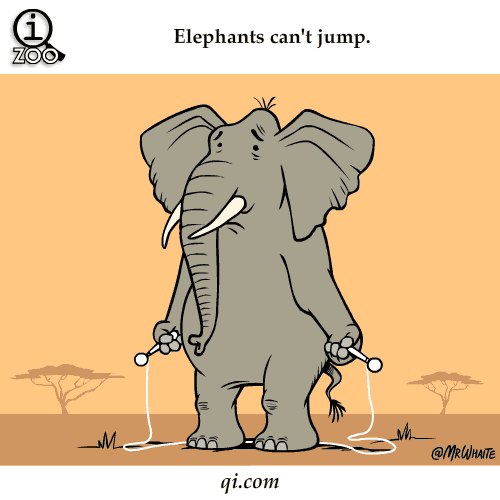 and God bless y'all!!!