The Meaning of Advent
Christoph Friedrich Blumhardt
It is Advent again. We call this time Advent because it reminds us of what comes from God for the creation of his kingdom on earth. We who are here have been led in a special way to keep what is coming on our hearts and to shape ourselves according to it. That which comes from God – that is what moves our hearts, not only in these days but at all times. That which is to come from God is the most important thing we have, in the past and in the present as well as in the future. It is only in God's coming that even the Bible itself has value to us, let alone all the other things we call  "means of grace." Unless what comes from God is a part of it, it remains like a dead seed and does not achieve what must be achieved if God's kingdom is to be.
There are many today who sigh to heaven, "Savior, come now!" But they are not sighing for the sake of God's kingdom. They cry out like this only when they are in trouble and want God to help them. And they don't know of any help that is more effective than to have a Savior come and put a quick end to their troubles.
When it comes to the things of God, however, we must not be concerned for what is ours, but only for what belongs to Christ. We should do this not merely for our own edification; we must become workers for God. This leads us to God's vineyard, a place where there is not a great deal of talk, but where everyone is intent on deeds.
This is what it means to prepare for Advent. Jesus says, "Be ready for action, and have your lamps lit; be like those who are waiting for their master to return from the wedding banquet…blessed is the slave whom his master will find at work when he arrives" (Luke 12:35-48). Here Jesus is speaking of his disciples and their preparation for his coming. Take note that God's kingdom is not formed by any human discovery or intention, however daring and noble, but by the coming of Christ. Our faith, our ardor, must be for this coming. Otherwise it would be better to put aside our meditations on Advent. The reign of God is a marvelous thing. To worldly wisdom God's kingdom seems like foolishness, and yet it gives shape to the whole world, the whole creation, making it God's eternal coming.
But look out! When someone holds a light in his hand and shines it here and there, he is immediately asked, "What business have you here?" Thus so many people let their light go out again. It is too awkward, too inconvenient to keep holding up a light and showing people the dirt and saying, "There, clean that up; the way you are doing things now isn't right in God's eyes. Cut off your hand! Tear out your eye! Cut off your foot!" – as Jesus says, figuratively, when there is something about the hand or eye or foot that stands in God's way.
This is what it means to watch. If you look for the truth in small matters you will not go astray in big ones. You will be able to recognize truth there and carry out the command that comes. Let us keep staunch in our eagerness to do whatever comes to us of the truth. Then there will be knocks on our door, over and over, and God's coming will not be hidden. For devoted hearts the light will keep dawning from him who is merciful and compassionate.
Advent Wreath Prayer Week 2 – Peace
Heavenly Father, You are the God who gives peace. This second week of Advent, cause us to remember that because of Jesus we can experience a Christmas free from turmoil and chaos. Regardless of our circumstances or our situations, you offer us peace that passes understanding.
That first Christmas, when you sent your Son, you sent the one who is called Wonderful Counselor, Mighty God, Everlasting Father, and Prince of Peace. Even the angels cried out, 'Glory to God in the Highest heaven, and on earth peace to those on whom his favor rests.' The angels knew your purpose. They know the gifts of hope, peace, joy, and love that Christmas held. They recognized the fullness of God was wrapped in the tiny flesh of an infant as you humbled yourself and dwelt among us. Emmanuel. God with us as the baby Jesus.
That baby would grow to be the same God-man, Jesus, who would again humble himself to face death on a cruel cross as payment for our sin. He would triumphantly defeat sin and death and hell in order to cancel our sin debt and reconcile us to you, Father.
You exalted Him and gave him a name above all names. Every knee in heaven and earth and under the earth must bow to the name of Jesus. The winds and waves obey Him. He rules and reigns as king over all. No situation or circumstance that we find ourselves in is a match for Jesus.
We are able to have the fullness of peace in our hearts on Christmas day, and every day, because that same Jesus sits at your right hand in heaven and makes intercession for us. Not only that, but he paid our sin debt. He loves us with a love that is unfathomable. Nothing can separate us from His love. He is good and his plans for us are good.
Father, this second week of Advent, keep us in perfect peace as our mind is stayed on the truth of your powerful love. Thank you for your mighty, sovereign hand. Help us to trust fully in you and rest in the peace that you offer. It's in the precious name of Jesus we pray. Amen.
Scriptures to Read: Isaiah 9:6, Luke 2:14, Matthew 1:23, Philippians 2:8-10, 1 Timothy 1:15-17, John 3:16, 1 John 5:11, Jeremiah 29:11, Romans 8:34-35, John 14:27
Daily Prayer for December 8
And will not God bring about justice for his chosen ones, who cry out to him day and night? Will he keep putting them off? I tell you, he will see that they get justice, and quickly. However, when the Son of Man comes, will he find faith on the earth? Luke 18:7– 8, NIV

Father in heaven, we surrender ourselves to your love, the love in which Christ comes to us. Like children we say every day to the Lord Jesus himself, "Lord Jesus, come, come! Even if we cannot see you today because times have changed, come into the world, come more and more into world history. Send more and more of your nature, your goodness, into all hearts. Come at last, come quickly to bring an end to the adversary, an end to world power with its sinister, hostile character. May bright day, clear light from the Father in heaven, dawn through you, Lord Jesus. Yes, come, Lord Jesus!" Amen.
Eberhard Arnold
Our world is shaking, about to erupt. Demonic powers are storming the church, like autumn storms sweeping through the woods. We live in a time when people everywhere are agitated; the masses are confused as to what is true and what is false; and yet they are waiting for what is ultimately to come. And it shall come!
Source: When the Time Was Fulfilled
The Shaking Reality of Advent
He has performed mighty deeds with his arm; he has scattered those who are proud in their inmost thoughts. – Luke 1:51
There is perhaps nothing we modern people need more than to be genuinely shaken up. Where life is firm we need to sense its firmness; and where it is unstable and uncertain and has no basis, we need to know this, too, and endure it.
We may ask why God sends whirlwinds over the earth, why the chaos where all appears hopeless and dark, and why there seems to be no end to human suffering. Perhaps it is because we have been living on earth in an utterly false and counterfeit security. and now God strikes the earth till it resounds, now he shakes and shatters: not to pound us with fear, but to teach us one thing – the spirit's innermost longing.
Many of the things that are happening today would never have happened if we had been living in that longing, that disquiet of heart which comes when we are faced with God, and when we look clearly at things as they really are. If we had done this, God would have withheld his hand from many of the things that now shake and crush our lives. We would have come to terms with and judged the limits of our own competence.
But we have lived in a false confidence, in a delusional security; in our spiritual insanity we really believe we can bring the stars down from heaven and kindle flames of eternity in the world. We believe that with our own forces we can avert the dangers and banish night, switch off and halt the internal quaking of the universe. We believe we can harness everything and fit it into an ultimate scheme that will last.
Here is the message of Advent: faced with him who is the Last, the world will begin to shake. Only when we do not cling to false securities will our eyes be able to see this Last One and get to the bottom of things. Only then will we have the strength to overcome the terrors into which God has let the world sink. God uses these terrors to awaken us from sleep, as Paul says, and to show us that it is time to repent, time to change things. It is time to say, "all right, it was night; but let that be over now and let us get ready for the day." We must do this with a decision that comes out of the very horrors we experience. Because of this our decision will be unshakable even in uncertainty.
If we want Advent to transform us – our homes and hearts, and even nations – then the great question for us is whether we will come out of the convulsions of our time with this determination: Yes, arise! It is time to awaken from sleep. a waking up must begin somewhere. It is time to put things back where God intended them. It is time for each of us to go to work – certain that the Lord will come – to set our life in God's order wherever we can. Where God's word is heard, he will not cheat us of the truth; where our life rebels he will reprimand it.
We need people who are moved by the horrific calamities and emerge from them with the knowledge that those who look to the Lord will be preserved by him, even if they are hounded from the earth.
The Advent message comes out of our encounter with God, with the gospel. It is thus the message that shakes – so that in the end the entire world shall be shaken. The fact that the son of man shall come again is more than a historic prophecy; it is also a decree that God's coming and the shaking up of humanity are somehow connected. If we are inwardly inert, incapable of being genuinely moved, if we become obstinate and hard and superficial and cheap, then God himself will intervene in world events. He will teach us what it means to be placed in turmoil and to be inwardly stirred. Then the great question to us is whether we are still capable of being truly shocked – or whether we will continue to see thousands of things that we know should not be and must not be and yet remain hardened to them. In how many ways have we become indifferent and used to things that ought not to be?
Being shocked, however, out of our pathetic complacency is only part of Advent. There is much more that belongs to it. Advent is blessed with God's promises, which constitute the hidden happiness of this time. These promises kindle the light in our hearts. Being shattered, being awakened – these are necessary for Advent. In the bitterness of awakening, in the helplessness of "coming to," in the wretchedness of realizing our limitations, the golden threads that pass between heaven and earth reach us. These threads give the world a taste of the abundance it can have.
We must not shy away from Advent thoughts of this kind. We must let our inner eye see and our hearts range far. Then we will encounter both the seriousness of Advent and its blessings in a different way. We will, if we would but listen, hear the message calling out to us to cheer us, to console us, and to uplift us.
Sunday, 
December 8


Second Sunday of Advent

What hopes do you harbor as we await Christ's coming this Advent? Reflect with an Arts & Faith video for this Second Sunday of Advent.
Absolon Stumme, "Hamburg Altar (The Tree of Jesse)," 1499
Absolon Stumme's 1499 altarpiece presents a mystical depiction of one of Advent's key symbols—the tree of Jesse. Jesse's tree is a royal symbol: a lineage flourishing from Jesse through David down the centuries to the birth of Christ, our King of Kings. The tree branches out to show others in this lineage, names of ancestors that Matthew and Luke preserve for us in the Gospels. We see the evangelist on the left, holding a scroll, pointing to this lineage in Scripture, as this vivid depiction of it surrounds him. The tree is fantastical—a golden flower that buds forth with the ancestors of Christ. On top of the tree, the Christ-child reigns in golden light.
Crowning this royal lineage, the Christ-child is a strange symbol of sovereignty. He is small, naked, held by his mother—an image of utter dependence. Yet, the words of Isaiah echo here: "Not by appearance shall he judge," as his reign brings about justice and peace. With the reign of this strange, small king, our perceptions are tested as well: what is true power, what is true glory, what is true success? As the wolf pairs with the lamb, the leopard with the goat, and the calf with the young lion, we get hints from Isaiah for answers to these questions.
On the bottom of the tree, Jesse sleeps—an allegory that brings to mind the sleeping Adam, while God fashioned Eve from his side. From the sleeping Jesse, God brings forth a new lineage—the royal lineage that proclaims the sovereignty of God. The tree that sprouts out from him is like a dream, a vision of hope for justice, peace, and faithfulness to reign over the suffering, turmoil, and despair of our world. In the fullness of time, Jesse's dream becomes a reality, his hope made present in Jesus Christ, his descendant and Savior. What hopes do you harbor as we await Christ's coming this Advent?
---
Commentary is by Daniella Zsupan-Jerome, assistant professor of liturgy, catechesis, and evangelization at Loyola University New Orleans.
Pray an Advent Examen.
Begin by taking in a deep breath, taking in God's love, the light of Christ, the wisdom of the Holy Spirit. Exhale all your worries, your challenges, and your fears. During this time of Advent let us reflect on what we can do to prepare for the Lord.
1. Invite the Holy Spirit to help you see the day as the newborn baby Jesus sees it. What joy have you found today? Where have you felt God's love? What have you done today to prepare the way for Jesus being born into this world for you?
2. Now think about your day as if looking at it through the eyes of a child; what do you see? Did something surprise you? Was it something someone said to you or something you are grateful for? What did you recognize as gifts (thinking about the gifts of gold, frankincense, and myrrh brought to Jesus)? Thank God for the gifts he has given to you today.
3. Take a moment to reflect on the times today when God was especially present to you. Recognize your feelings in those moments. How did you prepare your heart for God's presence in the coming of Jesus? Where did you feel God's loving arms wrapped around you the way Jesus felt Mary's arms? How did you prepare yourself to experience God's love, forgiveness, and hope?
4. Now take a moment to think about the times when God seemed to be hidden. Where did you struggle to see the Messiah in your life—the way some failed to recognize the birth of the Messiah when Jesus was born? When may you have seen the need for love and didn't respond (maybe like the innkeeper), or the opportunity for forgiveness and you walked away? How was your heart prepared? Ask God to forgive you for anything that moved your heart away from God's love and recognizing the birth of Jesus in you. And ask God to help you to open your heart and become the person that God created you to be.
5. Finally, prepare for the hope of Jesus Christ in your life. Think about what you are hopeful for, what you are looking forward to during Advent and the Christmas season. Is your hope like that of a child on Christmas morning? What gifts will you share to be hope for someone else? Ask God to bless all in your life as you prepare the way of the Lord, and ask God to be with you today and every day.
Read Waiting Well by Cindy Ristroph.
"For you, O Lord, my soul in stillness waits; truly my hope is in you."
—Marty Haugen, "My Soul in Stillness Waits," based on Psalm 62
Tick…tick….tick…
Won't we ever get out of here? How long until my order arrives? When will he come home? When is the baby due? Will this fog never lift? When will this traffic move? Won't she ever call back? When will they finally get here? How long will it take? You mean I have to wait?!?!
I admit it: waiting is often tough for me. Temperamentally, I'm more wired for activity and efficiency than stillness or quiet. But my spiritual journey has proven the immeasurable value of silence with God, so cultivating a habit of daily prayer became a joyful task rather than a dreaded one. Along the way, I discovered the huge difference between idle waiting and waiting well, and in the process, have come to relish Advent as a true gift of Christmas preparation time.
Idle waiting seeks any distraction to ease its discomfort, and for many years I easily fell prey to the world's messages of holiday busyness in the name of "getting ready for Christmas." By contrast, waiting well holds an expectation of God's presence through the waiting. In waiting well, I surrender my need to be active or in control, trusting that God will reveal himself as he alone knows I need. My waiting is thus transformed into consciously seeking God, often through solitude in prayer. This isn't to suggest eliminating Christmas decorations, gift-giving, and gatherings, but rather to follow St. Ignatius's advice to strive for a healthy balance between holiday commotion and calmness.
Accepting the invitation to enter into the spirit of Advent encourages me to escape from the commerce and chaos of Christmas by instead focusing on the stillness required to become attentive to the stirrings of my soul. For it is only in stillness and quiet that I clearly recognize the hunger for God lying beneath the distractions that preparations for Christmas all too easily generate. Only in stillness and quiet can I hear God's gentle whisperings and embrace the new life of love God calls me to bring into the world. Only in stillness and quiet will I become aware of my utter helplessness for this task and allow God to reshape my heart, surrendering more to his will day by day.
Rather than an agonizing exercise in waiting, Advent is pure joy, a season of simplicity in its purity of intention. Growing in holiness while preparing my heart to receive Jesus anew may seem to radicalize Christmas, but the fruit of inner peace by being liberated from the season's madness is unmistakable. After all, isn't growing in intimacy with God—loving others more as God loves us—the underlying reason for celebrating Christmas?
        —Dion Todd
Spikenard
Therefore Mary took a pound of ointment of pure nard, very precious, and anointed Jesus's feet and wiped his feet with her hair. The house was filled with the fragrance of the ointment. John 12:2 WEB
While Jesus reclined at the table, Mary anointed His feet with twelve ounces of expensive perfume made of pure Spikenard oil. The plants that this oil are extracted from grow in Nepal, China, and India, so it had to be imported. Also the plants only yield a small amount of oil when crushed, so this made it really expensive, and a luxury item. As Judas said, the amount of oil that Mary poured on Jesus' feet would have been worth a year's wages for an average farm worker.
Mary saw something in Jesus that she had never seen in anyone else. He was special. There had never been anyone like Him. She took one of her most valuable possessions and she anointed His feet with it, and then wiped them with her hair. That had to be the most endearing foot washing that a person has ever received.
Judas was in the same room, with the same people, yet he complained. He felt that the precious oil was wasted on Jesus. What a stark contrast that two people had while looking at the same Man.
God sees the value in each of us and we are precious to Him, yet the devil sees us as a waste. We constantly have this battle going on inside of us. The bad thoughts, the rejection and the worthlessness, all come from the same loudmouthed enemy. The good thoughts, acceptance, understanding, the hope and a future, come from the Holy Spirit.
Do not listen to the enemy's lies. God loves you and the past is gone. Shake off the heaviness and try it again. God will anoint you with a costly anointing because He believes that you are worth it. He sees you as precious, just as Mary did with Jesus.
Prayer: Heavenly Father, please help me to see the love that You have for me in a clear way. Let me see through Your eyes and feel Your heart. Fill me with Your life and lead me into all that You have for me on this earth, in the name of Jesus Christ I pray.
Bible Fun Fact: The first trumpet was blown when God came down to Mount Sinai before the Ten Commandments were given. Exodus 19:16.

What Jesus Did!

 'Overstating Our Courage'

Peter said, "Lord, I am ready to go to prison with you, and even to die with you." But Jesus said, "Peter, let me tell you something. Before the rooster crows tomorrow morning, you will deny three times that you even know me."
Key Thought
One of our weaknesses as mere mortals is to overstate our courage. So often, we fail to realize the power of fear — why else would the Bible contain so many commands not to be afraid? Peter's intentions were genuine, but the power of discouragement, despair, disillusionment, and fear was greater. What commitments have you made to the Lord that you did not keep? Even though Peter denied his Lord three times, the Lord worked in Peter's life so that he would not be destroyed. He can do the same for you in your times of failure and loss. However, we should take the warning given to Peter as our own. When we feel secure, we are often most vulnerable. Our strength must come from the Lord and not our feelings of invincible faith.
Today's Prayer
O LORD God, thank you for loving Peter even though you knew he would let you down. Thank you for restoring and using him after his sinfulness and failure. My desire, O God, is never to trust in my own strength but to trust always in your power at work in me. When I begin to get too full of myself and too confident in my own power, please humble me gently so that in crucial moments I will not fail you! In Jesus' name. Amen.
Related Scripture Readings
Daily Wisdom: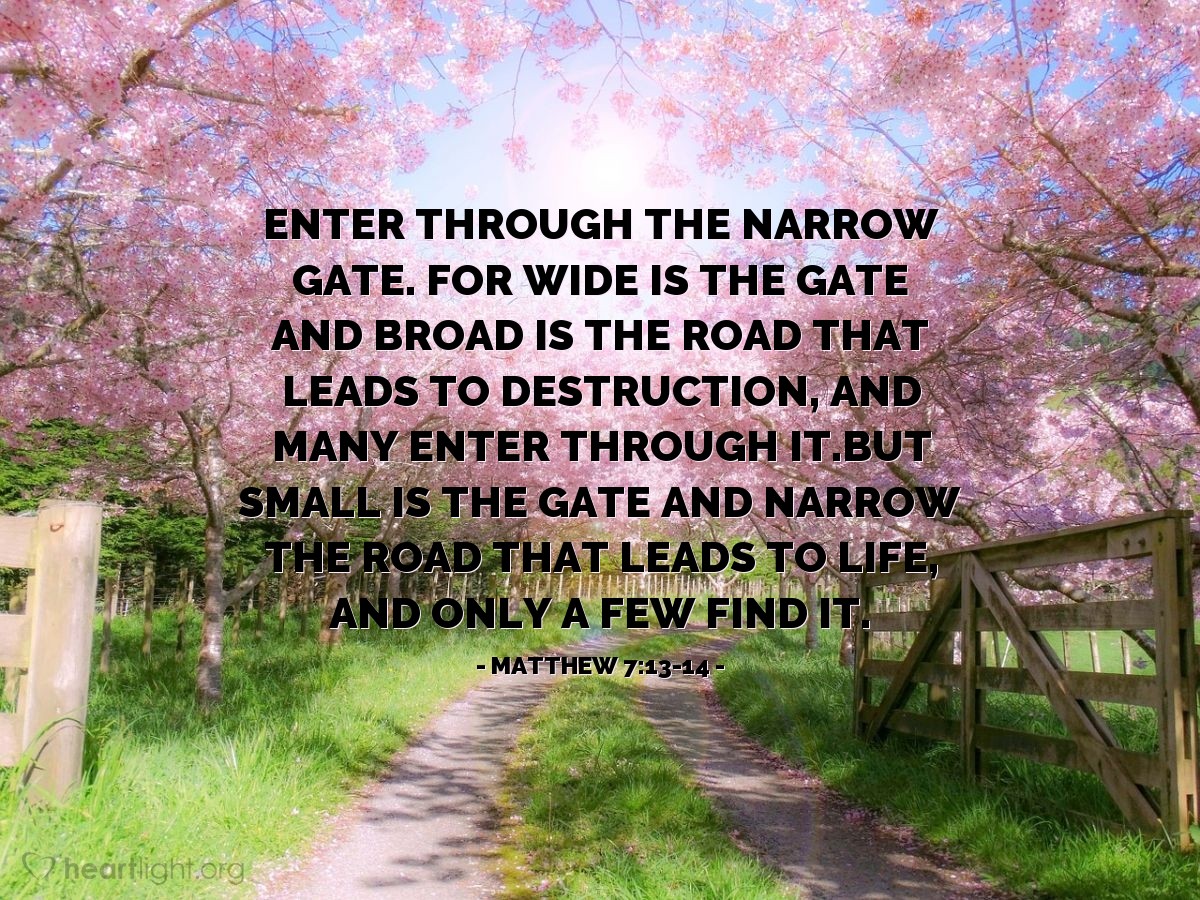 Passion for Praise:

 'Is there Any as Mighty as You?'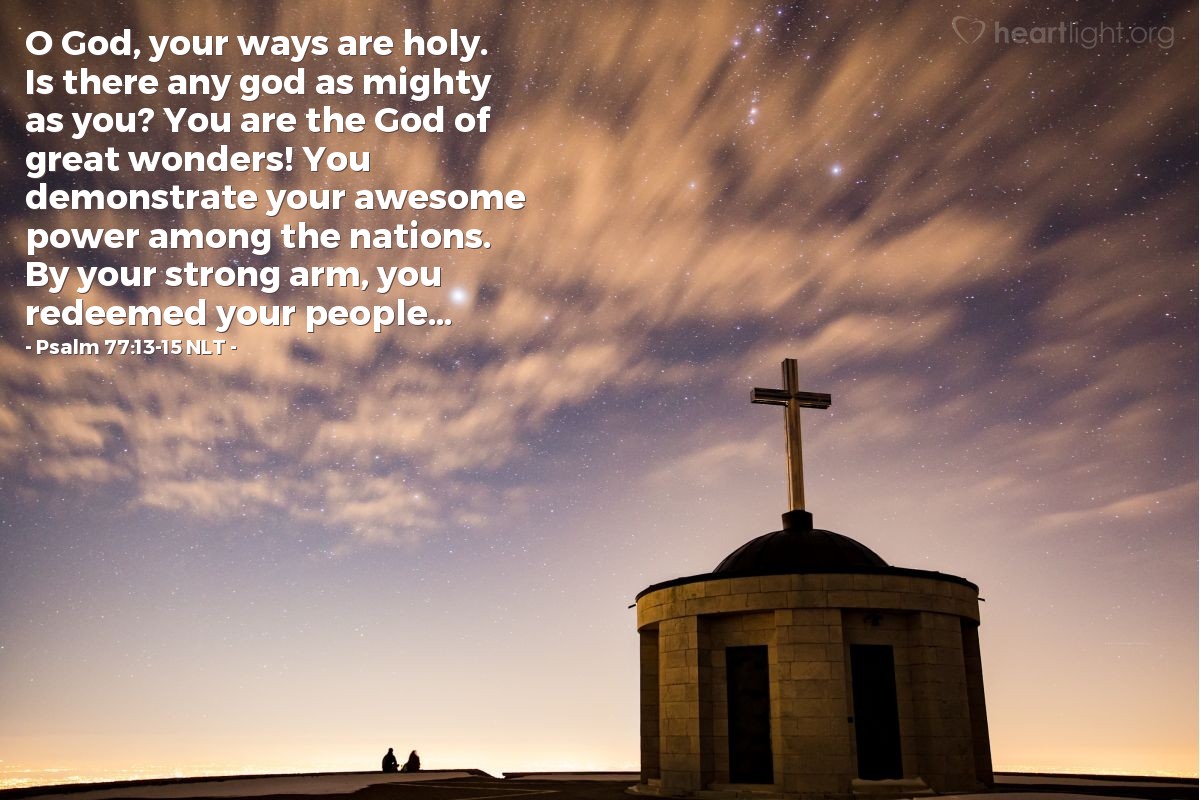 Spiritual Warfare:

 'God Will Use Our Suffering'

God's Power for Our Battles

And God will use this persecutionto show his justice and to make you worthy of his Kingdom, for which you are suffering. In his justice, he will pay back those who persecute you.

Lord, when my persecution seems unbearable, and my suffering seems beyond my ability to endure, remind me that You have a plan, and You are keeping watch. You know everything I'm going through, Lord, and You will pay back my persecutors. Remind me that this makes me worthy of the kingdom in a way that nothing else can, Lord, and that it will all be worth it in the end. Give me hope in the middle of pain, and the ability to focus on the goal instead of on the temporary present pain. In Jesus' Name, Amen.
A Year with Jesus:

 'Be Astonishing'
Note from Jesus
Dear Child of God,
If you were a shepherd in the time when I was born, you would never have expected anyone to be astonished at anything you could ever say or do. You would have been "just" a lowly and despised shepherd. Most shepherds (like those who celebrated my birth) were quite young and most often ignored. Like all good shepherds, they smelled like sheep — they were not the kind of folks you invite into your house for a long conversation or a dinner party. Shepherds, in general, were not considered intellectually astute. Most people felt that shepherds would have little to say that was important.
Then came My birth. Look at what God made of these shepherds. They were the first to share the good news of My birth. They were the first "missionaries" sent to tell the story of God coming down to live with people. These shepherds were told this good news by angels sent from the glory of heaven.
People were astonished. They were astonished that God would use shepherds. They were astonished at what the shepherds told them about the angels. They were astonished at the story the shepherds told about Who I was and where I was born.
Look at what the Father made of these shepherds. They were the first to know and to proclaim the astonishing good news of God coming to the world as a baby wrapped in strips of cloth and placed in a feed trough — the glory of the newborn King of the Jews, the Messiah of Israel, and the Savior of the world.
And what about you? Are you astonishing?
If you listen closely to the passages below, you will see that I have done something just as astonishing with you as I did with the shepherds. Because of Me, you are now "holy, blameless, and totally free of imperfection." Just like the shepherds, you have been given the opportunity to be astonishing!
Verses to Live
Simple shepherds share the astonishing news!
After seeing him [baby Jesus], the shepherds told everyone what had happened and what the angel had said to them about this child. All who heard the shepherds' story were astonished…
(Luke 2:17-18 NLT)
In the flesh, I bring you astonishing identity!
He [Jesus] is the exact image of the invisible God, the firstborn of creation, the eternal. It was by Him that everything was created: the heavens, the earth, all things within and upon them, all things seen and unseen, thrones and dominions, spiritual powers and authorities. Every detail was crafted through His design, by His own hands, and for His purposes. He has always been! It is His hand that holds everything together. He is the head of this body, the church. He is the beginning, the first of those to be reborn from the dead, so that in every aspect, at every view, in everything — He is first. God was pleased that all His fullness should forever dwell in the Son Who, as predetermined by God, bled peace into the world by His death on the cross as God's means of reconciling to Himself the whole creation — all things in heaven and all things on earth.

You were once at odds with God, wicked in your ways and evil in your minds; but now He has reconciled you in His body — in His flesh through His death — so that He can present you to God holy, blameless, and totally free of imperfection as long as you stay planted in the faith. So don't venture away from what you have heard and taken to heart: the living hope of the good news that has been announced to all creation under heaven and has captured me, Paul, as its servant.
(Colossians 1:15-23)
Response in Prayer
O Father, I place my faith in Jesus and what He did by becoming flesh and shedding His blood to make me Yours. This grace, this story, and this Jesus have captured my heart, and I offer all that I am to You, O God, in the name of Jesus and because of Your grace. Amen.
Humor…..