Daily Prayer for 

September 1
Therefore, if anyone is in Christ, the new creation has come: The old has gone, the new is here! 2 Corinthians 5:17, NIV
Dear Father in heaven, open our hearts to see what is good in our lives. May the light in our hearts shine clearly so that we see, recognize, and live in accordance with what comes from eternity and belongs to our true nature, brought to us through Christ. Keep us from being blinded and deafened by experiences that will pass by. Help us to rise above them even in suffering and to wait patiently for what is becoming new and perfect. Praise to your name that we too can say, "The old has passed away; see, everything has become new!" Amen.

Sophie Scholl
Many people believe that our age is the last. All the omens are terrible enough to make one think so, but isn't that belief of secondary importance? Mustn't we all, no matter what age we live in, be permanently prepared for God to call us to account from one moment to the next? How am I to know if I shall still be alive tomorrow? We could all be wiped out overnight by a bomb, and my guilt would be no less than if I perished in company with the earth and the stars. I know all that, but don't I heedlessly fritter away my life all the same? O God, I beseech you to take away my frivolity and self-will, which clings to the sweet, ephemeral things of life.
Source: At the Heart of the White Rose
—Dion Todd
Sifted Wheat
The Lord said, 'Simon, Simon, behold, Satan asked to have all of you, that he might sift you as wheat, but I prayed for you, that your faith wouldn't fail. You, when once you have turned again, establish your brothers.' Luke 22:31 WEB
Peter told Jesus that he was ready to go to prison and to die for Him if needed, which was a very bold statement. Then Jesus told Peter that satan had asked to test him, to sift him like wheat, to reveal what was inside of him. When they ground wheat to make flour, they would sift it to leave all the impurities behind.
This is what satan wanted to reveal in Peter, the impurities, and one of the big ones was fear. Peter was soon going to deny that he even knew Jesus three times because he was afraid. Peter was not there when Jesus was crucified or entombed, because he was afraid.
Jesus had told Peter, 'when you have turned again, strengthen your brothers.' So Jesus knew that Peter was going to be tested for a season, and that Peter was going to fail the test. He wanted Peter to get back up, to continue on, and to strengthen the others, even though he had failed the test. Sometimes we are tested to reveal what is inside of us to ourselves. Peter did not know that much fear was inside of him, until after the test. Sifting strains out the bad, and brings the hidden things into plain view.
Maybe in the past you have made a bold statement that you would serve God no matter what, then the what happened, and you failed. Get back up, keep going, continue on God's path. Jesus knew that it would happen before He called you, and while you were telling Him about it, but He called you just the same. He is not mad at you when you fail a test. We are all sifted like wheat.
Prayer: Heavenly Father I thank You for You know best and I choose to trust You with my life. Please strengthen me and make me stedfast. Draw my heart to You and light a fire within me today, in the name of Jesus Christ I pray.
Bible Fun Fact: God Himself buried Moses and no one knows where (Deut 34:5-6).
Sunday's Bible Art—

What Jesus Did!

 'Longing to Protect the City'

[Jesus said,] "O Jerusalem, Jerusalem, the city that kills the prophets and stones God's messengers! How often I have wanted to gather your children together as a hen protects her chicks beneath her wings, but you wouldn't let me. And now, look, your house is abandoned. And you will never see me again until you say, 'Blessings on the one who comes in the name of the Lord!'"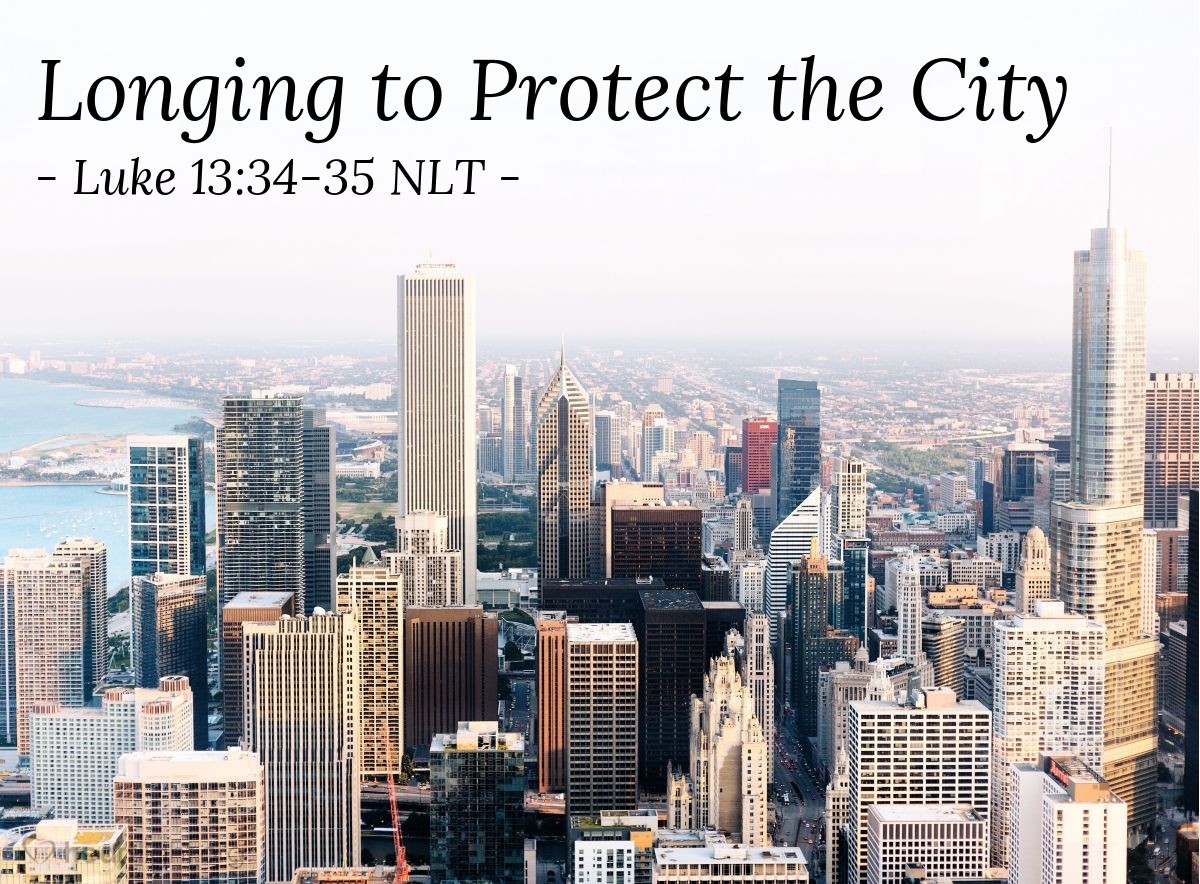 Key Thought
Doesn't this passage, this haunting cry of Jesus, seem very poignant even today? God longs to bless the people of Jerusalem. The Gospel of Luke and the book of Acts remind us again and again of God's love for the great cities of that era in the world — Jerusalem, Antioch, Ephesus, Athens, Corinth, Rome. Luke and Acts teach us how God longed to reach them with his grace through the gospel. Unfortunately, those cities rejected the message of Jesus as Jerusalem did. Their rejection of God's grace, ethics, and morals resulted in disasters for the cities themselves. For Jerusalem, however, the denial of Jesus was a worse rejection. Jesus was the Jewish Messiah, the promised hope of their Scriptures, sent to be their Deliverer. Let's not be guilty of the same rejection. Let's understand God's desire to bring us under his wing of protection and respond by offering him our hearts, souls, minds, and strength.
Today's Prayer
Tender Shepherd, my heavenly Father, thank you for your Son and my Savior and Lord. Use me to be a blessing to my city and empower me to share your saving grace given through Jesus, in whose name I pray. Amen.
Related Scripture Readings
Daily Wisdom: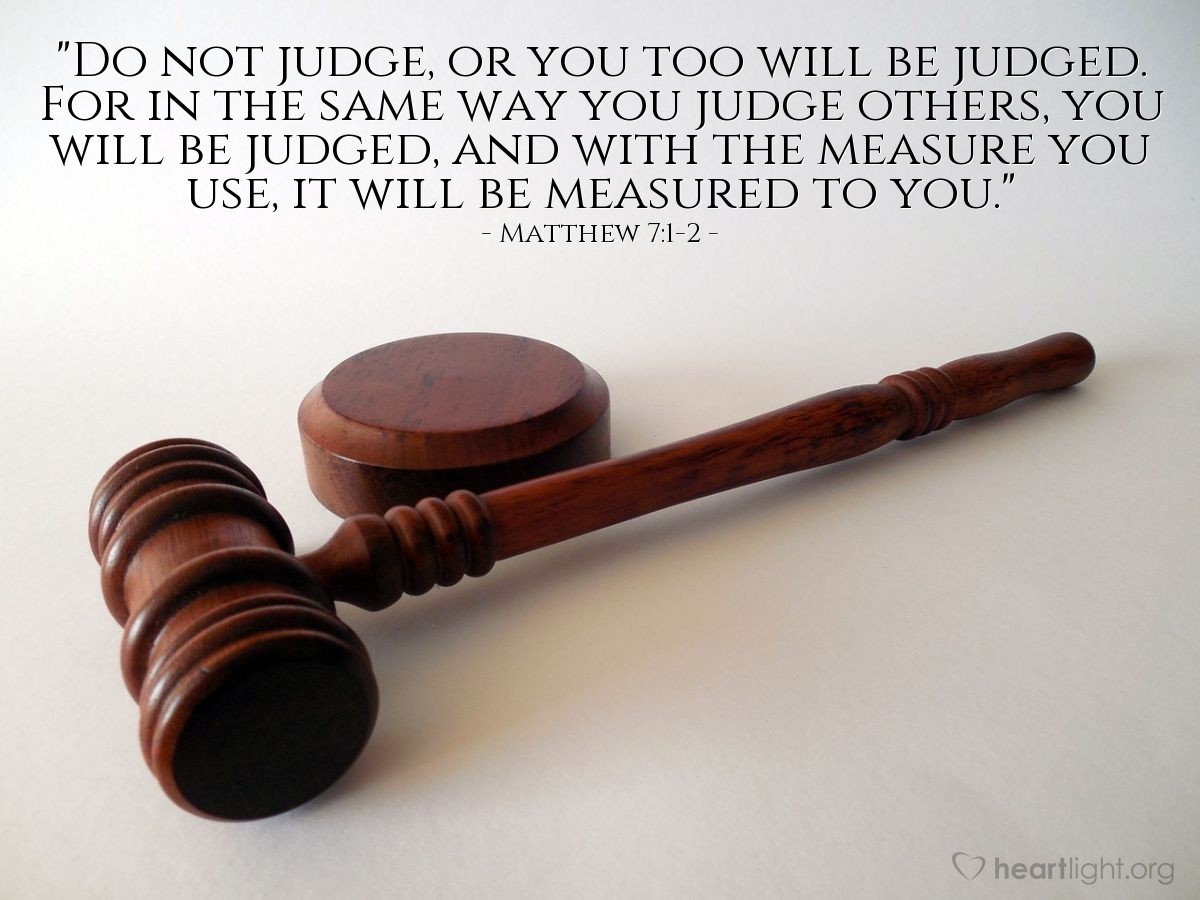 Spiritual Warfare:

 'Authority Over Demons in Jesus' Name'

God's Power for Our Battles

Then [Jesus] said to the disciples, "Anyone who accepts your message is also accepting me. And anyone who rejects you is rejecting me. And anyone who rejects me is rejecting God, who sent me." When the seventy-two disciples returned, they joyfully reported to him, "Lord, even the demons obey us when we use your name!"
Today's Prayer
Lord, I praise You as the One with authority over all the demonic powers in our present world. Thank You for reminding me of that fact. Lord, help me to exercise Your authority in Your Name when necessary to help further the borders of Your Kingdom to people who have lived in captivity to fear and lies and deception. Let others become free in Christ to serve in thankfulness. In Jesus' Name, Amen.
A Year with Jesus:

 'Treasure in Fragile Clay Pots'
Note from Jesus
Dear Precious Follower,
In Paul's day, the Greek language had two words for two different types of pots. One was called an amphiphora. An amphiphora was a beautifully decorated pot that was sometimes fired to have a beautiful ceramic glaze. These kinds of pots were works of art and used decoratively and as part of a very special meal. The other word for a pot was skeuos. A skeuos was an ordinary clay pot used for just about anything. It was unimportant and insignificant. This kind of pot was used for routine things, could be easily discarded, and was without much consequence even if broken.
When Paul described himself and his fellow gospel messengers, he didn't use the word amphiphora. Instead, he emphasized the fragile and inconsequential nature of a skeuos pot to describe himself. He described himself as a simple vessel made of earth and clay for ordinary and everyday use. Paul emphasized that he and each person who ministered for Me was a simple, fragile clay pot whose purpose was to carry something significant. My messenger, My clay pot, is not necessarily fancy, flashy, or consequential in his or her personal importance or appearance. The true significance of My messenger is determined by the "treasure" he or she carries as My clay pot.
Paul's ministry was not about himself, but about declaring the good news of the Almighty Father. This good news was about My coming to earth, My going to the cross to pay the debt for everyone's guilt of sin, My being buried in a tomb sharing your human mortality, and My triumph over death through My resurrection. The Father used Me to begin His new work of re-creation just as surely as We — Father, Son, and Spirit — created everything when We spoke, "'Let there be light.' And light flashed into being" (Genesis 1:3). I entrusted the message of good news about Me and God's power of re-creation to My disciples who were ordinary people made extraordinary because of the good news they shared and because of the Holy Spirit Who empowered them. They were clay pots carrying glorious treasure!
These ordinary people faced extraordinary challenges. They endured repeated abuses. They were often threatened and sometimes tortured. Some were martyred for sharing this good news about Me. However, nothing could stop them or the message that they shared about Me. The Holy Spirit within them empowered them to speak My good news. Their ordinariness as fishermen, tax collectors, those formerly possessed by demons, fathers, mothers, men and women, young and old made their courage and their impact all the more extraordinary. These ordinary people, these fragile clay pots, brought the treasure to the lost world. They brought the treasure of true life to those who feared death. They carried the treasure of light to those trapped in Satan's darkness. They delivered the treasure of hope to those lost in monotonous mortality. They brought the treasure of re-creation to those too old or too set in their ways to expect new things.
Paul insisted in the verses for today, and again and again in other places in 2 Corinthians, that the Father's strength and wisdom are made perfect through human weakness. The Father's "transcendent character" was at work within these normal people. This power at work within them was not human power, human wisdom, or human charisma. It was Holy Spirit power. It was the Father's power released through the Holy Spirit's presence within My disciples. This power was available to all people who follow Me. It was the power that could transform every human life it touched. That same power is available to you, today!
Verses to Live
Don't depend on the charm, charisma, and persuasiveness of public Christian personalities. The world needs to discover real treasure, not focus on the person who is the vessel to bring My treasure to the lost world. This lost world needs to see the Father's grace delivered into the world through ordinary people made extraordinary by the Spirit's work through them.
This transcendent power is also at work in you as another ordinary and fragile clay pot made extraordinary by the treasure that you carry. Listen carefully as Paul teaches about this treasure that is now alive in you!
We do not preach about ourselves. The subject of all our sermons is Jesus, the Anointed One. He is Lord and Master of all. For Jesus' sake we are here to serve you. The God Who spoke light into existence, saying, "Let light shine from the darkness," is the very One Who sets our hearts ablaze to shed light on the knowledge of God's glory revealed in the face of Jesus, the Anointed One.

But this beautiful treasure is contained in us — cracked pots made of earth and clay — so that the transcendent character of this power will be clearly seen as coming from God and not from us. We are cracked and chipped from our afflictions on all sides, but we are not crushed by them. We are bewildered at times, but we do not give in to despair. We are persecuted, but we have not been abandoned. We have been knocked down, but we are not destroyed. We always carry around in our bodies the reality of the brutal death and suffering of Jesus. As a result, His resurrection life rises and reveals its wondrous power in our bodies as well. For while we live, we are constantly handed over to death on account of Jesus so that His life may be revealed even in our mortal bodies of flesh. So death is constantly at work in us, but life is working in you.
(2 Corinthians 4:5-12)
Response in Prayer
O Almighty Father, there are times when the devil abuses and batters my sense of significance. Sometimes, dear Father, I feel too inconsequential to make a difference in Your work. As I read Paul's words, I was reminded that Jesus and the powerful good news about Jesus are the treasure. I am Your vessel. I recognize that my sufficiency and significance are found in You and in living for You. So I ask for the Holy Spirit to invigorate my passion to live for Jesus and empower me to share Jesus in word and deed with those around me. Help me do this humbly and compassionately, but courageously by the power of Your Spirit. I ask this in Jesus' name. Amen.
Humor….