Daily Prayer for 

August 25
Do not conform to the pattern of this world, but be transformed by the renewing of your mind. Then you will be able to test and approve what God's will is – his good, pleasing and perfect will. Romans 12:2, NIV
Grant us your Spirit, Lord our God, that we may discern your good, acceptable, and perfect will. Give us joy in fighting on your side, so that what is good, acceptable, and perfect may be given to the world. Wherever we are and whatever work we do, give us zeal to serve you and be guided by you so that your will may be done and your kingdom come, so that already today we may find happiness even though only in hope. Amen.
Guiseppe Mazzini
No true society can exist without a common faith and common purpose. …What we need, what the people need – and what the age is crying for that it may find an issue from the slough of selfishness, doubt, and negation in which it is submerged – is faith, in which our souls, ceasing to wander in search of individual ends, can march together in consciousness of one origin, one law, and one goal. Every strong faith that arises on the ruins of old and outlived beliefs changes the existing social order, for every strong faith inevitably influences all departments of human activity. In different forms and different degrees, humanity repeats the words of the Lord's Prayer: "Thy kingdom come on earth as in heaven."
Source: Mazzini
Share 
today

's verse
The Daily Word of Hope Devotional
---
---
While I Breathe
let's hold fast the confession of our hope without wavering; for he who promised is faithful. Let's consider how to provoke one another to love and good works, not forsaking our own assembling together, as the custom of some is, but exhorting one another, and so much the more as you see the Day approaching. Hebrews 10:23 WEB
My home state of South Carolina carries this inscription on the state seal: 'Dum Spiro Spero.' In Latin, this phrase means "While I breathe, I hope.' This is a profound statement because where there is hope, there is life. When all hope is gone, it usually ends. That is a goal of Refreshing Hope Ministries, to refresh your hope each day. As long as you are still sucking air, you can make it through this.
Hope is incredibly powerful at driving away doubt, fear, darkness, and discouragement. Despair is defined as 'the complete loss or absence of hope.' Most of us know what despair sounds like because we listen to it all day in our minds, trying to beat us down, trying to get us to give up our hope, to discourage us and get us to stop.
Hope is like the sunlight that chases away the darkness. Hope says: "This will turn out well for me. Something good is coming my way. I will beat this, I will be healed. They will be OK. This is not the end. I can do better! God has got a plan for me and I am going to see this through. I can do this. I will overcome and my breakthrough is coming soon! This enemy is going down!"
Do not give up your hope in the goodness of God during the dark times. It is all that you have left. God is going to do the things that He has promised you. He is completely faithful and has nothing but the best intentions for you. Even when this life is over, it is not the end. It will be the beginning of really living. The Lord is my helper; I will not fear; what can man do to me (Hebrews 13:6). While you breathe, hope.
Prayer: Heavenly Father I choose to trust in You. I know that You are there for me and I am so thankful for all that You do. Please restore my hope and let Your Son shine through me, in the name of Jesus Christ I pray.
Bible Fun Fact: Moses was the most meek (humble) man on the face of the Earth (Num 12:3).

What Jesus Did!

 'One Last Chance!'

Then Jesus told this story: "A man planted a fig tree in his garden and came again and again to see if there was any fruit on it, but he was always disappointed. Finally, he said to his gardener, 'I've waited three years, and there hasn't been a single fig! Cut it down. It's just taking up space in the garden.' The gardener answered, 'Sir, give it one more chance. Leave it another year, and I'll give it special attention and plenty of fertilizer. If we get figs next year, fine. If not, then you can cut it down.'"
Key Thought
At the end of 
Luke 12
, Jesus reminded his disciples to be ready always and live with a sense of urgency about his return. In the first part of chapter 13, Jesus called on people to repent. Now, in today's verses, Jesus is basically reminding us that we are on borrowed time. We need to repent now. We've been extended a season of grace to become fruitful, so we've got to be fruitful. No more playing around with religion. No more hypocrisy. No more religious talk without spiritual commitment and spiritual living. It's put up or shut up time. It's time to be fruitful.
Today's Prayer
Holy and righteous Father, I know that now is the time you want me to be fruitful and that you want me to live for you with passion today and every day. Help me overcome my religious procrastination. Bless me as I seek to lay aside my fears and inhibitions about following you. Empower me to live with holiness, urgency, and a sense of joyous expectation. In Jesus' name. Amen.
Related Scripture Readings
Daily Wisdom:

 Proverbs 14:30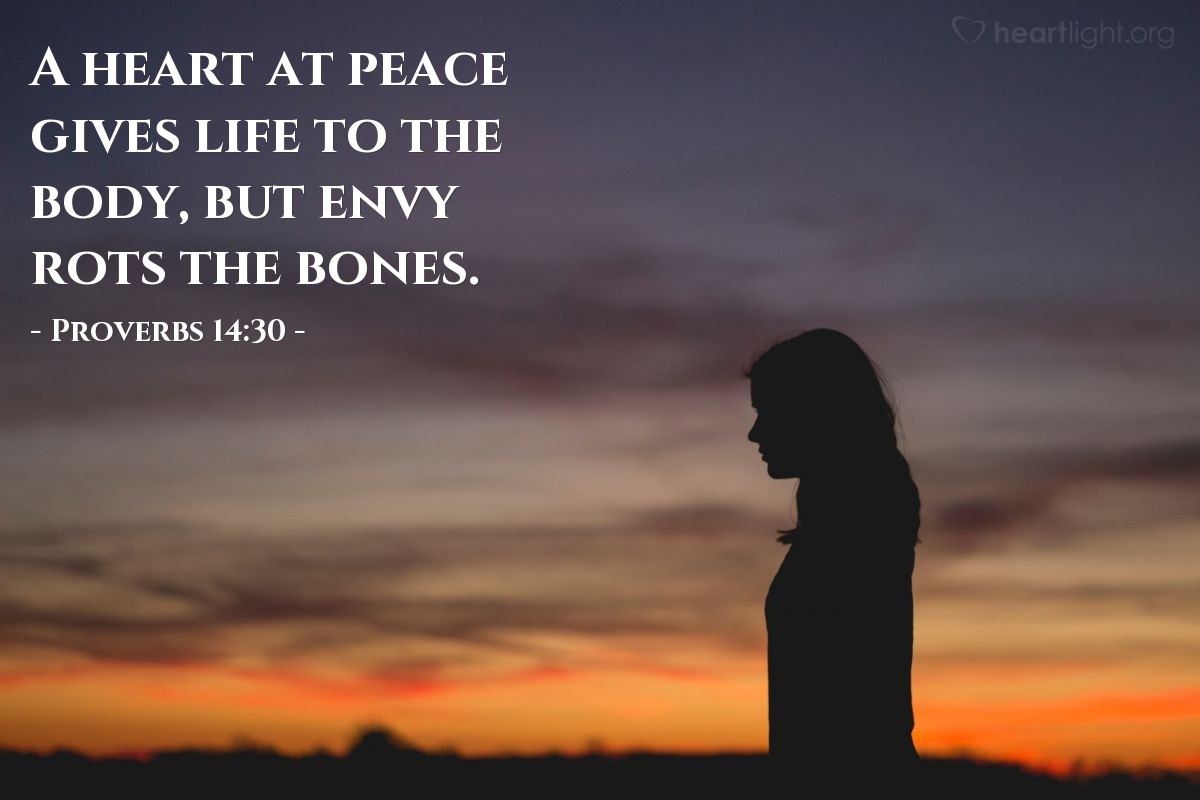 Passion for Praise:

 'Once More!'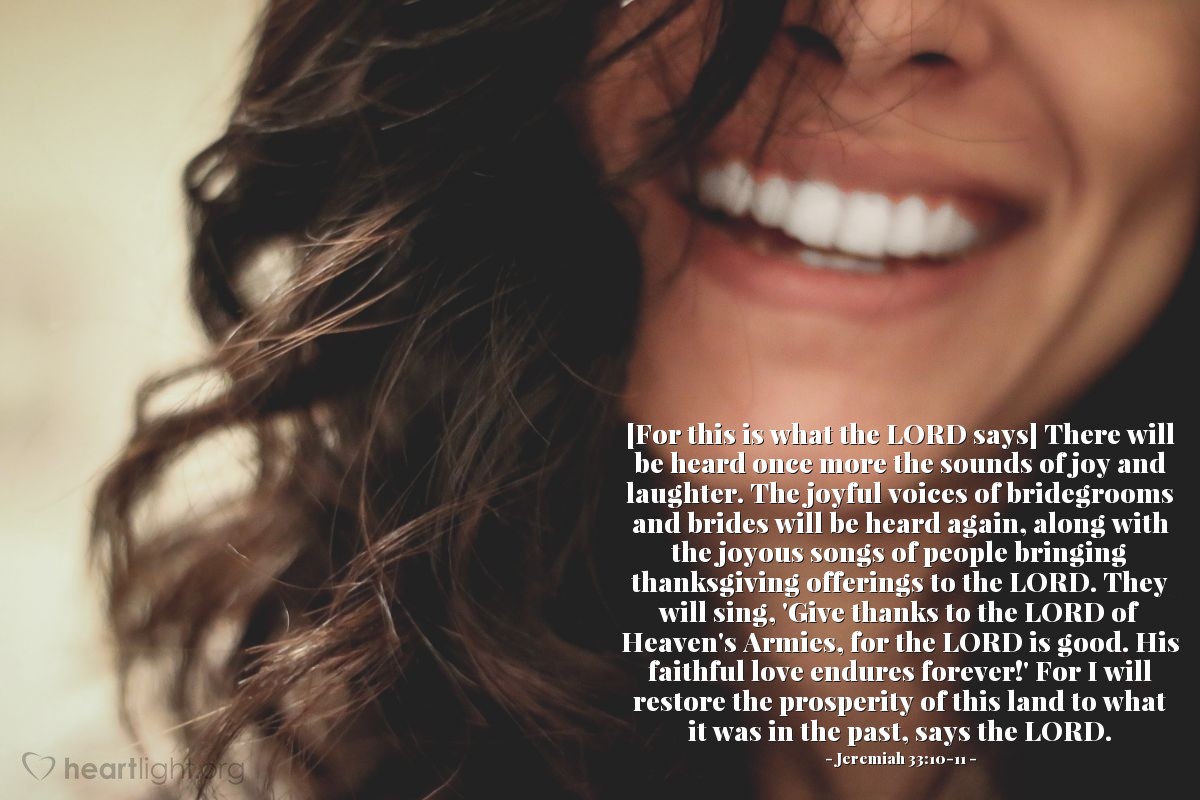 Spiritual Warfare:

 'Brought Near by the Blood of Christ'

God's Power for Our Battles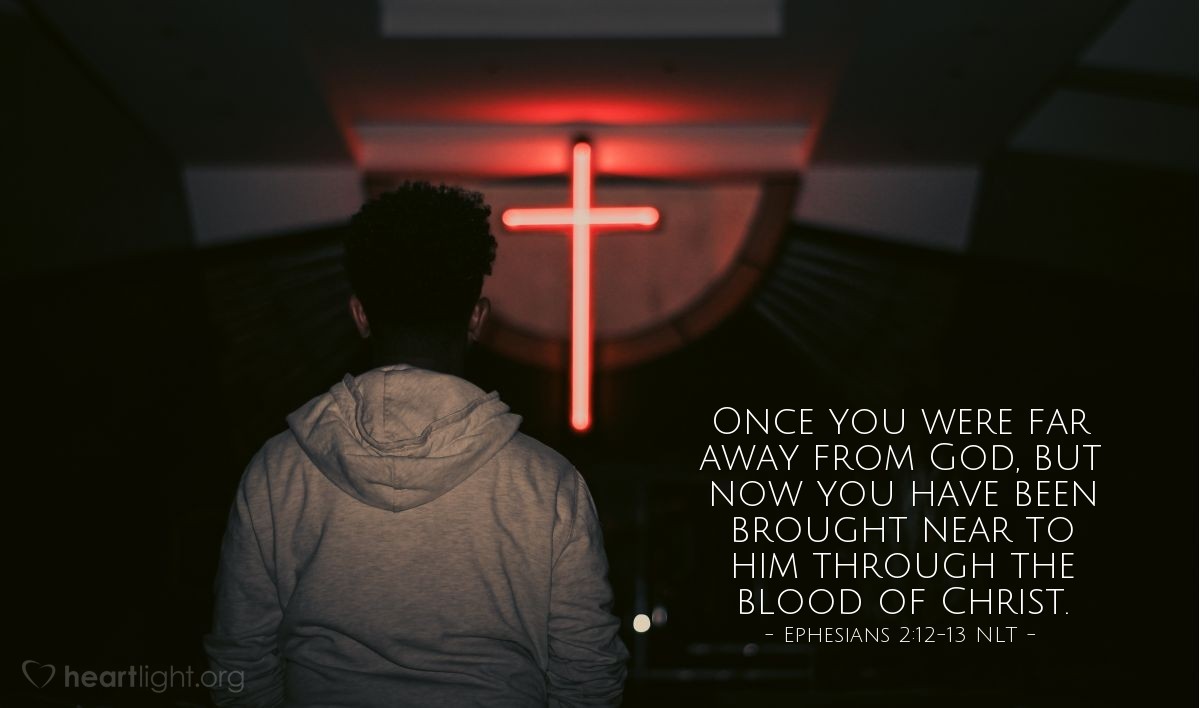 Lord, all my life I have lived in hope. I hope for a better world; I hope for peace; I hope for eternity in heaven with You. Thank You for making my hope into an assured future reality through the saving blood of Your Son Jesus Christ. Now help me share that hope with others around me who have lived without it. In Jesus' Name, Amen.
A Year with Jesus:

 'Our Glorious Future'
Note from Jesus
Dear Follower,
Resurrection is coming. I will return for those who belong to Me. At My coming, everyone who belongs to Me will be given an immortal body. Just as you have carried the body that has been part of your human existence and that is mortal because of Adam's rebellion against the Father, you also will be transformed because of My victory over death. You will have an immortal body far more glorious than you can fully imagine. My resurrection from the dead is the assurance of your resurrection. My glorious body after My resurrection is the assurance of your glorious body after your resurrection.
I know you would like to know all the details about life after death. Let it be enough to know that when you are My disciple, the Holy Spirit Who is alive in you ensures that you will never be separated from Me and that your resurrection is assured (Romans 8:32-39; 1 Corinthians 15:21-26). When death claims your physical body, you come to be with Me (Philippians 1:19-24; 2 Corinthians 5:1-8). Then, when the Father says it is time, I will return and change all who belong to Me to have immortal bodies to share in the resurrection and reunion (Philippians 3:20-21). You will share in the glory of all that the Father has promised you.
Your future existence in this immortal state is impossible for you to grasp fully now. Paul helps you catch a glimpse of this glorious future by using an example from your earthly existence. A seed that you place in the ground is not particularly beautiful. It is simple and earthy. But when it is placed in the ground and dies to its current existence, a transformation happens that is a part of a new life. The seed germinates, grows, and becomes something glorious. The seed is not glorious when compared to the flower of the fully-grown plant. Your physical bodies, though marvelously made, are just a seed compared to the glory of the new bodily existence that you will enjoy with Me when we share in glory together.
Death is an intruder that wounds hearts. However, when someone you love and who is My disciple is separated from you by death, remember that death is not only My enemy but that I also have ultimately defeated death and its power. While death may separate you for a short time from those you love, My resurrection ensures your resurrection and your reunion with all those who are Mine! So, no matter what your earthly life throws at you — how it disappoints you, wounds you, beats you down, or discourages you — I have defeated death. Death will not have the ultimate victory over you. Death will not determine the ultimate outcome of your life. You are Mine! Your future glory beyond death is in My hands! Transformation, reunion, victory, and a life in glory are your future!
Verses to Live
The following words come from what many people have called the resurrection chapter of the Bible. Paul wanted the Corinthian Christians to know that because I was raised from the dead, they will also be raised from the dead. Please, take the time to savor Paul's words. Dwell on them. Let them give you hope. Commit the phrases that mean the most to you to memory for those times when you need them most. Remember, your faith in Me is not wasted, and your hope in Me is not in vain!
Now if we have told you about the Anointed One (how He has risen from the dead and appeared to us fully alive), then how can you stand there and say there is no such thing as resurrection from death? Friends, if there is no resurrection of the dead, then even the Anointed hasn't been raised; if that is so, then all our preaching has been for nothing and your faith in the message is worthless. And what's worse, all of us who have been preaching the gospel are now guilty of misrepresenting God because we have been spreading the news that He raised the Anointed One from the dead (which must be a lie if what you are saying about the dead not being raised is the truth).

Please listen. If you say, "the dead are not raised," then what you are telling me is that the Anointed One has not been raised. Friends, if the Anointed has not been raised from the dead, then your faith is worth less than yesterday's garbage, you are all doomed in your sins, and all the dearly departed who trusted in His liberation are left decaying in the ground. If what we have hoped for in the Anointed doesn't take us beyond this life, then we are world-class fools, deserving everyone's pity.

But the Anointed One was raised from death's slumber and is the firstfruits of those who have fallen asleep in death.
(1 Corinthians 15:12-20)

Now I know what some of you are thinking: "Just how are the dead going to be raised? What kind of bodies will they have when they come back to life?"

Don't be a fool! The seed you plant doesn't produce life unless it dies. Right? The seed doesn't have the same look, the same body, if you will, of what it will have once it starts to grow. It starts out a single, naked seed — whether wheat or some other grain, it doesn't matter — and God gives to that seed a body just as He has desired. For each of the different kinds of seeds God prepares a unique body.

Or look at it this way: not all flesh is the same. Right? There is skin flesh on humans, furry flesh on animals, feathery flesh on birds, and scaly flesh on fish. Likewise there are bodies made for the heavens and bodies made for the earth. The heavenly bodies have a different kind of glory or luminescence compared to bodies below. Even among the heavenly bodies, there is a different level of brilliance: the sun shines differently than the moon, the moon differently than the stars, and the stars themselves differ in their brightness.

It's like this with the resurrection of those who have died. The body planted in the earth decays. But the body raised from the earth cannot decay. The body is planted in disgrace and weakness. But the body is raised in splendor and power. The body planted in the earth was animated by the physical, material realm. But the body raised from the earth will be animated by the spiritual. Since there is a physical, material body, there will also be a spiritual body.

That's why it was written, "The first man Adam became a living soul"; the last Adam has become a life-giving spirit. Everything has an order. The body is not animated first by the spiritual but the physical; then the spiritual becomes its life-giving source. The first man, Adam, came from the earth and was made from dust; the second man, Jesus, has come from heaven. The earth man shares his earth nature with all those made of earth; likewise the heavenly man shares His heavenly nature with all those made of heaven. Just as we have carried the image of the earth man in our bodies, we will also carry the image of the heavenly man in our new bodies at the resurrection.

Now listen to this: brothers and sisters, this present body is not able to inherit the kingdom of God any more than decay can inherit that which lasts forever. Stay close because I am going to tell you a mystery — something you may have trouble understanding: we will not all fall asleep in death, but we will all be transformed. It will all happen so fast, in a blink, a mere flutter of the eye. The last trumpet will call, and the dead will be raised from their graves with a body that does not, cannot decay. All of us will be changed! We'll step out of our mortal clothes and slide into immortal bodies, replacing everything that is subject to death with eternal life. And, when we are all redressed with bodies that do not, cannot decay, when we put immortality over our mortal frames, then it will be as Scripture says:

Life everlasting has victoriously swallowed death.

Hey, Death! What happened to your big win?

Hey, Death! What happened to your sting?

Sin came into this world, and death's sting followed. Then sin took aim at the law and gained power over those who follow the law. Thank God, then, for our Lord Jesus, the Anointed, the Liberating King, Who brought us victory over the grave.

My dear brothers and sisters, stay firmly planted — be unshakable — do many good works in the name of God, and know that all your labor is not for nothing when it is for God.
(1 Corinthians 15:35-58)
Response in Prayer
O Father, please carve these words on my heart so that I can remember them when times of discouragement come because of the death of those I love. Bring these words back to me when I face my own mortality. I cannot help, dear Father, but think of those who are hanging onto these words right now as they are being martyred for their faith by those who preach hate and death in the name of religion. Please, dear Father, work in our human history to stop this hate-based genocide of our Christian brothers and sisters and their children because of their faith. And, dear Father, please give those who face death because of their faith in Jesus a sense of His being with them every step of the way until they are blessed by His presence with them until death is swallowed up in life. I pray this in Jesus' name. Amen.
Illustration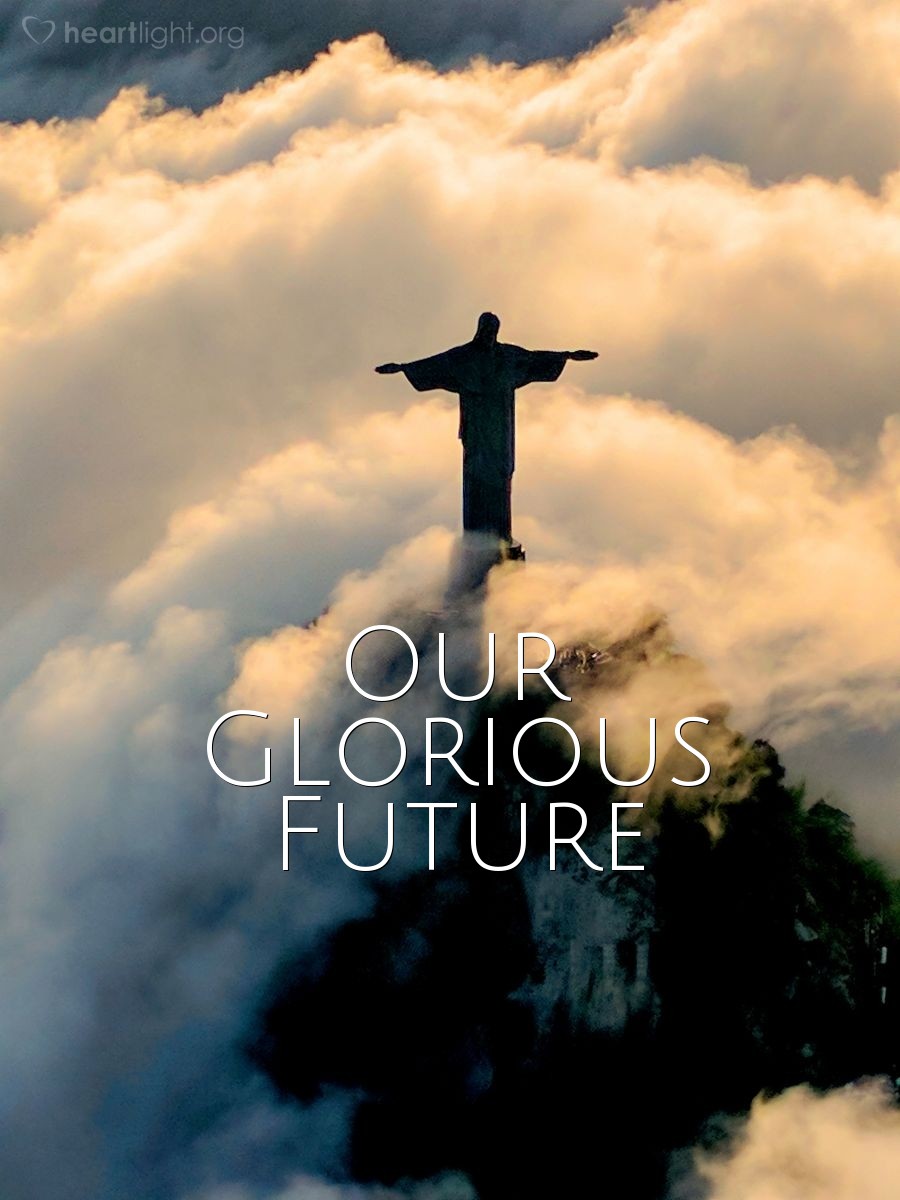 I Was Afraid!

Hi Mary Immediato,                                                     
My first child was five months old when the doctors gave the report. The surgery would require removing his skull from the soft spot down to his eyebrows and all the way to each temple on the sides of his head. If I did not allow the surgery, the consequences would be horrible. The doctors said without the surgery things would only get worse and was impossible for anything to get better. God had so recently given a miracle for my wife to conceive this child, but now we were facing this life altering situation. I was afraid of what might happen if I did not allow the surgery to be done, but I was also afraid of what would happen if I did allow it. This "fear" was not panic or torment. Neither was it the fear of the Day of Judgment that John speaks of. I John 4:17-18. My fear was the understanding that either course I took could have unbearable consequences.
I did not believe I had great faith at all in that hour. I could not say, "I know God will give a miracle." The only thing I could do was pray and seek God. At times I would take my son to the church alone to walk with him in my arms and seek God for an answer. When asked what we were going to do, I would simply say "I do not know." Then one day in the middle of a Sunday morning service, God spoke three words to my heart: "It's all right!" We canceled the surgery, and soon it became evident that the "impossible" was happening, and my child would be perfectly whole. God had heard my cry, even though I was afraid!
I know it shatters our theology, but the Bible is clear that there was an occasion when Jesus was afraid. Speaking of this, the apostle wrote, "Who in the days of his flesh, when he had offered up prayers and supplications with strong crying and tears unto him that was able to save him from death, and was heard in that he feared;" Hebrews 5:7. This passage is referring to Jesus in Gethsemane the night before his crucifixion. There he prayed and "his sweat was as it were great drops of blood falling down to the ground." Luke 22:44.
Peter, James, and John were present when Jesus "…began to be sore amazed, and to be very heavy; And saith unto them, My soul is exceeding sorrowful unto death: tarry ye here, and watch." Mark 14:33-34. I am certain they had never seen Jesus like this before. Just a week before this, although troubled about what was ahead, Jesus spoke boldly concerning his death. He had told them, "Now is my soul troubled; and what shall I say? Father, save me from this hour: but for this cause came I unto this hour."John 12:27. Now his words seemed different as he prayed, "O my Father, if it be possible, let this cup pass from me…" Matthew 26:39.
Jesus knew the agony that awaited him in just a few hours. The prophets had already foretold his sufferings. His "visage" would be "marred more than any man, and his form more than the sons of men:" Isaiah 52:14. He would be "…brought as a lamb to the slaughter…" Isaiah 53:7. The Psalms spoke prophetically of Christ, saying, they "…plowed upon my back: they made long their furrows." Psalms 129:3.
Jesus also knew David was speaking of him when he said, "They gaped upon me with their mouths, as a ravening and a roaring lion. I am poured out like water, and all my bones are out of joint: my heart is like wax; it is melted in the midst of my bowels. My strength is dried up like a potsherd; and my tongue cleaveth to my jaws; and thou hast brought me into the dust of death. For dogs have compassed me: the assembly of the wicked have inclosed me: they pierced my hands and my feet. I may tell all my bones: they look and stare upon me. They part my garments among them, and cast lots upon my vesture." Psalms 22:13-18.
It was never in doubt that Jesus would choose to go to the cross. He prayed, "O my Father, if this cup may not pass away from me, except I drink it, thy will be done."Matthew 26:42. Jesus was not in a panic. He was not ready to run away. But he was in great apprehension about the agony that was just a few hours away. He said, "The spirit truly is ready, but the flesh is weak." Mark 14:38. We sometimes forget that although he is the Son of God, he is also the son of man. Jesus had no sin, but he did have feeling. In the hour of his "fear," he did the one thing that every person should take notice of. He called upon the one who "…was able to save him from death…" Hebrews 5:7.
I have seen many people attempt to deny their "fears" so they can have "faith." Such a course almost always ends in confusion. Faith in God is revealed more by what you do when you are "afraid" than it is when you are full of confidence. In his hour of fear and apprehension, Jesus called upon the Father who sent an angel to strengthen him. Luke 22:43.It is based on such truths as this that the apostle writes, "For we have not an high priest which cannot be touched with the feeling of our infirmities; but was in all points tempted (tested) like as we are, yet without sin. Let us therefore come boldly unto the throne of grace, that we may obtain mercy, and find grace to help in time of need." Hebrews 4:15-16. Jesus Christ understands the feeling of your infirmity  …and he can be touched by you. You can call upon him today!
We currently have seven volumes of our weekly Simply Christ gospel messages inBehold the Lamb Books available without charge upon request. Click HERE to request your free Simply Christ volume or other Behold the Lamb Books and eBooks. You can also help us share the gospel by sharing Behold the Lamb andSimply Christ with others. 
God Bless,
Pastor Keith Surface
Calvary Outreach Ministries
Humor Time….
Momma…
Aunty Acid…
Politics??
Some Maxine Humor…