Daily Prayer for December 16
————————————————————
Christoph Friedrich Blumhardt
The Sovereign Lord has given me a well-instructed tongue, to know the word that sustains the weary. He wakens me morning by morning, wakens my ear to listen like one being instructed. Isaiah 50:4, NIV
Lord our God, we thank you for giving us the task of serving you in the name of your servant, Jesus Christ, for letting each of us have a part in carrying out your will. Keep us true to this service. We want to be faithful, always listening to you, for you open our ears and help us know your will and respond to it. Be with us in these days. Strengthen your love and compassion in all hearts. May the life of Jesus Christ gain greater and greater power in all people on earth. Amen.
Old Calendar: Third Sunday of Advent; Gaudete Sunday
"Rejoice: the Lord is nigh." As Christmas draws near, the Church emphasizes the joy which should be in our hearts over all that the birth of our Savior means for us. The great joy of Christians is to see the day drawing nigh when the Lord will come again in His glory to lead them into His kingdom. The oft-repeated Veni ("Come") of Advent is an echo not only of the prophets but also of the conclusion of the Apocalypse of St. John: "Come, Lord Jesus," the last words of the New Testament.
Today is known as Gaudete Sunday. The term Gaudete refers to the first word of the Entrance Antiphon, "Rejoice". Rose vestments are worn to emphasize our joy that Christmas is near, and we also light the rose candle on our Advent wreath.
Today is the feast of St. Lucy which is superseded by the Sunday Liturgy.
Christ Even Now on the Way to Bethlehem
Evidently, in the mind of holy Church, neither the prophecy concerning Bethlehem Ephrata nor its fulfillment in the day of Caesar Augustus is to be considered merely a glorious divine disposition and achievement. No, the prophecy of Micheus is still being verified every day, but predominantly during the annual Advent season; for the selfsame incarnate eternal Son of God who journeyed to Bethlehem to be born there physically, now to the end of time comes to human souls as to spiritual Bethlehems, there to be born anew, again and again.
But be sure to picture these merciful spiritual journeyings of Christ to the Bethlehem of souls as all too often sadly realistic spiritual repetitions of His first long journey over the rugged road from Nazareth to Bethlehem. Meditate long on the wanton and malicious opposition He encounters on His way to them from souls that leave their senses and heart and mind to be ruled by earthly vanities, and their whole selves to be willing victims of the sensual and selfish illusions and witcheries of the seven capital vices.
Can you still fail to see why Isaias and the Baptist compare the hardships of the way of the world's Messiah-King to souls with a rough, crooked, and almost impassable road up steep hills and down precipitous valleys and through dangerous mountain passes? Do you wonder that these prophets of His coming insist so strongly that merely sentimental longings and routine prayers, however multiplied, cannot prepare us worthily for the entrance He must expect and the welcome He craves?
Pray very honestly, therefore, that you may begin to see the practical reasons for the Church's crying out in the desert world, and even into your own interior soul and heart:
"Prepare ye the way of the Lord: Make straight in the wilderness His paths; Every valley shall be exalted; Every mountain and hill shall be made low; And the crooked shall be made straight; And the rough ways plain" (Is. 40:3, 4). Then shall you see the salvation of God!
Commentary for the Readings in the Extraordinary Form:
Third Sunday of Advent
"I (John) am the voice of one crying in the desert,. . .but (pointing to Christ) in the midst of you there has stood One Whom you do not know" (Gospel).
This is known as "Rejoice" Sunday, from the opening word of the Introit. Despite our self-praised progress, real joy is missing from modern life. In such a "desert" we must look to Christ. Only He can "bring light to the darkness of our minds" (Prayer). Only He can bless, deliver and forgive (Offertory). Only He can "say to the faint-hearted, 'Take courage'" (Communion Verse).
During these days before Christmas "have no anxiety" about selecting or receiving mere tinsel gifts, but prepare "in. . .prayer. . .with thanksgiving" and "guard. . .your minds in Christ," the true source of our joy (Epistle).
Excerpted from My Sunday Missal, Confraternity of the Precious Blood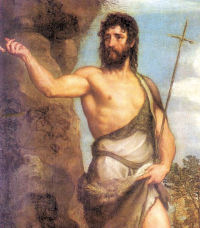 December 16: Freedom
Jeremiah 31:1–40; Romans 6:15–7:6; Proverbs 21:1–12
We like to think of ourselves as autonomous. Our modern culture champions freedom and the right to pursue happiness. But if we apply the concept of rights when we think about faith, following Christ can feel like religion, dogma, rules—a type of bondage that requires us to think and behave in ways that make our autonomous selves bridle.
Paul looks at the issue differently: "Do you not know that to whomever you present yourselves as slaves for obedience, you are slaves to whomever you obey, whether sin, leading to death, or obedience, leading to righteousness?" (Rom 6:16). He uses another analogy in his letter to the church in Rome—one that draws on the practice of the slavery within his own culture—to highlight the opposite view. If we live without God, he says, we have a debt that binds us. We are a slave to sin, and it's the type of bondage that leads to death.
Yet, there is hope. Although we were slaves to sin, we can be redeemed from that slavery. Christ has paid the debt we incurred. He has set us free and brought us into a new bondage—not one that binds to death, but one that binds us to Him in life. If we believe this is true and put our trust in Him, we are no longer slaves.
As redeemed people, we're called to a new life. While we once charted our own independent path—one that led to death—we can turn and follow a path that leads to sanctification and eternal life, a path that God charts just for us. While our path required a toll—death—Christ has paid that toll so we can walk in new life: "the gift of God is eternal life in Christ Jesus our Lord" (Rom 6:23).
How have your old habits and patterns of behavior changed now that you've been set free? What still needs to change to reflect your new loyalty to Christ?
REBECCA VAN NOORD
12/16/AM
"Come unto me."
—Mt 11:28
The cry of the Christian religion is the gentle word, "Come." The Jewish law harshly said, "Go, take heed unto thy steps as to the path in which thou shalt walk. Break the commandments, and thou shalt perish; keep them, and thou shalt live." The law was a dispensation of terror, which drove men before it as with a scourge; the gospel draws with bands of love. Jesus is the good Shepherd going before His sheep, bidding them follow Him, and ever leading them onwards with the sweet word, "Come." The law repels, the gospel attracts. The law shows the distance which there is between God and man; the gospel bridges that awful chasm, and brings the sinner across it.
From the first moment of your spiritual life until you are ushered into glory, the language of Christ to you will be, "Come, come unto me." As a mother puts out her finger to her little child and woos it to walk by saying, "Come," even so does Jesus. He will always be ahead of you, bidding you follow Him as the soldier follows his captain. He will always go before you to pave your way, and clear your path, and you shall hear His animating voice calling you after Him all through life; while in the solemn hour of death, His sweet words with which He shall usher you into the heavenly world shall be—"Come, ye blessed of my Father."
Nay, further, this is not only Christ's cry to you, but, if you be a believer, this is your cry to Christ—"Come! come!" You will be longing for His second advent; you will be saying, "Come quickly, even so come Lord Jesus." You will be panting for nearer and closer communion with Him. As His voice to you is "Come," your response to Him will be, "Come, Lord, and abide with me. Come, and occupy alone the throne of my heart; reign there without a rival, and consecrate me entirely to Thy service."
Third Sunday of Advent
The Presence of God
"Come to me, all you who are weary and are carrying heavy burdens, and I will give you rest." Here I am, Lord. I come to seek your presence. I long for your healing power.
Freedom
"In these days, God taught me as a schoolteacher teaches a pupil" (Saint Ignatius).
I remind myself that there are things God has to teach me yet, and I ask for the grace to hear those things and let them change me.
Consciousness
Help me, Lord, to be more conscious of your presence. Teach me to recognize your presence in others. Fill my heart with gratitude for the times your love has been shown to me through the care of others.
The Word
God speaks to each of us individually. I listen attentively to hear what he is saying to me. Read the text a few times; then listen.
Luke 3:10–18 
And the crowds asked him, "What then should we do?" In reply he said to them, "Whoever has two coats must share with anyone who has none; and whoever has food must do likewise." Even tax collectors came to be baptized, and they asked him, "Teacher, what should we do?" He said to them, "Collect no more than the amount prescribed for you." Soldiers also asked him, "And we, what should we do?" He said to them, "Do not extort money from anyone by threats or false accusation, and be satisfied with your wages." As the people were filled with expectation, and all were questioning in their hearts concerning John, whether he might be the Messiah, John answered all of them by saying, "I baptize you with water; but one who is more powerful than I is coming; I am not worthy to untie the thong of his sandals. He will baptize you with the Holy Spirit and fire. His winnowing fork is in his hand, to clear his threshing floor and to gather the wheat into his granary; but the chaff he will burn with unquenchable fire." So, with many other exhortations, he proclaimed the good news to the people.
John proclaimed good news to the people, but he did it "with many other exhortations." We participate with the good news by living as God's people. Might I consider this today—that I can be part of the good news for others?
The "people were filled with expectation." They knew that something worthwhile was coming. Do I go through a typical day expecting God to act—and expecting the Holy Spirit to show me what to do?
Conversation
Conversation requires talking and listening.
As I talk to Jesus, may I also learn to be still and listen.
I picture the gentleness in his eyes and the smile full of love as he gazes on me.
I can be totally honest with Jesus as I tell him of my worries and my cares.
I will open my heart to him as I tell him of my fears and my doubts.
I will ask him to help me place myself fully in his care and to abandon myself to him, knowing that he always wants what is best for me.
Conclusion
I thank God for these moments we have spent together and for any insights I have been given concerning the text.
Image: Domenico Ghirlandaio, Preaching of St. John the Baptist, 1490
Advent Action
Jane Tyson Clement
He who has come to men
dwells where we cannot tell
nor sight reveal him,
until the hour has struck
when the small heart does break
with hunger for him;
those who do merit least,
those whom no tongue does praise
the first to know him,
and on the face of the earth
the poorest village street
blossoming for him.
Source:Watch for the Light
The Daily Word of Hope Devotional
Did you know that God turned social outcasts into mighty men that killed giants? Many times He will use the least of the least to accomplish great things for Him. Read the message today to learn more.
The Giant Killers
David therefore departed there, and escaped to the cave of Adullam: and when his brothers and all his father's house heard it, they went down there to him. Everyone who was in distress, and everyone who was in debt, and everyone who was discontented, gathered themselves to him; and he became captain over them: and there were with him about four hundred men. 1 Samuel 22:1 WEB
Saul the king of Israel, became extremely jealous over his son-in-law David and his endless victories. He felt that David was after his throne, and that the people were beginning to support him. As Saul grew more and more bitter, he finally went berserk and tried to pin David to the wall with a spear. So David had to leave town in a hurry. He found somewhere safe for his parents, then he went and stayed in a cave hideout.
David was the original Robin Hood, an outlaw that king Saul wanted dead. Soon all the people who were outcasts, the black sheep, the unwanted, the bankrupt of the area, gathered to him and became a small army of four-hundred men. Later it grew to about six-hundred men (1Samuel 25:13).
David saw something in them, and he turned this group into 'mighty men' that would do anything for him. They became valiant fighters who never lost a battle. Some of these were said to be a match for a hundred men, while the strongest of them were a match for a thousand.
They became giant killers just like their leader David. Elhanan killed Goliath's brother (1Chronicles 20:5). Three of the men once heard David longing for water from the well in Bethlehem, which was occupied by an angry philistine army. They broke through the enemy lines and brought him some (2Samuel 23:15, 1Chronicles 11:17).
No matter where you stand today, or what you have got yourself into, God sees the potential inside of you. With a relationship with Him you can become so much more than you ever dreamed. You cannot even seen the true potential that is inside of you until He reveals it. God will make your failure become a victory, and no one can stand before you, when God Almighty is behind you.
Prayer: Heavenly Father I surrender to You. Here I am Lord, use me. Teach me what I need to know. Help me find my proper place, where You want me to be. Fulfill Your will in my life, in the name of Jesus Christ I pray.
Bible Fun Fact: The span of time between Joseph being sold into slavery and seeing his brothers again was just over 20 years.

'Move Beyond the God Talk'
Note from Jesus
Dear Partner in the Kingdom,
People can speak in "God talk" and live in anti-God ways. Unfortunately, Christmas is a time when a lot of that happens. This method of speaking goes all the way back to My birth and early days as a toddler. Herod had his religious wise guys use the writings of the prophets that are now in your Bible to determine the location of My birth so he could try to kill Me. This account of the despicable slaughter of boy babies is a reminder that knowing the Bible and engaging in "God talk" can be dangerous if your heart doesn't belong to the Father.
There is, however, another way to use the Scriptures. You can come to Me and let your faith in Me open your eyes to the full and powerful message of God that leads to life! Move beyond the "God talk" this Christmas: come and discover Me. "I am the way, the truth, and the life. No one can come to the Father except through Me" (John 14:6 NLT).
Verses to Live
As joyous as the story is for you, parts of My birth story are extremely sad for the Father and for some families in and around Bethlehem. Some people used the very Scriptures and words of the prophets — words intended to give them hope — to bring evil of the worst kind: murder.
Jesus was born in the town of Bethlehem, in the province of Judea, at the time when King Herod reigned. Not long after Jesus was born, magi, wise men or seers from the East, made their way from the East to Jerusalem. These wise men made inquiries.

Wise Men:

Where is this newborn, Who is the King of the Jews? When we were far away in the East we saw His star, and we have followed its glisten and gleam all this way to worship Him.

King Herod began to hear rumors of the wise men's quest, and he, and all of his followers in Jerusalem, were worried. So Herod called all of the leading Jewish teachers, the chief priests and head scribes, and he asked them where Hebrew tradition claimed the long-awaited Anointed One would be born.

Scribes and Priests:

An ancient Hebrew prophet, Micah, said this:

"But you, Bethlehem, in the land of Judah, are no poor relation — For from your people will come a Ruler Who will be the shepherd of My people Israel".

After a few months had passed, Herod realized he'd been tricked. The wise men were not coming back [to tell him exactly where Jesus was]. Herod, of course, was furious. He simply ordered that all boys who lived in or near Bethlehem and were two years of age and younger be killed. He knew the baby King was this age because of what the wise men told him.

This sad event had long been foretold by the prophet Jeremiah:

A voice will be heard in Ramah, weeping and wailing and mourning out loud all day and night. The voice is Rachel's, weeping for her children, her children who have been killed; she weeps, and she will not be comforted.
When My word is ignored, when the Father's will is abandoned, and when the Spirit's inspired message is used for evil, death can be the result. But, when you come to Me, believe in Me, and follow Me, the result is life. Here's what I said to some religious folks who were using Scripture to bring harm.
His [God's] word does not abide in you because you do not believe in the One sent by the Father. Here you are scouring through the Scriptures, hoping that you will find eternal life among a pile of scrolls. What you don't seem to understand is that the Scriptures point to Me. Here I am with you, and still you reject the truth contained in the law and prophets by refusing to come to Me so that you can have life.
(John 5:38-40)
Don't lose the focus of this season in a lot of religious words. Remember, the point of the season is to come to Me and find life!
Response in Prayer
Lord Jesus, I confess that I can sometimes get so caught up in trying to read the Bible that I forget to listen for You in the words that I read. Father God, thank You for having Your words come to life in Your Word, Jesus the Son. Thank You, Holy Spirit, for inspiring the message of God and breathing these words of life through people so we can understand the truth. But most of all, dear God, I pray that I keep Jesus as the center and use the Bible to help others find life. It is in Jesus' name, and by His authority that I pray. Amen.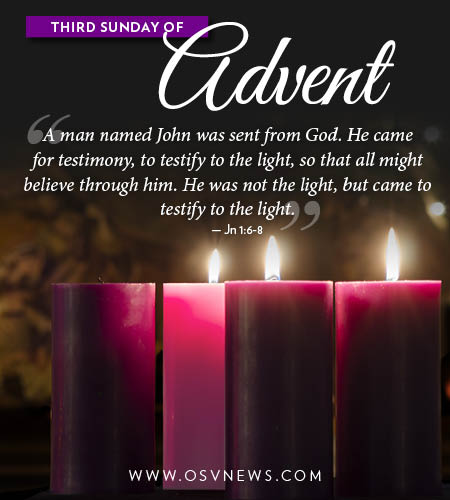 ….Now, our Guide, John, returns among us as I relight the first two candles in my wreath and prepare to light the third candle, the candle to symbolize my anticipation of His coming birth!  I renew my vows to pray each day, and to spend time with our Lord and Savior…and I add to this vow, a reliance on His promise to come again……yes, in just nine days, we will celebrate the anniversary of His birth!  Oh Joy, be with us!!!  Jesus, I promise to remember You, today and every day!!  And, during this season of giving, I will look to share even the little I have!  Amen!!