Theme:  Prepare Ye the Way!
"And he shall turn the hearts of the fathers to the children, and the hearts of the children to their fathers."  —Malachi 4:6
There's a breath of anticipation in the air as I relight the first three candles of my Advent wreath, renewing my commitment to daily prayer, repentance, and sharing.  As the flames flare, our secret Guide again appears, and I can hear his words in my ear, softly….
"Are you truly ready?  Are there any resentments or ill feelings in your families?  Is there unforgiveness and bitterness between members?  Then go!  Mend these rifts before it's too late!"
(Pause, as we consider these words…)
He again speaks…"If I am to complete my mission, then you must do your part….you must make every effort to break down any walls….forgive and ask forgiveness….hug someone you haven't hugged in awhile……do something nice for a family member you feel has wronged you….there's probably a family member, right now, just aching to feel your love and forgiveness!  Turn your hearts to each other in love and you will then truly be 'a people prepared for the Lord!'"
The candles swell as our Guide vanishes…
God of Love, as I light this fourth candle on the Advent Wreath, I promise to express my love in some specific way…this very day and night…to every member of my family!  Amen.
SUNDAY, DECEMBER 23
Fourth Sunday of Advent
The Presence of God
"I am standing at the door, knocking," says the Lord. What a wonderful privilege that the Lord of all creation desires to come to me. I welcome his presence.
Freedom
Leave me here freely all alone, / In cell where never sunlight shone. / Should no one ever speak to me, / This golden silence makes me free.
—Part of a poem written by a prisoner at Dachau concentration camp
Consciousness
How am I really feeling? Lighthearted? Heavyhearted? I may be very much at peace, happy to be here. Equally, I may be frustrated, worried, or angry. I acknowledge how I really am. It is the real me whom the Lord loves.
The Word
I take my time to read the Word of God, slowly, a few times, allowing myself to dwell on anything that strikes me.
Luke 1:39–45  
In those days Mary set out and went with haste to a Judean town in the hill country, where she entered the house of Zechariah and greeted Elizabeth. When Elizabeth heard Mary's greeting, the child leaped in her womb. And Elizabeth was filled with the Holy Spirit and exclaimed with a loud cry, "Blessed are you among women, and blessed is the fruit of your womb. And why has this happened to me, that the mother of my Lord comes to me? For as soon as I heard the sound of your greeting, the child in my womb leaped for joy. And blessed is she who believed that there would be a fulfillment of what was spoken to her by the Lord."
Two women meet, and each has received special blessing and calling from God. Perhaps this is what drew them together, what made Mary feel an urgency about visiting her cousin. This is but one example of God showing us how his holy will is accomplished not by a single person but in the context of community.
Have I recently spoken confirmation of another person's gift or role in a good endeavor? Whom have I called "blessed"?
Conversation
Do I notice myself reacting as I pray with the Word of God? Do I feel challenged, comforted, angry? Imagining Jesus sitting or standing by me, I speak out my feelings, as one trusted friend to another.
Conclusion
Glory be to the Father, and to the Son, and to the Holy Spirit,
As it was in the beginning, is now and ever shall be,
World without end. Amen.
Advent Action
NEW TESTAMENT
Hebrews 10:5–10
5 Wherefore when he cometh into the world, he saith, Sacrifice and offering thou wouldest not, but a body hast thou prepared me: 6 In burnt offerings and sacrifices for sin thou hast had no pleasure. 7 Then said I, Lo, I come (in the volume of the book it is written of me,) to do thy will, O God. 8 Above when he said, Sacrifice and offering and burnt offerings and offering for sin thou wouldest not, neither hadst pleasure therein; which are offered by the law; 9 Then said he, Lo, I come to do thy will, O God. He taketh away the first, that he may establish the second. 10 By the which will we are sanctified through the offering of the body of Jesus Christ once for all.
GOSPEL
Luke 1:39–45 (46–55)
39 And Mary arose in those days, and went into the hill country with haste, into a city of Juda; 40 And entered into the house of Zacharias, and saluted Elisabeth. 41 And it came to pass, that, when Elisabeth heard the salutation of Mary, the babe leaped in her womb; and Elisabeth was filled with the Holy Ghost: 42 And she spake out with a loud voice, and said, Blessed art thou among women, and blessed is the fruit of thy womb. 43 And whence is this to me, that the mother of my Lord should come to me? 44 For, lo, as soon as the voice of thy salutation sounded in mine ears, the babe leaped in my womb for joy. 45 And blessed is she that believed: for there shall be a performance of those things which were told her from the Lord.
[
46 And Mary said,
My soul doth magnify the Lord,
47 And my spirit hath rejoiced in God my Saviour.
48 For he hath regarded the low estate of his handmaiden:
For, behold, from henceforth all generations shall call me blessed.
49 For he that is mighty hath done to me great things;
And holy is his name.
50 And his mercy is on them that fear him
From generation to generation.
51 He hath shewed strength with his arm;
He hath scattered the proud in the imagination of their hearts.
52 He hath put down the mighty from their seats,
And exalted them of low degree.
53 He hath filled the hungry with good things;
And the rich he hath sent empty away.
54 He hath holpen his servant Israel,
In remembrance of his mercy;
55 As he spake to our fathers,
To Abraham, and to his seed for ever.
Revised Common Lectionary. (2009). Bellingham, WA: Faithlife.
Spurgeon's Morning and Evening Devotional
Luke 14:10
12/23/AM
"Friend, go up higher."
—Lu 14:10
When first the life of grace begins in the soul, we do indeed draw near to God, but it is with great fear and trembling. The soul conscious of guilt, and humbled thereby, is overawed with the solemnity of its position; it is cast to the earth by a sense of the grandeur of Jehovah, in whose presence it stands. With unfeigned bashfulness it takes the lowest room.
But, in after life, as the Christian grows in grace, although he will never forget the solemnity of his position, and will never lose that holy awe which must encompass a gracious man when he is in the presence of the God who can create or can destroy; yet his fear has all its terror taken out of it; it becomes a holy reverence, and no more an overshadowing dread. He is called up higher, to greater access to God in Christ Jesus. Then the man of God, walking amid the splendours of Deity, and veiling his face like the glorious cherubim, with those twin wings, the blood and righteousness of Jesus Christ, will, reverent and bowed in spirit, approach the throne; and seeing there a God of love, of goodness, and of mercy, he will realize rather the covenant character of God than His absolute Deity. He will see in God rather His goodness than His greatness, and more of His love than of His majesty. Then will the soul, bowing still as humbly as aforetime, enjoy a more sacred liberty of intercession; for while prostrate before the glory of the Infinite God, it will be sustained by the refreshing consciousness of being in the presence of boundless mercy and infinite love, and by the realization of acceptance "in the Beloved." Thus the believer is bidden to come up higher, and is enabled to exercise the privilege of rejoicing in God, and drawing near to Him in holy confidence, saying, "Abba, Father."
"So may we go from strength to strength,
And daily grow in grace,
Till in Thine image raised at length,
We see Thee face to face."
Verse of the Day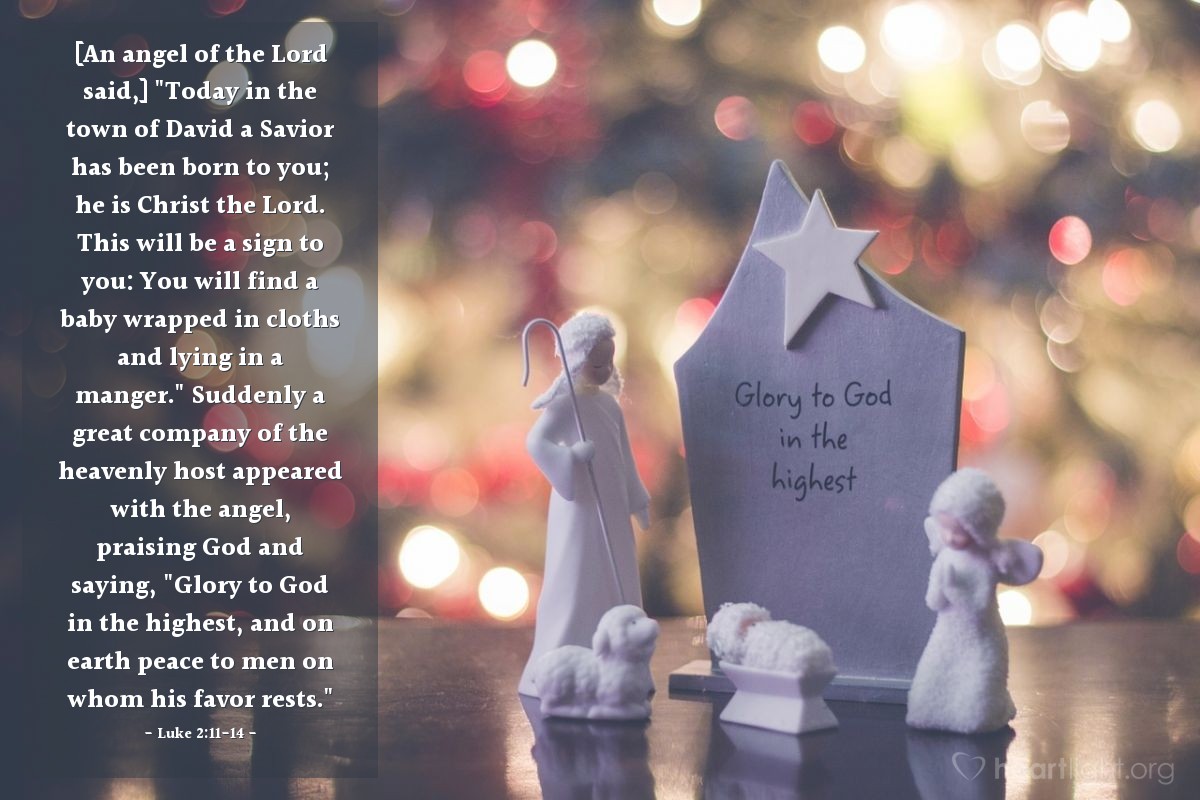 Thoughts on Today's Verse…
The sign to the shepherds was a baby in a feed trough. Pretty potent sign isn't it! The Almighty Creator of the universe sleeping where the sheep and goats have eaten their grain and hay. That God would love us so much as to reduce himself to such an inauspicious beginning reminds us why the angels praise him so. He is glorious and yet he chose not to hide or protect that glory, but instead he shared it so we could find it, too!
My Prayer…
God of the manger and Ruler of the constellations, I join my heart and my voice with the angels in praise to your glorious and holy name. Your sacrifice is so profound I am awe-struck. You could have chosen any sign to show Jesus to the shepherds, but you chose the manger. Thank you for revealing yourself in such a common place so I could find your sign and come home to you. I pray in Jesus' name with all my love. Amen.
Eberhard Arnold
The coming of the deliverer among people who groan under their need in loneliness and death must truly be a source of abundant joy. One is born who brings us the greatest thing of all: fellowship with the living God! Here is One who through his life and death brings God to all those who are willing to accept him. Christ's birth was a prelude to his death. The lowliness of his birth, the immediate persecution by Herod, and the terrible massacre at Bethlehem – these are the signs over the manger signifying the life that awaited him; they are the sign of the cross. But they are also the sign that the broken bond between us and God will be restored.
Source: When the Time Was Fulfilled
 'No Room!'
Note from Jesus
Dear Disciple,
Have you really made room in your heart for Me?
I'm not talking about thinking about Me during the Christmas season. I'm asking if you have given your heart to Me so that I can speak truth into your uncertainty, peace into your worry, hope into your discouragement, and joy into your sadness. To be My disciple means that you follow Me — you do what I've commanded, you follow My example, and you place Me above all other claims on your heart. So, have you made room in your heart for Me?
You see, I'm sure if folks had known Who I was before I was born that there would have been many people in Bethlehem who would have made room for My little family and Me. However, most were busy with guests in town for the census or working to make a little coin off the out-of-town folks who were crowding their streets. I came to town in the womb of a simple young Jewish woman, and no one noticed — at least not till the angels alerted the shepherds, and they began to tell their story. So there was no room for these two simple God-fearing people expecting their first child. There was no room for Me!
Today, however, I am asking if there is room in your heart for Me? I do not want a quick visit to fill your December with a touch of Christmas. I want to take up permanent residency so My character and compassion can permeate your heart. I want your heart to be My home until I can bring you home to the Father and you can be at home with Us.
I'm here. I'm near. So, have you made room for Me?
Verses to Live
Notice how simply Luke tells the story of My birth. Notice the sad state of affairs at the end!
Around the time of Elizabeth's amazing pregnancy and John's birth, the emperor in Rome, Caesar Augustus, required everyone in the Roman Empire to participate in a massive census— the first census since Quirinius had become governor of Syria. Each person had to go to his or her ancestral city to be counted.

Mary's fiancée Joseph, from Nazareth in Galilee, had to participate in the census in the same way everyone else did. Because he was a descendant of King David, his ancestral city was Bethlehem, David's birthplace. Mary, who was now late in her pregnancy that the messenger Gabriel had predicted, accompanied Joseph. While in Bethlehem, she went into labor and gave birth to her firstborn son. She wrapped the baby in a blanket and laid Him in a feeding trough because the inn had no room for them.
(Luke 2:1-7)
More than there not being room in the inn for Me, most folks did not have room in their hearts for Me. But for those who did… ah, focus on the following truth the apostle John states, for it applies for you, too!
He [Jesus] entered our world, a world He made; yet the world did not recognize Him. Even though He came to His own people, they refused to listen and receive Him. But for all who did receive and trust in Him, He gave them the right to be reborn as children of God; He bestowed this birthright not by human power or initiative but by God's will.
(John 1:10-13)
I'm knocking at the door of your heart. Have you made room for Me — not just at Christmas, but for always? Notice the promise that I made when you do make room for Me.
Now pay attention; I am standing at the door and knocking. If any of you hear My voice and open the door, then I will come in to visit with you and to share a meal at your table, and you will be with Me.
(Revelation 3:20)
Response in Prayer
O Father, I regret the many times I have let the busy-ness of my life and the burdens of my heart and the distractions of my selfishness crowd Jesus out of my heart. I intentionally open my heart, and I invite You into every part of my heart, Lord Jesus. I don't want You to be a temporary Christmas decoration in my life, but I want You to have Your way with my will, and I want Your life to be seen through what I do and say. I pray this to the Father, through the intercession of the Spirit, and in the mighty name of Jesus, the Son, and my Savior. Amen.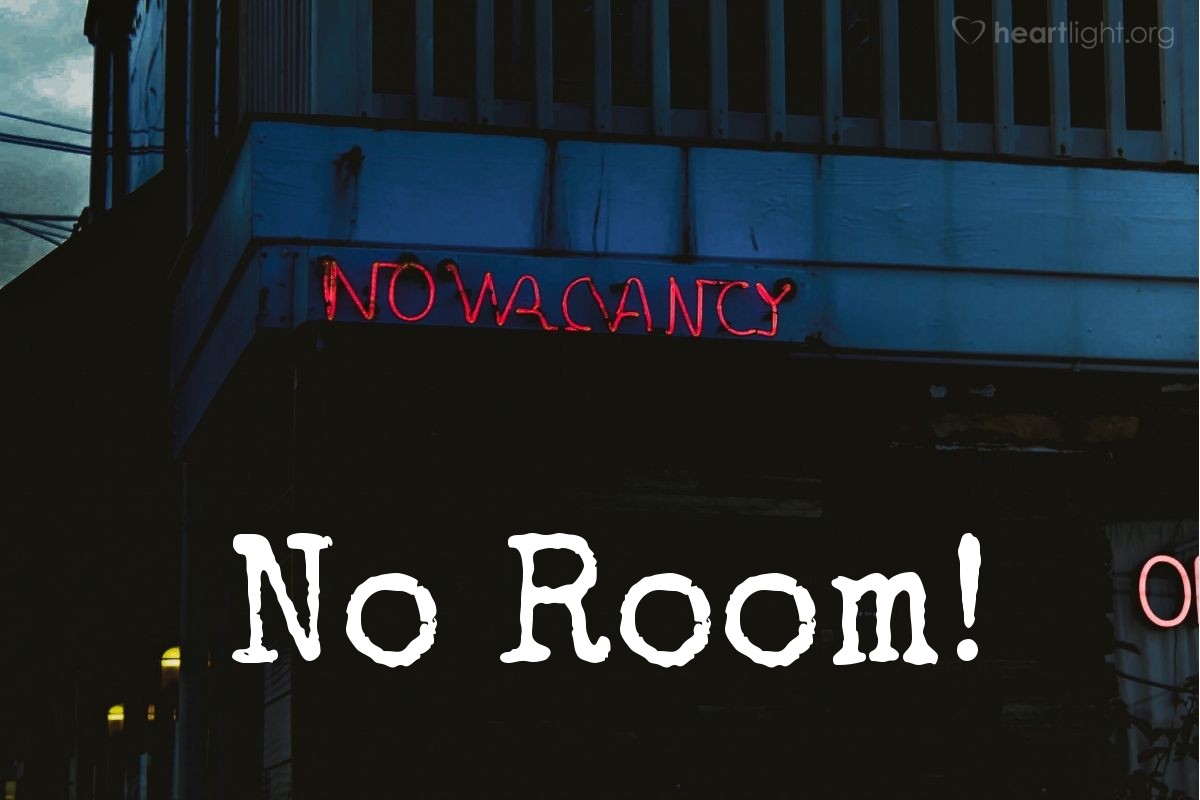 Should we do this? Is that the will of God? So many times we have asked ourselves that question. Here are somethings that we have learned along the way. Read the message today to learn more.
Hearing The Shepherd
and your ears shall hear a word behind you, saying, This is the way, walk you in it; when you turn to the right hand, and when you turn to the left. Isaiah 30:21 WEB
A shepherd herding sheep down a path does not have to interact that much, he just follows behind them watching. His presence is there, but he does not have to say anything. However if they come to a fork in the road, or a path leading off to the side, then the sheep may become confused and try and follow it. That is when the shepherd will have to correct them and bring them back on course.
The Lord is our Shepherd. In this verse, you are walking on the path of life, and if you begin to leave it and turn to the right or to the left, then you will hear the word of the Lord behind you saying: 'This is the way, walk in it.'
Many times we have prayed: 'Should we do this?' and just gotten silence. Over the years, there seems a pattern developing that if we are making the right decision, we often hear silence.
It is the times when we would have chosen the other path that He answers back in some way, a verse, a dream, a song, an impression. His word comes as a correction to our course, or encouragement when we are down, when we need it the most.
These days when we have to make a decision, we pray along these lines: 'Father we want Your will to be done in our lives, and unless You tell us clearly No, then we are going to go forward with this.' The times when we were about to make the wrong decision, instructions came to keep us on the path.
Prayer: Heavenly Father I pray for Your guidance. I want Your will to be done in my life. I choose You today and I want to stay on Your path. Help me make the right decisions. Walk with me, talk with me, guide me into all that You have for me, in the name of Jesus Christ I pray
Bible Fun Fact: The book of Malachi was written about 400 B.C. and considered the youngest book of the old testament.
FESTIVUS
Festivus is held on December 23 each year. In a 1997 episode of the popular television comedy, Seinfeld, this National Day was brought to the masses when Frank Costanza (played by Jerry Stiller) explains he invented the holiday in response to the commercialism of Christmas. Its slogan is "A Festivus for the rest of us."
HOW TO OBSERVE
Festivus traditions derived from the television episode and the original creator have been combined over the years.
The Festivus pole is an unadorned aluminum pole displayed in the home. In the O'Keefe household, there was no pole, but instead, a clock was placed in a bag and nailed to the wall.
The traditional dinner is served during the evening.
The Airing of Grievances occurs during dinner. Each person takes turns describing how the others have disappointed him or her over the past year.
Feats of Strength follows dinner and involves wrestling the head of the household. The holiday is not complete unless the head of the household is pinned. Failure to pin the head of the household could result in perpetual Festivus.
A Festivus Miracle is a frequent if unimpressive miracle. Carrying in all the groceries into the house for dinner without tripping or dropping one of the bags could be considered a Festivus Miracle.
Festivus Song by Danny Lutz
Festivus Song by Brett Houston
Use #Festivus to post on social media.
HISTORY
Created by Reader's Digest editor and author Daniel O'Keefe in response to family tension.  One of its central practices is the "airing of grievances."  It was first celebrated in February of 1966 but later was recognized as it is now, on December 23 in honor of O'Keefe's first date with his future wife.  The Seinfeld episode was written by O'Keefe's son.
God bless us, everyone!!