Daily Prayer for December 9
————————————————————
Christoph Friedrich Blumhardt
But if from there you seek the Lord your God, you will find him if you seek him with all your heart and with all your soul. Deuteronomy 4:29, NIV
Lord our God, we seek your face and long to find you. May we find you as your people found you in times past when you drew near with many signs and miracles. May our hearts come before you in awe and trust and draw their strength from you. May many in our time seek you and receive your comfort and help, for you provide strength and courage for the poor and destitute, for the suffering and the dying. Do not let our age pass by in vain, O great and almighty God. A new time must surely come, a new day must be born from this present age. This is your will, and in your will we trust. Amen.
Evelyn Underhill
The birth of Christ in our souls is for a purpose beyond ourselves: it is because his manifestation in the world must be through us. Every Christian is, as it were, part of the dust-laden air which shall radiate the glowing epiphany of God, catch and reflect his golden light. Ye are the light of the world – but only because you are enkindled, made radiant by the one light of the world. And being kindled, we have got to get on with it, be useful. As Christ said in one of his ironical flashes, "Do not light a candle in order to stick it under the bed!"
Source: Watch for the Light 
SUNDAY, DECEMBER 9
Second Sunday of Advent
The Presence of God
"Be still and know that I am God." Lord, your words lead us to the calmness and greatness of your presence.
Freedom
I am free. When I look at these words in writing, they seem to create in me a feeling of awe. Yes, a wonderful feeling of freedom. Thank you, God.
Consciousness
At this moment, Lord, I turn my thoughts to you. I will leave aside my chores and preoccupations. I will take rest and refreshment in your presence, Lord.
The Word
The Word of God comes down to us through the Scriptures. May the Holy Spirit enlighten my mind and my heart to respond to the Gospel teachings.
Luke 3:1–6  
In the fifteenth year of the reign of Emperor Tiberius, when Pontius Pilate was governor of Judea, and Herod was ruler of Galilee, and his brother Philip ruler of the region of Ituraea and Trachonitis, and Lysanias ruler of Abilene, during the high priesthood of Annas and Caiaphas, the word of God came to John son of Zechariah in the wilderness. He went into all the region around the Jordan, proclaiming a baptism of repentance for the forgiveness of sins, as it is written in the book of the words of the prophet Isaiah,
"The voice of one crying out in the wilderness:
'Prepare the way of the Lord,
make his paths straight.
Every valley shall be filled,
and every mountain and hill shall be made low,
and the crooked shall be made straight,
and the rough ways made smooth;
and all flesh shall see the salvation of God."
John, the cousin of Jesus, is a challenging figure. He, the messenger of God, is the sharpened arrow whose words pierce to the heart's core. Some people listened to his uncompromising message and changed the direction of their lives. But others resisted.
Lord, this Advent, give me a welcoming heart. Help me be open to the messengers of your word, especially to those whom, at first glance, I might resist, for they are your prophets today. They urge me to change my way of thinking and living.
Conversation
Begin to talk with Jesus about the Scripture you have just read. What part of it strikes a chord in you? Perhaps the words of a friend—or some story you have heard recently—will slowly rise to the surface of your consciousness. If so, does the story throw light on what the Scripture passage may be trying to say to you?
Conclusion
Glory be to the Father, and to the Son, and to the Holy Spirit,
As it was in the beginning, is now and ever shall be,
World without end. Amen.
Advent Action

Turning Christmas Chaos into Christmas Joy
Mary Southerland
Today's Truth
So they hurried off and found Mary and Joseph, and the baby, who was lying in the manger. When they had seen Him, they spread the word concerning what had been told them about this child, and all who heard it were amazed at what the shepherds said to them. But Mary treasured up all these things and pondered them in her heart. The shepherds returned, glorifying and praising God for all the things they had heard and seen which were just as they had been told (Luke 2:16-20, NIV).
Friend to Friend
According to the American Institute of Stress, more than 110 million Americans take medication for stress-related causes each week. During the holiday season, another one million people battle what experts refer to as the holiday blues.
I am very familiar with depression and the pain it holds and must constantly battle to stay out of that pit.
To deal with depression, we must first come to a place of total surrender to God and His plan of healing, even if we cannot see or understand that plan. The bottom line of God's heart toward His children is always restoration and healing.
While I am not a big fan of television, I do enjoy watching home improvement shows. On a recent program, an interior decorator and homeowner were discussing a list of changes that needed to be made in order to update the home.
"First, we have to do something about those windows," the decorator announced. I was surprised that she listed this task first – until I saw the house.
The existing glass was not only an ugly shade of gold, but it was thick and chunky as well. The windows let in no light and made it virtually impossible to see in or out. The result was a dark isolated home. The distressed homeowner protested, "But I like my privacy. And if I thought anyone could see in, I would feel totally exposed." When it comes to dealing with depression, many people feel the same way.
We construct walls over which no one can climb because the cost of friendship is too high. We fill the windows of our soul with emotional excuses in order to avoid dealing with pain. The result is darkness, loneliness, and missed opportunities for restoration. We don't want to understand depression or find the treasures of that darkness; we simply want to be rid of it.
Many people try to understand and deal with depression on a surface level – refusing to face painful experiences, difficult relationships, and the broken places where darkness lives. We look for the nearest exit, hoping to bypass transparency because the price is just too high to pay.
Emotional integrity is an essential step to dealing with depression. We must be real before we can be right. Until we are willing to risk being transparent, we can neither understand nor effectively deal with depression during the holidays or any other time of the year.
The holidays seem to tug at the masks we carefully hold in place and push the emotional buttons we desperately try to hide. The arrival of certain family members can resurrect painful issues that have never really been resolved. Financial pressure opens up like a sinkhole, waiting to steal our joy and destroy our peace. Schedules demand every ounce of energy, and false expectations leave us empty and hollow. The dark slimy pit waits for us to fall in.
We can choose to make this Christmas different. Choose to give God praise. Choose to focus on the victories and joys you have experienced during the year, and then find ways to share that victory and joy with others.
Christmas can be a true celebration of fresh starts and new beginnings if we choose to focus on a tiny baby born in a manger, come to save us and give us true life. The darkness can be destroyed if we choose to face and deal with whatever it holds.
Right now, choose an attitude of joy by focusing your mind on the things of heaven– not earth, and by fixing your heart on Jesus Christ. Your Christmas chaos will turn into Christmas joy!
Let's Pray
Father, I want this holiday season to be filled with light instead of darkness. Please help me discard my emotional masks and be real before You as well as my family and friends. Father, help me make this holiday season an offering of praise to You.
In Jesus' Name,
Amen.
Now It's Your Turn
Read Luke 2:1-16. Answer the following questions after reading the Christmas story.
What was the attitude of Mary and Joseph as they traveled to Bethlehem?
How did the shepherds react to the news of Jesus' birth? What did they do?
How would you describe the emotions and thoughts of Mary?
How can your choice to "ponder" the miracles of Jesus' birth change your perspective of the holidays?
Write a letter of commitment to Jesus, asking Him to empower the choices you have made. Make a plan or a list of "dos" and "don'ts" that will help you experience the best holiday season of your life. Include your family in making this plan, and make the commitment to hold each other accountable.
Verse of the Day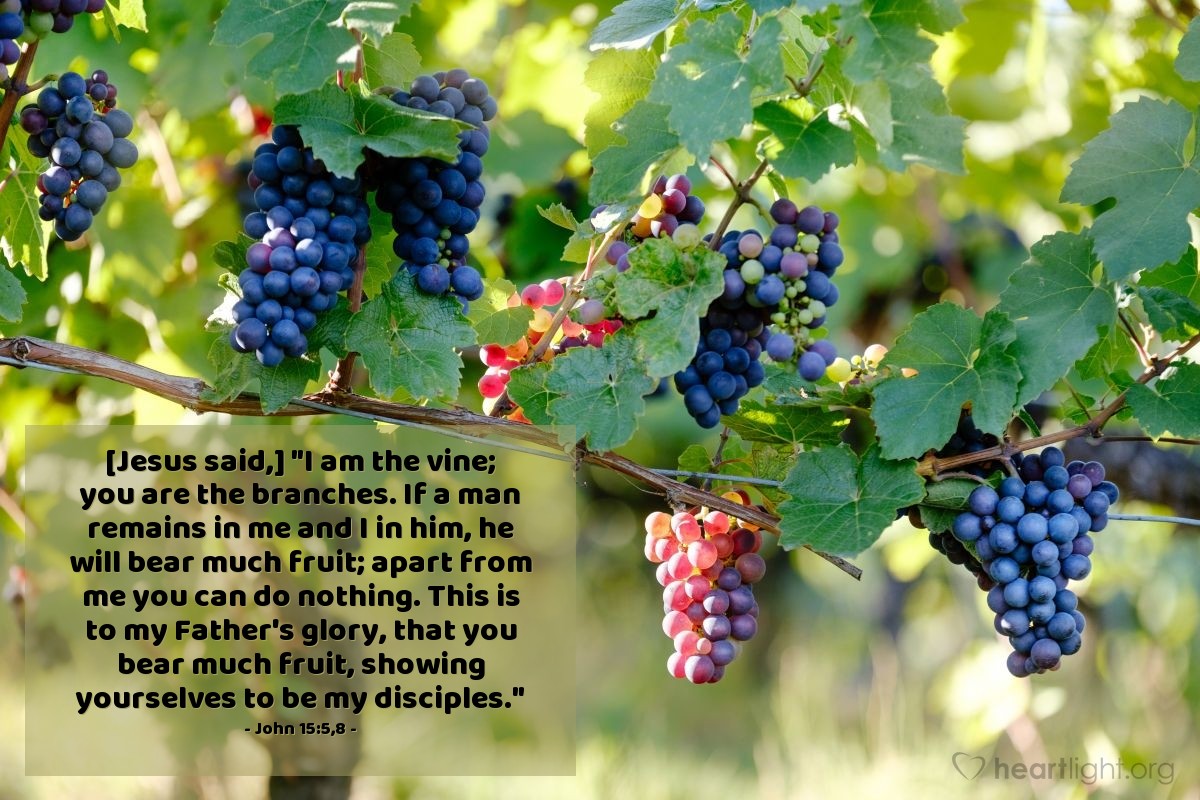 Thoughts on Today's Verse…
We take on Jesus' character (bear fruit) by remaining intimately connected to him. The distance between heaven and earth is not so great when heaven lives within us. In John 14, Jesus reminded us that if we will obey him, he will come and live in us and will reveal himself to us. So as we obey him, we know him better. His life becomes real in us.
My Prayer…
Precious Lord, I want to obey your word, your will, and your example. I want to obey you to honor you, to love you, and to know you. So please, help me better come to know you as I more closely walk in your steps. Help me to know what it means to live your life in my world. Because of Jesus' mighty name I pray and thank him as my Lord. Amen.
Some people are in such a dark place in their lives that they do not care what is coming after. How do you help them? Read the message today to learn more…
Hell on Earth
He said to them, 'Go into all the world, and preach the gospel to the whole creation.' Mark 16:15 WEB
Jesus spoke these words to the eleven Apostles before He ascended to heaven. There is so much that could be said about this, but today we cover 'The Gospel.' The word Gospel means 'glad tidings, good or joyful news.' We are to proclaim the 'good and joyful news' to the whole creation.
The good news is this: Lord Jesus the King is returning and His kingdom will be established on the earth, just as it is in heaven. He died to take away the sins of the world, and He will take yours away today if you let Him. The earth will be restored and become the paradise that it was created to be. The wolf and the lamb will graze together (Isaiah 11:6). The lion will eat grass. Children will be able to play with cobras (11:8). There will be no more sickness, pain, or death, no more child abuse, and no one will hurt anyone else.
Jesus gave a new commandment in John 13:34, to love one another. 'Just as I have loved you, you also are to love one another.' Then He said that all people will know that we are His disciples, if we love one another.
People today need faith, hope, and love more than ever before. I know from experience that people that have nothing to live for, are no longer threatened by hell. They feel they are already there. Like an injured animal backed into a corner, more threats will not help them come out of it. Many are already living in their own hell, right here on earth.
What hurting people need is a light in their darkness, a way out, hope. Jesus can give them that and make their life meaningful again. It is not too late. As long as you have breath, there is hope. So when you share the good and joyful news with someone, do it lovingly, or smile and say nothing at all.
Prayer: Heavenly Father please guide me today and help me make the right decisions. Let me see the hurting through Your eyes. Take away my pain and fill my heart with Your love. Speak to me and through me, in the name of Jesus Christ I pray.
Bible Fun Fact: Amen is the last word in the Bible and means: So be it.

Note from Jesus
Dear Child of God,
Glory? Glorious? "Gloria in Excelsis Deo"?
It was not too glorious if you look at the place where My birth happened! I was placed in a feed trough and wrapped in strips of cloth. By most measures, My birth was less than ordinary… it was something only the poor and outcast would have experienced. Most would have missed the glory of the moment when I entered the world in the same way you did — pushed into the harsh reality of life through the birth canal.
Being born in "less than royal" conditions, you might easily mistake My identity. I looked like any ordinary baby. But I had left the glory of heaven to accept the simple comforts of the manger and the loving arms of My mother, Mary, and My stepfather, Joseph. I came from the glory of God that shone long before the world began, yet I accepted the simplicity of the stable to connect with you. I wanted you to know that no matter where you are in society's pecking order — the high thread-count sheets of the rich and famous or the simple strips of cloth of the poor — I came for you. I wanted you to know that you are welcome in My Father's house even though I wasn't completely welcomed into the world I had made.
Glory? Glorious? "Gloria in Excelsis Deo"? Absolutely! Hear the angels. Watch the shepherds. Come to My manger and know you are gloriously loved.
Verses to Live
The glory that shone forth to those looking for it at my birth was a glory that I had before the world began and the glory that I came to share with you!
Suddenly, the angel was joined by a vast host of others — the armies of heaven — praising God and saying,

"Glory to God in highest heaven, and peace on earth to those with whom God is pleased."

[Jesus praying:] Now, Father, bring Me into the glory We shared before the world began.
(John 17:5 NLT)
So I ask you to redefine your concept of glory by what I did — don't cling to fleeting earthly glory, but walk beside and bend down to help those who need you to share My glory!
In other words, adopt the mind-set of Jesus the Anointed. Live with His attitude in your hearts. Remember:

Though He was in the form of God,
He chose not to cling to equality with God;

But He poured Himself out to fill a vessel brand new;
a servant in form
and a man indeed.

The very likeness of humanity,
He humbled Himself,
obedient to death —
a merciless death on the cross!

So God raised Him up to the highest place
and gave Him the name above all.

So when His name is called,
every knee will bow,
in heaven, on earth, and below.

And every tongue will confess
"Jesus, the Anointed One, is Lord,"
to the glory of God our Father.
Response in Prayer
Almighty God, Who became human flesh and came to us in Jesus, how can I thank You for Your indescribable gift? You are glorious, yet left heaven's glory. You are eternal, yet clothed yourself with mortality. You are all powerful, yet became vulnerable. You came to us as a baby placed in a manger to share our humanity so we can share Your glory. Open my heart to receive Your incredible gift of grace during this special time of year. Even more, help me see Your glory in the simplest things around me where You are at work. In the name of Jesus, I pray. Amen.
Illustration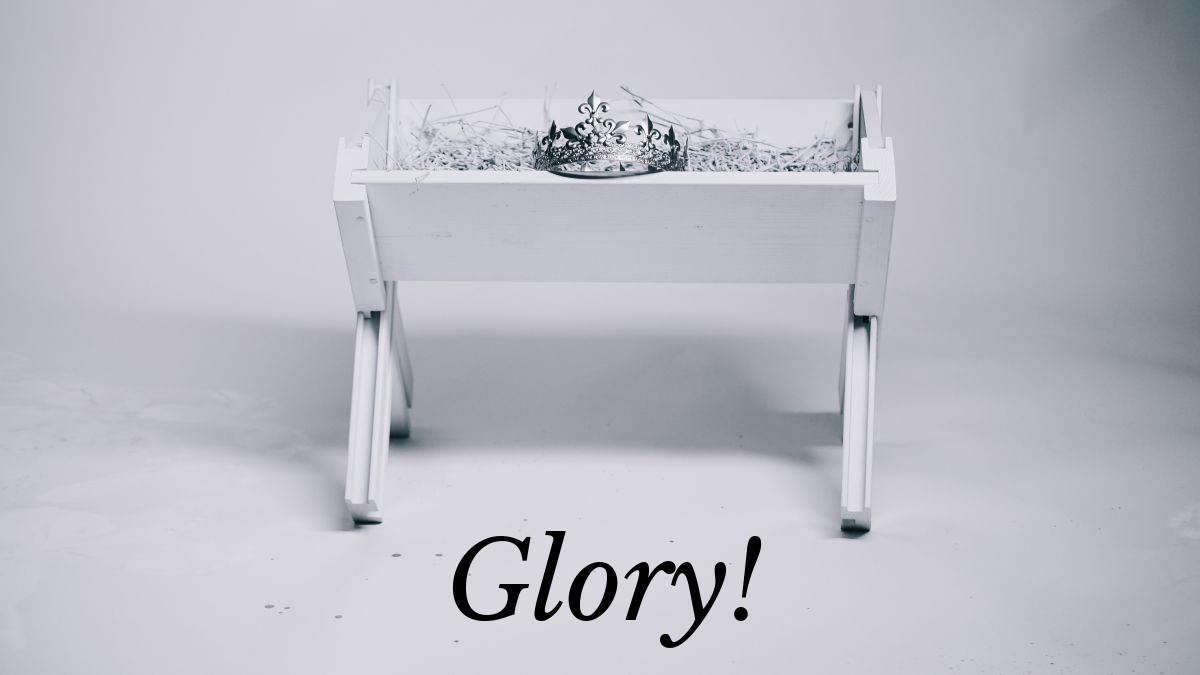 Morning….
"Therefore will the Lord wait that He may be gracious unto you."
—Isa 30:18
God often DELAYS IN ANSWERING PRAYER. We have several instances of this in sacred Scripture. Jacob did not get the blessing from the angel until near the dawn of day—he had to wrestle all night for it. The poor woman of Syrophenicia was answered not a word for a long while. Paul besought the Lord thrice that "the thorn in the flesh" might be taken from him, and he received no assurance that it should be taken away, but instead thereof a promise that God's grace should be sufficient for him. If thou hast been knocking at the gate of mercy, and hast received no answer, shall I tell thee why the mighty Maker hath not opened the door and let thee in? Our Father has reasons peculiar to Himself for thus keeping us waiting. Sometimes it is to show His power and His sovereignty, that men may know that Jehovah has a right to give or to withhold. More frequently the delay is for our profit. Thou art perhaps kept waiting in order that thy desires may be more fervent. God knows that delay will quicken and increase desire, and that if He keeps thee waiting thou wilt see thy necessity more clearly, and wilt seek more earnestly; and that thou wilt prize the mercy all the more for its long tarrying. There may also be something wrong in thee which has need to be removed, before the joy of the Lord is given. Perhaps thy views of the Gospel plan are confused, or thou mayest be placing some little reliance on thyself, instead of trusting simply and entirely to the Lord Jesus. Or, God makes thee tarry awhile that He may the more fully display the riches of His grace to thee at last. Thy prayers are all filed in heaven, and if not immediately answered they are certainly not forgotten, but in a little while shall be fulfilled to thy delight and satisfaction. Let not despair make thee silent, but continue instant in earnest supplication.
v8-18 The Jews were the only professing people God then had in the world, yet many among them were rebellious. They had the light, but they loved darkness rather. The prophets checked them in their sinful pursuits, so that they could not proceed without fear; this they took amiss. But faithful ministers will not be driven from seeking to awaken sinners. God is the Holy One of Israel, and so they shall find him. They did not like to hear of his holy commandments and his hatred of sin; they desired that they might no more be reminded of these things. But as they despised the word of God, their sins undermined their safety. Their state would be dashed in pieces like a potter's vessel. Let us return from our evil ways, and settle in the way of duty; that is the way to be saved. Would we be strengthened, it must be in quietness and in confidence, keeping peace in our own minds, and relying upon God. They think themselves wiser than God; but the project by which they thought to save themselves was their ruin. Only here and there one shall escape, as a warning to others. If men will not repent, turn to God, and seek happiness in his favour and service, their desires will but hasten their ruin. Those who make God alone their confidence, will have comfort. God ever waits to be gracious to all that come to him by faith in Christ, and happy are those who wait for him.
December 9: Self-Evident Hope
Jeremiah 16:1–17:27; Romans 1:18–2:11; Proverbs 16:1–11
"For the wrath of God is revealed from heaven against all impiety and unrighteousness of people, who suppress the truth in unrighteousness, because what can be known about God is evident among them, for God made it clear to them" (Rom 1:18–19). A statement like this could easily be taken out of context if we leave off everything after "people." But when we contextualize this message, we find hope instead of hopelessness.
Paul goes on to tell us that creation itself reveals God and His goodness to humanity, so there is no excuse for failing to understand God and the salvation He offers: "For from the creation of the world, his invisible attributes, both his eternal power and deity, are discerned clearly, being understood in the things created, so that they are without excuse" (Rom 1:20).
We have all heard people who are concerned that salvation seems unfair: What about the people who won't ever hear about Jesus? Yet Paul argues that everyone has an opportunity to witness Christ at work in creation itself. In Colossians he remarks that it's in the "Son [Jesus] … whom we have the redemption, the forgiveness of sins, who is the image of the invisible God, the firstborn over all creation, because all things in the heavens and on the earth were created by him, things visible and things invisible, whether thrones or dominions or rulers or powers, all things were created through him and for him" (Col 1:13–16).
All people have an opportunity to know God. No one has an excuse. God's justice reigns in creation; it reigns in Christ; and it reigns in the lives of those who choose Christ. Christ is everywhere, in all things. The world is not condemned unfairly by a God of unreasonable wrath; instead, it's ruled by a God of joy and empathy who is love.
What misperceptions do you have of God? How can you correct them and work in the lives of others to do the same? How can you spread the empathy God wants you to display?
Peace be with you…..My Peace I give you, My Peace I leave……..Happy Second Sunday of Advent!!!