Christoph Friedrich Blumhardt
Come, let us bow down in worship, let us kneel before the Lord our Maker; for he is our God and we are the people of his pasture, the flock under his care. Psalm 95:6–7, NIV
Lord our God, strengthen in us all that comes from you and is eternal, all that is good and right and genuine. Let this shape our outward life and help us triumph over need and death. Help us to wait quietly, even when we don't know the answers to our questions, because we are certain that the outcome will be good and life-giving, to the glory of your Spirit and your name. We entrust ourselves to your hands. Stay with us, that we may receive your calling for our lives. Stay with us, so that in all our work and activity we may be aware of your guiding Spirit at work in our hearts. Amen.
TODAY'S DAILY DIG
Do we believe that the Holy Spirit will be increasingly poured out over the church? Do we believe that Jesus comes into our midst, that he opens his heart to us so that we may live as he did and have an influence in society as he did? Do we dare to carry out the task as his church in his coming kingdom, to be a corrective within society through the grace of the indwelling Christ? Do we dare to live a life of love in the midst of the world, giving up all privilege and even the right to our possessions? Are we ready, completely defenseless, to follow Jesus?
Source: God's Revolution
Saint Veronica Giuliani
Saint of the Day for 
July 10
(

December 27, 1660

 – 

July 9, 1727

)
https://www.franciscanmedia.org/wp-content/uploads/2016/08/SODJul10.mp3
Saint Veronica Giuliani's Story
Veronica's desire to be like Christ crucified was answered with the stigmata.
Veronica was born in Mercatelli, Italy. It is said that when her mother Benedetta was dying she called her five daughters to her bedside and entrusted each of them to one of the five wounds of Jesus. Veronica was entrusted to the wound below Christ's heart.
At the age of 17, Veronica joined the Poor Clares directed by the Capuchins. Her father had wanted her to marry, but she convinced him to allow her to become a nun. In her first years in the monastery, she worked in the kitchen, infirmary, sacristy, and also served as portress. At the age of 34, she was made novice mistress, a position she held for 22 years. When she was 37, Veronica received the stigmata. Life was not the same after that.
Church authorities in Rome wanted to test Veronica's authenticity and so conducted an investigation. She lost the office of novice mistress temporarily and was not allowed to attend Mass except on Sundays or holy days. Through all of this Veronica did not become bitter, and the investigation eventually restored her as novice mistress.
Though she protested against it, at the age of 56 she was elected abbess, an office she held for 11 years until her death. Veronica was very devoted to the Eucharistand to the Sacred Heart. She offered her sufferings for the missions, died in 1727, and was canonized in 1839. Her Liturgical Feast Day is July 9.
---
Reflection
Why did God grant the stigmata to Francis of Assisi and to Veronica Giuliani? God alone knows the deepest reasons, but as Celano points out, the external sign of the cross is a confirmation of these saints' commitment to the cross in their lives. The stigmata that appeared in Veronica's flesh had taken root in her heart many years before. It was a fitting conclusion for her love of God and her charity toward her sisters.

God's Holy Fire:

 'Grieving the Holy Spirit'

[God] said, "Without question these are my people, children who would never betray me." So he became their Savior. In all their troubles, he was troubled, too. He didn't send someone else to help them. He did it himself, in person. Out of his own love and pity he redeemed them. He rescued them and carried them along for a long, long time. But they turned on him; they grieved his Holy Spirit. So he turned on them, became their enemy and fought them.
Key Thought
When we rebel against God, when we ignore his mercy and grace, when we do not do his will, we grieve the Holy Spirit. Immoral behavior and social injustice in Isaiah's day grieved the Holy Spirit. Paul also said that the way we use our speech and the ways we treat and interact with others could grieve the Spirit (
Ephesians 4:29-31
). The key message from God that I hear in this passage is powerful and plain: When I sin, when I am not compassionate, and when I am careless with my words, I am not just breaking the will of God, but I am also breaking the heart of the Holy Spirit of God.
Today's Prayer
O God, Abba Father, gracious Son, and abiding Holy Spirit, please forgive me for my reckless words and rebellious behaviors that break your heart and wound your people. Amen.
And there was evening and there was morning, the first day.
The evening was "darkness," and the morning was "light," and yet the two together are called by the name that is given to the light alone! This is somewhat remarkable, but it has an exact analogy in spiritual experience. In every believer there is darkness and light, and yet he is not to be named a sinner because there is sin in him, but he is to be named a saint because he possesses some degree of holiness. This will be a most comforting thought to those who are mourning their infirmities and who ask, "Can I be a child of God while there is so much darkness in me?" Yes; like the "day," you do not take your name from the evening, but from the morning; and you are spoken of in the Word of God as if you were even now perfectly holy, as you will be soon.
You are called the child of light, even though there is darkness in you still. You are named after what is the predominating quality in the sight of God, which will one day be the only principal remaining. Notice that the evening comes first. Naturally we are darkness first in order of time, and the gloom is often first in our mournful apprehension, driving us to cry out in deep humiliation, "God, be merciful to me, a sinner."1
The place of the morning is second; it dawns when grace overcomes nature. It is a blessed maxim of John Bunyan, "That which is last, lasts forever." That which is first yields in due season to the last; but nothing comes after the last. So though you are naturally darkness, once you become light in the Lord, there is no evening to follow; "your sun shall no more go down."2 The first day in this life is an evening and a morning; but the second day, when we shall be with God forever, shall be a day with no evening, but one, sacred, high, eternal noon.
1) Luke 18:13
2) Isaiah 60:20
Verse of the Day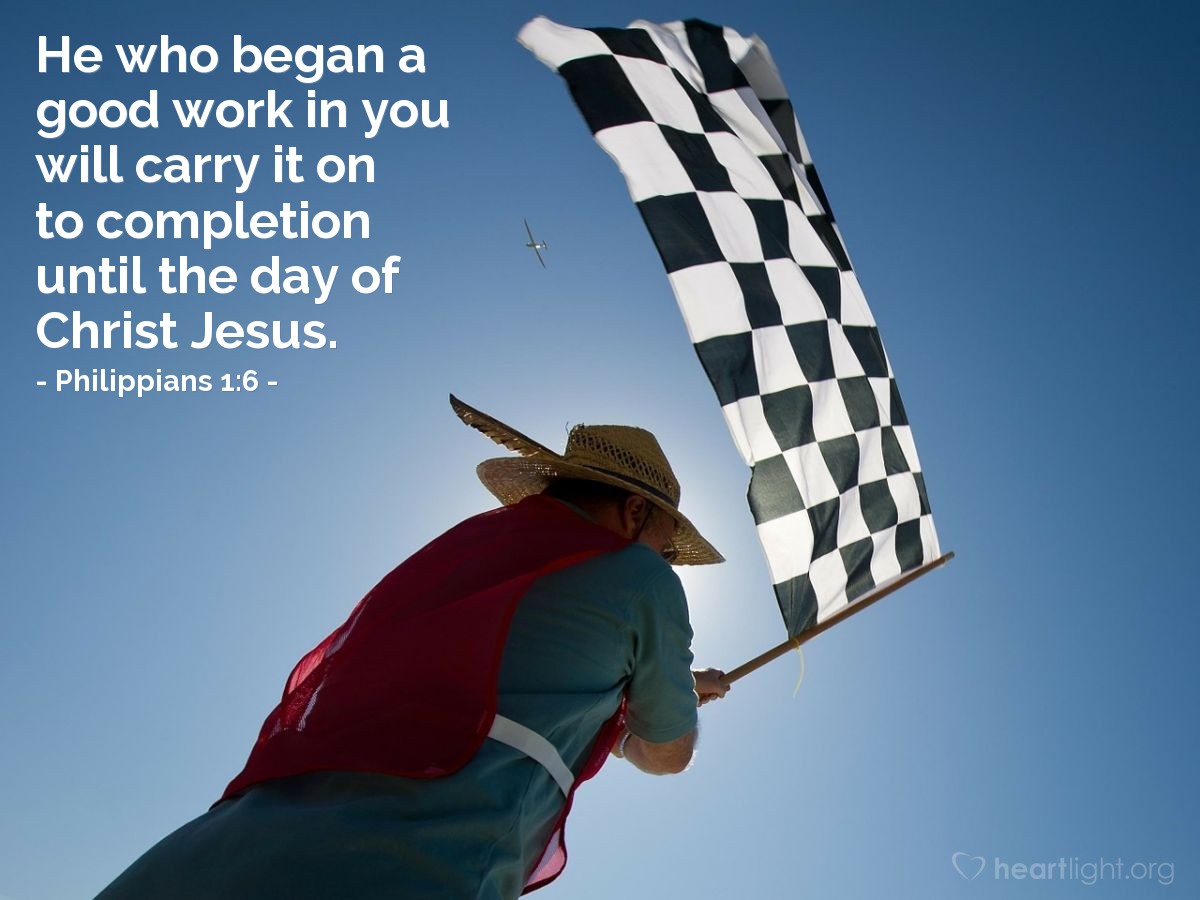 Thoughts on Today's Verse…
God finished his creation work in the world in 6 days. He sustains it with his powerful word. He is still working on us and in us and he will continue to work his will in us to his glory (see Philippians 2:12-13) until Christ comes to take us home!
My Prayer…
Thank you Father, for being at work in my life. I confess that at times you seem distant, but looking back over the crucial moments of my life, I can see your fingerprints and your grace leading me to where I am today. Dear Father, please make your presence even more powerfully known in my life as I seek your will and commit to live to your glory. In the name of Jesus my Lord I pray. Amen.
NATIONAL PINA COLADA DAY
National Pina Colada Day is observed annually on July 10th.  The Pina Colada is a sweet, rum-based cocktail.  Along with rum, a Pina Colada includes cream of coconut and pineapple juice and is usually served blended or shaken with ice.
Pina Colada means 'strained pineapple,' a reference to the freshly pressed and strained pineapple juice used in the drink.
There are different claims to the invention of the Pina Colada beginning in 1952 in San Juan, each sticking to their story.  The truth is that pineapple and rum have been together from the beginning of the distillation of rum.  The first written reference to a Pina Colada was in 1922.  This recipe, however, did not include coconut.
HOW TO OBSERVE
On National Pina Colada Day, you do not have to be sitting on a beach or the deck of a cruise ship.  You can enjoy a nice tall, cool Pina Colada where ever you are! (Remember to drink responsibly and never drink and drive!) Use #NationalPinaColadaDay to share on social media.

HISTORY
Within our research, we were unable to identify the creator of National Pina Colada Day.