Christoph Friedrich Blumhardt
The righteous cry out, and the Lord hears them; he delivers them from all their troubles. The Lord is close to the brokenhearted and saves those who are crushed in spirit. Psalm 34:17–18, NIV
Lord our God, our Father in heaven and on earth, we are thankful that you have a people to whom you say, "You are mine." Grant that we too may belong to this people. Strengthen us in the faith that we belong to you, so that we can come to know your rule and your justice. Protect us on all the paths we follow during our time on earth. The times are evil, but come what may, every single one of us has in his heart the certainty, "We are yours." You have long watched over us and kept us safe. Again and again we affirm, "We are yours, Lord our God, through Jesus Christ our Savior." Amen.
TODAY'S DAILY DIG
Here is a letter we received today: "I took a gentleman seemingly in need of spiritual and temporal guidance into my home on a Sunday afternoon. I let him have a nap on my bed, went through the want ads with him, made coffee and sandwiches for him, and when he left, I found my wallet had gone also." I can only say that the saints would only bow their heads, and not try to understand or judge.…These things happened for our testing. We are sowing the seed of love, and we are not living in the harvest time. We must love to the point of folly, and we are indeed fools, as our Lord himself was who died for such a one as this.
Source: Called to Community
Verse of the Day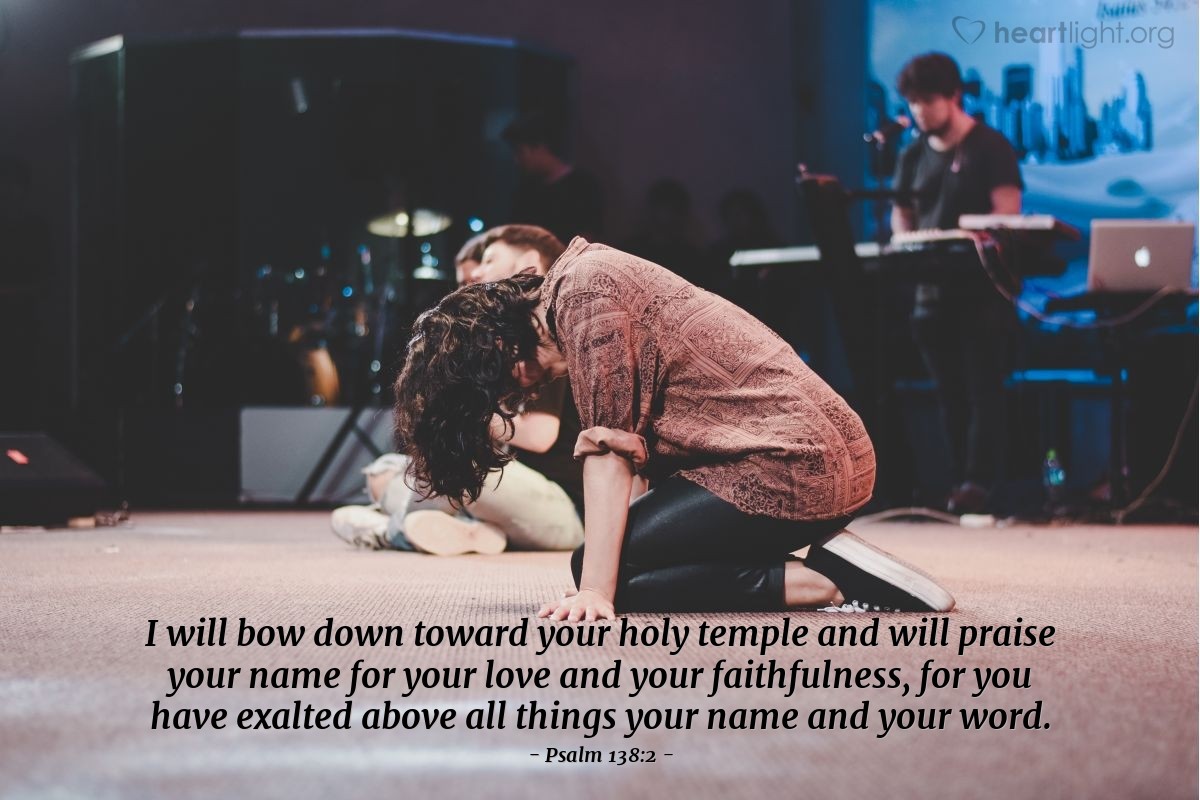 Thoughts on Today's Verse…
For Christians, God's temple is one of two related things: either the Christian's body (1 Cor. 6:19-20) or the group of people who make up his Church (1 Cor. 3:16). Because of the flaws in people who make up our churches, many are hypercritical of their hypocrisy. But God's Church is precious to him, and should be to us. Anyone who destroys his Church through division will be utterly destroyed. God's faithfulness to his people is seen in his preservation of the Church through all the ravages and persecutions of history and his patience with the flawed people who are in his Church. But, God is still the center of the Church and he alone is to be exalted. The Church is still to be governed by his Word and not just their own will.
My Prayer…
Holy and incomparable God, I praise you for your steadfast love and faithfulness revealed in your preservation of your Church through all the years of history. I will cherish your Church and do all I can to help it grow and mature to become more like Jesus. I recognize that you and you alone are to be exalted above all other things and that church must never be more important than your will revealed in your word. Give me the courage to be true to you even if the church with whom I'm involved may not completely honor you. Through Jesus I pray. Amen.
Saint Gregory Grassi and Companions
Saint of the Day for 
July 8
(d. 
July 9, 1900

)

https://www.franciscanmedia.org/wp-content/uploads/2016/08/SODJul08.mp3
Saint Gregory Grassi and Companions' Story
Christian missionaries have often gotten caught in the crossfire of wars against their own countries. When the governments of Britain, Germany, Russia, and France forced substantial territorial concessions from the Chinese in 1898, anti-foreign sentiment grew very strong among many Chinese people.
Gregory Grassi was born in Italy in 1833, ordained in 1856, and sent to China five years later. Gregory was later ordained Bishop of North Shanxi. With 14 other European missionaries and 14 Chinese religious, he was martyred during the short but bloody Boxer Uprising of 1900.
Twenty-six of these martyrs were arrested on the orders of Yu Hsien, the governor of Shanxi province. They were hacked to death on July 9, 1900. Five of them were Friars Minor; seven were Franciscan Missionaries of Mary—the first martyrs of their congregation. Seven were Chinese seminarians and Secular Franciscans; four martyrs were Chinese laymen and Secular Franciscans. The other three Chinese laymen killed in Shanxi simply worked for the Franciscans and were rounded up with all the others. Three Italian Franciscans were martyred that same week in the province of Hunan. All these martyrs were beatified in 1946, and were among the 120 martyrs canonized in 2000.
---
Reflection
Martyrdom is the occupational hazard of missionaries. Throughout China during the Boxer Uprising, five bishops, 50 priests, two brothers, 15 sisters and 40,000 Chinese Christians were killed. The 146,575 Catholics served by the Franciscans in China in 1906 had grown to 303,760 by 1924, and were served by 282 Franciscans and 174 local priests. Great sacrifices often bring great results.

What Jesus Did!

 'A Heavier Judgment on Teachers and Leaders!'

"You were born a total sinner!" [the Jewish leaders answered to the man who had been healed of his blindness]. "Are you trying to teach us?" And they threw him out of the synagogue.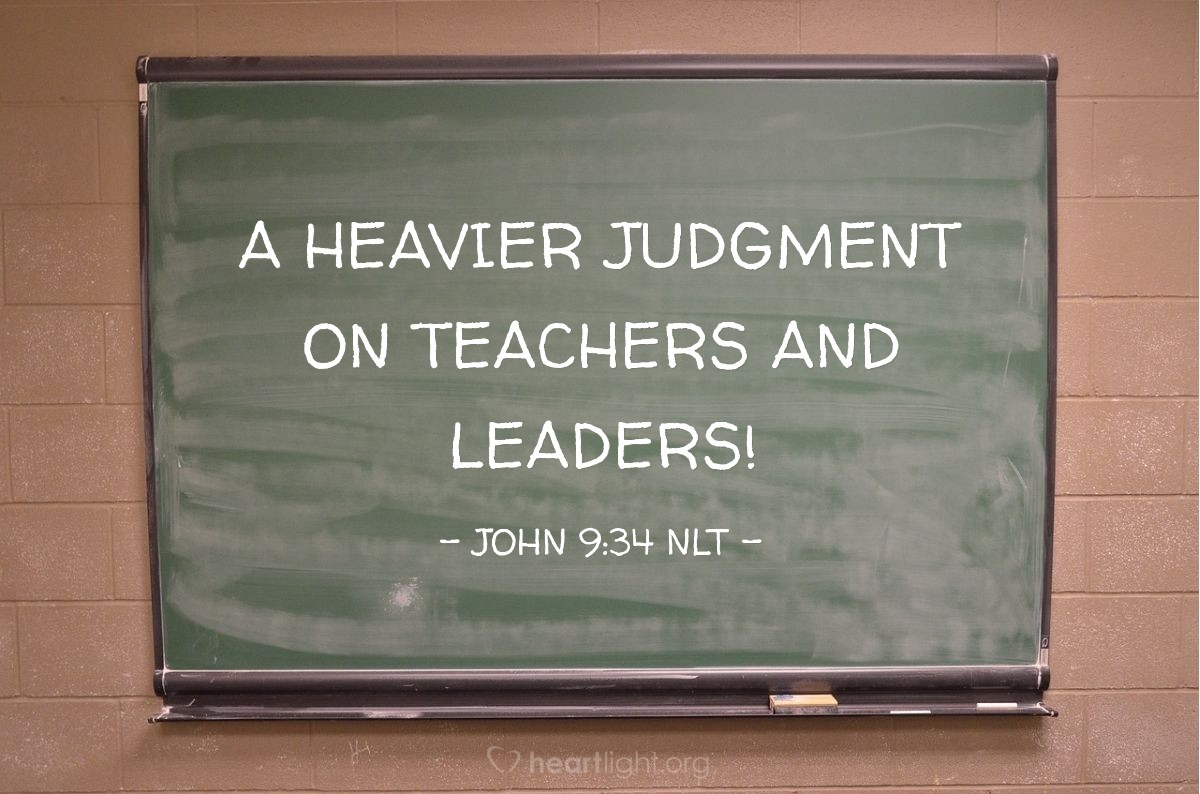 Key Thought
God despises the abuse of power. He repeatedly warned against it in Old Testament times, and he warns those who teach and lead in his Kingdom that they had better do so honorably or they will stand under harsher judgment. When these religious authorities cannot discount the truth of the healed man's statements and they cannot discredit Jesus, they resort to shaming the man and to expelling him from their society. In other words, they want to get rid of the witness and the evidence. Such behavior is damnable. If we are leaders, let's be warned of how awful such behavior is and how God abhors it.
Today's Prayer
Almighty and holy Father, please give me the courage to always look for truth. Help me never be so self-deceived that I resort to such deplorable actions as these religious leaders. Give me a teachable heart that yearns for your truth. In Jesus' name. Amen.
Related Scripture Readings
DAILY DEVOTIONAL JULY 8, 2018
Lead me in your truth and teach me,
for you are the God of my salvation;
for you I wait all the day long.
Psalms 25:5
When the believer has begun with trembling feet to walk in the way of the Lord, he still asks to be led onward like a little child upheld by its parent's helping hand, and he yearns to receive further instruction in the alphabet of truth. Experimental teaching is the burden of this prayer. David knew much, but he felt his ignorance and desired to be still in the Lord's school: four times over in two verses he applies for a scholarship in the college of grace. It would be better for many professors if instead of following their own devices and cutting out new paths of thought for themselves, they would inquire for the good old ways of God's own truth and beseech the Holy Ghost to give them sanctified understandings and teachable spirits.
"For you are the God of my salvation." Jehovah is the Author and Perfecter of salvation to His people. Reader, is He the God of your salvation? Do you find in the Father's election, in the Son's atonement, and in the Spirit's quickening all the grounds of your eternal hopes? If so, you may use this as an argument for obtaining further blessings; if the Lord has ordained to save you, surely He will not refuse to instruct you in His ways. It is a happy thing when we can address the Lord with the confidence that David displays here; it gives us great power in prayer and comfort in trial.
"For you I wait all the day long." Patience is the fair handmaid and daughter of faith; we cheerfully wait when we are certain that we shall not wait in vain. It is our duty and our privilege to wait upon the Lord in service, in worship, in expectancy, in trust all the days of our life. Our faith will be tried faith, and if it is of the true kind, it will bear continued trial without yielding. We shall not grow weary of waiting upon God if we remember how long and how graciously He once waited for us.
National Chocolate with Almonds Day is observed annually on July 8th. What a great combination to enjoy. It is also filled with added health benefits!
When it comes to adding almonds to chocolate, the options are plentiful. From cakes to chocolate bars, puddings to cookies we can celebrate National Chocolate with Almonds Day with snacks and desserts galore!
HEALTH BENEFITS OF ALMONDS:
reduce the risk of heart attack
lower 'bad' cholesterol
protects artery walls from damage
help build healthy bones and teeth
provide healthy fats and aid in weight loss
lower the rise in blood sugar and insulin after meals
help provide good brain function
nourish the nervous system
alkalize the body
HOW TO OBSERVE
To celebrate here is a Chocolate Almond Cake recipe for you to enjoy. Post photos on social media using #ChocolateWithAlmondsDay.
HISTORY
Within our research, we were unable to identify the creator of National Chocolate with Almonds Day.