Christoph Friedrich Blumhardt
So let us come near to God with a sincere heart and a sure faith, with hearts that have been purified from a guilty conscience and with bodies washed with clean water. Hebrews 10:22, TEV
Lord our God, grant us true unity with your Son Jesus Christ, so that his power can be revealed in us and we may find new life in which we can truly serve you. Protect us from all error. Be among us with your Spirit to make us people who are genuine. Let your will be carried out more and more in this age. Let your will again intervene so that a new creation may come, a new heaven and a new earth, as we have been promised. May your name be great among us, may your kingdom come and everything in heaven and on earth be done according to your will. Amen.
TODAY'S DAILY DIG
But if Christ is amongst us, then it is necessary that we sometimes yield up our own opinion for the sake of peace. Who is so wise as to have perfect knowledge of all things? Therefore trust not too much to thine own opinion, but be ready also to hear the opinions of others. Though thine own opinion be good, yet if for the love of God thou foregoest it, and followest that of another, thou shalt the more profit thereby.
Source: The Imitation of Christ
Verse of the Day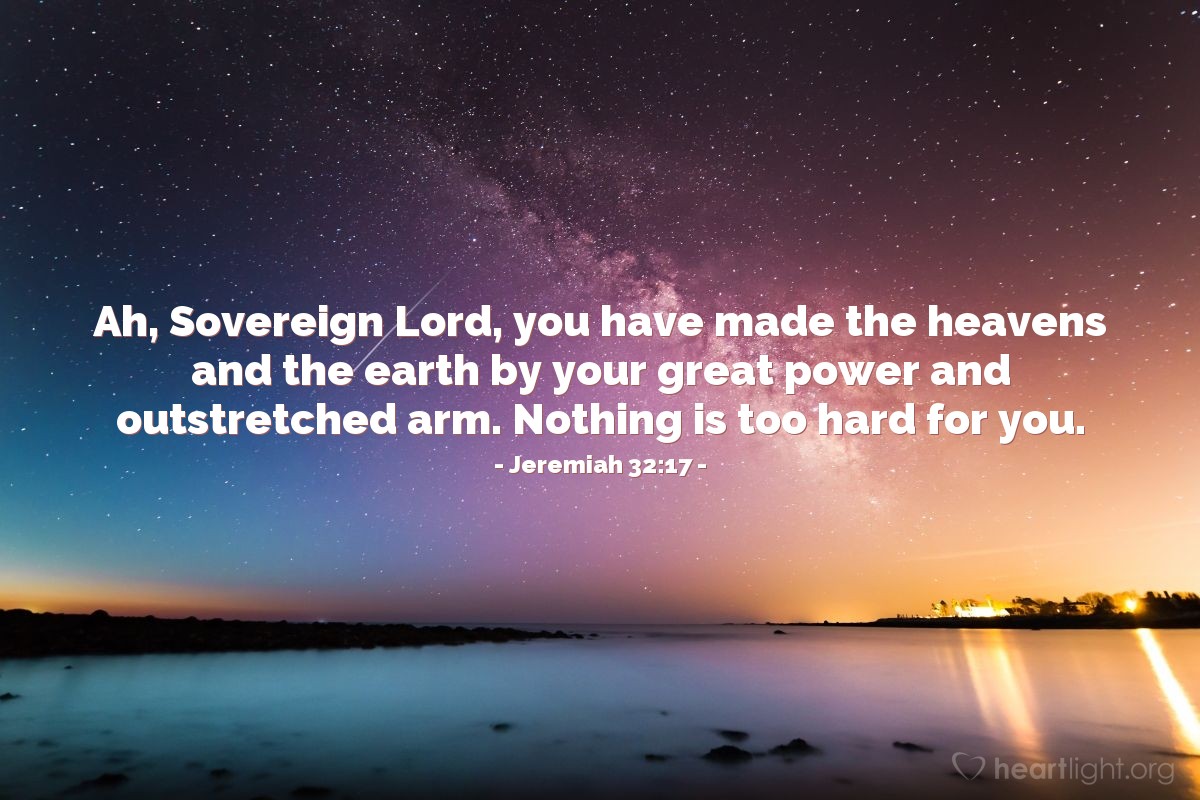 Thoughts on Today's Verse…
In the immense expanse of our universe, with its billions upon billions of stars, where our own tiny blue planet is but a small speck of sand on an inestimable seashore, God knows us each personally. Such knowledge it too wonderful to be true, and yet it is! God has shown us his love in Jesus to remind us that he not only knows us, but he cares for us and longs to bring us to himself.
My Prayer…
O Great God of the heavens, thank you for caring for me when I am such a small part of your great work in the universe. Your love is beyond my comprehension and yet it thrills me to know that in your grace one day I will see you face to face. In Jesus' name I praise you. Amen.
Saint Benedict
Saint of the Day for 
July 11
(
c. 480

 – 

c. 547

)

https://www.franciscanmedia.org/wp-content/uploads/2016/08/SODJul11.mp3
Saint Benedict's Story
It is unfortunate that no contemporary biography was written of a man who has exercised the greatest influence on monasticism in the West. Benedict is well recognized in the later Dialogues of Saint Gregory, but these are sketches to illustrate miraculous elements of his career.
Benedict was born into a distinguished family in central Italy, studied at Rome, and early in life was drawn to monasticism. At first he became a hermit, leaving a depressing world—pagan armies on the march, the Church torn by schism, people suffering from war, morality at a low ebb.
He soon realized that he could not live a hidden life in a small town any better than in a large city, so he withdrew to a cave high in the mountains for three years. Some monks chose Benedict as their leader for a while, but found his strictness not to their taste. Still the shift from hermit to community life had begun for him. He had an idea of gathering various families of monks into one "Grand Monastery" to give them the benefit of unity, fraternity, and permanent worship in one house. Finally he began to build what was to become one of the most famous monasteries in the world—Monte Cassino, commanding three narrow valleys running toward the mountains north of Naples.
The Rule that gradually developed prescribed a life of liturgical prayer, study, manual labor, and living together in community under a common abbot. Benedictine asceticism is known for its moderation, and Benedictine charity has always shown concern for the people in the surrounding countryside. In the course of the Middle Ages, all monasticism in the West was gradually brought under the Rule of St. Benedict.
Today the Benedictine family is represented by two branches: the Benedictine Federation encompassing the men and women of the Order of St. Benedict, and the Cistercians, men and women of the Order of Cistercians of the Strict Observance.
---
Reflection
The Church has been blessed through Benedictine devotion to the liturgy, not only in its actual celebration with rich and proper ceremony in the great abbeys, but also through the scholarly studies of many of its members. Liturgy is sometimes confused with guitars or choirs, Latin or Bach. We should be grateful to those who both preserve and adapt the genuine tradition of worship in the Church.
---
Saint Benedict is the Patron Saint of:
Europe
Kidney Disease
Monks
Poisoning
Schoolchildren
Tell your children of it,
and let your children tell their children,
and their children to another generation.
Joel 1:3
In this simple way, by God's grace, a living testimony for truth is always to be kept alive in the land: The beloved of the Lord are to hand down their witness for the Gospel and the covenant to their heirs, and these again to their next descendants. This is our first duty; we are to begin at the family hearth: He is a bad preacher who does not commence his ministry at home. The heathen are to be sought by all means, and the highways and hedges are to be searched, but home has a prior claim, and woe to those who reverse the order of the Lord's arrangements.
To teach our children is a personal duty; we cannot delegate it to Sunday school teachers or other friendly helpers. These can assist us but cannot deliver us from the sacred obligation; substitutes and sponsors are wicked devices in this case: Mothers and fathers must, like Abraham, command their households in the fear of God and talk with their offspring concerning the wondrous works of the Most High.
Parental teaching is a natural duty. Who is better fitted to look after the child's well-being than those who are the authors of his actual being? To neglect the instruction of our children is worse than brutish. Family religion is necessary for the nation, for the family itself, and for the church of God. By a thousand plots empty religion is secretly advancing in our land, and one of the most effectual means for resisting its inroads is routinely neglected—namely, the instruction of our children in the faith. It is time for parents to awaken to a sense of the importance of this matter. It is a pleasant duty to talk of Jesus to our sons and daughters, and the more so because it has often proved to be an accepted work, for God has saved the children through the parents' prayers and admonitions. May every house into which this volume shall come honor the Lord and receive His smile.
The Power of the Holy Spirit
Jesus returned to Galilee in the power of the Spirit. —Luke 4:14
This is a very interesting verse because it shows us that it was the Spirit that enabled Jesus to do all that He did. Similarly Luke 5:17 says, "One day as he was teaching, the Pharisees and teachers of the law … were sitting there. And the power of the Lord was present for him to heal them." It was the power of the Holy Spirit that enabled Him. This is a hint to all of us.
Our difficulty is that we want to hold on to our own gift. I have observed time and again some very talented people not being used because they wanted the praise of men. I have noticed ministers who had a marvelous gift but who were so afraid that it would not be recognized that their pride destroyed them. It could happen to any of us.
But with Jesus, He actually said, "The Son can do nothing by Himself." That meant that the Holy Spirit vindicated Jesus. Do you want the Holy Spirit to use you? Then let the Spirit do it.
Jesus received His joy from the Holy Spirit. This is the reason He was able to handle rejection. This is why He could cope with the way people talked about Him. He did not take it personally; He knew it was their problem, because His joy was from the Spirit. Finally, on the Day of Pentecost, when the Spirit came down, Jesus was vindicated again.
This could happen because the essential function of the work of the Spirit is to point men to Christ. Therefore, after Peter said, "God has made this Jesus … both Lord and Christ," great conviction swept over the crowd and they began to cry, "What shall we do?" Three thousand were converted, and all because of the Spirit's power.
Excerpted from Meekness and Majesty (Christian Focus Publications Ltd., 1992, 2000).

What Jesus Did!

 'The Shepherd Uses the Gate'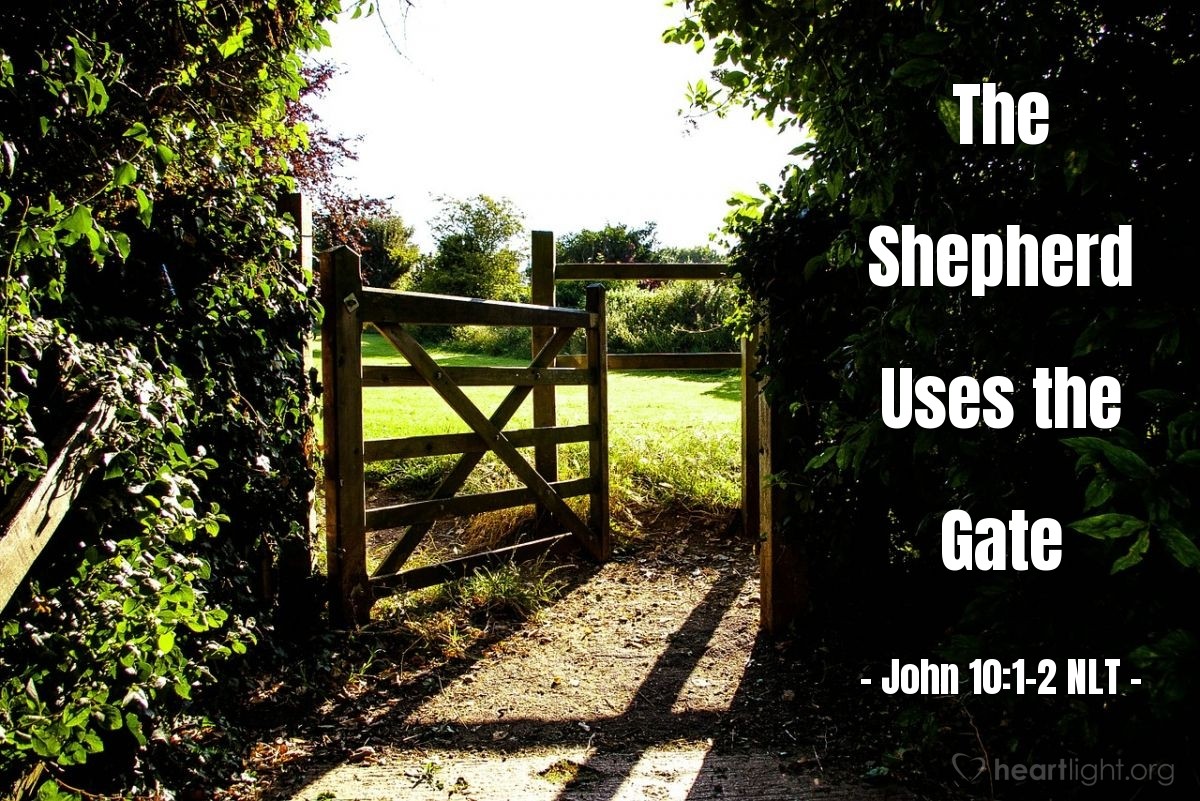 [Jesus said,] "I tell you the truth, anyone who sneaks over the wall of a sheepfold, rather than going through the gate, must surely be a thief and a robber! But the one who enters through the gate is the shepherd of the sheep."
Key Thought
If you want to know the attributes of God's shepherd, 
John 10
 is the chapter for you. Of course, the ultimate Shepherd is God, and Jesus comes to us as God in human flesh. Jesus didn't sneak into a leadership position or hide himself and run some subversive movement. Instead, he publicly ministered to God's people in open sight. There were no secret meetings to determine policy and no clandestine rendezvous to plan the overthrow of the current leadership. Instead, Jesus did what he did openly before the people and in the presence of God. Any other way and any other shepherd are not to be trusted.
Today's Prayer
Father, bless me as I follow Jesus as my Shepherd. Thank you for his public ministry before the people. Thank you for sharing that ministry through the Gospels in the Bible. In Jesus' name, I thank you. Amen.
Related Scripture Readings
ALL AMERICAN PET PHOTO DAY
All American Pet Photo Day is observed annually on July 11th.  Charge your camera and be prepared to take adorable pictures of your pets!  Whether they are four-legged furry kind or come from more serpentine of the animal species, click away.  Fishes and birds, pigs and equine, canine and feline should all get in line for their favorite pose.  If they are friends, take a few snapshots of them together!  On All American Pet Photo Day, every pet gets included.
HOW TO OBSERVE
Dress them up, take them to the park, set them in a chair, put them on a fancy pillow or whatever your imagination creates for a special photograph of your loved ones.  Post on social media using #AllAmericanPetPhotoDay.
HISTORY
Within our research, we were unable to identify the creator of All American Pet Photo Day.