Christoph Friedrich Blumhardt
All of creation waits with eager longing for God to reveal his sons. For creation was condemned to lose its purpose, not of its own will, but because God willed it to be so. Yet there was the hope that creation itself would one day be set free from its slavery to decay and would share the glorious freedom of the children of God. Romans 8:19–21, TEV
Lord God, we thank you for all you reveal in your creation so that our lives may be fruitful. Reveal your wisdom and strength among people everywhere so that death and destruction do not have their way, but your will, your love, your mercy shall prevail. Let our age learn that power belongs to you and not to men, and that you will at last fulfill all your promises of good. Your day of justice and holiness will break in, and all misery will be removed through your great mercy. Watch over us as you have done till this hour, and keep us safe during the night. Be present and carry out your will wherever there is misfortune. May your will be done on earth as in heaven. Amen.
TODAY'S DAILY DIG
Here is the mystery, the secret, one might almost say the cunning, of the deep love of God: that it is bound to draw on to itself the hatred and pain and shame and anger and bitterness and rejection of the world, but to draw all those things on to itself is precisely the means, chosen from all eternity by the generous, loving God, by which to rid his world of the evils which have resulted from human abuse of God-given freedom.
Source: The Crown and the Fire
Verse of the Day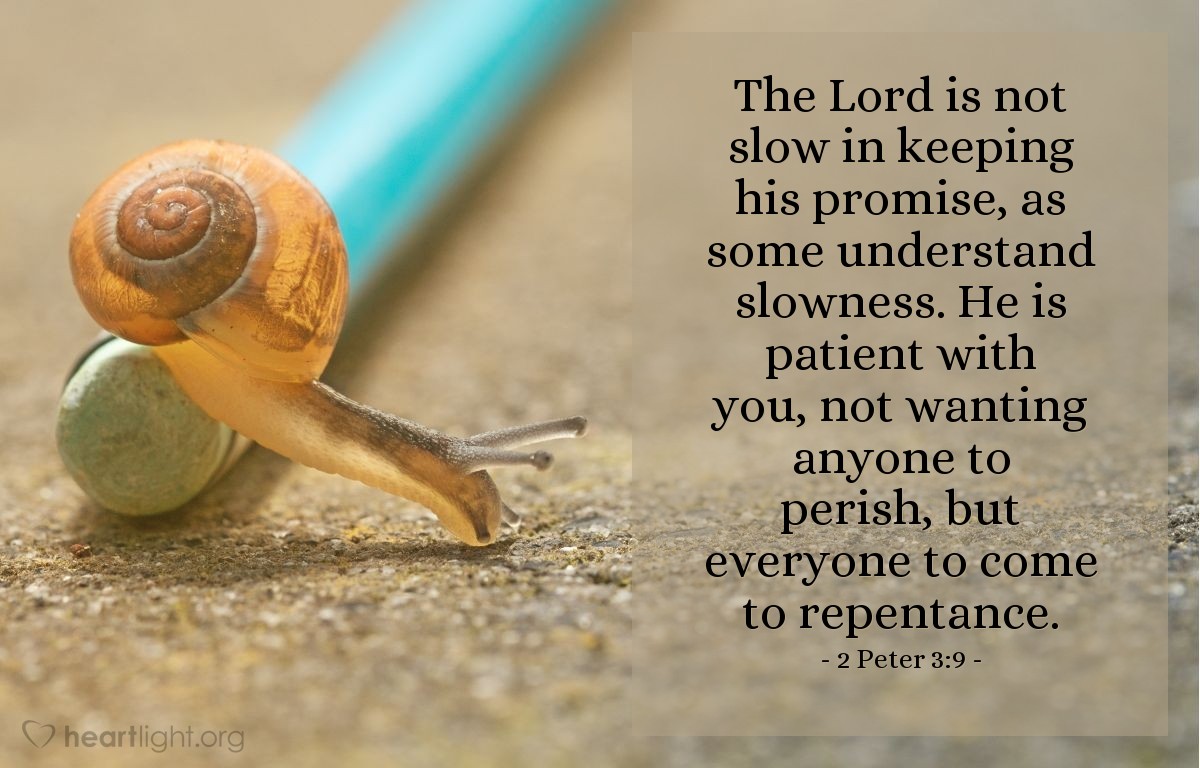 Thoughts on Today's Verse…
Maranatha — O Lord come! This cry of the early church, especially during times of trial, persecution, and difficulty must be tempered with the reminder that there is a lost world around us — many of whom are dear friends and family. Our passion for the Lord's coming must be equaled by our passion to share his grace with those who have not "come to repentance" and have not changed their lives to serve the Lord who died to bring them life. Until he comes, let's commit to do his work of bringing others to repentance and salvation in him.
My Prayer…
O great and patient God, please use all of your power and grace to bring my loved ones and dear friends to repentance so that when Jesus appears they can share in my joy and your salvation. In the name of Jesus the only Savior I pray. Amen.
The Lord illuminated this to me while I was in a time of corporate prayer and fasting with the group of women who are going to do a revival in Costa Rica in December. These words are a global word, not just one for the team that I was in prayer with. In obedience, I share with you as He illuminated, "Now is the time for acceleration. Things will move quickly in the earth for kingdom acceleration. This is not a time to be lazy. If you are tired, find rest in your souls with Me (God) as you walk circumspect."
Ephesians 5:14-17 (KJV) reads:
"Wherefore he saith, Awake thou that sleepest, and arise from the dead, and Christ shall give thee light. See then that ye walk circumspectly, not as fools, but as wise, Redeeming the time, because the days are evil. Wherefore be ye not unwise, but understanding what the will of the Lord is."
The word circumspectly in Greek means to walk exactly and diligently, and it comes from a root word in Greek akribestatos, which means most exact, straightest.
Yes, we are to walk straight. Then God said, "The path to take is right in front of you, straight and narrow, straight ahead."
You see, obedience is better than sacrifice. God says this path "will be a road of honoring Me and relationships in kingdom that have authority."
He warns, that there will be paths to the right or left, but do not take those.
Take the path in the front. You may see a fork in the road, but go straight.
In other words, God says straight is the pathway of diligence, character and refinement, it is a path where you will have to watch your flesh and be obedient. It is a place where you will have to ask yourself, "Am I obeying God here and operating in character and honor?" If you can answer yes, then it is a straight path.
2 Peter 1:3-11 (NIV) reads:
"His divine power has given us everything we need for a godly life through our knowledge of him who called us by his own glory and goodness. Through these He has given us His very great and precious promises, so that through them you may participate in the divine nature, having escaped the corruption in the world caused by evil desires. For this very reason, make every effort to add to your faith goodness; and to goodness, knowledge; and to knowledge, self-control; and to self-control, perseverance; and to perseverance, godliness; and to godliness, mutual affection; and to mutual affection, love. For if you possess these qualities in increasing measure, they will keep you from being ineffective and unproductive in your knowledge of our Lord Jesus Christ. But whoever does not have them is nearsighted and blind, forgetting that they have been cleansed from their past sins. Therefore, my brothers and sisters, make every effort to confirm your calling and election. For if you do these things, you will never stumble, and you will receive a rich welcome into the eternal kingdom of our Lord and Savior Jesus Christ."
God wants us to walk circumspect operating in His divine power and nature which is within us. If we operate in His divine nature we will bring forth the character traits listed above by the apostle Peter. In doing so, we will continue to be effective and productive for the kingdom of God. Let's make our calling and election sure and respond circumspectly with His divine nature while we will walk straight paths and receive His blessings.
It was further illuminated to me to, "Put out your hand I am putting things in your hand now on this path. Receive these gifts. Receive the favor, I am giving you favor with people and resources to help you move forward. These blessings will fall on you, receive them and use them, but move quickly. It is a time to accelerate now and not wait. Keep yourself moving."
The world is trying to slow down during the summer or even rest, not for you who have kingdom mandates, for it is a time to walk and move forward in divine nature, a time for your acceleration to submit to the Kingdom of God, as you have been placed strategically in this time and hour for destiny!
God says, "I will give you the strength to walk at this pace." Keep these words in mind as you move ahead in obedience, walking circumspectly, during this time of acceleration! 
Dr. Candice Smithyman is the founder of Dream Mentors International, a biblical life counseling and coaching educational organization that teaches and trains educators and coaches in the specialty of life coaching. She is also founder of the Glory Road show, where she hosts weekly interviews that are seen on internet TV, Facebook and her YouTube channel. Her ministry website is available at candicesmithyman.com and dreammentors.org, where people people can become credentialed biblical or transformational life coaches and receive biblical and transformational life coaching for every area of their life. She is also co-founder of Freedom Destiny Church in Orange Park, Florida, along with her husband, senior pastor Adam Smithyman.
People all around the world struggle with mental illnesses such as anxiety and depression, and Christians are not exempt from going through these experiences. Many who struggle with suicidal thoughts feel that they are completely alone, but the truth is that it is much more common than most are aware of. It's something that people have been battling against since the beginning of time, including the Bible. The Bible speaks about suicide on several occasions.
Suicide in the Bible
The Bible mentions six specific people who committed suicide: Abimelech, Saul, Saul's armor-bearer, Ahithophel, Zimri, and Judas. Five of these men were noted for their wickedness, the exception being is Saul's armor-bearer. Nothing was said of his character.
Armor-bearer to Saul – Out of hopelessness and terror after seeing that Saul was dead, this assistant to the king impulsively took his life as well. (1 Sam. 31:5)
King Saul – Because of defeat by the enemy and great fear after being wounded, Saul chose to end his life, rather than face abuse by his captors. When his armor-bearer refused to kill him at his request, he took his own life by falling on his sword. (1 Sam. 31:3-5)
Abimelech – This king over Israel was ruthless and cruel. His evil knew no limits, and after killing many people, and even taking the lives of 69 of his 70 half-brothers, God allowed one woman to stop him. After she dropped a millstone on his head, he was so injured that his pride led him to take his own life. So that no one could "say a woman killed him." (Judges 9:50-55)
Ahithophel – As a one-time close companion of David, and grandfather of Bathsheba, Ahithophel eventually took up the cause of Absalom's rise against him. But when he noticed that his advice had not been taken to lead to final defeat over David's army, out of possible fear, rejection, or complete hopelessness, he chose to go home, "put his house in order, and then hanged himself." (2 Samuel 17:23)
Zimri – As an evil king of Israel and facing utter defeat, Zimri saw no way out, except to take his own life. He set the palace on fire and died in it, rather than choose to face his enemy. (1 Kings 16:15-20)
Judas – In great despair and guilt after betraying Christ, the burden Judas carried led him to choose suicide. His story is probably the most well-known account in the Bible on the tragedy of suicide. He was Jesus' own disciple, he walked with him, he was close to him, but yet he still didn't "know" him. And instead of repenting and seeking forgiveness after betraying Christ, he allowed the great burden of sin to lead him to this terrible end. (Matt. 27:3-4)
Some consider Samson's death an instance of suicide, because he knew his actions would lead to his death (Judges 16:26–31), but Samson's goal was to kill Philistines, not himself.
The Bible views suicide as equal to murder, because it is considered self-murder. God is the only one who is to decide when and how a person should die, because He is the giver of life. We should say with the psalmist, "My times are in your hands" (Psalm 31:15). No one should try and take their life because it is an attempt to take over His role.
Some people in scripture felt deep pain in life. Solomon, in his pursuit of happiness, reached the point where he "hated life" (Ecclesiastes 2:17). Elijah was fearful and depressed and yearned for death (1 Kings 19:4), and Jonah was so angry at God that he wished to die (Jonah 4:8). Even the apostle Paul and his missionary companions at one point "were under great pressure, far beyond our ability to endure, so that we despaired of life itself" (2 Corinthians 1:8).
However, none of these men committed suicide. Solomon learned to "fear God and keep His commandments, for this is the duty of all mankind" (Ecclesiastes 12:13). Elijah was comforted by an angel, allowed to rest, and given a new commission. Jonah received admonition and rebuke from God. Paul learned that, although the pressure he faced was beyond his ability to endure, the Lord can bear all things: "This happened that we might not rely on ourselves but on God, who raises the dead" (2 Corinthians 1:9).
Hope From the Bible
The stories of suicide in the Bible are heartbreaking, because they all have one thing in common: their lives did not have to end that way. God reminds us story after story that He is full of hope, and has something planned for our lives. He will never waste the pain we struggle through in this life, but He will turn it around for good somehow and use it to strengthen us and to help others.
Yet it's important to note that nowhere in the Bible does it indicate that the act of suicide, no matter how tragic, is an unforgivable sin. If you are a believer in Christ, you will go to heaven. The Bible is clear that sin which cannot be forgiven is blasphemy against the Holy Spirit, and the refusal to believe in Christ. Mark 16:16 "Whoever believes…will be saved but whoever does not believe will be condemned."
Some believe that because a person cannot ask for specific forgiveness after suicide that it will separate one from God forever. But there are many sins that may never be confessed before our death. For example, one Christian may ask for forgivness every morning from God. But say they get into an unexpected car wreck during the day, but had lied earlier to a friend. They are still believers in Christ and will go to heaven. The Bible is clear that when we are in Christ, nothing will separate us from Him, not even death. Romans 8:38-29 says "For I am convinced that neither death, nor life, nor angels, nor principalities, nor things present, nor things to come, nor powers, nor height, nor depth, nor any other created thing, will be able to separate us from the love of God, which is in Christ Jesus our Lord."
Saint Irenaeus
Saint of the Day for 
June 28
(c. 
130

 – c. 202)

https://www.franciscanmedia.org/wp-content/uploads/2016/08/SODJun28.mp3
Saint Irenaeus' Story
The Church is fortunate that Irenaeus was involved in many of its controversies in the second century. He was a student, well trained no doubt, with great patience in investigating, tremendously protective of apostolic teaching, but prompted more by a desire to win over his opponents than to prove them in error.
As bishop of Lyons he was especially concerned with the Gnostics, who took their name from the Greek word for "knowledge." Claiming access to secret knowledge imparted by Jesus to only a few disciples, their teaching was attracting and confusing many Christians. After thoroughly investigating the various Gnostic sects and their "secret," Irenaeus showed to what logical conclusions their tenets led. These he contrasted with the teaching of the apostles and the text of Holy Scripture, giving us, in five books, a system of theology of great importance to subsequent times. Moreover, his work, widely used and translated into Latin and Armenian, gradually ended the influence of the Gnostics.
The circumstances and details about his death, like those of his birth and early life in Asia Minor, are not at all clear.
---
Reflection
A deep and genuine concern for other people will remind us that the discovery of truth is not to be a victory for some and a defeat for others. Unless all can claim a share in that victory, truth itself will continue to be rejected by the losers, because it will be regarded as inseparable from the yoke of defeat. And so, confrontation, controversy and the like might yield to a genuine united search for God's truth and how it can best be served.

What Jesus Did!

 'How Do We View People?'

As Jesus was walking along, he saw a man who had been blind from birth. "Rabbi," his disciples asked him, "why was this man born blind? Was it because of his own sins or his parents' sins?" "It was not because of his sins or his parents' sins," Jesus answered. "This happened so the power of God could be seen in him."
Key Thought
If you look carefully in this chapter, you will find a number of different ways we sometimes look at people and dehumanize them for our own benefit. Jesus reminds us that each person is someone made in God's image, whom God personally created, and in whom the work of God needs to be done!
Today's Prayer
Lord God, maker of all things and all people, give me greater sensitivity in the way that I treat others so that it more perfectly reflects your desire to work in each life to bless that person and bring that person to your grace and glory! In Jesus' name, I pray. Amen.
Related Scripture Readings
Pleasing to the Lord
TGIF Today God Is First Volume 1 by Os Hillman
June 28, 2018
"Prepare it with oil on a griddle; bring it well-mixed and present the grain offering broken in pieces as an aroma pleasing to the Lord." Leviticus 6:21
There is a requirement to be blessed at a deeper spiritual level by God. Christ requires it of each of His servants. He required it of Paul when He struck him down on the Damascus Road. He required it of Joseph when he was left in the pit and then sold into slavery. He required it of Jacob when he left his homeland penniless and needy. He required it of most every major leader that He used significantly – brokenness.
Brokenness cannot be achieved on your own. It is something God does Himself. We cannot determine that we are going to be broken, but we can refuse to become broken. When God begins this deeper work in our lives, we can kick and scream and refuse the process. We can manipulate and strive to stay on top, but this only delays His work.
Pride and mammon are ruling strongholds of the workplace. Brokenness is considered a weak position in the workplace. However, God says until we are broken we cannot be an aroma pleasing to the Lord. God wants you to be an aroma in the workplace. In order for this to happen, you and I must be a broken vessel in His hand. Pray that God would allow you to become a pleasing aroma to Him no matter the cost.
NATIONAL BOMB POP DAY

The Thursday of June is reserved for enjoying a summertime favorite.  It's National Bomb Pop Day!   Invented in 1955 in Kansas City, Missouri, Bomb Pops are also known as the red, white and blue Popsicle.  Having one of these frozen treats is a terrific way to kick off the upcoming 4th of July celebrations in your community!
HOW TO OBSERVE
Enjoy one of these frozen treats and use #NationalBombPopDay to share on social media.
HISTORY
Within our research, we were unable to identify the creator of National Bomb Pop Day.