Christoph Friedrich Blumhardt
But I will sing of your strength, in the morning I will sing of your love; for you are my fortress, my refuge in times of trouble. O my Strength, I sing praise to you; you, O God, are my fortress, my loving God. Psalm 59:16–17, NIV
Lord God, we glorify your name. How we wish our voices could ring out over all the world, telling of the great things you have done for us, praising you that we can come to you in Jesus Christ, that we can worship, honor, and thank you for all your goodness! Safeguard all your children so that they hold to faith and remain true to the message of the gospel. May we thank and praise you for all you have done this day and for your working in the hearts of many people who are still unknown to us. Your Spirit rules and calls people, to bring them to you, the Father in heaven. Watch over us and continue to bless us. Help us who belong to your people, and protect us through the night. Amen.
TODAY'S DAILY DIG
True individuality is measured by this: how long or how far one can endure being alone without the understanding of others. The person who can endure being alone is poles apart from the social mixer. This person is miles apart from the one who manages successfully with everyone – the one who possesses no sharp edges. God never uses such people. The true individual, anyone who is going to be directly involved with God, will not and cannot avoid the human bite. The true individual will be thoroughly misunderstood. God is no friend of cozy human gathering.
Source: Provocations
Verse of the Day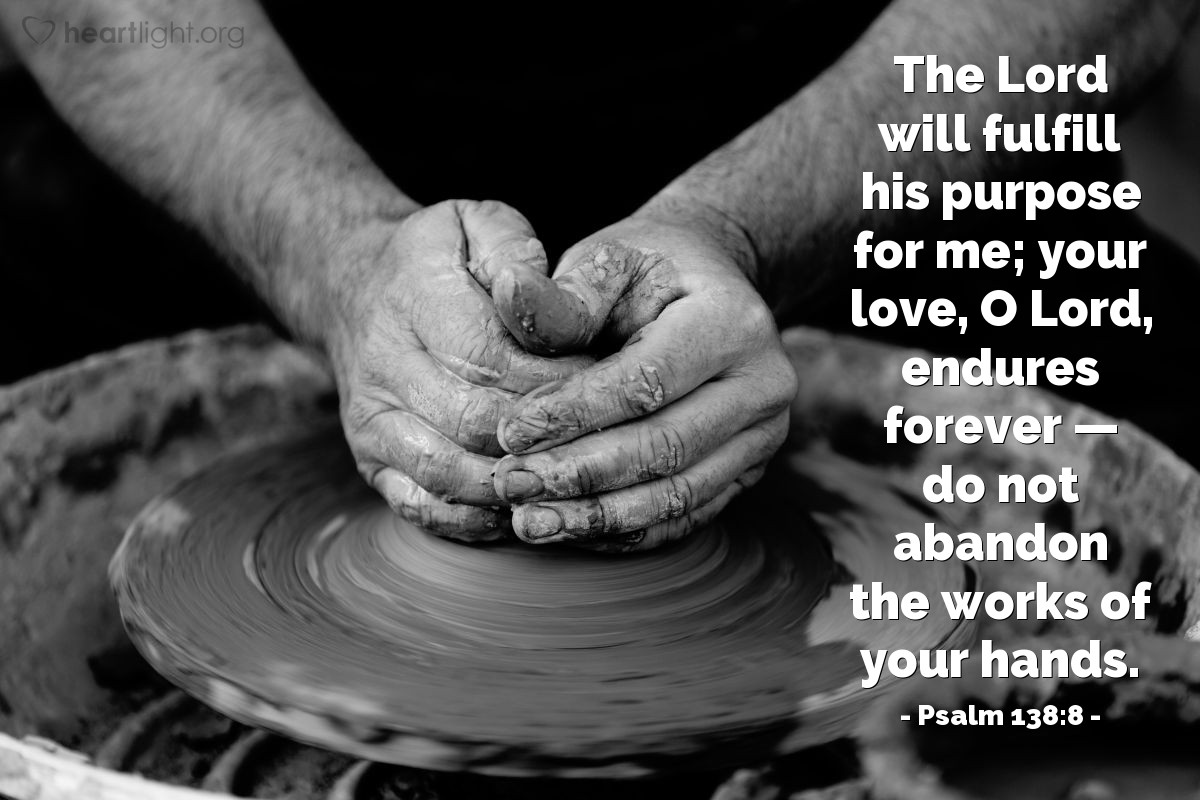 Thoughts on Today's Verse…
God has a purpose and plan for each of our lives. The greatest thing we can do is to find that purpose and live it out. We can trust his purpose for us because it is based on his wisdom and love. As long as we seek his will, we're not going to do anything that can ultimately mess up his purpose for us. Yes, we may at times stray from the perfect channel he wants us to travel, but we never get totally out of the main channel. As long as we do not abandon him, and remember he will never forsake us, he will use us for his purposes.
My Prayer…
O Sovereign God, help me discern today what my life is intended to fulfill in your plan. Thank you for loving me and promising to walk beside me every step of my life. I live trusting that you will never forsake me and committed to never forsaking you. In the name of your faithful Son, Jesus, I pray. Amen.
In times of battle, modern-day warriors would surely choose a machine gun with heavy ammunition over a sling and a stone. But spiritual warriors would do well to adopt the mindset of a slinger.
While the enemy is throwing fiery darts and his puppets are slinging mud on the saints, Davidic warriors who know when to worship and when to run to the battle line are slinging stones and defeating every foe. Indeed, the Bible highlights the warfare ministry of the slingers over and again, and demonstrates the power of the sling.
In a season when the spirit of assassination is working through believers to backbite, accuse and otherwise tear down, the Lord is calling the slingers to arise and face down giants in the spirit. These giants include slander, offense and sabotage, but the slinger can take out any foe the Holy Spirit leads them to battle.
Pick Up Your Slingshot
You've probably seen a slingshot. It's essentially a forked stick with a rubber band. It does not look imposing or intimidating when compared to other battle gear. But it packs a punch–especially when the Holy Spirit's power propels the stone toward the giant.
David could have faced down Goliath with a full coat of armor but he chose the sling and the stone. I don't believe it was only because he hadn't tested Saul's armor. I believe it was because David was so dependent on God that he didn't feel the need heavy artillery to take down his enemy. David knew His God was stronger than the Goliath. For all Goliath's empty threats, David defeated him with a sling and a stone (1 Samuel 17:50)
Of course, slingers need spiritual accuracy. David understood who his enemy was before he ran to the battle line. He was accurate in spirit and accurate with his slingshot. Many warriors today lack accuracy in discerning the real foe and the weaponry demanded to defeat them.
Our aim is to rise up in the spirit of the warriors in Judges 20:16: "Out of all these people there were seven hundred specially chosen men who were left-handed, all of whom could sling a stone at a hair and not miss."
A Company of Slingers Arising
We know one can put 1,000 to fight and two can put 10,000 to flight (see Deut. 32:20). With that concept in mind, it's important to understand the power of slinger companies in battle.
When the kings of Israel, Judah and Edom went to battle against the Moabites. First Kings 3:25 tells us, "They demolished the cities, and on every good piece of land every man threw a stone and filled it with stones, and they stopped every spring of water and cut down every good tree. Only in Kir Hareseth did the stones in the wall remain, until the slingers surrounded it and struck it."
When you go to battle, take the whole armor of God. Take the sword of the Spirit (see Eph. 6). Understand the weapons of your warfare are not carnal, but mighty in God to pull down strongholds (see 2 Cor. 10:4). And don't forget your sling.
Remember the king's winning strategy in 2 Chronicles 26:14: "Uzziah prepared for the entire army shields, long spears, helmets, scale armor, bows, and slings for stones." And when you can't defeat your enemy along, call for the slingers to surround him.
Jennifer LeClaire is senior leader of Awakening House of Prayer in Fort Lauderdale, Florida, founder of the Ignite Network and founder of the Awakening Blaze prayer movement. She is author of over 25 books. Find her online at jenniferleclaire.org or email her at info@jenniferleclaire.org.
Solemnity of Saints Peter and Paul
Saint of the Day for 
June 29
https://www.franciscanmedia.org/wp-content/uploads/2016/08/SODJun29.mp3
Saints Peter and Paul's Story
Peter (d. 64?). Saint Mark ends the first half of his Gospel with a triumphant climax. He has recorded doubt, misunderstanding, and the opposition of many to Jesus. Now Peter makes his great confession of faith: "You are the Messiah" (Mark 8:29b). It was one of the many glorious moments in Peter's life, beginning with the day he was called from his nets along the Sea of Galilee to become a fisher of men for Jesus.
The New Testament clearly shows Peter as the leader of the apostles, chosen by Jesus to have a special relationship with him. With James and John he was privileged to witness the Transfiguration, the raising of a dead child to life, and the agony in Gethsemane. His mother-in-law was cured by Jesus. He was sent with John to prepare for the last Passover before Jesus' death. His name is first on every list of apostles.
And to Peter only did Jesus say, "Blessed are you, Simon son of Jonah. For flesh and blood has not revealed this to you, but my heavenly Father. And so I say to you, you are Peter, and upon this rock I will build my church, and the gates of the netherworld shall not prevail against it. I will give you the keys to the kingdom of heaven. Whatever you bind on earth shall be bound in heaven; and whatever you loose on earth shall be loosed in heaven" (Matthew 16:17b-19).
But the Gospels prove their own trustworthiness by the unflattering details they include about Peter. He clearly had no public relations person. It is a great comfort for ordinary mortals to know that Peter also has his human weakness, even in the presence of Jesus.
He generously gave up all things, yet he can ask in childish self-regard, "What are we going to get for all this?" (see Matthew 19:27). He receives the full force of Christ's anger when he objects to the idea of a suffering Messiah: "Get behind me, Satan! You are an obstacle to me. You are thinking not as God does, but as human beings do" (Matthew 16:23b).
Peter is willing to accept Jesus' doctrine of forgiveness, but suggests a limit of seven times. He walks on the water in faith, but sinks in doubt. He refuses to let Jesus wash his feet, then wants his whole body cleansed. He swears at the Last Supper that he will never deny Jesus, and then swears to a servant maid that he has never known the man. He loyally resists the first attempt to arrest Jesus by cutting off Malchus' ear, but in the end he runs away with the others. In the depth of his sorrow, Jesus looks on him and forgives him, and he goes out and sheds bitter tears. The Risen Jesus told Peter to feed his lambs and his sheep (John 21:15-17).
Paul (d. 64?). If the most well-known preacher today suddenly began preaching that the United States should adopt Marxism and not rely on the Constitution, the angry reaction would help us understand Paul's life when he started preaching that Christ alone can save us. He had been the most pharisaic of Pharisees, the most legalistic of Mosaic lawyers. Now he suddenly appears to other Jews as a heretical welcomer of Gentiles, a traitor and apostate.
Paul's central conviction was simple and absolute: Only God can save humanity. No human effort—even the most scrupulous observance of law—can create a human good which we can bring to God as reparation for sin and payment for grace. To be saved from itself, from sin, from the devil, and from death, humanity must open itself completely to the saving power of Jesus.
Paul never lost his love for his Jewish family, though he carried on a lifelong debate with them about the uselessness of the Law without Christ. He reminded the Gentiles that they were grafted on the parent stock of the Jews, who were still God's chosen people, the children of the promise.
---
Reflection
We would probably go to confession to Peter sooner than to any of the other apostles. He is perhaps a more striking example of the simple fact of holiness. Jesus says to us as he said, in effect, to Peter: "It is not you who have chosen me, but I who have chosen you. Peter, it is not human wisdom that makes it possible for you to believe, but my Father's revelation. I, not you, build my Church." Paul's experience of the risen Jesus on the road to Damascus was the driving force that made him one of the most zealous, dynamic, and courageous ambassadors of Christ the Church has ever had. But persecution, humiliation, and weakness became his day-by-day carrying of the cross, material for further transformation. The dying Christ was in him; the living Christ was his life.
---
Saint Paul is the Patron Saint of:
Greece

What Jesus Did!

 'Urgency!'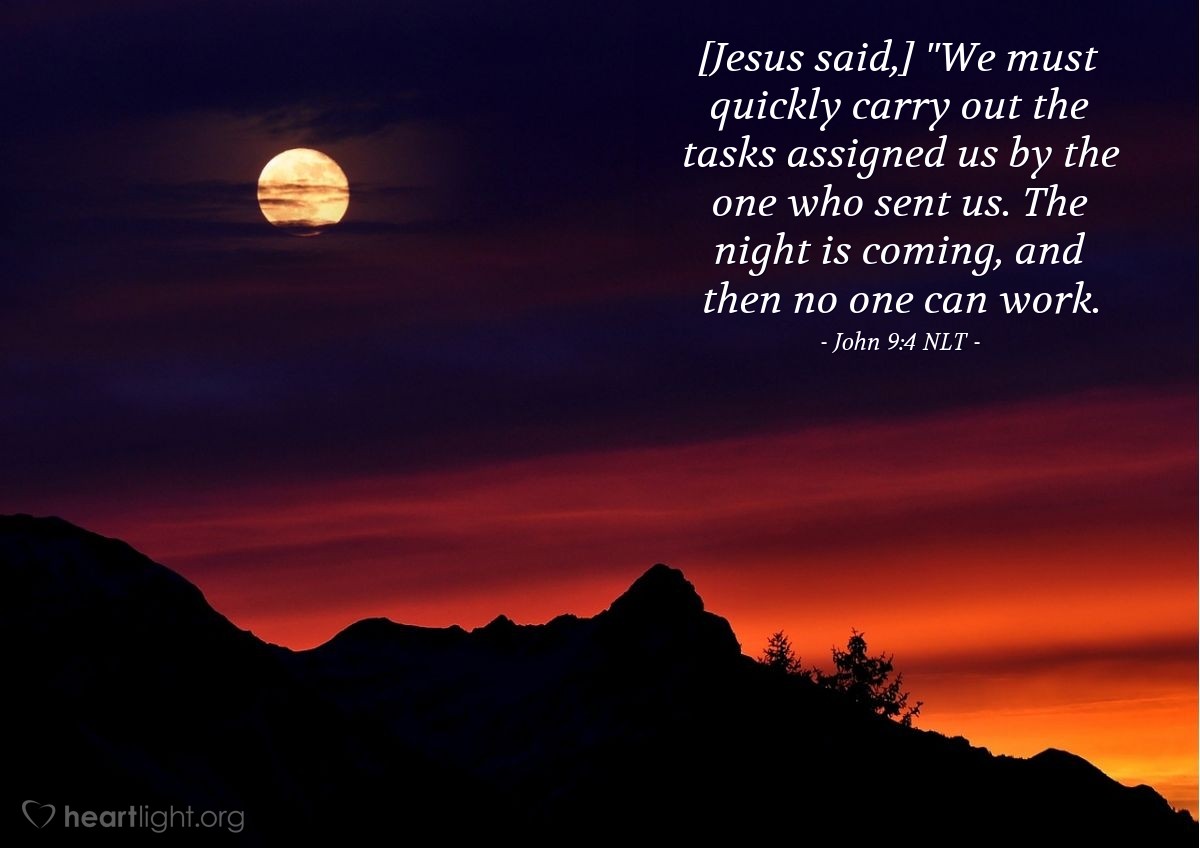 Key Thought
Jesus recognizes that his time on earth is short. He feels a sense of urgency to get the work of God completed. He also shares the importance of getting that work done with his disciples. Many of us have all sorts of distractions crowding into our lives. Some of these distractions seem important to us. Others, we recognize as insignificant intrusions. The real question, however, is this: How well are we doing with placing God's priorities first in our lives regardless of the apparent importance of possible distractions? Do we feel a sense of urgency to get God's work done? Is God's work our focus or just another item to check off our "to do" list crowding into our busy lives?
Today's Prayer
Holy God, help me better know how to order my priorities. Please help me be more confident of the things you want most for me to do. Father, I gladly submit my will to be led by your Spirit and to live for your glory. Please guide my way. In Jesus' name, I ask it. Amen.
Related Scripture Readings
And so in the matter of the envoys of the princes of Babylon, who had been sent to him to inquire about the sign that had been done in the land, God left him to himself, in order to test him and to know all that was in his heart.
2 Chronicles 32:31
Hezekiah was growing so inwardly great and priding himself so much upon the favor of God that self-righteousness crept in, and because he trusted in himself, the grace of God was for a time, in its more active operations, withdrawn. If the grace of God were to leave the best Christian, there is enough sin in his heart to make him the worst of transgressors. If left to yourselves, you who are warmest for Christ would cool down like Laodicea into sickening lukewarmness: You who are sound in the faith would be white with the leprosy of false doctrine; you who now walk before the Lord in excellency and integrity would reel to and fro and stagger with a drunkenness of evil passion. Like the moon, we borrow our light; bright as we are when grace shines on us, we are darkness itself when the Sun of Righteousness withdraws Himself.
Therefore, let us cry to God to never leave us. "Take not Your Holy Spirit from me! Do not withdraw from us Your indwelling grace! Have You not said, 'I, the LORD, am its keeper; every moment I water it. Lest anyone punish it, I keep it night and day'?1 Lord, keep us everywhere. Keep us when we're in the valley so that we do not grumble against Your humbling hand; keep us when we're on the mountain, so we do not lose our balance by being lifted up; keep us in youth, when our passions are strong; keep us in old age, when becoming conceited in our wisdom, we may therefore prove greater fools than those who are young and silly; keep us when we come to die, in case at the very end we should deny You! Keep us living, keep us dying, keep us working, keep us suffering, keep us fighting, keep us resting, keep us everywhere, for everywhere we need You, O our God!"
NATIONAL CAMERA DAY
National Camera Day is observed each year on June 29th.  This day commemorates photographs, the camera, and their invention.  A camera is an irreplaceable tool used to record and replicate memories, events, and people/places.  Before the invention of the camera, the only resource to document a vision was a painting.  There are very few who can perfectly capture the image of a person or a place in a drawing. The power of a camera provided many with a simple, inexpensive and fast solution.
George Eastman, also known as "The Father of Photography," brought the camera to the masses.  While he did not invent the camera, he did invent many additions that improved the use, ease, and production of the camera, making it widely available to homes around the world.
The original camera was large and bulky but has now evolved into something that can be as small as a pen.  Cameras have many features and variations, making them appealing to men and women of all ages for personal and professional use.
HOW TO OBSERVE
To celebrate National Camera Day, snap a picture of something or someone you enjoy and cherish the memory.  Post photos on social media using #NationalCameraDay.
HISTORY
Within our research, we were unable to find the origin of National Camera Day.