Christoph Friedrich Blumhardt
But just as he who called you is holy, so be holy in all you do; for it is written: "Be holy, because I am holy." 1 Peter 1:15–16, NIV
Lord God, help us to be holy as you are holy, and free us from all the earthly things that try to torment us. Grant us your Spirit so that we do what is right. May we always hold your hand confidently. Protect your children everywhere on earth, and help them do what is right even if the whole world does what is wrong. Help us, so that all we do becomes holy and pleasing in your sight. Let your grace grow among us and among the nations, and let your hand be strong to bring in your day, your day when everything is made new. May your name be kept holy, your kingdom come, and your will be done on earth as in heaven. Amen.
TODAY'S DAILY DIG
I always begin my prayer in silence, for it is in the silence of the heart that God speaks. God is the friend of silence – we need to listen to God because it's not what we say but what he says to us and through us that matters. Prayer feeds the soul – as blood is to the body, prayer is to the soul – and it brings you closer to God. It also gives you a clean and pure heart. A clean heart can see God, can speak to God, and can see the love of God in others.
Source: A Simple Path
Verse of the Day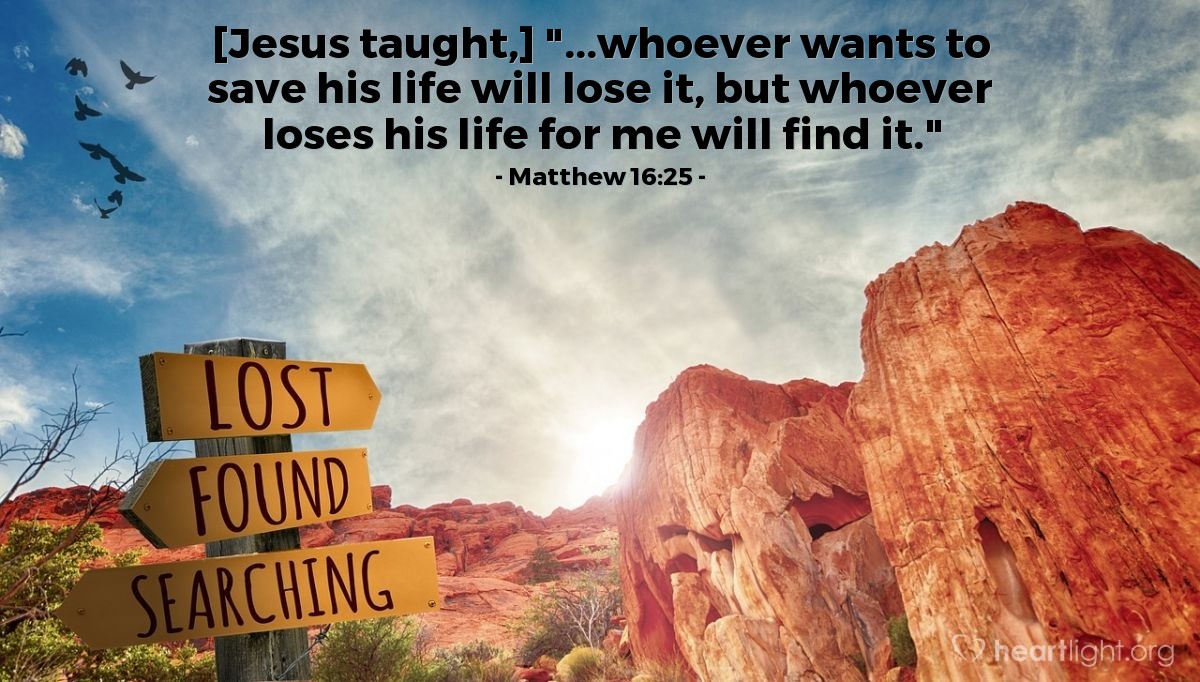 Thoughts on Today's Verse…
The key to life is letting go of ourselves and welcoming Jesus and his will into our lives. Please don't forget to relinquish your life to the one who gave up his own life for you. You see, he took it back up again, just so that when we lose our life to him, we can have it back forever with him.
My Prayer…
Holy God, I believe that Jesus is Lord, your Son, my Savior and King. I long for his life to be made visible in mine to your glory. In Jesus' name I pray. Amen.
Four Core Characteristics of God
Here are four core attributes or characteristics of God that have not and will not ever change.
Holiness
One characteristic of God is that He cannot dwell with or be in the presence of sin. After the fall, God's fellowship with mankind was severed even if His relationship with them wasn't. God is altogether holy and cannot look upon sin because sin is completely contrary to the very nature of God. This may explain why God had to turn away, even from His own Son, while He hung on the cross, and why Jesus cried out, "Eli, Eli, lema sabachthani?" that is, "My God, my God, why have you forsaken me" (Matt 27:46)? Since Jesus bore the sins of mankind, God the Father could not look upon Him. That explains the three hours of darkness during Jesus' last hours. This was the first time in all eternity that the Father and the Son had been separated, so how agonizing that must have been for both of them. Since Jesus had taken upon the sins of humanity, it makes sense that this is the only time where Jesus called God, "My God, My God" and not, "My Father, My father." For a brief moment in time, Jesus was separated from the Father, and it was because of our sins that the Father had to look away. Psalm 22:1 was a Messianic prophecy about Calvary, where David wrote, "My God, my God, why have you forsaken me? Why are you so far from helping me?" On the cross, Jesus God was "far from helping [Him]." God distances Himself from the presence of sin, and that reveals perhaps His greatest attribute of all, that He is "holy, holy, holy" (Isaiah 6:3). In Jewish literature, repeating something three times is the greatest emphasis possible. To repeat something twice in the same sentence is of supreme importance in itself as God calls out only a select few by calling out their name twice. For example, God said, "Abraham, Abraham, Saul, Saul; Peter, Peter," and so on, but to three-peat something shows that it's of the utmost importance.
Goodness
What does the creation tell me about God and His character? It tells me that whatever He wills, that He does. He only needs to speak and it is done! God said that His creation was good, and that means it was perfect. Why? In Mark 10:17 a young rich man came up to Jesus and said, "Good teacher," he asked, "what must I do to inherit eternal life?" Jesus responds by saying, "Why do you call me good?" Jesus answered. "No one is good—except God alone" (Mark 10:18). Of course, Jesus was God too, but the young man didn't know to whom he was speaking, so this why Jesus said that only God is good, so what He creates is also good. After God had created the heavens and the earth, He said "It was good," and whatever is repeated in the Bible indicates the importance of it, and the phrase "And God saw that it was good" is repeated 5 times. Since God is holy, pure, and perfect, everything God created reflected part of His character as being "good." The creation was good because God is good, just as Jesus had said in Mark 10.
Fellowship
Yet another characteristic of God is that He is desires fellowship with us, just like the fellowship that existed before the creation where the Father, Son, and the Holy Spirit had perfect relationships and fellowship with one another. The Father, the Son, and the Holy Spirit are always in perfect harmony, fellowship, and in relationship with One Another. God is a personal God and seeks to dwell with us, and even though He is both transcendent and immanent, He desires to dwell with His own children. He is altogether holy and transcendent, being above all things, but He still walks with those who are like Enoch who walked with God "and was no more" (Gen 5:24). God walked in the Garden with mankind just after creation (Gen 3:8), but once sin entered, God could no longer walk or be present or dwell with mankind in the same way. John 1:14 says that "The Word became flesh and made his dwelling among us," which is better rendered "to have one's tabernacle, abide (or live) in a tabernacle (or tent), tabernacle." [1] Strong's concordance says the Greek word for dwelt (G4637) σκηνόω (skēnoō) (dwelt) is used only 5 times in the New Testament, including John 1:14, and interestingly, the other four times are found in the Book of Revelation. John writes, "Rejoice then, you heavens and those who dwell (tabernacle) in them" (Rev 12:12), and "It opened its mouth to utter blasphemies against God, blaspheming his name and his dwelling, that is, those who dwell (tabernacle) in heaven" (Rev 13:6). In Revelation 21:3 it John writes, "And I heard a loud voice from the throne saying, "See, the home of God is among mortals. He will dwell (tabernacle) with them; they will be his peoples, and God himself will be with them." In every case, order has been restored, sin has been dwelt with, and God is able to dwell (tabernacle) with the redeemed. At that time, the creation is restored, and God can again dwell where there is no corruption of sin.
Order
A final characteristic of God is that the creation reveals that what God creates is in perfect harmony and symmetry. God is a God of order and not of chaos (1 Cor 14:33). This is the theme of the book, the Privileged Planet by Guillermo Gonzalez and Jay Richards (Regnery Publishing, 2004). The perfection and precision of God's creation is plainly known to science. If the moon were any closer or further away…if the earth's axis would not be where it is today (and life may not have been possible). The symmetry of the universe reflects God's nature, just as the beauty of the creation does. The heavens declare the glory of the work of His hands (Psalm 19:1). The New Revised Standard Version reads: "The heavens are telling the glory of God; and the firmament proclaims his handiwork." They do tell about God and power and glory. The creation tells us that God should be glorified and mankind's proper response should be to live a holy life worthy of His creating us, and that He is most worthy to be worshiped. The Father is seeking such to worship Him in truth and in spirit (John 4:24), but truth without the spirit is religion and spirit without truth is useless.
Conclusion
God has many attributes, but I believe His greatest attribute is that He is holy. The only attribute of God that is mentioned three times is that He is holy, and to repeat something three times is the highest form of emphasis possible in Jewish literary form. The Bible never says that God is love, love, love, although He is love…it doesn't say He is merciful, merciful, merciful, although this is true, but rather it says He is "holy, holy, holy" (Isaiah 6:1-8). That may be His greatest characteristic of all.
1 Sowing Circle Ministries. Blue Letter Bible. http://www.blueletterbible.org/lang/lexicon/lexicon. cfm?Strongs=G4637&t=KJV. (Accessed June 25, 2018).
Article by Jack Wellman
Jack Wellman is Pastor of the Mulvane Brethren Church in Mulvane Kansas. Jack is a writer at Christian Quotes and also the Senior Writer at What Christians Want To Know whose mission is to equip, encourage, and energize Christians and to address questions about the believer's daily walk with God and the Bible. You can follow Jack on Google Plus or check out his book Teaching Children the Gospel available on Amazon.
Saint Cyril of Alexandria
Saint of the Day for 
June 27
(
378

 – 

June 27, 444

)

https://www.franciscanmedia.org/wp-content/uploads/2016/08/SODJun27.mp3
Saint Cyril of Alexandria's Story
Saints are not born with halos around their heads. Cyril, recognized as a great teacher of the Church, began his career as archbishop of Alexandria, Egypt, with impulsive, often violent, actions. He pillaged and closed the churches of the Novatian heretics—who required those who denied the faith to be re-baptized—participated in the deposing of Saint John Chrysostom, and confiscated Jewish property, expelling the Jews from Alexandria in retaliation for their attacks on Christians.
Cyril's importance for theology and Church history lies in his championing the cause of orthodoxy against the heresy of Nestorius, who taught that in Christ there were two persons, one human and one divine.
The controversy centered around the two natures in Christ. Nestorius would not agree to the title "God-bearer" for Mary. He preferred "Christ-bearer," saying there are two distinct persons in Christ—divine and human—joined only by a moral union. He said Mary was not the mother of God but only of the man Christ, whose humanity was only a temple of God. Nestorianism implied that the humanity of Christ was a mere disguise.
Presiding as the pope's representative at the Council of Ephesus in 431, Cyril condemned Nestorianism and proclaimed Mary truly the "God-bearer"—the mother of the one Person who is truly God and truly human. In the confusion that followed, Cyril was deposed and imprisoned for three months, after which he was welcomed back to Alexandria.
Besides needing to soften some of his opposition to those who had sided with Nestorius, Cyril had difficulties with some of his own allies, who thought he had gone too far, sacrificing not only language but orthodoxy. Until his death, his policy of moderation kept his extreme partisans under control. On his deathbed, despite pressure, he refused to condemn the teacher of Nestorius.
---
Reflection
Lives of the saints are valuable not only for the virtue they reveal but also for the less admirable qualities that also appear. Holiness is a gift of God to us as human beings. Life is a process. We respond to God's gift, but sometimes with a lot of zigzagging. If Cyril had been more patient and diplomatic, the Nestorian church might not have risen and maintained power so long. But even saints must grow out of immaturity, narrowness, and selfishness. It is because they—and we—do grow, that we are truly saints, persons who live the life of God.

What Jesus Did!

 'Before Abraham'

[Jesus said,] "Your father Abraham rejoiced as he looked forward to my coming. He saw it and was glad." The people said, "You aren't even fifty years old. How can you say you have seen Abraham?" Jesus answered, "I tell you the truth, before Abraham was even born, I AM!" At that point they picked up stones to throw at him. But Jesus was hidden from them and left the Temple.
Key Thought
Like so many other things Jesus says in this chapter, this claim is audacious and bold. It is also true. Jesus didn't just happen on the scene when he came to earth; he existed before any created thing. That's why it is so important that we pay attention to him. He not only sacrificed himself for us, but he left heaven's glory to come and live with us and show us God's love.
Today's Prayer
Father, open my heart to the teaching and truth of Jesus and give me a greater sense of his authority, his majesty, and his lordship in my life. In Jesus' name, I pray. Amen.
Related Scripture Readings
Daily Wisdom:

 Philippians 2:4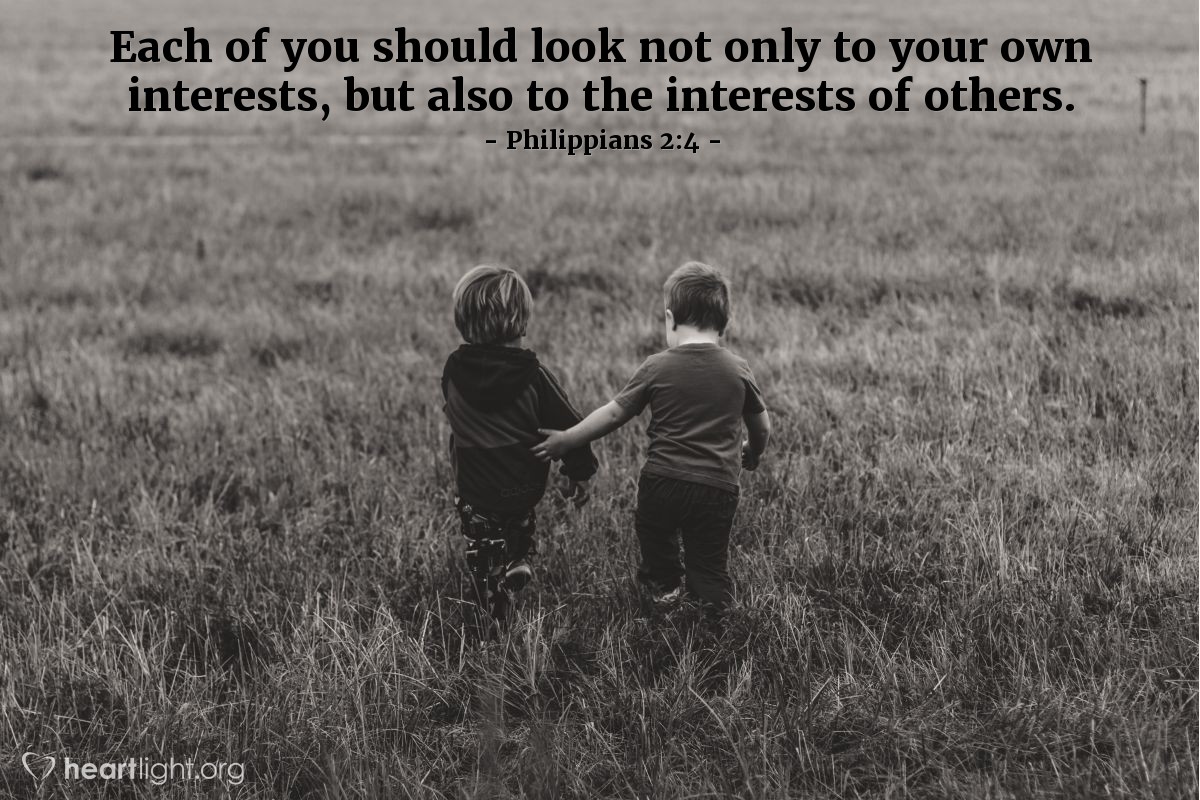 Each one should remain in the condition in which he was called.
1 Corinthians 7:20
Some people have the foolish notion that the only way in which they can live for God is by becoming pastors, missionaries, or Bible teachers. How many would be excluded from any opportunity of spiritual usefulness if this were the case. Beloved, it is not office—it is sincerity; it is not position—it is grace that will enable us to serve and glorify God. God is definitely glorified at the workbench, where the godly worker fulfills his task singing of the Savior's love. In this humble setting God is glorified far more than in many a lofty pulpit where official religion performs its scanty duties. The name of Jesus is glorified by the taxicab driver as he blesses God and speaks to his passengers of the living hope. He will be more useful than the popular preacher who goes about peddling the Gospel for profit. God is glorified when we serve Him in our proper vocations.
Take care, dear reader, that you do not neglect the path of duty by leaving your occupation, and take care you do not dishonor your profession while in it. Think little of yourselves, but do not think too little of your callings. Every lawful trade may be sanctified by the Gospel to noblest ends. Turn to the Bible, and you will find the most menial forms of labor connected either with most daring deeds of faith or with persons whose lives have been illustrations of holiness.
Therefore do not be discontented with your calling. Whatever God has made your position or your work, remain in that, unless you are quite sure that He calls you to something else. Let your first concern be to glorify God to the best of your ability where you are. Fill your present sphere to His praise, and if He needs you in another, He will show it to you. This evening lay aside anxious ambition, and embrace peaceful content.
NATIONAL ICE CREAM CAKE DAY
National Ice Cream Cake Day is observed annually on June 27. In the height of summer, an ice cream cake is the perfect dessert.
An ice cream cake consists of any flavor of ice cream in the shape of a cake.  It can include many different ingredients such as cake, cookie crumbs, sponge cake, fudge, fruit or caramel between the layers of ice cream.  It is then frosted with either whipped cream or a similar icing.  Ice cream cakes are kept frozen until served.  They are typically decorated and served at a wide variety of parties.
Although the origin of the ice cream cake remains somewhat of a mystery, this popular dessert combines the classic summer treat, ice cream, with the time-honored celebratory cake, which makes it one of the best culinary inventions to date.
HOW TO OBSERVE
Order an ice cream cake from your favorite bakery or make your own to share with friends.  Use #icecreamcakeday to share your  photos on social media.
HISTORY
National Ice Cream Cake Day was submitted by the Jurado Family and Cupcakes for a Cause in May of 2018.  The Registrar at National Day Calendar proclaimed National Ice Cream Cake Day to be observed annually on June 27.