Christoph Friedrich Blumhardt
So do not be ashamed of the testimony about our Lord or of me his prisoner. Rather, join with me in suffering for the gospel, by the power of God. He has saved us and called us to a holy life – not because of anything we have done but because of his own purpose and grace. This grace was given us in Christ Jesus before the beginning of time. 2 Timothy 1:8–9, NIV
Lord our God, radiant, light giving, and almighty God through all the ages, be with us in our time too. Strengthen the grace we have received from Jesus Christ, and let it be known over all the world so that your name may be honored everywhere. Bless us, we pray, and let your blessing spread from us to others, to the glory of your name. Grant that the good may be strengthened in us, the good you have let us hear about for so many years. May everything that belongs to your Word come alive in us and in the world. May your blessing be on our actions, for we want to remain under your blessing, to the glory of your righteousness and truth. Amen.
TODAY'S DAILY DIG
Those who know the Lord are never alone. Solitary times are opportunities to know him in greater depth. In order to be free for this new level of being, all self-pity must be conquered. Our self-centeredness must be reckoned for the enemy it is. God cannot squeeze into a self-centered heart.
Source: So Who's Afraid of Birthdays
Verse of the Day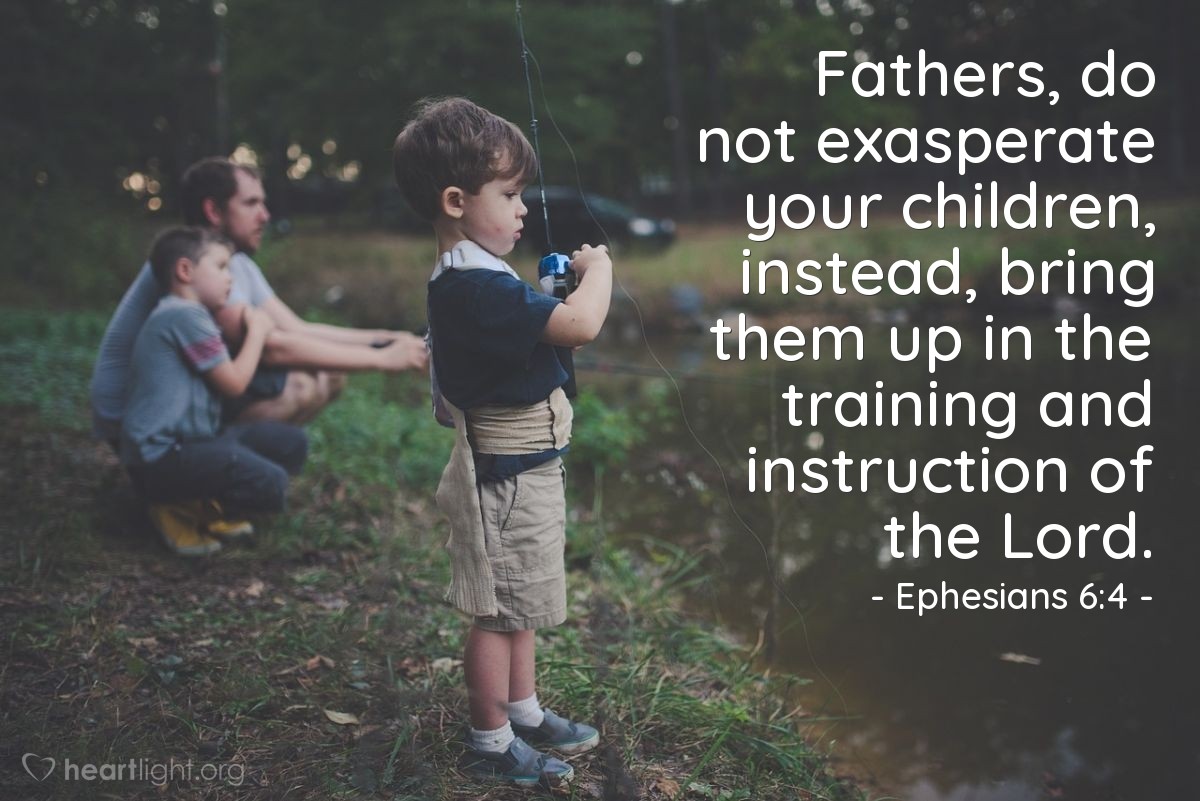 Thoughts on Today's Verse…
Mothers have such an inside road with children that it is interesting that God commands fathers to be about the work of spiritual nurture. I don't believe he means to exclude mothers. No, I think he assumes they'll do their part. But the father's influence and intentional training is so essential.
My Prayer…
Abba Father, may my children come to find you in me. In Jesus' name I pray. Amen.
Faithfulness in Our Calling
TGIF Today God Is First Volume 1 by Os Hillman
June 18, 2018
"He went out to meet Asa and said to him, 'Listen to me, Asa and all Judah and Benjamin. The Lord is with you when you are with Him. If you seek Him, He will be found by you, but if you forsake Him, He will forsake you.'" – 2 Chronicles 15:2
Asa was the king of Judah from 912-872 B.C. He reigned for 41 years and was known as a good king who served the Lord with great zeal. He reformed many things. He broke down idol worship to foreign gods; he put away male prostitutes and even removed his own mother from being queen because she worshiped an idol. The Scriptures say that as long as he sought the Lord, the Lord prospered his reign.
However, Asa was not totally faithful in his calling. There came a time in his life when he made a decision to no longer trust in the God of Israel. He lost his confidence in God as his deliverer. The prophet Hanani came to Asa to inform him that God's blessing was no longer on his life because of an ungodly alliance he had made.
Were not the Cushites and Libyans a mighty army with great numbers of chariots and horsemen? Yet when you relied on the Lord, He delivered them into your hand. For the eyes of the Lord range throughout the earth to strengthen those whose hearts are fully committed to Him. You have done a foolish thing, and from now on you will be at war (2 Chronicles 16:8-9).
There are no guarantees that if we began well we will finish well. The life of Asa tells us this. It is only through God's grace that we can be faithful to our calling. Each of us is capable of falling away from God. Pray that God will keep you faithful to the purposes He has for your life. He strengthens those whose hearts are fully committed to Him.
Waiting isn't a curse. It's a blessing. Patience is a gift from God. Your life would be so much more joyful if you learned how to wait with patience. King David said in Psalm 40:1-4:
I waited patiently for the Lord, and He turned to me, and heard my cry. He also brought me up out of a horrible pit, out of the miry clay, and set my feet on a rock, and established my steps. He has put a new song in my mouth, even praise to our God; many will see it, and fear, and will trust in the Lord. Blessed is the man who places trust in the Lord.
Earlier he said: "Wait on the Lord; be strong, and may your heart be stout; wait on the Lord" (Ps. 27:14).
When you wait patiently on the Lord, you gain access to His ear. God hears the prayers of those who wait patiently for Him. When you wait on the Lord, He will come to your rescue. He will deliver you to safety. When you wait patiently on the Lord, your worship will go to a whole new level. When you wait patiently on the Lord, people will see what He has done for you. Your time of waiting will turn into a testimony, and all who witness your deliverance will come to fear and trust in the Lord. When you wait patiently on the Lord, you will be blessed, and your heart will be strengthened. Your patient waiting shows God that you trust Him with your whole life, and He rewards faith like that in big ways. Listen, you can't tell me that waiting on God isn't worth it.
Prepare your heart to begin to wait knowing that God is going to take care of you. Get ready to understand what it really means to trust God with your when.
As I have said before, we are all in the same boat when it comes to waiting. We all need something. We can also be in the same boat of victory, if we learn that waiting is always worth it.
If you've previously testified to having a struggle with waiting, my prayer for you is that your perspective on why you're waiting will change. Don't see the answer to your prayer as denied, believe that it's only delayed. Delayed means that something has been released and it's on its way, and at that perfect time—on God's clock—you'll be able to celebrate your answer's arrival.
Many of us have such a hard time waiting on God because we haven't asked Him to give us that characteristic of the fruit of the Spirit called longsuffering. Join me in prayer right now to ask God to give you this gift.
Father, I thank you for this time in my life. I pray that You would give me limitless strength to endure this waiting season. I don't want to live without Your anointing for longsuffering. I pray that you will empower me to wait on You with a joyful heart, knowing that Your best is being prepared for me right now. Thank You for causing me to win because I choose to trust You. In the name of Jesus I pray, amen.
Don't get discouraged during your waiting season. God has a plan to bless you in His perfect timing. The blessing may not look the way you thought it would or come the way you expected, but it will be just what you need. Don't quit! God has a miracle with your name on it, and it's worth the wait.
Adapted from Everybody Wants to Win but Nobody Wants to Wait by Marcus Gill, copyright 2017, published by Charisma House. This book encourages you to trust God's timing by helping you discover why God makes us wait, why we can trust His timing, why we must have a vision, goal and plan while we wait and why we must worship to see breakthrough. To order your copy, click on this link.
Prayer Power for the Week of June 17, 2018
This week, thank God that He is working the virtue of patience in your life by allowing you to wait for His timing concerning certain answers to your prayers. Declare by faith that you trust Him in all areas. Use the Word of God to make declarations of faith concerning trust. Continue to pray for worldwide revival; ask God for more laborers for His harvest and to show you what part you should play in expanding His kingdom. Continue to pray for the nation and its leaders, allies, first responders and those in the military. Read 1 Thessalonians 5:17, 1 Timothy 2:8 and James 5:17.
Deborah, Esther and Anna carried a profound anointing. Become a Godly woman of boldness, power and strength. Get the Anointing Bundle.
The Holy Spirit wants to lead you into a deeper, more intimate experience with God. Everything changes in His presence. Enter His Presence.
Summer Reading Bundles + FREE GIFTS! These bundles include prophecy, health, prayer, and the supernatural. Grab your Favorite.
I came to my garden, my sister, my bride.
Song of Songs 5:1
The heart of the believer is Christ's garden. He bought it with His precious blood, and He enters it and claims it as His own. A gardenimplies separation. It is not the open field; it is not a wilderness; it is walled around or hedged in. If only we could see the wall of separation between the church and the world made broader and stronger. It is sad to hear Christians saying, "Well, there is no harm in this; there is no harm in that," and by this approach getting as near to the world as possible. Grace is at a low ebb in the soul that is always inquiring about how far it may go in worldly conformity.
A garden is a place of beauty; it far surpasses the wild uncultivated lands. The genuine Christian must seek to be more excellent in his life than the best moralist, because Christ's garden ought to produce the best flowers in all the world. Even the best is poor compared with what Christ deserves; let us not disappoint Him with withering and feeble plants. The rarest, richest, choicest lilies and roses ought to bloom in the place that Jesus calls His own.
The garden is a place of growth. The believer must not remain undeveloped, just mere buds and blossoms. We should grow in grace and in the knowledge of our Lord and Savior Jesus Christ. Growth should be rapid where Jesus is the gardener and the Holy Spirit the dew from heaven.
A garden is a place of retirement. So the Lord Jesus Christ would have us reserve our souls as a place in which He can show Himself, in a way that He does not to the world. As Christians we should be far keener to keep our hearts closely shut up for Christ! We often worry and trouble ourselves, like Martha, with much serving, and like her we do not have the room for Christ that Mary had, and we do not sit at His feet as we ought. May the Lord grant the sweet showers of His grace to water His garden today.
Venerable Matt Talbot
Saint of the Day for 
June 18
(
May 2, 1856

 – 

June 7, 1925

)

https://www.franciscanmedia.org/wp-content/uploads/2016/08/SODJun18.mp3
Venerable Matt Talbot's story
Matt can be considered the patron of men and women struggling with alcoholism. He was born in Dublin, where his father worked on the docks and had a difficult time supporting his family. After a few years of schooling, Matt obtained work as a messenger for some liquor merchants; there he began to drink excessively. For 15 years—until he was almost 30—Matt was an active alcoholic.
One day he decided to take "the pledge" for three months, make a general confession and begin to attend daily Mass. There is evidence that Matt's first seven years after taking the pledge were especially difficult. Avoiding his former drinking places was hard. He began to pray as intensely as he used to drink. He also tried to pay back people from whom he had borrowed or stolen money while he was drinking.
Most of his life Matt worked as a builder's laborer. He joined the Secular Franciscan Order and began a life of strict penance; he abstained from meat nine months a year. Matt spent hours every night avidly reading Scripture and the lives of the saints. He prayed the rosary conscientiously. Though his job did not make him rich, Matt contributed generously to the missions.
After 1923, his health failed, and Matt was forced to quit work. He died on his way to church on Trinity Sunday. Fifty years later, Pope Paul VI gave him the title venerable. His Liturgical Feast Day is June 19.
---
Reflection
In looking at the life of Matt Talbot, we may easily focus on the later years when he had stopped drinking for some time and was leading a penitential life. Only alcoholic men and women who have stopped drinking can fully appreciate how difficult the earliest years of sobriety were for Matt.
He had to take one day at a time. So do the rest of us.
---
Venerable Matt Talbot is the Patron Saint of:
Alcoholics
Sobriety
Will We Recognize Family and Friends In The Kingdom Of Heaven?
When believers finally reach heaven, will they know family members and friends?
Lazarus and the Rich Man
Does the Bible tell us that we can know our lost family members and friends once we enter the kingdom of heaven? Not exactly, but there are strong indications that we will know those we've lost once we see them again and they will now us. One of Jesus' most powerful stories is that of Lazarus and the Rich Man. Let's read the account to see if this gives us any help as to whether we will recognize people on the other side of eternity. It is found in Luke 16:19-31 where Jesus said, "There was a rich man who was clothed in purple and fine linen and who feasted sumptuously every day. And at his gate was laid a poor man named Lazarus, covered with sores, who desired to be fed with what fell from the rich man's table. Moreover, even the dogs came and licked his sores" (Luke 6:19-21), then "The poor man died and was carried by the angels to Abraham's side. The rich man also died and was buried, and in Hades, being in torment, he lifted up his eyes and saw Abraham far off and Lazarus at his side" (Luke 16:22-23). Abraham responded by saying, "'Child, remember that you in your lifetime received your good things, and Lazarus in like manner bad things; but now he is comforted here, and you are in anguish. And besides all this, between us and you a great chasm has been fixed, in order that those who would pass from here to you may not be able, and none may cross from there to us.' And he said, 'Then I beg you, father, to send him to my father's house — for I have five brothers so that he may warn them, lest they also come into this place of torment'" (Luke 16:25-28). The point to all this is that after death, we will still have feelings, we will be aware of our surroundings, and we will remember those who are still living after we've been judged, but we'll have no place of escape from hell. The rich man wanted his family to know that there truly is a hell. He wanted to go back to warn them, so after death, the rich man (as with all of us) had memories, recollection, feelings, love for his family, and senses (he thirsted), so there is an awareness after death, but the thing is, there is no possible escape for those who've rejected Christ.
Mount of Transfiguration
When Jesus revealed his glory to Peter, James, and John, they immediately recognized Moses and Elijah even though they had never seen them before. How did they know them by sight? Did they know enough about them that they recognized them? Jesus never introduced them or told the disciples who these men were, but the disciples already knew them. Let's read the account of the Transfiguration in Matthew 17:4 where Peter said to Jesus, "Lord, it is good that we are here. If you wish, I will make three tents here, one for you and one for Moses and one for Elijah." We don't know how Peter, James, and John knew who Elijah and Moses were by seeing them for the very first time…we only know they knew them, and I believe that gives us some indication that we will know others in the kingdom whom we've never met, particularly the heroes and heroines of the faith. Jesus spoke to these men after they had died, indicating that there is life after death. For example, Jesus said in Matthew 8:11, "I tell you, many will come from east and west and recline at table with Abraham, Isaac, and Jacob in the kingdom of heaven." Even in ancient times, God told Moses that "I am the God of your father, the God of Abraham, the God of Isaac and the God of Jacob" (Ex 3:6), meaning these men still existed beyond this life.
After Death
Notice that "Abraham breathed his last and died at a good old age, an old man and full of years; and he was gathered to his people" (Gen 25:8). Also, "Ishmael lived a hundred and thirty-seven years. He breathed his last and died, and he was gathered to his people" (Gen 25:17). Jacob was explicit in his instructions about his burial in Genesis 49:29-33, saying, "I am about to be gathered to my people. Bury me with my fathers in the cave in the field of Ephron the Hittite, the cave in the field of Machpelah, near Mamre in Canaan, which Abraham bought as a burial place from Ephron the Hittite, along with the field. There Abraham and his wife Sarah were buried, there Isaac and his wife Rebekah were buried, and there I buried Leah. When Jacob had finished giving instructions to his sons, he drew his feet up into the bed, breathed his last and was gathered to his people." Clearly, Jacob knew that he was going to be buried with his fathers and his relatives and "gathered to his people."David also knew he would recognize his son who died in infancy when he sees him again someday, saying, "But now that he is dead, why should I go on fasting? Can I bring him back again? I will go to him, but he will not return to me" (2 Sam 12:23). There is no doubt David will recognize his own son for he spoke expectantly of seeing him again and "going" to him. This "going to him" is obviously where the child is at now. In 1 Corinthians 13:12, Paul says, "For now we see through a glass, darkly; but then face to face: now I know in part; but then shall I know even as also I am known." Think about those you've shared the gospel with who are no longer here. Surely they'll recognize you when they see you and they'll rejoice with you, no doubt.
Cloud of Witnesses
Some believe that the "cloud of witnesses" is those saints who are now with the Lord and are watching us. The "cloud of witnesses" is mentioned in Hebrew 12:1, but these are witnesses left for us, not spectators. There is no Scriptural evidence that our lost loved ones can see us from heaven. By the way, Hebrews 12:1 is a conclusion of what was just said in Hebrews 11:39-40 that "all these, though commended through their faith, did not receive what was promised, since God had provided something better for us, that apart from us they should not be made perfect." Jesus said that "in the resurrection they neither marry nor are given in marriage, but are like angels in heaven" (Matt 22:30), which some misconstrue to mean that we'll be like or become angels. I don't know why or where this myth ever got started, but in fact, someday, we are to judge the angels (1 Cor 6:3) but not become angels.
Conclusion
The very next moment after you die, you are with the Lord; that is if you are saved. Paul wrote that "to be absent from the body [is] to be present with the Lord" (2 Cor 5:8), which also means that "while we are at home in the body we are away from the Lord" (2 Cor 5:9). When Paul says "in the body," he means here on earth and when he speaks of "with the Lord," we know that He means present with Christ. Jesus is presently seated at the right hand of the Father, because after His death and resurrection, the Scriptures say that God "seated him at his right hand in the heavenly places" (Eph 1:20). This is where He directs His own church today as He gathers a people unto Himself. He is coming again for those who're repented and trusted in Christ. Then, we'll be with those we've lost and recognize them immediately. Again, that is only if they have trusted in Christ. That is the hope of the resurrection…and the hope of every believer in Christ.
Article by Jack Wellman
Jack Wellman is Pastor of the Mulvane Brethren Church in Mulvane Kansas. Jack is a writer at Christian Quotes and also the Senior Writer at What Christians Want To Know whose mission is to equip, encourage, and energize Christians and to address questions about the believer's daily walk with God and the Bible. You can follow Jack on Google Plus or check out his book Teaching Children the Gospel available on Amazon.