Christoph Friedrich Blumhardt
"Though the mountains be shaken and the hills be removed, yet my unfailing love for you will not be shaken nor my covenant of peace be removed," says the Lord, who has compassion on you. Isaiah 54:10, NIV
Lord, O great and almighty God,we thank you that you have given us the Savior, in whom we can become united and have peace on earth. May he, the Savior, work powerfully among us. May your Spirit come into people's hearts so that they learn to acknowledge you as their leader and their God and to rejoice in their lives, which are intended for eternal life. Bless us through your Word and through all the good you do for us. Constantly renew and strengthen us in faith and in patience through the grace you send us. Remember all the peoples who should become yours in the name of Jesus Christ. May they all confess that Jesus Christ is the Lord, to the honor of God the Father. We praise you for the promise you have given us of a wonderful new day of help for all. We praise you that you have created all people to recognize their true calling and their way to salvation. Amen.
TODAY'S DAILY DIG
Have you ever noticed how much of Christ's life was spent in doing kind things – in 
merely
 doing kind things? Run over it with that in view, and you will find that he spent a great proportion of his time simply in making people happy, in doing good turns to people. There is only one thing greater than happiness in the world, and that is holiness; and it is not in our keeping. But what God 
has
 put in our power is the happiness of those about us, and that is largely to be secured by our being kind to them.…I wonder why it is that we are not all kinder than we are. How much the world needs it. How easily it is done. How instantaneously it acts. How infallibly it is remembered.
Source: The Greatest Thing in the World 
Christ is being born for us today. That is what the prophet Isaiah has told us: "A child has been born to us; a child has been given to us" (Isa. 9:6). He is here now for us.
Let us truly experience it this way, because I know that each one of you feels the need, just as I do, to embrace as our very own child that Jesus who is born for all and who, in giving himself to all, gives himself to me in particular. Indeed, each of us can speak in the first person as does Saint Paul: "He loved me, and he handed himself over for me" (Gal. 2:20). Let each of us truly proclaim, "The Lord is the redeemer of my family; he is my companion in life, my confidant in time of anguish, my own redeemer who is at the same time the redeemer of all."
"God so loved the world that he gave his only Son, so that everyone who believes in him might not perish but might have eternal life" (John 3:16). That is the reason for the coming of the messenger of eternal life, the only Son of God, the One who in his divine essence has received the quality of Word, of Son. He is the whole eternal nature of God, the whole of life without end, the light that disperses all shadows, the solution of all problems, the love of all who despair, the joy of all who are sad. Whoever possesses this Son of God lacks for nothing.
If we want to find the child Jesus today, we shouldn't contemplate the lovely figures in our nativity scenes. We should look for him among the malnourished children who went to bed tonight without anything to eat. We should look for him among the poor newspaper boys who will sleep tonight on doorsteps, wrapped in their papers…. In taking all this upon himself, the God of the poor is showing us the redemptive value of human suffering. He is showing us the value it has for redeeming the poverty and suffering which are the world's cross.
There is no redemption without the cross, but that does not mean our poor people should be passive. We were indoctrinating the poor when we told them, "It is God's will for you to live poor and hopeless on the margins of society." That is not true! God in no way wants social injustice…. The greatest violence comes from those who deprive so many people of happiness, from those who are killing the many people who are starving. God is telling the poor, as he told the oppressed Christ when he was carrying his cross, "You will save the world by making your suffering a protest of salvation and by not conforming to what God does not want. You will save the world if you die in your poverty while yearning for better times, making your whole life a prayer, and embodying everything that seeks to liberate the people from this situation."
Mary knew how to endure flight into exile, marginalization, poverty, oppression. Mary was the daughter of a people dominated by the Roman Empire. She saw her son taken prisoner and tortured. She saw him die unjustly on the cross. Mary cries out in holy defiance, declaring that God "will send the proud and the arrogant away empty-handed and, if necessary, bring the mighty down from their thrones. At the same time he will give his grace to the lowly, to those who trust in his mercy" (Luke 1:52–53).
By being born this way, Christ has a lesson for the poor countries and the humble hostels; he has a lesson for those freezing at night in the coffee harvest and those sweating by day in the cotton fields. He is teaching them that all this signifies something and that we shouldn't miss the meaning of suffering. Dear brothers and sisters, if there is one thing that makes me sad in this hour of El Salvador's redemption, it is the thought that many false redeemers are allowing the suffering that is our people's force of redemption to go to waste. They use the people's hunger and marginalization for demagoguery. The people's suffering should not be made a motive for resentment and desperation; it should make people look to the justice of God and realize that this situation must change. And if necessary, like those who have already given their lives, we must be ready to die, but always with the hope that comes from our Christian faith.
How I wish that child, nestled in straw and humble cloth, would speak to us this Christmas of the sublime value of poverty! How I wish that all of us who are reflecting here would bestow divine value on our sufferings great and small! Starting tonight, let us be more intent on offering to God whatever we suffer.
Saint Paul told the Corinthians, "Our message to you is not yes and no. We announce Christ, who is the eternal yes of God" (2 Cor. 1:18–19). What a beautiful name for Christ: the yes of God's promises! Christ is the yes in whom God has promised such extraordinary marvels as a new salvation, forgiveness of sins, and a call to all nations to form one single people united in love. God does not repent of his promises but fulfills them in Christ, even when that Son of his heart is taken and nailed on a cross. If that is the necessary condition for the fulfillment of God's promises, Christ is willing to die crucified. The sacrifice is the seal on God's great promises, and that's why Saint Paul says that those who try to be faithful to God say amen to him (2 Cor. 1:20). This morning let us reassess that timeworn word, amen. Perhaps we use it so much it has lost its meaning for us, for in the liturgy when we say amen, we are really making an act of faith. The most beautiful word we can say is yes, for it is our human yes to God through Christ.
Christ is humanity's amen to God. In Christ the hopes of all nations and of every person become amen because in Christ the promises of God become yes. In Christ is found the zone where those who are most needy and hopeless – the sinful people, the benighted societies – can glimpse the hope offered by a God who still loves us. That statement of Saint Paul, "Christ continues to be the yes" is a Greek grammatical construction, a tense that doesn't exist in our Spanish language. It means that what happened then continues to be a reality down through the centuries: Christ is alive, and he lives in his church, and he lives in Latin America.
As we behold the risen Christ, our faith should overflow with gratitude and delight and hope. We should tell him, "You are the God who became man and who for love of humankind was not afraid to hide your grandeur as God and pass through this world as a man like any other. So little did you distinguish yourself from others that they associated you with criminals, and you died as an outlaw on the cross on Calvary. They buried you in the garbage dump of those who were crucified, but from there, from the garbage dump, from the depths of the abyss, from the descent into the realms of shadow and death, you now rise up as the divine risen One, truly anointed by God with the power of the Holy Spirit" (Acts 10:38).
This is where the incarnation of Christ is crowned. That God-Child whom the Virgin held in her arms, that child she caressed and nursed at her breasts, that man his enemies felt free to beat and despise – he was the flesh of God. God was there. God was embodied in Christ. The glory of the resurrection was necessary so that we humans could come to understand that the dignity of God is found in Christ humiliated and crucified, in Christ who for us is God made a man who understands us, in Christ who felt human exhaustion and sweat and anguish. Now we see it when the glory of God pours forth from his every pore, when his whole appearance and his whole being seem more like the bright sun than some mortal creature. Now we understand what Saint Paul assures us about the resurrection: "What was sown in ignominy is reaped in glory; what was sown in a mortal tomb and seen as death is reaped in glorious and immortal resurrection and will never die again" (1 Cor. 15:42–44). Death will have no dominion over him. He is eternal youth, eternal beauty, eternal springtime; he is life without illness or decline but only the fullness of joy and happiness.
He is Messiah and Lord,Kyrios, emperor and king, not with vain and grandiose triumphalism but with a divine royalty that makes him all-powerful, that makes him present in his church, that makes him the architect of history, that makes him the cornerstone of all human movements, and that makes him the compass that guides all of history toward its true destiny. He is the Lord of history, the Lord of ages, the Lord of eternity. He is the key which encompasses past, present, and future. "Christ forever," says Saint Paul. Christ is the Lord. Christ lives. Christ has risen, and death no longer has dominion over him. But this Christ presents himself as the Good Shepherd. What a marvelous thing, to consider that this powerful king, this man who bears the marks of all his suffering now made into glorious stars, is now our great liberator and our great shepherd!
The prophecy of Isaiah tells us that the Servant of Yahweh will conquer and subject all the nations of the world, but he is not someone who will go shouting angrily through the streets. He is not unfeeling and violent but, rather, gentle and humble. Listen to what Isaiah says about this Servant: "A bruised reed he shall not break and a smoldering wick he shall not quench" (Isa. 42:3). What a magnificent image to describe the mercy of this redemption that is being offered to those who experience despair and to a people that feels like a candle that's about to be extinguished. Even if we feel profound frustration because of our own sins, the sins of the social classes, or the political abuses – even if we feel like a nation unworthy of the name, a people that does not deserve the mercy of God, this prophecy should still fill us with hope: "A bruised reed he shall not break, and a wick that still has a flickering of flame he shall not quench." In El Salvador we still have the ability to remake ourselves. The lamp of our faith and our hope can still be rekindled because our hope is here, in the Servant of Yahweh, Christ, who comes to free us from every form of slavery. He is our hope.
As long as we do not see Christ as true God and true man, we cannot understand the church or the saving mystery of the Lord. That is why God became man: so that by means of this God-man we might enter into the mystery of the divine. "I am the way. No one comes to the Father except through me" (John 14:6). God did not come to save humankind except through Jesus Christ, the only mediator. Blessed are those who know and believe in Jesus! Blessed are those who are aware, even in the midst of these dark hours of our history, that Christ lives! He lives powerfully as God, and he lives caringly as man. He is a man of our ways; he is a man of our history; he is a man like the one in a popular hymn. "God appears as a worker, as one walking in the park, working on the highway, or repairing tires in a gas station. God is incarnate in every person and understands everyone who wants to follow him and love him."1 That is why Jesus said, "Whatever you do for one of these, you do it for me" (Matt. 25:40). He is the way to know humanity, just as he is the way to know God. No one can come to God except across this bridge, this way that is our Lord Jesus Christ….
This Christ comes, and he proclaims, "Whoever believes in me will do the works that I do and will do greater ones than these" (John 14:12). What does this mean? It means that all the saving power that Jesus brought from God will now be entrusted to this group that forms the newborn church, so that over the centuries and among many peoples the church will do greater things than Christ in a geographical and numerical sense. He saved the world with an objective redemption, we might say, by dying on the cross and leaving us the fountain of redemption. But his disciples have to set up channels to distribute this saving work to the whole world. Christ could already see his church extended among all peoples and doing greater things than he was able to do personally.
Christians must always nourish in their hearts the fullness of joy. Try to do that, sisters and brothers. I have tried it many times, and in the most bitter situations, when slander and persecution are at their worst, I have united myself intimately with Christ as my friend, and I have tasted a sweetness that all the joys of earth cannot give. It is the joy of God's intimacy, the profoundest joy the heart can experience, even when people don't understand you. Christ pronounced these words of joy on the tragic last night of his life, knowing that the next day even his disciples would abandon him. No doubt there was fullness of joy in the depths of Christ's soul even when he was ascending Calvary in the bitter agony of his passion, because he was doing the will of his Father and he felt that God was not abandoning him despite all appearances of abandonment. "I have told you this so that my joy may be in you and your joy may be complete" (John 15:11).
Verse of the Day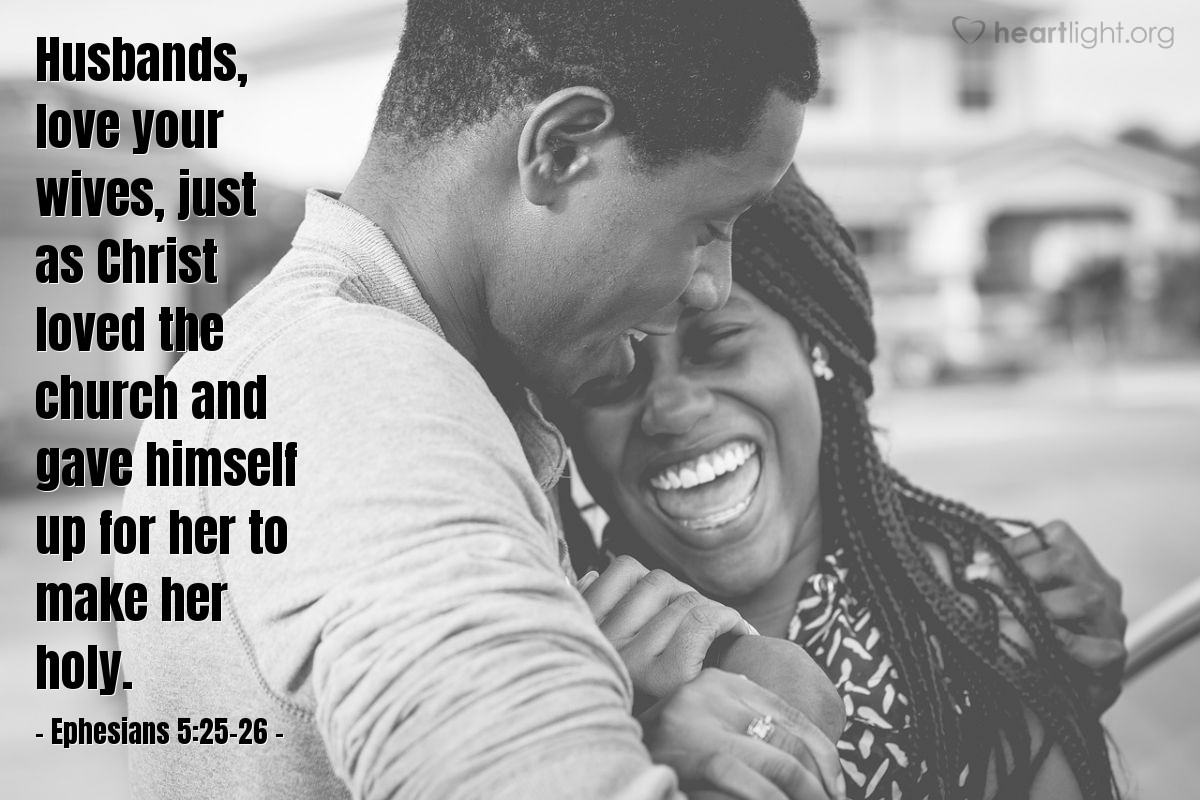 Thoughts on Today's Verse…
For husbands, there is sacrificial love in our purpose and purpose in our sacrifice. We give up ourselves to love our wives. Jesus is our example here, and he gave up everything. His purpose? To make us holy and beautiful to God. Our motives are to be equally as sacrificial and pure in surrendering our rights to bless and love our wives. As Paul reminds us in Ephesians 5:21, we too are to submit, but this does not mean spinelessness, it means service and sacrifice to bless and bring glory to Christ.
My Prayer…
Holy God, help our families to be full of love and may this begin with me, today, in my family. In Jesus' name I pray. Amen.
TODAY

'S
Christian 

Quote

"A man who governs his passions is master of the world. We must either command them, or be enslaved by them. It is better to be a hammer than an anvil. "
read more » 

– St. Dominic
Saint Romuald
Saint of the Day for 
June 19
(c. 950 – 
June 19, 1027

)

https://www.franciscanmedia.org/wp-content/uploads/2016/08/SODJun19.mp3
Saint Romuald's Story
In the midst of a wasted youth, Romuald watched his father kill a relative in a duel over property. In horror he fled to a monastery near Ravenna. After three years, some of the monks found him to be uncomfortably holy and eased him out.
Romuald spent the next 30 years going about Italy, founding monasteries and hermitages. He longed to give his life to Christ in martyrdom, and got the pope's permission to preach the gospel in Hungary. But he was struck with illness as soon as he arrived, and the illness recurred as often as he tried to proceed.
During another period of his life, Romuald suffered great spiritual dryness. One day as he was praying Psalm 31 ("I will give you understanding and I will instruct you"), he was given an extraordinary light and spirit which never left him.
At the next monastery where he stayed, Romuald was accused of a scandalous crime by a young nobleman he had rebuked for a dissolute life. Amazingly, his fellow monks believed the accusation. He was given a severe penance, forbidden from offering Mass, and excommunicated—an unjust sentence that he endured in silence for six months.
The most famous of the monasteries Romuald founded was that of the Camaldoli in Tuscany. Here began the Order of the Camaldolese Benedictines, uniting the monastic and eremetical lives. In later life Romuald's own father became a monk, wavered, and was kept faithful by the encouragement of his son.
---
Reflection
Christ is a gentle leader, but he calls us to total holiness. Now and then, men and women are raised up to challenge us by the absoluteness of their dedication, the vigor of their spirit, the depth of their conversion. The fact that we cannot duplicate their lives does not change the call to us to be totally open to God in our own particular circumstances.
The Strength of Brokenness
TGIF Today God Is First Volume 1 by Os Hillman
June 19, 2018
"The bows of the warriors are broken, but those who stumbled are armed with strength." – 1 Samuel 2:4
There is an oxymoron throughout the Bible. It says that brokenness is strength. How can this be? How can brokenness be strength? In order to use men and women to their fullest extent, the Lord has to break His servants so that they might have a new kind of strength that is not human in origin. It is strength in spirit that is born only through brokenness.
Paul was broken on the Damascus road. Peter was broken after Jesus was taken prisoner. Jacob was broken at Peniel. David was broken after his sin with Bathsheba. The list could go on of those the Lord had to break in different ways before they could be used in the Kingdom.
When we are broken, we see the frailty of human strength and come to grips with the reality that we can do nothing in our own strength. Then, new strength emerges that God uses mightily. God resists the proud but gives grace to the humble.
Do not fear brokenness, for it may be the missing ingredient to a life that emerges with a new kind of strength and experience not known before. Pray for a broken and contrite heart that God can bless.
In a ruling that is sure to send shock waves through the nation, Canada's Supreme Court ruled 7-2 against Trinity Western University's (TWU) Law School. In effect, what the court declared is that universities must choose between biblical standards and accreditation. Put another way, the court ruled that Christianity and higher education are incompatible. I am not exaggerating in the least.
Here's a brief summary of the case for those who are not familiar with it. Trinity Western is a Christian university that requires its students and faculty to live by basic Christian standards. This means that to be a student or faculty member in good standing, you can't commit fornication or adultery, nor can you engage in homosexual relationships.
There's nothing surprising with these requirements, and there are thousands of schools in North America with similar standards. These include Christian schools from K-12, Christian colleges, Bible schools, seminaries and universities.
These standards have long been part of TWU's mandatory covenant, which requires"that all students and faculty pursue a holy life "characterized by humility, self-sacrifice, mercy and justice and mutual submission for the good of others." It requires members to abstain from using vulgar language, lying or cheating, stealing, using degrading materials such as pornography, and 'sexual intimacy that violates the sacredness of marriage between a man and a woman.'"
Again, this is Gospel 101, the basic requirements of Christian discipleship. And it is honorable that TWU seeks to live this out on its campus.
Unfortunately, when TWU opened its law school, it fell afoul of Canada's LGBT activists and their allies. They argued that TWU was discriminating against LGBT students, because of which students graduating with a bona fide law degree should not be allowed to practice law in Canada.
There was a ray of hope for TWU when a regional court ruled in its favor. But now, "In a pair of 7-2 rulings, the majority of justices found the law societies of British Columbia and Ontario have the power to refuse accreditation based on Trinity Western University's so-called community covenant."
Or, to paraphrase, the Supreme Court ruled that if a Christian law school wants accreditation, it must abandon biblical values. How else can this be interpreted?
"The majority judgment said the covenant would deter LGBT students from attending the proposed law school, and those who did attend would be at risk of significant harm."
Significant harm? If so, why? Because of biblical teaching. Because of Christian values. This the locus of the battle. This is the point of conflict.
Parse it however you like, but this is the hardcore truth.
"[The judgment] found the public interest of the law profession gives it the right to promote equality by ensuring equal access, support diversity within the bar and prevent harm to LGBT students."
In other words, "diversity" according to the LGBT lexicon. Diversity meaning "the LGBT way or the highway." Diversity meaning, "all views are welcome other than biblical Christian views."
That's why we've been raising our voices for so many years. That's why we've been warning. That's why we've said that those who came out the closet want to put us into the closet. That's why we've said that LGBT activism was never simply about "tolerance." It was about the silencing of competing views.
And if it could happen in Canada, it could happen in America. (For the skeptics and mockers, give me one good reason why this could not happen here. And note that TWU was not some tiny school hidden in a corner. It has "40 undergraduate programs and 17 graduate programs.")
On a more personal, individual level, what happens to all the law students at TWU? What happens to those who spent years studying and invested tens of thousands of dollars in getting a law degree, only to be banned from practicing law in Canada because their school holds to Christian values? What about the significant harm experienced by them?
Honestly, I don't know where TWU goes from here. And I don't know how the believers in Canada will respond.
But I can say this to my friends and colleagues and fellow-educators and communicators here in America: We either use our liberties or lose them. We either stand fast and stand tall and stand strong, or we cower in a corner. We either do what's right today, or we apologize to our children tomorrow.
It's time to push back.
What will you do?
Dr. Michael Brown(www.askdrbrown.org) is the host of the nationally syndicated Line of Fire radio program. His latest book is Playing with Holy Fire: A Wake-up Call to the Pentecostal-Charismatic Church. Connect with him on Facebook or Twitter, or YouTube.
"Be strong, and He will strengthen your heart, all you who wait for the Lord" (Ps. 31:24).
The state of your heart is crucial when walking through a valley or a traumatic season in life. How you close one door in a time of transition makes a huge difference in how well you walk through the next door in your life's journey. One thing is certain—when walking through a valley (see Ps. 23), you can't afford to sit down in that low place and have a long-term pity party. Sometimes, you have to choose to put one foot in front of the other and just keep on walking!
I went through three bouts of cancer over a nine-year period, lost the wife of my youth to heaven, became a single dad of four, and was plunged into hundreds of thousands of dollars in medical debt, having never missed a bill payment in my life. Then I attempted to rebuild my life while having an international ministry, which removed the privilege of going behind closed doors. (After all, I was James W. Goll, an international prayer and prophetic voice—I felt like I lived in a public gold fish bowl!)
Soon I discovered that I needed to take a deep look at the condition of my heart.
Watching Over Your Heart
I would have to guard my heart and look after its welfare, following the advice of the proverb: "Keep your heart with all diligence, for out of it are the issues of life" (Prov. 4:23). To resuscitate it fully, I would have to learn how to speak life to it.
With plenty of Scriptures to go on, I knew the Lord would be more than willing to help me. For example, "For the eyes of the Lord move about on all the earth to strengthen the heart that is completely toward Him" (2 Chron. 16:9a). I may have thought that my heart no longer felt or even remembered anything but despair, but nevertheless it was still "completely His."
It was vital that I figure out how to get it beating stronger than ever. I inaugurated a new goal: to end this race better than I started it. I decided that after I go home to God, I want people to say, "James Goll loved God and he taught other people how to love Him too."
Finding My Bearings
Extended times of trial and transition can be hard on your heart. Even if you try to keep loving God and others as well as you used to, you just do not feel that you have as much to offer. Even when things settle down a little, you might remain exhausted from grieving and adjusting to your new reality. You know you are still on a journey, but you do not find it as easy to get your bearings.
Finding your bearings has to become part of the journey, or you will just go in circles. You have to ask yourself some really basic questions, such as: "Who am I?" "What do my roots tell me about myself?" "What do I love to do?" "What brings me life?"
"Who Am I?"
This is easy to answer, right? Well, not when you are still reassembling your identity after a major trauma or loss. I had been married to the same person for over half my life, and my functionality—and thus a major aspect of my identity—was wrapped up in being her husband. Now I was a grieving widower. Still, I was a father, right? Yet my kids were all leaving the nest to pursue careers, find love and marriage and build families of their own. This would have been a time of major readjustment for me, even without the cancer, the intense sciatic nerve pain, sleep deprivation and Michal Ann's death.
I was still in full-time vocational ministry. I could teach. I still prayed; I was an active intercessor. I loved to write. I kept pondering and thinking about how to move forward in life. I found myself asking an odd question, "What do my roots tell me about myself?"
To find my bearings, I felt the need to reevaluate my personal life history. I decided to look back at my childhood and find some sweet spots to revive some pleasant memories.
Somehow, looking at my root system helped me find my bearings a little bit more. I soon realized I was born to sing.
Born to Sing
When I asked myself, "What do I love to do?" one of my first answers was, "I love to sing." I have been singing since at least the age of 3, and in high school I won awards for singing, as other young guys might win awards for basketball or some other sport. I didn't sing in order to win prizes; I sang because it was my life. I would go on walks down the railroad tracks, and I would sing Sunday school songs and hymns from the brownish-red Cokesbury hymnal. I would sing anything I heard. I would sing with the radio. I would sing in school programs. I would sing at church. I would even sing with Lawrence Welk. I would sing everywhere I went! I actually grew up being known as a "singer."
I kept on singing after I grew up and when I got married. (Somebody gave me a T-shirt that says, "I Sing Real Loud.") I would sing when I was happy, and I would sing when I was sad. I would sing in the shower and sing in the car. I would sing in during corporate worship, and I would break out into singing in the middle of my own sermons. It didn't matter if I was having a "bad voice or good voice" day—I would just sing anyway.
But in the midst of my cancer treatments and severe traumatic pain, I had not been singing much at all. I was slowly losing my voice. One of my greatest joys in life was sitting with pitch-perfect Michal Ann at our piano bench and singing duets together. Once I put my finger on the fact that I was born to sing, I figured out that one of the best keys for healing my bruised and rather beat-up heart would be telling my heart to sing again. I would sing it back to life.
I think that is something anyone could do, even those who cannot sing a note. Even if you don't use outright singing to do it, at least you could speak to your heart to revive it. Tell your heart the truth. Tell your heart who is on the throne. Tell your heart about God's faithfulness and goodness and how much the Shepherd cares.
Ask yourself, "What brings me life?" Look back across the years to find precious memories and helpful clues about what brings life to you. Read the Bible as if it was written to you personally, rereading the parts that speak most to you. To experience the hidden power of praise and singing, start with Psalms 148, 149 and 150. Tell your heart to start singing!
I started singing again. Now I ease my pain and shift the atmosphere over my own life through song. I sing day and night. I sing in every hotel room I visit. I sing in my kitchen. I sing in the shower. I sing outside when I take a walk. I sing by myself and I sing with others.
Recently, I sang crooner songs in a marble lobby of a 5-star hotel in Taipei, Taiwan with a classical pianist. I found out what time of the day this pianist was going to be performing in the lobby. I even got dressed up, came downstairs and began singing inspirational songs with this world-class Berkley School of Music graduate. People started gathering around and asked where I was from and I proudly told them Nashville. They took videos thinking I was an internationally famous singer.
That brought life to my heart. I sang "Moon River," "Hello Dolly" and "I Left My Heart in San Francisco." But deep down I have always loved singing hymns the most.
"My hope is built on nothing less than Jesus' blood and righteousness/ I dare not trust the sweetest frame, but wholly lean on Jesus' name/ On Christ the solid rock I stand; all other ground is sinking sand/ … When he shall come with trumpet sound, oh may I then in him be found/ dressed in his righteousness alone, faultless to stand before the throne.
Hidden within the lyrics and melodies, the power of praise and worship builds up my heart and orients me in the right direction. It sometimes takes a moment to overcome the feeling of being shut down, too sad and tired to breathe out a note of a song, but once I make the effort, I am so glad I am alive and held in God's capable hands.
What Is God Singing Over You?
God himself is the "singing God," you know: "The Lord your God is in your midst, a Mighty One, who will save. He will rejoice over you with gladness, He will renew you with His love, He will rejoice over you with singing" (Zeph. 3:17). What is God singing over you? I can tell you that he is singing an anthem of hope. He is singing, "I love you and I have a plan for you. I have a great future for you. I have you on my mind and in my heart. I am working everything together for you."
Closing Invitational Prayer
Father, I believe that all of creation is a painting of your beauty and majesty. I believe that you sing over your creation—including me. I believe that the heart is an amazing organ and that out of it flow the springs and issues of life. My heart needs to be revived. I want to tell it to sing again. I speak life to my heart and I declare, "Hope is standing right in front of me," because you are right in front of me, even right inside.
Dr. James W. Goll is the founder of God Encounters Ministries, an award-winning author and communications trainer and has ministered in over 50 nations. For information on his webinars and online classes, visit godencounters.com. James continues to live in Tennessee and is a joyful father and grandfather today.
NATIONAL GARFIELD THE CAT DAY
Celebrated each year on June 19, it is National Garfield the Cat Day.  A fictional character, Garfield is a title protagonist from the comic strip Garfield which was created by Jim Davis.   Today is set aside to celebrate him and the entertainment that he brings us.
June 19, 1978, was the first publication of Garfield which chronicles the life of the lead character, the cat Garfield (named after Jim Davis 's grandfather); Garfield's owner, Jon Arbuckle: and Jon's dog, Odie.
2013 – Garfield is syndicated in roughly 2,580 newspapers and journals and holds the Guinness World Record for being the world's most widely syndicated comic strip.
Set in Muncie, Indiana, common themes in the comic strip include Garfield's laziness, obsessive eating, love for lasagna and coffee and hatred of Mondays and diets.  The focus is mostly upon the interaction between Garfield, Jon, and Odie.
Garfield was one of the cartoon characters to appear in Cartoon All-Stars to the Rescue.
HOW TO OBSERVE
Share your favorite Garfield memories or Garfield-like tendencies by using #GarfieldTheCatDay on social media.
HISTORY
National Garfield The Cat Day was first celebrated in 1998 on the 20th anniversary of the comic strip and Garfield's birthday. Boca Raton City Council Member, Wanda Thayer, proclaimed June 19 as Garfield the Cat Day during surprise birthday party at the International Museum of Cartoon Art in Boca Raton.