Daily Prayer for 

February 16
We have not received the spirit of the world but the Spirit who is from God, that we may understand what God has freely given us. 1 Corinthians 2:12, NIV
Dear Father in heaven, open the door for us, we pray. Grant that we may come to you in spirit. Grant that in you we may find peace and courage for our whole lives. Lead us always by your Spirit. Help us to find your will on earth and grant us access to your heavenly powers, for alone we can do nothing. Strengthen our faith so that we can always serve you. Bless your Word in us. May our hearts be opened, for we are your children, O Lord our God, through Jesus Christ our Savior. Amen.
Eberhard Arnold
We believe that all people, however deeply they may have sunk into darkness, still have a spark of light in the depths of their hearts. This spark is the sense, no matter how deeply hidden, of belonging to a greater whole. And we believe that this spark will one day, through its innate edifying and socially constructive power, draw them to one another, so that they are all gathered in an ocean of light – fellowship with one another, and with God.
Source: An Embassy Besieged
Ready for Lent?
Ash Wednesday is February 26: supplement the Daily Dig with Bread and Wine, our Lent devotional. See a preview here.
Verse of the Day—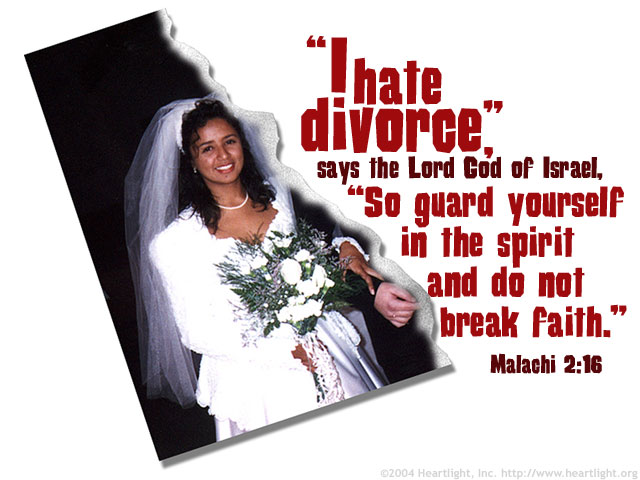 Thoughts on Today's Verse…
For some, hearing the mere mention of this verse wrecks their soul because of what they have endured from an abusive spouse. God hates the pain, damage, loss, sorrow, and physical damage that lies behind many who must leave their marriage for spiritual and physical protection. In a throw-away world, God wants us to know that he hates it when we throw away people unnecessarily and break lives through our unrighteousness behaviors. Let's call each other to God's standard, to God's holiness. Let's not let our spirits be corrupted by selfishness and resentment. Let's not break faith with God by treating those closest to us with contempt, neglect, or abuse. And in a world where people get broken by what causes divorce, and the consequences of divorce, let's go find them, include them, and bring them home to God's family for healing.
My Prayer…
Almighty God, please make our words strong, our commitments lasting, and our lives faithful to the promises we make to you and to each other. Bless those whose hearts have been shattered by spouses who have treated them unfairly or abusively or unfaithfully. Thank you for the great example of so many of your people who have had incredibly strong marriages. Bless me and my house with a legacy of faithfulness that lasts for generations to come. In addition, dear Father, please use me to comfort, bless, and welcome those who have been broken and disheartened in marriages that were hurtful, harmful, and life-shattering. In Jesus' name. Amen.
Morning, February 16
I have learned, in whatever state I am, therewith to be content. Philippians (4:11)
These words show us that contentment is not a natural propensity of man. "Ill weeds grow apace." Covetousness, discontent, and murmuring are as natural to man as thorns are to the soil. We need not sow thistles and brambles; they come up naturally enough, because they are indigenous to earth: and so, we need not teach men to complain; they complain fast enough without any education. But the precious things of the earth must be cultivated. If we would have wheat, we must plough and sow; if we want flowers, there must be the garden, and all the gardener's care. Now, contentment is one of the flowers of heaven, and if we would have it, it must be cultivated; it will not grow in us by nature; it is the new nature alone that can produce it, and even then we must be specially careful and watchful that we maintain and cultivate the grace which God has sown in us. Paul says, "I have learned … to be content;" as much as to say, he did not know how at one time. It cost him some pains to attain to the mystery of that great truth. No doubt he sometimes thought he had learned, and then broke down. And when at last he had attained unto it, and could say, "I have learned in whatsoever state I am, therewith to be content," he was an old, grey-headed man, upon the borders of the grave–a poor prisoner shut up in Nero's dungeon at Rome. We might well be willing to endure Paul's infirmities, and share the cold dungeon with him, if we too might by any means attain unto his good degree. Do not indulge the notion that you can be contented without learning, or learn without discipline. It is not a power that may be exercised naturally, but a science to be acquired gradually. We know this from experience. Brother, hush that murmur, natural though it be, and continue a diligent pupil in the College of Content.
~~~Charles H. Spurgeon
Make Some Smiles!
Father And Daughter Put Hilarious Spin On Rock, Paper, Scissors.
You don't need fancy toys to have a great time with your kids.
A recent video is the perfect example! In it, we see a dad from Vila Velha, Brazil, playing with his young daughter at their kitchen table. They're having so much fun it's almost hard to believe that all they're using for their game is their hands — and a big bowl of flour.
Antonio João Silva Marques and his daughter are speaking Portuguese in the clip, but we can still understand what's going on because of their laughter, the truest universal language!
As Antonio plays the classic Rock, Paper, Scissors game with his little one, everything seems to be pretty standard until she loses her first round. That's when we figure out why the flour is there: This family has a very unique rule. Basically, whenever they lose a round, they have to dip their face in the bowl!
Antonio can't stop laughing as his daughter emerges from the flour pile with her face caked in white powder. At first, she seems stunned as she blinks particles from her eyelashes, but then she too bursts out laughing when she sees herself on-screen.
The game continues, and it doesn't take long for the pendulum of chance to swing the other way. Now it's dad's turn for a dip in the flour bath!
There's something so wholesome about seeing a dad and his daughter have such a good time because of a simple game. What a great reminder that we don't need fancy, expensive things to find joy!
   —Dion Todd
Ready For A God Time
Then Pharaoh said to Joseph, Since God has shown you all this, there is none so discerning and wise as you are. You shall be over my house, and all my people shall order themselves as you command. Only as regards to the throne will I be greater than you. Genesis 41:39'40 ESV
Joseph had to pinch himself to be sure that he was awake. A few hours ago, he was a slave in prison serving time for a false attempted rape charge. Now he was the second-in-command and over all of Egypt. Could this really be happening? This is really a God time.
Once, after I was laid off from my job as a supervisor, I had to take another job at a plant sweeping the floor and driving the fork lift. I needed to make the house payment somehow and just made the best of it. I prayed and listened to the Bible all day. One day the manager got fired and when the owners came down to appoint another, they made me the manager. They passed over dozens to pick me. It was a God time.
Sometimes the Lord will show you such divine favor that there is nothing like it. You have to pinch yourself to see if it is real. Can this really be happening? This is to good too be true! A good time cannot compare with a God time.
Prayer: Father, bring the God times to my life. Let your presence fill my day. Stir me, strengthen me and put me where I need to be, in the name of Jesus.
Bible Fun Fact: The Apostle Paul wrote 14 of the 27 books of the New Testament.

Unstoppable!

 'The Powerful Testimony of a Transformed Life'

All the people saw [the man who had been lame] walking and heard him praising God. When they realized he was the lame beggar they had seen so often at the Beautiful Gate, they were absolutely astounded! They all rushed out in amazement to Solomon's Colonnade, where the man was holding tightly to Peter and John.
Key Thought
Don't you love Luke's phrase, 
"absolutely astounded"
? I would have been bewildered and amazed, too! A man who had sat for years at the same gate with withered feet and ankles begging for a few loose coins now was jumping, leaping, praising God, and entering the Temple on his own two feet. Praise God! How does such an astounding miracle happen? It was Jesus, the Messiah from Nazareth, who gave full healing in an instant to this former lame beggar (
Acts 3:6
). Who could argue with his testimony? He was transformed in every way — spiritually, he was jubilant; physically, he was healed; and interpersonally, he was no longer a helpless beggar and was now leading a horde of people to learn the story of Jesus. So, here's a question for each of us. Since Jesus could produce so many changes for the man who met Peter and John at the Beautiful Gate and was healed by Jesus, what can he do for you and me? But wait! If we have been saved by grace through faith, hasn't he already done something even greater in us? Absolutely! And that means, dear friend in Christ, we also have a testimony to share.
Today's Prayer
O Father, your grace has reached me, transformed me, and empowered me through your Spirit. I pray that my life will be a living display to others of what Jesus can do. I also pray that I can lead people to Jesus, too. I ask this in Jesus' name, so I can share your grace. Amen.
Related Scripture Readings
Daily Wisdom: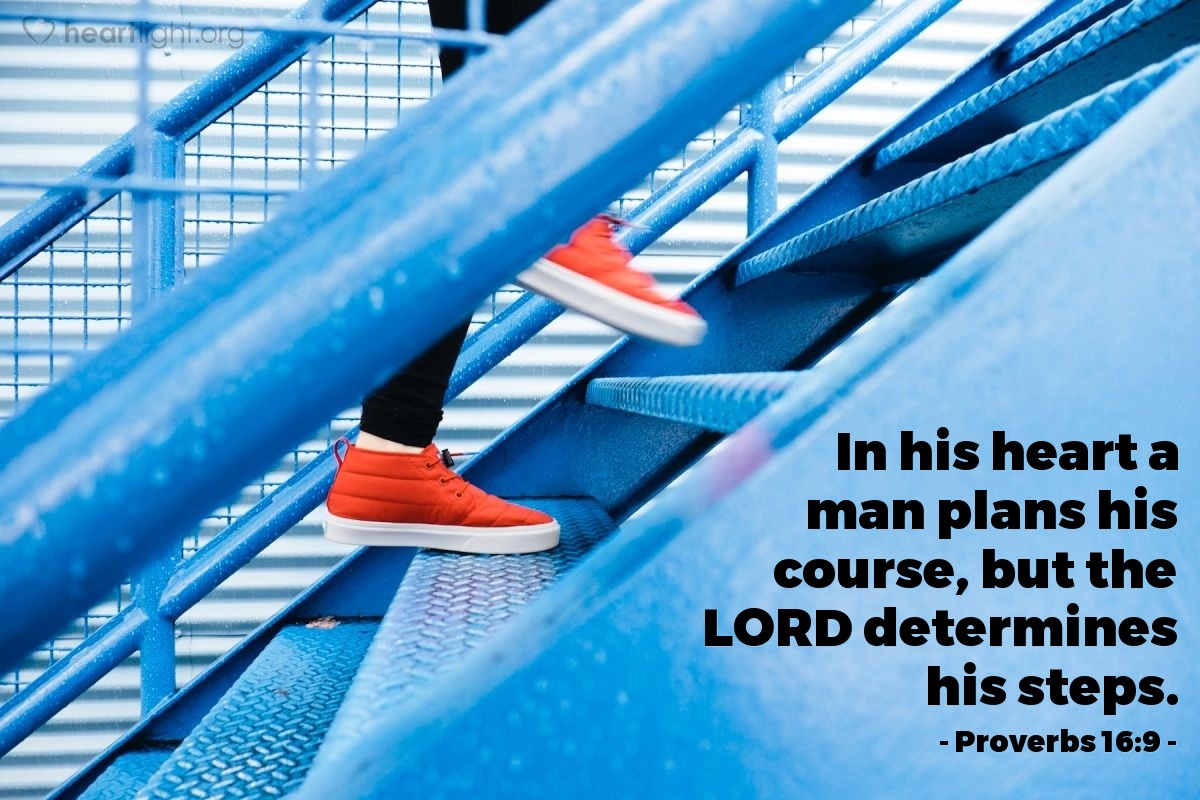 Passion for Praise:

 'The Eternal King'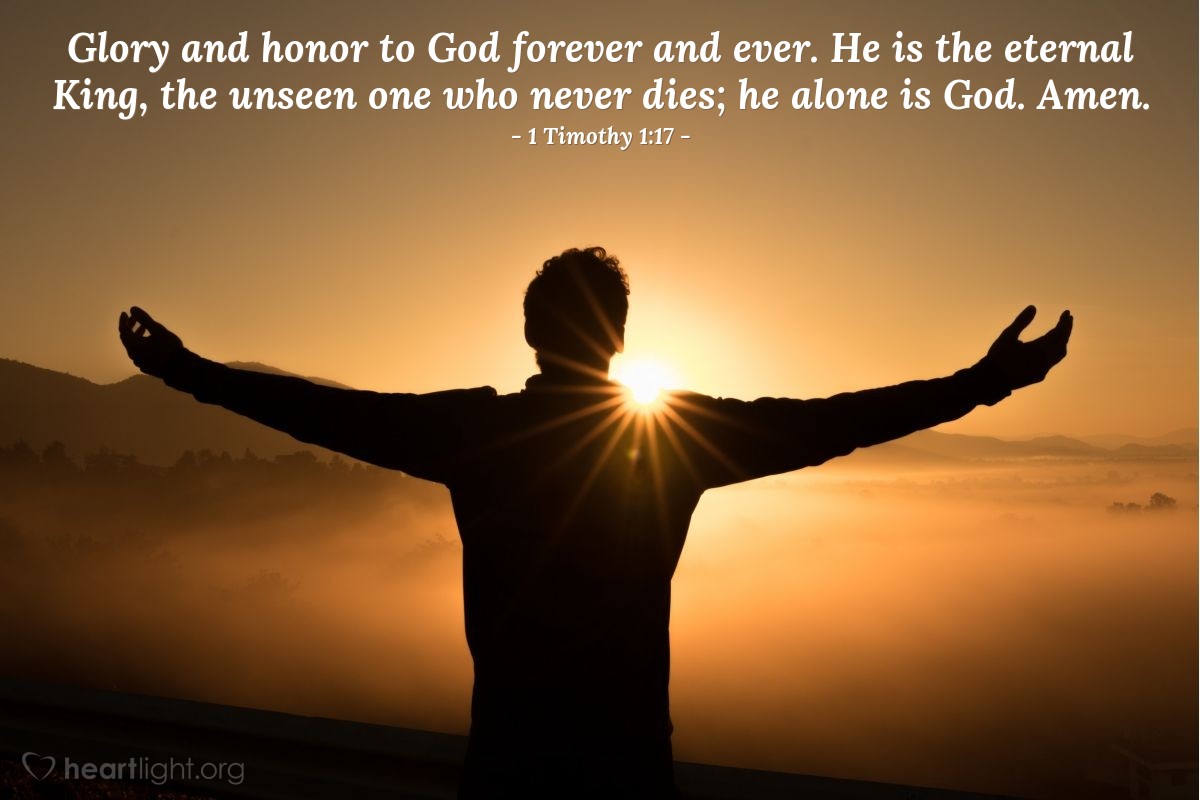 A Year with Jesus:

 'Reason to Celebrate'
Note from Jesus
Dear Beloved,
What's with all those somber faces among those who claim to follow Me? Yes, seriousness is demanded at certain times. Yes, My call for you to follow Me is a life-changing call that demands commitment. Yes, there are times of pain, grief, and persecution that touch My people during their time on earth. On the other hand, what happened to the passion, excitement, and joyous fellowship that you see Me have in My earthly ministry and that should be a central part of your lifestyle? How do you expect to invite others to follow Me if you do not share My joy with them?
Please don't buy into the old religious affliction of false, self-imposed seriousness — the feeling that a Christian life must always be sad, serious, and somber. In My earthly ministry, I was quite often criticized for running around with the "wrong" people, going to the "wrong" parties, and being someone Who enjoyed food and wine.
While I know you will face some very difficult times in your life, I don't want you to miss the exhilaration of My coming:
My coming to earth as the Son of God,
My coming into your presence when you are gathered together to worship Me,
My coming into your life in moments of laughter and food and friendship,
My coming to you in every moment of life, and
My coming at the end of time to bring you to the greatest celebration that will ever occur!
These are things that can give you peace and contentment no matter what the external circumstances are in your life.
So read this story today and be reminded that there are religious folks who don't get it — they feel that everything religious needs to be serious, sad, and somber. Also, remember that is NOT the way I want things. I came to bring true shalom — peace, joy, fellowship, wholeness, and life. You frequently find Me — the One, Who brings you peace, joy, fellowship, wholeness, and life — at the center of a celebration.
Verses to Live
Invite Me into your life and let's share the celebration with others!
Pharisees:

Explain to us why You and Your disciples are so commonly found partying [literally, eating and drinking] like this, when our disciples — and even the disciples of John — are known for fasting rather than feasting, and for saying prayers rather than drinking wine.

Jesus:

Imagine there's a wedding going on. Is that the time to tell the guests to ignore the bridegroom and fast? Sure, there's a time for fasting — when the bridegroom has been taken away. Look, nobody tears up a new garment to make a patch for an old garment. If he did, the new patch would shrink and rip the old, and the old garment would be worse off than before. And nobody takes freshly squeezed juice and puts it into old, stiff wineskins. If he did, the fresh wine would make the old skins burst open, and both the wine and the wineskins would be ruined. New demands new — new wine for new wineskins. Anyway, those who've never tasted the new wine won't know what they're missing; they'll always say, "The old wine is good enough for me!"
Response in Prayer
Lord Jesus, thank You for reminding me that You came to bring Me life and that when You are present, You are not only the reason for the celebration, but You are the center of the celebration! Father, thank You for sending Your Son to give me life. Holy Spirit, thank You for filling me with Your presence and bringing me a deep wellspring of love, joy, and peace! Amen.
You Belong To The Family Of God
We all go through times when we feel lonely, or wonder where we belong. God designed family to always be a place of love and acceptance. Maybe you didn't come from an environment like that, or maybe you've been away from your family. Maybe they are no longer around. God still desires to meet that need for family. He says, "He is the Father to the fatherless, and He places the solitary in families." God wants to give you a circle of people you can trust, who will embrace and accept you.
If you are lonely or in need of a family today, ask God to meet that need and show you where you belong. Or, maybe you are the one who can open your home and heart to someone who is alone. The point is that God loves family. He designed family for a purpose. Jesus said in Matthew 12 that those who do God's will are His family.
Today, if you are part of the family of God, you are never alone! He promises to never leave you nor forsake you. He promises to fill you with His peace and joy, so that you can live as an overcomer all the days of your life!
"God places the solitary in families…" (Psalm 68:6, NKJV)
Pray With Me
Yahweh, thank You for making me a part of Your family. Father, thank You for diminishing my loneliness and being my Father. Thank You for accepting and embracing me always, even when I embarrass You with my sinful behaviour. God, show me how I can reach out and be an example of family in someone else's life, in Christ's Name! Amen.
David Bryant Celebrates
His 75th Birthday
With YOU!
Reflections on a 75-year journey with Christ.
Expectations about the adventures that lie ahead.
All of it powerfully relevant for every Jesus follower today!
Thanks to one and all who expressed your loving wishes to me as I reached this landmark day in my life journey: my 75th birthday.
For me, it truly is only that—just a number.
Maybe I should call this instead my benchmark day—another mile marker for my lifetime walk with Christ.
Yes, it is a road that I have traveled for many miles. I see that at this time especially. But I'm certain what stretches out before me has many more twists and turns before the mission is fulfilled—before the race is run, before the finish line is reached, before I see the Church truly awakened to the full extent of the supremacy of Christ as its great reviving reality.
That is what my life is really all about.
In that regard, it was on my birthday just a few days ago—February 10, that's 2/10—when the Holy Spirit so clearly took me to Ephesians 2:10. From it, I found a fresh perspective that I must carry with me into the adventures that still lie ahead—reflections that have stirred me up again and stoked the fire in my heart.
But all of this is true for you too—and every Jesus follower!
Here's what it says:
For we are his workmanship,
created in Christ Jesus
for good works,
which God prepared beforehand,
that we should walk in them.
(Ephesians 2:10)
I sent an email to my extended family and team at ChristNow with these insights. But I decided I wanted to share with you what the Lord showed me from Ephesians 2:10 the morning of my birthday that is as much about you as it is about me. It is my birthday gift to you!
(1) Created. All that I am and all I have to give simply reveal the superb craftsmanship of the One who began shaping me 75 years ago. And he has never ceased to mold me so as to bring out of me all of the strengths, abilities, capacities, and passions he placed within me from the moment I was conceived.
Even within my mother's womb, I was never a "potential human being;" I was always a "human being with potential."Actually, it is HIS potential that's to be revealed through me.
But all of this is true for you too—and for every Jesus follower!
(2) Re-Created. However, beyond my natal stage, and infinitely more glorious, is what the Father has remade of my life because I am IN CHRIST JESUS.
Even after all the books I've written about him, involving thousands of pages focused on what being in Christ Jesus really means for believers, my vocabulary remains totally inadequate to express ALL that my Redeemer, Lord, and Friend means to us and to me. He is so much more than I have yet seen!
Equally impossible is my ability to effectively declare to others the truths of all we have become as those who have been re-created in Christ Jesus. And because we have been born again as a new creation with a brand-new life, and because we are in union with the King of Glory, we have so much to give to the world.
And yet, celebrate and proclaim him I must. I will. For the rest of my life. Forever.
But all of this is true for you too—and for every Jesus follower!
(3) Purpose. Yet this transforming encounter with Christ was never meant to be an end in itself—never for my sake alone. My creation and re-creation took place in order to unleash a river of "good works" through me. Kingdom works. Eternal works. Redemptive works. Life-giving works. Love-spreading works. Christ-exalting works. For the blessing and reclamation of many, many others.
So it has been the past 75 years. So it shall continue to be in the years ahead. From the beginning—before anything ever existed, in the counsels of heaven—my life was destined to be at the center of who Jesus is, where Jesus is headed, what Jesus is doing, and how Jesus gets blessed. God has a wonderful plan for his Son, to sum up everything under him as Lord, and he has given me a place in it.
But all of this is true for you too—and for every Jesus follower!
(4) "Prepared beforehand." This awesome phrase from Ephesians 2:10 reinforces the depths of my life purpose! My past, my present, my future—all of it has already been wrapped up in the Father's plan, all of it is meant for the Son's glory, and all of it is being carried out right now by the Spirit's power.
Beforehand—before I drew my first breath. Beforehand—before I ever knew about the saving work of the Savior. Beforehand—before I entered into this extraordinary life in Jesus. Beforehand—before today, as I begin my 76th year.
Prepared for me before I even dared to say YES to his call on my life. Prepared for me so that this "upward call of God in Christ Jesus" will be fulfilled.
Prepared beforehand. It cannot fail because it comes from the eternal counsels of the Father, because it focuses on the glories of the Son, and because it is implemented by the power of the Spirit.
But all of this is true for you too—and for every Jesus follower!
(5) Onward. Consequently, my one assignment is to walk out all of these wonderful truths. Daily. Practically. Consistently. Intentionally. Enthusiastically. Expectantly. Joyfully. Unflinchingly. And ultimately, victoriously in Jesus.
One step at a time. One moment at a time. Through every trial. With every tear. Knowing that the best is still ahead. "Those who hope in Christ will not be disappointed."
Hallelujah! What an extraordinary journey with Jesus this is as it continues to unfold before me with every new birthday. With every new morning. With every new breath.
However, just as I've repeated above,
Ephesians 2:10 is not about me only!
It is also about YOU!
These truths are yours to claim too,
no matter which "mile markers" you've reached so far.
Today is not the "end."
The "end" awaits us at Jesus' feet.
So, come with me.
Together, let's pursue this unparalleled journey with him.
About the Author
Over the past 40 years, David Bryant has been defined by many as a "messenger of hope" and a "Christ proclaimer" to the Church throughout the world. Formerly a minister-at-large with the InterVarsity Christian Fellowship, president of Concerts of Prayer International (COPI), and chairman of America's National Prayer Committee, David now provides leadership to ChristNow.com and Proclaim Hope!, whose mission is to foster and serve Christ-awakening movements. Order his widely read books at DavidBryantBooks.com.
How to Love Your Neighbor
A reflection on the Good Samaritan of the Jericho Road
FEBRUARY 14, 2020
Christ taught us
 that the supernatural love of our neighbor is the exchange of compassion and gratitude which happens in a flash between two beings, one possessing and the other deprived of human personality. One of the two is only a little piece of flesh, naked, inert, and bleeding beside a ditch; he is nameless; no one knows anything about him. Those who pass by this thing scarcely notice it, and a few minutes afterward do not even know that they saw it. Only one stops and turns his attention toward it. The actions that follow are just the automatic effect of this moment of attention. The attention is creative. But at the moment when it is engaged it is a renunciation. This is true, at least, if it is pure. The man accepts to be diminished by concentrating on an expenditure of energy, which will not extend his own power but will only give existence to a being other than himself, who will exist independently of him. Still more, to desire the existence of the other is to transport himself into him by sympathy, and, as a result, to have a share in the state of inert matter which is his.
Such an operation goes equally against the nature of a man who has not known affliction and is ignorant of its meaning, and a man who has known or had a foretaste of affliction and whom it fills with horror.
It is not surprising that a man who has bread should give a piece to someone who is starving. What is surprising is that he should be capable of doing so with so different a gesture from that with which we buy an object. Almsgiving when it is not supernatural is like a sort of purchase. It buys the sufferer.
Whatever a man may want, in cases of crime as in those of the highest virtue, in the minutest preoccupations as in the greatest designs, the essence of his desire always consists in this, that he wants above all things to be able to exercise his will freely. To wish for the existence of this free consent in another, deprived of it by affliction, is to transport oneself into him; it is to consent to affliction oneself, that is to say to the destruction of oneself. It is to deny oneself. In denying oneself, one becomes capable under God of establishing someone else by a creative affirmation. One gives oneself in ransom for the other. It is a redemptive act.
The sympathy of the weak for the strong is natural, for the weak in putting himself into the place of the other acquires an imaginary strength. The sympathy of the strong for the weak, being in the opposite direction, is against nature.
That is why the sympathy of the weak for the strong is pure only if its sole object is the sympathy received from the other, when the other is truly generous. This is supernatural gratitude, which means gladness to be the recipient of supernatural compassion. It leaves self-respect absolutely intact. The preservation of true self-respect in affliction is also something supernatural. Gratitude that is pure, like pure compassion, is essentially the acceptance of affliction. The afflicted man and his benefactor, between whom diversity of fortune places an infinite distance, are united in this acceptance. There is friendship between them in the sense of the Pythagoreans, miraculous harmony and equality.
Both of them recognize at the same time, with all their soul, that it is better not to command wherever one has power to do so. If this thought fills the whole soul and controls the imagination, which is the source of our actions, it constitutes true faith. For it places the Good outside this world, where are all the sources of power; it recognizes it as the archetype of the secret point that lies at the center of human personality and is the principle of renunciation.
Love for our neighbor, being made of creative attention, is analogous to genius.
Even in art and science, though second-class work, brilliant or mediocre, is an extension of the self; work of the very highest order, true creation, means self-loss. We do not perceive this truth, because fame confuses and covers with its glory achievements of the highest order and the most brilliant productions of the second class, often giving the advantage to the latter.
Love for our neighbor, being made of creative attention, is analogous to genius.
Creative attention means really giving our attention to what does not exist. Humanity does not exist in the anonymous flesh lying inert by the roadside. The Samaritan who stops and looks gives his attention all the same to this absent humanity, and the actions which follow prove that it is a question of real attention.
"Faith," says Saint Paul, "is the evidence of things not seen" (Heb. 11:1). In this moment of attention faith is present as much as love.
In the same way a man who is entirely at the disposal of others does not exist. A slave does not exist either in the eyes of his master or in his own. He who has absolutely no belongings of any kind around which social consideration crystallizes does not exist. A popular Spanish song says in words of marvelous truth: "If anyone wants to make himself invisible, there is no surer way than to become poor." Love sees what is invisible.
God thought that which did not exist, and by this thought brought it into being. At each moment we exist only because God consents to think us into being, although really we have no existence. At any rate that is how we represent creation to ourselves, humanly and hence inadequately of course, but this imagery contains an element of truth. God alone has this power, the power really to think into being that which does not exist. Only God, present in us, can really think the human quality into the victims of affliction, can really look at them with a look differing from that we give to things, can listen to their voice as we listen to spoken words. Then they become aware that they have a voice, otherwise they would not have occasion to notice it.
Difficult as it is really to listen to someone in affliction, it is just as difficult for him to know that compassion is listening to him.
The love of our neighbor is the love which comes down from God to man. It precedes that which rises from men to God. God is longing to come down to those in affliction. As soon as a soul is disposed to consent, though it were the last, the most miserable, the most deformed of souls, God will precipitate himself into it in order, through it, to look at and listen to the afflicted. Only as time passes does the soul become aware that he is there. But, though it finds no name for him, wherever the afflicted are loved for themselves alone, it is God who is present.
God is not present, even if we invoke him, where the afflicted are merely regarded as an occasion for doing good. They may even be loved on this account, but then they are in their natural role, the role of matter and of things. We have to bring to them in their inert, anonymous condition a personal love.
God is longing to come down to those in affliction.
That is why expressions such as to love our neighbor in God, or for God, are misleading and equivocal. A man has all he can do, even if he concentrates all the attention of which he is capable, to look at this small inert thing of flesh, lying stripped of clothing by the roadside. It is not the time to turn his thoughts toward God. Just as there are times when we must think of God and forget all creatures without exception, there are times when, as we look at creatures, we do not have to think explicitly of God. At such times, the presence of God in us has as its condition a secret so deep that it is even a secret from us. There are times when thinking of God separates us from him. Modesty is the condition of nuptial union.
In true love it is not we who love the afflicted in God; it is God in us who loves them. When we are in affliction, it is God in us who loves those who wish us well. Compassion and gratitude come down from God, and when they are exchanged in a glance, God is present at the point where the eyes of those who give and those who receive meet. The sufferer and the other love each other, starting from God, through God, but not for the love of God; they love each other for the love of the one for the other. This is an impossibility. That is why it comes about only through the agency of God.
Do we…can we…mirror God's heart? Valentine's Day is all about love. How can we love more like God? How can we reflect our Father God's heart?
LOVE LIKE THE FATHER'S HEART
By
Rebecca Barlow Jordan
If you can love your brother with true unselfishness,
living not just for yourself, but for his happiness;
If you can treat your neighbor with kindness, pure and sweet,
Not looking for reward or gain, not bent on fame or greed;
If you can lift one heart that's down, or touch another life;
refrain from judging motives, avoiding needless strife;
If you can try to understand a little more today
and help a weaker brother again to find his way;
If you can smile when trouble comes knocking at your door;
and glean from every problem a lesson that's in store;
If you can live your life each day as if it were your last,
forgiving every debtor, forgetting all the past,
If you can offer grace to those so desperate for love—
You'll find your life's a mirror of the Father's heart above.
Is Your Desire to Mirror God's Heart?
That's certainly my desire. How about you? Most of the time I fall very short! Only God can love through us. We can't do it ourselves!
I wrote this poem several years ago, (with apologies to Rudyard Kipling) and it was first published by Warner Press.
My Personal Prayer for You
Father God, teach us more about how to love like You do. Clean the smudges off our "mirrors" so we can reflect You more accurately. Thank you for sending Jesus so we can see what Your heart looks like.  Jesus, we want to look more like You–and love more like You! You are the perfect Valentine–and our perfect model for love.
Day-votedly Yours,
Rebecca
(This is a revised, reposted blog for Valentine's Day.)
*You might also enjoy the post, The Perfect Valentine. And if you need help with a valentine for your spouse, read last week's post, A Valentine Prayer Letter to My Spouse – Husband and Wife.
Don't forget to encourage someone today! Happy Valentine's Day!
It's Your Turn
Do you have a personal relationship with God? Through Jesus Christ, you can. I'd love to hear from you anytime. You can always write me through my contact page. Just fill out the basic name and address info, and then the e-mail will come to me. Your name or info will never be shared with anyone without your permission.
Prophecy: The Lord Says, 'This Is My Boomerang Against Your Enemy'
Author Andrew Towe
I heard the Lord say, "The enemy has been stirring demonic attacks against many in hopes to thwart the promises that I have decreed through my prophets for this new decade. He has used discouragement, strife, misunderstandings, envy and numerous other tactics to try to impede what I am doing.
"My miracles are already in motion. Angels have been dispatched and all of the ingredients for a movement are now boiling over. What the adversary does not understand is the fire of opposition is only causing my burning ones to blaze even greater. Satan has recognized that I am quickly stirring the formulation for a great awakening. Everything I have spoken will come to pass.
"Don't be dismayed by the threats of the enemy. My promises are greater than his threats. War with your prophecies and the words that I have spoken to you. Stand steadfast, refusing to move to the left or right. Keep your eyes focused on me. I am your help. Remember, your enemy is defeated and My Word will be accomplished, just as I promised!"
The Lord showed me a vision of fiery darts being sent by the enemy, purposed to cause great harm and destruction. But, instead of them penetrating their target, they ricocheted off, hurling back to the direction from which they came.
The Lord spoke to me and said, "This is My boomerang against your enemy!" I quickly researched the definition of the word. Dictionary.com defines "boomerang" as "something, as a scheme or argument, that does injury to the originator."
Did you see that? Can you hear what God is saying by using this word? God is causing every plan, plot and scheme to trigger injury to the originator. The enemy meant it for evil, but God is turning it for your good.
God brought me to the book of Esther. It begins with the story of Queen Vashti refusing to display her beauty for the King of Persia. Her actions caused her to be stripped from her title, which led the king to search for a new queen.
Don't miss the prophetic symbolism in this text. The Lord revealed to me that the king's bride having been summoned to display her beauty before him and his guests was like the bride of Christ (the church), who has been summoned to display His glory before Him and all the earth.
Queen Vashti was rejected because she refused to answer the call of the king. We are on the edge of a move of God unlike any that we have ever seen. God is calling His church to move into the glory realm. God is sounding the alarm to awaken His bride. Will you answer the call? The time is now! Will you display your beauty that He has bestowed upon you so others may see?
During this time, a Jewish beauty, who had been orphaned at an early age and raised by her older cousin, was chosen to be among many women in the king's harem. The Bible tells us that the king loved Esther more than all of the other women.
Haman, the Agagite, was promoted to the position of grand vizier by the Persian king. It was required that the entire court bow down before him, but Moredcai, the Jewish Benjamite, refused to bow, for he would not honor the enemy of King Saul, Agag. This enraged Haman, and he vowed to not only make Mordecai pay, but to take revenge on all of the Jewish people. In his pursuit of vengeance, he persuaded the king to decree the death of all of the Jews on a set day. Moreover, Haman was thrilled and had gallows built that would be used to kill his nemesis, Mordecai.
However, before the decree was carried out, the king could not sleep one night and asked for the royal chronicles to be read to him. Unwittingly, he discovered that Mordecai had exposed a plot to kill him and had never been rewarded for stopping the assassination. He asked Haman's advice on how he could honor a man in whom the king delighted. Haman arrogantly thought the king was referring to him. He proposed to the king that a gift of fine clothes and a royal procession be given to the man in whom he delighted.
Then, Haman learned the king was not speaking about him at all, but instead he spoke of Mordecai as the man with whom he would show veneration. God had moved behind the scenes and placed Haman in a position where he had to honor Mordecai!
That night Queen Esther held a banquet and invited the king and Haman; at the banquet she revealed her Jewish nationality to her husband, the king, and also exposed the plot of Haman to kill her people. Haman threw himself at the feet of Esther and begged for his life.
The king came in and thought he was attacking her and ordered Haman to be hung on his own gallows. This was a divine reversal! That which Haman had planned for God's servant, Mordecai, instead boomeranged upon him, and the destroyer suffered the fate of his own plan. Furthermore, it did not stop there! All of Haman's estate was given to Mordecai, including the king's signet ring. The signet ring indicated that Mordecai was empowered with authority to act on behalf of the king.
This was the perfect example of God's boomerang! The enemy meant to destroy the Jewish people, but God caused it to boomerang back to the originator. It caused promotion for Mordecai and the Jewish people. This is what He is doing for you.
The enemy is going to wish he would have never sent the waves of opposition against you. Because now God's boomerang has turned the tide back to him. I hear the Lord say, "My boomerang will cause your Haman to be hung on his own gallows. The supernatural turnaround is already in motion and you will see it swiftly."
Andrew Towe is an emerging prophetic voice to this generation. Andrew preaches the Word of God with fire, inviting God's manifested presence to fall, with signs and wonders occurring in his services. Andrew and his wife, Brooke, are the lead pastors of Ramp Church Chattanooga, and they reside in Chattanooga, Tennessee, along with their two children. Andrew travels extensively, preaching the gospel of Jesus Christ. Wherever he ministers, lives are changed, faith is strengthened and expectation is ignited.
Humor…