TODAY'S DAILY PRAYER
Praise the Lord, O my soul; all my inmost being, praise his holy name. Praise the Lord, O my soul, and forget not all his benefits. He forgives all my sins and heals all my diseases. Psalm 103:1–3, NIV
Lord our God, O Holy One, we thank you that we may lay aside our own nature and be lifted in spirit above all that is temporal and human and have joy in you. In spite of all the evil surrounding us, in spite of the thousandfold misery of humankind, we may still rejoice in you, in all you do and will yet do for us. Grant that we may go on rejoicing, having joy together, helping instead of burdening each other, until this earth is filled with the jubilation of those you have so richly blest. Forgive us all our sins. Heal us in mind and body. Deliver us from all the corruption that tries to take hold of our souls. Amen.
TODAY'S DAILY DIG
The church is never true to itself when it is living for itself, for if it is chiefly concerned with saving its own life, it will lose it. The nature of the church is such that it must always be engaged in finding new ways by which to transcend itself. Its main responsibility is always outside its own walls in the redemption of common life. That is why we call it a redemptive society. There are many kinds of religion, but redemptive religion, from the Christian point of view, is always that in which we are spent on those areas of existence that are located beyond ourselves and our own borders.
Prayer to Overcome Jealousy and Envy
Heavenly Father, I give thanks and praise, blessed to be among those sanctified in Christ Jesus, and called to be saints together with all those who call upon the name of our Lord Jesus Christ. I thank you for Grace and peace from God our Father and the Lord Jesus Christ.
Proverbs 27:4 Wrath is cruel, anger is overwhelming, but who can stand before jealousy?
Proverbs 14:30 A tranquil heart gives life to the flesh, but envy makes the bones rot.
Binding the spirit of jealousy
Wonderful Counselor, I bind that spirit of jealousy that's attempting to consume my life. I curse it out completely in the name of Jesus, for it is more than cruelty and overwhelming fury.
Remove it now, mighty God, along with the hatred, anger, fear and insecurities that fuel it.
James 3:16 For where jealousy and selfish ambition exist, there will be disorder and every vile practice.
Set me free
Everlasting Father, I desire to be as holy as You are. Set me free of the thoughts that consume my mind which cause the jealousy to arise. Substitute the negativity and cruelty within my heart with Your peace and love, and gentle kindness.
James 4:2-3 You desire and do not have, so you murder. You covet and cannot obtain, so you fight and quarrel. Yet, you do not have, because you do not ask. You ask and do not receive, because you ask wrongly, to spend it on your passions.
Overcoming envy
Prince of Peace, help those who are struggling today. May they experience Your love and show love in return to all they come into contact with.
Help me to not be envious towards my neighbors and friends but rather to be happy for them and encourage them to go even further. Cleanse me of anything that breaks Your heart, oh Savior.
Help me live a righteous life, Heavenly Father. Because on this day I declare it, I decree it and speak it into my life, in JESUS' mighty name, Amen!!!
James 3:14-15 But if you have bitter jealousy and selfish ambition in your hearts, do not boast and be false to the truth. This is not the wisdom that comes down from above, but is earthly, unspiritual, demonic.
Galatians 5:19-21 Now the works of the flesh are evident: sexual immorality, impurity, sensuality, idolatry, sorcery, enmity, strife, jealousy, fits of anger, rivalries, dissensions, divisions, envy, drunkenness, orgies, and things like these. I warn you, as I warned you before, that those who do such things will not inherit the kingdom of God.
Music is a big part of our culture—and not just in secular circles. Music is huge in terms of worship, especially in the evangelical and charismatic communities.
I can remember the days (when I was quite young) when it was scandalous to have a drum set in the church. Some church leadership opposed early contemporary Christian music, but for the most part, those attitudes have changed.
Recently, a friend of mine named Mark Joseph wrote a book called Rock Gets Religion,in which he delves into the tension religious youth encounter when they engage in the world of rock 'n' roll. After all, rock music once exalted—and was even defined by—a culture of hedonism and debauchery. Now, though, many upstanding citizens and even godly men and women are taking their place in the rock music industry. Mark's book lays out the case for people of faith to keep making their music in the midst of popular culture.
Mark is the brother of Ken Joseph, whom I visited once in Japan where he was a missionary. His missionary parents had gone to Japan in the early 1950s after General Douglas MacArthur called for missionaries. Mark's late father, Ken Joseph Sr., was a friend of Robert Walker and well aware of Christian Life Magazine, so I have known him for many years.
I don't often write about music, though some of that is generational. Truth be told, I enjoy music, and I try to keep up with trends. My son Cameron's Relevant magazine really focuses on music because that's so important to Millennials. My son Chandler, a Millennial, makes his living as a musician and is quite good. (You can check out his music on Saskatchewan. How is that for a shameless promotion by his dad?)
It's hard to be successful in the music industry and maintain a strong faith—and Mark makes that point clear in his book. But in order to reach the maximum number of people with their music, Mark says, Christian musicians have to be willing to reach people where they are. He points out that the more Christians participate in mainstream culture, the more we will see that culture reflecting our values.
I recently interviewed Mark on my podcast, "The Strang Report." Listen to the interview below to learn how we as Christians can impact society, especially the music industry.
Saint Joan of Arc
Saint of the Day for 
May 30
(
January 6

, 

1412

 – 

May 30, 1431

)

https://www.franciscanmedia.org/wp-content/uploads/2016/08/SODMay30.mp3
Saint Joan of Arc's Story
Burned at the stake as a heretic after a politically-motivated trial, Joan was beatified in 1909 and canonized in 1920.
Born of a fairly well-to-do peasant couple in Domremy-Greux southeast of Paris, Joan was only 12 when she experienced a vision and heard voices that she later identified as Saints Michael the Archangel, Catherine of Alexandria, and Margaret of Antioch.
During the Hundred Years War, Joan led French troops against the English and recaptured the cities of Orléans and Troyes. This enabled Charles VII to be crowned as king in Reims in 1429. Captured near Compiegne the following year, Joan was sold to the English and placed on trial for heresy and witchcraft. Professors at the University of Paris supported Bishop Pierre Cauchon of Beauvis, the judge at her trial; Cardinal Henry Beaufort of Winchester, England, participated in the questioning of Joan in prison. In the end, she was condemned for wearing men's clothes. The English resented France's military success–to which Joan contributed.
On this day in 1431, Joan was burned at the stake in Rouen, and her ashes were scattered in the Seine River. A second Church trial 25 years later nullified the earlier verdict, which was reached under political pressure.
Remembered by most people for her military exploits, Joan had a great love for the sacraments, which strengthened her compassion toward the poor. Popular devotion to her increased greatly in 19th-century France and later among French soldiers during World War I. Theologian George Tavard writes that her life "offers a perfect example of the conjunction of contemplation and action" because her spiritual insight is that there should be a "unity of heaven and earth."
Joan of Arc has been the subject of many books, plays, operas and movies.
---
Reflection
"Joan of Arc is like a shooting star across the landscape of French and English history, amid the stories of the Church's saints and into our consciousness. Women identify with her; men admire her courage. She challenges us in fundamental ways. Despite the fact that more than 500 years have passed since she lived, her issues of mysticism, calling, identity, trust and betrayal, conflict and focus are our issues still." (Joan of Arc: God's Warrior, by Barbara Beckwith)
---
Saint Joan of Arc is the Patron Saint of:
France
Military Members

What Jesus Did!

 'Many Put Their Faith in Him'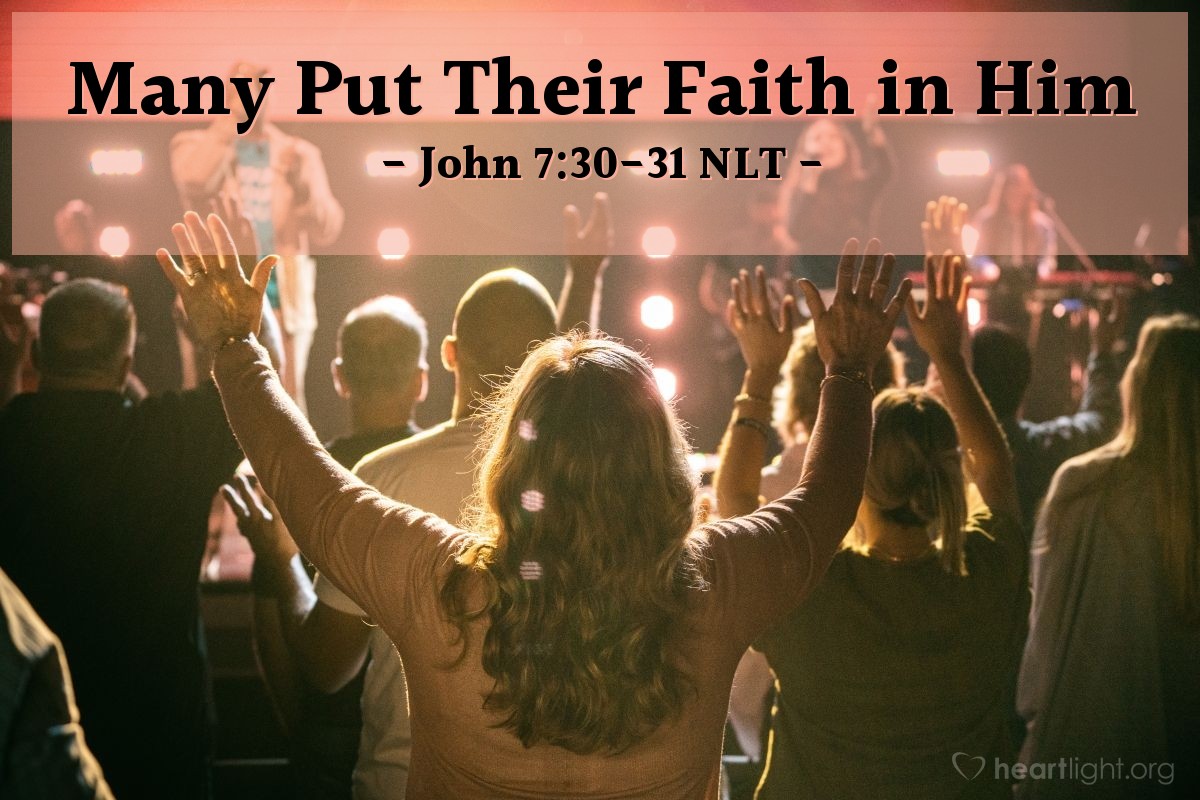 Key Thought
Even with pressure from the authorities not to believe, many put their faith in Jesus. Why? They saw what he did and recognized that there had to be a divine power behind it. When unbelievers look at our churches, the body of Christ, what do they see? Do they see compelling deeds that cry out that God has to be behind what is being done because otherwise, we couldn't do what we do? Or, do they see predictable "church stuff"? Jesus promised that we would do even greater things than he did. So let's go out and be what he called us to be and do the life-changing work of the Kingdom and not just the housekeeping work of "churchiness."
Today's Prayer
Dear LORD, God Almighty, please ignite my congregation of Christians and me in particular to a higher calling and a bigger vision of what you want to do with us. Use us in our community, and beyond, to do the work of Jesus, and use us in ways that we don't even think are possible. Most of all, dear Father, help your work through us to lead others to believe. In Jesus' name, I pray. Amen.
Related Scripture Readings
Daily Wisdom:

 Job 5:17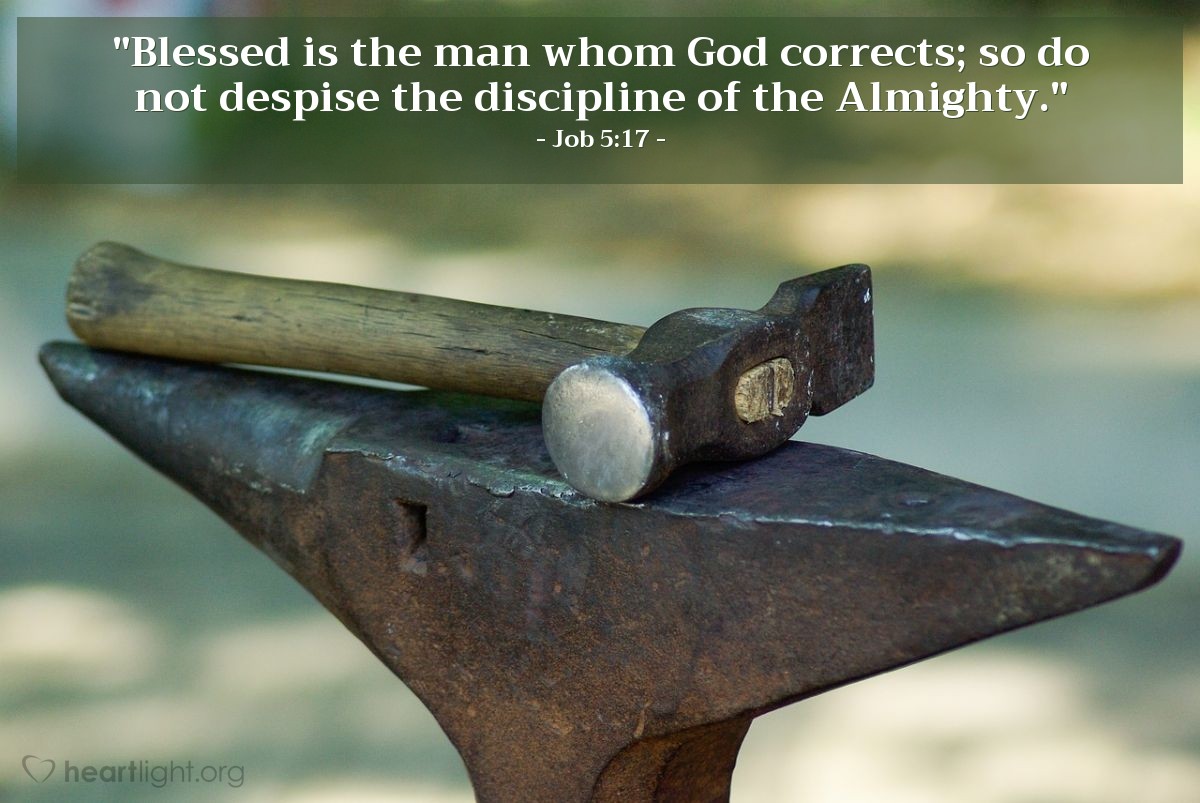 Spiritual Warfare:

 'God Does What Seems Impossible'

God's Power for Our Battles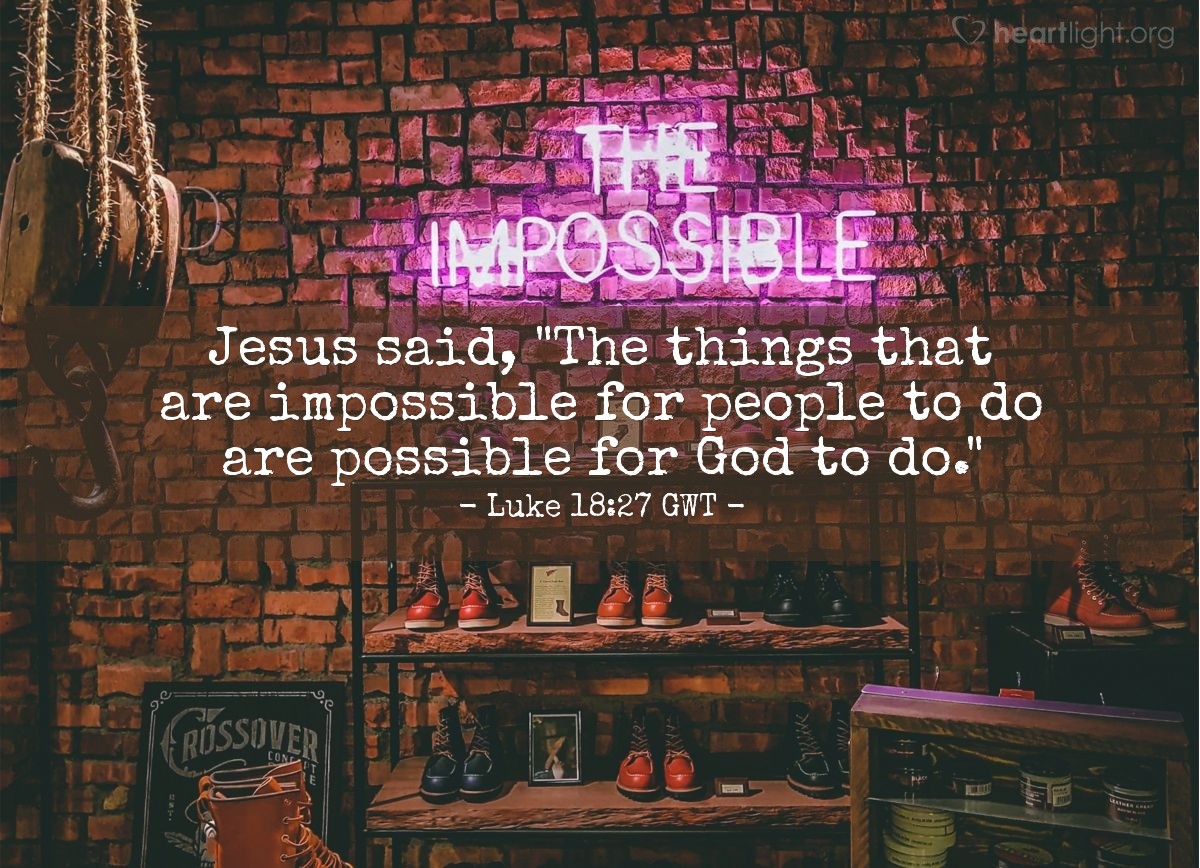 Today's Prayer
Lord, I confess that my faith is still small. I look at my problems and try to fix them with my ideas, human analysis, and earth-bound thinking. My kneejerk reaction to any trial I face is to figure out what I can do. Then, I turn to You later — when I've completely exhausted every human answer to my difficult situation. Forgive me. In the future, I ask that the Holy Spirit help me to lean on You. — to seek You in prayer, first. Your ways are far above my ways. Your solutions are always better than anything I can imagine and better than any method I can apply. Your ways accomplish Your purposes. From now on, Lord, please remind me to pray before I attempt any solution based on human wisdom. In Jesus' Name, Amen.
God's Motives
TGIF Today God Is First Volume 1 by Os Hillman
May 30, 2018
"He brought me out into a spacious place; He rescued me because He delighted in me." – 2 Samuel 22:20
Questioning someone's motives for their activities can become an overriding response to those to whom we relate. Wrong motives can result in broken relationships, poor business decisions, and falling out of God's will. Sometimes we do not know the motive of another person. It is wrong for us to assume what their motive is until we have confidence that we know their intentions. When we respond or react prematurely, we become judge and jury over them.
God has a motive for every one of His children. His desire is to bring us into a spacious place. He wants us to go beyond our borders of safety and security so that we might experience life at a level that goes beyond ourselves. What do you think of when you think of a "spacious place"? No limitations? A large, grassy field? Open air? These are positive images. Sometimes these spacious places encourage us to step out in faith into areas where we've never ventured. Sometimes we need to be rescued by the Lord. When Peter walked on the water, God was inviting him to a spacious place. He went beyond the borders of his boat and ventured into a whole new world. He didn't have complete success in his venturing out, but it was a process that would lead him to the next victory in his faith walk with Jesus. Sometimes failure is what is needed in order to move us to the next level of faith with God. However, we must be willing to fail and let God rescue us.
The Lord delights in this process. His motive for His children is always love. It is always to bring us to a new level of trust and dependence on Him.
Verse of the Day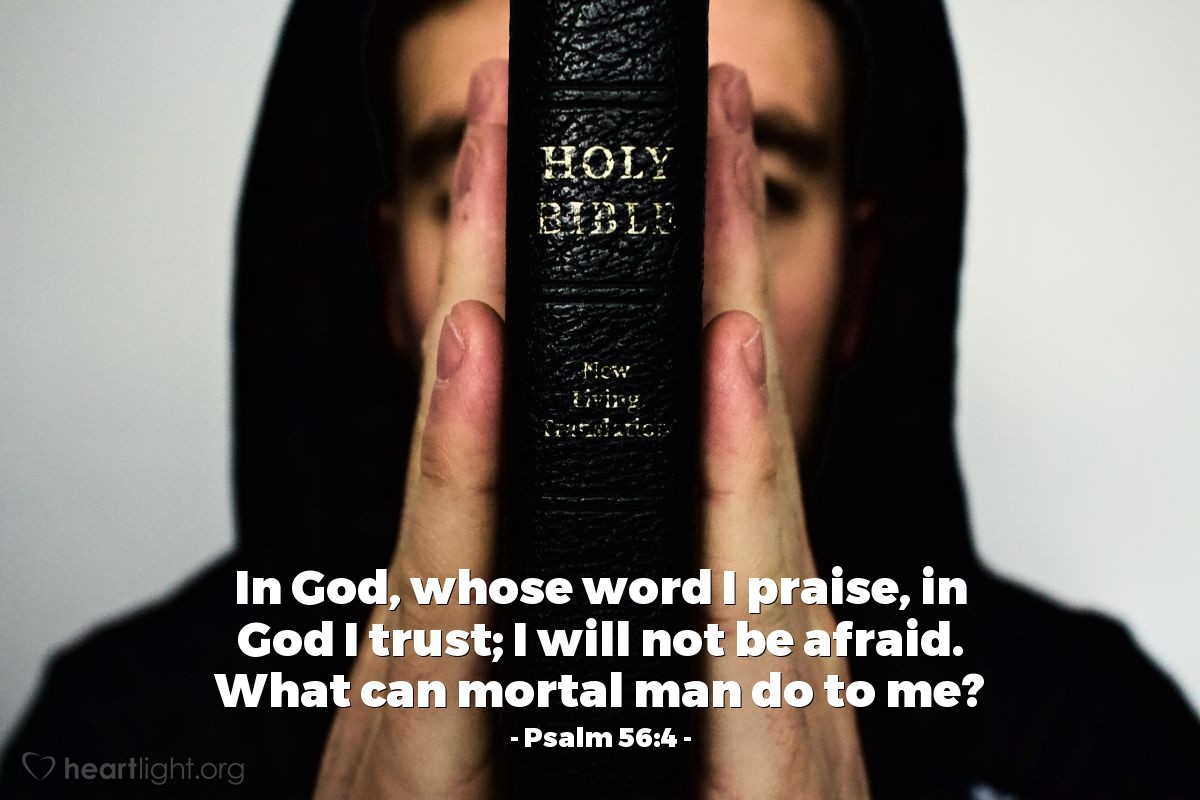 Thoughts on Today's Verse…
One of the powerful things about having a Bible, a repository of God's words, is that its age and varied countries and cultures remind us how enduring God's truth actually is. Yet it is God in whom we put our trust! His enduring presence through cultures, centuries, and countries reminds us that eternity is outside our grasp but the Eternal One holds us in his.
My Prayer…
O Great and Eternal God, thank you that your are more stable than the ground on which I stand, more enduring than the mountain peaks I admire, and more constant than the waves upon the oceans that I love. I trust my life and my future and soul with you. I want to please you in the way I live. I want my life to be marked by consistent faithfulness to you. In the name of Jesus I ask this prayer. Amen.