Christoph Friedrich Blumhardt
But our citizenship is in heaven. And we eagerly await a Savior from there, the Lord Jesus Christ, who, by the power that enables him to bring everything under his control, will transform our lowly bodies so that they will be like his glorious body. Philippians 3:20-21, NIV
Lord our God, draw us to yourself. Draw us into the quiet that you give, where something can happen to us and to our hearts. Help us to discern your kingdom surrounding us and in our spirits to live in this kingdom. Then our life will be as if in heaven, where we need not worry or torment ourselves, where your power is everything to us, penetrating our earthly life, which so often weighs us down. We thank you that you have made a way of strength, full of power to hold us firmly, so that even when we stumble, we cannot be turned from the goal. We thank you for all the good that comes from you, which we cannot see in earthly things but which can invade our hearts with such mighty and uplifting power. Amen.
Verse of the Day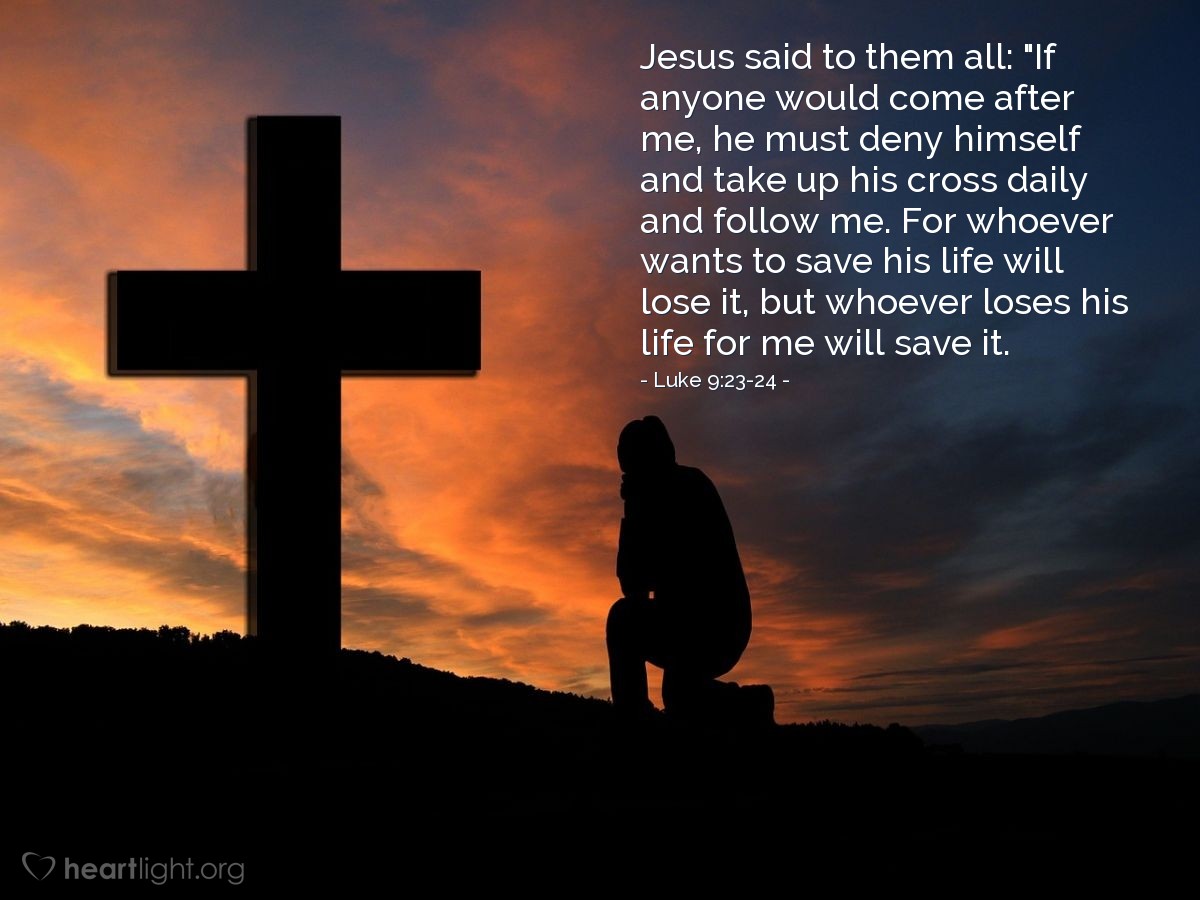 Thoughts on Today's Verse…
"I've just got to find myself." Won't ever happen. We do not "find ourselves" or "find our life" by pursuing it. We find it by losing it in something, or someone, greater than ourselves. We find our life by losing it to Jesus and the work of his Kingdom.
My Prayer…
Master and Maker of all that lives and breathes, take my life and every breath and use it for your glory. May my words and actions this day be pleasing to you. Through Jesus I offer you this prayer and praise. Amen.
A Prayer for Radical Contentment
By James MacDonald
Put no trust in extortion; set no vain hopes on robbery; if riches increase, set not your heart on them. Psalm 62:10, ESV
Do you want to be contented in life? Covetousness runs rampant in our culture, and contentment is rare. All in favor of contentment? If so, make note of these three choices that lead to genuine, biblical, lasting contentment.
1. Seek it.
Seek contentment as a lifestyle. Choose it. Acknowledge that you would not be happier if you had more. You wouldn't be—you'd likely be more miserable. God's Word contains clear warnings for us: "It is easier for a camel to go through the eye of a needle than for a rich person to enter the kingdom of God" (Mark 10:25).
2. Say it.
Cultivate the capacity to say, "I have enough." Let those words ring through your home. Push yourself back from the table early and say, "I've had enough." When you handle money—a surprise bonus from work, an inheritance from your great-aunt, even just an extra bill in your pocket—resist the cravings for more. Follow the words "I have enough" with a prayer: "Lord, how can I use this for You?"
3. Settle it.
Psalm 62:10 advises us, "If riches increase, set not your heart on them." Here's the challenge: choose a lifestyle; don't let your income dictate your lifestyle. Choose a comfortable level of living that meets your needs, and do not compromise that with more spending when more income arrives. If you don't choose a lifestyle, this culture will choose one for you, and by default it will be the lifestyle of living beyond your means. Be counter-cultural. Be radical. Choose a lifestyle that's biblically based. Eternally focused. Others-oriented.
Prayer
God, I have enough. These are hard words that I need to practice, yet true words that can fill my heart and transform me. By faith I choose to believe, "My God will supply every need of [mine] according to his riches in glory in Christ Jesus" (Philippians 4:19). I have enough because I have You. You are my everything. In the name of Jesus Christ my Lord, Amen.
Jesus' final hours on the cross lasted from approximately 9 a.m. to 3 p.m., a period about six hours. "The chief priests, the teachers of the law and the elders mocked Him. 'He saved other,' they said, 'but He can't save Himself! He's the king of Israel! Let Him come down now from the cross and we will believe in Him. He trusts in God. Let God rescue Him now if He wants Him, for He said, 'I am the Son of God'" (Matthew 27:41-43). As recorded in the Gospels of Matthew, Mark, Like and John, Jesus Christ was mocked, scorned and tortured in the praetorium. He carried His cross up the Via Dolorosa in Jerusalem to Calvary, was nailed to the Cross, and hung between two criminals. Jesus suffered and indescribable end, recalled by the Church on Good Friday. There were seven expressions of Jesus on the cross recorded in Scripture.
In Matthew 27:46, we are told that in the ninth hour Jesus cried with a loud voice, saying, "Eloi, Eloi, lama sabachthani?" which means, "My God, my God, why have you forsaken me?" Here, Jesus was expressing His feelings of abandonment as God placed the sins of the world on Him – and because of that, God had to "turn away" from Jesus. As Jesus was feeling the weight of sin, He was experiencing a separation from God for the only time in all eternity. This was also a fulfillment of the prophetic statement in Psalm 22:1 which says, "My God, my God, why have you forsaken me? Why are you so far from saving me, from the words of my groaning?"
The entirety of God's history comes to a single focal point when Jesus cries out, "Eloi, Eloi, lama sabachthani." From the moment of creation, God's story is a story of self-limitation and humility. He withdrew enough of Himself to allow the rest of creation to blossom and flourish. He allowed Israel freedom to succeed and fail – and He ultimately poured Himself into the flesh-and-bone, real life person, Jesus of Nazareth. God pursed every experience of finite humanity, including laughter and grief, joy and sorrow. In His final moments, He said these words because there was real forsakenness for our sake. He also said it to express desolation, not asking for an answer. Finally, He was amazingly fulfilling Scripture in the horror of it all and witnessing to the perfection of the plan of salvation.
Another statement that Jesus made on the cross was "Father, forgive them, for they do not know what they are doing" (Luke 23:34). Those who were not aware of the full scope of what they were doing because they did not recognize Him as the Messiah. While their ignorance of divine truth did not mean they deserved forgiveness, Christ's prayer in the midst of their mocking Him is an expression of the limitless passion of divine grace.
From Luke 23:43, we know that Jesus said, "I tell you the truth, today you will be with me in paradise" (Luke 23:43). In this passage, Jesus is assuring one of the criminals on the cross that when he died, he would be with Jesus in heaven. This was granted because even at the hour of his death, the criminal had expressed his faith in Jesus, recognizing Him for who He was. The Bible tells us that the man says, "Jesus, remember me when you come into Your Kingdom" (Luke 23:42).
When Jesus saw His mother standing near the cross with the Apostle John, whom He loved, He committed His mother's care into John's hands. Scripture tells us, "When Jesus saw his mother and the disciples whom He loved standing nearby, He said to His mother, 'Woman, behold, Your Son!' Then He said to the disciple, 'Behold, your mother!' And from the hour the disciple took her to his own home.' In this verse Jesus, ever the compassionate Son, is making sure His early mother is care for after His death.
Another statement Jesus made on the cross was "I am thirsty" (John 19:28). Jesus was here fulfilling the Messianic prophecy from Psalm 69:21: "They put gall in my food and gave me vinegar for my thirst." By saying He was thirsty, He prompted the Roman guards to give Him vinegar, which was customary at a crucifixion, thereby fulfilling the prophecy.
One of Jesus' final statements was 'It is finished!' (John 19:30). Jesus' last words meant that His suffering was over and the whole work His Father had given Him to do, which was to preach the Gospel, work miracles, and obtain eternal salvation for His people, was done, accomplished, fulfilled. The debt of sin was paid.
Jesus final words were "Father, into Your hands I commit my spirit" (Luke 23:46). Here, Jesus is willingly giving up His soul into the Father's hands, indicating that He was about to die – and that God had accepted His sacrifice. He "offered up Himself unblemished to God" (Hebrews 9:14).
Jesus was obedient to His Father to the end, and His final word before His death on the cross was a prayer to His Father, a true reflection of Jesus' character and relationship with God until the very end. One way to meditate on the Passion of Christ is to reflect and meditate on these words.
The God Who Actually Does Know What You're Going Through
Before you criticize someone, you should walk a mile in their shoes. That way when you criticize them, you are a mile away from them and you have their shoes. – Jack Handey
My friend Adam is a wise guy. Not in a, "A rabbi, a priest, and a vegan walk into a bar" sort of way, but in a Proverbs, real life street wisdom sort of way. He is a residence director at our local university, which means he works with college students every day. He deals with students in trouble, students in the dumps, students on academic probation, students on drugs, students who have been assaulted, and students who are on the verge of dropping out of college. In other words, he deals with kids who are pretty vulnerable. Kids who have really been slapped around by life.
When interacting with vulnerable kids Adam could easily resort to saying, "I know what you're going through." After all, that's what we say when someone is in a tough spot. We try to relate their experience to our experience. We try to sympathize with them. To comfort them out of our own experience. To let them know they're not alone. To make them feel loved. And that impulse to comfort others is a good impulse. But Adam doesn't always do that. Why? Because he knows that in most cases he doesn't really know what a person is going through. He may be able to relate to some circumstances, but he can't really know what a person is going through. That is wisdom.
The reality is, when someone is suffering we don't know what they're going through. Even if we have experienced similar circumstances as a person who is suffering we don't process the world the way they do. And we don't have the same personal history, biological makeup, or support system. When someone is going through the meat grinder we can only know a tiny portion of what they are really experiencing.
Our limited ability to know the suffering of others is what makes 2 Corinthians 7:6 so precious. It says, "But God, who comforts the downcast…."
Jesus knows us fully. He knows our strengths and weaknesses, our family history, our biological makeup, our worldview. He knows every nook and cranny of us. He knows us better than we know ourselves. And he also knows suffering on an intense, personal level. Jesus' knowledge of suffering is not abstract, ivory tower, textbook knowledge. Jesus was a man of sorrows. He was mocked, betrayed, and humiliated. As he hung on the cross he was cut off from the Father. Jesus knew excruciating, overwhelming, crushing sorrow.
The combination of Jesus' omniscience and personal experience with deep suffering perfectly equip him to comfort us in our own suffering. He really does know what we're going through, and he is ready to comfort us when we are downcast. He doesn't leave us to muddle and slog through suffering on our own. He doesn't tell us to suck it up, buck up, and get up. He meets us in our downcast state and pours out grace upon us.
Suffering tempts us to withdraw from God when in reality we should press hard into God. Are you downcast? Are you suffering? Do you feel like you've been chewed up and spit out? Do you feel like butter scraped over too much bread? Draw near to the God who comforts the downcast. Draw near to the God who knows you exactly and knows exactly what you need. Draw near in your weakness and weariness and ready-to-call-it-quits-ness.
God has a special place in his heart for the downcast. Move toward that place.
---
Stephen Altrogge serves as a pastor at Sovereign Grace Church. Find out more at The Blazing Center.
April 12
He Remembers No More
"For I will forgive their iniquity, and I will remember their sin no more"   (Jeremiah 31:34).
When we know the LORD, we receive the forgiveness of sins. We know Him as the God of grace, passing by our transgressions. What a joyful discovery is this!
But how divinely is this promise worded: the LORD promises no more to remember our sins! Can God forget? He says He will, and He means what He says. He will regard us as though we had never sinned. The great atonement so effectually removed all sin that it is to the mind of God no more in existence. The believer is now in Christ Jesus, as accepted as Adam in his innocence; yea, more so, for he wears a divine righteousness, and that of Adam was but human.
The great LORD will not remember our sins so as to punish them, or so as to love us one atom the less because of them. As a debt when paid ceases to be a debt, even so doth the LORD make a complete obliteration of the iniquity of His people.
When we are mourning over our transgressions and shortcomings, and this is our duty as long as we live, let us at the same time rejoice that they will never be mentioned against us. This makes us hate sin. God's free pardon makes us anxious never again to grieve Him by disobedience.
Don't Get Stuck
Good and upright is the Lord; therefore he instructs sinners in his ways. He guides the humble in what is right and teaches them his way. – Psalm 25:8-9 
Have you ever strayed from the Lord and wandered down the wrong path? John O'Neil of Huntington, New York has.
The 73 year-old man left a bar late one night in February and walked down a very narrow opening between two buildings. Unfortunately for Mr. O'Neil, there wasn't enough space to accommodate him and he got stuck. He was wedged so tightly between the buildings that he could not move and spent the night waiting for help. In the morning, the Fire Department was summoned and had to pluck Mr. O'Neil from above.
When we take our eyes off the Lord, we can very easily get ourselves stuck in a place where we don't want to be. That is why it is so important that God is the focus of all we do.
I challenge you today to assess your direction. Is God at the center of your life and are you allowing Him to direct your path? If you are not, I urge you to do so before you get yourself stuck in a very undesirable place.
"Every day, I find countless opportunities to decide whether I will obey God and demonstrate my love for Him or try to please myself or the world system. God is waiting for my choices." -Bill Bright (1921-2003)
From Jesus Lives by Sarah Young
Emptiness
Come to Me with your aching emptiness. Take time with Me so I can fill you with Joy in My Presence. I crafted you as a dependent being, needing many resources outside yourself—air, food, water, shelter, clothing, and so on. Mankind has long recognized these basic needs. However, even when such needs are fully met, there is something vital missing: a living relationship with Me. I am the only One who can satisfy your soul-hunger. Open your heart and soul to Me, and let the joyous abundance of My Presence flow into you.
Since I am the same yesterday and today and forever, there could never be a time when you might find Me lacking. It is crucial not only to know this truth but also to believe it wholeheartedly. Whenever you are feeling empty, come boldly to My throne of grace. Pour out your heart to Me and allow Me to help you. Confess not only your neediness but also the idolatrous ways you have tried to satisfy your needs. Cooperate with Me as I cleanse your heart of idols. Then, lift up empty hands of faith to receive all that I have for you. Thus you can enjoy many blessings even while living in a deeply fallen world. This is a mere foretaste of the endless pleasures I have reserved for you in paradise.

What Jesus Did!

 'A Greater Testimony'

[Jesus said,] "In fact, you sent investigators to listen to John the [Baptizer], and his testimony about me was true. Of course, I have no need of human witnesses, but I say these things so you might be saved."
Key Thought
John the Baptizer told the truth. John died telling the truth. John gave his life to prepare the way for the truth. We could search through all of history and not find a more credible and authentic witness to integrity and truth than John the Baptizer. John helped thousands find their way to salvation in Jesus. However, as great a witness as John was, Jesus had a greater witness. God himself chose to offer "testimony" about Jesus. He validated Jesus through the miracles he performed and the resurrection that showed him to be God's powerful Son. How has God helped validate the truth about Jesus to you? How has this "Greater Witness" helped you to see Jesus as your Lord?
Today's Prayer
Father, thank you for your word spoken through the prophets and shared with your people through the Scriptures across the centuries. Thank you for confirming Jesus' identity through his miracles and his resurrection. Thank you for showing your resurrection power in Jesus through the church. Help me find ways to help my lost friends find your testimony to Jesus and come to him and be saved. I pray in your Son's name, Jesus my Lord. Amen.
Related Scripture Readings
God's Holy Fire:

 'Life to Our Mortal Bodies'
Key Thought
The Holy Spirit brings life to our 
mortal bodies by bringing Jesus alive
 in us despite the fact that we live in mortal bodies of decay. We display the fruit of the Spirit (
Galatians 5:22-23
) as we are conformed to Christ (
2 Corinthians 3:18
). 
Furthermore
, the Holy Spirit within us is God's promise that we will be raised up and 
given new life in a resurrection body
 when Christ returns (
1 Thessalonians 4:13-18
; 
2 Corinthians 5:1-5
). The power that raised Jesus from the dead is at work in us through the Holy Spirit (
Ephesians 1:17-20
).
Today's Prayer
Father in heaven, I know that you are glorious and that I am mortal. I know that you are eternal and that my current physical body is subject to decay. So I thank you for placing your Holy Spirit within me so that I can live for you while in this physical body of decay. I thank you for placing your Holy Spirit within me so I can have the assurance that I will be given a glorious body to share in glory with you forever and with those who love you, Father. I thank you for these gifts, in Jesus' name. Amen.
Illustration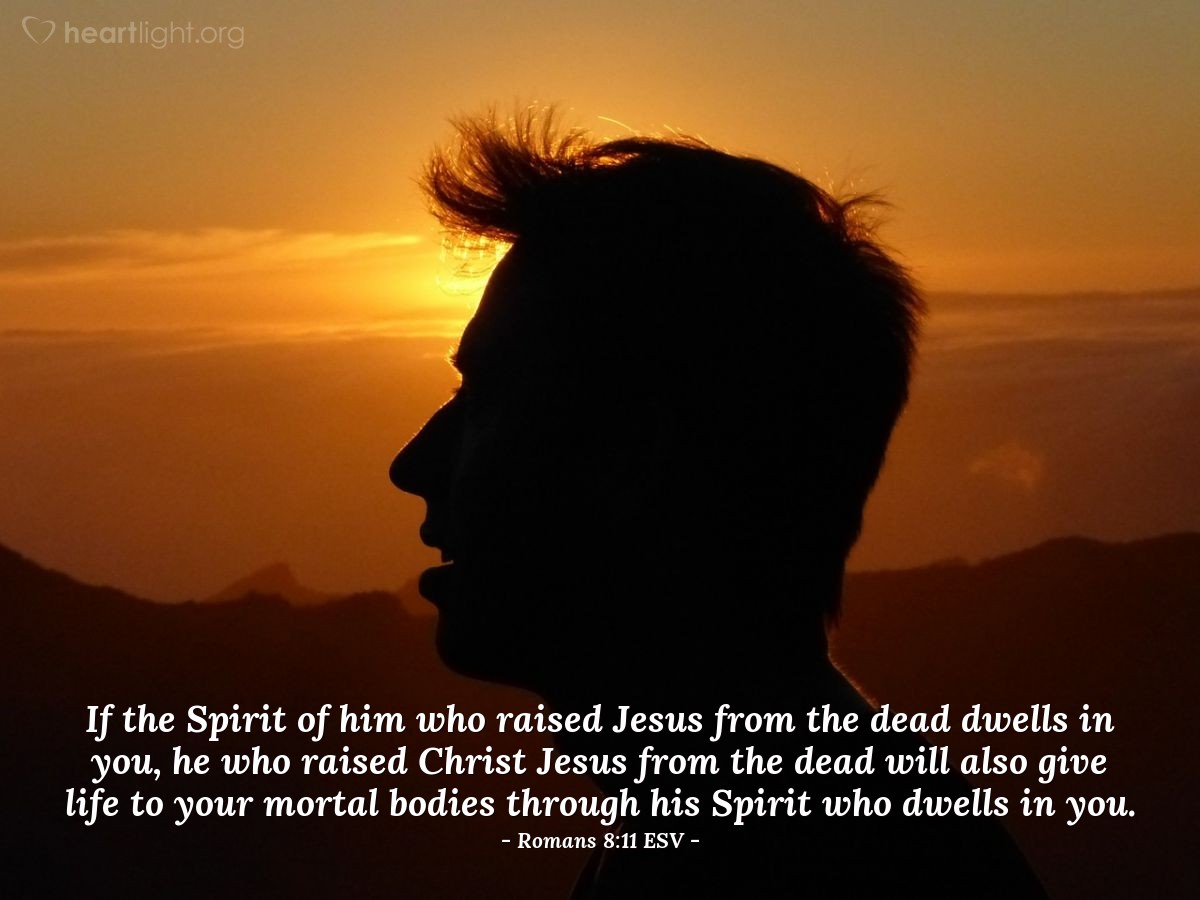 Passion for Praise:

 'Exalt the LORD'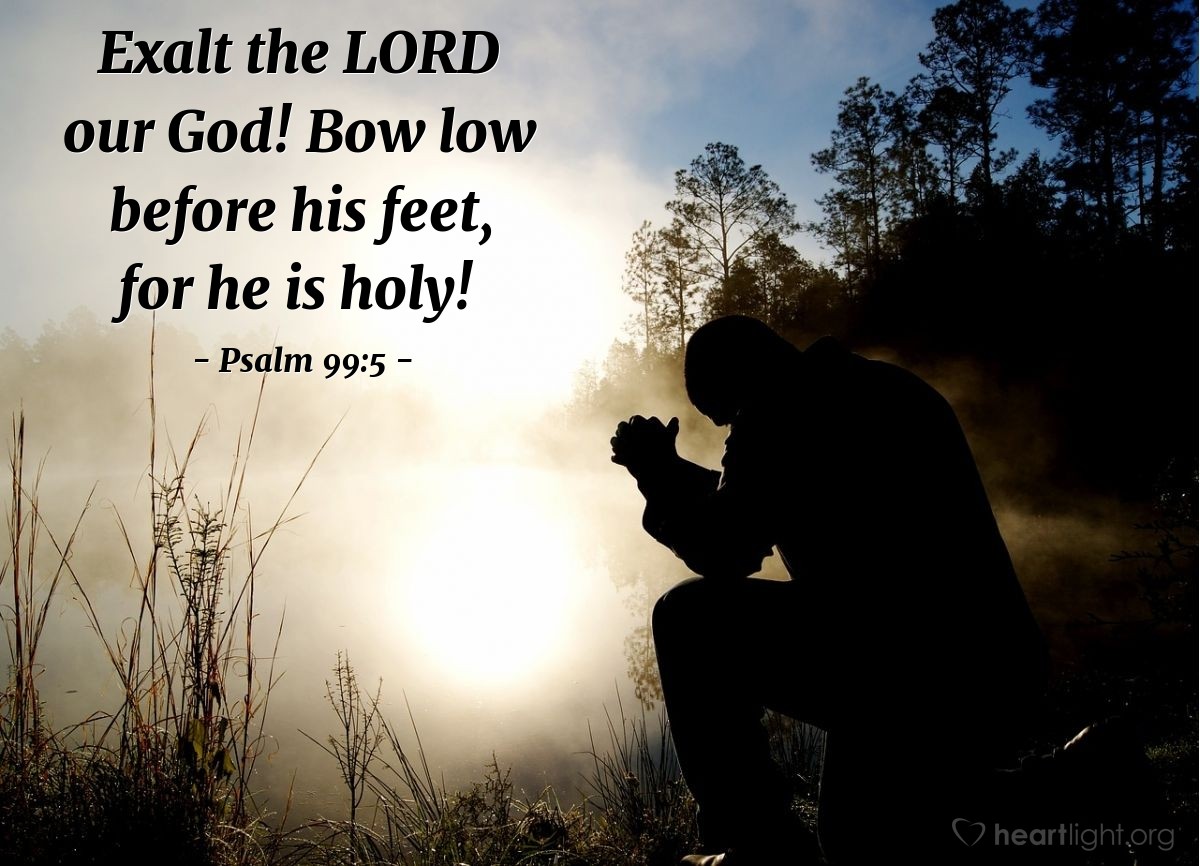 Praying with Paul:

 'Foregoing Rights'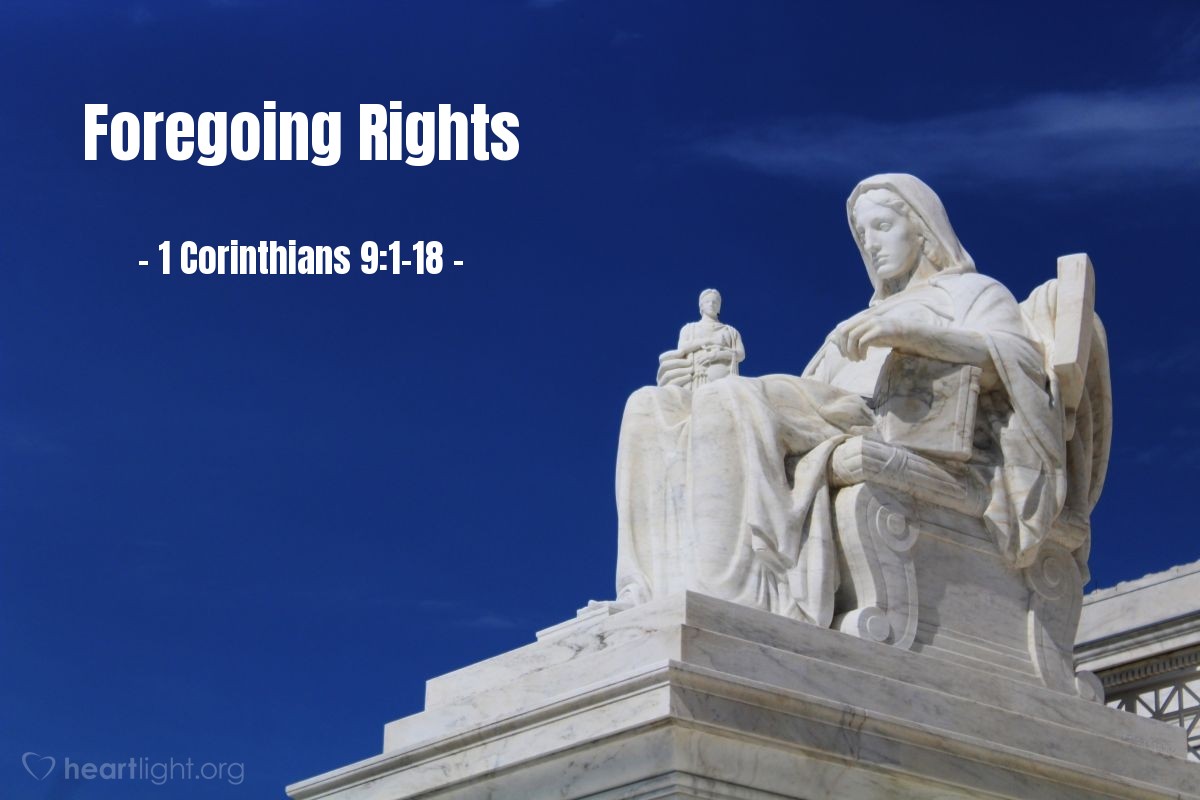 Dear Father, who sees my heart,
Help me to follow the excellent example of the Apostle Paul. Though he had a right to earn his livelihood from his preaching, he didn't do so. He chose not to make full use of his rights in the gospel and instead preached the message free of charge.
Grant that my service to you will not be motivated by monetary gain or personal ambition. Whatever I do, let it be done out of love for you, your Son, your Word and your holy people.
Help me never to put any obstacle in the way of the proclamation of the Good News about Jesus Christ to all who need to hear.
In the name of Jesus Christ, our Lord and Savior. Amen.
…The king's garden…
Nehemiah 3:15
Mention of the king's garden by Nehemiah brings to mind the paradisethat the King of kings prepared for Adam. Sin has utterly ruined that delightful dwelling and has driven out the children of men to till the ground, which yields thorns and thistles to them. My soul, remember the Fall, for it was your fall. Weep much because the Lord of love was so shamefully ill treated by the head of the human race, of which you are a member, as undeserving as any. Behold how dragons and demons dwell on this fair earth, which was once a garden of delights.
Look now at another King's garden, which the King waters with His bloody sweat—Gethsemane, whose bitter herbs are far sweeter to renewed souls than the luscious fruits of Eden. In Gethsemane the mischief of the serpent in the first garden was undone: There the curse was lifted from earth and borne by the woman's promised seed. My soul, learn to ponder Christ's agony and passion; visit the garden of the olive-press, and view your great Redeemer rescuing you from your lost condition. This is the garden of gardens; indeed, here the soul may see the guilt of sin and the power of love, two sights that surpass all others.
Is there no other King's garden? Yes, my heart, or should be. How do the flowers flourish? Do any choice fruits appear? Does the King walk there and rest in the arbor of my spirit? Let me ensure that the plants are trimmed and watered, and the mischievous foxes hunted out. Come, Lord, and let the heavenly wind blow at Your coming, that the spices of Your garden may cast their fragrance everywhere. I must not forget the King's garden of the church. O Lord, send prosperity to it. Rebuild her walls, nourish her plants, ripen her fruits, and from the huge wilderness reclaim the wasteland and make of it a King's garden.
Today's Scripture
"Summing it all up, friends, I'd say you'll do best by filling your minds and meditating on things true, noble, reputable, authentic, compelling, gracious— – the best, not the worst; the beautiful, not the ugly; things to praise, not things to curse. Philippians 4:8 MSG
Thoughts for Today
Aging may bring the loss of mobility, sight, hearing, independence, cognitive ability, friends and loved ones, and other cherished abilities and treasures. Each of us has a choice how we will react to these losses.
We might choose depression, becoming overwhelmed with a sense of being not only useless but also a burden to others. We might choose anger and resentment because of the loss of control and independence. However, if we choose to dwell on what we no longer have or no longer can do, then we will miss the great opportunities still open to us.
On the other hand, although it is normal to grieve our losses, we can choose to concentrate on the relationships, abilities and opportunities that are still ours.
Consider this . . .
These words from Paul can be an encouragement to us as we go through the aging process ourselves or care for our parents: "I know what it is to be in need, and I know what it is to have plenty. I have learned the secret of being content in any and every situation, whether well fed or hungry, whether living in plenty or in want. I can do everything through him who gives me strength." Philippians 4:12-13 NIV
It is important not to focus on losses, but to concentrate on Jesus, knowing that he will enable us (and our parents) to still serve him—- and to bless others.
Prayer
Lord, help me to dwell on the positive in this season of my life: the good, not the bad, what I can do, not what I am unable to do. Guide my parents to focusing on the positives in their lives. I thank you that we can do all things through Jesus. In Jesus' name . . .
Knowledge that is Productive
TGIF Today God Is First Volume 1 by Os Hillman
April 12, 2018
"For if you possess these qualities in increasing measure, they will keep you from being ineffective and unproductive in your knowledge of our Lord Jesus Christ." – 2 Peter 1:8
Productivity is a term all workplace believers can relate to. It is the by-product of what we desire from our work. Without productivity, we do not make sales, we do not deliver goods, and we do not achieve our goals. There are things in our work lives that can creep in making us unproductive. The same is true in our walk with God.
The apostle Peter tells us that we can become knowledgeable of Jesus but fail to be effective and productive in our relationship with Him. We are a society that has great knowledge, but our comparable scale of productivity from that knowledge is extremely weighted to the knowledge side. The apostle Peter tells us there is a solution to this dilemma.
For this very reason, make every effort to add to your faith, goodness; and to goodness, knowledge; and to knowledge, self-control; and to self-control, perseverance; and to perseverance, godliness; and to godliness, brotherly kindness; and to brotherly kindness, love. For if you possess these qualities in increasing measure, they will keep you from being ineffective and unproductive in your knowledge of our Lord Jesus Christ (2 Peter 1:5-8).
Is your Christian experience filled with knowledge, but little power? Is there staleness in your walk with God? Is there unrest in your soul? It may be due to a need to develop character that only the Holy Spirit can develop out of an obedient heart. Ask the Lord today to add these qualities to your faith so that you can be productive as a soldier of Jesus Christ.
NATIONAL GRILLED CHEESE SANDWICH DAY
National Grilled Cheese Sandwich Day is observed annually on April 12th.  Listed in a reader's opinion poll, Grilled Cheese Sandwiches are among one of the top comfort foods in the United States.
According to food historians, cooked bread and cheese is an ancient food, enjoyed across the world in many cultures.  The United States modern version of the grilled cheese sandwich originated in the 1920s when inexpensive sliced bread and American cheese became easily available. Originally it was made as an open-faced sandwich.
United States government cookbooks describe Navy cooks broiling "American cheese filling sandwiches" during World War II.
Grilled cheese sandwiches are versatile thanks to the ability to mix and match cheeses, bread, and seasonings.  Adding sauteed vegetables or herb-infused oils can elevate this simple comfort food to a whole other level.
HOW TO OBSERVE
Enjoy the following tried and true recipes.
Pesto Grilled Cheese Sandwich
Italian Grilled Cheese Sandwiches
Use #GrilledCheeseSandwichDay to post on social media.
HISTORY
Our research was unable to find the creator of National Grilled Cheese Sandwich Day.
NATIONAL LICORICE DAY
National Licorice Day is observed each year on April 12.  This day was created to celebrate black licorice, its history, health benefits and world renown.  Enjoy black licorice in twists, stem shaped candies, licorice ropes, jelly beans, jewels and many others.
Of course, the designation has evolved as people consign all types and flavors of licorice to celebrate the day.
HOW TO OBSERVE
Enjoy your favorite kind of licorice and use #NationalLicoriceDay to post on social media.
HISTORY
Licorice International founded National Licorice Day in 2004.
For more information:
http://www.licoriceinternational.com/licorice/pc/National-Licorice-Day-d7.htm
Today is an okay day……the sun is shining and I am breathing….thank You, Lord!!  But, I am still bothered and upset by what has happened in my life over the past year……with my daughter and her family and with my fella's family……..these trials really test my faith!  But, if I hold onto that faith and go on believing, I know I'll survive, yet again!
Thank You, Jesus, for being my one, TRUE Friend!!!!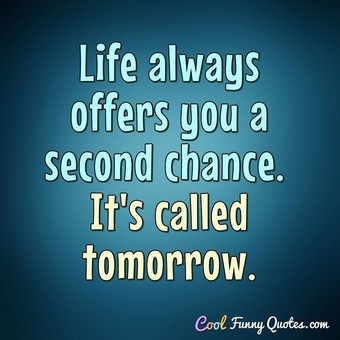 So I will go on, with or without all of them…….if my daughter thinks that her life is better without me in it, she'll maybe someday realize how wrong she is……..Mother's Day is coming, but I know she'll ignore it……she has forgotten that she has a Mother…..she maybe thinks she was hatched in a test tube?  This, too, is okay……..it hurts, but I'll survive this, too!  I have apologized……they all choose to ignore this……after all, they are all so much BETTER than me……….
Please, Lord, forgive them all!!