Christoph Friedrich Blumhardt
Whoever serves me must follow me; and where I am, my servant also will be. My Father will honor the one who serves me. John 12:26, NIV
Dear Father in heaven, we thank you for this day and for the protection you have given us. Grant that we may find our joy in your grace and in your love. Help us to become truer followers of Jesus, who came in your love. Be merciful to us and help all those who belong to you. You know them all and the thoughts of their hearts. You know their struggle on earth and the temptations that surround them. Help each one, also those who are still far away from you. Give them hearts open to your Word and to all you have promised. We entrust ourselves to your care this night. Help us and bless us. May your will be done in all things, also in the midst of all the sin and misery in the world. May your will be done on earth as in heaven, and may your kingdom come. Amen.
Verse of the Day
for Wednesday, April 11, 2018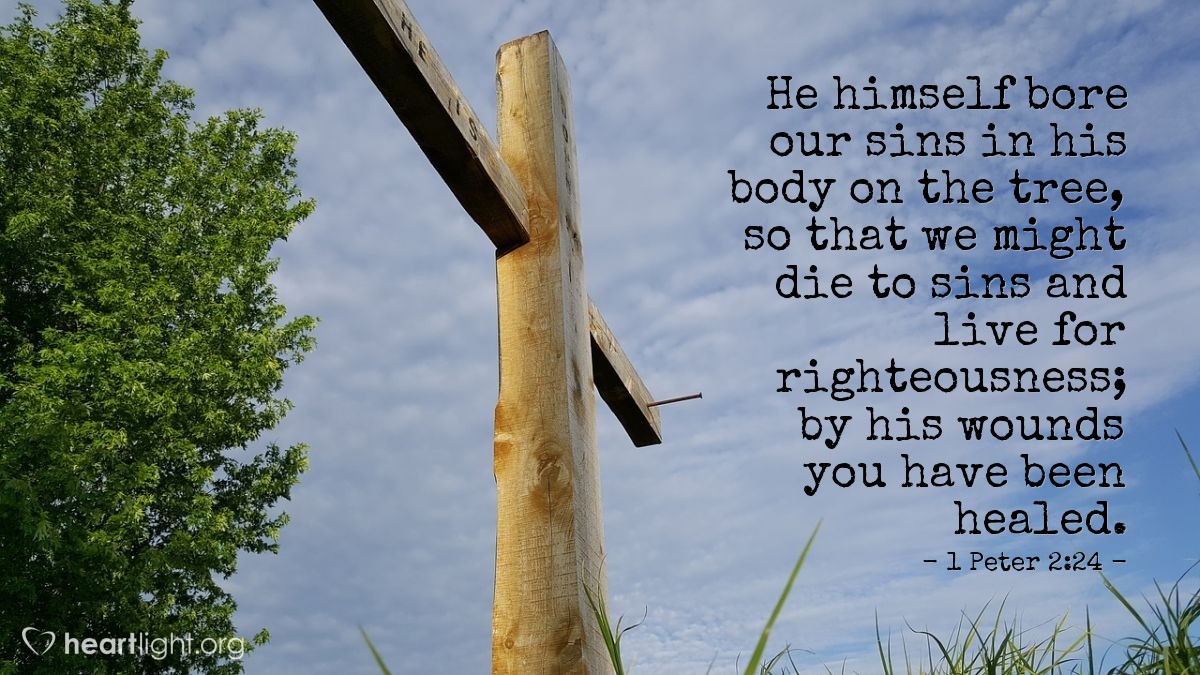 Thoughts on Today's Verse…
He bore our sins. He didn't just carry them; he suffered the penalty we deserved. His anguish was our healing. His suffering was our righteousness. How can we ever think of going back to sin after he suffered so much to bear its penalty?
My Prayer…
Holy God, how you could stand to see your precious Son under the weight of my sin, all sin, I will never understand. Thank you for such great a love and for being so great a God. There is none who can be compared to you, O God. Your greatness is beyond imagining and your love beyond my dreams. I will live today to your glory through Jesus who bore my sin so I could be your child. In the precious name of your Son I pray. Amen.
Memorial of Saint Stanislaus, Bishop and Martyr
The high priest rose up and all his companions,
that is, the party of the Sadducees,
and, filled with jealousy,
laid hands upon the Apostles and put them in the public jail.
But during the night, the angel of the Lord opened the doors of the prison,
led them out, and said,
"Go and take your place in the temple area,
and tell the people everything about this life."
When they heard this,
they went to the temple early in the morning and taught.
When the high priest and his companions arrived,
they convened the Sanhedrin,
the full senate of the children of Israel,
and sent to the jail to have them brought in.
But the court officers who went did not find them in the prison,
so they came back and reported,
"We found the jail securely locked
and the guards stationed outside the doors,
but when we opened them, we found no one inside."
When the captain of the temple guard and the chief priests heard this report,
they were at a loss about them,
as to what this would come to.
Then someone came in and reported to them,
"The men whom you put in prison are in the temple area
and are teaching the people."
Then the captain and the court officers went and brought them,
but without force,
because they were afraid of being stoned by the people.
R. (7a) 
The Lord hears the cry of the poor.
or:
R. 
Alleluia.
I will bless the LORD at all times;
his praise shall be ever in my mouth.
Let my soul glory in the LORD;
the lowly will hear me and be glad.
R. 
The Lord hears the cry of the poor.
or:
R.
 Alleluia.
Glorify the LORD with me,
let us together extol his name.
I sought the LORD, and he answered me
and delivered me from all my fears.
R. 
The Lord hears the cry of the poor.
or:
R. 
Alleluia.
Look to him that you may be radiant with joy,
and your faces may not blush with shame.
When the poor one called out, the LORD heard,
and from all his distress he saved him.
R. 
The Lord hears the cry of the poor.
or:
R. 
Alleluia.
The angel of the LORD encamps
around those who fear him, and delivers them.
Taste and see how good the LORD is;
blessed the man who takes refuge in him.
R. 
The Lord hears the cry of the poor.
or:
R. 
Alleluia.
R. Alleluia, alleluia.
God so loved the world that he gave his only-begotten Son,
so that everyone who believes in him might have eternal life.
R. Alleluia, alleluia.
God so loved the world that he gave his only-begotten Son,
so that everyone who believes in him might not perish
but might have eternal life.
For God did not send his Son into the world to condemn the world,
but that the world might be saved through him.
Whoever believes in him will not be condemned,
but whoever does not believe has already been condemned,
because he has not believed in the name of the only-begotten Son of God.
And this is the verdict,
that the light came into the world,
but people preferred darkness to light,
because their works were evil.
For everyone who does wicked things hates the light
and does not come toward the light,
so that his works might not be exposed.
But whoever lives the truth comes to the light,
so that his works may be clearly seen as done in God.
– – –
Lectionary for Mass for Use in the Dioceses of the United States, second typical edition, Copyright © 2001, 1998, 1997, 1986, 1970 Confraternity of Christian Doctrine; Psalm refrain © 1968, 1981, 1997, International Committee on English in the Liturgy, Inc. All rights reserved. Neither this work nor any part of it may be reproduced, distributed, performed or displayed in any medium, including electronic or digital, without permission in writing from the copyright owner.
The community of believers was of one heart and mind,
and no one claimed that any of his possessions was his own,
but they had everything in common.
With great power the Apostles bore witness
to the resurrection of the Lord Jesus,
and great favor was accorded them all.
There was no needy person among them,
for those who owned property or houses would sell them,
bring the proceeds of the sale,
and put them at the feet of the Apostles,
and they were distributed to each according to need.
Thus Joseph, also named by the Apostles Barnabas
(which is translated "son of encouragement"),
a Levite, a Cypriot by birth,
sold a piece of property that he owned,
then brought the money and put it at the feet of the Apostles.
R. (1a) 
The Lord is king; he is robed in majesty.
or:
R. 
Alleluia.
The LORD is king, in splendor robed;
robed is the LORD and girt about with strength.
R. 
The Lord is king; he is robed in majesty.
or:
R. 
Alleluia.
And he has made the world firm,
not to be moved.
Your throne stands firm from of old;
from everlasting you are, O LORD.
R. 
The Lord is king; he is robed in majesty.
or:
R. 
Alleluia.
Your decrees are worthy of trust indeed:
holiness befits your house,
O LORD, for length of days.
R. 
The Lord is king; he is robed in majesty.
or:
R. 
Alleluia.
R. Alleluia, alleluia.
The Son of Man must be lifted up,
so that everyone who believes in him
may have eternal life.
R. Alleluia, alleluia.
Jesus said to Nicodemus:
"'You must be born from above.'
The wind blows where it wills, and you can hear the sound it makes,
but you do not know where it comes from or where it goes;
so it is with everyone who is born of the Spirit."
Nicodemus answered and said to him,
'How can this happen?"
Jesus answered and said to him,
"You are the teacher of Israel and you do not understand this?
Amen, amen, I say to you,
we speak of what we know and we testify to what we have seen,
but you people do not accept our testimony.
If I tell you about earthly things and you do not believe,
how will you believe if I tell you about heavenly things?
No one has gone up to heaven
except the one who has come down from heaven, the Son of Man.
And just as Moses lifted up the serpent in the desert,
so must the Son of Man be lifted up,
so that everyone who believes in him may have eternal life."
– – –
Lectionary for Mass for Use in the Dioceses of the United States, second typical edition, Copyright © 2001, 1998, 1997, 1986, 1970 Confraternity of Christian Doctrine; Psalm refrain © 1968, 1981, 1997, International Committee on English in the Liturgy, Inc. All rights reserved. Neither this work nor any part of it may be reproduced, distributed, performed or displayed in any medium, including electronic or digital, without permission in writing from the copyright owner.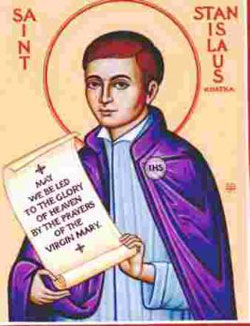 April 11, 2018 – Memorial of Saint Stanislaus, Bishop and Martyr 
Nicodemus
Everyday With The Word
4/11/2018
Nicodemus
John concludes Jesus' discourse with the heart of his message about the Father. God is love, and that love is the dynamic that will bring about salvation. The absolute truth is that God loves creation so much that he sent his son, Jesus, to save humankind from itself.
Prayer: I pray to be a visible sign of God's love, especially for those whose hearts are hardened.
St. Stanislaus was the Bishop of Cracow, Poland. A champion of the liberty of the Church and of the dignity of man, he defended the lonely and the poor. When he reproached King Boleslaus II for his immoral life, the king himself killed him during Mass. He is the patron saint of Poland.
According to the 1962 Missal of St. John XXIII the Extraordinary Form of the Roman Rite, May 7, is the feast of St. Stanislaus. In Poland his feast is celebrated on May 8, which is the day he died.
Also the feast of St. Leo the Great is today and in the Ordinary Form his memorial is celebrated on November 10.
---
St. Stanislaus of Cracow
Stanislaus was born in 1030 and was educated at Gnesen and at Paris. After his ordination to the priesthood he was made a canon of the cathedral at Cracow as well as archdeacon and preacher. Upon the death of the bishop of Cracow, he was nominated bishop of the diocese by Pope Alexander II.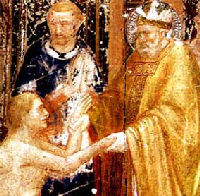 The king at the time, Boleslaus II, trying to strengthen his own power, led an expedition against the grand duchy of Kiev, making himself very unpopular with the nobles of the country, who opposed his policies. St. Stanislaus of Cracow sided with the nobles, led by the king's brother, Ladislaus, and this brought him into conflict with the king.
Stanislaus had opposed the king before for his tyrannical ways and once confronted him boldly for his immoral behavior when Boleslaus had abducted the wife of a Polish nobleman and carried her off to his castle. No one seemed willing to face the king from a fear of his rage, but Stanislaus boldly went to the king and threatened excommunication if he did not change his ways. Furious, the king promised revenge on the bishop. Later, Stanislaus sided with the nobles in their opposition to the king's political policies, and the king accused him of being a traitor and condemned him to death.
At first the king commanded his soldiers to kill the bishop when he was celebrating Mass at St. Michael's chapel in Cracow, but the soldiers refused, fearing to bring down upon themselves the wrath of God. Undeterred, the king himself entered the church, drew his sword, and killed the bishop, ordering his soldiers to dismember the body.
Pope Gregory VII placed the country under interdict and Boleslaus fell from power, fleeing to Hungary, where he entered the monastery of Osiak to do penance for his crime. Stanislaus, canonized by Pope Innocent IV in 1253, is one of the patron saints of Poland. — The One Year Book of Saints by Rev. Clifford Stevens
Patron: Archdiocese of Cracow, Poland; Poland.
Symbols: Bishop being hacked to pieces at the foot of an altar.
Things to Do:
Sometimes evil has to be confronted boldly, whatever the consequences. Brave men like St. Stanislaus of Cracow risked death in facing evil. There is little chance today that we will ever be in that danger, but we must always be willing to defend the truth, and it should be very clear, in the face of genuine evil, where we stand. Christ our Lord can expect no less from us. Say an extra prayer today for the gift of fortitude.
Learn a little more about the city of Kracow where both St. Stanislaus and Pope John Paul II came from.
For those who are extremely interested in knowing more about Polish history this online book, Polish Americans and Their Communities of Cleveland may prove to be a good source of information.
The final work of Franz Liszt is the unfinished oratorio St. Stanislaus, for which he left two scenes (one and four) and two polonaises. Learn more about this oratorio here and if you are able find a copy and listen.
For most new mothers, the realization that "mommy wars" exist is shocking. No one ever thinks they are going to be a part of a community and tribe of women who judge and offend one another because of the way we parent our children. We all judge, let's be real here, but telling another mother that their way isn't the "right" way is getting out of hand.
We are all doing our best as mothers, and just because you might do it differently doesn't mean that the other mom's way of doing it, is not a good way too. There is no right or wrong way of being a mom, there are different ways of being a mom, but we all have the same purpose. We all go through pretty much the same things and instead of bashing each other, we need each other for support. We need to be open minded and respectful in the different ways that we parent our children and raise them. As long as a mother is not mistreating or malnourishing a child and the child is happy just like yours, then just respect their way of parenting.
There is no reason to make another mother feel worse by judging who she is in only a short moment. Learn the reasons why you should be supportive of other moms, and less hateful.
We all are clueless about raising kids.
When we become moms for the first time, we are completely clueless. All those books, blogs, apps we read to prepare us for our baby goes out the window. It takes time to get the hang of being a parent. Each day that passes by, we learn something new. We read blogs or magazines, we see and we hear about ways to be a happier stay at home mom, or ways we can de-stress, what to do when your kids throw a public tantrum and so on and so forth. We are eager to learn how to be great moms to our kids, that each day we are learning tricks and tips about motherhood. At times we will feel clueless, scared and nervous, but at other times we will feel happy and blessed. We all have been there, don't judge a mother who is panicked.
We all need some emotional support.
There are days where we cry for absolutely no reason, days where we walk around like living zombies, and days where we envy our husbands for being able to use the bathroom without having three little monsters barge in. We all have cried at one point or another because we worry too much about being a good mother that sometimes it takes a toll on us. Most of us haven't gotten a solid eight hours of sleep since our children were born, leaving us prone to irritability. Sometimes, we need to have another mom who simply understands the difficulty of having children. We need each other to lean on and to support one another, not judge or make us feel worst about it.
We all have lost our temper.
The crying for no reason, the whining because they want a toy, the fighting between siblings…it all can be incredibly stressful and honestly annoying. Kids can be difficult to handle and they sometimes don't like to cooperate with us. The truth of the matter is, that we love our children unconditionally but boy do they push our buttons. Sometimes, though, we do lose it. We scream and then our kids listen. The moment we lose our cool, then they want to behave and do everything that we have been telling them to do for the past week. We break down sometimes, and that is okay. Don't judge a mother when she is down and at her worst. We make mistakes and as long as it never crosses into abuse territory, we are able to learn and move forward.
We all take the role of Mama Bear seriously.
When we become a mother, something in us changes where we feel a deep desire to protect our children at all cost. If anyone hurts or mistreats them, we act all sorts of crazy. That's our natural reaction as mothers, though. Our children feel secure with us, so we want to provide them with comfort. When we hear about a child who was hurt by other people, we first cry, second we get angry and third we put ourselves in the mother's shoes. We hurt with the mom and we hurt for the child. It's in our veins and heart to be mama bears and we take it seriously. So, while we judge a mother who is having to yell at her young son, it could be coming from a place of care and protection.
We all want to be good moms.
Us mothers are all in a tribe together. At the end of the day, we all just want to be the best mothers we can be to our children. We want to be able to provide them with laughter, memories, and most importantly a loving home. We would kill for our children, we live for them, we work hard for them, we have goals to achieve because of them…we are moms together in this. We don't like being told how to be a mother to our children, and we have no right to tell another mom what she is doing wrong when it's only an opinion. Support other mothers instead of bashing them for their parenting style, because again, we all just want to be the best mother we can be.
Take a look at yourself.
While being judgmental towards others is a normal reaction of the human psyche, we really need to cut other mothers some slack. Life is not easy, especially when you have children. Things happen, so we should show support and solidarity to mothers, instead of judging them for their actions.
A Prayer of Rejoicing for God's Blessings
By Ron Moore
But let all who take refuge in You be glad, Let them ever sing for joy; And may You shelter them, That those who love Your name may exult in You. – Psalm 5:11
The work of the Lord is unmistakable. The land, sky and sea proclaim his person and his power – and then it gets personal. God meets us right where we are and takes us to the places he wants us to be. He lifts "the needy out of their affliction." He brings spiritual blessings.
Followers of God see his work and rejoice. They exalt the omniscient God for his intimate knowledge. They praise the eternal God for his intervention in time. They sing to the all-powerful God for his deliverance. They contemplate the depths of God's love.
Those who don't follow God are confused. They are book smart, but lack wisdom. They have no mental compartment for the supernatural. They have no place in their hearts for the divine. When the wicked see the works of God, they can only stand in silence.
Father, thank you for intervening in my life and allowing me to have a personal relationship with you. Thank you for your love for me today and forever. Thank you for the blessings you've given me and my family. Help us use those blessings to bless others. May I live a life of true joy as I see you at work around me today! In Jesus' name. Amen.
Is Church Membership Really a Biblical Concept?
Membership in a local church is very much in the minds of Christians these days. Is it biblical? Is it necessary? Is it helpful? These and other questions lead to the following ten things you should know about what church membership means and entails. [In addition to my own research, I've drawn heavily on the writings of John Piper, Michael McKinley, Jim Elliff, Mark Dever, and Kevin DeYoung.]
Perhaps the best place to begin is by asking the question: What do you want from your local church? I assume, first of all, that you want a local church where you can be known and loved and cared for by other Christians. There is, after all, no such thing as an "anonymous-lone-ranger-Christian" in the NT. You can certainly remain anonymous if you want to. It's easier to do in a church of several thousand where you can slip in on a Sunday morning and sit along the wall and never engage anyone in fellowship or conversation or accountability. So, yes, you can do that if you want. But why would you want to?
I also assume you want a local church where you can know others and experience the joy of pouring into their lives and loving and encouraging and helping them and ministering to their needs. In other words, you want a local church, I assume, where you can be useful and be a blessing to others who are struggling and need your input.
Finally, I assume you want a local church where you can be spiritually led and biblically fed and lovingly protected by gifted leaders. I assume you want leaders who not only know who you are but are joyfully committed to keeping watch over your souls, leaders who take seriously their responsibility to teach you the truth and help you grow in your knowledge of God and your intimacy with him.
1. It's not a club.
Let's begin by describing what I do not mean when I speak of covenant membership in the local church. Our aim is to avoid thinking of the local church in "religious" terms, such that "membership" is the card you carry that entitles you to show up when you please, consume only what you desire, and live however you wish on any day other than Sunday. The concept of "membership" has too often been associated with power, privilege, and an approach to the Christian life that grants a person all the "perks" of being thought of as a "believer" but with few or no responsibilities.
The last thing in the world that we envision when we think of covenant membership is the idea of a Christian congratulating himself/herself, and taking pride in membership in such a way that others are left feeling judged or excluded or second-rate. Covenant membership is not a badge that one flashes to make known their spiritual maturity. Our desire, on the other hand, is to call Christian men and women to a more genuine, authentic, heartfelt, and holistic relationship with other Christians that entails commitment and discipleship and provides us with a more effective means to display the glory of Christ.
The church is not a club we join in order to reap certain benefits at our leisure, whenever we please, but is rather a complex of relationships of mutual encouragement and spiritual accountability in which we partner with one another for the advance of the gospel in the earth.
2. "Covenant Membership" is intentional commitment to every other member.
What, then, do we mean by the words "covenant membership" when it comes to the local church? To be a covenant member simply means that an individual is identified with, is accountable to, and is a contributing participant to this local expression of the body of Christ. With covenant membership there are certain commitments that are made, responsibilities that are embraced, and relationships that are acknowledged. Covenant membership in a local church, therefore, is the way in which the individual is known to be intentionally committed to every other member of the congregation, and the congregation is known to be committed to the individual. Covenant membership means, "I now put myself under the care of the Elders and I invite them to hold me accountable as a constituent member of this body."
3. The Bible doesn't actually mention formal church membership. (HOWEVER…)
Does the New Testament explicitly mention or describe formal church membership? No, it does not. However, there are numerous truths and responsibilities in the NT which would be minimized or denied if there were no definable local church membership. The fact that membership is not explicitly mentioned does not mean it didn't exist. Those things which are explicitly mentioned necessarily assume that covenant membership existed. If we conclude that covenant membership is necessarily entailed by the Bible's commands for the church and the description of its life, we are morally obligated to pursue it in our churches today. If we conclude that it is not, we are free to regard local church membership as a matter of prudence which we may disregard if we think it not to be helpful in fulfilling our calling as the body of Christ.
4. The Bible requires Christians to be submitted to a group of church leaders. (Thus, Church membership is implied.)
Church membership is implied in the biblical requirement of Christians to be submitted to a group of church leaders, Elders, or Pastors.
The point here is that without covenant membership, who is it that the NT is referring to who must submit to a specific group of leaders? And who are those leaders? No one would argue that a believer is required to submit to the authority of just anyone who chooses to designate himself an Elder or Pastor. Some kind of expressed willingness or covenant or agreement or commitment (that is, membership) has to precede a person's submission to a specified group of leaders who themselves are committed to providing spiritual direction to those who have acknowledged their authority. In this regard, see 1 Thessalonians 5:12-13; 1 Timothy 5:17; Hebrews 13:17;
5. Another way covenant membership is implied is through a charge to Elders.
Some basic concept of covenant membership is implied in the way the NT requires Elders to care for the flock in their charge. Of course Elders can extend their love to anyone and everyone, and should, within the limits of their ability. But the question is whether the Bible tells Elders that they are to have a special responsibility and care for a certain group, a group of members. Consider Acts 20:28 where Paul tells the Elders how to care for their flock: "Pay careful attention to yourselves and to all the flock, in which the Holy Spirit has made you overseers, to care for the church of God, which he obtained with his own blood" (Acts 20:28).
This verse does not say Elders cannot visit unbelievers or those who are not yet members. But it does make clear that their first responsibility is to a particular flock. How are they to know who their flock is? Who are the Elders and Pastors responsible for? For whom will they give an account to God? The way Peter speaks to the Elders in 1 Peter 5 is even clearer on this point: "Shepherd the flock of God that is among you, exercising oversight, not under compulsion, but willingly, as God would have you; not for shameful gain, but eagerly; not domineering over those in your charge, but being examples to the flock" (1 Peter 5:2-3).
"Those in your charge" (your portion, your lot) implies that the Elders knew those for whom they were responsible. This is just another way of talking about membership. If a person does not want to be held accountable by a group of Elders or be the special focus of the care of a group of Elders, they will resist the idea of membership. And they will resist God's appointed way for them to live and be sustained in their faith.
6. Church membership is implied through the New Testament teaching of church discipline.
Church membership is necessarily implied by the teaching in the NT on church discipline. In Matthew 18:15-17 Jesus declares:
"If your brother sins against you, go and tell him his fault, between you and him alone. If he listens to you, you have gained your brother. But if he does not listen, take one or two others along with you, that every charge may be established by the evidence of two or three witnesses. If he refuses to listen to them, tell it to the church. And if he refuses to listen even to the church, let him be to you as a Gentile and a tax collector" (Matt. 18:15-17).
If there is no church membership, how can you define the group that will take up this sensitive and weighty matter of exhorting the unrepentant person and finally rendering a judgment about his standing in the community? It's hard to believe that just anyone who showed up claiming to be a Christian could be a part of that gathering. Surely, "the church" must be a definable group to handle such a weighty matter. You know who you mean when you "tell it to the church." Apart from certain criteria or qualifications that enable you to know who is the "church" and who isn't, there is simply no way to obey this command. The final step in this process of discipline is treating the unrepentant person "as a Gentile and a tax collector." Clearly, again, this makes sense only on the assumption that criteria exist by which one can know who or what constitutes the "church" from which this unrepentant person is now being excluded.
Consider Paul's language ("In the Church" v. "Outside the Church"):
Or consider 1 Corinthians 5:12-13 – "What have I to do with judging outsiders? Is it not those inside the church whom you are to judge? God judges those outside. 'Purge the evil person from among you'" (1 Cor. 5:12-13).
It is clear from Paul's language that there is an "in the church" group and an "outside the church" group. Being in the church is definable. There are recognizable boundaries that make drawing this distinction possible. The objective criteria that constitute those boundaries would be the terms of membership in the church. It is also clear that a person can be removed from being "in the church." Such a formal removal would not be possible if there were no such thing as a clear membership. In other words, Paul's exhortation would be impossible to obey unless there were a way of determining who is an accountable part of a local body and who is not. Simply put, formal exclusion presupposes formal inclusion. Michael McKinley provides this helpful illustration:
"I cannot be removed from the Northern California Left Handed Golfer's Association because I have never been a member of such an organization. Now according to their website, the NCLHGA will remove people from membership for several reasons (like right-handedness, perhaps?). But I am in no danger of being subject to such an action, because you can't kick a person out who was never a member to begin with."
The church's discipline is to occur when "you are assembled" (1 Cor. 5:4). For our purposes, simply note that there was a definite and formal assembly of the church, and they knew who to expect when it gathered. The church would have to have known who constituted its membership.
Apart from some expression of formal membership, how would it be determined who has the right to speak and to vote in the passing of judgment on the offending party? Surely this right would not extend to just anyone. Otherwise the person being disciplined could bring in extended family members and friends or coworkers or even people off the street who said they believed in Jesus. What about the person who has attended services only at Christmas or Easter, or perhaps someone who hasn't been present for several years but occasionally sends in a support check? The right to engage in the disciplinary process must be limited to a specific group, one that is limited by the criteria that constitute membership in the body.
Those Inside the Church
The "discipline" of which Paul speaks was intended only for those who are in the church (v. 12). Evidently some in Corinth were avoiding contact with immoral unbelievers outside the church. Paul seeks to correct this misunderstanding by reminding them that the church's judgment was aimed only at those "inside" the church. It seems clear that the church knew who was an insider and who was an outsider. Those "inside" the church must have been united to one another or committed in some special way beyond just casual acquaintance.
One author sums it up this way: "You can't fire someone who doesn't work for you. You can't vote in your country to remove a government official elected by another country. You can't appeal to a court to discipline someone who isn't within its jurisdiction. In the same way, you can't formally discipline someone who is in an informal relationship with you; you have no authority to do so. These people in Corinth had voluntarily committed themselves to a formal relationship and they knew who were official members of the church and who were 'outside'."
In 2 Corinthians 2:6, Paul refers to the discipline the church inflicted on an individual as the "punishment by the majority." The existence of a "majority" only makes sense if there was a defined set of people from which the majority is constituted. There cannot be a majority of an unspecified group; it must be a majority of something. This brings us back to the point made earlier in conjunction with the disciplinary process in 1 Corinthians 5. Was it the majority of people who happened to be present the day the vote was cast? Could non-Christians then vote? Could any Christians who happened to be visiting from another city who didn't know the situation vote? The most natural assumption to make is that Paul meant the majority of an acknowledged membership of the church.
7. It's likely certain criteria or standards were in place in the Early Church (to set apart believers authorized to join in decision-making).
In Acts 15:22 we read the following: "Then it seemed good to the apostles and the elders, with the whole church, to choose men from among them and send them to Antioch with Paul and Barnabas" (Acts 15:22).
A decision needed to be made concerning those who would be entrusted with a letter summing up the conclusions of the Jerusalem Council. The decision was made not only by the apostles and the elders but in conjunction with "the whole church." Who constituted the "whole church"? How was it known that one either was or was not part of the "church" in Jerusalem? How was it determined who had a right to speak into this matter? Would anyone who happened to be present at the meeting be given a voice? I find it highly unlikely that any person, regardless of belief, behavior, or involvement in the life of the body could simply assert himself into this affair. It is difficult to escape the conclusion that certain criteria or standards were in place that served to set apart those believers who were authorized to join with the apostles and elders in making this decision.
8. Consider Paul's mention of "the household of faith".
Consider Paul's exhortation in Galatians 6:10 – "So then, as we have opportunity, let us do good to everyone, and especially to those who are of the household of faith."
As Christians, we are responsible to display the love of Christ to "everyone," i.e., to all people regardless of their spiritual convictions. But we have a unique responsibility "to those who are of the household of faith." The local church is here portrayed as a family, spiritual "brothers" and "sisters" whose presence in the house and identity as members of that family are obvious. We don't know what the criteria were that identified one as a family member and thus the object of this particular display of "good," but there had to have been some means by which the household of faith was differentiated from "everyone" else. This is what is meant by "covenant membership" in the family of God's children.
9. There were times in the New Testament "the whole church [came] together".
In 1 Corinthians 14:23, Paul describes a situation in which "the whole church comes together." How would the leaders know if the "whole church" was there if no formal covenant relationship was established? The fact that Paul envisioned a group that could be identified and defined as everyone who belonged to that local body necessarily assumes that some means or mechanism had to be in place by which such people could be known. I think that means or mechanism or whatever other word you find appropriate is what I am calling "covenant membership."
10. The Church is described as "Body", "Flock", and "Building".
Covenant membership is implied in the metaphor of the "body" in 1 Corinthians 12:12-13. The original meaning of the word "member" is member of a body, like hand and foot and eye and ear. That's the imagery behind the word "member" in the text (vv. 12, 14, 18, 19, 20, 23, 25, 26, 27). Verse 12: "Just as the body is one and has many members, and all the members of the body, though many, are one body, so it is with Christ."
So the question this imagery raises for the local church that Paul is describing in 1 Corinthians 12is: Who intends to be treated as a hand or foot or eye or ear of this body? There is a unity and organic relationship implied in the imagery of the body. There is something unnatural about a Christian attaching himself to a body of believers and not being a member of the body. Neither Paul nor any other biblical author ever describes a Christian as one who functions or exists in isolation from the whole.
In addition to the metaphor of the "body" the New Testament speaks of the church as a "flock" (Acts 20:28) and a "building" (1 Peter 2:5). In each of these metaphors, there is an obvious relationship between the individual and the congregation as a whole. The individual Christian is a member of the body and a sheep in the flock. The individual believer is, in Peter's words, "a living stone" in the spiritual house.
Each of these word pictures, so vital to our understanding of the church, demand more than a casual commitment from the individual. There are no informally connected stones in a building. They are cemented together unambiguously. Sheep do not hop from flock to flock; rather, the shepherd knows exactly how many sheep he has in his care. Body parts do not relate to each other informally; they are intricately connected to each other and are mutually dependent. Surely, we best reflect these metaphors when we formally tie ourselves to a local congregation.
Why Covenant Membership?
So, why covenant membership? It isn't because we want to be like some other church, or even because we want to be unlike someone else. It is because we want to be biblical. It is because this world wants to sell you a bill of goods and to shape you in its image. The world wants to convince you that:
You should maintain your independence and autonomy.
Spiritual authority, or any kind of authority for that matter, is evil.
You should float around, but never settle down.
And if you don't like what is being offered in your church, there are at least a dozen more down the road that will surely have what you're looking for.
Why covenant membership? So that when your life starts to fall apart (however or whenever that may happen) you can rest assured that others who have pledged and promised themselves to you will be there, to love and support you, to pray for you, to instruct you, to walk with you through the worst of times.
Why covenant membership? So that in the face of rampant relativism and postmodern mush that says truth is whatever each individual wants it to be you can stand arm-in-arm with brothers and sisters in Christ and say: "This, the Word of God, is truth. We are united by covenant in our commitment to what it says. And we're willing to go to the ends of the earth together to make it known, and if necessary to die for it."
Giantology
"There we saw the giants … and we were like grasshoppers in our own sight…" – (Numbers 13:33)
The book of Numbers records the death of an entire generation. Twelve spies were sent to do reconnaissance in the land of Canaan. Ten of the spies gave the report quoted above. Only two told how great the land was and exhorted the people to invade Canaan. While Joshua and Caleb were men of great faith, the other ten were experts in "Giantology."
The entire generation who listened to the ten perished in the wilderness and only two people survived the most tragic judgment of God recorded in the Bible. An old spiritual put it this way: "Others saw the giants.  Caleb (and Joshua) saw the Lord!" We read that they wholly followed the Lord because they believed Him well able to conquer those giants.
I have spent most of my adult life as a pastor. I cannot help but allow the thought that the twelve spies resemble a board of Elders, a Session, a Vestry, or a board of Stewards. Sometimes when a church is facing a huge challenge two will have the faith of Caleb and Joshua and ten will be giantologists.
We all have "giants" in our lives. As a bedfast quadriplegic with a wife in a wheelchair I certainly have mine.  I'm sure you have yours. We also have choices. We can choose to see the giants and spend much time talking about how big they are.  Or we can choose to see the Lord conquering our giants. We might call this "Two people in a pew — which one are you?"
Are you a Caleb with a conquering-the-giants faith, or are you getting your Ph.D. in Giantology?
Do Your Homework
Even a child is known by his actions, by whether his conduct is pure and right. – Proverbs 20:11
When is the last time you made a bad decision because you didn't do your homework?
Over a three year period, thousands of criminals escaped from a Los Angeles County Sheriffs Work-Release program. A large num¬ber of these men were hardened criminals, incarcerated for violent crimes. It was reported that most of the men in the program had been asked if they would prefer work-release to doing prison time, and that their criminal record had no bearing on the offer.
God expects us to be wise in our association with others. He doesn't want us to fall prey to smooth talkers. If a person says one thing but his life speaks differently, beware! You can be sure that what you see is what you will get.
I challenge you today to seek wisdom from God in all that you do. Before putting your trust in another, look at his actions. Ask the Lord to give you the discernment necessary to avoid making the wrong decisions when it comes to relationships with others, both in your business life and your personal life.
"Trust the past to God's mercy, the present to God's love, and the future to God's providence." – St. Augustine ( 354-430)
From Go For the Green by Jeff Hopper
One Way
Teach me Your way, O Lord; I will walk in Your truth; unite my heart to fear Your name. –Psalm 86:11
In the world of professional golf, the relationship between a player and his teacher can be precarious. If the player, who does the hiring, is not performing well, he may head off to find another mentor.
In life, however, if we have chosen God as our teacher, we must stick with Him. In the flawless world He created, trust was complete. Adam and Eve lacked no confidence in their Creator. Until the seed of independent possibility was sown in them— "Here's a decision you can make without God"— they had no gross pride or distrust.
Ever since that first I-can-do-this-on-my-own act of sin, God has worked to restore trust to His people. It is a simple message: "Follow Me, follow only Me, and you can count on knowing all you need to know." David, in Psalm 86, told God yes, he would follow.
Let's make David's decision our decision.

What Jesus Did!

 'The Testimony of Someone Else'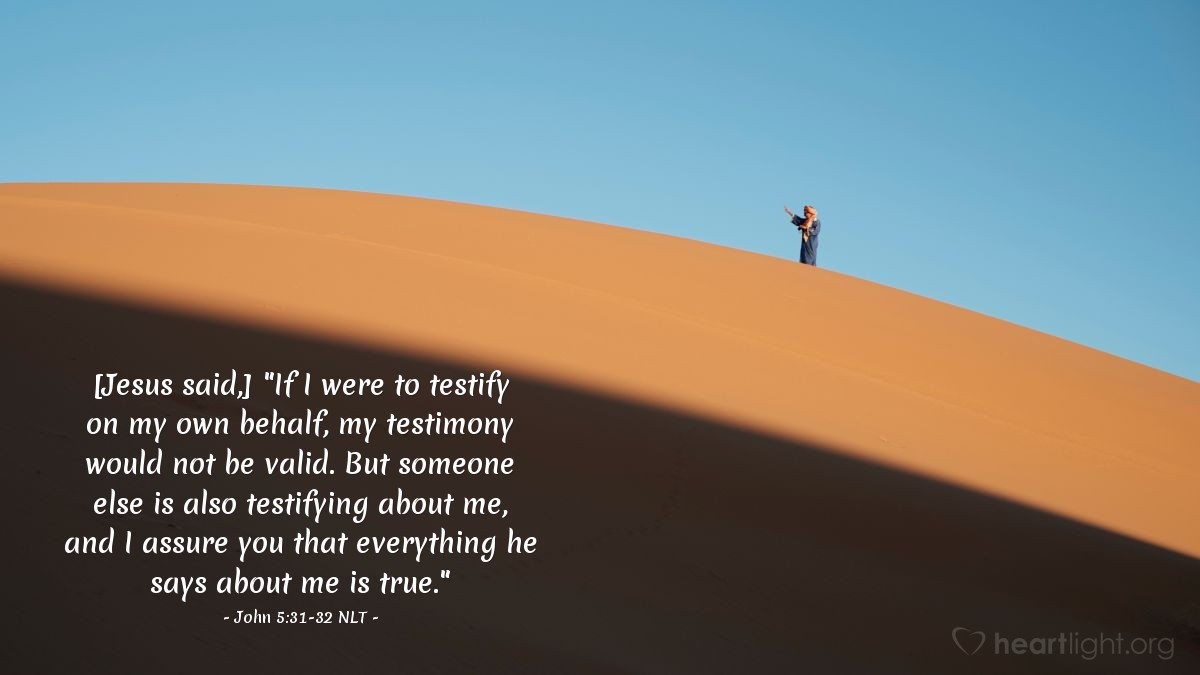 Key Thought
Jesus didn't claim his authority as Son of God just on his own. John the Baptist will give his life to testify that Jesus is from God. Using the principles of Jewish law, Jesus will also add other witnesses — his miracles and the testimony of his own Father. What John had to say about Jesus was all true, some of it even more significant than John himself could realize. Jesus is the light of the world, the Lamb who takes away the sin of the world, and the Living One who was alive before Abraham was born. He is Jesus, the Son of God. What we do with that reality will determine our destiny!
Today's Prayer
Father, I do believe you sent your Son into the world to be my Savior. Thank you for his sacrifice for my sins. Thank you, Lord Jesus, for all you did to save me. I believe that you are the Son of God, the Lord who conquered death, and my Savior who will come when the Father says the time is right. I praise you for your obedience to the Father and your redeeming love for everyone, including people like me. All praise be to you. Amen.
Related Scripture Readings
God's Holy Fire:

 'The Spirit Gives Life'
Key Thought
Everything that lives is actually in the process of dying — everything, that is, except for those animated and empowered by the Spirit of the living Christ. The power that raised Jesus from the dead is actually at work in us. Not only does the Spirit empower us to find life now, but his presence ensures life forever. We don't stand under judgment but have passed from death to life (
John 5:24
), and the Spirit is the life within us that is our assurance that we are joined to the Creator of the universe and the Son of God who was raised from the dead. The risen Christ is alive within us!
Today's Prayer
Everlasting Father, King of Kings and Lord of Lords, I thank you for the gift of your grace in Jesus. Without him, I would be nothing. Because of him, by the power of the Holy Spirit within me, I have been reborn to eternal life. Thank you! In Jesus' name. Amen.
Illustration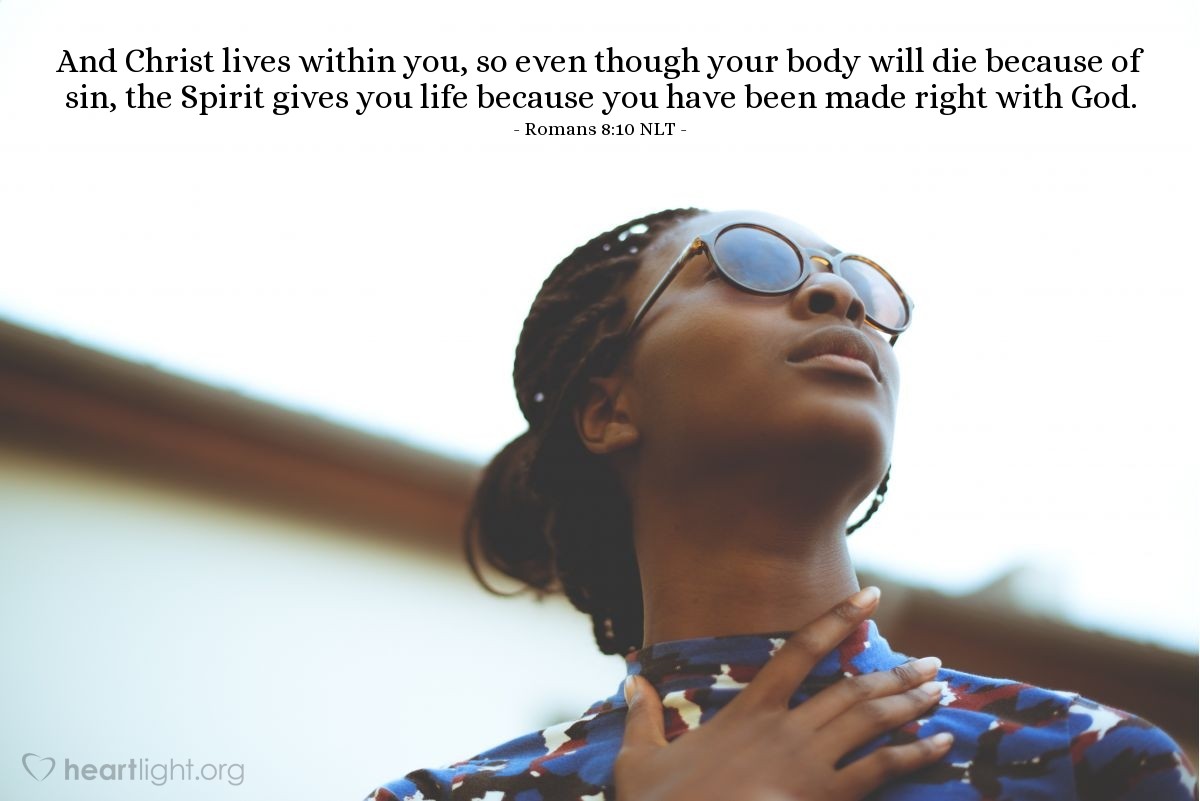 Passion for Praise:

 'God Our Strength'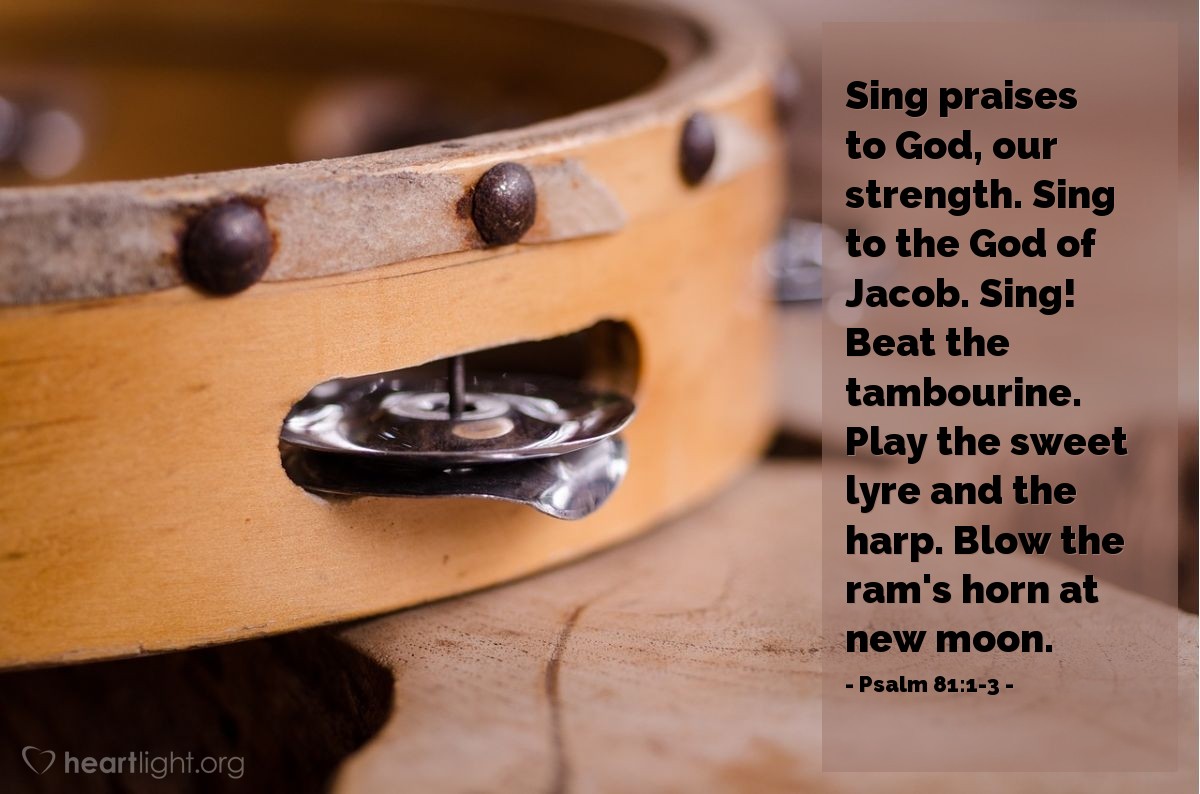 Praying with Paul:

 'False Gods'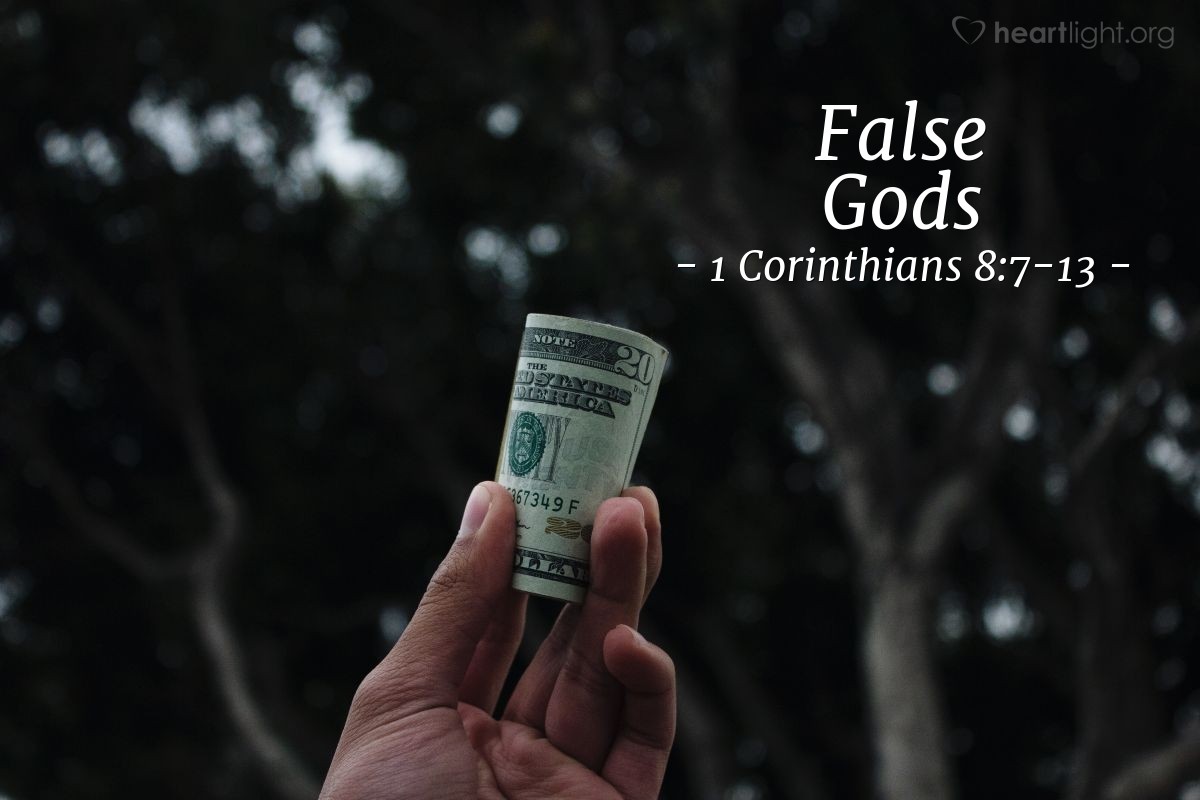 Dear Father, the one real and only God,
Many do not understand that all reality is rooted in you, so they chase the "gods" of this world, the "idols" which they worship – money, fame, glamor, power, security – and in some cases real idols and the real demons who are behind those idols.
Many brothers and sisters in Christ have recently been freed from bondage to a culture that worships these false gods, and due to their weak consciences they can easily be drawn back. Keep me from pursuing the things they were in the habit of pursuing, lest they think I am serving their old "gods" and that it is okay for them to violate their consciences and return to former practices. Don't let my "knowledge" destroy someone who is weak. May I be willing to forego any right or privilege rather than cause a brother or sister to fall.
In the name of Jesus and by his authority I ask these things according to his will. Amen.
Today's Scripture
"Wisdom belongs to the aged, and understanding to those who have lived many years." Job 12:12
Thoughts for Today
The most important abilities we have as Christians are not touched by the normal aging process. When we lose the abilities enjoyed by youth, there is no need for despair. Age can bring us into our most profound spiritual period of life.
Simeon and Anna are good examples of older people with spiritual discernment. In Luke 2 we read about their encounter with the baby Jesus. Both of them immediately recognized Jesus as their long-awaited Messiah.
God had assured Simeon that he would live to see the Messiah. Simeon did not despair in his elder years, but remained righteous and devout, waiting for God's promise as he continued to serve. When we enter this late season of our lives, we too can use the time to focus on the Lord, using these years to serve him and grow closer to him.
Anna, an elderly widow, was free from many distractions that would occupy the minds of younger women. She had no earthly companion or attachments to distract her from total concentration on knowing and serving God.
Consider this . . .
We each need to determine that during our elder years, we will focus more and more on our Lord and allow the Holy Spirit to guide us in serving him. If we have aging parents, we should honor them and their experience, recognizing that "wisdom belongs to the aged." We need to encourage them to use their experience and the wisdom they have developed to teach us and others.
Prayer
Father, as I age, help me to focus on what I can do for you, not those things I can no longer do. Help my parents recognize that "wisdom belongs to the aged" and encourage them to let the Holy Spirit guide them and show them ways they can still serve you. In Jesus' name…
The Gospel of the Kingdom
TGIF Today God Is First Volume 1 by Os Hillman
April 11, 2018
"This is how we know we are in Him: Whoever claims to live in Him must walk as Jesus did." – 1 John 2:5b-6
When Christ came to earth, He came to bring to mankind the gospel of the Kingdom. Over the centuries, the Church has tended to emphasize only a portion of the gospel. That portion is the gospel of salvation. However, Jesus came that we might have more than just salvation. He came to give us a whole new life that was accompanied by signs, wonders, and His Spirit living in us and revealing Himself to us daily. He came so that we might walk on this earth as He did. If our lives are not reflecting the same things as Jesus' did, we must ask why?
I have noticed three distinct types of workplace believers throughout my 24 years of walking with Christ. First, many of us come to Christ out of a need for salvation. Our hearts have been touched by His call on our lives. We reason and analyze the claims of Christ and make a decision for Him. It is the convenient time to accept Him in our lives. This first stage is often characterized by a "Bless me, Lord" attitude toward God. It is the first stage that primarily brings salvation into our lives. Some never really go past this first stage.
The second stage is the crisis stage. A crisis takes place in our lives, and we are motivated to seek Christ with a whole heart. However, this motivation is not out of pure love for Christ; rather, it is motivated by the desire to get out of the pain of living. The motivation is to solve "the what" versus "the why" in my life at the time. This stage is best characterized as "Help me, Lord."
In the third stage we begin to experience the gospel of the Kingdom. It is the place where Jesus resided in His walk with His heavenly Father. It is the place of conviction. The number of people who live at this level are quite few, but these people are experiencing the reality of a walk with God that is foreign to all others. They are seeing daily occurrences of His involvement in their lives. They are motivated by a deep love for Him. They know Him. These people have an attitude characterized by these thoughts, "Have me, Lord; though He slay me, still will I trust Him."
Where are you today? Have you merely accepted His salvation to simply float along? Or do you seek Him with a whole heart only when a crisis occurs? His desire is for you and me to live a life of conviction, motivated by our love for Him and His love for us. This is where we will experience the gospel of the Kingdom.
NATIONAL PET DAY
April 11 is National Pet Day.  While loving our pets is something we do every day, National Pet Day encourages us to pay special attention to pets who may not get that extra attention.  Helping out orphaned pet companions will improve their health and improve their opportunities for adoption.
Sometimes their human companions aren't well.  Making sure their forever furry friends are receiving the best of care will help relieve stress and worry.
HOW TO OBSERVE
Take supplies to those pets in shelters.  Help a friend with pets who is recovering from an illness.  Adopt a pet.Use #NationalPetDay on social media.
HISTORY
Founded by Celebrity Pet Lifestyle Expert & Animal Welfare Advocate Colleen Paige in 2005 and sponsored by the Animal Miracle Foundation & Network, more information on National Pet Day can be found at www.pedayusa.com.