Christoph Friedrich Blumhardt
Jesus said to her, "I am the resurrection and the life. He who believes in me will live, even though he dies; and whoever lives and believes in me will never die. Do you believe this?" John 11:25–26, NIV
Dear Father in heaven, to you we entrust everything, for you have given us life and will call us to resurrection. You will help your children, your people, to reach what you have called them to. Protect your church on earth. Let her soon see your glory. Let her see Jesus Christ intervening in people's lives and destinies until, shaken and trembling, they have to recognize that they should love and honor Jesus alone, to your honor, O Father in heaven. We thank you for all you have given us in your Word, which enables us to become your children and to find your way for us on earth. Bless us and give us the Holy Spirit. Protect us this night. Protect us so that nothing evil can harm us. Amen.
Saturday of the Second Week of Easter
As the number of disciples continued to grow,
the Hellenists complained against the Hebrews
because their widows
were being neglected in the daily distribution.
So the Twelve called together the community of the disciples and said,
"It is not right for us to neglect the word of God to serve at table.
Brothers, select from among you seven reputable men,
filled with the Spirit and wisdom,
whom we shall appoint to this task,
whereas we shall devote ourselves to prayer
and to the ministry of the word."
The proposal was acceptable to the whole community,
so they chose Stephen, a man filled with faith and the Holy Spirit,
also Philip, Prochorus, Nicanor, Timon, Parmenas,
and Nicholas of Antioch, a convert to Judaism.
They presented these men to the Apostles
who prayed and laid hands on them.
The word of God continued to spread,
and the number of the disciples in Jerusalem increased greatly;
even a large group of priests were becoming obedient to the faith.
R. (22) 
Lord, let your mercy be on us, as we place our trust in you.
or:
R. 
Alleluia.
Exult, you just, in the LORD;
praise from the upright is fitting.
Give thanks to the LORD on the harp;
with the ten-stringed lyre chant his praises.
R. 
Lord, let your mercy be on us, as we place our trust in you.
or:
R. 
Alleluia.
Upright is the word of the LORD,
and all his works are trustworthy.
He loves justice and right;
of the kindness of the LORD the earth is full.
R. 
Lord, let your mercy be on us, as we place our trust in you.
or:
R. 
Alleluia.
See, the eyes of the LORD are upon those who fear him,
upon those who hope for his kindness,
To deliver them from death
and preserve them in spite of famine.
R. 
Lord, let your mercy be on us, as we place our trust in you.
or:
R. 
Alleluia.
Alleluia
R. Alleluia, alleluia.
Christ is risen, who made all things;
he has shown mercy on all people.
R. Alleluia, alleluia.
When it was evening, the disciples of Jesus went down to the sea,
embarked in a boat, and went across the sea to Capernaum.
It had already grown dark, and Jesus had not yet come to them.
The sea was stirred up because a strong wind was blowing.
When they had rowed about three or four miles,
they saw Jesus walking on the sea and coming near the boat,
and they began to be afraid.
But he said to them, "It is I. Do not be afraid."
They wanted to take him into the boat,
but the boat immediately arrived at the shore
to which they were heading.
– – –
Lectionary for Mass for Use in the Dioceses of the United States, second typical edition, Copyright © 2001, 1998, 1997, 1986, 1970 Confraternity of Christian Doctrine; Psalm refrain © 1968, 1981, 1997, International Committee on English in the Liturgy, Inc. All rights reserved. Neither this work nor any part of it may be reproduced, distributed, performed or displayed in any medium, including electronic or digital, without permission in writing from the copyright owner.
A Pharisee in the Sanhedrin named Gamaliel,
a teacher of the law, respected by all the people,
stood up, ordered the Apostles to be put outside for a short time,
and said to the Sanhedrin, "Fellow children of Israel,
be careful what you are about to do to these men.
Some time ago, Theudas appeared, claiming to be someone important,
and about four hundred men joined him, but he was killed,
and all those who were loyal to him
were disbanded and came to nothing.
After him came Judas the Galilean at the time of the census.
He also drew people after him,
but he too perished and all who were loyal to him were scattered.
So now I tell you,
have nothing to do with these men, and let them go.
For if this endeavor or this activity is of human origin,
it will destroy itself.
But if it comes from God, you will not be able to destroy them;
you may even find yourselves fighting against God."
They were persuaded by him.
After recalling the Apostles, they had them flogged,
ordered them to stop speaking in the name of Jesus,
and dismissed them.
So they left the presence of the Sanhedrin,
rejoicing that they had been found worthy
to suffer dishonor for the sake of the name.
And all day long, both at the temple and in their homes,
they did not stop teaching and proclaiming the Christ, Jesus.
R. (see 4abc) 
One thing I seek: to dwell in the house of the Lord.
or:
R.
 Alleluia.
The LORD is my light and my salvation;
whom should I fear?
The LORD is my life's refuge;
of whom should I be afraid?
R. 
One thing I seek: to dwell in the house of the Lord.
or:
R. 
Alleluia.
One thing I ask of the LORD
this I seek:
To dwell in the house of the LORD
all the days of my life,
That I may gaze on the loveliness of the LORD
and contemplate his temple.
R. 
One thing I seek: to dwell in the house of the Lord.
or:
R. 
Alleluia.
I believe that I shall see the bounty of the LORD
in the land of the living.
Wait for the LORD with courage;
be stouthearted, and wait for the LORD.
R. 
One thing I seek: to dwell in the house of the Lord.
or:
R. 
Alleluia.
R. Alleluia, alleluia.
One does not live on bread alone,
but on every word that comes forth from the mouth of God.
R. Alleluia, alleluia.
Jesus went across the Sea of Galilee.
A large crowd followed him,
because they saw the signs he was performing on the sick.
Jesus went up on the mountain,
and there he 
sat
 down with his disciples.
The Jewish feast of Passover was near.
When Jesus raised his eyes and saw that a large crowd was coming to him,
he said to Philip, "Where can we buy enough food for them to eat?"
He said this to test him,
because he himself knew what he was going to do.
Philip answered him,
"Two hundred days' wages worth of food would not be enough
for each of them to have a little."
One of his disciples,
Andrew, the brother of Simon Peter, said to him,
"There is a boy here who has five barley loaves and two fish;
but what good are these for so many?"
Jesus said, "Have the people recline."
Now there was a great deal of grass in that place.
So the men reclined, about five thousand in number.
Then Jesus took the loaves, gave thanks,
and distributed them to those who were reclining,
and also as much of the fish as they wanted.
When they had had their fill, he said to his disciples,
"Gather the fragments left over,
so that nothing will be wasted."
So they collected them,
and filled twelve wicker baskets with fragments
from the five barley loaves that had been more than they could eat.
When the people saw the sign he had done, they said,
"This is truly the Prophet, the one who is to come into the world."
Since Jesus knew that they were going to come and carry him off
to make him king,
he withdrew again to the mountain alone.
– – –
Lectionary for Mass for Use in the Dioceses of the United States, second typical edition, Copyright © 2001, 1998, 1997, 1986, 1970 Confraternity of Christian Doctrine; Psalm refrain © 1968, 1981, 1997, International Committee on English in the Liturgy, Inc. All rights reserved. Neither this work nor any part of it may be reproduced, distributed, performed or displayed in any medium, including electronic or digital, without permission in writing from the copyright owner.
Saint of the Day
Blessed Peter Gonzalez
Saint of the Day for April 14
(1190 – April 15, 1246)
Blessed Peter Gonzalez's Story
Saint Paul had a conversion experience on the road to Damascus. Many years later, the same proved true for Peter Gonzalez, who triumphantly rode his horse into the Spanish city of Astorga in the 13th century to take up an important post at the cathedral. The animal stumbled and fell, leaving Peter in the mud and onlookers amused.
Humbled, Peter reevaluated his motivations—his bishop-uncle had secured the cathedral post for him—and started down a new path. He became a Dominican priest and proved to be a most effective preacher. He spent much of his time as court chaplain, and attempted to exert positive influence on the behavior of members of the court. After King Ferdinand III and his troops defeated the Moors at Cordoba, Peter was successful in restraining the soldiers from pillaging, and persuaded the king to treat the defeated Moors with compassion.
After retiring from the court, Peter devoted the remainder of his life to preaching in northwest Spain. Having developed a special mission to Spanish and Portuguese seamen, he is considered their patron.
Peter Gonzalez died in 1246 and was beatified in 1741.
---
Reflection
How often we have heard stories about some misfortune or disaster only to hear later on that it was now seen as a good thing. Not every "disaster" is truly bad in its consequences for the Lord can bring good out of what appears to be a misfortune. Such was the case for Blessed Peter. His being dumped in the mud by a falling horse turned out to be a good thing in his life.
---
Blessed Peter Gonzalez is the Patron of:
Spanish and Portuguese sailors
A Prayer for When You Feel God Has Abandoned You
By Lori Schumaker
The heart is deceitful above all things and beyond cure. Who can understand it? –Jeremiah 17:9 NIV
The world misleads us and tells us "Follow your heart" or "Go with your feelings." But our hearts and our feelings are not stable. They sway with the events of each day. They can mislead us as they vacillate and often walk us into the depths of deception and pain.
Why would we follow what is unstable, inconsistent, and unreliable? Why wouldn't we instead choose to follow an unchanging Truth? The Truth of God.
As I began pouring out in prayer every gut wrenching emotion in my heart, God began revealing truth.
If you are in that place of hurting, in that place where you feel as though God has left your side, I urge you to continue pursuing deep relationship with Jesus by incorporating these 6 strategies into your everyday life. I promise, a day will come where you will once again feel His presence and see His handiwork.
1. Pray boldly and authentically. Pour out all that lies in the heart.
Don't Bother Me with Details!
by Katherine Britton, Crosswalk.com Contributor
So Joshua took the entire land, just as the LORD had directed Moses, and he gave it as an inheritance to Israel according to their tribal divisions. Then the land had rest from war. – Joshua 11:23
Every so often I take out my old "Dear Diary" from when I was eight years old, and thumb through it for the sake of hilarity. Most entries go something like this:
"Today I woke up at 7:47 a.m. Then I ate pancakes for breakfast! I love pancakes! Then I did school, and I brought my magnifying glass with binoculars with me to co-op. Then we played outside in the afternoon. I scraped my knee when I fell off my bike, but I rode all the way around the house on the grass!"
Riveting, no?
Amusement carries me through about three (very short) "Dear Diary" entries, then I close the flowery notebook and get back to my current life. After I've read through a week of what I had for breakfast, I'm done observing my former status as a "cute kid." Every little detail that I thought was so important when I was eight just doesn't thrill me now.
Unfortunately, I've have a tendency to take the same approach to certain portions of Scripture. You know the ones I'm talking about – "This is what Moses had given the tribe of Gad… from Heshbon to Ramath Mizpah and Betonim, and from Mahanaim to the territory of Debir." All the territories and distances and kings of what city etc. are very much like those breakfast entries. That's nice, God, but frankly, I don't really care anymore.
I didn't think it was possible to make a sermon out of such details, but a pastor proved me wrong on Sunday. In fact, he made a sermon out of all nine chapters detailing which tribes and clans got what land when the Israelites finally took Canaan. And – unbelievably – I found myself reveling in the "inane" details.
Consider that this doling out of territory was 600 years in making. A promise made to Abraham 600 years before this moment, before Egypt happened, before Abraham even had an heir of his own kin. Six hundred years later, God's promise that Israel would possess the land of Canaan finally comes through – and in all that time, God has not lost sight of the details. In the midst of this plan that span more than half a millennium, the Lord of Israel comes from the span of heaven and picks out every plot of earth that every clan will inherit.
We serve a God who controls both the universe and the finest breath of wind, who orchestrates all of history and the little details for our lives. Nine chapters about plots of land? Apparently, he cares enough about the details to include them in divine revelation. And yet how often do we pass over these same details tucked away in Scripture – even when we're searching for assurance of God's hand in our life!
As Abraham Piper writes, "It's true that knowing Michmethah is east of Shechem ranks very low in the list of facts that are important to know from the Bible. But it matters, because the sum of all the dull details that God has accomplished proves that whatever he promises, he will do."
Intersecting Faith & Life: 
Is your life "boring" right now as you work through the inane details of day to day living? Rejoice in knowing that God's hand is at work even in these little things.
Further Reading:
When the Bible Is Boring
the-ol-o-gy
Joshua 21:45
Joshua 23:14
It's Nice to be Anywhere
No man has power over the wind to contain it; so no one has power over the day of his death. – Ecclesiastes 8:8
When it comes to the length of your life, what do you consider long enough?
On March 9, 1996 comedian and actor George Burns passed away at the age of 100. He was still performing live comedy, until just a few years before his death. At his 98th birthday celebration, he addressed his guest in true "George Burns style", saying "It's nice to be here . . . at 98, it's nice to be anywhere."
At 98 years-old, George Burns considered every day a gift and he was right! Whether you're twenty-two years old or ninety-two, life is precious and should never be taken for granted. None of us are born with a guaranteed number of days on this earth. We have no promise that we will be here tomorrow and should realize that each moment is priceless. In acknowledging each day as an irreplaceable gift, we will be more likely to make the most of the time that we are given.
Start each morning by thanking the Lord for the day He has given you. Then spend that day, as if you meant what you said.
"When I was a boy the Dead Sea was only sick." – George Burns (1896-1996)
From Sanctuary by David Jeremiah
Faithful over Few, Ruler over Many
Well done, good and faithful servant; you were faithful over a few things, I will make you ruler over many things. – Matthew 25:21
God owns everything and has decided to put some of it into our hands to manage. When the Lord looks down and sees an individual doing a good job administering a few things, He decides to put that individual in charge of a few more things. God evaluates our steward ship on the basis of how well we administer it, keeping His priorities in mind rather than our own. When He sees someone serving faithfully, He expands the responsibility, giving something else to be managed. But when He sees someone who manages God's resources based on a personal agenda, or who forgets to reflect the Spirit of God in his management, the Lord can choose to withhold any further responsibility.
That's why Jesus, in explaining the parable of the talents in Matthew 25:21, said, "Well done, good and faithful servant; you were faithful over a few things, I will make you ruler over many things."

What Jesus Did!

 'You Don't Believe the One He Sent'

[Jesus said,] "And the Father who sent me has testified about me himself. You have never heard his voice or seen him face to face, and you do not have his message in your hearts, because you do not believe me — the one he sent to you."
Key Thought
God sent Jesus to touch our hearts and call us back to himself. He sent him with a message of grace and with deeds of kindness. He sent him to proclaim the coming of the Kingdom and to call us to live by Kingdom values. Incredibly, so many reject him, either through blatant disregard or through explicit rejection. Jesus, however, makes a powerful statement. Effectively he says, "If you are choosing the Father, then you must choose me. If you reject me, you reject the Father, the One who sent me." Crucial? Absolutely! Challenging? Yes indeed. Exclusive? Yes, Jesus calls us to decide about him because he claims to be THE way to the Father. The issue isn't what we think about those claims, but whether or not Jesus is who he claims to be. If he is, then everything for us hinges on our decision about him. The issue isn't whether it is politically correct for Jesus to claim to be the one way to the Father, but whether or not he is eternally correct.
Today's Prayer
Father, thank you for sending your Son to reveal you and save me. I truly believe that Jesus is your Son and died to save me from my sins. Help me to share my faith in Jesus with those that I love and to do it with gentleness and respect so that they, too, can come to see Jesus for who he is. I pray this in his precious and holy name. Amen.
Related Scripture Readings
Daily Wisdom:

 Proverbs 9:10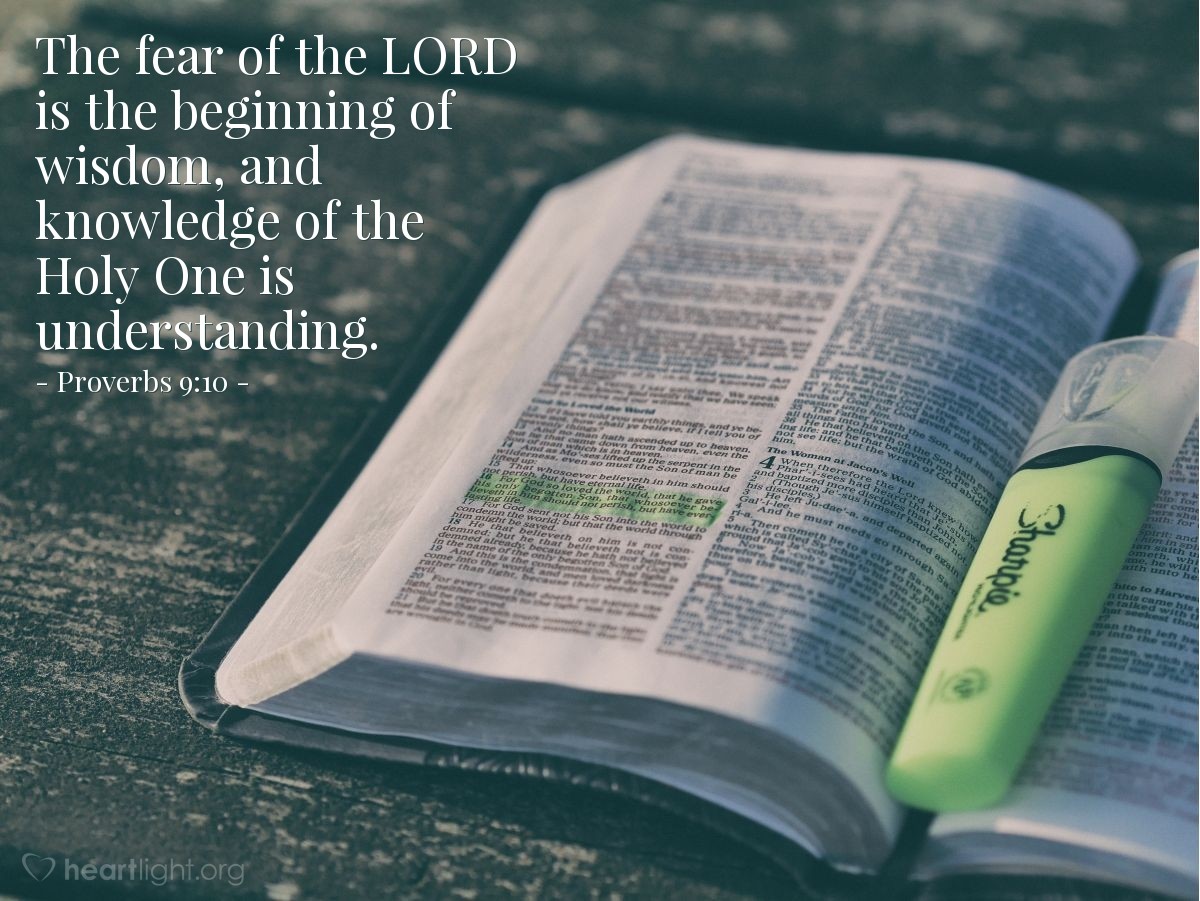 Passion for Praise:

 'You Heard My Call for Help!'

Praise the LORD, for he has shown me the wonders of his unfailing love. He kept me safe when my city was under attack. In panic I cried out, "I am cut off from the LORD!" But you heard my cry for mercy and answered my call for help.
Praying with Paul:

 'Exercising Self-control'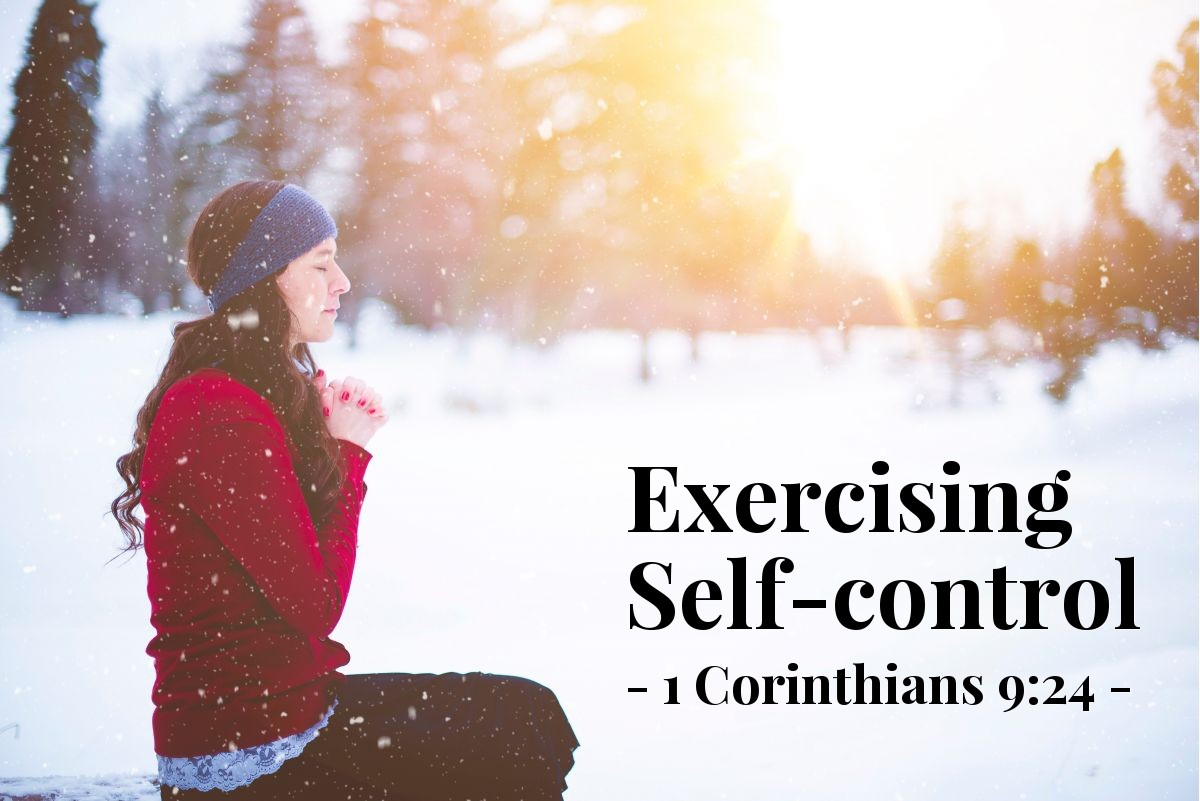 Dear Father,
Help me to compete like a runner aspiring for an Olympic gold medal. Help me to exercise discipline and self-control in all things that I may receive the imperishable victory wreath.
Help me not to run aimlessly or to box as one sparring against the air. Give me the grit to pommel my body, to bring it under subjection, lest after having shared the Good News with others I myself should be disqualified.
In the name of Jesus. Amen.
Tell the righteous that it shall be well with them.
Isaiah 3:10
It is well with the righteous ALWAYS.
If it had said, "Tell the righteous that it is well with them in their prosperity," we would be thankful for so great a blessing, for prosperity is an hour of peril. It is a gift from heaven to be safe from its snares. If it had read, "It is well with them when under persecution," we would be thankful for such a comforting assurance, for persecution is hard to bear; but when no time is mentioned, all time is included.
God's shalls must always be understood in their largest sense. From the beginning of the year to the end of the year, from the first gathering of evening shadows until a new day dawns, in all conditions and under all circumstances, it will be well with the righteous. It is so well with him that we could not imagine it to be better, for he is well fed—he feeds upon the flesh and blood of Jesus; he is well clothed—he wears the imputed righteousness of Christ; he is well housed—he dwells in God; he is well married—his soul is knit in bonds of marriage to Christ; he iswell provided for—for the Lord is his Shepherd; he is well endowed—for heaven is his inheritance. It is well with the righteous—well upon divine authority; the mouth of God speaks the comforting assurance.
O beloved, if God declares that all is well, ten thousand devils may declare it to be ill, but we may laugh them all to scorn. Blessed be God for a faith that enables us to believe God when the creatures contradict Him. It is, says the Word, at all times well with you, righteous one; then, beloved, if you cannot see it, let God's Word assure you; believe it on divine authority with more confidence than if your eyes and your feelings told it to you. Those God blesses are blessed indeed, and what His lip declares is truth most sure and steadfast.
Verse of the Day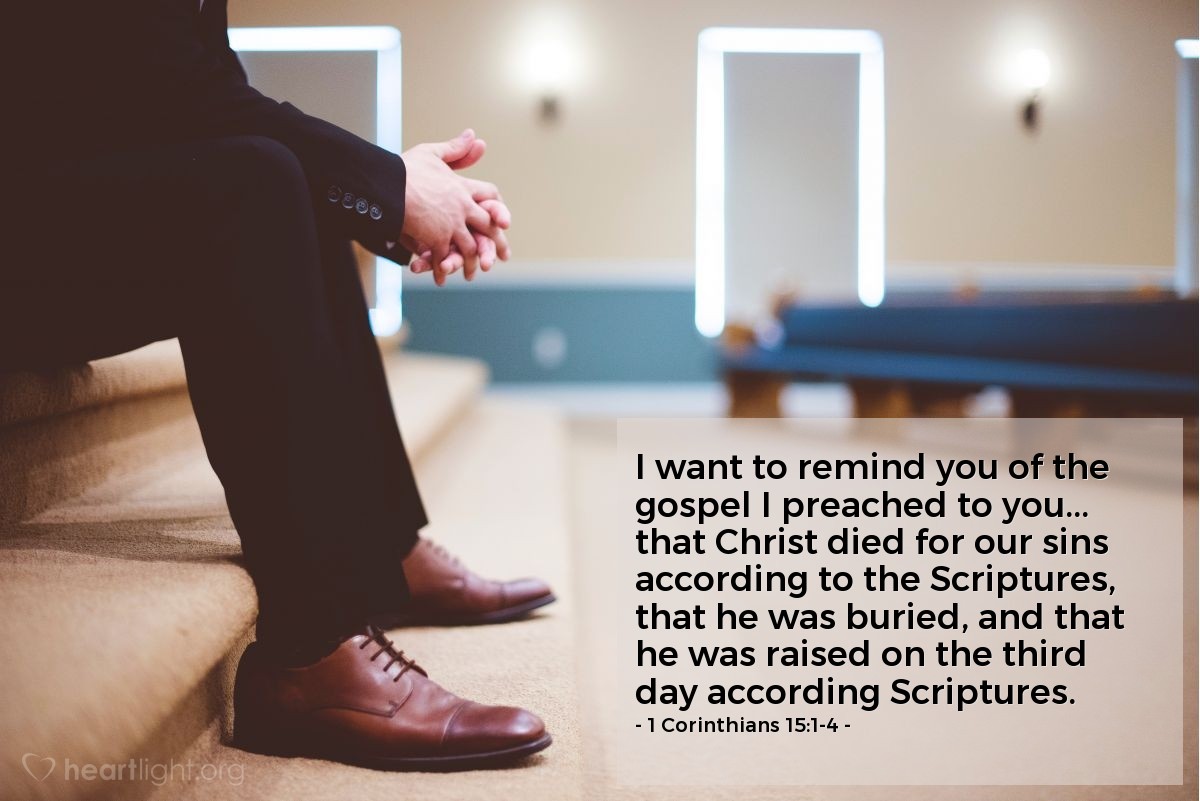 Thoughts on Today's Verse…
The story of the Gospel is simple. The grace of the Gospel is glorious. The sacrifice of the Gospel is incomprehensible. The victory of the Gospel is eternal. The core of the Gospel is Christ.
My Prayer…
Almighty Lord, thank you for the empty tomb and Jesus' victory over the grave. Just as Jesus' death pardoned my sin, his resurrection assures my future. Thank you for grace and glory. May my life be lived each day by the power of the resurrection. In Jesus name I pray. Amen.
By Rebecca Barlow Jordan
My mom graduated to heaven several years ago. The night before her funeral I was still struggling with not being able to see her just before she died. I looked for God's footprints in all of it and couldn't find them, even though I prayed and searched diligently.
That same night a terrific storm blew in, one that literally shook the house with loud thunder claps and lightning bolts that lit up the room in Mom's house where I was trying to sleep. When the storm finally calmed, I turned on a nearby lamp and grabbed my Bible on the stand. When I opened it, the pages fell to the book of Psalms. I began to read through chapter 77. As if highlighted by lightning, these were the words that especially spoke to me:
The clouds poured down water, the heavens resounded with thunder; your arrows flashed back and forth. Your thunder was heard in the whirlwind, your lightning lit up the world; the earth tremble and quaked. Your path led through the sea, your way through the mighty waters, though your footprints were not seen (Psalm 77: 17-19, NIV).
Where Are God's Footprints?
Though heart healing  is a process and takes time, God helped me understand some truths that have continued to give me strength. I re-read those verses some months later and journaled my thoughts into a semi-prayer. I realized you can't always see God's footprints, and unlike the famous Footprints poem, you might not even see your own. But you know God's been there, just the same. In this personal prayer for you, here's what He impressed on my heart about the truth in those verses:
My Personal Prayer for You
Lord,
Sometimes You lead us directly through the sea and mighty waters, like Moses and the Red Sea crossing and Joshua and the Jordan River, though Your footprints are never seen. We know it's You making a way, not through an easy path, but by the one that will give You the most glory.
Don't we all prefer the easy way? No sickness, no financial problems, no death, no trials, no problems, no obstacles. But when we trust You, Lord, You will make a path. You may not leave visible footprints. The water from the storm or the waves of the sea cover them up, but the invisible ones on our hearts can never be washed away. We remember them, as in Psalm 77:6, like "songs in the night."
I can see that, Lord. How many times and how many songs have You written on my heart? Too many to count. I sing them often. And every one of them has "grace" in the title.
Thank You for Your invisible footprints, Lord, and for the path that You have planned–a path leading not to disaster, but to a future filled with hope:
For I know the plans I have for you," says the 

Lord

. "They are plans for good and not for disaster, to give you a future and a hope (Jeremiah 29:11 NLT).
Day-votedly Yours,
Rebecca
Has there been a time when God's footprints seemed invisible to you? A time when you couldn't see the path, much less His prints? How did He bring you through? What have you learned since then about God's character?
You might enjoy this previous post I wrote regarding God's plans and footprints. It's one of my most popular blog posts: Five Simple Steps to Discover God's Plans for You.
Feel free to share about my website or this blog post with others on social media circles so we can work together in encouraging others toward intimacy with God. And if you haven't signed up for my posts and newsletter updates, I hope you'll do so soon. I think you'll enjoy the complimentary ebook that you'll receive when you sign up.
This is MY life, MY story……..I will no longer let anyone else write it, or add their own spin to it……nor will I any longer apologize for the edits I make to it, no matter how many or why!!!
Well, it's another Saturday……laundry day, bad hair day?  Haha……..but, today I am not as blue as I've been……my fella saved his licenses from being revoked!  This makes him happy and relieved, and so it makes me happy!  As for my other worries…….vapors!!
Stay blessed!!!