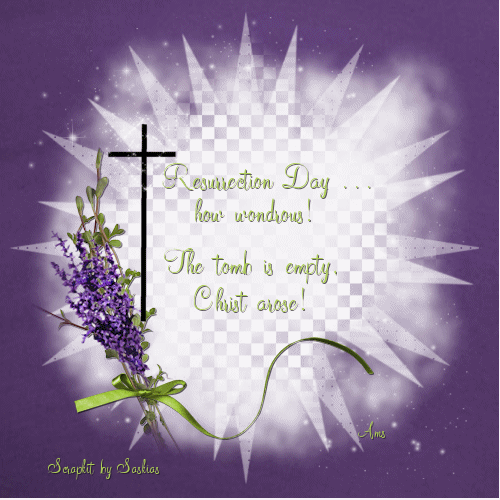 Daily Prayer for April 12
But our citizenship is in heaven. And we eagerly await a Savior from there, the Lord Jesus Christ, who, by the power that enables him to bring everything under his control, will transform our lowly bodies so that they will be like his glorious body. Philippians 3:20-21, NIV
Lord our God, draw us to yourself. Draw us into the quiet that you give, where something can happen to us and to our hearts. Help us to discern your kingdom surrounding us and in our spirits to live in this kingdom. Then our life will be as if in heaven, where we need not worry or torment ourselves, where your power is everything to us, penetrating our earthly life, which so often weighs us down. We thank you that you have made a way of strength, full of power to hold us firmly, so that even when we stumble, we cannot be turned from the goal. We thank you for all the good that comes from you, which we cannot see in earthly things but which can invade our hearts with such mighty and uplifting power. Amen.
The Resurrection of the Lord
Today we reflect on John 20:9.
When sorrow or heartache hit, we often ask the question why. Why did the accident happen? Why did the cancer come? Why didn't I get the job? Why didn't the relationship last?
And often the response to that why question is the same one in today's Gospel. The reality is that we are often like the disciples who "did not yet understand."
Yet we continue to trust and believe in God and the Resurrection, even when bad things happen. We have the perspective of more than 2,000 years and can see that Christ had to die in order to rise from the dead. And this gives us perspective in real time, so that today we can continue to pray to understand and celebrate.
Dear Lord, thank you for enduring so much in order to bring us new life and real hope.
Resurrection
    ~~~Dion Todd
The Puppet Show
But I tell you who hear: love your enemies, do good to those who hate you, bless those who curse you, and pray for those who mistreat you. To him who strikes you on the cheek, offer also the other; and from him who takes away your cloak, don't withhold your coat also. Give to everyone who asks you, and don't ask him who takes away your goods to give them back again. As you would like people to do to you, do exactly so to them. Luke 6:27 WEB
The stoplight changed to green and we started to make a right hand turn, when suddenly an out-of-state black SUV ran the red light and made a sweeping u-turn in front of us, crossed all three lanes and almost hit us. Then they stuck their arm out of the window and gave us 'The finger.' I began to have very strong feelings about this, and all kinds of crazy thoughts raced through my mind. At that moment, I would have taken great pleasure in breaking their finger off, and sticking it somewhere in them' but we spared them and drove on.
External things should not affect us that way. When they do, we are merely a puppet with strings that people can pull to cause a reaction. It gives people control over you. They can control your actions at anytime by simply pulling the right string. We are to treat others like we would like to be treated, and let that junk inside of us that rises up, die a slow, quiet, and painful death. When it comes to the surface and we take no action, it will eventually leave us. What you feed will grow. What you starve will die.
James 4:7 reads 'Submit yourselves therefore to God. Resist the devil, and he will flee from you.' Part of the reason is that the evil spirit will find someone else who will let him use them. We are God's hands and feet on this earth and He works through His people. Disembodied spirits work the same way, through willing people. For example, a spirit of anger needs to inhabit someone willing to be angry, or it will become unhappy with its host and move on to find someone suitable. It will not be happy listening to praise and worship for hours, for it will become uncomfortable and leave.
Don't be anyone's puppet today. Don't let them pull your strings. Keep control of your emotions and resist the temptation to make a fool of yourself. As you submit yourself to God, these tests will certainly come. When we resist it, those things inside of us that want to scream will eventually leave. After enough resisting, the strings will finally be cut and you will no longer be controlled like a puppet.
Prayer: Heavenly Father please set a guard over my mouth and let me be aware of the words that I am about to speak. Give me the grace to smile and shrug off spiteful comments. Remove the darkness inside of me and help me reflect Your personality to the world, in the name of Jesus Christ I pray.
Bible Fun Fact: The visit of the wise men took place about two years after Jesus was born.
An Easter Nugget From David Bryant
for Our National ChristNow Family
---
Google just reported that searches for "good news" are now at an all-time high! People are desperate for hope. What a perfect time to celebrate the Resurrection!
The picture above is one of my favorite paintings about this historic event, as it imagines the moment of Jesus' resurrection.
Of course, none of us really knows what it looked like the morning when Jesus "swallowed up death in victory." No one witnessed the explosion of the Son through the stone except the Father and the Spirit—along with all the angel hosts.
But at least this painting gives us the "feel" of what Jesus did for us. What you see in it has become the reality for all of us who belong to Jesus because he triumphed for us. Jesus destroyed the power of death! He is ALIVE!
As we're under the grip of this plague, what great reassurance this is for us! As Scripture says, already believers have been "raised up with Christ and seated in heavenly places in Christ Jesus," far above all plagues—visible and invisible.
The painting dramatizes the magnitude of this liberation from death we have found in Christ Jesus—including any fear of death. It also looks forward to what we will experience soon when "Jesus will take our weak mortal bodies and change them into glorious bodies like his own, using the same power with which he will bring everything under his control" (Philippians 3:21, NLT).
Hold onto this eternal truth as we fight the coronavirus together: Scripture says that "the battle is the Lord's." The ultimate outcome is as certain as the promises of God to us in our risen, reigning Savior.
Let's tell Google that this is the "good news" everyone is looking for! Then, long after Easter 2020, let's keep on moving forward in that confidence by the "power that raised Jesus from the dead" (Ephesians 1).
And remember: CHRIST NOW is here to travel this journey with you all the way until we see his face!

David Bryant
Founder, ChristNow.com
Are you searching for something to lift your spirits? Do you need assurance that life still holds promise? Are you wondering if you still matter? Even though you may worship online this year, may this Easter prayer of hope and encouragement touch you and usher in a new sense of God's love and presence:
Easter is a Day of Hope
Lord Jesus, Easter is not only Your Resurrection Day; this is a day of hope, joy, and victory. And our hearts are so desperate for encouragement. All around us lie the remains of broken lives, failed relationships, and fading dreams. Yet Easter reminds us that You already provided the hope we need and the answers for which we plead.
Easter is a Day to Celebrate You, Jesus
This is a special day to celebrate and worship You. How can we begin to say thank You for the price You paid, the sacrifice You made, and the life You gave to prove Your love to us?
Through Your death and Resurrection, You freed us from our prison walls of emptiness and hopelessness. Heaping all the sins of the world—all the anger, all the hatred, all the rebellion ever committed against Your Kingdom—all that upon Your back—You endured the weight we could not carry. You canceled our own spiritual death sentence, and You gave us life. No suffering compares to Your death on the Cross.
Into our darkness, You breathed light. Into our sorrow, You birthed joy. Into our loneliness, You gave comfort. And into our confusion, You brought hope. You opened the door of fellowship with God so that we can now come boldly into Your presence and receive the help we so desperately need: grace, pure and undeserved.
You Showed Us We Matter to You
Resurrection freedom, victory, purpose, and life—You brought it all to the doorstep of our hearts. And then You invited us to come, just as we are, and be forgiven and loved for eternity. Through Your death and resurrection You showed us we all matter to You—no matter who we are.
We Have No Words to Thank You
Jesus, we have no words worthy enough to offer, and our lives are but empty vessels waiting to be filled with You. We could never be enough or do enough to say thank you. But today, on this Easter Resurrection Day, we celebrate You; we celebrate Your victory over death; and we celebrate the hope and life You offer us as a result. We abandon ourselves to You, and we accept Your Lordship in our lives.
Your Invitation Is Open to All
Lord, for those still searching, help them find hope in You today. For the ones still discouraged, lift heavy burdens. For the many still in bondage from sinful habits or lifestyles, help them find deliverance and safety in Your arms. Your invitation is an open one: Come with repentance and faith—with a desire to be whole and complete in You. Come and receive; trust and believe.
You are faithful; You are good; and You are the One and Only Savior of the world. You came to show us the Father's love—and oh, how You did that so perfectly!
May Every Day Be Resurrection Day
Lord, quiet our thoughts and keep our minds focused on You as we remember Your death and Resurrection this Easter—and every day. Then set our hearts to dancing as we embrace the joy of new life You offer to all who will come freely and ask.
So many are struggling this Easter with fear and anxiety. Many have experienced loss. Remind us that death is not the end. Help us remember that with You, real life begins the moment we embrace You as our Lord and Savior, the One Who conquered death and rose again–and that life continues on with You in heaven the moment we breathe our last.
You have told us that in this world we will have trouble–disappointments, trials, and tribulations. But You have overcome the world. Fill us with Your presence today, Lord. Only in You can our needs be met. We find comfort and assurance only in You. We offer this Easter prayer of hope and encouragement to you. Jesus, Son of God, we praise and celebrate You today! May every day be Resurrection Day in our hearts.
Day-votedly Yours,
Rebecca
He is not here; he has risen, just as he said. Come and see the place where he lay. Matthew 28:6 NIV
You might also enjoy these posts I wrote: Is Jesus Real? An Easter Prayer, Easter Is About Removing Stones, Good or Bad Friday? or last week's post on Palm Sunday – An Easter Meditation.
It's Your Turn
Do you need encouragement and hope this Easter, especially during this health crisis? What is your Easter prayer? What does Easter mean to you? I'd love to hear from you anytime. You can always write me through my contact page. Just fill out the basic name and address info, and then the email will come to me. Your name or info will never be shared with anyone without your permission.
Share This Post with Others
Shelter in Christ
as You Shelter in Place:
An Easter Week Meditation
A more in-depth, 12-page discussion of this blog post can be read here.
The worldwide 2020 commemoration of the age-old Jewish Passover feast begins Wednesday, April 8—smack dab in the middle of Easter week. Could this be providential for where our nation finds itself right now?
You know the story. The ancient Israelites had no other sanctuary from impending judgment on the nation of Egypt apart from the blood of a lamb painted outside their dwellings. That night, the sentence of death on all firstborn sons in the land "passed over" the heirs of Abraham. You can read about it in Exodus 12.
Like it happened in ancient Egypt, even so at this moment in the American story, a genuine plague has come upon the land.
However, this 21st-century version of the "angel of death" is not visiting us for a single night—a "one and done" execution of the firstborn of every family. Rather, this pestilence is projected to last for months, reaching into tens of millions of American homes and lives, leading to a possible 160,000 to 200,000 deaths.
So how should Christians respond
to this unnerving reality?
I believe the Passover drama in Exodus 12 provides the answer. Bottom line, it reminds Christians: Be sure you're "sheltering in Christ" as you "shelter in place."
That's because our Passover is not an annual event on the calendar. For us, our Passover is a PERSON, the Lord Jesus Christ. He set our Passover celebration in full swing, nonstop, two millennia ago—from the moment he died, rose again, and ascended on high. Paul put it succinctly in 1 Corinthians 5: "For Christ, our Passover lamb, has been sacrificed. Therefore, let us keep the Festival."
Faced with a national coronavirus curse sweeping our land, Jesus followers should embrace OUR Passover with all of our hearts as we flee to him and shelter in him. Even long after America has overcome this unprecedented medical and economic emergency, after everything gets back to "normal," believers must never cease celebrating our Passover Festival, as we hide in Christ as a constant lifestyle.
Three ways "sheltering in Christ"
covers us in this day of disaster
Like the Passover offering, our covering also consists of blood—Jesus' sacrifice on the cross. By faith, in our mind's eye, we must allow that sacred, scarlet stream to wash all over us, knowing that Christ has irreversibly absorbed the condemnation from and the ravaging plagues of all our sin.

As foreshadowed in Exodus 12, the final solution for healing the scourge upon our land—and upon all of us as a race of sinners—necessitates the same, ultimate strategy: GOD'S PLAN REQUIRES A LAMB. We need "The lamb of God who takes away the sin of the world" (John 1)—"The Lamb slain before the foundation of the world" (Revelation 13:8), whose blood "cleanses us from all unrighteousness" (1 John 1).

At the same time, the Son of God also wants to "cover us" with the blessings that flow out of his empty tomb.

Having confronted and defeated death, Jesus welcomes us now to take refuge in this permanent crushing of our final enemy. His promise that "because I live you shall live also" is more precious than ever at such an overwhelming hour. Flee into the "new creation" that began to unfold for us from the morning of his resurrection and which will one day liberate the entire cosmos. For all who make Christ their refuge, Scripture says:

the new creation has come already: The old has gone, the new is here! All this is from God, who reconciled us to himself through Christ." (2 Corinthians 5). "We have been born again to a living hope by the resurrection of Jesus Christ from the dead (1 Peter 1).

By faith, let us "take shelter" in Jesus, the Supreme Conqueror of death, disease, and despair.

Finally, King Jesus wants us to "shelter in place" under the security of his throne, to which he ascended to be our Lord and Messiah.


Seated on high, right now, he encompasses those who belong to him with all authority in heaven and on earth (Matthew 28)—authority to drive off all evil. Even more, he protects us with the armor of God's promises inherited by and fulfilled in his Royal Majesty.

In this alarming hour for America and the world, the reigning Lord Jesus Christ stands ready and willing to bring all suffering people under the gracious dominion of the gospel—to unleash from heaven a holy tidal wave of salvation from coast to coast, a Spirit-spread covering of Christ's redeeming work for all who flee to his love and lordship, his glory and grace, his supremacy and saving power, his fullness and freedom.

As this unfolds, it will result in nothing less than what many have been praying for: a nationwide "Christ Awakening" movement.

Every day is Passover
for all who are sheltering in Christ!
Every step of the way, Jesus followers remain "covered"—covered with his blood, his life, his reign, his kingdom, his promises, his triumphs, and above all, his love.
Ours is a Passover scheduled to continue unceasingly—yes, forever! "Blessed are those who are invited to the wedding supper of the Lamb!" (Revelation 19). For every believer, an everlasting festival of Passover praise awaits us.
During April, Americans everywhere will continue to "shelter in place." At the same time, Christians get to shelter in Christ. So, take advantage of all your extra time to feast on the abundance of free resources at ChristNow.com. They are designed specifically to help you explore and experience a whole lot more of the Savior who has become your eternal dwelling place.
Separated from each other physically yet still together in Christ, let's break forth right now with unending Easter celebrations!
A more in-depth, 12-page discussion of this blog post can be read here.
Humor~~~