Daily Prayer 
And in the name of our Lord Jesus Christ give thanks every day for everything to our God and Father. Ephesians 5:20, NEB
Dear Father in heaven, accept our thanks today for all you allow us to learn and to receive from you. Help us, your children, to follow the Savior with a right spirit and with true understanding. Protect us from evil, from all the works of Satan. In our generation may we experience your rulership and your wonders. In the name of Jesus we pray, reveal yourself with power. May your will be done on earth as in heaven, that all may realize they are in your hands and that it is your will to set everything right. Be with us this night. Bless and strengthen us for all the work entrusted to us. Amen.

Unstoppable!

 'A Complete U-Turn!'

[When Stephen told the Jewish leaders that he saw the Son of Man at God's right hand,] they put their hands over their ears and began shouting. They rushed at him and dragged him out of the city and began to stone him. His accusers took off their coats and laid them at the feet of a young man named Saul.

— Acts 7:57-58 NLT
Key Thought
Nearly all of us who drive cars know the embarrassing and sometimes terrifying realization that we are driving the wrong way on a one-way street. Later, Saul made a complete U-turn away from persecuting Christians and then appreciated grace so deeply because he realized how terribly wrong he had originally been about Jesus, Stephen, and the early disciples. Paul apparently was in charge of this makeshift mob to Stephen's death, because they laid their coats at his feet. The violence he advocated against Stephen hung in memory the rest of his life. Something about witnessing Stephen's faith in Jesus and forgiveness of his accusers opened a place in Saul's heart for Jesus' grace to reach him. That grace would later lead Paul to turn completely and re-align his life with Jesus. The persecutor became the persecuted. The murderer became the martyr. The hate-monger became the grace-giver. Such is the power of Jesus!
Today's Prayer
O Father, may my heart be ever-pliable to you and your will for my life. Because Saul, the persecutor, allowed his heart to be changed to become the apostle of grace, I know you can make me more than I can ask or imagine. I believe that the same Spirit who was present for Saul also works with power in my life, so I offer my heart to be used, re-aligned with Jesus, and sent into the world to make a difference. Please use me for your glory. I ask this, O God, in Jesus' name. Amen.
Related Scripture Readings
Daily Wisdom: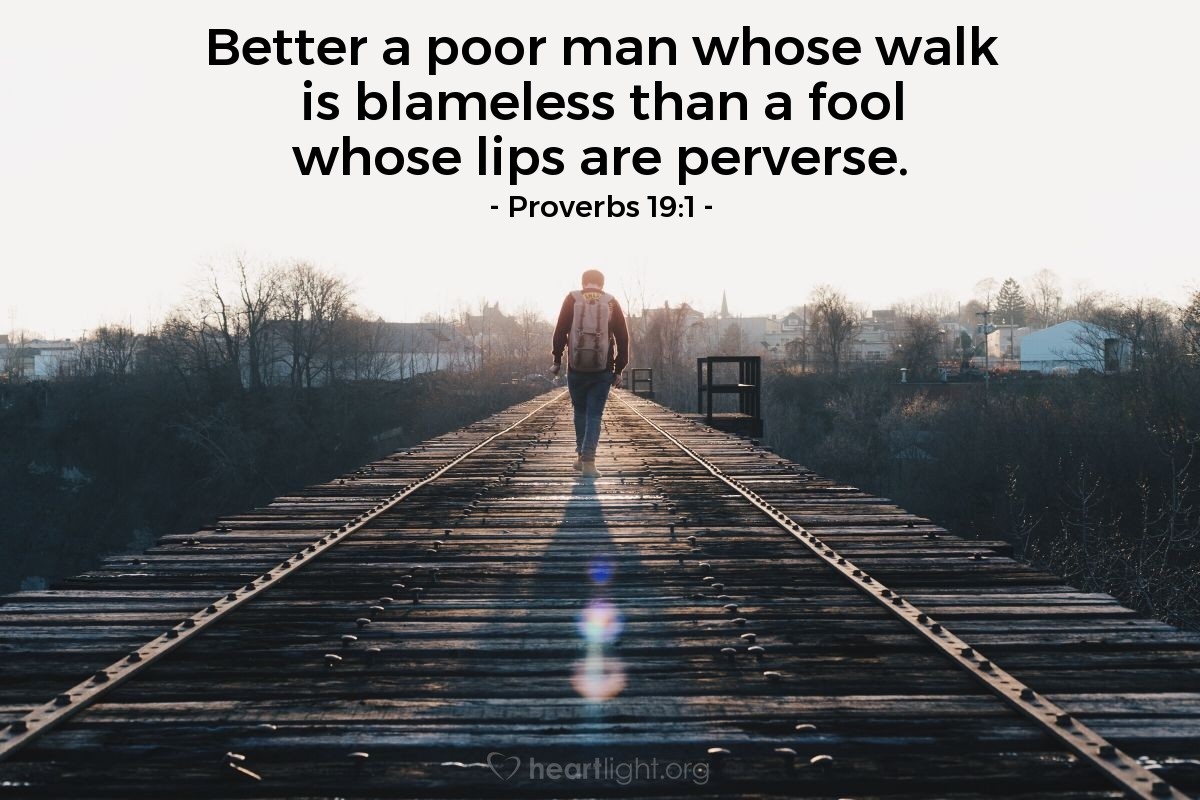 Passion for Praise:

 'Your Sacrifice'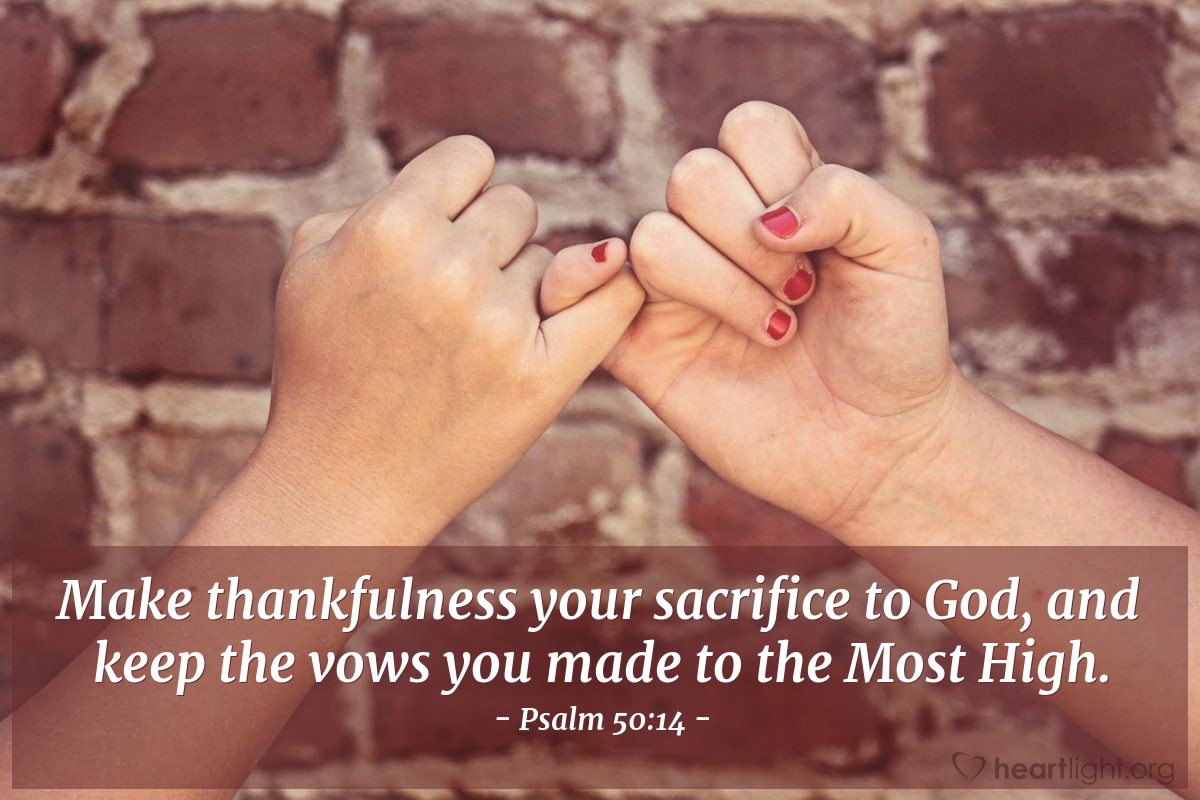 Spiritual Warfare:     
God's Power for Our Battles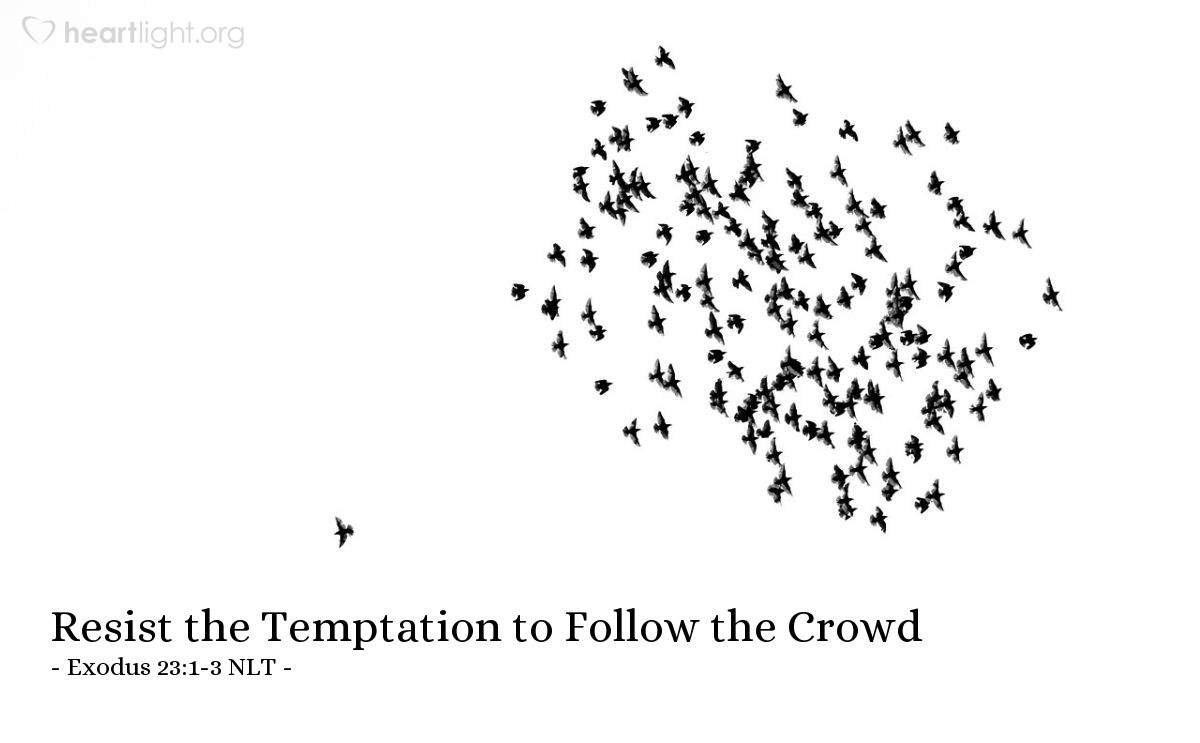 You must not pass along false rumors. You must not cooperate with evil people by lying on the witness stand. You must not follow the crowd in doing wrong. When you are called to testify in a dispute, do not be swayed by the crowd to twist justice. And do not slant your testimony in favor of a person just because that person is poor.
Today's Prayer
Lord, there is so much pressure for me to follow the ways of the world and pursue money, power, sex, and position. Deliver me from the evil influences all around me that appeal to my sinful nature. Help me resist the urge to follow the crowd so I won't end up on a dead-end road. Save me from evil. Help me inspire others to a path of godliness as I follow the steps of Jesus. In Jesus' Name, Amen.
A Year with Jesus:

 'The Blessing of Believing'
Note from Jesus
Dear Seeker of Truth,
Believing in My resurrection is a real challenge. That's understandable. Having a friend who dies and then suddenly appears, offers for you to touch him, shows you his scars, eats bread with you, drinks wine with you, has a bit of fish with you, and then shares your company doesn't happen in your experience. But the most important purpose and meaning for your life hinge on your faith in My resurrection. Paul makes this clear when he says:
Now if we have told you about the Anointed One [Me, Christ] (how He has risen from the dead and appeared to us fully alive), then how can you stand there and say there is no such thing as resurrection from death? Friends, if there is no resurrection of the dead, then even the Anointed hasn't been raised; if that is so, then all our preaching has been for nothing and your faith in the message is worthless. And what's worse, all of us who have been preaching the gospel are now guilty of misrepresenting God because we have been spreading the news that He raised the Anointed One from the dead (which must be a lie if what you are saying about the dead not being raised is the truth).
(1 Corinthians 15:12-15)
Being My disciple hinges on your faith in My resurrection! Sooner or later, if you haven't already done so, you must take the huge step of faith and entrust your future to this reality that is outside your experience.
Helping you to believe in My resurrection is the reason why My interaction with Thomas is so important a week after My resurrection. (See the verses below for this story.) Thomas was not a bad guy. He was not trying to be difficult or problematic. He just wanted to know for sure. He just wanted to know for himself. He would not believe until he saw Me face-to-face and touched my scars. The confession and commitment of Thomas after seeing Me and being able to touch Me, are powerful:
You are the one True God and Lord of my life.
Thomas' confession and commitment are what I want from you concerning Me. Your problem is that I am not there for you to physically touch. That's why I promised you the special blessing that I did:
Thomas, you have faith because you have seen Me. Blessed are all those who never see Me and yet they still believe.
The apostle Peter knew your challenge to believe since you haven't seen Me. He taught and wrote to people who had never seen Me yet believed. He wrote to these disciples about the blessing of believing and the joy such faith brings:
Although you haven't seen Jesus, you still love Him. Although you don't yet see Him, you do believe in Him and celebrate with a joy that is glorious and beyond words. You are receiving the salvation of your souls as the result of your faith.
(1 Peter 1:8-9).
I want you to remember these blessings. I want you to remember these blessings every time you struggle with doubt. I want you to remember these blessings every time someone ridicules you for believing in Me and My resurrection. These blessings are yours because you believe! The Holy Spirit will help you strengthen your faith and have confidence that you can receive these blessings.
Here are a few of the many reasons to believe in My resurrection:
The eyewitnesses who wrote in the New Testament about My resurrection.
People like My own family, and especially My brother James, who did not believe that I was the Messiah and Son of God until seeing Me alive after My resurrection from the dead.
The change in the apostles from men who were scared and hiding to world-changing men of courage, many of whom were martyred for their faith in Me.
The experiences you have had of My presence in your life as you have served Me:
– the times just the right word came from someone else,
– the empowerment I've given you when you were on mission,
– the rich sense of My presence when you've served the needy, and
– the palpable sense of My presence as you've worshiped.
The testimony and resilience of My people over the centuries through oppression, martyrdom, and ostracism.
These are but a few reasons.
Verses to Live
Don't get so hung up on the reasons to believe that you miss the two truths I want you to hear in the verses below:
I know it is hard for many of you to believe — you're like Thomas and many others like him. Keep seeking Me and you will find Me.
There is a great blessing for you who find your way through doubt and come to faith in Me — for you who have never physically seen Me and yet still believe.
Please receive that blessing now as you read about Thomas, his struggle for faith, his incredible confession and commitment, and My blessing for you who believe in Me, yet have never seen Me!
All of the eleven were present with the exception of Thomas [that first Sunday evening after Jesus was raised from the dead]. He heard the accounts of each brother's interaction with the Lord.

The Other Disciples:

We have seen the Lord!

Thomas:

Until I see His hands, feel the wounds of the nails, and put my hand to His side, I won't believe what you are saying.

Eight days later, they gathered again behind locked doors; and Jesus reappeared. This time Thomas was with them.

Jesus:

May each one of you be at peace.

He drew close to Thomas.

Jesus:

Reach out and touch Me. See the punctures in My hands; reach out your hand, and put it to My side; leave behind your faithlessness, and believe.

Thomas (filled with emotion):

You are the one True God and Lord of my life.

Jesus:

Thomas, you have faith because you have seen Me. Blessed are all those who never see Me and yet they still believe.

Jesus performed many other wondrous signs that are not written in this book. These accounts are recorded so that you, too, might believe that Jesus is the Anointed, the Liberating King, the Son of God, because believing grants you the life He came to share.
(John 20:24-31)
Response in Prayer
Father in heaven, for many reasons, some of which I don't fully understand, I do truly believe that Jesus was raised from the dead. I ask, dear Father, that the Holy Spirit strengthen that faith and that the Spirit help me to be aware that Jesus is there for me even when I do not perceive His presence. I believe, but I want to believe fully. I long for the day when my faith becomes sight, but I also rejoice that I know this faith inspires my hope and gives me longing for the day I see Jesus face-to-face. Thank You for this hope, dear Father. I thank You in Jesus' name. Amen.
At times the challenges of parenthood are frightening and confusing. Prayer for parents is so important. I remember those years of parenting well, when my cries for wisdom and help stormed heaven's gates daily. But during difficult times like these, when nothing seems normal, and so many families are struggling just to get by, I'm convinced even more of the need for prayer. Do you feel that way too? Our kids need prayer covering, but we as parents also need God's help. In good times or challenging times, I still approach God's throne with passion and urgency, and my petitions now include grandchildren.
Prayer can take wings and fly where we can't travel. And when we pray for our children or grandchildren, God listens. He loves kids!
Maybe you don't know where to begin to pray. If you are a parent or grandparent or you know those who are, here is a simple prayer for parents, grandparents, and their children in these difficult times that might start you in the right direction:
A Prayer for Parents, Grandparents, and Their Children in Difficult Times
Lord Jesus,
As parents we come to you as little children ourselves, with hearts eager to please, needing direction, ready to trust Your leading. Many of us are experiencing a new normal, and we are fearful ourselves, struggling to get by. Equip us for the challenge of parenthood, especially in difficult times. Help us deal with stress calmly and make wise choices each day. Bless the ones You place in our care that they might grow up to be like You.
Give our children and grandchildren eyes to see You clearly, hearts that love you dearly, arms that reach out to others, and legs that run quickly to do Your will. Guard them from temptation, and place godly friends in their path to influence them for good.
Grant Wisdom and Protection
Grant wisdom, a strong conscience, and protection from harm. Keep evil far from them–at all times, but especially now. Wrap them not in a cocoon, but in a spirit of readiness and obedience, unafraid to stand up for You, even if it means standing alone. Show them–and us–how to use our time wisely.
Reveal Your Purpose, Joy, and Beauty
Let them know that heaven is their real home, but reveal to them the beauty of all that You have made while they live on this earth. May they find purpose, meaning, and a joy-filled life in both small and great ways right now that You provide. Guard them from wrong motives, lies, and philosophies that may seem right but that will only lead them away from You. Fill them so full of Yourself, that they spill over with the character of Christ at every turn.
Help Us Offer Grace, Love, and Forgiveness
Guide us as parents and grandparents to train them up in the path they should go, teaching them that greatness and success are found in servanthood, kindness, and godly character–not in performance. Help us to offer them grace in the same way You have poured it into our lives. Let our love for them be unconditional, like Yours, filled with forgiveness, yet with faithfulness and firmness to teach what is right.
In every season of their lives and ours, make us steadfast, immovable, and faithful in our prayers for them. When we–or they–make mistakes, may we both look to You to correct those errors, to receive Your mercy, and to never give up in this spiritual journey with You.
Help Us Give Assurance and Comfort
May we as parents be slow to anger, quick to hear, and eager to accept our children and grandchildren for the precious treasures they are. Right now, they need our assurance of love and comfort more than ever. We're all tired because of the added pressures in our lives. Help us to listen to their fears and their disappointments. Show us how to encourage them and to help them find creative ways to use their time and gifts. Show us–and our kids–how to express care and love for others during this pandemic crisis.
We know they are only gifts to us on loan, so we release them to Your safekeeping, yet never shirking the responsibility You entrusted to us to take good care of them, no matter what.
Thank You for the Privilege of Parenting and Grandparenting
Thank You for blessing us with the responsibility and privilege of parenting and grandparenting. At times we feel so weak, but You are strong. You will make a way through this. Our trust is in You.
You Are Our Model, Lord
Lord, You are our Model, our Guide, our very Hope. Keep us faithful no matter what, and let our prayers be a covering for these precious ones daily. This day–and throughout their lives–we dedicate our children and grandchildren to You, Lord.
Day-votedly Yours,
Rebecca
We will not hide these truths from our children; we will tell the next generation about the glorious deeds of the Lord, about his power and his mighty wonders. (Psalm 78:4 NLT.
*You might also like this post I wrote about Prayers with Kids at Bedtime.
It's Your Turn
What are your biggest concerns about parenting or grandparenting during this pandemic crisis? Will you commit with me to pray for your kids and/or grandkids daily–both now, and in the days to come?  I'd love to hear from you anytime. You can always write me through my contact page. Just fill out the basic name and address info, and then the email will come to me. Your name or info will never be shared with anyone without your permission.
Share This Post with Others
Been there, done that.
MORE SHORT AND SUPPORTIVE STUFF.
This one is because most all of us are staying home and starting to get really bored.  You may also have been among the panicked and ran out to buy a ton of stuff (needing it or not) in preparation of the virus "stay at home" order.  Now what?
You may have grabbed things that you believe contain a longer shelf-life.  Do you even know what a "shelf-life" means?  Well, for those who do not:
It is the length of time you can keep food until it gets nasty, icky, buggy, or smelly, and you MUST throw it out.
If you do know what it means when was the last time you checked "use by" dates?
We have a small farm and a large pantry, so this is something we regularly review.  (We also practice rotation, but that is for another time.)  My email this morning included  a good one from familyhandyman.com, and it's all about pantry items and shelf-life:
Ashley LewisUpdated: Apr. 08, 2020
Yes, Virginia, even cereal, can go bad.  My older sister picked up our depression-era mother's bad habit of hoarding.  She didn't go crazy on everything like you see in the hoarding shows, but she was obsessed with food.  Her pantry put ours to shame.
I was always very jealous of her pantry, at least until recently.  She passed away suddenly in 2018 (way before the pandemic), and since her passing, I have been trying to help her husband go through things in the house. Somethings, he had no real clue on how to handle them or why she had them.  He is overwhelmed with losing her, so going through things that she managed is tough for him.  I suggested he start with the pantry and expiration dates.  We actually had a giggle at her expense one day.  He pulled things out from the back of the pantry that were over a decade old – A DECADE!?
You have to remember that we three daughters were raised by a Depression-era Survivor mother.  Her family raised her to SAVE EVERYTHING, yes, even bits of string, because you never knew if you were going to need it later and could not afford it.  If you sit and think about it, that is not so different today:
Many people instantly out of work.
Items in stores are growing a bit scarce.
You find yourself wishing, more and more, that you had hung onto that rubber band on the bag of fruit you bought last week.
The big news is how to grow your own food (back then, some called them Victory Gardens – another story for another time) even if you live in an apartment.
So, this is my share for today – check your expiration dates, please!
Stay Safe!  Stay Well!
You can also check me out at:  https://helbergfarmstories.com/ for fun stories from our farm.
<a href="https://www.bloglovin.com/blog/19061283/?claim=z558uya3tjs">Follow my blog with Bloglovin</a>
Paraproskodian sentence for this post:
"Why do Americans choose from just two people to run for president and 50 for Miss America ?"
What About My Growing Fear of Death?
Facing a Deadly Plague
Below is an excerpt from an article by Joni Eareckson Tada, a friend of mine who has been a wheelchair-bound quadriplegic for over fifty years, ever since a diving accident when she was seventeen years old. Even so, Joni has traveled the world extensively all those years sharing Christ in many nations.
She is that passionate for the glory of Christ.
If anybody knows suffering—everyday suffering—Joni does. Yet I can tell you firsthand that the risen, ascended life of the Lord Jesus Christ flows through her in very tangible, powerful ways.
These few words will help you start finding a whole other perspective on what all of us are "suffering" right now—from someone who has faced death many times and kept going!
You might want to take time to read the entire article here. It's titled "Why Should I Fear Death?" You will be blessed.
—DAVID BRYANT
Joni Eareckson Tada: Why Should I Fear Death?
Christ's death and resurrection give me a heavenly perspective on suffering and mortality.
"He too shared in their humanity so that by his death he might break the power of him who holds the power of death—that is, the devil—and free those who all their lives were held in slavery by their fear of death" (Heb. 2:14–15).
"Francie, please file this and make copies of this letter, would you?" I hardly looked up from my desk while talking to my assistant. "And, one more time," I groaned, "would you please pull out the sofa bed?"
For the fourth time that day, I needed to be lifted out of my wheelchair and laid down. We had to readjust my corset—shallow breathing, sweating, and skyrocketing blood pressure were signaling that something was either pinching or bruising my paralyzed body. Francie wiped away my tears. As she shifted my body, examining my legs and hips for pressure marks, I stared at the ceiling. I was done with being paralyzed. I was tired of the never-ending, day-to-day disability routines. I'd had my fill of it and mumbled to the ceiling, "I want to quit."
"Oh, come on," Francie joked, "what are you always saying? You 'can't do quadriplegia,' but you 'can do all things through Christ'?"
I didn't have a comeback for that one, so I remained quiet. We couldn't find anything wrong with my body. Francie hoisted me into my wheelchair.
"Where do I go to resign from this stupid paralysis?" I said.
Francie grinned. She's heard me say it scores of times. As she was about to leave, she paused. "I bet you can't wait for heaven. You know, like Paul said, 'We groan, longing to be clothed with a heavenly dwelling.' "
My eyes dampened again, but this time they were tears of relief. My Christian friend had just given me a very comforting, powerful reminder. "Yeah, it'll be great," I said.
That afternoon, the verse she shared stuck with me, and I whispered a prayer. "Yes, Lord, I do look forward to being whole, to having a body that will never know pain. But to be honest, what I really want is a new heart that doesn't want to give up or quit." I sat in my office and dreamed of what I've imagined a thousand times: heaven. Jesus' death and resurrection secured for us many amazing things, and one is a firm hope of eternal life in the new heavens and new earth with no more sorrow, pain, or tears.
It's all I needed. That afternoon, I jerked my will right-side up, refocused my emotions, and realigned my thoughts. I repeated Psalm 43:5: "Why are you cast down, O my soul, and why are you in turmoil within me? Hope in God; for I shall again praise him, my salvation and my God" (ESV). I kept talking to my soul, mentally rehearsing a flood of other heavenly promises: When we see him, we shall be like him. … For this corruptible must put on incorruption, and this mortal must put on immortality. … That which is sown in weakness will be raised in power. … He has given us an inheritance that can never perish, spoil or fade. … If we suffer with him, we shall reign with him. Before leaving the office that day, I found my courage and said with a smile, "Come quickly, Lord Jesus."
Physical affliction and emotional pain are part of my daily routine, but I've learned that self-pity can be a deadly trap. I quickly move upward and onward. It takes resurrection power to do that. Christ's death and resurrection won us many amazing benefits, but I think one of the greatest benefits is their power in our daily lives. The apostle Paul said, "I want to know Christ—yes, to know the power of his resurrection and participation in his sufferings" (Phil. 3:10, emphasis added). We share in Christ's sufferings so that we might become like him in his death—that is, that we may have the actual power to die to the sins that he died for on the cross. In Christ, we have resurrection power to say no to ungodliness and yes to living self-controlled lives; we can become holy as he is holy; we can partner with the Holy Spirit in fitting ourselves for heaven (Titus 2:12; 1 Pet. 1:15; Heb. 11:16).
The death and resurrection of Jesus give weight to the reality described in 2 Corinthians 4:18: "So we fix our eyes not on what is seen, but on what is unseen, since what is seen is temporary, but what is unseen is eternal." My useless hands—and your wrinkles, your torn meniscus, your failing memory, or your macular degeneration—are only temporary. It's our response to those afflictions that is eternal. What's more, those afflictions make the here and now seem so vaporous, so thin and wispy. The span of our earthly lives is limited; each of our bodies will inevitably fail. Christ's resurrection assures me that a new splendorous body awaits me in heaven. So why should I fear death? It's a glorious door into Healing with a capital H!
Paul's desire to "know the power of his resurrection" was tied to this hope: "attaining to the resurrection from the dead" (Phil. 3:10–11). As Paul knew, Christ's glorious resurrection assures believers of their own resurrection from death into eternal life (1 Cor. 15:21–22). For me, the death and resurrection of Christ have removed every ounce of fear from death. The Grim Reaper is no longer the heinous, sharp-fanged, menacing monster it used to be. Hebrews 2:14–15 is my safeguard against fear, for "by [Jesus'] death he might break the power of him who holds the power of death—that is, the devil—and free those who all their lives were held in slavery by their fear of death." The Devil has no power over me. I'm free from being a slave to fear—especially fear of death. Affliction has helped make that clear to me.
Most of us are sequestered at home right now, and renewing our devotion to Christ through this time of isolation and "safe at home" guidelines. But how timely is this, given that we are in this season of Lent. This is what Christians do during the Lenten season! Hardships are one way God helps us get our minds on the hereafter. I don't speak of the hereafter as a death wish, psychological crutch, or escape from reality. I mean "hereafter" as reality. Pilgrims aren't supposed to feel at home on earth. Their hearts are on things above; they wait on the Bridegroom. They are looking forward to a new body, heart, and mind. Pilgrims think about crowns and rewards and casting them all at Jesus' feet. Such realities provide a glorious vantage point from which to look upon our pain and problems. The soul that mounts up to heaven's kingdom cannot fail to triumph.
It's odd that it took a wheelchair—something that bolts me to earth—to make me see the futility of fighting spiritual battles on the earthly plane. We Christians need to shift to a higher battleground and choose a resurrection perspective in our daily lives. Looking down on my problems through the lens of God's promises makes my trials look different. When viewed from a human level, my paralysis feels like a huge, impassable wall; but when viewed from above, the wall appears as a thin line—something that can be overcome. It's a resurrection view, a bird's-eye view (Isa. 40:31).
Such a heavenly vantage point on our hardships and our mortality is made possible only through the death and resurrection of our wonderful Savior. In the here and now, may we embrace the power of his resurrection to live a godly life. And may we look forward in confident hope to the day when we mortals will put on immortality.
Joni Eareckson Tada is founder and CEO of Joni and Friends, an organization that accelerates Christian outreach in the disability community. Joni is the author of numerous books, including Joni and Ken: An Untold Love Story and When God Weeps.
Humor~~~
National Hanging Out Day
Date When Celebrated : This holiday is always held on April 19
So, you think you found a fun day to hang out with your friends, did you? Wrong!!! National Hanging Out Day is about having fun hanging your laundry out to dry. Now that you know what this day is for, you're probably thinking "I've been tricked. This holiday should be titled "National Hang Your Laundry Day". You are absolutely right on both accounts. We believe that the creator of this day was using word play, to have some fun on our account.
Did You Know? Electric and gas clothes dryers consume 5.8% of residential energy consumption.
National Hanging Out Day was created by Project Laundry List as a protest against local laws banning the hanging of clothes outdoors on an "ugly clothesline". It was created to encourage people to dry their clothes, indoors or out on clothes line, and to fight for the right to do so. Project Laundry List also encourages and promotes the use of washing your laundry in cold water, for energy and environmental reasons.
For the Record:
The earliest clothes dryers were in England and France in the 1800s.
Early clothes dryers were called "ventilators".
George T. Sampson of Dayton Ohio patented the first clothes dryer on June 7, 1892. It had a rack and used heat from a stove.
In 1955, only 10% of U.S. households had a clothes dryer, as they were too expensive for most families.
There are many reasons to use a clothes line to dry your clothes. Among them are:
It saves you money.
It saves energy consumption.
It's environmentally "green", as it does not use fossil fuels.
Drying clothes on a clothesline enhances freshness and helps eliminate strong odors.
It is gentler on clothes.
Hanging clothes requires a little exercise on your part.
Eliminates the risk of dryer fires.
Many people today, have no idea what a clothesline or a clothes pin is!
String up a clothes line. Search your basement for the clothes pins. And, have a very Happy Hanging Out Day!
---
History and Origin of "National Hanging Out Day":
This holiday event was founded in 2007 by "Clothesline Activist" Alexander Lee. It started in protest to a growing numbers of local laws and regulations banning hanging clothes on "ugly clotheslines". Lee and his organization Project Laundry List fought against these laws, citing the many benefits of hanging clothes on a clothesline and the right to do so.
This holiday is referred to as a "National" day. However, we did not find any U.S. congressional records or presidential proclamations for this day.
God bless and keep you all safe and well!!!!