TODAY'S DAILY PRAYER
Be patient, then, my brothers, until the Lord comes. See how patient a farmer is as he waits for his land to produce precious crops. He waits patiently for the autumn and spring rains. James 5:7, TEV
Lord Jesus, hear our prayer and reveal your hand in our days. May those things be done that bring your future nearer and that let the world see you as the Savior who can lead us to our Father. Bless your Word within us. May our hearts be strengthened, and may we always live in your presence. We draw our life from your Word, from your promise, and we set our hope on you, our Lord and Savior. Show your might, Lord Jesus, and carry out the will of God over all the world, so that we may rejoice when we see God's glory appear and his will being done on earth as in heaven. Amen.
Daily Dig
Reflections for Advent and Christmas
TODAY'S DAILY DIG
The frightened shepherds become God's messengers. They organize, make haste, find others, and speak with them. Do we not all want to become shepherds and catch sight of the angel? I think so. Without the perspective of the poor, we see nothing, not even an angel. When we approach the poor, our values and goals change. The child appears in many other children. Mary also seeks sanctuary among us. Because the angels sing, the shepherds rise, leave their fears behind, and set out for Bethlehem, wherever it is situated these days.
Verse of the Day
Thoughts on Today's Verse…
God has blessed us with so many wonderful promises. He has secured them through the sending of his Son "to conquer death and bring life and immortality to life." He will "transform our lowly bodies to be like his glorious body." He will take us home to be with him eternally, but until that day, he will live inside us and reveal himself to us. He will make us more than conquerors and will not allow anything to separate us from his love. So what should our response be? Yes, sure we should offer him praise. But, we must not limit our praise to words. God wants our lives to be pure, staying away from what is evil, vile, putrid, and corrupt. He wants us to do this, not so we can claim some moral superiority, but so that we can show him our adoration and reverence. In our desire to offer God praise, let's not forget that one of the greatest ways to praise him is to seek him in purity and holiness!
My Prayer…
Forgive me, Heavenly Father, for my sins. Purify my heart and cast out any foothold the devil may have in me because of my sin. Empower me to holiness and accept my life as an offering of praise and thanks to you. In the name of Jesus, I offer you my heart, my life, and my all. Amen.
BIBLE STUDY BUDDY
Read Romans 12:17-21…
Matthew Henry's Concise Commentary

v17-21 Since men became enemies to God, they have been very ready to be enemies one to another. And those that embrace religion, must expect to meet with enemies in a world whose smiles seldom agree with Christ's. Recompense to no man evil for evil. That is a brutish recompence, befitting only animals, which are not conscious of any being above them, or of any existence hereafter. And not only do, but study and take care to do, that which is amiable and creditable, and recommends religion to all with whom you converse. Study the things that make for peace; if it be possible, without offending God and wounding conscience. Avenge not yourselves. This is a hard lesson to corrupt nature, therefore a remedy against it is added. Give place unto wrath. When a man's passion is up, and the stream is strong, let it pass off; lest it be made to rage the more against us. The line of our duty is clearly marked out, and if our enemies are not melted by persevering kindness, we are not to seek vengeance; they will be consumed by the fiery wrath of that God to whom vengeance belongeth. The last verse suggests what is not easily understood by the world; that in all strife and contention, those that revenge are conquered, and those that forgive are conquerors. Be not overcome of evil. Learn to defeat ill designs against you, either to change them, or to preserve your own peace. He that has this rule over his spirit, is better than the mighty. God's children may be asked whether it is not more sweet unto them than all earthly good, that God so enables them by his Spirit, thus to feel and act.
The Trouble With Revenge…
Years ago a man who didn't like having smoke blown in his face developed a way for nonsmokers to fight back. He called his product "Revenge." It was a foul-smelling disinfectant that came in a pocket-size spray can. The spray gave cigarette smokers a dose of their own medicine-bad air.
Many resented the idea. Some got a laugh out of it. Still others purchased some of the stuff. Its manufacturers were capitalizing on the feeling that I'm sure all of us have experienced: If we don't counter insult for insult, we'll get stepped on.
For the Christian, however, there are problems with trying to "get back" at someone. We lower ourselves to the level of the person who irritates us. This makes us vulnerable because we violate the principles of faith and love. Revenge appeals to our lower instincts rather than to the high strategy of goodness found in Christ.
The Word of God is clear: Getting even is never the answer. "'Vengeance is Mine, I will repay,' says the Lord" (Rom. 12:19). So what are we to do when someone offends us? We must continue doing good, and let God handle vengeance in His perfect time and way. "Do not be overcome by evil, but overcome evil with good" (v.21).
November 22
Justification By Faith Deals a Blow to the Sin Problem
Therefore, having been justified by faith, we have peace with God through our Lord Jesus Christ, through whom also we have access by faith into this grace in which we stand, and rejoice in hope of the glory of God. And not only that, but we also glory in tribulations, knowing that 
tribulation
 produces perseverance; and perseverance, character; and character, hope. Now hope does not disappoint, because the love of God has been poured out in our hearts by the Holy Spirit who was given to us.
For when we were still without strength, in due time Christ died for the ungodly. For scarcely for a righteous man will one die; yet perhaps for a good man someone would even dare to die. But God demonstrates His own love toward us, in that while we were still sinners, Christ died for us. Much more then, having now been justified by His blood, we shall be saved from wrath through Him. For if when we were enemies we were reconciled to God through the death of His Son, much more, having been reconciled, we shall be saved by His life. And not only that, but we also rejoice in God through our Lord Jesus Christ, through whom we have now received the reconciliation.
Therefore, just as through one man sin entered the world, and death through sin, and thus death spread to all men, because all sinned-(For until the law sin was in the world, but sin is not imputed when there is no law. Nevertheless death reigned from Adam to Moses, even over those who had not sinned according to the likeness of the transgression of Adam, who is a type of Him who was to come. But the free gift is not like the offense. For if by the one man's offense many died, much more the grace of God and the gift by the grace of the one Man, Jesus Christ, abounded to many. And the gift is not like that which came through the one who sinned. For the judgment which came from one offense resulted in condemnation, but the free gift which came from many offenses resulted in justification. For if by the one man's offense death reigned through the one, much more those who receive abundance of grace and of the gift of righteousness will reign in life through the One, Jesus Christ.)
Therefore, as through one man's offense judgment came to all men, resulting in condemnation, even so through one Man's righteous act the free gift came to all men, resulting in justification of life. For as by one man's disobedience many were made sinners, so also by one Man's obedience many will be made righteous.
Moreover the law entered that the offense might abound. But where sin abounded, grace abounded much more, so that as sin reigned in death, even so grace might reign through righteousness to eternal life through Jesus Christ our Lord.
What shall we say then? Shall we continue in sin that grace may abound? Certainly not! How shall we who died to sin live any longer in it? Or do you not know that as many of us as were baptized into Christ Jesus were baptized into His death? Therefore we were buried with Him through baptism into death, that just as Christ was raised from the dead by the glory of the Father, even so we also should walk in newness of life.
For if we have been united together in the likeness of His death, certainly we also shall be in the likeness of His resurrection, knowing this, that our old man was crucified with Him, that the body of sin might be done away with, that we should no longer be slaves of sin. For he who has died has been freed from sin. Now if we died with Christ, we believe that we shall also live with Him, knowing that Christ, having been raised from the dead, dies no more. Death no longer has dominion over Him. For the death that He died, He died to sin once for all; but the life that He lives, He lives to God. Likewise you also, reckon yourselves to be dead indeed to sin, but alive to God in Christ Jesus our Lord.
Therefore do not let sin reign in your mortal body, that you should obey it in its lusts. And do not present your members as instruments of unrighteousness to sin, but present yourselves to God as being alive from the dead, and your members as instruments of righteousness to God. For sin shall not have dominion over you, for you are not under law but under grace.
Romans 5:1-6:14
WORSHIP
When the LORD brought back the captivity of Zion,
We were like those who dream.
Then our mouth was filled with laughter,
And our tongue with singing.
Then they said among the nations,
"The LORD has done great things for them."
The LORD has done great things for us,
And we are glad.
Psalm 126:1-3
WISDOM
Buy the truth, and do not sell it,
Also wisdom and instruction and understanding.
Proverbs 23:23
November 22
Your Father knoweth what things ye have need of.–MATT. vi. 8.
Seek ye first the kingdom of God, and His righteousness; and all these hings shall be added unto you.–MATT. vi. 33.
Thy kingdom come, with power and grace,
To every heart of man;
Thy peace, and joy, and righteousness
In all our bosoms reign.
C. WESLEY.
God bids us, then, by past mercies, by present grace, by fears of coming ill, by hopes in His goodness, earnestly, with our whole hearts, seek Him and His righteousness, and all these things, all ye need for soul and body, peace, comfort, joy, the overflowing of His consolations, shall be added over and above to you.
E. B. PUSEY.
Grant us, O Lord, we beseech Thee, always to seek Thy kingdom and righteousness, and of whatsoever Thou seest us to stand in need, mercifully grant us an abundant portion. Amen.
Be content to be a child, and let the Father proportion out daily to thee what light, what power, what exercises, what straits, what fears, what troubles He sees fit for thee.
I. PENINGTON.
CHOOSING NOT TO HATE
And hope does not put us to shame, because God's love has been poured out into our hearts through the Holy Spirit, who has been given to us. Romans 5:5
Rami Ayyad was assassinated a few years ago for his work as the head of the BibleSociety in the Gaza Strip. His murder left his wife, Pauline, burdened with three young children and a heart full of hatred for his killers.
While Rami was locking up the bookstore owned by the Palestinian Bible Society in Gaza, a vehicle pulled alongside him, and several men forced him in the back seat. Rami, remaining calm and trusting in the Lord, was allowed to call his wife. "I'm going with some young men somewhere, but I'll be home soon," he tried to reassure her. That was the last time Pauline would hear her husband's voice.
Hours later, his body was found. He had been brutally tortured and shot twice, a bullet in the chest, and one in the head. A spokesman for the Palestinian Bible Society said, "He's a martyr for Christ."
Pauline recalls, "I was so broken after the death of my husband, and I hated the people who did it."
There has been no progress in the hunt for Rami's killers. A local Christian commented, "Many of the Muslims believe that Rami was evangelizing people so it was OK to kill him."
In such an environment of hatred, Pauline's resentment festered. However, the Holy Spirit in His gentle but insistent way kept whispering to her until she could carry the hatred no further. "It was then," she recalls, "that the Lord poured over me forgiveness for those who killed Rami and those who I used to blame." Her heart was set free and she heard the Lord say, "It's not everybody who gets to be called a martyr's wife." Deep in thought, she reflected, "That's a great honor."
Brother King from International Christian Concern (ICC) writes, "Pauline's experience reflects that of the persecuted church in general. Abused, spat upon, beaten, tortured, raped, and killed, these believers suffer as Jesus did. Sometimes they respond in very human ways, but when they listen to and follow the Holy Spirit, a great power comes into them and they possess what they could not have imagined previously – peace, love for their enemies, and forgiveness for those who delivered only pure evil to their lives…This is the gift of the persecuted Church. In the furnace of affliction, the Spirit of God is set ablaze in their hearts. In turn, their hearts become a beacon to all they come in contact with."
RESPONSE: Today I will thank God for the gift of His Holy Spirit. I will listen to Him and follow Him.
PRAYER: Thank You, Lord, for the example of Pauline. Strengthen her as she raises her children.
Quote of the Day
"There are many things we know and many things we don't know about the future. This much is certain: Jesus is coming again."
~Ray Pritchard (from "What Will be the Sign of His Coming?")
Today's Answer
Why Does Matthew Use "the Kingdom of Heaven"?
R.C. Sproul
If we were to look for one single theme that seems to be the most central and most important theme of the entire gospel of Matthew, it would be the theme of the coming of the kingdom. We see in the first instance that the termgospel refers to the gospel of the kingdom — the good news of the announcement of the breakthrough of the kingdom of God. In Matthew's case, he uses the phrase "kingdom of heaven" rather than the terminology "kingdom of God." He does this not because he has a different view of the meaning or content of the kingdom of God; rather, out of sensitivity to his Jewish readers, he makes common use of what is called periphrasis, a certain type of circumlocution to avoid mentioning the sacred name of God. So for Matthew, the doctrine of the kingdom of heaven is the same kingdom that the other writers speak of as the kingdom of God.
Matthew talks about the breakthrough of the kingdom and the arrival of Jesus in His incarnation. He announces the coming of the kingdom at the beginning of Jesus' public ministry, and at the end of the book Matthew speaks about the final consummation of the coming of that kingdom in the Olivet Discourse. So from the first page of Matthew to the last page, we see the unifying theme of the coming of the kingdom of God in the appearance of the king Himself, who is the Messiah of Israel and the fulfillment of the kingdom given to Judah.
The gospel of Matthew is rich in detailed information about the teaching of Jesus and particularly in His parables, which are not always included in the other gospels. Again, the central focus of the parables of Jesus is the kingdom, where He introduces parables by saying, "The kingdom of heaven is like unto this…" or "the kingdom of heaven is like unto that…." If we are to understand the significance of the appearance of Jesus in the fullness of time to inaugurate the kingdom and the whole meaning of redemptive history, we see that focus come into clear view in the Gospel According to Saint Matthew.
Excerpted from "The Witness of Matthew" by Ligonier Ministries (used by permission).
 As a child, I could never put the holiday and the purpose of thanksgiving together. Aunt Dorie would come drunk and weep at the table. No one ever knew why, and no one asked. Grandpa refused to speak to Grandma. My older brother showed his face only at the meal. Otherwise, he was conspicuously absent. In trying to make everything perfect, Mom would always have a migraine, and Dad would be steaming because Mom didn't feel well. All the while, the Detroit Lions stormed our living room, making it impossible for anyone to do anything except sneak as many hors d'oeuvres as possible.
Oddly enough, Thanksgiving was the one time Dad said his "own" grace before dinner. Throughout the rest of the year it was the standard, "Our father, we thank thee…" At Thanksgiving, he quietly, almost tearfully, thanked God for the many blessings that had been bestowed upon us. I always waited anxiously for something more, something of love to break in after the prayer. Some hidden secret in Dad's heart was trying to reveal itself to us. But with the "Amen," the silence was broken and the business of carving and passing dishes swung into full swing. The moment of grace had slipped away.
Our Thanksgiving feast never lasted long. And despite the lavishness of everything, I always felt a gnawing emptiness. How could everything be so good and right on the outside when I felt so isolated and estranged on the inside? Why were we so afraid of showing love to one another?
I wonder whether all the feasting at Thanksgiving is more an escape, a kind of therapy or narcotic, than a meal of celebration. I wonder because I see so little thanksgiving going on. When was the last time you or I sat down with someone and really thanked them—for who they are, for all the deeds of kindness they have shown to you and to others, for being there? When did you last look into the eyes of your son or daughter, mother or father, wife or husband and express gratitude for his or her life? What about your employer or employee, or even your neighbor?
Expressing a heartfelt thank you isn't as easy as it seems. As a parent, I know that getting a child to say a simple thank you—and meaning it—doesn't always come naturally. But when children are truly thankful, they not only say it, they show it.
A few years ago I had a chance to spend time with my dad. Though I had written him letters and spoken with him on the phone from time to time, I hadn't been with him for ten years. Dad can barely walk now, and he struggles to remember things. And though I had expressed my love to him in the past, before we said goodbye I just had to say it one more time: "Thank you, Dad, for being my dad."
When we give God the Father thanks I wonder if we really know what we are doing. Is it enough to just say thank you or say a prayer before a meal? And when we give thanks, are we thanking Him or are we just glad to be alive and well and to have an excuse to have a good time? The Apostle Paul writes: "Give thanks in all circumstances, for this is God's will for you." Giving thanks, in the most profound sense, involves far more than counting one's blessings. This is little more than selfishness with a smile. Giving thanks is about acknowledging with joy God's will—despite circumstances.
But more than this, offering thanks is a matter of showing it, both to God and to those with whom we are connected. "No one has seen God; but if we love each other, God lives in us and his love is made complete in us," writes the Apostle John. If we fail to show one another our thanks, what good is a meal of thanksgiving? A truly thankful heart knows that things pale in comparison to people. We are created for relationship, not riches. Sharing a table full of food is wonderful, but it is whom we share it with that counts.
This year's Thanksgiving could be different, but only if our focus is on our fellowship, not the feast; on giving thanks, not on getting full. We must get beyond the tradition of the meal and meet each other heart-to-heart.
Though many of us won't be able to spend Thanksgiving dinner with our families, or with our best friends, all of us can still give thanks. We can each give ourselves. The question is: Will we?
Why Doesn't God Answer My Prayer?
Why God even said "No" to Moses, Hannah, and Paul many others in their prayer requests.
Praying in Vain
Have you ever felt like your prayers are just bouncing off the ceiling? Does it feel like they just leave your mind void and return empty? In truth, God said no to several biblical heroes and heroines in the Bible. These include Moses, Hannah, Paul and even Jesus Christ in the Garden of Gethsemane, so if you can overcome these three major barriers to prayer, then your prayers will not only be heard by God, but they will be answered, however we must accept God's answer if it is no, not yet, or there's something better for you, so here are three reasons our prayers might fail.
Sin
Prayers, including our prayers of thanksgiving, go directly to heaven and are heard by the Father because of our access into the Holy of Holies made possible by Jesus Christ. Our prayers are described to God as a sweet savor, like incense, but more important than giving thanks is living in obedience because obedience is better than sacrifice (1 Sam 15:22), so sin may cause us from being heard by God, so even a ton of good works is useless when there is willful, unrepentant sin in our life. Sin can also make us feel unworthy to prayer, so ongoing, unconfessed sin inhibits prayers. If my children ask me for something and I know they are being disobedient during the time they're asking, then I first address the issue of their disobedience before answering their request. Unless this is taken care of, their requests aren't going to be fulfilled, and in a similar fashion, why would God reward us with answered prayer when we are sinning knowingly, and without repentance? The fact is, He won't. Psalm 66:18 states that "If I regard iniquity in my heart, the Lord will not hear me." First, go to God and take care of that sin and confess it (1 John 1:9), and then, and only then, begin your prayer requests.
Selfishness
If you pray and the first and foremost words that come out of your mouth are "me," and "I," then this is obviously a prayer that is only concerned about self and not about others. If I only pray for my needs, my desires, my wants and my wishes, then I am the central focus of that pray, and God is under no obligation to answer it. In the Lord's Prayer, which is really Jesus' model prayer, He starts off with adoration and praise of God, by giving Him thanks, but Jesus also prays for God's will to be done, so I must ask myself, "Are my prayers more about glorifying Jesus or about getting glory for myself…or getting things only for me?" What is my real intent? Am I more interest in what I want than in what God's wants? For example, God wants us to share the Gospel, but if I am witnessing by slamming unbelievers, my motives are not sincere and in their best interests.
Un-Forgiveness
I have caught myself praying as a hypocrite. What I mean is, I was praying but had not yet forgiven another person who I had an issue with. There I was, asking for God's forgiveness, yet still holding on a grudge against someone else, but how can I ask God to forgive me when I am not forgiving others? It's like me asking for your forgiveness, but I refuse to forgive you. A spirit of un-forgiveness can exist in many forms: jealousy, anger, revenge, grudges, gossiping, and avoidance. Jesus tells us what to do in a situation like this. He says, "So if you are offering your gift at the altar and there remember that your brother has something against you, leave your gift there before the altar and go. First be reconciled to your brother, and then come and offer your gift" (Matt 5:23-24). Imagine what this looks like to God: we want to be forgiven, yet refuse to forgive others. No wonder our prayers are blocked in such cases.
Moses
Moses wanted to go into the Promised Land with Israel, but Moses was disobedient when God asked him to speak to the rock to provide water for Israel. Instead of speaking to the rock, Moses struck the rock twice with his staff (Num 20:11). The water still came out, but he directly disobeyed God, so Moses' request to cross the River Jordan into the Promised Land was denied. Disobedience prevents prayers from being answers or it produces a no answer.
Hannah
Hannah desired more than anything to have a child. Her womb was barren. In fact the Lord was said to have closed Hannah's womb (1 Sam 1:6). This occurred during the time of the judges when Israel had no king, and a time that the Bible describes as "every man did what was right in their own eyes, (Judges 21:25), so God's answer to Hannah's prayer for a child was delayed because God wanted so much more for Hannah and her soon-to-be-born son. She prayed so desperately and passionately that she even told God that He could use her child in His service, and maybe this was what God had been waiting for. Hannah would later have a child that would change the history of Israel and the world with the birth of Samuel. Samuel would later become a mighty prophet of God and he would anoint Israel's first king, Saul, and later David, the greatest earthly King that Israel ever had. It would be through David's seed that the Messiah would come, which is Jesus Christ. God delayed answering Hannah's prayer, perhaps because God wanted to do more than Hannah was asking for. If God delays answering our prayer, perhaps it's because He wants much more for us than we are even asking for.
Paul
Paul desperately wanted the thorn in his side to be removed, praying three times to God, however, God's answer to Paul's prayer was no. God knew that Paul might become prideful because of all the revelations he had seen, so God allowed that thorn to remain. Apparently Paul knew this was the reason, as he wrote, "a thorn was given me in the flesh, a messenger of Satan to harass me, to keep me from becoming conceited" (2 Cor 12:7). God intended that this thorn in the flesh would keep Paul humble and in need of God's grace; and it did! Paul's prayer for healing was answered with a decisive "No," even though Paul prayed three times over it. God knew His greater plan must override that of Paul's.
Jesus
I think part of the reason Jesus prayed for this cup to pass is because it represented every heinous, wicked sin that humanity has ever sinned, and since Jesus is completely holy and without sin, it is contrary to His nature to take upon Himself the sins of the world, so I don't believe it was the suffering of Calvary that Jesus dreaded…but bearing the sins of humanity, so he prayed three times saying, "Oh My Father, if it is possible, let this cup pass from me, nevertheless, not as I will, but as you will" (Matt 26:39). Jesus repeated this prayer request three times, the other two in verse 42 and 44, however, Jesus' request was secondary to His desire to follow the Father's will. That's how we should pray too.
Conclusion
When we have sin, this blocks our access to the Father's throne. If we have not sinned but ask only for our own selves, and not for the will of God, then the answer may be no as well. When we still have un-forgiveness in our heart, this hinders our prayers, however, sometimes our prayers are delayed for a very good reason. What we ask for in prayer may not be what God wants for us. He knows better than we do and won't answer a prayer with something He knows will hurt us. Besides, He may want something much, much greater than what we are asking for. For example, if we ask for a new job and don't get it, He might have a job that is closer to our hearts desires. God knows best, so delayed pray might be "No," "not yet," or "wait for the best timing my child," but it could also be, "I have something better for you." God may have bigger plans for you than what you're praying for. In fact, to glorify Jesus' name, He may even give you something far greater…something that greatly surpasses even your own imagination.
About the Author
Jack Wellman is Pastor of the Mulvane Brethren Church in Mulvane Kansas. Jack is a writer at Christian Quotes and also the Senior Writer at What Christians Want To Know whose mission is to equip, encourage, and energize Christians and to address questions about the believer's daily walk with God and the Bible. You can follow Jack on Google Plus or check out his book Teaching Children the Gospel available on Amazon.
Thanksgiving is not a spiritual exercise. It's not just a commandment to be obeyed or a duty and obligation. It is not a worldly holiday tradition or religious activity, but it is the outflow of a heart that is filled with God's goodness and has learned to see God in every circumstance of life.
Although contrary to human nature, thanksgiving is to be the song of believers. And the true test of whether it is more of a duty or obligation than a lifestyle is evidenced in the hard times.
"In everything give thanks; for this is the will of God in Christ Jesus concerning you" (1 Thess. 5:18).
We are not to give thanks for bad things happening to us, but we are to be thankful regardless of the circumstances. A heart full of gratitude frees us from strife and stress and allows the Lord to intervene and engage in our affairs. Supernatural forces are activated and unleashed on our behalf when we remain grateful in all circumstances, especially in hardship and in adversity.
Most people's lifestyles rule them to such an extent that they have no focus toward God. They live so much in the flesh and in the natural realm that they become a very soulish and mechanical person who may even quote the Word, but they never learn to abide in the Lord. A grateful heart helps you to abide in the Lord and to sanctify Him in your heart (1 Pet. 3:15).
The Key to a Life of Thanksgiving
What does that mean? It means that you've got to cultivate an ability to see God in everything. Most Christians only see God in the good things, but not the bad. This greatly affects the condition of their hearts and their thanksgiving. It's a compartment mentality.
In other words, many believers recognize that God wants them to have a full, abundant and prosperous life (John 10:10). When good things are not happening in their lives, God is there, but in difficult moments, they can't see Him. It has to be the devil. The problem with that mentality is that it stops you from being able to see God in every circumstance. Most believers' ability to see God has to do with their environment and their circumstances, so their faith is very limited. We as believers have to grow past that.
Like every believer does, I've always rejoiced in the Lord when everything was calm and good. And I might rejoice in the Lord when things were not so good, but I used to do it from a heady knowledge because I knew I should. It was more mechanical than a natural outflow from the heart, because it did not include the ability to see God at that moment. I saw the kingdom of darkness, and I saw the kingdom of light. It was almost as if God appears one day and then all hell breaks loose, and in my mind, He's not there anymore. It's the devil and me having a fist fight. The devil got in, and I had to get him out. And in my thinking I had to break through that hell to find God again.
Then I started thinking differently in that God is always present, and He doesn't change. Yes, life and circumstances change, but God is still omnipresent. God is still immutable. When your faith becomes developed to such an extent that you're able to recognize that God is here—He's always here—you'll start looking for Him even in difficult moments.
When I say "looking for Him in difficult moments," I'm not talking about looking for Him to get you out of difficult moments. Of course, you don't expect difficult moments, but the Lord makes it very clear that we're going to have trials, and we're going to have hardships.
I don't expect difficult moments, but I'm not going to set myself up for false expectations to believe that the day is going to be absent of potential trials. I already have an understanding that I'm going to experience those things perhaps today, tomorrow, or a week or a year from now. Those things are going to come my way, but the great news is that God is with me. Again, it's developing a moment by moment consciousness and awareness of God, and learning to abide in Him even in rough times.
Most believers are always looking for God to resolve their problems. And of course we want God to resolve our problems, but we've got to learn to love God even in the midst of them. I want to learn to enjoy God in the midst of my problems and difficult circumstances.
When I enjoy God in my circumstances, the circumstances become different. They have a whole different flavor. They no longer represent defeat. They no longer represent fear. This fresh perspective can help many believers learn to abide in the Lord and to stay full of thanksgiving.
Most Christians rightly believe that God is good and the devil is bad, so they fight the bad and believe for the good. But we rarely ever have any rest in the bad, do we? And the reason we don't have rest in the bad is because we don't have the kind of faith we need in the bad.
The faith we need to enjoy life is to see Him. The real faith is when we see God in everything. It's not so much what He does for us, which is wonderful and worthy of praise. Thank God, He is forever taking care of us, but it goes beyond that. When I can see Him, and when my faith is developed to see Him in all circumstances, it brings me to a great place of rest and thanksgiving.
"Let the peace of God, to which also you are called in one body, rule in your hearts. And be thankful" (Col. 3:15).
Bert M. Farias, revivalist and founder of Holy Fire Ministries, has authored several books with an emphasis on helping to restore the true spirit of Christianity in the Church today, including the newly released, Passing on The Move of God to The Next Generation and the highly sacred book, The Journal Of A Journey To His Holiness. An anointing of fire marks his ministry with frequent demonstrations of the Spirit and power of God. He ministers interdenominationally and cross-culturally in nations, churches, conferences, on the streets and in homes. He and his wife Carolyn also host The Holy Ghost Forum – a school of the Spirit. Follow him at Bert Farias and Holy Fire Ministries on Facebook and @Bertfarias1 on Twitter.
Thanksgiving 2017: Best Bible Verses, Quotes to Help You Practice Gratitude
This Thursday, November 23, millions across America will celebrate Thanksgiving Day with food, family, and fellowship. For Christians, it's the perfect time to reflect on the many blessings God has given us throughout the year.
While Thanksgiving is a one-day event, the Bible talks about the importance of giving thanks in every season – "… stand every morning to thank and praise the LORD, and likewise at evening … 1 Chron 23:30."
Amid the hustle and bustle of the holiday season, take a moment to reflect on these Bible verses and quotes that remind us to thank God for His many blessings, care, and beneficence.
Bible Verses
Here are ten verses – in no particular order – that can help you express your gratitude to God for His protection, grace and faithfulness.
1. Psalm 46:1-2: "God is our refuge and strength, an ever-present help in trouble. Therefore we will not fear, though the Earth give way and the mountains fall into the heart of the sea …"
2. 1st Thessalonians 5:18: "In everything give thanks; for this is God's will for you in Christ Jesus."
3. Colossians 3:15: "And let the peace of Christ rule in your hearts, to which indeed you were called in one body; and be thankful."
4. Hebrews 12:28-29: "Therefore, since we receive a kingdom which cannot be shaken, let us show gratitude, by which we may offer to God an acceptable service with reverence and awe; for our God is a consuming fire.".
5. Colossians 2:6-7: "Therefore as you have received Christ Jesus the Lord, so walk in Him, having been firmly rooted and now being built up in Him and established in your faith, just as you were instructed, and overflowing with gratitude."
6. Psalm 28:7: "The LORD is my strength and my shield; My heart trusts in Him, and I am helped; Therefore my heart exults, And with my song I shall thank Him."
7. Phillipians 4:6: "Do not be anxious about anything, but in everything by prayer and supplication with thanksgiving let your requests be made known to God."
8. Psalm 31:19: "How great is your goodness, which you have stored up for those who fear you, which you bestow in the sight of men on those who take refuge in you."
9. 2nd Corinthians 4:15: "All of this is for your benefit. And as God's grace reaches more and more people, there will be great thanksgiving, and God will receive more and more glory."
10. Psalm 100:4: "Enter his gates with thanksgiving  and his courts with praise; give thanks to him and praise his name."
Thanksgiving Quotes
"We ought to give thanks for all fortune: if it is good, because it is good, if bad, because it works in us patience, humility and the contempt of this world and the hope of our eternal country."
–C.S. Lewis
"The best helps to growth in grace are the ill usage, the affronts, and the losses which befall us. We should receive them with all thankfulness, as preferable to all others, were it only on this account, that our will has no part therein."
–John Wesley
"When the Christian praises and gives thanks to God, this not only pleases God, but it enriches the Christian's life with joy. It is a reciprocating transaction between God and man."
–Rick Warren
"God gave you a gift of 86,400 seconds today. Have you used one to say 'thank you?'"
–William A. Ward
"A thankful heart is one of the primary identifying characteristics of a believer. It stands in stark contrast to pride, selfishness, and worry. And it helps fortify the believer's trust in the Lord and reliance of His provision, even in the toughest times. No matter how choppy the seas become, a believer's heart is buoyed by constant praise and gratefulness to the Lord."
–John MacArthur
"True thanksgiving means that we need to thank God for what He has done for us, and not to tell Him what we have done for Him."
–George R. Hendrick
"Our knowledge of God is perfected by gratitude: we are thankful and rejoice in the experience of the truth that He is love."
–Thomas Merton
TODAY

'S
Christian Quote
The best gifts to give: To your friend, loyalty; To your enemy, forgiveness; To your boss, service; To a child, a good example; To your parents, gratitude and devotion; To your mate, love and faithfulness; To all men and women, charity.
A Prayer for Gratitude and Thanksgiving
By Debbie McDaniel
"O Come, let us sing for joy to the Lord; Let us shout joyfully to the rock of our salvation. Let us come into his presence with thanksgiving; let us make a joyful noise to him with songs of praise! For the Lord is a great God, and a great King above all gods."  Ps. 95:1-3
We have so much to be grateful for in this life. Each and every day. But reality is that sometimes constant life demands, struggles, and worries give more room to defeat than to a heart of thanks. Or we forget, in the midst of busyness and pressures, just to pause and give thanks, for all that God has done, and continues to do in our lives.
Sometimes it really is a sacrifice to offer praise and thanks. We may not feel like it. We're struggling. We're weary. Or maybe, we feel like He let us down. We think God seems distant, like he's far away, or doesn't really care about what's troubling us. Painful life blows and losses might have recently sent us spiraling.
But here's what can make a lasting difference. We have a choice, every day, to give him thanks. And with a heart of thanksgiving, we realize that no matter what we face, God doesn't just work to change our situations and help us through our problems. He does more. He changes our hearts. His power, through hearts of gratitude and focused minds on Him, releases the grip our struggles have over us. We're strengthened by His peace, refueled by His joy.
Dear God, 
Thank you for your amazing power and work in our lives, thank you for your goodness and for your blessings over us. Thank you that you are Able to bring hope through even the toughest of times, strengthening us for your purposes. Thank you for your great love and care. Thank you for your mercy and grace. Thank you that you are always with us and will never leave us. Thank you for your incredible sacrifice so that we might have freedom and life. Forgive us for when we don't thank you enough, for who you are, for all that you do, for all that you've given. Help us to set our eyes and our hearts on you afresh. Renew our spirits, fill us with your peace and joy. We love you and we need you, this day and every day. We give you praise and thanks, for You alone are worthy! 
In Jesus' Name,
Amen.
A Prerequisite for Giving Thanks
For our present troubles are small and won't last very long. Yet they produce for us a glory that vastly outweighs them and will last forever!(2 Corinthians 4:17)
To give thanks, we must realize as Christians that God is in control of all circumstances that surround our lives, both good and bad.
In 2 Corinthians 4:17–18 we are told, "For our present troubles are small and won't last very long. Yet they produce for us a glory that vastly outweighs them and will last forever! So we don't look at the troubles we can see now; rather, we fix our gaze on things that cannot be seen. For the things we see now will soon be gone, but the things we cannot see will last forever."
The apostle Paul also wrote, "And I am convinced that nothing can ever separate us from God's love. Neither death nor life, neither angels nor demons, neither our fears for today nor our worries about tomorrow—not even the powers of hell can separate us from God's love" (Romans 8:38). God loves you, and He is always looking for your eternal benefit. God is wiser than we are. And if He tells us to not do something, He does so for good reason.
Now, the Devil doesn't want you to believe that. He would whisper in your ear, "God hates you. God wants to ruin your life. All those rules in the Bible are just there to make life miserable. You Christians serve an oppressive God who doesn't want you to have any fun."
What a bunch of nonsense. I've lived apart from Christ. I've had the so-called fun this world has to offer, and it wasn't fun at all. I've also found that a life with Christ is a life of fulfillment and purpose.
We must realize that God loves us and is always looking out for our eternal benefit, even if what we are presently going through is difficult.
Social Media summary: God is always looking out for our eternal benefit, even in difficulties.
Evangelizing in a World Drowning in Sexual Problems
Randy Newman
When people ask me what major lessons I learned while conducting interviews of new converts, my first thoughts go to the reality of pain. Many of these students talked about struggles, hurts, and wounds. And most of those difficulties pointed to sex. This generation has a lot of sex, watches a lot of porn, experiences a horrific amount of abuse, and can't quite figure out how to think about this ever-present-but-seldom-joyous issue of sex.
Lesson 5 of my 21 evangelism lessons:
Evangelism today occurs in a world that is drowning in sexual problems, misunderstandings, and a hardening against the gospel as a result.
During the sexual revolution of the 1960s, when people rebelled against the "traditional" view of sex (i.e., it was to occur only within lifelong, heterosexual marriage), people knew they were rebelling! They thought the old ways were constrictive, repressive, and boring. They saw their experiences as liberating, avant-garde, and revolutionary. But, somehow, they still considered their practices as non-normative.
Today's college students are so far removed from that time, they think their hooking up culture is the norm. They can't imagine why or how anyone would or could wait until marriage for sex. There's no reason they shouldn't take birth control pills, carry condoms, and know where to get an abortion if an "accident" should occur. The ones having sex on the first, second, or third dates (certainly no later than that!) think they are the norm and would feel guilty if they weren't in bed that early in a relationship.
And yet the painful expressions on their faces, the shameful tones in their voices, and their bewilderment at how such a "natural" act has delivered such pain haunts me even a year or more after concluding my face to face interviews.
They had sex because they felt they had to, even if they didn't always feel like they wanted to. A few men expressed profound disappointment that sex left them feeling "empty," "lonely," and "aching." Women freely offered confessions of doing things they wish they hadn't. Some said they now realize they were raped, even though they didn't think so at the time. And several said they "wondered what was wrong with me" if they didn't want to join in the "hook-up-with-as-many-people-as-possible" culture.
Both men and women told me they felt relieved when they became a Christian, met a group of peers who thought sex should be postponed until marriage, and didn't feel pressure to repeat things they now regret. In a few interviews, I said they didn't need to tell me things they didn't want to and, in most cases, they said they felt better after confessing out loud what had haunted them for a while. Quite a few of my interviews required tissues.
How does this impact our evangelism efforts? Here are a few reflections, but I think the church needs to do a lot of brainstorming about ways to alter our pronouncement of the good news to an audience involved in, pressured by, and damaged by sex outside of God's parameters.
For a host of reasons, the church has sometimes thought shallowly about sex, going no further than "thou shalt not." That hasn't served us or the people we want to reach very well. We now need to reflect deeply about the beauty of God's gifts and the power of cleansing offered through the gospel to those who need it so desperately.
Randy Newman has been with the staff of Campus Crusade for Christ since 1980 and currently serves with Faculty Commons, their ministry to university professors. Randy is a Jewish Believer in Jesus and is the former editor of The Messiah-On-Campus Bulletin. He is the author of numerous articles and books including Questioning Evangelism: Engaging People's Hearts the Way Jesus Did and Bringing the Gospel Home: Witnessing to Family Members, Close Friends, and Others Who Know You Well.
Sanctuary
By Dr. David Jeremiah
Paying the Piper
Be sure your sin will find you out. –Numbers 32:23
The great news of the gospel is that we have a forgiving God. When we come to Him, open our hearts, and confess our sins, God does hear us and forgive us. He's just waiting for us to come and ask Him. God puts confessed sins behind His back as far as the east is from the west. He buries them in the deepest sea.
God forgets what He forgives. Yet there's a postscript: the Lord won't erase history. Some consequences may be set in motion while we are out of fellowship with God, and we must reap what we sow. Even when we have been restored to fellowship through the forgiveness process, sometimes we have to "pay the piper."
It is impossible to get away with sin. You can't do it. Numbers 32:23 says it this way: "Be sure your sin will find you out." Just as surely as you can't get away with sin, you can't get away from God's love. No matter how evil your conduct, God loves you. The reason you have that hurt in your heart right now is because you're God's, and He doesn't want you out of fellowship with Him.
© 2002, 2011 David Jeremiah
Finding a Confidant
If we confess our sins, he is faithful and just and will forgive us our sins and purify us from all unrighteousness. – >John 1:9
God is always our first and primary audience for confession. But He isn't our only audience. Scripture tells us also to confess our sins to fellow believers. This is an extremely important and beneficial aspect of spiritual growth and health, if conducted wisely.
First, let me say that this type of confession isn't an all-encompassing command. That is, it isn't "spilling your guts" to anyone and everyone nosey enough to listen. Never confess to anyone who isn't spiritually mature.
Second, confession to fellow believers is an act of trust, and this makes you highly vulnerable. The person to whom you confess must be able to keep your confession confidential. If you can't trust your confidant, he shouldn't be your confidant. To be of value, confession must be honest and complete – you must feel safe in your selection of confidant.
So, stay true to God's instruction to confess our sins to one another, but be wise and be cautious.
The worst of my actions and feelings do not seem to me so offensive as the cowardice of not daring to admit them.  -Montaigne (1533-1592)3
The Daily Word of Hope Devotional
Bible Fun Fact: When Elizabeth became pregnant with the baby John The Baptist, she went into seclusion for 5 months (Lk 1:24).
Draw Me Close To You
Therefore Jesus answered them, 'Don't murmur among yourselves. No one can come to me unless the Father who sent me draws him, and I will raise him up in the last day. John 6:43 WEB
I could see from the look on their face that if they could have just one wish granted in the entire world, that it would be for me to stop telling them about Jesus. At other times, I have seen people come to me of their own accord, and shakily say: 'I want what you have.' I have witnessed to people and tried my best to convince them that Jesus is real, and just got a dismal gaze of pure boredom, while others could not wait for me to pray with them.
Why the inconsistency? It is because the Lord draws some and not others at that same moment. He may draw them later, and I believe that we can help by praying for them to be drawn to Him. The Lord has to open their hearts and minds for them to understand the truth, or it will remain veiled from them. Here are two examples:
'He said to them, 'But who do you say that I am?' Simon Peter answered, 'You are the Christ, the Son of the living God.' Jesus answered him, 'Blessed are you, Simon Bar Jonah, for flesh and blood has not revealed this to you, but my Father who is in heaven' (Matthew 16:15'17).
Peter recognized that Jesus was the Son of God, then Jesus told him that this was revealed to him by the Father. Most of the people could not see that.
'A certain woman named Lydia, a seller of purple, of the city of Thyatira, one who worshiped God, heard us; whose heart the Lord opened to listen to the things which were spoken by Paul' (Acts 16:14).
Lydia understood what Paul was preaching because the Lord opened her heart to understand it, while many others around them, though they heard the same words, did not.
If you have people you want to come to the Lord, pray for them to be drawn to Him, for their hearts to be opened. You will not have to give long-winded speeches, or persuade them to believe when the time comes.
When the Father draws them, they will soon be witnessing to you about the goodness of God and they will be inviting you to go to church with them. I also believe that we can pray for the Lord to draw our hearts to Him as well, for no one comes to Jesus except the Father draws them.
Prayer: Heavenly Father I pray that You draw my family and I to You. Open our hearts to understand the gospel, help us to see beyond the natural, and fill us with Your Holy Spirit. May we all come to know You and be saved, in the name of Jesus Christ I pray.
Today's Scripture
"Trust in the Lord with all your heart; do not depend on your own understanding. Seek his will in all you do, and he will show you which path to take."Proverbs 3:5-6 NLT
Thoughts for Today
Real Christianity is about loving God, which is a different agenda than the rest of the world lives by. One aspect of a loving relationship with God is learning to depend on him.
The world teaches us it's good to be independent. Don't depend on anyone else. Have an "I can do it myself" attitude. But God wants us to rely on him, not ourselves. Why? Because he sees the whole picture. He knows what is best for us. And he is our loving Father. His power, his wisdom, and his strength are so much greater than ours – and he wants to help us.
Consider this … 
It's not weakness to depend on God. It's wisdom. He loves us unconditionally. One way we can return that love is to show him we trust him by depending on him for guidance, for strength, for comfort. And what a privilege to be able to do that!
Are you fearful about the future? Are you facing a challenge that seems overwhelming? Are you struggling with financial issues, family conflict, illness . . . or any other problems life brings our way? God didn't promise us a problem-free life. In fact, Jesus said we would have trouble (John 16:33). But he also said to take heart because he overcame the world – and with his help, we can too. Remember, "I can do everything through Christ, who gives me strength (Philippians 4:13 NLT).
Prayer
Father, I thank you I don't have to face life alone. Thank you for loving me and promising to be with me. Help me to be more open to receiving your help. Help me to trust you. To depend on you and not myself. In Jesus' name . . .
A Question of Ownership
TGIF Today God Is First Volume 1 by Os Hillman
November 22, 2017
"Whoever finds his life will lose it, and whoever loses his life for My sake will find it." – Matthew 10:39
Otto Koning was a missionary in New Guinea. He worked among a native tribe that had known only their village ways. One of those village ways was stealing from others. When Otto and his wife arrived and moved into a hut, the natives often came by to visit. The Konings would notice that after the natives left the missionaries' home, various household items had disappeared. They saw these items again when they went to preach in the natives' village.
The only fruit Otto could grow on the island was pineapples. Otto loved pineapples, and he took pride in the pineapples he was able to grow. However, whenever the pineapples began to ripen, the natives would steal them. Otto could never keep a ripe pineapple for himself. This was a frustration, and he became angry with the natives. All during the seven-year period in which this took place, Otto preached the gospel to these natives, but never had a conversion.
The more the natives stole, the angrier Otto became. Finally, one day Otto had a German Shepherd dog flown in from another missionary to protect his pineapple garden after other frustrated efforts failed. This only further alienated the natives from him.
Otto took a furlough to the United States and attended a conference on personal rights. At this conference, he discovered that he was frustrated over this situation because he had taken personal ownership of his pineapple garden. After much soul searching, he gave his garden to God. Soon the natives started having problems among their tribe. They discovered that Otto was the reason for their problems because he gave his garden to his God. The natives saw a correlation between what Otto had done and their own lives being affected by calamities in their village. When Otto gave his garden to God, he no longer got angry and was free from worry. The natives started bringing him fruit from the garden because they didn't want any more calamities to come into their village.
The light came on one day when a native said to Otto, "You must have become a Christian, Otto. You don't get angry anymore. We always wondered if we would ever meet a Christian." They had never associated Otto with the kind of person he was preaching about because his message did not line up with his life. Otto was broken in spirit when he realized he had been such a failure.
At the end of seven years, he witnessed his first conversion, and many began coming to Christ once he fully gave his garden to God. The fruit grew so abundant that Otto began exporting it and growing other types of fruit, such as bananas. His village became the most evangelized in the whole region, yet for seven years he had not one convert.
Otto realized something each of us must realize: To gain your life you must lose it, along with your possessions. It was only when he gave all his possessions to God that he became free from them. God measured back to him manifold once He had complete ownership.
Do you have some possessions that you need to give up to God today? Let God have all that you have. Become a steward, not an owner. You will be surprised at how well God can take care of His possessions.
Passion for Praise:

 'Rejoice, O Heavens!'

Wednesday, November 22, 2017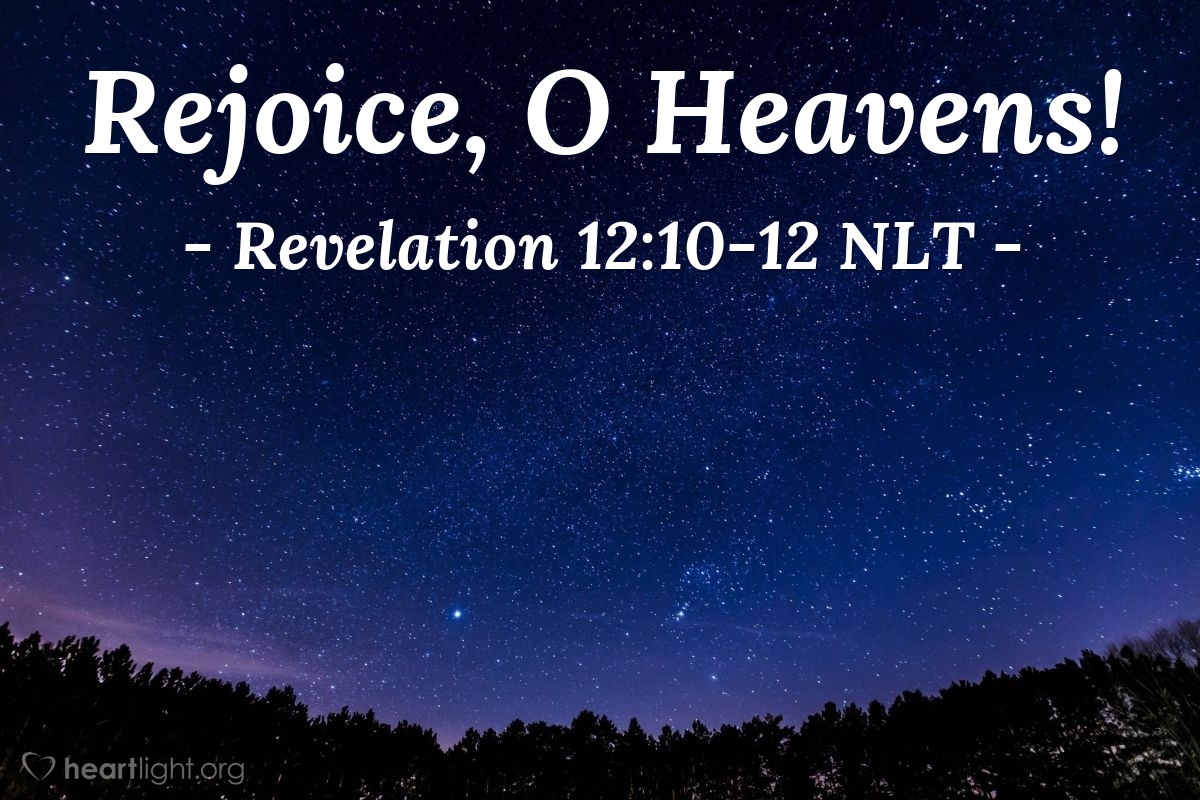 Well, tomorrow is Thanksgiving Day……a day to give thanks for what we have…..for our loved ones, our relationships with God…….
I'd like to recall, with fondness, childhood Thanksgivings…….
Our Mom and Grandma would make both a turkey and a ham……candied yams (I didn't eat these), mashed potatoes and mashed rutabagas (yummy!), Greek-style broccoli: cooked and seasoned with salt and pepper, olive oil and lemon juice, and then served chilled (mmm)…cauliflower, served hot and buttered…….turkey gravy in Mom's good gravy bowl…….stuffing, baked in a pan outside the turkey…….baked apples that Grandma made……hot rolls all buttery…….cranberry sauce and apple sauce…….lastly, a big, tossed salad with our Dad's homemade Italian dressing….Mom would get out her best China dishes and her linen napkins, her best silverware and utensils, and we'd each set the big dining room table, with its three leaves inserted to hold all that delicious food……then we would say a special Grace and dive into all that food!  After dinner, Mom and Grandma would clean up, with the help of us older girls, and we would wait for our Parish Pastor's visit…….if we were lucky enough to have been chosen for his visit…..He would come, bless our entire home, and then share some dessert and coffee with the grown ups.  Then, finally, the day was ending………leftovers stored away, baths taken, our hair set with rag curlers, and off to bed we would go!!
Thanksgiving is a day of gratitude!  This year, I am grateful, even though my heart hurts because my daughter isn't part of my life……all of them up in Scranton will enjoy their Thanksgiving without thinking of me, I guess……..I would so like to send them my best wishes but can't……..
Thank You anyhow, Lord, for all of them…………
God bless everyone and Happy Blessed Thanksgiving!!!!!