Daily Prayer for May 3
But how is it to your credit if you receive a beating for doing wrong and endure it? But if you suffer for doing good and you endure it, this is commendable before God. To this you were called, because Christ suffered for you, leaving you an example, that you should follow in his steps. 1 Peter 2:20-21, NIV
Dear Father in heaven, we thank you that the Savior has been with us on the earth and that in our day we can still follow him and wait for your will and your rulership. For you are Almighty God, and your kingdom must come, your will must be done, and all promises be fulfilled. Carry out your will, we ask and beseech you. Establish your kingdom among all nations, even if today this is possible with only a few. For through your working, hearts can change so that your name may be praised and all promises may be fulfilled. Thanks be to you for allowing us to live in such great hope. Stay by us in our work on earth so that it may be done in your service. In every situation deepen our longing for the Savior to come and establish your kingdom. Be with us during the night and bless us in your great goodness and faithfulness. Amen.
Your Daily Dig
Leo Tolstoy
I knew before that God gave life to humankind and desires that they should live; now I understand more than that. I understand that God does not wish people to live apart, and therefore he does not reveal to them what each one needs for himself; but he wishes them to live united, and therefore reveals to each of them what is necessary for all. I now understand that though it seems to people that they live by care for themselves, in truth it is love alone by which they live. He who has love is in God, and God is in him, for God is love.
     ~~~Dion Todd

When the Lord speaks to you, it often comes in seed form. A small seed of hope that you cannot see because it is beneath the surface. If you have been waiting to see God's plans in your life, read today's message fora word of hope:
Word of God Speak
For as the rain comes down and the snow from the sky, and doesn't return there, but waters the earth, and makes it grow and bud, and gives seed to the sower and bread to the eater; so is my word that goes out of my mouth: it will not return to me void, but it will accomplish that which I please, and it will prosper in the thing I sent it to do. Isaiah 55:10 WEB
There are things that the Lord told me over twenty years ago, that I am just beginning to live. When the Lord speaks to you, it often comes in seed form. A small seed of hope that you cannot see because it is beneath the surface. He will spend years preparing you for things that you don't even know are coming, but when they appear, you will be ready.
A rhema word (spoken word, an utterance) from God causes dreams to grow. In Luke 4:4 and Matthew 4:4, Jesus said that "Man shall not live by bread alone, but by every (rhema) word that proceeds from the mouth of God." In Romans 10:17 Paul wrote: 'So then faith comes by hearing, and hearing by the (rhema) word of God.' The universe itself was spoken into existence. God said 'Let there be light'; and there was light (Genesis 1:3).
A rhema word from God changes everything. What you currently see, is not what will always be. A bad life, can become a good one. There is still hope for the hopeless. God restores the fallen. He heals the sick. He delivers the captives. He welcomes the prodigals. He seeks out the lost, and a word spoken by Him, changes everything.
Prayer: Heavenly Father please speak to me in a way that I understand and let me hear Your voice clearly. I want to be involved in what You are doing today. Please don't pass me by! In the name of Jesus Christ I pray.
Bible Fun Fact: The longest chapter in the Bible is Psalm119.

Unstoppable!

 'The Suffering Servant Prophesied by Isaiah Is Jesus!'

Philip ran over and heard the [treasurer of Ethiopia] reading from the prophet Isaiah. Philip asked, "Do you understand what you are reading?"

The man replied, "How can I, unless someone instructs me?" And he urged Philip to come up into the carriage and sit with him.

The passage of Scripture he had been reading was this:
He was led like a sheep to the slaughter.
And as a lamb is silent before the shearers,
he did not open his mouth.
He was humiliated and received no justice.
Who can speak of his descendants?
For his life was taken from the earth.
Key Thought
Not only did the Holy Spirit inspire the Scriptures (2 Timothy 3:16-17) and the words of the prophets (2 Peter 1:20-21); the Lord opens people's hearts (Acts 16:14), and the Spirit convicts them of their need for Jesus (John 16:7-10). The treasurer from Ethiopia read from the scroll of Isaiah — Isaiah 53:7-8 in our Bibles. This passage is part of one of Isaiah's "Servant Songs"!* The message tugged at the Ethiopian's heart. He longed to know about this servant of God who was prophesied and whose identity was foretold in Isaiah's prophecies. The risen Christ revealed the meaning of these specific Scriptures to his closest disciples after his resurrection (Luke 24:44-49). The followers of Jesus realized that their Lord's identity was best understood through the lens of God's "Suffering Servant." As described in the following verses, Philip was able to reveal this Suffering Servant to the Ethiopian man seeking God's truth. While Jesus' path to the cross was a shock to those who had expected a conquering Messiah, Isaiah had revealed centuries before that the Messiah would give his life as a sacrifice for God's chosen people and the lost of every nation.
* The Servant Songs are usually identified as Isaiah 42:1–4, 49:1–6, 50:4–7, 52:13–53:12, and Isaiah 61:1-3. These servant poems of God's chosen "Suffering Servant" prophesied about God's coming servant-Messiah. Jesus used Isaiah's prophecies to explain the path of suffering his ministry followed. (Even though Jesus applied Isaiah 61:1-3 to himself in different situations (Luke 4:16-21, 7:20-23), it sometimes isn't included in the Servant Songs since the word "servant" is not used. Nevertheless, this passage describes a servant.)
Today's Prayer
O Father, I am amazed and humbled that your plan for Jesus, the Messiah, was revealed through your servant Isaiah centuries before Jesus' coming. I thank you for these "Servant Songs" and what they reveal about your willingness to redeem us and carry away our sin at your cost. Thank you, God, as Father and Son and Spirit, for bearing the weight of my sin and the incredible cost of the incarnation and crucifixion of Christ Jesus. Thank you! Amen.
Related Scripture Readings
What Jesus Did!

 'Begging the Lord'

Right away a woman who had heard about [Jesus] came and fell at his feet. Her little girl was possessed by an evil spirit, and she begged him to cast out the demon from her daughter.

Since she was a Gentile, born in Syrian Phoenicia, …
Key Thought
Are we too proud to beg? Do we have such an elevated view of ourselves that falling on our knees and begging seems beneath us? Are our spiritual issues any less in need of Jesus than this woman's concern for her daughter? What would you NOT do to place yourself before the Lord and his grace? This woman would not let anything separate her from Jesus' power to deliver her girl. She was willing to beg! Incredibly, we don't have to … even though we often need to for our own benefit!
Today's Prayer
O gracious Father, full of mercy and compassion, forgive me when I am arrogant and proud. Gently humble me and craft me into a vessel fit for your use in your work so it will always be done for your glory. In Jesus' name. Amen.
Related Scripture Readings
Daily Wisdom:
Passion for Praise:

 'From Childhood'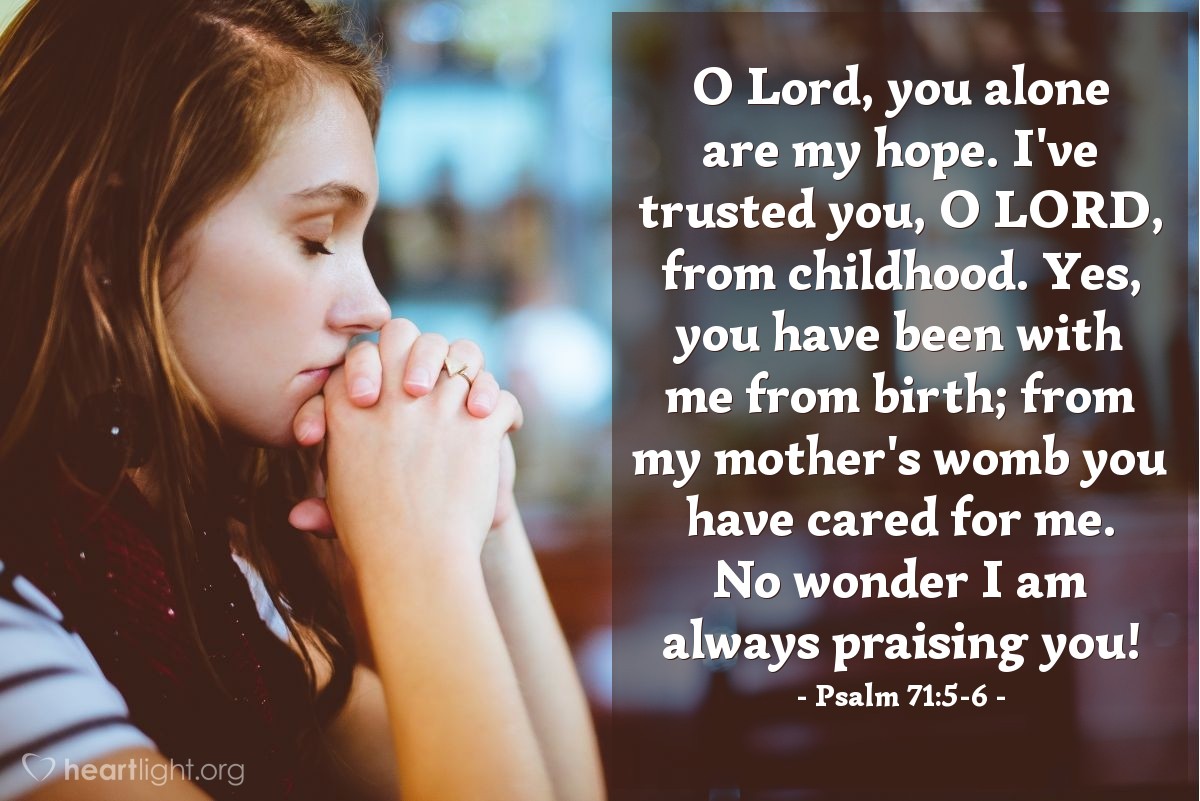 Spiritual Warfare:

 'True Treasure, Not Rust and Ruin'

God's Power for Our Battles

Don't store treasures for yourselves here on earthwhere moths and rust will destroy them and thieves can break in and steal them. But store your treasures in heaven where they cannot be destroyed by moths or rust and where thieves cannot break in and steal them.

Lord, thank you for the gift of eternal life. Thank you for the proper view of true treasure. I used to think that it was selfish to store up treasure for myself. Now I realize that You commanded us to store true treasure. Thank You for reminding me what kind of treasures will last and where they need to be stored. Help me now, Lord, to be rich in giving to others and to Jesus' church. I want to be wealthy in good deeds and acts of kindness. Help me always to remember that treasure stored here won't last. I want to do good deeds to store treasure in my eternal bank account. I want to have credits for my eternal life, so lead me to do good. In Jesus' Name, Amen.
A Year with Jesus:

 'According to the Scriptures'
Note from Jesus
Dear Friends,
My resurrection should not have been such a big surprise to My disciples. While My resurrection was not something anyone would have expected in normal life, I lived My life in tune with the will of the Father and in fulfillment of the Scriptures. As I began to make My way to Jerusalem for the final time in My earthly ministry, I repeatedly talked about My death and My resurrection that would occur three days later (Mark 8:31; Mark 9:30-31; Mark 10:33-34). I also used earlier Scriptures that carry strong hints about My life, death, and resurrection (Mark 15:34 with Psalm 22:1-31) Later My followers did likewise (Acts 13:32-35 with Psalm 2:1-12 and Psalm 16:7-11; Acts 2:31 with Psalm 16:7-11; Acts 8:26-40 with Isaiah 53:7-12). Even those who viewed Me as their enemy worried about My prediction that I would rise from the dead after three days. They went so far as to take precautions to keep anyone from stealing My dead body and making a claim of resurrection (Matthew 27:62-66).
As I had promised, as the scriptures had suggested, and as My enemies inadvertently had helped to validate, I rose from the dead. However, grief and loss closed My disciples to any expectation of a good outcome to the horrific events of the cross. I had to go to great lengths to show them that I was alive. I had to open their minds to understand the scriptures about My resurrection and their upcoming mission (Luke 24:45-49).
What do I want you to do with this important insight into My resurrection that I have shared with you today?
What difference does it make whether or not the scriptures spoke of My resurrection?
Here are a few real-life applications that I want you to take away with you from the verses below. There are others, but please grab hold of these implications from what I have told you.
First, what you call the Bible is really My family story. In fact, because you are joined to Me, it is also your family story. It is a gift to help you understand how grace worked its way through the religions of humankind and brought all blood sacrifices to an end in My sacrifice (Hebrews 9:22; Hebrews 10:12 NLT). All humanity, regardless of race or social standing or gender or anything else, comes to the Father on equal ground — the ground at the foot of My cross — and can receive grace to be the Father's children through faith in what I did (Galatians 3:26-29).
Second, My life on earth was a fulfillment of that great story of grace (Matthew 5:17-20), and all of its greatest promises find their fulfillment in Me (2 Corinthians 1:18-20). So if you want to know Me more completely, then use the Scriptures of what you call the Old Testament. Learn more about Me and use your faith in Me to help you understand how to use those Scriptures to bring salvation to you and others (2 Timothy 3:14-17).
Finally, realize that My resurrection helps you look at everything in a new way. My closest disciples weren't bad or dumb because they didn't expect My resurrection; they were grieving and broken and hopeless. However, My resurrection changed all of that for them… and for you… and "All this happened to fulfill the Scriptures."
Verses to Live
As you read these verses, notice especially the last sentence. The cross and My resurrection were no accident. They were God's plan… to redeem you!
Let me remind you, brothers and sisters, of the good news that I preached to you when we first met. It's the essential message that you have taken to heart, the central story you now base your life on; and through this gospel, you are liberated — unless, of course, your faith has come to nothing. For I passed down to you the crux of it all which I had also received from others, that the Anointed One, the Liberating King, died for our sins and was buried and raised from the dead on the third day. All this happened to fulfill the Scriptures; it was the perfect climax to God's covenant story.
(1 Corinthians 15:1-4)
Response in Prayer
O Father, thank You for the Scriptures. Forgive me when I have taken them lightly and neglected to use them to draw me closer to Jesus and His wonderful gift. I ask that You use the Holy Spirit, Lord Jesus, to help me understand the message inspired by the Spirit's grace. I ask this to honor You — Father, Son, and Spirit — in the name of Jesus. Amen.
Humor~~~