Daily Prayer for January 13
————————————————————
Christoph Friedrich Blumhardt
Be watchful, stand firm in your faith, be courageous, be strong. Let all that you do be done in love. 1 Corinthians 16:13-14, RSV
Dear Father in heaven, give us childlike hearts so that we may understand everything in the right way. Grant us work that bears fruit in spite of our faults and weaknesses, because we want to work with the understanding given by love. Father in heaven, you know that we are faced day and night with many difficulties and setbacks. But you see us, and you will help us so that your name may be honored, your kingdom may come, and your will may be done on earth as in heaven. Amen.
SUNDAY, JANUARY 13
The Baptism of the Lord
The Presence of God
Dear Jesus, today I call on you, but not to ask for anything. I'd like only to dwell in your presence. May my heart respond to your love.
Freedom
God my creator, you gave me life and the gift of freedom. Through your love I exist in this world. May I never take the gift of life for granted. May I always respect others' right to life.
Consciousness
I ask how I am today. Am I particularly tired, stressed, or anxious? If any of these characteristics apply, can I try to let go of the concerns that disturb me?
The Word
The Word of God comes down to us through the Scriptures. May the Holy Spirit enlighten my mind and my heart to respond to the Gospel teachings.
Luke 3:15–16, 21–22
As the people were filled with expectation, and all were questioning in their hearts concerning John, whether he might be the Messiah, John answered all of them by saying, "I baptize you with water; but one who is more powerful than I is coming; I am not worthy to untie the thong of his sandals. He will baptize you with the Holy Spirit and fire." Now when all the people were baptized, and when Jesus also had been baptized and was praying, the heaven was opened, and the Holy Spirit descended upon him in bodily form like a dove. And a voice came from heaven, "You are my Son, the Beloved; with you I am well pleased."
Jesus came to baptize us with the Holy Spirit and with fire. Such an encounter is rarely calm and filled with certainty. It's interesting that Jesus, who was following God's will, received the confirmation of the Father saying, "You are my Son, the Beloved . . ." Baptism brings change and activity, and it calls for courage and faith.
Can you pause today and allow God's words to linger with you: "You are my beloved child . . ."?
Conversation
I begin to talk with Jesus about the Scripture I have just read. What part of it strikes a chord in me? Perhaps the words of a friend—or some story I have heard recently—will rise to the surface in my consciousness. If so, does the story throw light on what the Scripture passage may be saying to me?
Conclusion
Glory be to the Father, and to the Son, and to the Holy Spirit,
As it was in the beginning, is now and ever shall be,
World without end. Amen.
God speaks to us in many ways, including through the Sunday Scripture readings. The Sunday Connection provides useful background and activities to better understand the upcoming Sunday's Scripture readings, helping you to connect the Scripture to daily life in a meaningful way.
First Reading
Isaiah 40:1-5,9-11 (The first reading from Cycle A may also be chosen, Isaiah 42:1-4,6-7.)
Isaiah tells the people to prepare a way for the Lord.
Responsorial Psalm
Psalm 104:1b-4,24-25,27-30 (The psalm from Cycle A may also be chosen, Psalm 29:1-2,3-4,9-10.)
A prayer praising God's greatness
Second Reading
Titus 2:11-14; 3:4-7 (The second reading from Cycle A may also be chosen, Acts of the Apostles 10:34-38.)
Jesus Christ saved us and renewed us with his Holy Spirit.
Gospel Reading
Luke 3:15-16,21-22
Jesus is baptized by John.
Background on the Gospel Reading
Today we celebrate the feast of the Baptism of the Lord. In today's Gospel, as in the other Gospel accounts of Jesus' baptism, we hear John the Baptist address the confusion of the people who thought that John might be the Messiah. In response, John contrasts the baptism that he performs with the Baptism that Jesus will inaugurate. John the Baptist says that he has baptized with water, but that someone will come and baptize with the Holy Spirit. The type of baptism that John performed was not yet a Christian Baptism; it was a preparation for Christian Baptism through which sins are forgiven and the gift of the Holy Spirit is received.
The baptism of Jesus is reported in each of the three Synoptic Gospels—Matthew, Mark, and Luke. Clearly, it was an event of great significance for Jesus and for the early Christian community. The Evangelists Mark and Luke report the story from Jesus' perspective; the voice from heaven is addressed to Jesus. Compare this to Matthew's Gospel in which the voice from heaven speaks to everyone. In Luke, however, the Holy Spirit descends upon Jesus during his time of prayer after his baptism. Through his Gospel, Luke will show Jesus to be a person of prayer who withdraws regularly from the crowds and his disciples to pray to his Father.
The baptism of Jesus is considered a manifestation of God in Jesus, another "epiphany." On this, the last day of the Christmas season, our Gospel reveals to us Jesus' relation to God: the son of Mary and Joseph is also God's own Son. In Luke's Gospel, all three members of the Trinity are manifested here: God the Father in the voice, the Holy Spirit descending, and Jesus the Son. At the beginning of his Gospel, Luke is communicating to us important information about the identity of Jesus. In the verses that follow, Luke lists the genealogy of Jesus, tracing Jesus' ancestry back to the first person, Adam, who is also identified as the son of God. We, the children of Adam and Eve, are again made children of God through Baptism.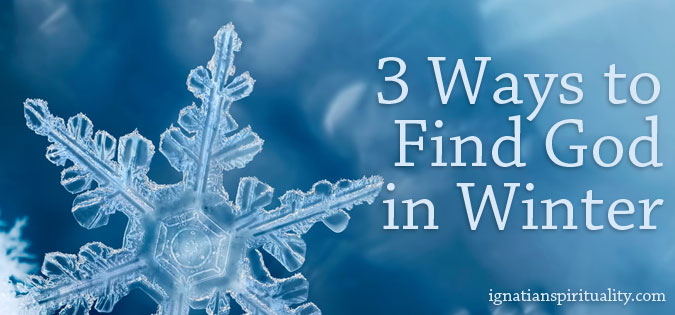 I happen to like a midwestern winter: cold, barren, dark, and windy. I enjoy bundling up and walking on winter days, with or without snow. The introvert in me looks forward to spending those dark evenings with books, knitting projects, writing projects, cooking, and pots of tea. Something in me connects to the sacred in winter—because I believe that each season is sacred in its own way.
But I know that many people struggle to find anything to love during this season. They don't do well in the cold, or they tend toward depression for lack of natural light. In the same way I dread the heavy humidity and inescapable heat of summer, others want to find an escape route from winter. If God is present always, we will find the divine even in this cold season.
1. Use the opportunity for deeper prayer.
When the season changes to a time of year that feels ill-suited, it's good to recognize that we are grieving a loss. The gentle summer air is gone; the flowers are gone; many of the outdoor sights and sounds of people are gone. Perhaps we can use this time to pray over other losses. As I grieve the daylight that no longer surrounds me on the way to and from work, I can pray something like, "Lord, I know this sadness is attached to other, deeper, causes of sadness. Help me identify them and sit with them here and let you comfort me."
2. Explore other sources of joy.
You really can't savor a robust pot of chili in July—not the way you can savor it in January. During the winter, we have a different set of joys and comforts, so let's dive right into them! Read to your kids or your spouse. Collect memories into scrapbooks, something that's not as attractive when the weather invites you to the beach or backyard. Don't think of winter activities as default options you're left with but as entirely different yet wonderful pleasures.
3. Identify winter-worthy ways to serve.
If my needs shift in the winter, then it's likely that some of the people I know face the same struggles. Are these long, dark months prime time for visiting others and filling the time with conversation or a feel-good movie? If I dread being cold, might that remind me to buy gloves and heavy socks to donate to organizations that supply people in need? Would February be a good month for a three-week Bible study in small groups—the opportunity to gather in homes or at the church and focus on the Light of the World?
Winter may not be your first choice as a season. Yet it carries its specific gifts and purposes. May you enjoy them in the weeks to come.
January 13: Avoiding the Unavoidable
Genesis 24; Matthew 16–17; Ecclesiastes 5:8–11
It's common to put people in our lives on hold, even if we love them, until something forces us to pay attention. Forgetting those who are closest to us is a frightening thought. Peter, Jesus' disciple, likely realized that people were making a similar mistake in their relationship with Jesus.
In the district of Caesarea Philippi, Jesus asks His disciples, "Who do people say that the Son of Man is?" (Matt 16:13–14). At first, they respond with the expected: John the Baptist, Elijah, Jeremiah, and the prophets—suggesting that Jesus is an esteemed and powerful prophet, but not more. Then Jesus asks the are-you-paying-attention question: "But who do you say that I am?" (Matt 16:15).
Simon Peter understood this, blurting out, "You are the Christ, the Son of the living God!" (Matt 16:16). Jesus asked about the Son of Man, emphasizing His humanity; Peter responds by emphasizing both His status as the anointed one of God (the Christ) and His divinity, as God's Son (which also has kingly implications).
Peter does all this in Caesarea Philippi, a place full of altars and idols to other deities. Caesar was worshiped and celebrated as god's son there. Peter, surrounded by people worshiping the king of the known world, calls Jesus king.
Jesus responds by affirming that God has revealed this to Peter. And He states that following Him means completely giving up ourselves and being willing to suffer like Christ (Matt 16:24–25).
Just like a relationship with a spouse, parent, sibling, or friend, if we think Jesus is less than He is, we will inevitably misunderstand Him. And if we understand our relationship with Him to be anything less than life altering, we treat Him like someone we have fallen out of love with. The one who died for our sins wants and deserves so much more.
Who are you not noticing in your life that you should be? What parts of your relationship with Christ are you overlooking?
JOHN D. BARRY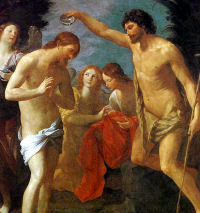 Christmas: January 13th
Feast of the Baptism of the Lord
Today the Church celebrates the Solemnity of the Baptism of Our Lord. This brings to an end the season of Christmas. The Church recalls Our Lord's second manifestation or epiphany which occurred on the occasion of His baptism in the Jordan. Jesus descended into the River to sanctify its waters and to give them the power to beget sons of God. The event takes on the importance of a second creation in which the entire Trinity intervenes.
In the Eastern Church this feast is called Theophany because at the baptism of Christ in the River Jordan God appeared in three persons. The baptism of John was a sort of sacramental preparatory for the Baptism of Christ. It moved men to sentiments of repentance and induced them to confess their sins. Christ did not need the baptism of John. Although He appeared in the "substance of our flesh" and was recognized "outwardly like unto ourselves", He was absolutely sinless and impeccable. He conferred upon the water the power of the true Baptism which would remove all the sins of the world: "Behold the Lamb of God, behold Him Who takes away the sin of the world".
Many of the incidents which accompanied Christ's baptism are symbolical of what happened at our Baptism. At Christ's baptism the Holy Spirit descended upon Him; at our Baptism the Trinity took its abode in our soul. At His baptism Christ was proclaimed the "Beloved Son" of the Father; at our Baptism we become the adopted sons of God. At Christ's baptism the heavens were opened; at our Baptism heaven was opened to us. At His baptism Jesus prayed; after our Baptism we must pray to avoid actual sin.
— Excerpted from Msgr. Rudolph G. Bandas
COLLECT PRAYER
Almighty ever-living God, who, when Christ had been baptized in the River Jordan and as the Holy Spirit descended upon him, solemnly declared him your beloved Son, grant that your children by adoption, reborn of water and the Holy Spirit, may always be well pleasing to you. Through our Lord Jesus Christ, your Son, who lives and reigns with you in the unity of the Holy Spirit, one God, for ever and ever.
01/13/AM
"Jehoshaphat made ships of Tharshish to go to Ophir for gold: but they went not; for the ships were broken at Ezion-geber."
—1Ki 22:48
Solomon's ships had returned in safety, but Jehoshaphat's vessels never reached the land of gold. Providence prospers one, and frustrates the desires of another, in the same business and at the same spot, yet the Great Ruler is as good and wise at one time as another. May we have grace to-day, in the remembrance of this text, to bless the Lord for ships broken at Ezion-geber, as well as for vessels freighted with temporal blessings; let us not envy the more successful, nor murmur at our losses as though we were singularly and specially tried. Like Jehoshaphat, we may be precious in the Lord's sight, although our schemes end in disappointment.
The secret cause of Jehoshaphat's loss is well worthy of notice, for it is the root of very much of the suffering of the Lord's people; it was his alliance with a sinful family, his fellowship with sinners. In 2Ch 20:37, we are told that the Lord sent a prophet to declare, "Because thou hast joined thyself with Ahaziah, the Lord hath broken thy works." This was a fatherly chastisement, which appears to have been blest to him; for in the verse which succeeds our morning's text we find him refusing to allow his servants to sail in the same vessels with those of the wicked king. Would to God that Jehoshaphat's experience might be a warning to the rest of the Lord's people, to avoid being unequally yoked together with unbelievers! A life of misery is usually the lot of those who are united in marriage, or in any other way of their own choosing, with the men of the world. O for such love to Jesus that, like Him, we may be holy, harmless, undefiled, and separate from sinners; for if it be not so with us, we may expect to hear it often said, "The Lord hath broken thy works."
Dom Helder Camara
At first sight, the situation of this world suggests despair. For Christians, however, the last word is always hope. Despite everything, we have no use for a misleading or alienating hope that looks only to eternal life – as though eternity didn't start here and now, because it is here and now that we build an eternal life.
Source: "The Degradation of the Worlds and the Renovation of the Earth," speech, 1972
Verse of the Day….Reflect on it….
If you are doing God's work, the enemy will try to tear it down and you with it. For His wisdom to overcome, read today's message!
A Great Work
Sanballat and Geshem sent to me, saying, Come, let us meet together in one of the villages in the plain of Ono. But they thought to do me mischief. I sent messengers to them, saying, I am doing a great work, so that I can't come down: why should the work cease, while I leave it, and come down to you? Nehemiah 6:2 WEB
Nehemiah was organizing the rebuilding of the wall around Jerusalem after it had been destroyed and the people carried away into exile. When he began, his enemies laughed at him, but then as the gaps in the wall started to close, they became much more serious. They plotted to kill him in order to stop the wall from being completed.
Nehemiah's enemies planned to invite him to a banquet and assassinate him so that all the people following him would stop the work that he had started. When they tried to lure Nehemiah into their trap, he simply replied "I am doing a great work, and I cannot come down." Then he continued on and they completed the wall while working with a trowel in one hand, and a sword in the other (Nehemiah 4:17).
Our enemy may start out using laughs, jeers, and gossip to attack us, but if we keep on with God's work, he will devise much sneakier traps and distractions for us that scale to our level. He has done this a long time, and he knows what works. Like someone inspecting a wall, he keeps searching for the small cracks to get in through, and once in, it is hard to get him back out.
The enemy's plan is to get you distracted, trip you, make you fall, to make your testimony worthless. To make the salt lose its flavor. To stop the work. To stop God from fulfilling His plan in your life. To steal, to kill, and destroy (John 10:10). When you are tempted, remember that you are doing a great work, and that you cannot come down.
Prayer: Heavenly Father please give me a clear vision and reveal the traps that the enemy has set for me. Help me to focus on the work at hand and not be distracted. Fulfill Your will in my life, in the name of Jesus Christ I pray.
Bible Fun Fact: Noah was also used for a girls name (Joshua 17:3).

'Moving Beyond a Little Religious Excitement'
Note from Jesus
Dear Follower,
My half-brother James warned that simply believing in the existence of God was nothing special — even the demons believe in God and shudder in fear at His power (James 2:19). In today's story from My life on earth, you meet a man tortured by a demonic spirit. This demonic spirit knew My name and knew Who I AM. In fear, this demonic presence shouted at Me to leave because it knew that I would cast out every tidbit of demonic influence that had a hold on this man. And that is what I did. My power over evil was demonstrated as I cast the demon out of the man with just a few words.
People were excited and amazed at My power. However, don't confuse their reactions with meaningful faith. Don't confuse their reactions with discipleship. Believing in Who I AM, saying the right words, getting excited about My power, even doing some things in My name, should never be confused with being My disciple (Matthew 7:21-23). A disciple follows his or her teacher to become like the teacher (Luke 6:40).
My disciples follow Me to become like Me. They do what I call them to do. They put into practice what I teach. So in many ways, the excitement of the crowd and the fear of the demons in today's story are very much the same things: a lot of emotion and commotion without devotion to Me.
As we journey through this year together, I hope that you will move beyond mere emotion and religious commotion to heartfelt devotion!
Verses to Live
Even though the religious leaders should have recognized Me during My time on earth, most of them did not. However, the demon in today's story did recognize Me and even confessed Me before the people in the synagogue, albeit in a confrontational way. Your response to Me needs to be much more than a confession of Who I AM. Just as the demon-possessed man's life was dramatically changed by My power, your life should also change dramatically because of Me. Your life should acknowledge Me just as your words do.
Next He [Jesus] went to Capernaum, another Galilean city. Again He was in the synagogue teaching on the Sabbath, and as before, the people were enthralled by His words. He had a way of saying things — a special authority, a unique power.

In attendance that day was a man with a demonic spirit.

Demon-Possessed Man (screaming at Jesus):

Get out of here! Leave us alone! What's Your agenda, Jesus of Nazareth? Have You come to destroy us? I know Who You are: You're the Holy One, the One sent by God!

Jesus (firmly rebuking the demon):

Be quiet. Get out of that man!

Then the demonic spirit immediately threw the man into a fit, and he collapsed right there in the middle of the synagogue. It was clear the demon had come out, and the man was completely fine after that. Everyone was shocked to see this, and they couldn't help but talk about it.

Synagogue Members:

What's this about? What's the meaning of this message? Jesus speaks with authority, and He has power to command demonic spirits to go away.

The excitement about Jesus spread into every corner of the surrounding region.
(Luke 4:31-37)
Response in Prayer
Almighty God, open my eyes, my ears, my heart, and my mind to fully see Jesus for Who He is. I want to follow Him with wholehearted devotion. I offer You my life to be a follower of Jesus. Shape me to become like my Savior as I journey with Him each day. In the name of the Lord Jesus, I pray. Amen.