Christoph Friedrich Blumhardt
The Lord is a refuge for the oppressed, a stronghold in times of trouble. Those who know your name trust in you, for you, Lord, have never forsaken those who seek you. Psalm 9:9–10, NIV
Lord our God, we look to you in our many needs, in the distress of our hearts, in the anguish of the whole world. We beseech you, let light come to your people everywhere on earth to bring them your help and your victory. Remember the wretched, the sick, the poor. Let your living strength come to them so that they can bear their sufferings and hold out joyfully to the end. Remember us all, O Lord our God, for we all need you. We are weak and poor and cannot go forward alone. Your Spirit must help us. May the Savior come to us, and may his grace and his power be born in our hearts. Amen.
Verse of the Day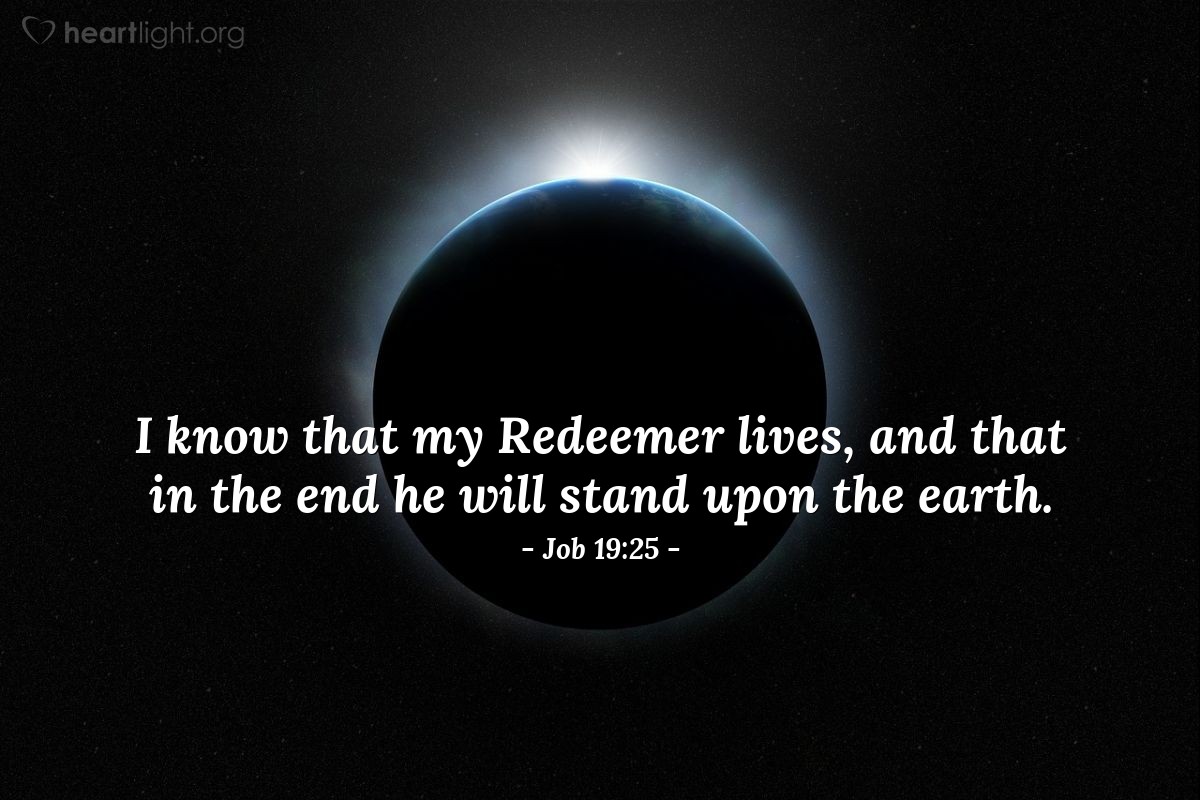 Thoughts on Today's Verse…
Beyond what these words were first meant to convey, we know today that our Redeemer will return as the Rider on the white horse in triumph and victory. Hallelujah, what a day! Then the world truly WILL KNOW that Jesus Christ, our Savior and brother and friend, is Lord of all things!
My Prayer…
Conquering King, Immortal God, I look forward to the day of your ultimate triumph in our world. Until that day, I pray that your Kingdom may be reflected in my ministry, my family and my life. Through the Rider on the white horse, I pray. Amen.
A Prayer for Healing and Grace
By Debbie McDaniel
"…she came up behind Him in the crowd and touched His cloak, because she thought, 'If I just touch His clothes, I will be healed.'" Mark 5:27-28
She'd been suffering for years with an illness, a bleeding disorder. She'd been to many doctors and yet still was not made well, in fact the Bible says that she grew worse. But something compelled her to Christ. She believed. She had faith.
The Bible says that "Immediately her bleeding stopped and she felt in her body that she was freed from her suffering." (v. 29) God acted on her behalf…"immediately." Right away. His Power is able to do anything that seems impossible to the world.
Jesus knew that power had gone out…He turned around in the crowd, looking, and asked "Who touched my clothes?" (v. 30)
She came and fell at His feet, trembling in fear, told Him what happened, told Him the truth.And right there in the midst of her fear and her trembling and her vulnerability, He said these powerful words. Life-changing, inspiring, freedom words, "Daughter, your faith has healed you. Go in peace and be freed from your suffering." (v. 34)
Let's set aside our fears and move towards Him today, in faith.  God knows already, the wounds we've carried, He knows the pain we've felt, He knows how much we've tried to let go, and fix things in our own power. He is Able. He cares. He heals. He restores. He redeems.
Dear God,
We confess our need for you today. We need your healing and your grace. We need hope restored. We need to be reminded that you work on behalf of those you love, constantly, powerfully, completely. Forgive us for trying to fix our situations all on our own. Forgive us for running all different directions and spinning our wheels to find help, when true help and healing must be found first in You. Forgive us for forgetting how much we need you, above everyone and everything else. We come to you and bring you the places we are hurting. You see where no one else is able to fully see or understand. You know the pain we've carried. The burdens. The cares. You know where we need to be set free. We ask for your healing and grace to cover every broken place. Every wound. Every heartache. Thank you that you are Able to do far more than we could ever imagine. Thank you for your Mighty Power that acts on behalf of your children. We reach out to you, and know that you are restoring and redeeming every place of difficulty, every battle, for your greater glory. Thank you that you will never waste our pain and suffering. We love you. We need you today.
In Jesus' Name, 
Amen.
Saint Catherine of Siena
Saint of the Day for 
April 29
(
March 25, 1347

 – 

April 29, 1380

)

https://www.franciscanmedia.org/wp-content/uploads/2016/08/SODApr29.mp3
Saint Catherine of Siena's Story
The value Catherine makes central in her short life and which sounds clearly and consistently through her experience is complete surrender to Christ. What is most impressive about her is that she learns to view her surrender to her Lord as a goal to be reached through time.
She was the 23rd child of Jacopo and Lapa Benincasa and grew up as an intelligent, cheerful, and intensely religious person. Catherine disappointed her mother by cutting off her hair as a protest against being overly encouraged to improve her appearance in order to attract a husband. Her father ordered her to be left in peace, and she was given a room of her own for prayer and meditation.
She entered the Dominican Third Order at 18 and spent the next three years in seclusion, prayer, and austerity. Gradually, a group of followers gathered around her—men and women, priests and religious. An active public apostolate grew out of her contemplative life. Her letters, mostly for spiritual instruction and encouragement of her followers, began to take more and more note of public affairs. Opposition and slander resulted from her mixing fearlessly with the world and speaking with the candor and authority of one completely committed to Christ. She was cleared of all charges at the Dominican General Chapter of 1374.
Her public influence reached great heights because of her evident holiness, her membership in the Dominican Third Order, and the deep impression she made on the pope. She worked tirelessly for the crusade against the Turks and for peace between Florence and the pope.
In 1378, the Great Schism began, splitting the allegiance of Christendom between two, then three, popes and putting even saints on opposing sides. Catherine spent the last two years of her life in Rome, in prayer and pleading on behalf of the cause of Pope Urban VI and the unity of the Church. She offered herself as a victim for the Church in its agony. She died surrounded by her "children" and was canonized in 1461.
Catherine ranks high among the mystics and spiritual writers of the Church. In 1939, she and Francis of Assisi were declared co-patrons of Italy. Pope Paul VI named her and Teresa of Avila doctors of the Church in 1970. Her spiritual testament is found inThe Dialogue.
---
Reflection
Though she lived her life in a faith experience and spirituality far different from that of our own time, Catherine of Siena stands as a companion with us on the Christian journey in her undivided effort to invite the Lord to take flesh in her own life. Events which might make us wince or chuckle or even yawn fill her biographies: a mystical experience at six, childhood betrothal to Christ, stories of harsh asceticism, her frequent ecstatic visions. Still, Catherine lived in an age which did not know the rapid change of 21st-century mobile America. The value of her life for us today lies in her recognition of holiness as a goal to be sought over the course of a lifetime.
Saint Catherine of Siena is the Patron Saint of:
Europe
Fire Prevention
Italy
Christ's Comprehensive Love
The Lord takes pleasure in his people. – Psalms 149:4
How comprehensive is the love of Jesus! There is no part of His people's interests that He does not consider, and there is nothing that concerns their welfare that is not important to Him. He doesn't merely think of you, believer, as an immortal being, but as a mortal being too. Do not deny it or doubt it: "Even the hairs of your head are all numbered."1 "The steps of a man are established by the LORD, when he delights in his way."2
It would be sad for us if this covering of love did not tackle all our concerns, for what mischief might be done to us in that part of our lives that did not come under our gracious Lord's protection! Believer, rest assured that the heart of Jesus cares about your smallest concerns. The breadth of His tender love is such that you may turn to Him in every case; for in all your afflictions He is afflicted, and just like a father cares for his children, so He cares for you. The smallest interests of all His saints are all borne upon the heart of the Son of God.
And what a heart He has, which does not merely understand the nature of His people but also comprehends their diverse and innumerable concerns. Do you think, Christian, that you can measure the love of Christ? Consider what His love has brought you–justification, adoption, sanctification, eternal life! The riches of His goodness are unsearchable; you will never be able to convey them or even conceive them.
Oh, the breadth of the love of Christ! Shall such a love as this have only half our hearts? Shall it have a cold love in return? Shall Jesus' marvelous loving-kindness and tender care be met with only faint response and delayed acknowledgment? My soul, tune your harp to a glad song of thanksgiving! Go to your rest rejoicing, for you are not a desolate wanderer but a beloved child, watched over, cared for, supplied, and defended by your Lord.
A Lesson From Jonah
But Jonah ran away from the Lord . . . – Jonah 1:3
I'm sure you're familiar with the story of Jonah and the whale (big fish!). The book of Jonah in the Old Testament is a short book with just four chapters. If you have ten or fifteen minutes, stop and read it through. It's a great story with a lot of lessons for us.
The thing that stood out to me about this story was that Jonah was bold enough, after hearing exactly from God what he was supposed to do, to intentionally do just the opposite. He got up and went in the opposite direction to get away from the Lord.
That stood out at first because I thought to myself, "What a fool!  Who would do such a thing?" Then I realized that is what I've done time and time again in my own life. Haven't you?
Look back at the choices you've made to try to do things your way. Think about the nights you've laid awake with a knot in your stomach, full of fear and anxiety about things that most likely weren't going to happen anyway. Think about the times you've chosen to numb yourself with food, alcohol, drugs, sex, shopping, or something else that wasn't really the answer you were looking for or needed. When you "sobered up" you felt a little more empty than the day before.
What Jonah needed to do; what you and I need to do, is to humble yourself and surrender our wills to God. It's a daily task that will grow a little easier the more you do it. Start today. Don't go through what Jonah went through. Learn from him.
"Humility is a strange thing. The minute you think you've got it, you've lost it." – E. D. Hulse
From Good Morning, Lord by Sheila Walsh
Today I will count the cost of forgiving and the cost of not forgiving.
"I don't believe that person is really sorry" and "Saying 'I for­give you' won't take away the pain"—these are two reasons why people (even Christians and maybe you) are reluctant to forgive someone who has hurt them. That first excuse is validated by the fact that our society—even our Christian community—has downgraded forgiveness. Forgiveness is not a Band-Aid for a wound; that wound has to be recognized for what it is, grieved over, and owned before forgiveness can be real, freeing, and lasting. To mini­mize someone's pain with a "Hey, I'm sorry, friend" and perhaps even a quick prayer—without truly acknowledging any wrongdoing and its very real conse­quences—is an offense in itself. You may never receive a genuine apology from the offender, but what do you gain by allowing your wound to fester?
As for the second concern above, I believe we can only really forgive when we acknowledge both the truth that we are wounded and the depth of that wound. It is tempting to slough pain away and deny that we have been hurt. It can be embarrassing to be wounded: we feel weak or out of control, so we ignore it. We need to accept that we live in a world where pain is sometimes just part of the package. Once we humbly admit that we are wounded and allow ourselves to feel the pain, we can bring it to Christ for healing; only then can we begin the process of forgiveness. And, yes, it is a process.

What Jesus Did!

 'Seek the Imperishable'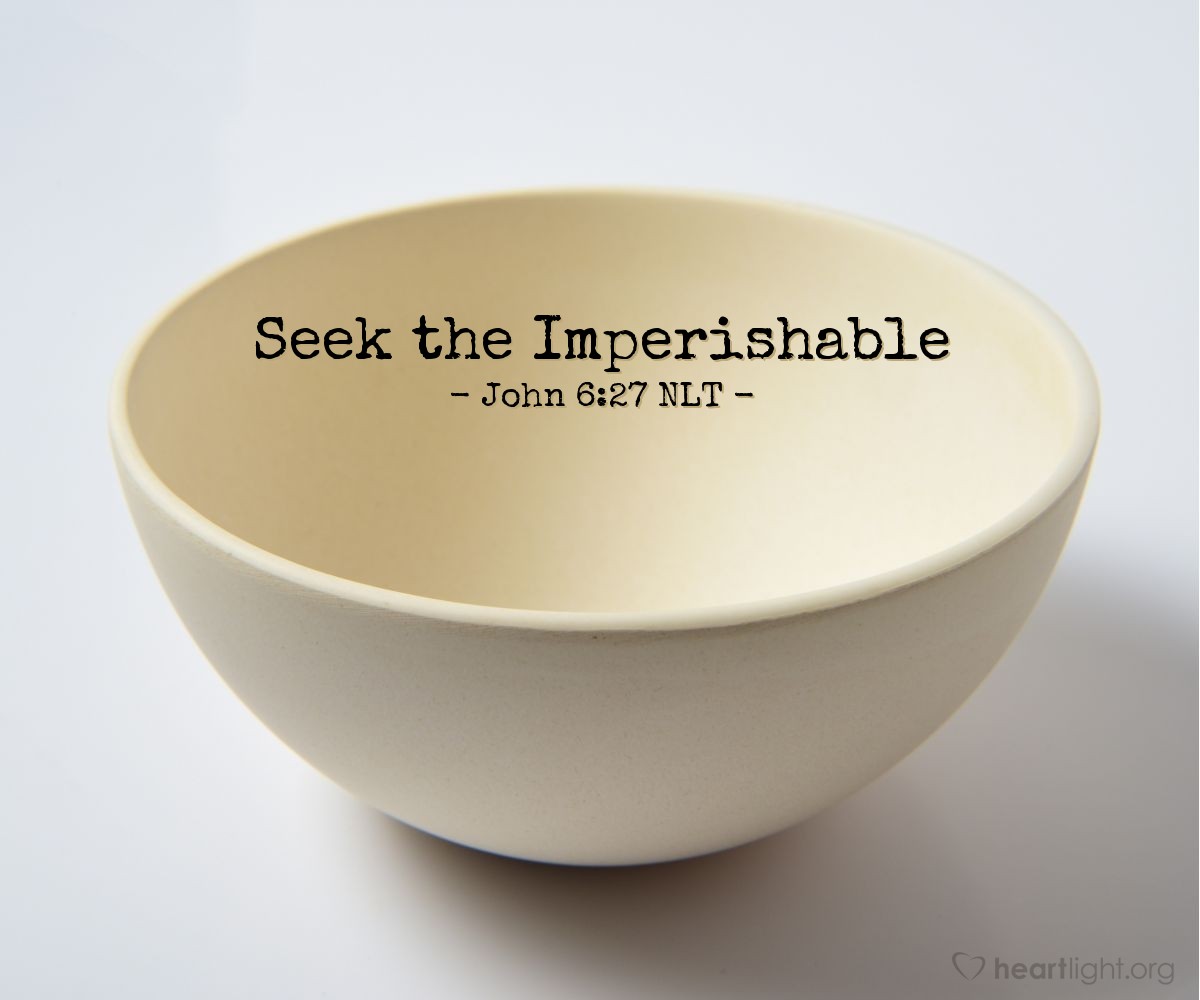 Key Thought
Think about how hard we work and how much money we spend on things that are perishable. Most of what we purchase is subject to decay and destruction. Think of all the effort and energy we put into gaining fame and fortune when those things are fleeting, but faith and family endure. Life is found in Jesus; he is its source, purpose, and destination. Let's not forget that. Most other things eventually deplete our lives. Only Jesus gives us life that is both lasting and meaningful.
Today's Prayer
God, please give me the wisdom to know what is important and what isn't. Help me use my time and my influence wisely. Give me the courage to choose the right thing over the acceptable thing. Give me the passion to invest myself in what is most important to you. In Jesus' name, I pray. Amen.
Related Scripture Readings
Daily Wisdom:

 Proverbs 17:14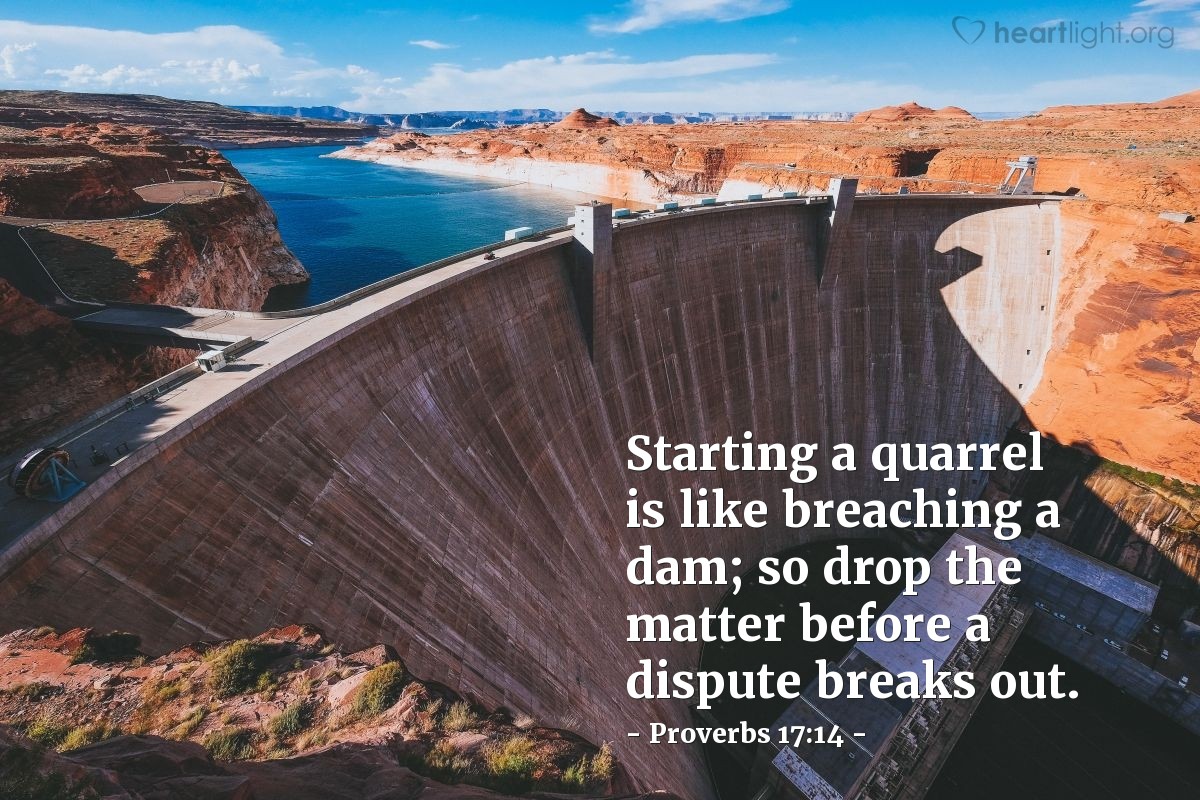 Spiritual Warfare:

 'The End Times Will Be Very Hard Times'

God's Power for Our Battles

Remember this! In the last days there will be many troubles, because people will love themselves, love money, brag, and be proud. They will say evil things against others and will not obey their parents or be thankful or be the kind of people God wants.
St. Thomas
"But Thomas (who was called the Twin), one of the twelve, was not with them when Jesus came. So the other disciples told him, 'We have seen the Lord.' But he said to them, 'Unless I see the mark of the nails in his hands, and put my finger in the mark of the nails and my hand in his side, I will not believe.'"
—John 20:24–25
Sometimes I wonder about the young people I teach. I wonder if they take any of the lessons I share with them to heart. I wonder if our time together will have made any difference in their lives six months, one year, or five years from now.
"Oh, Bob," a friend once said to me, "don't you know that we're just scattering seeds?"
"Unless I'm able to see the fruits of that harvest…" I started to reply. I was surprised at how much I sounded like St. Thomas.
That gave me pause.
Reflecting on the rest of Thomas's story, I realize that Jesus gave Thomas the evidence he wanted and, perhaps, needed. "[The Lord] said to Thomas, 'Put your finger here and see my hands. Reach out your hand and put it in my side. Do not doubt but believe.'" (John 20:27)
Those are words I can take to heart. Instead of worrying about what will happen to the faith of the young people I serve, I can look for evidence that the faith is taking root in their lives. And in doing that, I'll be able to see that God is truly with them. That will surely put my doubts to rest.
Easter Action
The moniker "doubting Thomas" has always bothered me. Thomas did, after all, have great faith, enough faith to give up everything he knew—family, friends, homeland, and career—to follow Jesus. Yet we remember him for one fleeting moment of very understandable hesitation. In fact, I wonder how different his reaction to hearing the news that Jesus was alive might have been from my own? When I place myself in prayer next to Thomas in the Gospel passages, I see that Thomas, in his humanity, is a relatable figure.
Since Thomas was not with the rest of the disciples in the Upper Room when Jesus first appeared to them, his encounter with the Risen Christ was delayed. In a sense, his unique experience of the Risen Christ brought him to his own personal Easter.
In Thomas's story, we witness the spiritual journey of a soul striving to accompany Jesus despite a very real and flawed humanity. In Thomas, we might also see the story of "the other" who has become separated from community, a figure with whom all who strive to accompany Jesus in faith and action can relate.
Thomas
Isolated
Confused
Afraid
Doubting 

Sadness
Emptiness
Loneliness
Pain
Devastation
Alone
     without community
Alone
     what made sense then 
     seems ridiculous now. 

Desolation.
A dark night.
He asks,
How then shall I live?

Out of the darkness, 
an optimistic note, 
a ray of light.
There comes encounter. 

A hand extended,
A side plunged into.
And with encounter, 
An invitation. 

To let go of 
     disappointment
     anger
     shame
     fear
     pain.
To be free of 
     sadness
     emptiness
     loneliness
     guilt
And be reconciled.

An invitation to 
     Mercy 
     and to 
     Trust.

To Thomas, 
     He says, 
"Do not be afraid.
     I did not leave you!
     I still love you. 
Do not be afraid. 
     You are not alone.
     I am with you.
Do not fear
     opening your heart again.
     I am here.
     You are safe.
     You are forgiven.
     You are loved."

In His hands, His side,
An invitation to Hope.
An invitation to Love.
An invitation to Joy.

This is your Easter, Thomas.                                                


Read Prayer Leads Us Forward in Hope by Becky Eldredge.

I found my friend on his knees praying in the hospital chapel. We had received word that a family member of our friend was extremely sick and might not make it through the next day. As I embraced my friend and his tears fell on my shoulder, he told me, "I feel I am having a crisis of faith, because I am in here begging God to save my loved one."
My tears joined his as I said, "The fact that you are in this chapel crying out to God in this time of darkness shows me the depth of your faith. You are turning to God in your time of need, and God is meeting you in this right now."
My friend's prayers reminded me of our need to hope in God, to feel heard by God, and to know that God can answer our prayers. "Prayer leads us forward in hope," as Pope Francis reminds us in On Hope.
In our times of darkness, when we face our human limitations, we realize our need for God. We cry out in these moments to the source of our hope, which is God. God is with us. We are never alone. God responds to our prayers, not always with the answer we want, but with graces and gifts to get us through the journey. Prayer opens us to God, and God shines light into our darkness, enabling us to take a step forward, and then another, and then another.
The witness of my friend's ability to hope that day is one I will never forget. I pull from his ability to cry out to God when I face my own darkness and the darkness I encounter in the world. God meets me in my prayers, increases my ability to hope, and inspires actions for me to take.
First Fruits
TGIF Today God Is First Volume 1 by Os Hillman
April 29, 2018
"All the silver and gold and the articles of bronze and iron are sacred to the Lord and must go into His treasury." – Joshua 6:19
One of the earliest examples of the practice of giving God the first fruits of the increase was when Joshua and the people entered the Promised Land for the first time. When they crossed the Jordan River, their first battle was Jericho. God set a precedent with this battle by instructing them not to take any spoils from it. Unlike future battles, the fruits from this victory were to go into the treasury as a remembrance of their first victory in the Promised Land. In addition, the city of Jericho was to be a lasting monument to God's faithfulness. God instructed Joshua never to rebuild this city. If they or anyone in the future attempted to rebuild the city, the life of the firstborn would be required. Years later in the days of King Ahab, Hiel the Bethelite attempted to rebuild this city and his firstborn died as a result. God never forgets to enforce His Word.
Is your work a lasting monument to the faithfulness of God in your life? Is it bringing glory to the Father? Are you giving the first fruits from your increase to God? God has encouraged us through this story to give the first fruits of our work to Him so that He will be glorified through our work. This is a tangible way for us to acknowledge that God is the source of all blessing.
NATIONAL PET PARENTS DAY
National Pet Parents Day is observed annually on the last Sunday in April.
There is a very special connection, a unique bond, between a pet and its owner.  This unique relationship, which can often last for many years, is often a vital part of the 'pet parents' life.  Their loved pets are considered to be a member of the family.
National Pet Parents Day was created to honor all dedicated pet parents across the nation with a special day of their own.
HOW TO OBSERVE
Use #NationalPetParentsDay to post on social media.
HISTORY
Founded by Veterinary Pet Insurance (VPI) in 2007, National Pet Parents Day was created from inspiration in seeing the majority of their policyholders consider their pets as part of their family.
God bless you all!!!!