Daily Prayer for March 29
"Because he loves me," says the Lord, "I will rescue him; I will protect him, for he acknowledges my name. He will call on me, and I will answer him; I will be with him in trouble, I will deliver him and honor him. With long life I will satisfy him and show him my salvation." Psalm 91:14-16, NIV
Lord our God, dear Father in heaven, we turn our hearts to you, for you know all our need. We turn to you, for you are ready with your help when we are at our wit's end. You have paths we can follow joyfully because we have a Lord who rules and who reigns over us to make us glad. May we praise your name at all times. May your help be always before our eyes so that we can be your true children, to the glory of your name on earth. Amen.

Daily Dig
In your inbox every morning
The Lord did not say, "I am going up to Jerusalem." He said, "We are going." It is this "we" that we have to emphasize. For it does not apply only to those first disciples; it also applies to us insofar as we want to be his followers. For us, too, the way to glory passes through suffering and death. To suffer with Christ for sin in the obedience of faith; to give up all foolish wishes and vain hopes with our eyes fixed on him; with him and in love to him to give our old self up to death; to die with him in quiet confidence in a blessed resurrection when our last hour comes; and then to be with him forever in the heavenly Jerusalem – this is our task.
Source: The Crucified Is My Love
l
Fifth Sunday of Lent
Today we reflect on John 11:25–26.
Even though life is messy, and it can feel that things are sometimes falling apart, there is something deep in us that wants to believe in a deeper reality. We want to believe that there is meaning to our lives, a caring God, life after death, and real hope. We might recall loved ones who have passed, the way our lives are filled with moments of dying and rising, and a stubborn optimism in a loving God. The irony is that facing our mortality and the reality of death allows us to really live and love. If you could live from love and accept God's free gift to you, what would your life look like?
Brendan McManus, SJ, shares his reflection on today's retreat:
Even though life is messy, and it can feel that things are sometimes falling apart, there is something deep in us that wants to believe in a deeper reality. We want to believe that there is meaning to our lives, a caring God, life after death, and real hope. We might recall loved ones who have passed, the way our lives are filled with moments of dying and rising, and a stubborn optimism in a loving God. The irony is that facing our mortality and the reality of death allows us to really live and love. If you could live from love and accept God's free gift to you, what would your life look like?
Take a few moments to relax. Breathe in and out, deeply and slowly. As you become quiet within, allow God's gentle presence to fill you with each breath you take.
John 11:25–26
Jesus told her, "I am the resurrection and the life; whoever believes in me, even if he dies, will live, and everyone who lives and believes in me will never die. Do you believe this?"
Every time we gather for Mass we proclaim in these or similar words, "Christ has died. Christ is risen. Christ will come again." Jesus' question to Martha at the time of her brother Lazarus' death, "Do you believe this?" is also put to us. Do we believe it in our heart of hearts, deep down inside? Yes! Do we believe that God's power can bring new life out of the most dreadful experiences in our lives? Yes!
What in me is yearning for new life?
How can I be more open to God's power in my life?
(Pray to Jesus, using these words or your own.)
Life-giving God, help me to trust your power in my life that I might experience the life you have promised.
Amen.
More Lenten Resources
I'm grateful my Catholic religion acknowledges the existence of brutal suffering. There have been moments of excruciating loss in my life that no mindfulness or cheerful efforts can overcome. News reports of tornadoes and massacres and war remind me that even though the world is a gorgeous place, it can also feel like a valley of tears.
In those moments, the image of Christ on the cross speaks to me as nothing else can. There are periods in every life when we feel as naked and vulnerable and racked with pain as Jesus on Calvary. We can't fast-forward through them; we can only endure them, trying to find some comfort in the love of others and in the knowledge that God has suffered, too.
Think of someone you know who is in pain. Offer a prayer, write a note of support, or do a concrete act of love to help him or her through this dark time.
See all articles in this series.
János Vaszary, "Resuscitation of Lazarus," 1912
Death threatens life in the story of the raising of Lazarus, and János Vaszary's Resuscitation of Lazarus invites us into the scene. This 1912 painting is a striking collision of styles: the figures recall the standardized style of Byzantine icons, while the background, color, and expression have a modern, vivid quality. This is revered tradition unfolding in the here and now, much like the Gospel message seeks to imbue our present day.
Vaszary isn't as much telling the story as inviting us into the heart of it. Instead of a narrative, he offers three key realities symbolized by these figures. On the left, the women crying and imploring are Martha and Mary folding us into the sorrow of fear and loss as their brother is consumed by illness. In the middle, Lazarus hangs naked and limp in the arms of an imposing figure in red—Death. Lazarus's body brings to mind the body of Christ off the cross, an anti-Pietà with a body that is held here not by a sorrowful mother but a triumphant and defiant Death. On the right, Jesus and the disciples enter to stop him.
Jesus, hand held up in blessing, stops Death in his tracks. As his disciples look to him in wonder, Jesus looks out at us, with a steady confidence that humbles Death's assumed triumph. Christ addresses us, the viewers, with eternal truth: "I am the resurrection and the life; whoever believes in me, even if he dies, will live."
A notable expression of the modern style of this icon is the background. Instead of solid gold, we see a dawning sky, another sign of the awakening that is taking place. In the Gospel passage, Jesus teaches the disciples about walking by day versus stumbling at night. With the dawning sky, we can anticipate a steady road ahead, a sure way that leads to salvation and fullness of life. There is powerful symbolism here as Christ's own path will soon lead him to Jerusalem, Golgotha, and the cross. Knowing the way ahead, Jesus' act of faith is profound encouragement to dare to look further down the road and trust in God as the Author of Life.
On this fifth Sunday of Lent, we may be at different points along the way: wailing with the women in our sorrow, in the grip of death like Lazarus, wondering at the possibility of faith like the disciples, or facing a hard road ahead. Christ engages us from the painting directly: I am the Way; follow me to the fullness of life.
The following reflection is based on John 11:1–45.
Reflection
Martha speaks profound sorrow at the death of Lazarus, but it is tinged with blaming Jesus: "Lord, if you had been here, my brother would not have died."
Where do I resent the losses in my life and somehow blame God for them?
Even when Jesus tells Martha, "I am the one who raises the dead to life!" she finds it hard to believe. Where do I doubt that Jesus can bring life?
Jesus stands before the tomb weeping. He places no barriers to his feelings about death. Could he be staring at and facing the tomb of his own death? Can I be with him there? Can I stand before and face the tombs in my daily life?
Jesus shouts the liberating words of life, "Lazarus, come forth!" How is he shouting that to me today?
The grace will come when I experience how my "deaths" will not end in death but in giving glory to God. When I experience how entombed I have been, tied and bound, no longer alive, dead for a long time, I will sense the power of the command of Jesus that I "come forth."
    ~~~Dion Todd
Tobacco Fields Back Home
Now after these things, the Lord also appointed seventy others, and sent them two by two ahead of him into every city and place where he was about to come. Then he said to them, 'The harvest is indeed plentiful, but the laborers are few. Pray therefore to the Lord of the harvest, that he may send out laborers into his harvest.' Luke 10:1 WEB
By the early afternoon, we were covered up to our shoulders in layers of tobacco gum and dirt. I was a cropper, and as we walked along the rows, we cropped the ripened yellow tobacco leaves off and slapped them under our arm. A tractor pulled a trailer, or 'tobacco drag' along a nearby path, and when you had all the tobacco you could carry, you made your way to the trailer and stacked it on until it was full. Then it was taken to the barn of the day, where it was sewn onto sticks by a stringer. The hangers then hung the tobacco sticks on the rafters inside the barn to dry. The barn was then heated with propane burners for a few weeks, until the tobacco had lost about eighty percent of its weight. It was then stripped off the sticks, tied in huge burlap bags, and taken to the auction to sell.
When cropping tobacco, a layer of sticky gum would get on your arms, then the sand from the leaves would stick to that. Then another layer of gum, and another layer of dirt built up until you were covered in something resembling black tar. It was also highly water resistant and very difficult to wash off.
The tobacco cropping season came during the months of July and August in the South where I grew up. That was the time to bring the ripe tobacco into the barns. This was the hottest part of summer, and when you bent down between the rows of tobacco, there was no wind at all. The croppers would often struggle through the intense southern heat.
I remember one day when some of the croppers became sick, partly from the heat and partly from the diesel fumes of the tractor settling over the area. One by one, they began vomiting and falling out, leaving the rest of us to carry their row. We eventually made it through the day and filled the barn, but we sure could have used more help that day.
There is a great harvest in the kingdom of God starting to happen, and true laborers are few. We are approaching the greatest harvest of all time and many of the ones already in the field have become tired, hurt, sick, discouraged, or passed on. Who is going to fill their shoes? Isaiah said: 'Here I am, send me!' (Isaiah 6:8) and God sent him. Wherever you are, pray for more laborers. We could really use some help in the field today.
It was interesting that Jesus sent the laborers out ahead of Him, to the places where He was about to go. In my life, I have always wanted to be where the revival was, but usually ended up being somewhere else while it happened. The laborers prepare the way for the Lord to come. They go ahead of Him into the fields. So if you are a laborer, know that your work is not in vain. We are preparing the way for the Lord of the harvest to come.
Prayer: Heavenly Father I thank You so much for all that You do for me, for allowing me to know You. Please put those in my path that I can reach and give me the words to speak and I will say them. Fill me with a boldness and Your passion for the lost, in the name of Jesus Christ I pray.
Bible Fun Fact: Jesus and Peter once paid taxes with a coin foundin a fish's mouth (Matt. 17:24-27).

Unstoppable!

 'Reflecting Heaven's Glory While Under Attack' — Acts 6:12-15

So [the men debating unsuccessfully with Stephen] persuaded some men to lie about Stephen, saying, "We heard him blaspheme Moses, and even God." This roused the people, the elders, and the teachers of religious law. So they arrested Stephen and brought him before the high council.

The lying witnesses said, "This man is always speaking against the holy Temple and against the law of Moses. We have heard him say that this Jesus of Nazareth will destroy the Temple and change the customs Moses handed down to us."

[When the false witnesses were lying about Stephen,] everyone in the high council stared at Stephen, because his face became as bright as an angel's.
Key Thought
I can't imagine what the accusers of Stephen felt when he reflected the glory of God like an angel. His accusers had stirred themselves into a frenzy of hate and jealousy and enticed some to lie about Stephen. Then they looked at this man they wanted dead and saw something they never expected: "…his face became as bright as an angel's." Stephen's manner was testimony enough, even without the words that he would later speak. God showed his approval in a gloriously powerful way. Truth revealed itself despite the abuse of earthly power by those who hated the truth!
Today's Prayer
Abba Father, we come to you as the one and only living and almighty God. Please exercise your power to bring down every corrupt leader and reveal the truth in our world so marred by injustice and the abuse of power. May we live here on this earth as living witnesses to the character and nature of Jesus. May your Spirit empower us to make our way in the world as Jesus said it, "…as shrewd as snakes and harmless as doves." We ask this in Jesus' name. Amen.
Quotation from Matthew 10:16.
Related Scripture Readings
Daily Wisdom: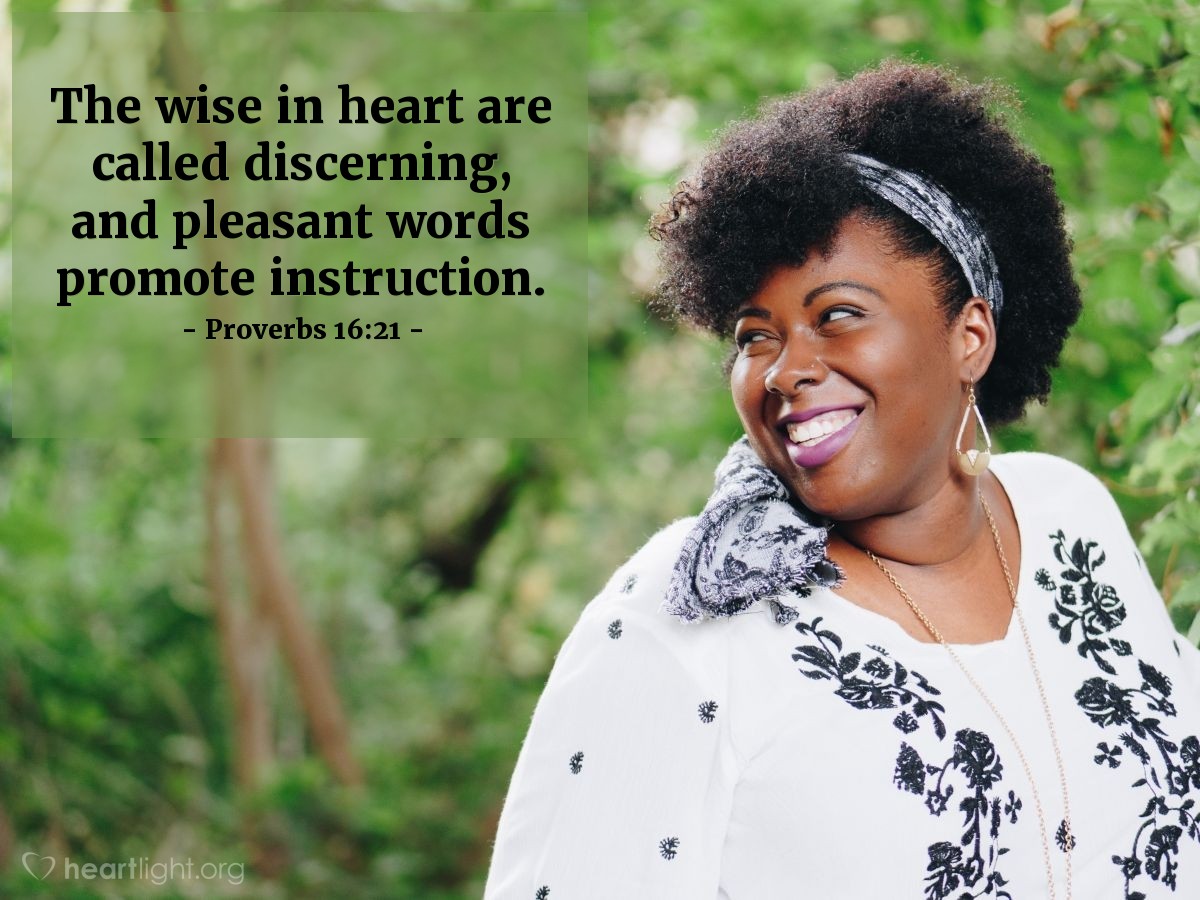 Passion for Praise: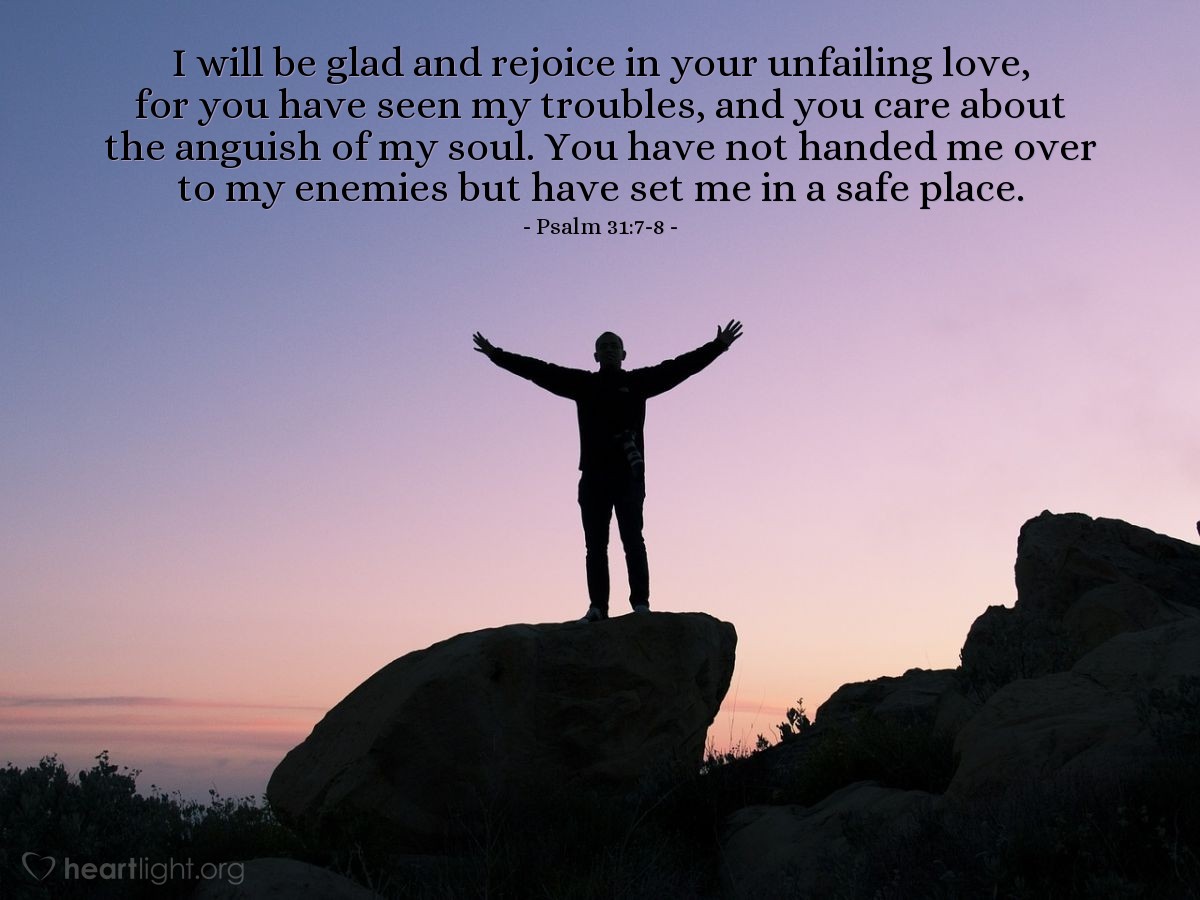 Spiritual Warfare: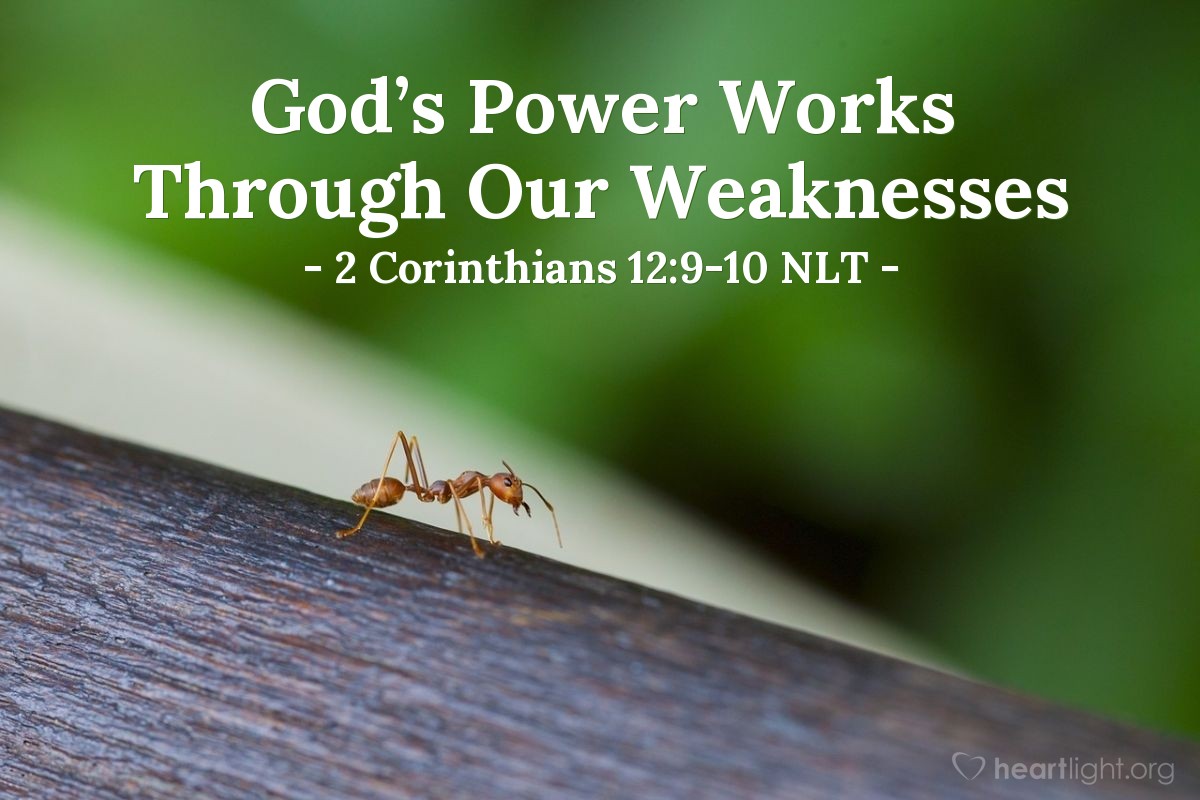 Each time he said, 'My grace is all you need. My power works best in weakness.' So now I am glad to boast about my weaknesses, so that the power of Christ can work through me. That's why I take pleasure in my weaknesses, and in the insults, hardships, persecutions, and troubles that I suffer for Christ. For when I am weak, then I am strong.
Today's Prayer
Lord, open my eyes to how my weaknesses give You the opportunity to show others Your power through my witness. Remind me that others are watching how I respond to the troubles and trials of life, and that they are looking for strength to overcome their own problems. Use my life to encourage others. Bless others through my hardships. Help me to smile and continue being faithful in spite of my persecutions. Shine Your light on others through my life. In Jesus Name, Amen.
kindredkg

grace
What to Do When You Feel Weak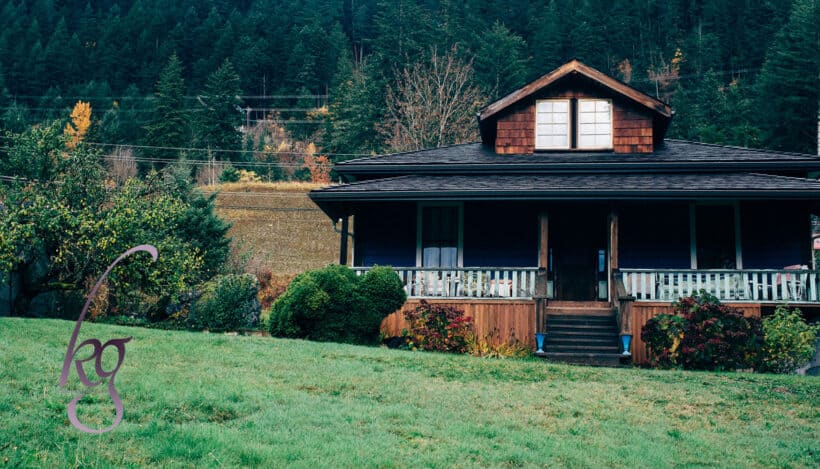 The early spring air felt crisp the morning I stepped off my front stoop and walked down our gravel drive for the last time until summer. On the last stretch of a short run, I slipped on a patch of mud and fell, fracturing my ankle. I called Nate in tears. He came, picked me up, put me in the car, and drove back to the house. My feet wouldn't travel that same stretch of driveway again until August.
I also couldn't walk the stairs or carry the little one. My crutches sank into the path through the woods that neighbored our property. No more nature walks. I couldn't stand in the kitchen to cook dinner unless—like a cooking show—someone did all my prep work. No tucking children into bed, no driving, no activities that didn't allow space for a large, hard boot.
The thought of potential weakness makes me suck in my breath as if preparing for what I resist. Weakness challenges my identity.
Who am I as a mother when I cannot rock toddlers to bed or take big girls out for a cup of tea? Who am I as a responsible member of humanity when I can't clean up my trash, cook a meal, or take a shower by myself? These were on the surface, the low-hanging fruit of my mind. I felt the chaos in my home and the unproductive days in bed. I felt uncertainty about my physical capabilities in the future if the break didn't heal properly. Before this, I didn't realize how much my thriving depended on a few variables, things I assumed were untouchables.
I noticed that my peace and even my sense of connectedness to God was contingent upon my strength.
When the house was clean, I felt peace.
When I could smell fresh air and breathe in the every-day murmurs of nature on a morning run or a walk in the woods, I felt fresh and connected to God.
When I could meet our children's needs, I assessed myself as a good mom. I felt good about my motherhood.
The list went on. Each of these things is not bad—tending to a child's needs and having a daily rhythm of outdoor walks or runs and keeping order—and are things I still incorporate into my day now. But what about when I don't have them?
The question that haunts all of us at times is, "What about when the pillars of my day or my life get challenged?" Two months in a cast revealed my heart to me, as it did God's.
I like myself better when I am strong and productive and on time. I like myself better when I can help myself and help others and feel needed.
And then when I couldn't do those things, I started to see His heart: He likes me when I am weak.
He moves most powerfully when I don't have my strength. He is not impressed by my productivity or my meeting of others' needs or my help. His currency is not my currency, and it took a boot cast, a propped-up ankle, and the same verses I had sung in songs for years but now seeped past my mind into my heart to see His mercy.
I adored God from Psalm 147:10–11 and didn't just acknowledge Him but felt Him run His hands along my cast and look deep into my weak day and take pleasure in me. He liked me when I didn't produce but looked at Him. I learned as I adored. I spoke what didn't feel true when my insides were reeling from all that I couldn't do until I saw the God-man behind those words.
And my hope got whittled to one thing: Him.
I couldn't cook dinner. God, only Your mercy can gather us around a table. I couldn't clean or drive to friends' houses or doctors' appointments or dinner dates: Only Your mercy can cover over what I cannot do.
I felt His kind eyes toward my weakness as I adored, and I watched Him move in to fix and mend and make something of the minutes when I had nothing to bring.
"Adoration invites God into the grit of my life that irritates and exposes, the grit about which He already knows. Adoration is meeting God in the invisible, unaccounted-for minutes I ignore."

-Sara Hagerty in Adore
Read more from Sara in her brand new book, Adore.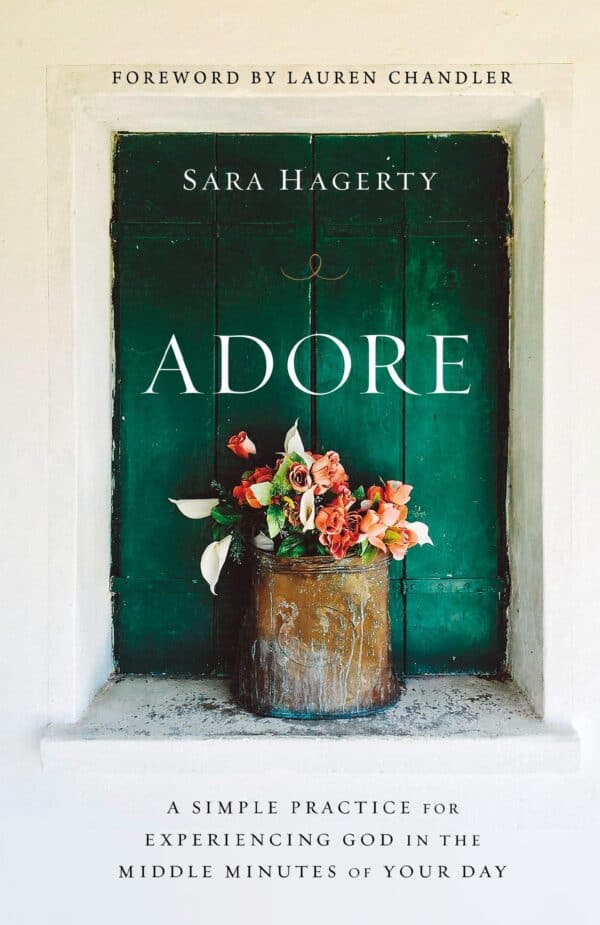 "Like a gentle reminder from a trusted friend, Sara's book Adore nudges our hearts and focus back to God and what it means to be still and know Him anew each day."
Humor…
This is funny??