Daily Prayer for July 12
I have been crucified with Christ and I no longer live, but Christ lives in me. The life I now live in the body, I live by faith in the Son of God, who loved me and gave himself for me. Galatians 2:20, NIV
Almighty God, keep watch over us and lead us fully into the life of Jesus Christ. Let your Son Jesus Christ become truly living within us so that we may be full of joy because we belong to the realm of heaven and may live every day with faith in him. We thank you for all you have let us experience. We thank you with all our hearts that in your great compassion you have showered so much good on us who are not yet perfect in faith. Keep our hearts in the light, we pray. Keep us patient and dedicated, for then more and more can be done among us poor children of earth, to the glory of your name. Amen.
Daily Dig
In your inbox every morning……..
Jesus went directly to those who were outcasts. He much preferred to associate with the "sinners" than with those who proudly set themselves apart. Jesus shared the lot of the downtrodden because God himself loves those rejected by society, those the world deems unworthy. God wants to help all people, and raise the dignity they possess to the light.
Source: Everyone Belongs to God
    ~~~Dion Todd
Happy Days
But the Jews stirred up the devout and prominent women and the chief men of the city, and stirred up a persecution against Paul and Barnabas, and threw them out of their borders. But they shook off the dust of their feet against them, and came to Iconium. The disciples were filled with joy and with the Holy Spirit. Acts 13:50 WEB
Paul and Barnabas traveled from town to town preaching the gospel. Many people believed, but sometimes entire towns threw them out. They did not let it get to them, but shook it off, and went on to the next town. During all of this rejection, Luke wrote 'The disciples were filled with joy and with the Holy Spirit.' Their joy did not come from their circumstances, but instead from their relationship with God.
Paul later wrote 'Not that I speak in respect to lack, for I have learned in whatever state I am, to be content in it. I know how to be humbled, and I know also how to abound' (Philippians 4:11). Paul concentrated on the invisible and eternal knowing that God was in control of His situation. His mind was fixed on Jesus, and that is where his strength came from (v13).
Once after Paul and Silas were beaten and thrown into prison, they were praying and singing hymns to God, when there was a great earthquake. Everyone's chains fell off and all the doors opened, but Paul and Silas remained in their cell until the jailor came (Acts 16:25). Peace, joy, and contentment, was the normal lifestyle for them, even when in prison.
There is a joy and peace obtainable that surpasses our understanding and our circumstances. 'The peace of God, which surpasses all understanding, will guard your hearts and your thoughts in Christ Jesus' (Philippians 4:7).'for the joy of the Lord is your strength' (Nehemiah 8:10). 'You will keep him in perfect peace, whose mind is stayed on You; because he trusts in You' (Isaiah 26:3).
I spent some seasons of my life working in construction. Many of those around me were just working for the weekend, which meant they were pretty miserable during the week while waiting for it to arrive.
There was this one particular guy that had a horrible attitude, he always seemed angry at the world. He watched me for a while, then one day while I was washing my hands before lunch, he walked up and asked me 'Why are you so xxxx happy all the time? What's wrong with you?'
Though I know it would have been a great time to witness, it surprised me as I did not realize that I was that happy myself. It seemed natural enough to me, but after looking around at the others, I could see that it was mostly, just me.
Those days I often worked in a man lift sixty feet in the air, mindlessly painting a giant warehouse. I could not attend church because I worked a twelve hour shift every Sunday while the plant was closed. So I listened to the Bible all day on a set of headphones. It was part of my normal equipment just as my hard hat, spray sock, and respirator. While meditating on the Word, I began praying and praising God under my breath. I just thought of it as a way to pass the time, but it began to change me.
After a while, I was as carefree as an eagle. Pranksters would come by my man lift, switch it to ground control, and bounce me up and down, which when extended out sixty feet in the air can be terrifying, but I could not care less and they eventually lost interest. 'I have put my trust in God. I will not be afraid. What can man do to me?' (Psalms 56:11).
Meditating on God's word calmed my mind and brought His peace and joy in a special way. Spending time praying and praising God brings a deep settled peace that is hard to be shaken. Hearing about the end of the world only brings a smile and a spark of hope that we will soon be with Jesus. God's word is treasure, and it is timeless. It worked for Paul, it worked for me, and it will work for you.
Prayer: Heavenly Father please give me a hunger for Your word and make me able to understand and retain it. Please fill me with Your peace and joy. Help me to focus on eternal things and not the temporary, in the name of Jesus Christ I pray. Amen!

Unstoppable!

 'Heading to Mary's House'

Peter finally came to his senses [after the angel released him from prison]. "It's really true!" he said. "The Lord has sent his angel and saved me from Herod and from what the Jewish leaders had planned to do to me!"

When he realized this, he went to the home of Mary, the mother of John Mark, where many were gathered for prayer.

— Acts 12:11-12 NLT
Key Thought
Let me make two simple observations for these verses:
Peter "came to his senses" and realized that God had truly delivered him from Herod's grasp through the work of the angel and as an answer to the prayers of other believers.
Peter knew where to go to find the people who were praying for his deliverance: Mary's house, "where many were gathered for prayer"!
Our houses can be described in many ways — beautiful, expensive, simple, craftsman, colonial, modern, etc. Shouldn't we strive for our homes to be known like Mary's home was known? I want my home to be known as a place where believers gather to pray big prayers, even seemingly impossible prayers, to God!
Today's Prayer
O Father, may my home be known as a place of prayer. May my family be a family where believers feel welcomed and wanted. May our friends join us as we cry out to you. Our heart desires that your Kingdom come and that your will be done here on earth as it is in heaven. In Jesus' name, I pray. Amen.
Related Scripture Readings
What Jesus Did!

 'A Childlike Kind of Faith'

When Jesus saw [the disciples stopping parents from bringing children to him], he was angry with his disciples. He said to them, "Let the children come to me. Don't stop them! For the Kingdom of God belongs to those who are like these children. I tell you the truth, anyone who doesn't receive the Kingdom of God like a child will never enter it."
Key Thought
We must have childlike faith to be a part of God's Kingdom. The Kingdom requires a "dangerous innocence" of us — a true purity and a genuine humility. Jesus demonstrated these childlike qualities. He wants us to travel along our religious journey as trusting children of God, not necessarily as worldly wise theologically astute scholars. Now don't take me wrong; we are not told to throw away our brains to become Christians. However, we are taught to live in a way that is often upside down to the world and its conventional wisdom. To do so, we need to go back and experience the gift of salvation, the magnificence of God, and the wonders of grace as wide-eyed, excitable children who trust in God's ways, God's love, and God's care.
Today's Prayer
O God, make my heart childlike and my faith fresh and new each day. In Jesus' name. Amen.
Related Scripture Readings
Daily Wisdom: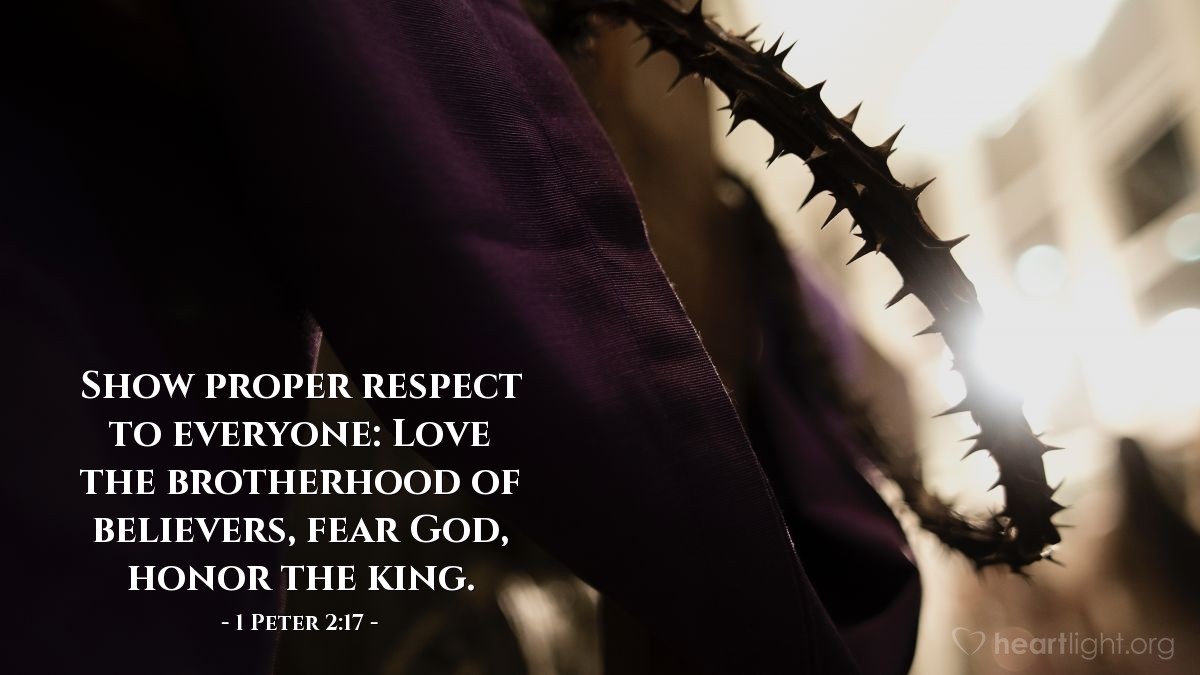 Passion for Praise:

 'For Those Who Search'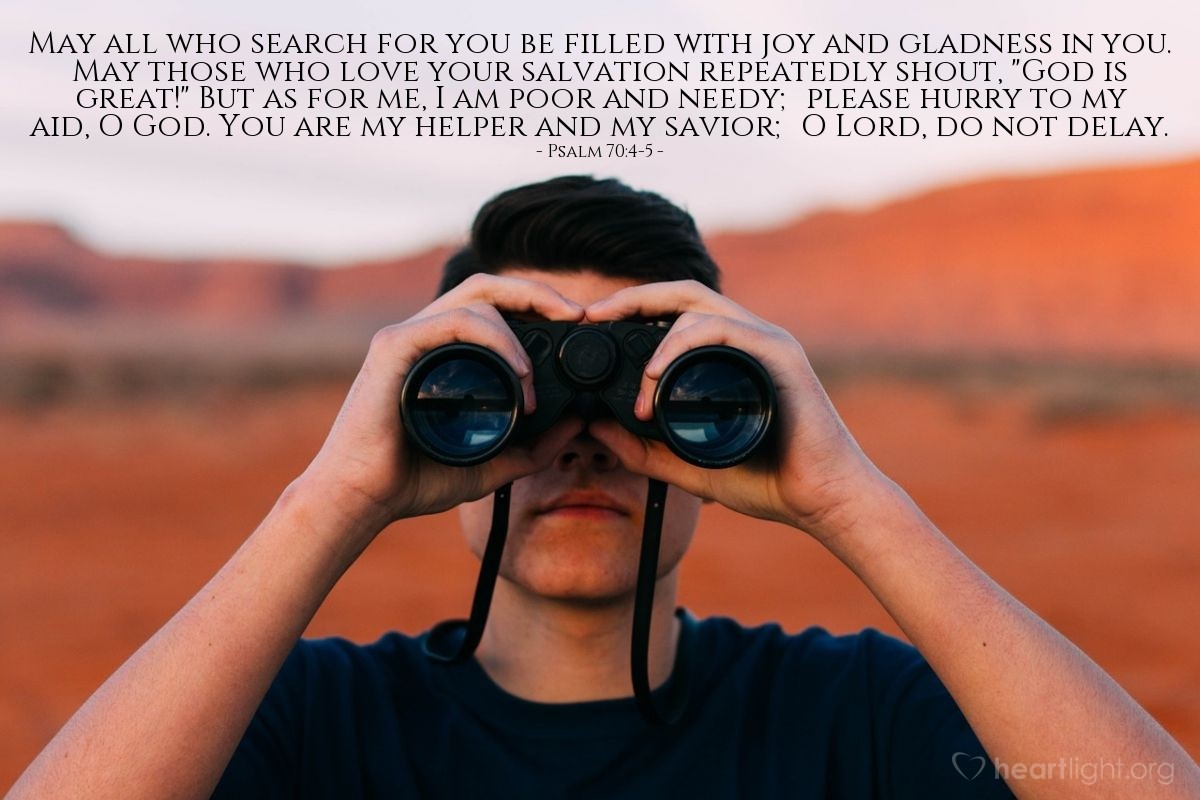 A Year with Jesus:

 'Wisdom, Peace, and Righteousness'
Note from Jesus
Dear Disciple,
When James wrote about wisdom and peace, he used terms whose meanings were rooted in what you call the Old Testament — The Law, the Prophets, and the Writings. To fully appreciate what James taught in today's verses, you must understand what peace and wisdom meant when he used those terms.
For James, peace was much more than an absence of conflict. Peace was living in true shalom — the state of blessing and wholesomeness in life that comes when people live in complete harmony with the Father's will. For James, righteousness would flourish, and compassion would be displayed when the joy of right living produced the place and the people where the Father's presence would love to dwell. True shalom for them, and for you, is the blessing of living Our life in your world. True shalom is experiencing the blessedness of the Father's presence and rule over every area of life.
For James, wisdom was not some theoretical attainment of mental excellence, but a life full of all the goodness and true shalom that come from the Father's grace. This life flowed out of a person's commitment to living the Father's values in his or her world. James emphasized that this wisdom would be shown by a disciple's example of good living. This kind of wisdom was not just the subject of some philosophical speculation. Instead, this true wisdom was about life being tuned to Our righteous character and gracious compassion. Wisdom would mean living in reverential respect for Us and living in harmony with your neighbor. This reverential respect for Us would then be the beginning of all wisdom:
The fear of the Lord is the beginning of wisdom;
all those who practice it have a good understanding.
(Psalm 111:10 ESV)
What I taught as the two greatest commands captures both elements of true wisdom — living in reverential respect for the Father and loving your neighbor:
And again the crowd was amazed. They were astonished at His [Jesus'] teaching.

Hearing that Jesus had silenced the Sadducees, a group of Pharisees met to consider new questions that might trip up Jesus. A legal expert thought of one that would certainly stump Him.

Pharisees:

Teacher, of all the laws, which commandment is the greatest?

Jesus (quoting Scripture):

"Love the Eternal One your God with all your heart and all your soul and all your mind." This is the first and greatest commandment. And the second is nearly as important, "Love your neighbor as yourself." The rest of the law, and all the teachings of the prophets, are but variations on these themes.
Wisdom springs from living these two principles. However, when jealousy and selfish ambition are found in a group or culture, true wisdom and peace go out the window. Chaos and evil flourish as each person competes for his or her own interest at the expense of others. Loving God is soon forgotten in the love of power, the pursuit of prestige, and the jockeying for position. Love of neighbor is ignored in the rush to love oneself and forget about others.
This kind of selfishness that masquerades as worldly wisdom has given the world the mess in which it finds itself. This selfishness is one way the evil one captures the hearts of people and enslaves them in what is not wise. This kind of selfishness never brings true wisdom and true shalom. So rather than focusing on what you can get for yourself, center your focus on how to live the character and compassion that you see in Me. Also, notice the characteristics that James said are from the devil and should not be found among My disciples:
Jealousy
Selfishness, selfish ambition
Pride
Now notice the character qualities that James urges you to pursue:
Purity
Peace
Gentleness
Deference
Mercy
Other good fruits untainted by hypocrisy
Make this last set of attributes the goal to bring forth in your daily life. If you do so, you will find yourself in God's peace, the true shalom that brings real life. This harmony is true wisdom!
Verses to Live
James spoke in clear, simple language to remind you that heavenly wisdom and true peace will be found where the life of God is lived. Righteousness is the natural result of such a life lived in the Spirit.
Who in your community is understanding and wise? Let his example, which is marked by wisdom and gentleness, blaze a trail for others. If your heart is one that bleeds dark streams of jealousy and selfishness, do not be so proud that you ignore your depraved state. The wisdom of this world should never be mistaken for heavenly wisdom; it originates below in the earthly realms, with the demons. Any place where you find jealousy and selfish ambition, you will discover chaos and evil thriving under its rule. Heavenly wisdom centers on purity, peace, gentleness, deference, mercy, and other good fruits untainted by hypocrisy. The seed that flowers into righteousness will always be planted in peace by those who embrace peace.
(James 3:13-18)
Response in Prayer
O Father, please bless me with true wisdom. I commit to pursuing the things that bring peace and demonstrate wise living. Forgive me for the times that I have put my own desires and my own yearning for things and status above developing the true wisdom that brings peace. In Jesus' name, I pray. Amen.
When God Wants Change, What Does He Mean?
The word change usually makes us think about our circumstances, or things that involve other people, not changes in us. But what about when God wants change? What is He looking for?
What Does Change Mean to You?
What does the word "change" mean to you? Most of us, if we admit it, think about our circumstances. Things like "government," "culture," "personal health," "personal finances," "job," "family,"or  "difficult relationships," may trigger a desire for some kind of change in things that affect us.
The pandemic we are living in right now has brought changes to our world and to our lives that we never imagined.
Everyone and everything else should change. But us? Hmm. That's not usually my first thought. How about you? No matter what our circumstances, we're not always interested in God changing us.
Does God Even Care?
It's not that God doesn't care about your circumstances. The God who created this world–and your own unique self–loves you so much He sent His own Son, Jesus, to die for you. He does care.
But God knows everything about us: our potential, our strengths, our weaknesses, our past, and our future. He has a plan for our lives, and He knows better than us how to accomplish that plan. It's a good plan, one that will not only be good for us, but one that will bring Him glory. Ultimately, He wants to help us reflect Jesus in our lives, more and more.
And when true heart change happens in us, as we allow God to change our character, we actually free God's power to change our world and maybe even circumstances for the better, one by one.
Trust Is the Key
While God is more interested in changing us than in changing our personal circumstances, He often does both. Sometimes when we change, our circumstances may change as a natural result. But whether they do or not, trusting God means welcoming His changes–whatever they are–and cooperating with Him to make them happen, even if those changes are painful. Here's a daily prayer that might help you invite God to change whatever He wants in your life to make you more like Him:
Personal Daily Prayer for Change
Lord Jesus, I invite You to take control of my life in every way. You created me; you formed me in Your own image. And I truly want my life to reflect Yours. Create in me a clean heart. Change anything in me that needs changing or rearranging. Show me areas that are harmful and habits that keep me from being all you want me to be. If You also choose to change my circumstances, those around me, or things affecting me as well, then I'll be grateful. And as Your child, I'm eager for You to do that. But either way, I trust You to bring the needed changes in my life so I can be more like You.
Day-votedly Yours,
Rebecca
Create in me a new, clean heart, O God, filled with clean thoughts and right desires, (Psalm 51:10, TLB).
It's Your Turn
What about you? Will you make it your daily prayer for God to change you to make you more like Him? I love to hear from readers. You can always write me through my contact page. Just fill out the basic name and address info, and then the email will come to me. Your name or info will never be shared with anyone without your permission.
Share This Post with Others
National Eat Your Jello Day – July 12, 2020
Jell-O was trademarked in New York in 1897, but it's a classic dessert we all know and love! The best part of it is that it comes in a variety of flavors and can be combined with many ingredients for a simple, delicious treat. Thanks to some very crafty chefs, we can also from Jell-O into fun shapes. So get ready to celebrate July 12 by eating Jell-O just the way you like it!
NATIONAL EAT YOUR JELLO DAY TIMELINE
2017

164.17 million Jell-O snacks were eaten in the U.S.

Jell-O and other gelatin snacks were eaten by a whopping 164.17 million. That's huge number!

2001

Jell-O became an official Utah state snack

Utah State Representative Leonard M. Blackham wrote legislation recognizing Jell-O as an official state snack.

1950's

Jell-O shots where invented

An American musician named Tom Lehrer invented the idea of adding vodka or rum into Jell-O

1930

Lime Jell-O was invented

Though Jell-O had come up with a few flavors in the 1900s, the still-popular lime Jell-O was invented in 1930

1845

Jell-O was trademarked

Though the nutritional value of gelatin had been recognized since the 1800s, Jell-O wasn't trademarked until 1897
NATIONAL EAT YOUR JELLO DAY ACTIVITIES
Make your own Jell-O

Thankfully you can find Jell-O packets in almost any grocery store. Follow the instructions on the container and you're good to go! If you're feeling adventurous, you can find gelatin in some stores and try making it from scratch!

Eat Jell-O, of course!

If you don't feel like making your own Jell-O for this special day you'll most likely find it as a desert in some restaurants, or you can find it ready-made in most stores. You may also have some leftover Jell-O from a party or gathering, so you can finish whatever you have.

Get crafty with Jell-O powder

You can use Jell-O for other things besides eating. It's possible to make a Jell-O-powered fuel cell battery, homemade Play-Doh, and even lipgloss. With the right tutorial, the possibilities are endless!
WHY WE LOVE NATIONAL EAT YOUR JELLO DAY
There's something for everyone.

Jell-O can be made in almost any flavor, color, and shape. Plus, you can add fruits, nuts, and even alcohol (as long as you're of legal age). You can always make Jell-O in a way that makes everyone happy.

Gelatin is good for you!

Gelatin is the ingredient that gives Jell-O its texture. Since it comes from animals, it's usually high in proteins. It also contains collagen, which is great for your skin, hair, and bones. Plus, it's low in calories.

Jell-O is fun!

It's rare to be able to eat something in your favorite color or that has such a cool texture. You can have fun while making Jell-O by using fun containers and choosing a color and flavor you like.
Humor—
Have a beautiful day!