Christoph Friedrich Blumhardt
May the God of hope fill you with all joy and peace as you trust in him, so that you may overflow with hope by the power of the Holy Spirit. Romans 15:13, NIV
Lord our God, grant us courageous hearts, we pray. Grant that we may always find our strength and support in you and may bear with joy whatever the present days bring us. No matter how much evil occurs, we know that your peace is already prepared. We await your peace, and we are allowed to believe that everything will turn out according to your will and according to the good you have prepared for your people on earth. For in faith your people overcome the world, and at last through their faith others too may receive something from you and may lift their eyes to you, the God of truth, of justice, of salvation, and of peace. Be with us every day, Lord God. Help us. Bless us, and bless all who try to bring help where it is needed. Let us praise your name forevermore! Amen.
Blessed Jutta of Thuringia
Saint of the Day for 
June 25
(d. c. 1260)
https://www.franciscanmedia.org/wp-content/uploads/2016/08/SODJun25.mp3
Blessed Jutta of Thuringia's Story
Today's patroness of Prussia began her life amidst luxury and power but died the death of a simple servant of the poor.
In truth, virtue and piety were always of prime importance to Jutta and her husband, both of noble rank. The two were set to make a pilgrimage together to the holy places in Jerusalem, but her husband died on the way. The newly widowed Jutta, after taking care to provide for her children, resolved to live in a manner she felt was utterly pleasing to God. She disposed of the costly clothes, jewels, and furniture befitting one of her rank, and became a Secular Franciscan, taking on the simple garment of a religious.
From that point her life was utterly devoted to others: caring for the sick, particularly lepers; tending to the poor, whom she visited in their hovels; helping the crippled and blind with whom she shared her own home. Many of the townspeople of Thuringia laughed at how the once-distinguished lady now spent all her time. But Jutta saw the face of God in the poor and felt honored to render whatever services she could.
About the year 1260, not long before her death, Jutta lived near the non-Christians in eastern Germany. There she built a small hermitage and prayed unceasingly for their conversion. She has been venerated for centuries as the special patron of Prussia.
---
Reflection
Jesus once said that a camel can pass through a needle's eye more easily than a rich person can enter God's realm. That's pretty scary news for us. We may not have great fortunes, but we who live in the West enjoy a share of the world's goods that people in the rest of the world cannot imagine. Much to the amusement of her neighbors, Jutta disposed of her wealth after her husband's death and devoted her life to caring for those who had no means. Should we follow her example, people will probably laugh at us, too. But God will smile.
---
Blessed Jutta of Thuringia is the Patron Saint of:
Prussia
Verse of the Day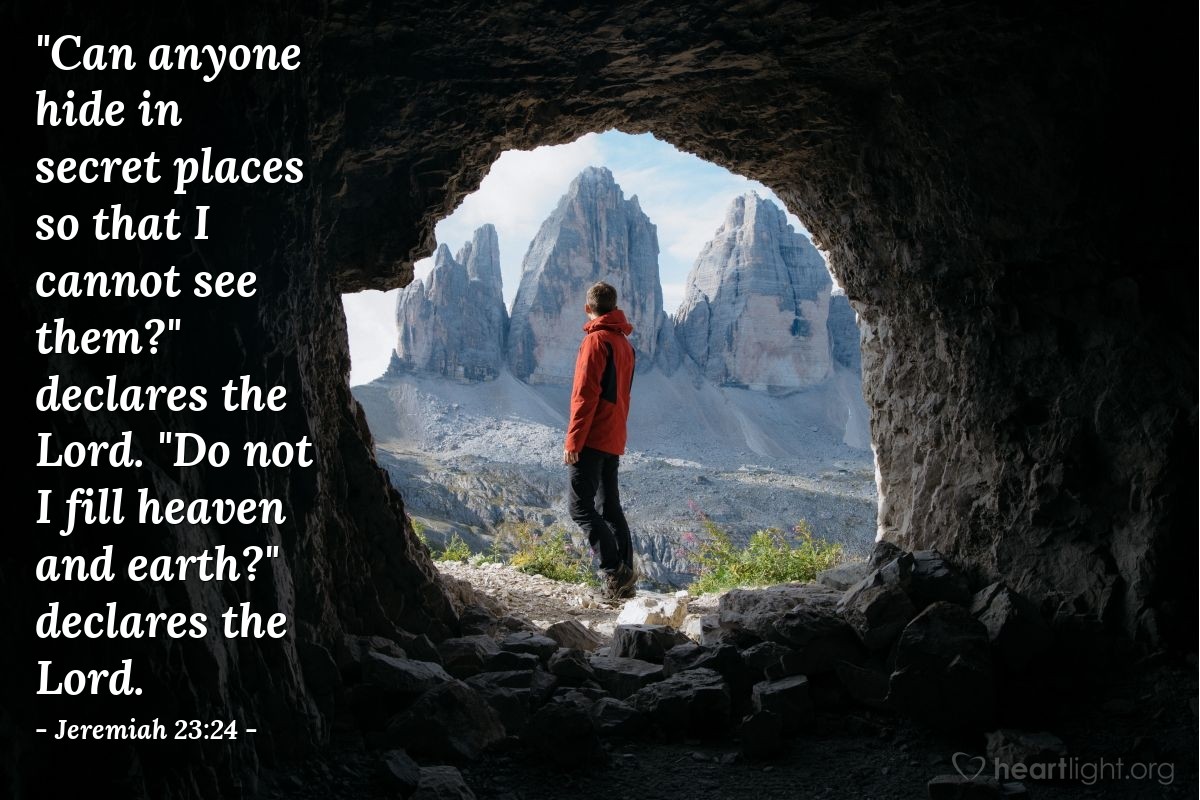 Thoughts on Today's Verse…
There is no hiding from God, but for those who willingly and joyously seek him, there is comfort, power, and hope in knowing his presence is ever with us.
My Prayer…
El Shaddai, God of the Mountains, be my source of strength as I seek your presence. I acknowledge your presence in all I do and everywhere I go. Please, don't just keep blessing me, but use me to bless others in your name. In Jesus' name I pray. Amen.
NATIONAL CATFISH DAY
National Catfish Day is observed each year on June 25.   In the United States, this national observance celebrates the value of farm-raised catfish.
A diverse group of ray-finned fish, catfish are named for their prominent barbels, which resemble cat whiskers.
Catfish are nocturnal.
They don't have scales.
Catfish are a good source of Vitamin D.
In the United States, the most commonly eaten species are the channel catfish and the blue catfish.
A favorite dish of many Americans, this fine finned fish can be prepared many different ways.  A traditional preparation method in the United States is to coat it with cornmeal and fry it.
In 1986, catfish comprised the third highest volume of finned fish consumed in the United States.
HOW TO OBSERVE
Try this delicious recipe for catfish:
Use #NationalCatfishDay to share on social media.
HISTORY
President Ronald Reagan designated June 25 as National Catfish Day in 1987 by Presidential Proclamation after Congress called for the day to be established by Joint Resolution 178.
My Spiritual Awakening and Healing…
June 24, 2018 by The Princess
The rhythmic sound of the ventilator combined with the steady beep of the monitors was hypnotic. Sounds that had become much too familiar as I slept in the room next to his.
'He can't understand you," the doctors had said apologetically when they saw me speaking to him attempting to pour the endless stream of love I felt upon him.   I read him stories of healing, letters I had written to him in the sleepless nights, and sang softly in his ear.  "He is unresponsive," they would say as they rubbed their knuckle into his sternum.
"They know so much," I thought, "And yet so very little."   After all that had happened leading up to this I still didn't quite understand how others could not hear what I heard and feel what I could feel.  This man, this now frail and tiny man was communicating with me more clearly than I had ever known.  I could feel his presence within me and a peace in him that the appearance would belie.
Looking down at this tiny, impossibly frail body swaddled in hospital blankets, I mused that nobody would ever believe the harshness his voice once had, or the terror he would strike in the hearts of his three youngest children each night when we saw the headlights of his car from the picture window. We would sound the alert that he was home.  Each of us would scamper, checking that things were in order hoping we hadn't forgotten anything that might set him off. We knew the later it was the more alcohol he had poured down his throat.  We would try greeting him in a sweet tone, hoping we could assuage the unpredictable outbursts of anger that might erupt at any moment and for any reason.
Dad was a harsh man and a hard worker. The depression era had instilled in him that stern, matter-of-fact view of life that comes from deep struggle. His hands were hands that were accustomed to hard labor and his words seldom suggested that love was behind them. He attempted to assuage his deep pain with a steady stream of alcohol each night and was expert at criticism and blaming his six children for his troubles. I spent many years in anger and felt a seething hatred for him for both all that he wasn't and for all that he was.
He could have split us up after mom died–six children, five of them still at home, the youngest only seven. He had never done a load of laundry or cooked a meal. I don't even remember his presence much prior to her passing; he was just the man who yelled at night and threw things…including our mother. I was often told that he was having a bad diabetic reaction. "What a terrible disease that must be," I would think with my young, trusting mind. He didn't get much better through my teen years and would often throw my things out on the lawn in reaction to just about anything.  He kicked me out at sixteen.  I lived in a basement rented room while working at McDonald's but I was eventually allowed back.
I left dad's house as soon as I could but the deep wounds went with me. I managed to put myself through college while drinking, doing drugs, and living wherever I could find a floor, but never staying long enough to get too close to anyone. I clung to the tiniest hope for a different experience. I looked in education, in men, in status and money, but the emptiness, the gaping hole and hunger within was not to be satiated by my many attempts.
I knew nothing of a spiritual approach to life and categorically rejected the Judeo-Christian perspective of my upbringing; I saw religion merely as a means to control the masses and the beliefs held by adherents as pure myth at best. God and that Jesus guy were judgmental figures somewhere "out there" that were pointing a finger at me and not a source of comfort in the least.
At one point I finally began to search in the one place, and I do mean probably the only place that I hadn't tried…within. This new inward journey offered the first glimmer of hope in my young and torturous life and immediately showed promise where all other efforts had failed. I clung to it as an infant to her mother's breast contentedly drinking of the sublime nectar. I did not know that I had begun the only journey that has meaning in the world. I did not know that my life would soon never be the same. I had no idea that everything that I had ever experienced was leading me to this. And I did not know that very soon the world was going to unzip and lay open for me to see beyond her façade; that I would see with new eyes and hear with new ears and that those things that I once struggled to understand would soon feel more natural than breathing.
A day came that seemed like any other day but by day's end everything changed.  Everything changed as a light beyond words found it's way through a tiny crack in my mind.  This light had always been patiently waiting for me to let it in.  In a moment I came to see inexplicable things and I understood that all those that I thought had failed me by not being what I thought I needed them to be, were not responsible for my emptiness. I saw that these many people, these many things, could not ever give me what I longed for and neither did they need to—they could not because what I was looking for had been within me all along. I had simply not known where to look. I had been fishing in fields believing that I could be fed. My hunger pains were silenced as I was led to the water and it was always in the only place it ever is…within.
After this day I lived in a place, a state that simply cannot be described. It is an awareness of things that the world is blind to but that is all around. It is a state of nearly constant wonder, amazement and deep peace. I saw everything differently and began to see dad through kinder, gentler eyes as well. I actually began to enjoy him.  But even in this new light dad's house was still not a place I ever wanted to live again. God had other plans.
I am able to hear a very clear Voice of sorts that often leads me very specifically. I refer to it as a voice for lack of a better word but it's more like deep inner impressions that are very clear, unmistakable, and that come with a sense of conviction and understanding. Although I was often able to hear this Voice guiding me, sometimes we are not as open to this kind of direct guidance and circumstances must squeeze us in the direction we are to follow.  I began to be squeezed. I found myself with no where to live and not one door open but dad's house. I would not have ever "voluntarily" lived with him again, but without another option, there I was.
One day, as I sat on his sofa, I whispered to myself in confusion, "Why am I here?" The Voice that I had come to recognize and trust responded instantly, "You are here for a reason." With that I felt a peace and calm come over me; a confidence found only in the Divine and thought, "Well, that's all I need to know."
Dad and I baked cookies together and decorated cakes. I redecorated his house over the next months from top to bottom while he looked over my shoulder teasing me. One day, as he stood in the doorway to the living room playfully joked with me, I looked up at him and I knew he would be leaving soon. Not long after he was in the hospital taking his last breath while I spoke softly in his ear.
In those last months I came to utterly and completely ADORE him! I had seen the truth of him during this time and our relationship was wholly transformed. His inestimable value was so evident to me it literally took my breath away. Everybody saw that something had occurred between us and even while lying in the hospital seemingly no longer able to communicate, he spoke to me of many things, including when he would pass. He became this peaceful presence that even others remarked about in amazement.
Dad thought success was found in making money and having things…things that he never had. He didn't understand why I didn't find these things important or why I was interested in spirituality. The morning after his transition I awoke to him singing within me; he was a man of few words and when he spoke it was usually harsh and critical so it took me a moment to make the connection between what I was hearing within that morning and dad. It was him but not the man I had known; the presence was sweet and kind and came with gentle laughter.
"My beloved daughter, friend and spiritual sister," he said, "you helped me more than you can comprehend right now when I did not know. You are doing the only thing that has any importance, and now I am here to help you."
A deep sense of grief descended upon me after he passed even though he often made his presence known to me. Still quite young, I felt utterly orphaned in the world. I had seen such beauty in my father, the man that I had detested, and now he was gone. There was a black hole of grief that I thought I might never see through.
The darkness continued for a long time but then one day the heavy grief that I thought might never be healed was lifted from me like a feather.  I realized that day as I sat looking at the portrait I painted of him that there is not one thing in this world that is permanent…not one. All form ends. The purpose was never to have form last forever but to raise our thoughts to what does last forever. It is to bring us to the place where we walk in the conscious awareness of what lies beyond all form and is forever safe and does live forever. I could see that right now we–dad and I and all–are forever enveloped in Love. We simply cannot be apart. It is just impossible.
I would not change one thing. I would not change one of the thousands of tears I've shed. I would not, for they were the elevator to Everything.

(Note: The image is a picture of the portrait I painted of my dad after he passed.  One of the many things that happened after I began having profound spiritual experiences is that I found I could paint just about anything.)
Yesterday, for some moments, I actually forgot who I am!  This has been happening lately and it scares me.  I found myself hiding, as I did when I was a small child, behind my linen wardrobe…..my one son walked by, not seeing me, and I wondered, "Who is HE?  Am I hiding from HIM?"  Then, just as quickly, I came out of my awful daze…….hat is happening to me?  Dementia??  Is it from all the depression I've been suffering through?  Is it all the hurt placed on me by people?  Please, Lord, don't let me fade away!  Give my life back some sort of meaning……..