Christoph Friedrich Blumhardt
Sacrifice thank offerings to God, fulfill your vows to the Most High, and call on me in the day of trouble; I will deliver you, and you will honor me. Psalm 50:14–15, NIV
Dear Father in heaven, we want to praise you together and to thank you with all our hearts for your goodness and your deliverance from our many needs. Accept our thanks, and help us go on our way with ever joyful hearts. Make us ready for whatever you have prepared for us, your children. Bless us in our individual lives and bless us in our community. Let your Spirit shed its rays into all places to comfort people's hearts and to restore and strengthen their faith. May your name be praised forevermore. Amen.
TODAY'S DAILY DIG
God poured out over all flesh the gift he had foreordained, his Spirit, to oppose the mighty spirits of unbelief and perversity. In this way he breathed new life into diseased faith. In this way he freed the ancient documents from all obscurity and ambiguity by the bright light of the Word and of understanding.…Accordingly, the Holy Spirit now really has overcome all the old ambiguities of obscure parables by proclaiming openly and clearly the entire mystery through the new prophecy flowing in copious streams from him. If you draw from his springs, you will never thirst for any other teaching; no feverish craving after questions will ever consume you again.
Source: The Early Christians
Verse of the Day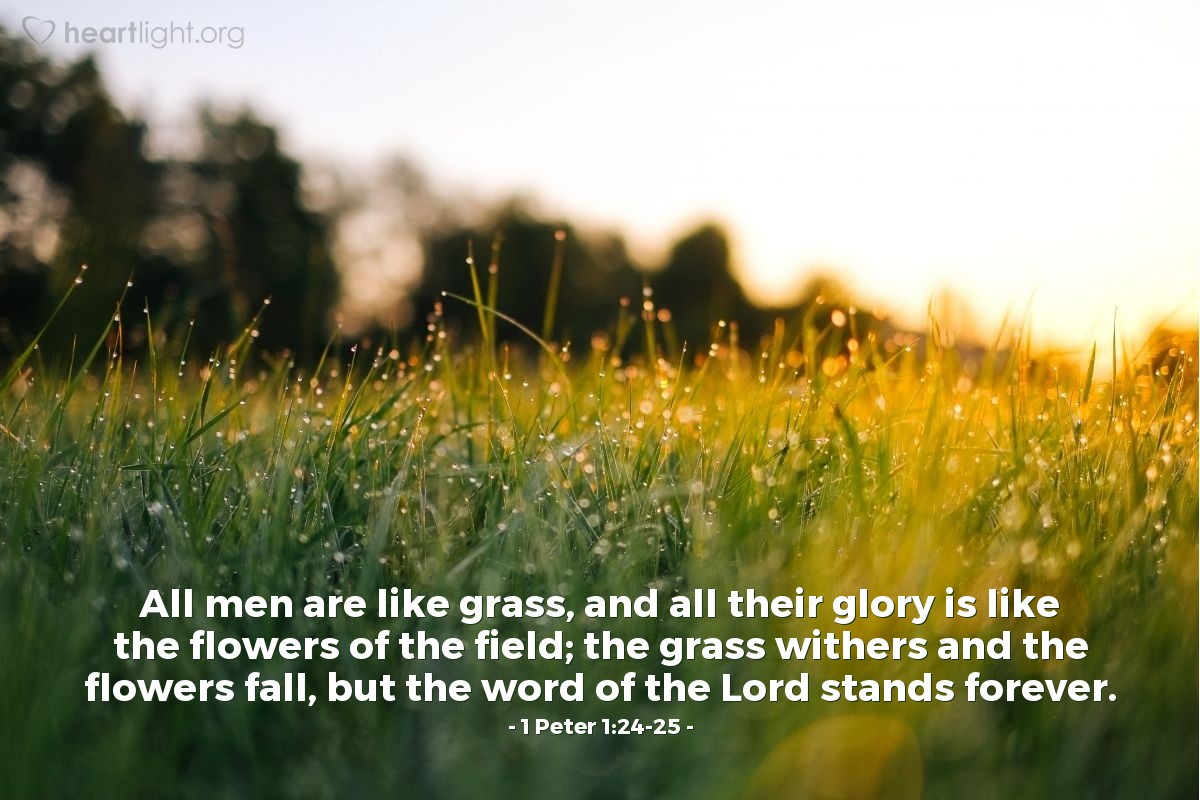 Thoughts on Today's Verse…
As the seasons change, the leaves fall, and the grass dies, we are reminded once again of how short our lives are. Despite the rapid advancements of technology, our deepest needs are addressed only by the eternal and proven will of God in Scripture. Whether you get your Scripture from the Bible on your mobile device or from an old family Bible, access it today. Don't you need a dose of the eternal today?
My Prayer…
As I age, I am constantly reminded, O God, of my transitory stay on earth and your eternal reign in heaven. Give me a sense of my place before you as I seek your will in your Word. In Jesus' name I pray. Amen.

God's Holy Fire:

 'I Know All the Things You Do'

[In his revelation to John, Jesus said,] "Write this letter to the angel of the church in Sardis. This is the message from the one who has the sevenfold Spirit of God and the seven stars: 'I know all the things you do, and that you have a reputation for being alive — but you are dead. Wake up! Strengthen what little remains, for even what is left is almost dead. I find that your actions do not meet the requirements of my God.'"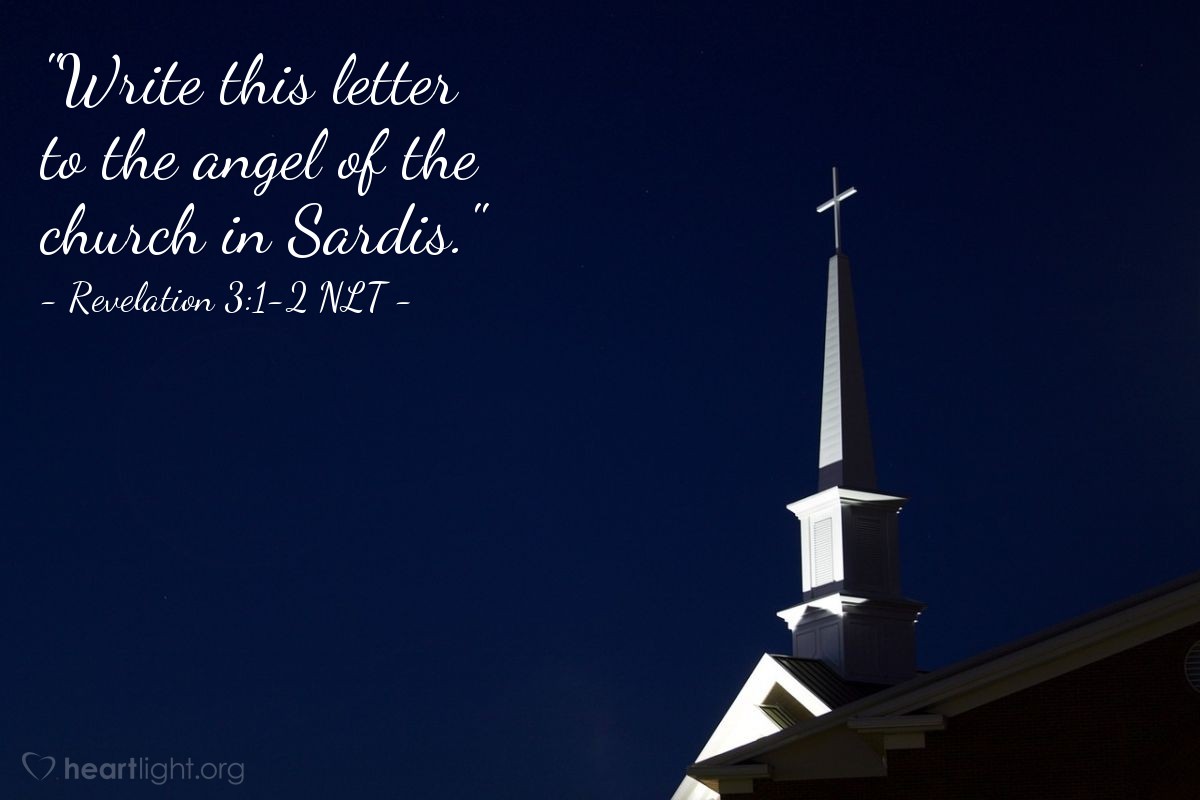 Key Thought
Jesus knows us. He knows us personally. He knows our churches. He knows our strengths and our weaknesses. He knows our opportunities and our obstacles. The letters to the seven churches in Revelation chapters 2 and 3 are Jesus' way of saying that he knows us, loves us, and wants us to follow him faithfully. The Holy Spirit, in 
"sevenfold"
 perfection, is Jesus' presence in us and among us. The Spirit is a divine partner with Jesus 
knowing us, convicting us, being present in us
, and empowering us to be all that God wants us to be. The Spirit works in us, through us, and for us. So let's be challenged to listen and respond with obedience to what Jesus says to us and what the Spirit makes clear to us so that we can truly live as Jesus' bodily presence in the world.
Today's Prayer
Almighty God, I pray that you will wake up your people through the message of Jesus and the work of the Holy Spirit among us. In the name of the Lord Jesus, I pray. Amen.
Passion for Praise:

 'It's Time!'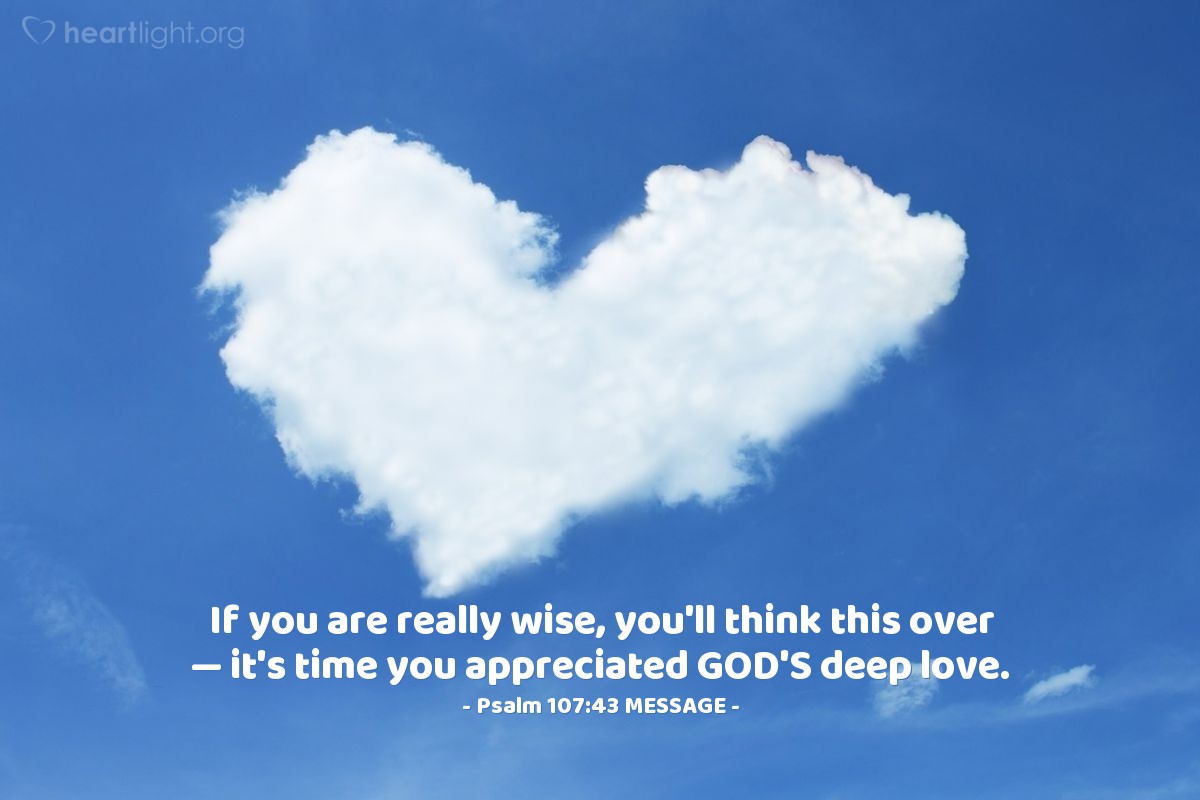 Spiritual Warfare:

 'Trust God: He Knows What He's Doing'

God's Power for Our Battles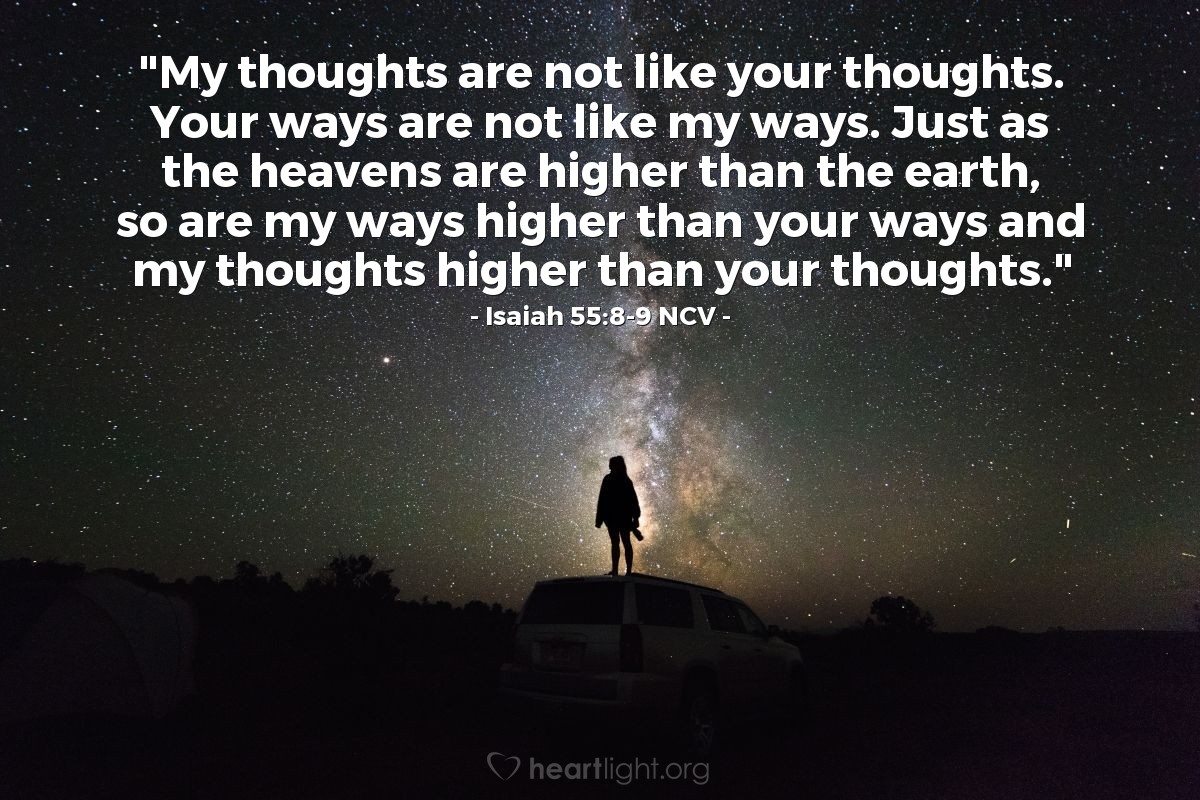 Lord, forgive me for always trying to get You to fulfill MY agenda rather than being submissive to Your ways and methods and Your perfect timing. I usually think I have all the answers I need, but the truth is that I am usually ignorant of what really needs to happen and clueless as to how to make a difference. So I'm asking You today to use me to bring You glory in SPITE of my inability to know what to do or how to help. Lead me on this journey and teach me Your plans along the way. In Jesus' Name, Amen.
Note from Jesus:
'Be Faithful!'
Dear Friend,
I want you to feel the urgency in today's words that Paul wrote to Timothy. They come from the last of Paul's writings to his son in the faith. These words plead for Timothy to join Paul in his life of faith in two specific ways:
Be faithful to the call he had received to proclaim My message and do it with truth and passion.
Join Paul in his last days so that he could be of assistance to Paul and so that these days could have an impact on the lost world and strengthen new churches to live for Me and the kingdom of God.
Paul was realistic but not pessimistic about the future awaiting him. He was fully confident in My coming with power and glory. This faith in Me helped him to remain loyal to Me, to be strong in his faith, to be inspired by the Scriptures, and to be faithful even to death. He was urging Timothy to be faithful, too.
As Paul often did at the end of his letters, he mentioned people who were both faithful and unfaithful to him and to Me. This is just another way for Paul to appeal to Timothy's heart and challenge him to do the following:
[S]tay focused and be alert at all times.
Accomplish the good work of an evangelist, and complete the ministry to which you 

[Timothy]

 have been called.
[L]ove and long for His 

[My]

 appearing.
Come to me 

[Paul]

 … as soon as you can.
Bring Mark with you because he is useful in this work and will help look after me.
[P]ick up the cloak I 

[Paul]

 left with Carpus in Troas, and bring the scrolls — especially the parchments.
[W]atch your back because he 

[Alexander the metal worker]

 has gone overboard to oppose our message.
Give my regards to Prisca, Aquila, and everyone over at Onesiphorus's house.
At first glance, these excerpts from the verses below appear to be miscellaneous instructions and requests thrown in at the end of a letter. However, look closely, and you will see Paul's focus on being faithful in every area of life: to all the people in his life, to the ministry he had been called to complete, and to the people to whom I had called him to mentor and serve.
Most of all, Paul finished with a reminder of how I was faithful to him even when everyone else abandoned him:
He [Me, Jesus] stood by me, strengthened me, and backed the truth I proclaimed with power…
Paul's example of faithfulness was a challenge for Timothy to be faithful in every area of his life, his relationships, and his ministry. I want it to be a challenge to you to be faithful in every area of your life as well!
Verses to Live
Are you a faithful person?
Do you live up to your word?
Do you stand by your friends?
Are you committed to faithfully living out your commitments to Me?
I hope Paul's words to Timothy challenge you to be faithful in every area of your life and ministry. Be faithful!
And now I bring you this charge before God and Jesus the Anointed, the one destined to judge the living and the dead, at His glorious appearance and His kingdom: go out and preach the word! Go whether it's an opportune time or not! Reprove, warn, and encourage; but do so with all the patience and instruction needed to fulfill your calling because a time will come when some will no longer tolerate sound teaching. Instead, they will live by their own desires; they'll scratch their itching ears by surrounding themselves with teachers who approve of their lifestyles and tell them what they want to hear. They will turn away from the real truth you have to offer because they prefer the sound of fables and myths. But you must stay focused and be alert at all times. Tolerate suffering. Accomplish the good work of an evangelist, and complete the ministry to which you have been called.

For I am already being poured out, and the last drops of this drink offering are all that remain; it's almost time for me to leave. I have fought the good fight, I have stayed on course and finished the race, and through it all, I have kept believing. I look forward to what's in store for me: a crown of righteousness that the Lord — the always right and just judge — will give me that day (but it is not only for me, but for all those who love and long for His appearing).

Come to me, Timothy, as soon as you can. You see, Demas has fallen for this world, abandoned me, and headed off to Thessalonica. Crescens took off for Galatia. Titus has gone to Dalmatia. Luke is the only one left. Bring Mark with you because he is useful in this work and will help look after me. I sent Tychicus to Ephesus. On your way here, pick up the cloak I left with Carpus in Troas, and bring the scrolls — especially the parchments.

Keep your eye out for Alexander the coppersmith! He came against me with all sorts of evil — may the Lord pay him back accordingly — so watch your back because he has gone overboard to oppose our message.

When it was time for my first defense, no one showed up to support me. Everyone abandoned me (may it not be held against them) except the Lord. He stood by me, strengthened me, and backed the truth I proclaimed with power so it may be heard by all the non-Jews. He rescued me, pried open the lion's jaw, and snatched me from its teeth. And I know the Lord will continue to rescue me from every trip, trap, snare, and pitfall of evil and carry me safely to His heavenly kingdom. May He be glorified throughout eternity. Amen.

Give my regards to Prisca, Aquila, and everyone over at Onesiphorus's house.Erastus stayed in Corinth, and I left Trophimus in Miletus because he was sick. Try your best to come before winter blows in. Eubulus says hello and so do Pudens, Linus, Claudia, and all the brothers and sisters. May the Lord be with your spirit, and may His grace be with you. Amen.
(2 Timothy 4:1-22)
Response in Prayer
O glorious Father, may the words of my mouth, the thoughts in my mind, my involvement with others, and the actions in my life all show an unquenchable desire to live faithfully for You. In Jesus' name, I pray. Amen.
NATIONAL CHOCOLATE DAY
National Chocolate Day is observed annually on October 28.  While there are many specific chocolate related holidays throughout the year, National Chocolate Day celebrates all things chocolate.  As America's favorite flavor, chocolate is well deserving of its own day of honor and celebration.  (Some sources designate July 7 or December 28 as Chocolate Day or International Chocolate Day.)
How is chocolate made?
Chocolate comes from the seed of the tropical Theobroma cacao tree.  Cacao, which has been cultivated for at least three millennia, is grown in Mexico, Central America and Northern South America.  The earliest known documentation of using cacao seeds is from around 1100 BC.  The cacao tree seeds have a very intense, bitter taste that must be fermented to develop the flavor.
Once the seeds have been fermented, the beans are dried, cleaned and roasted.  After roasting, the shell is removed to produce cacao nibs.  The cacao nibs are then ground into cocoa mass, which is pure chocolate in rough form.   The cocoa mass is usually liquefied then molded with or without other ingredients. At this point in the process, it is called chocolate liquor.  The chocolate liquor may then be processed into two components: cocoa solids and cocoa butter.
Unsweetened baking chocolate –  cocoa solids and cocoa butter in varying proportions.
Sweet chocolate –  cocoa solids, cocoa butter or other fat and sugar.
Milk chocolate – sweet chocolate with milk powder or condensed milk.
White chocolate – cocoa butter, sugar and milk but no cocoa solids.
Research has found that chocolate, when eaten in moderation, can lower blood pressure.
HOW TO OBSERVE
Go out to your favorite restaurant and indulge in a delicious chocolate dessert.  Here are a few recipes to try on National Chocolate Day.
Chocolate Lasagna
Fudge
No Bake Chocolate Oat Bars
Use #NationalChocolateDay to post on social media.
HISTORY
National Chocolate Day was created by the National Confectioners Association.